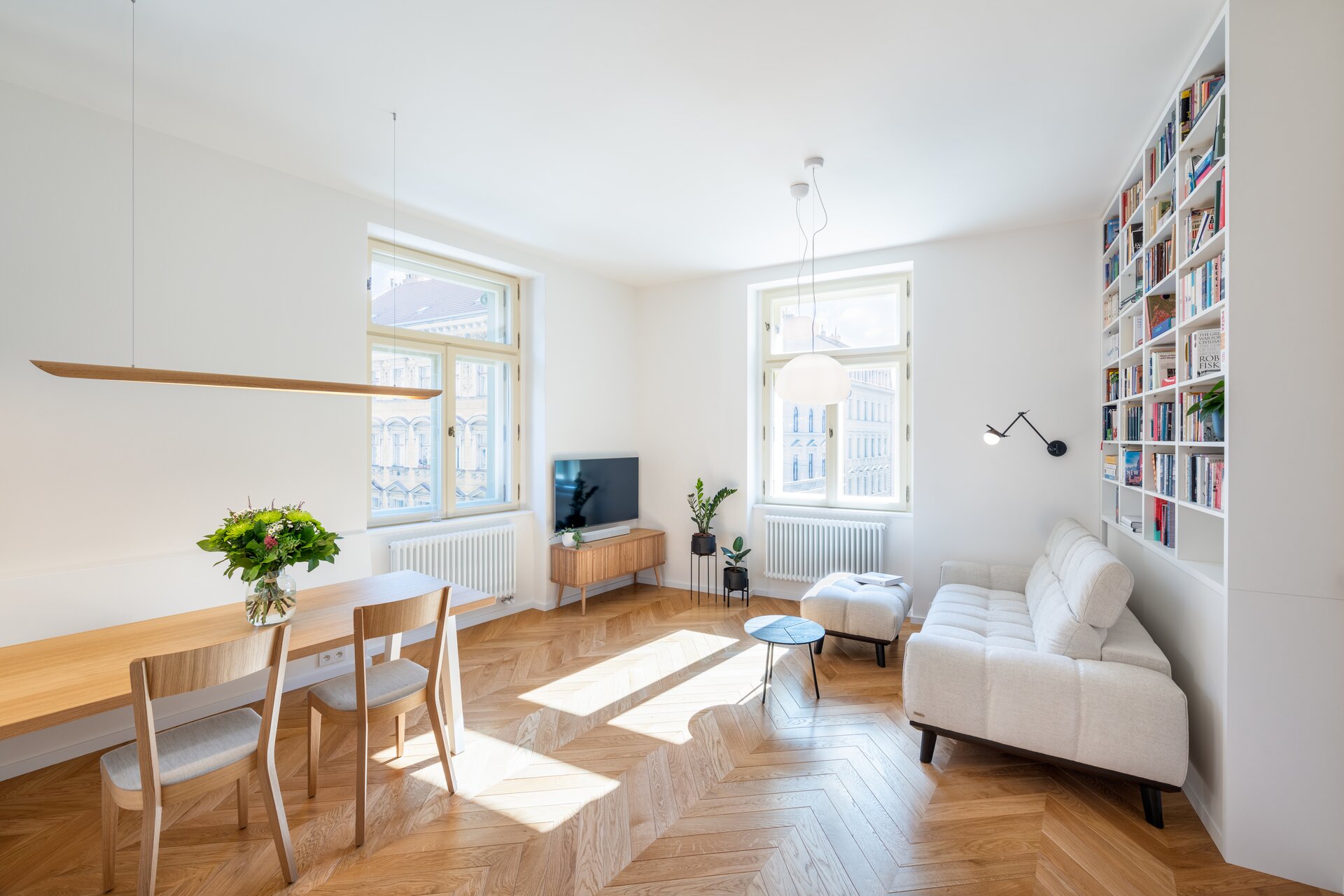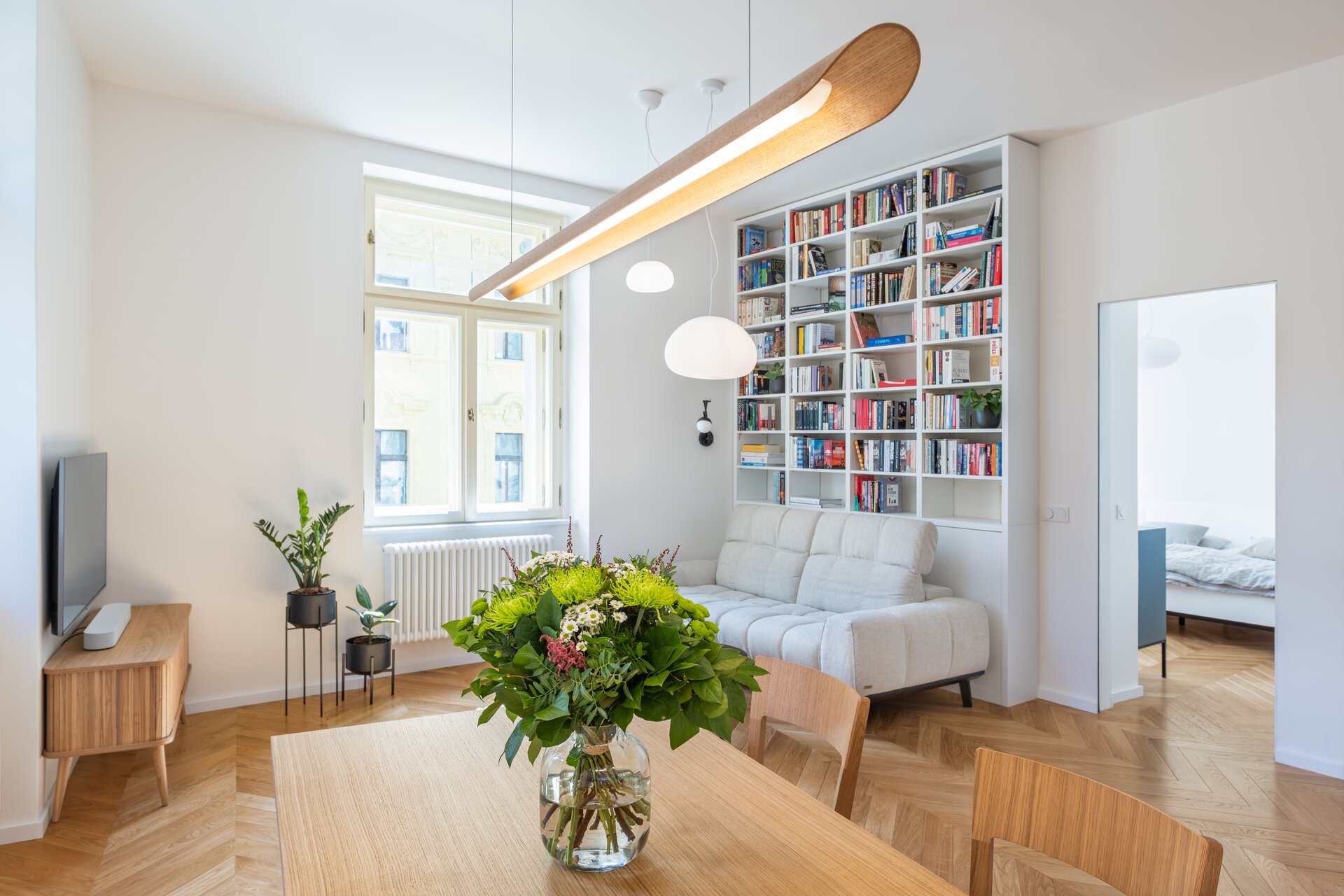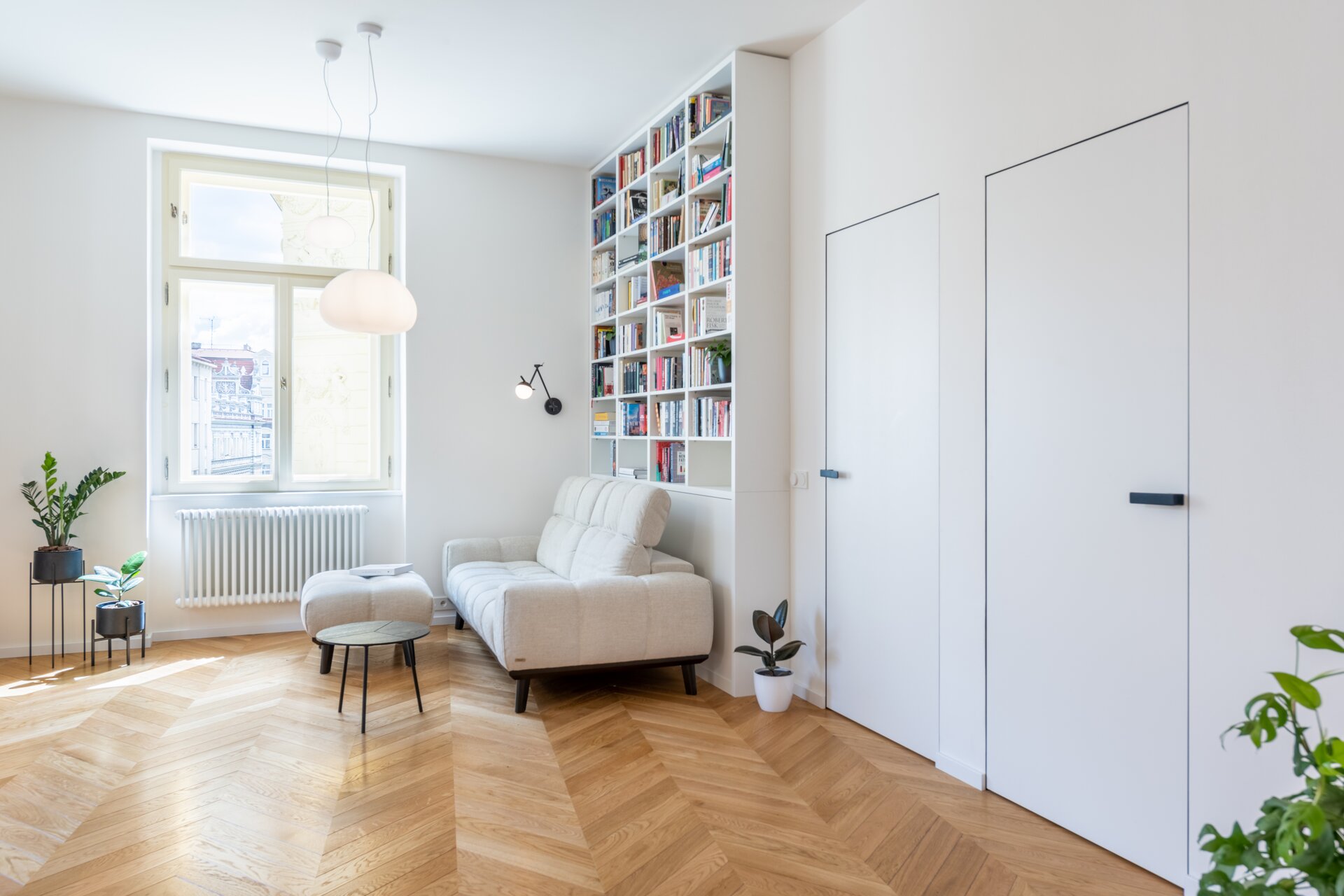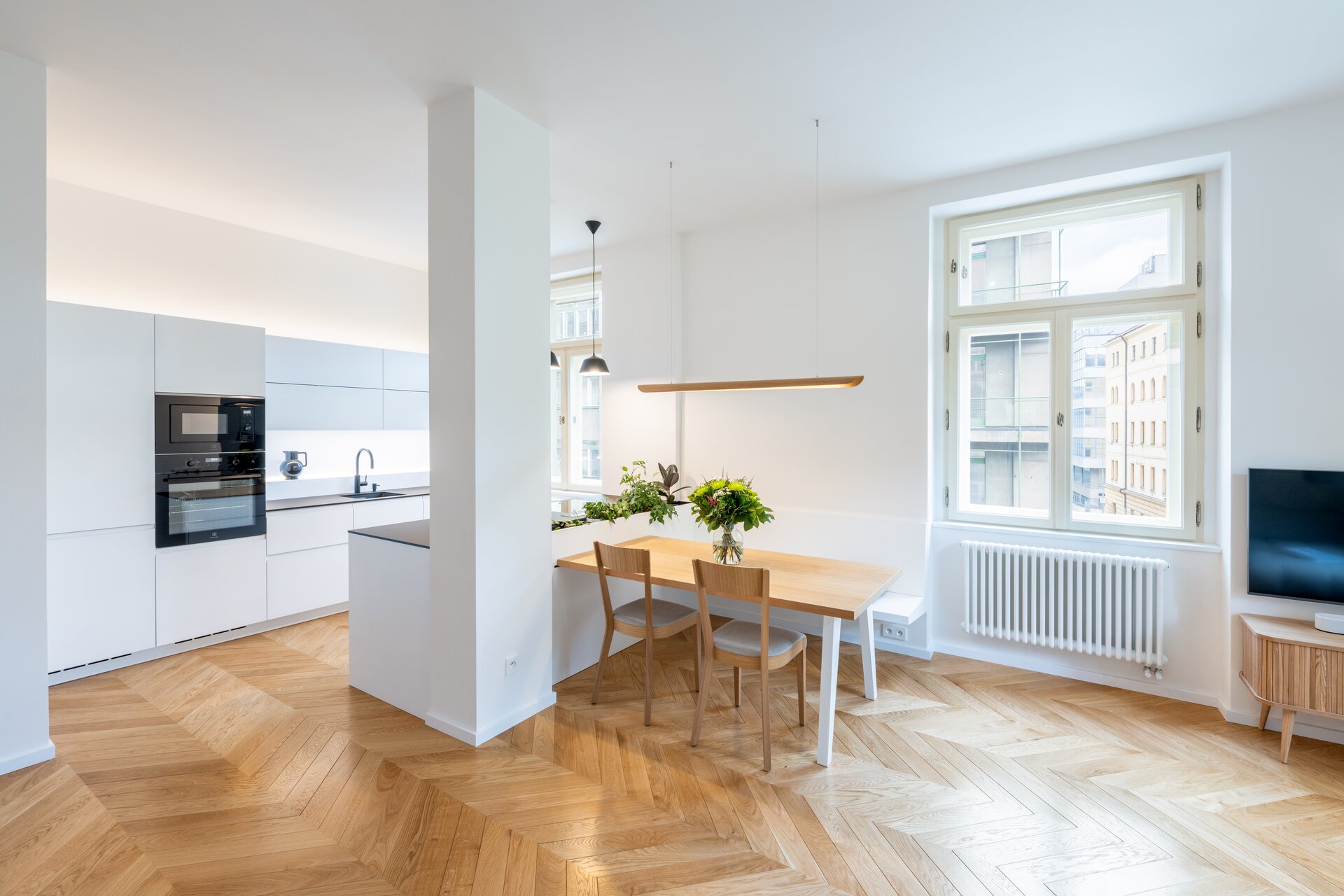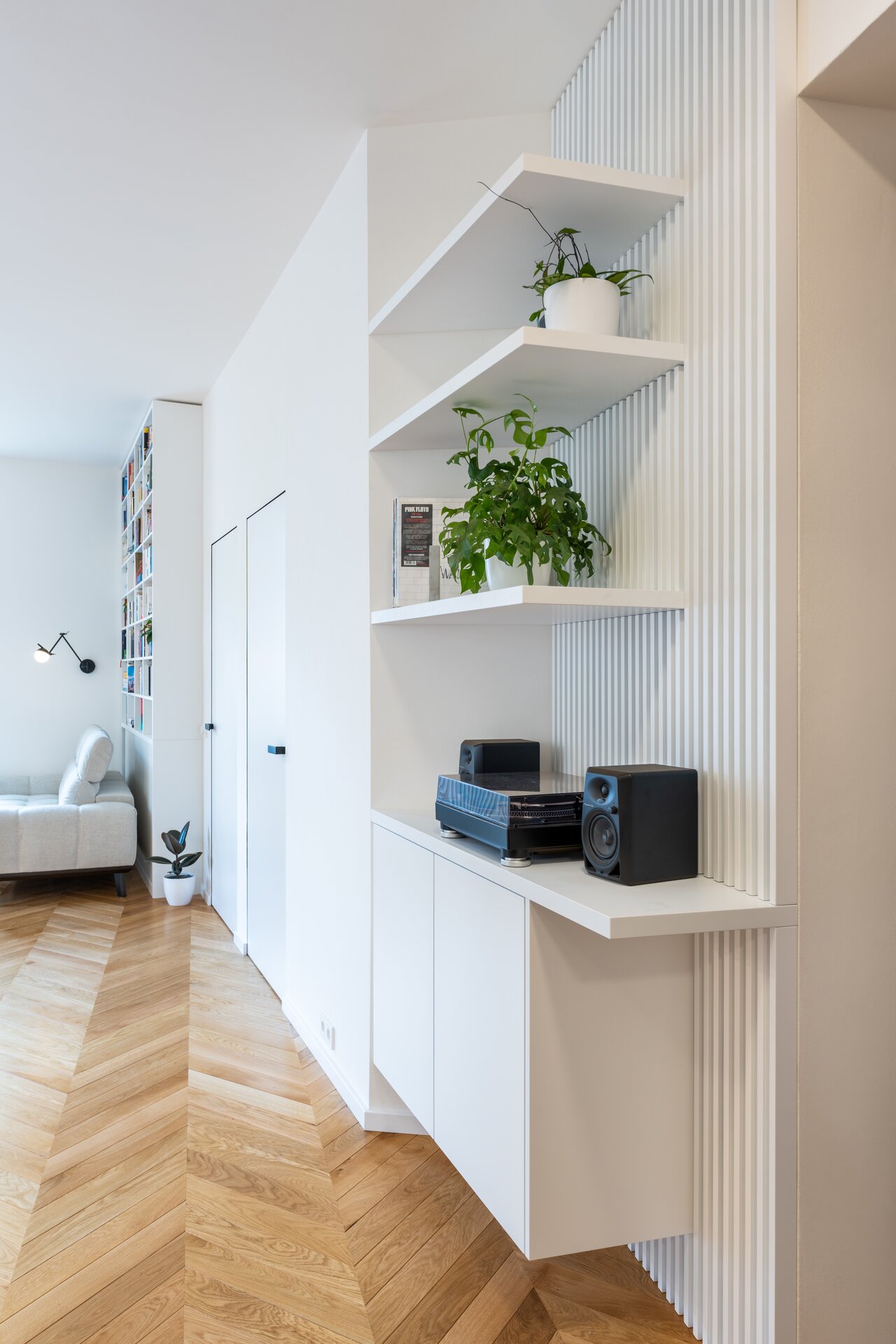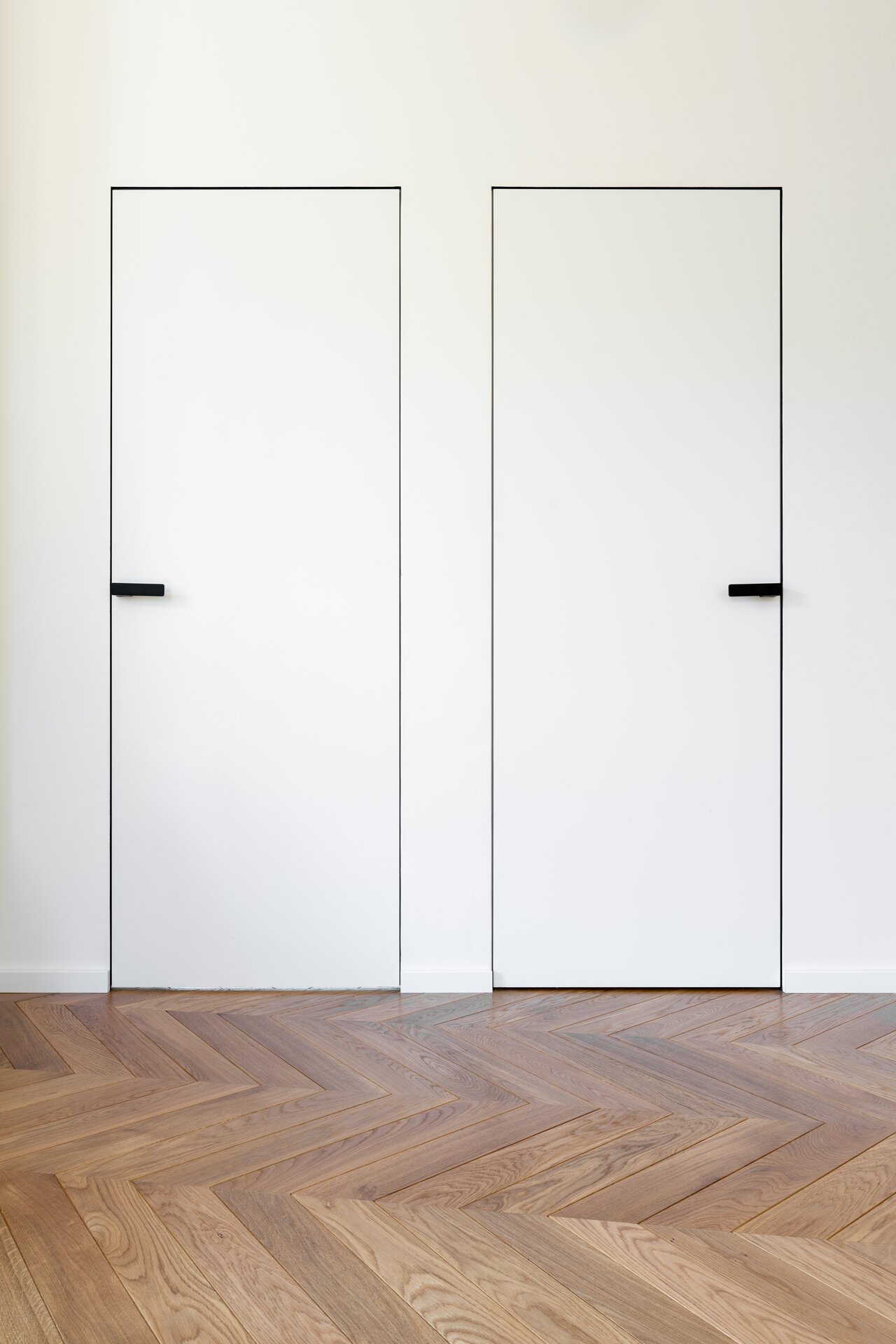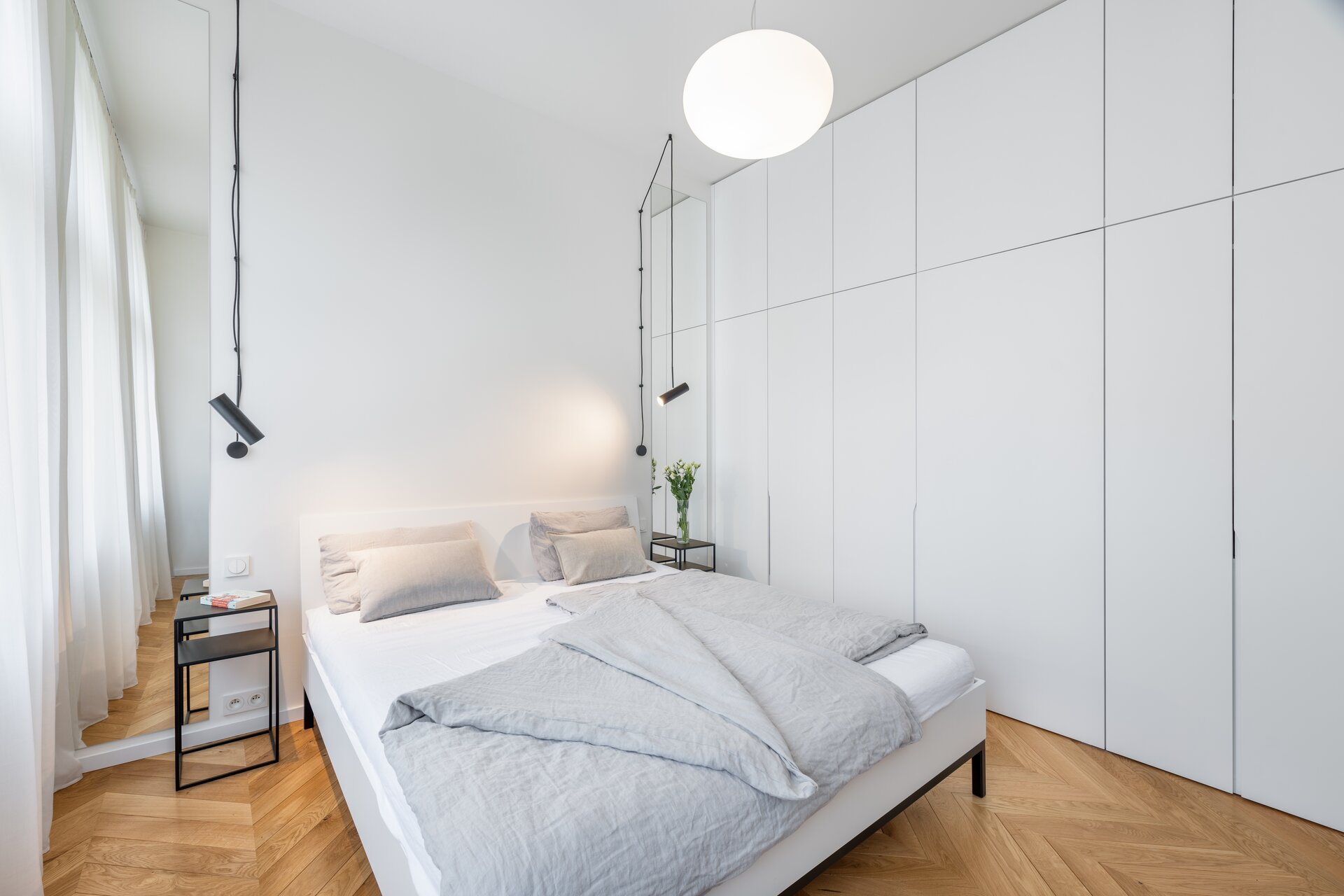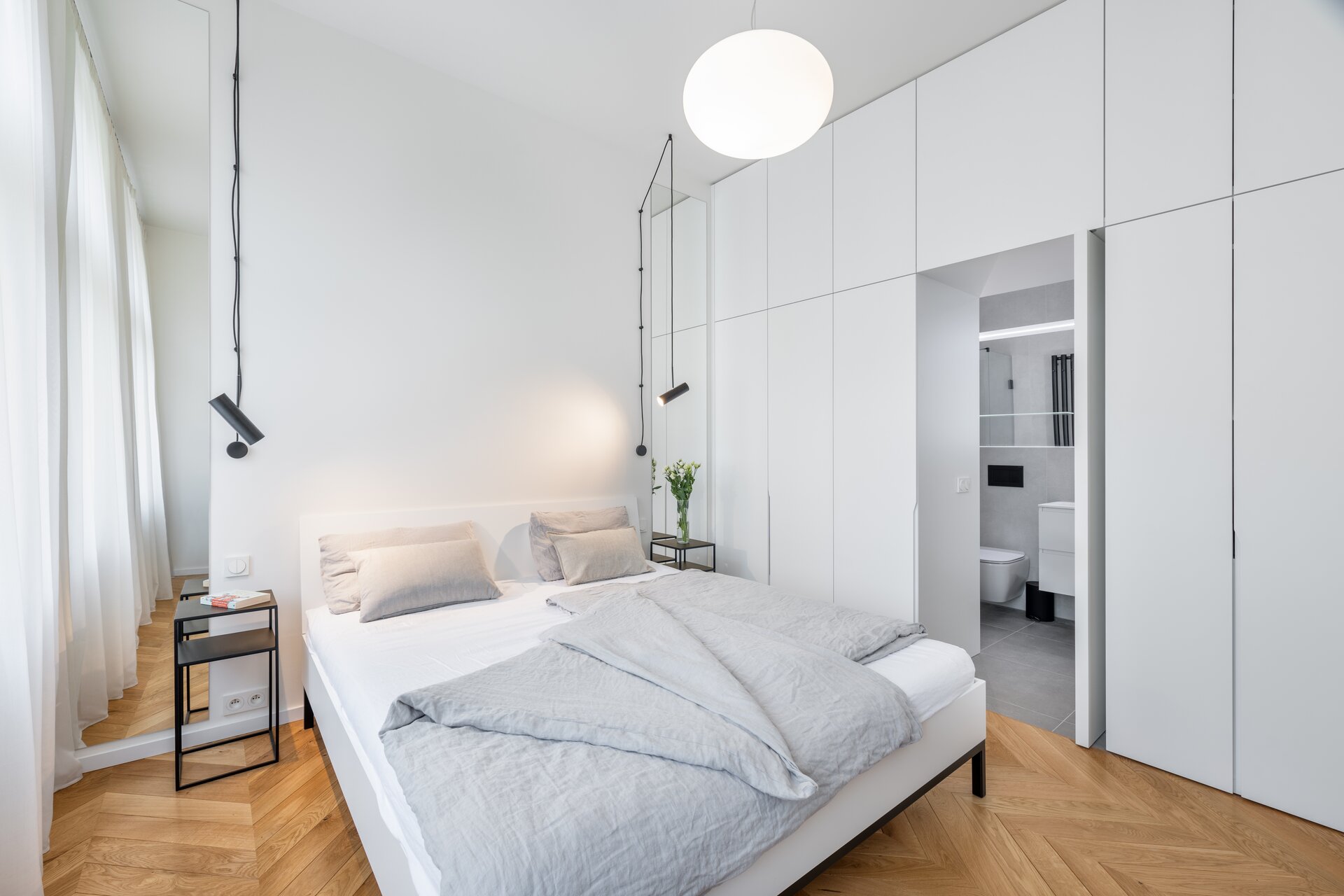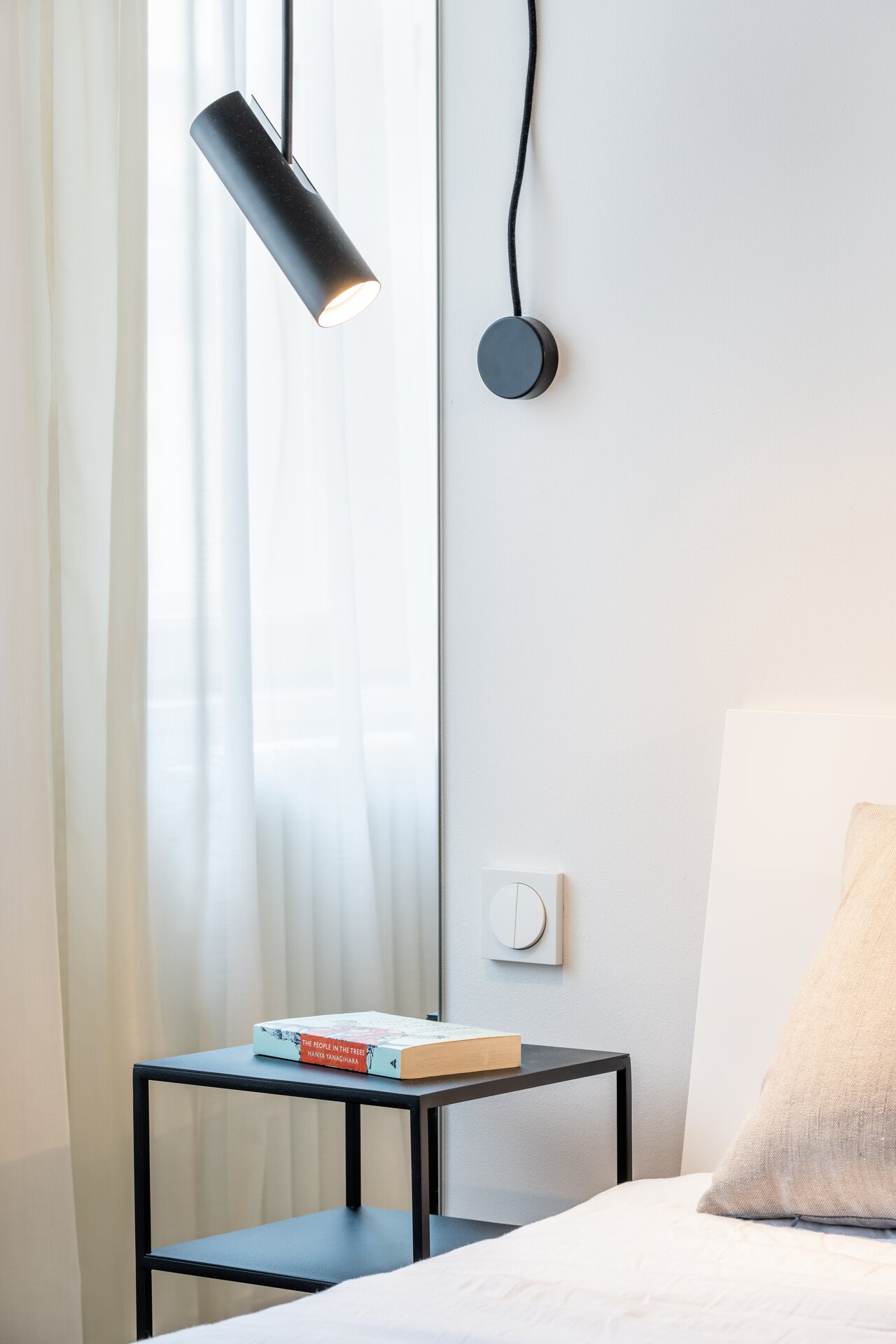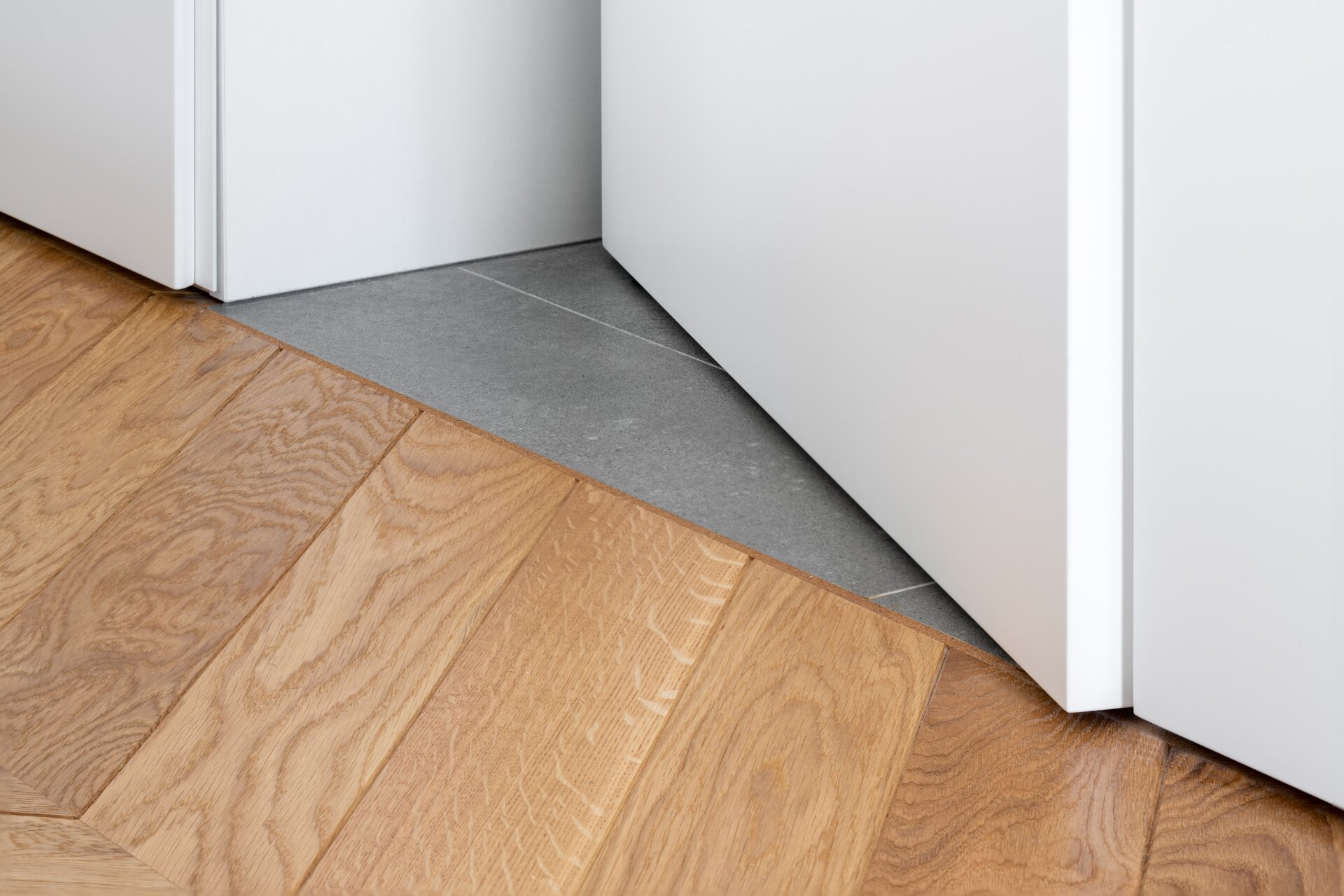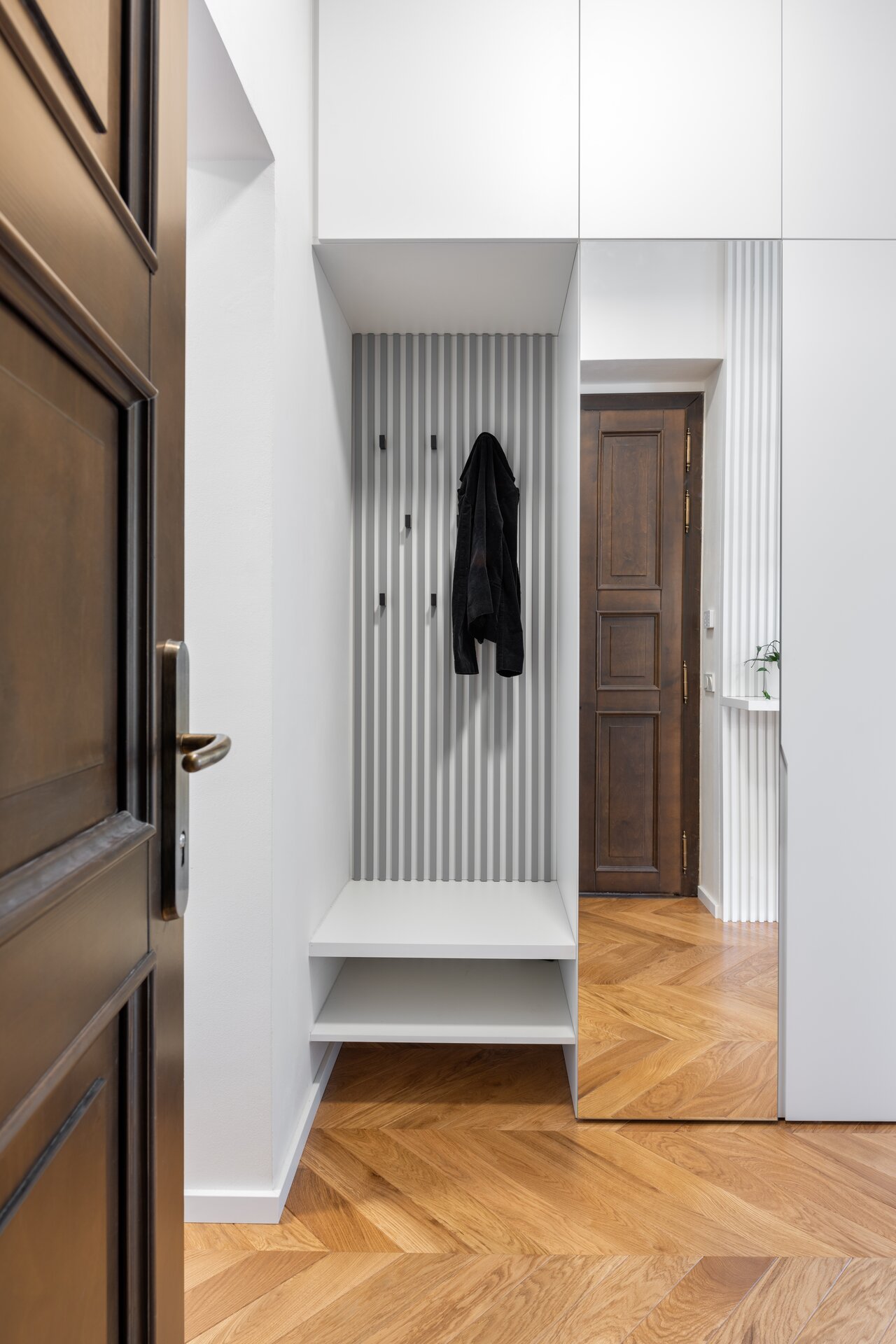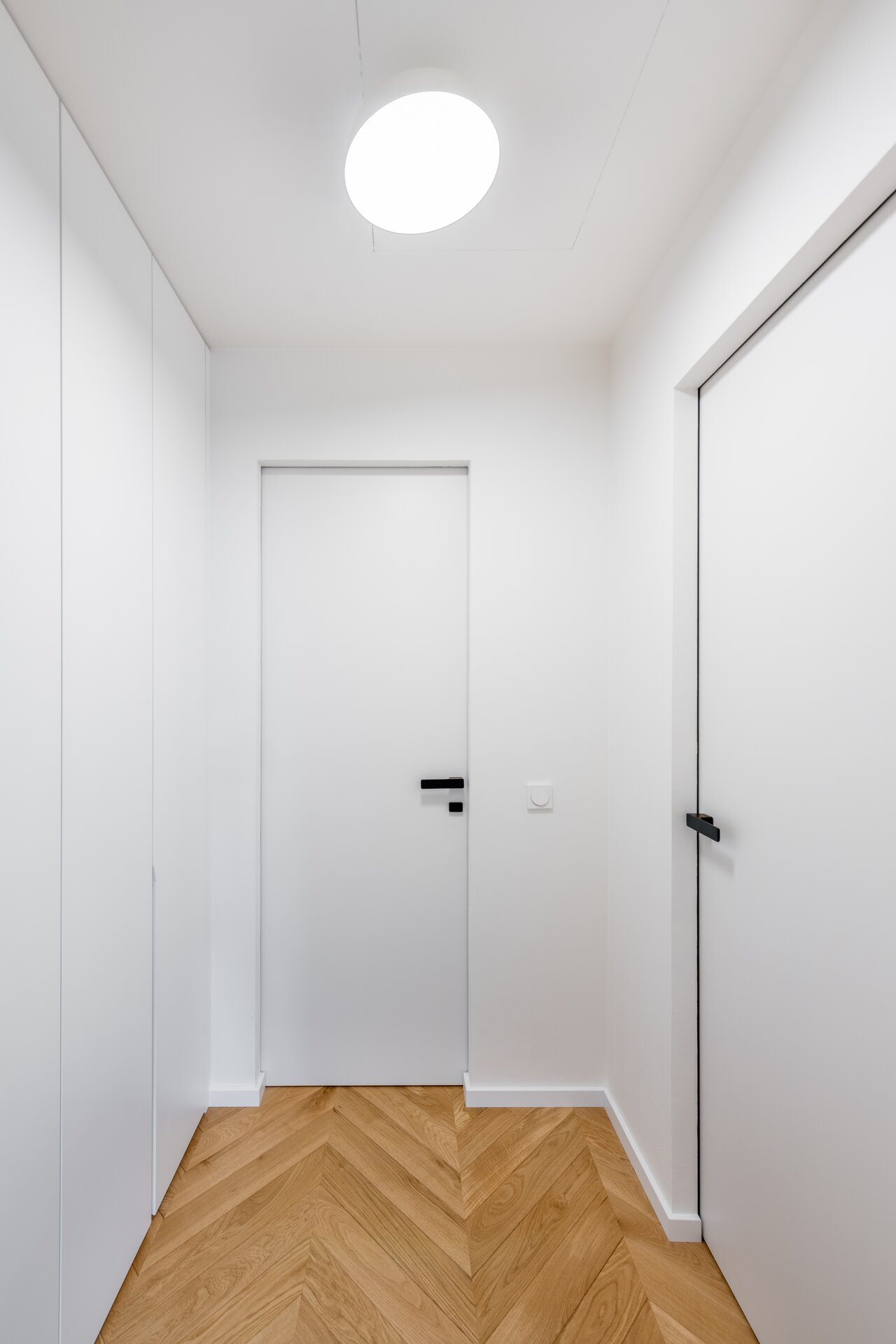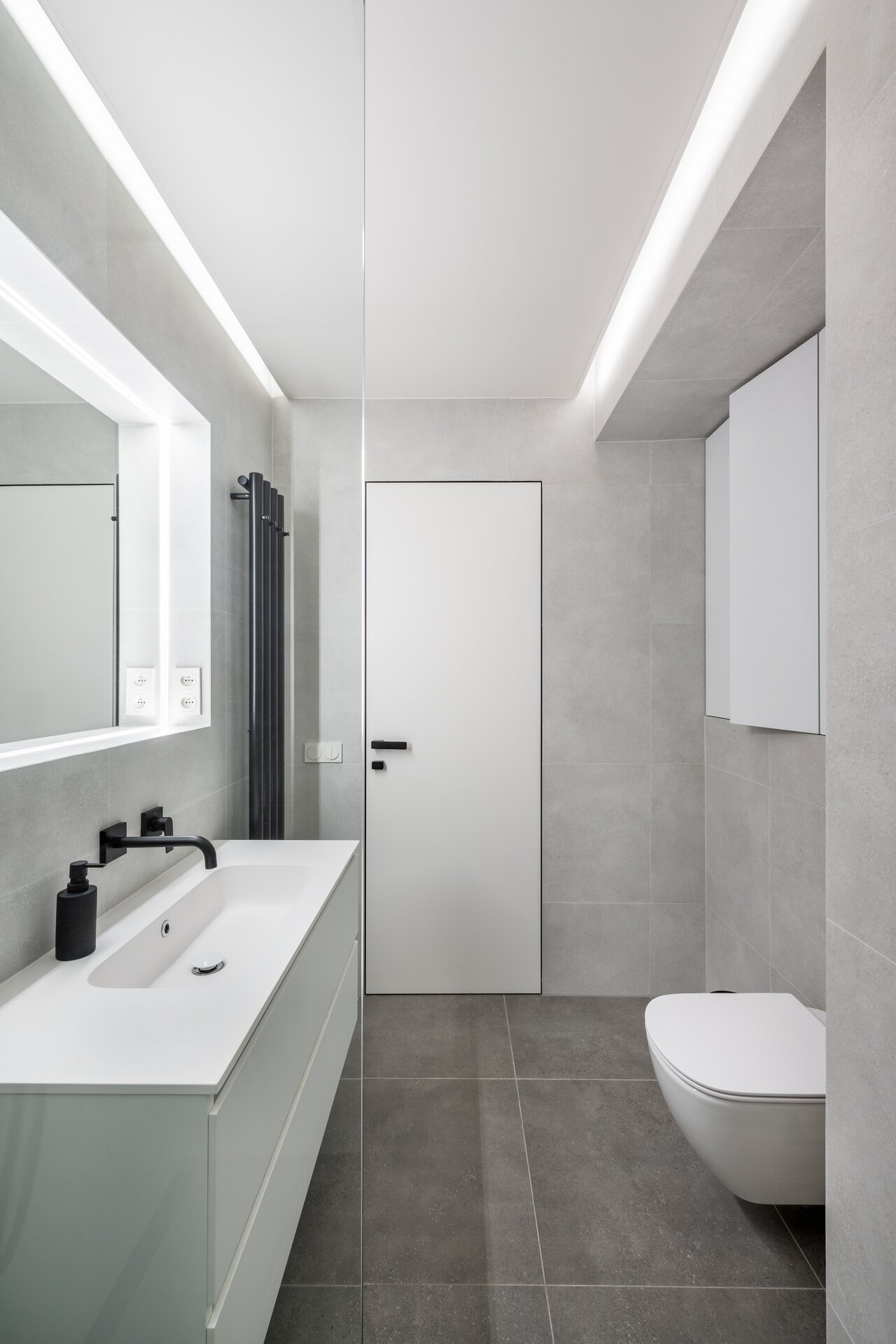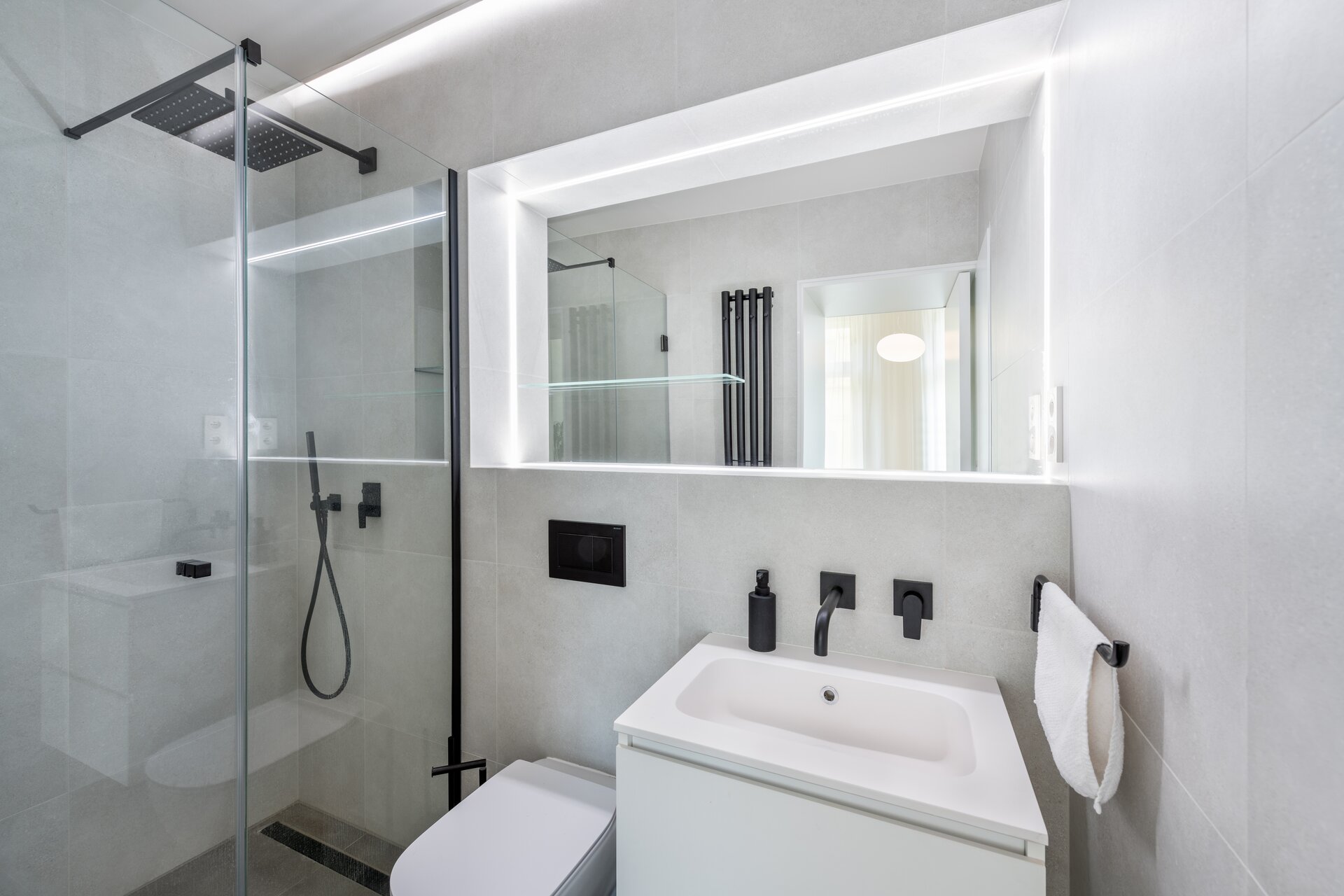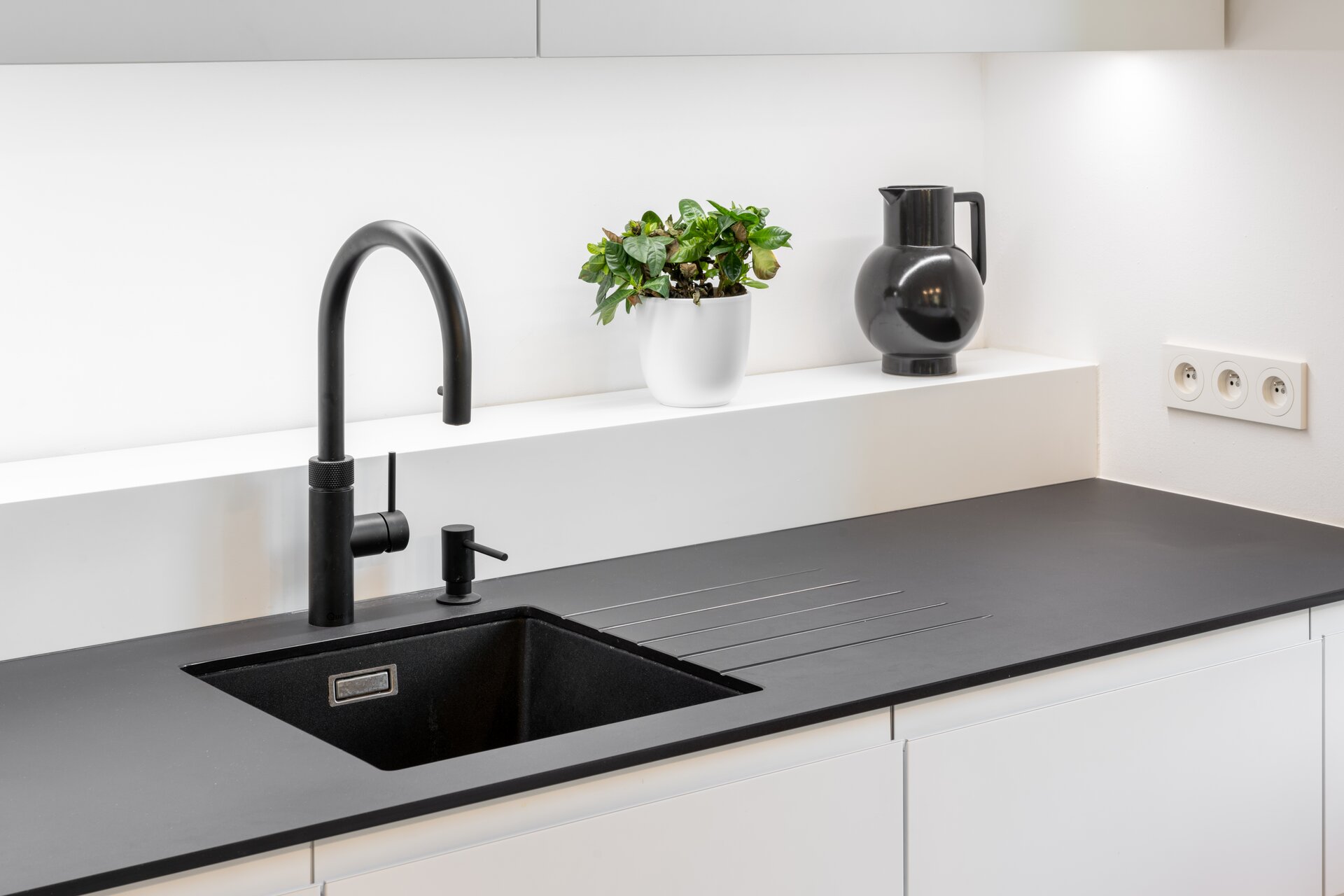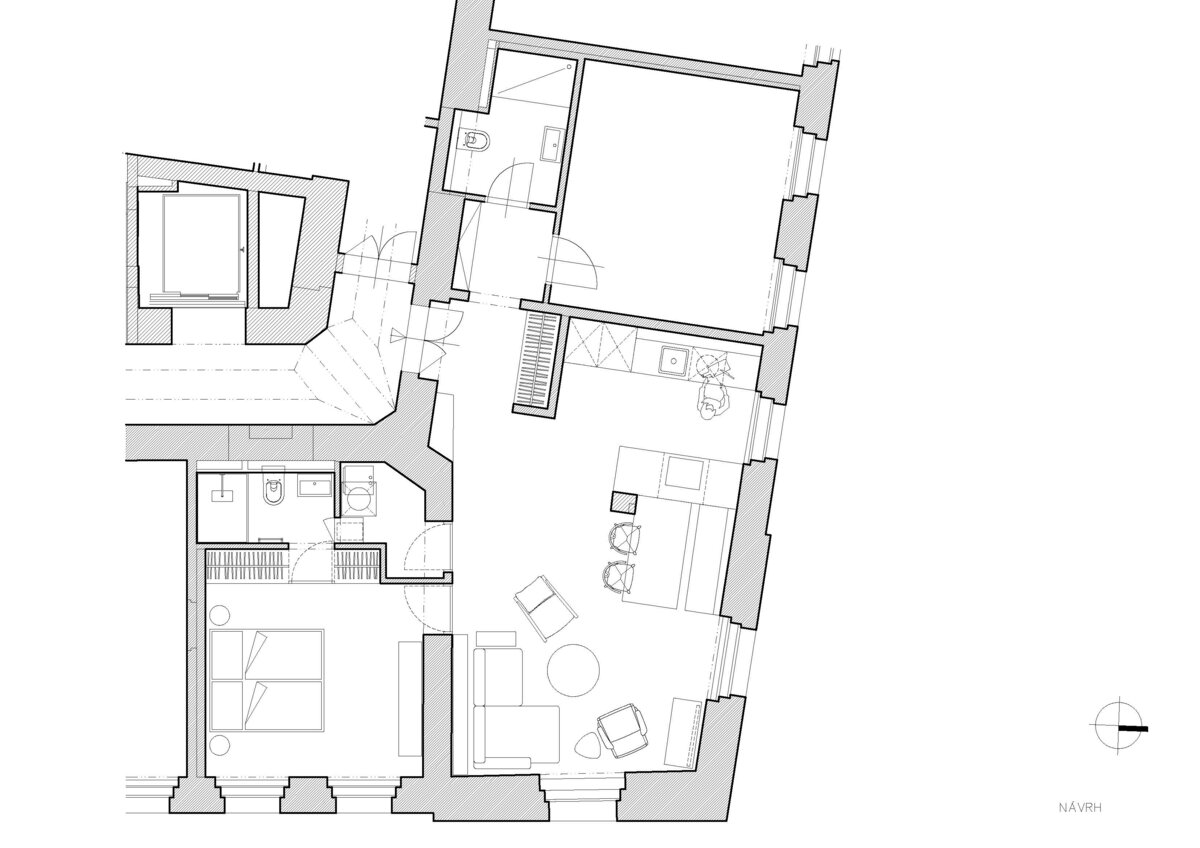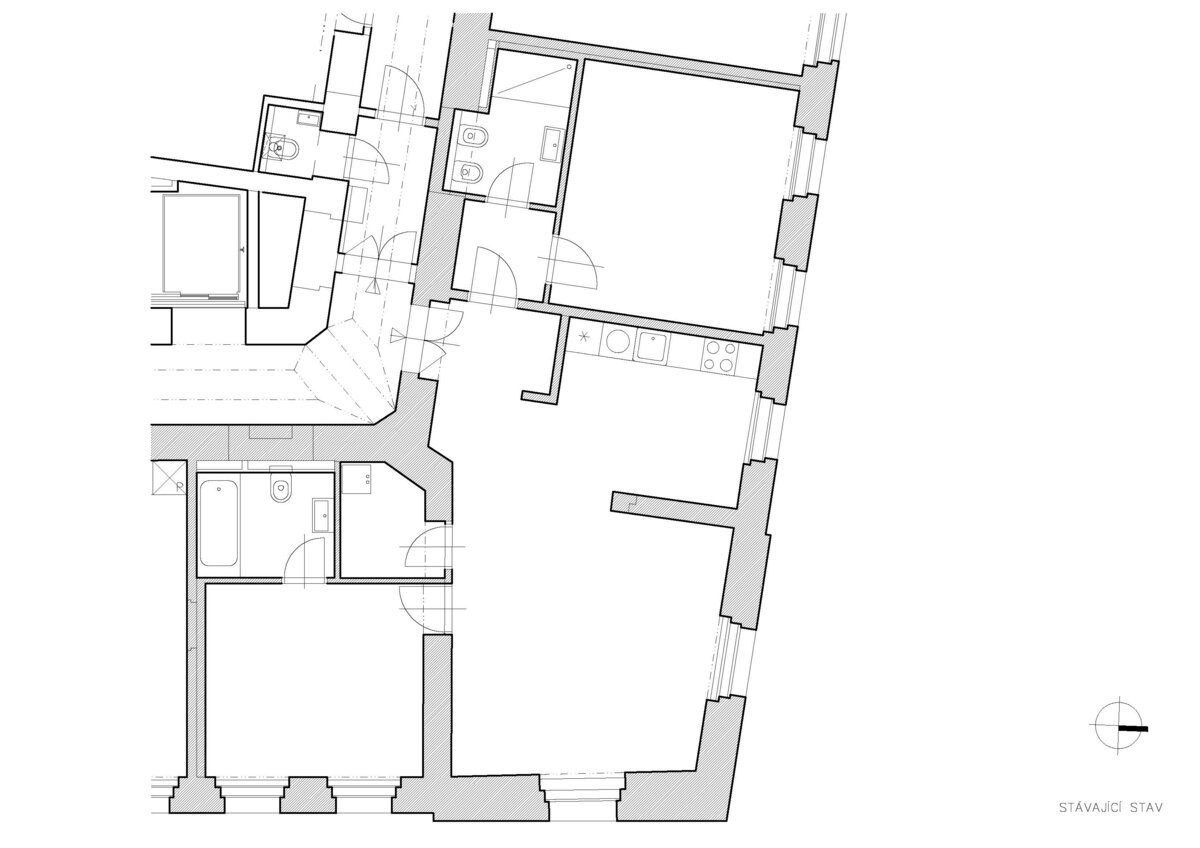 Author
Hana Novotná + Tereza Pecárová, 2MAD s.r.o.
Studio
Location
Veverkova 19, 170 00 Praha 7
Investor
Jaroslav Šnajdr, Veverkova 19, 170 00 Praha 7
Supplier
AGF Quattro
Cukrovarská 883/3, 196 00 Praha
Date of project approval
May 2021
Fotograf
Clients approached us for cooperation thanks to our other realization of the interior of the apartment, which they liked. The task was to create a very simple interior and at the same time take advantage of the fact that the apartment is in a traditional apartment building (high ceilings, wooden casement windows, terrazzo in the hallways, etc.).
The main layout change was connecting the original kitchenette with the living room. We achieved the connection thanks to the demolition of the dividing wall, only the supporting column remained. The kitchen island and dining area with a bench became central point of the living space.
One of the great benefits of the corner living room is view to two sides. We did not want to lose this moment, so we placed the sofa you have a view of the whole space, including the outside.
The material of the apartment is purely designed - wood in a natural tone and a colour palette in shades of white / black / grey. An important role is played by the solid wooden floor. The size of the individual parquets is based on traditional parquets, the modern look is given by the method of laying - a French tree.
Wardrobe in client's bedroom is an interesting element, which hides the door to the bathroom. Bathroom is connected to the utility room via a furniture cabinet, where there is a washing machine and dryer. The closet is accessible from both rooms, which simplifies the transport of laundry between the bathroom and the laundry.
Another element worth picking up is the door with hidden door frames. The door leaf is white, as is the wall around it. But the hidden door frame is black, as is the door handle. The door is framed by a thin black line, which creates a lovely detail.
The apartment was in shell & core condition, the area of the apartment is 83.1 m2. Flat has living area, two bedrooms and two bathrooms.
Green building
Environmental certification
| | |
| --- | --- |
| Type and level of certificate | - |
Water management
| | |
| --- | --- |
| Is rainwater used for irrigation? | |
| Is rainwater used for other purposes, e.g. toilet flushing ? | |
| Does the building have a green roof / facade ? | |
| Is reclaimed waste water used, e.g. from showers and sinks ? | |
The quality of the indoor environment
| | |
| --- | --- |
| Is clean air supply automated ? | |
| Is comfortable temperature during summer and winter automated? | |
| Is natural lighting guaranteed in all living areas? | |
| Is artificial lighting automated? | |
| Is acoustic comfort, specifically reverberation time, guaranteed? | |
| Does the layout solution include zoning and ergonomics elements? | |
Principles of circular economics
| | |
| --- | --- |
| Does the project use recycled materials? | |
| Does the project use recyclable materials? | |
| Are materials with a documented Environmental Product Declaration (EPD) promoted in the project? | |
| Are other sustainability certifications used for materials and elements? | |
Energy efficiency
| | |
| --- | --- |
| Energy performance class of the building according to the Energy Performance Certificate of the building | |
| Is efficient energy management (measurement and regular analysis of consumption data) considered? | |
| Are renewable sources of energy used, e.g. solar system, photovoltaics? | |
Interconnection with surroundings
| | |
| --- | --- |
| Does the project enable the easy use of public transport? | |
| Does the project support the use of alternative modes of transport, e.g cycling, walking etc. ? | |
| Is there access to recreational natural areas, e.g. parks, in the immediate vicinity of the building? | |