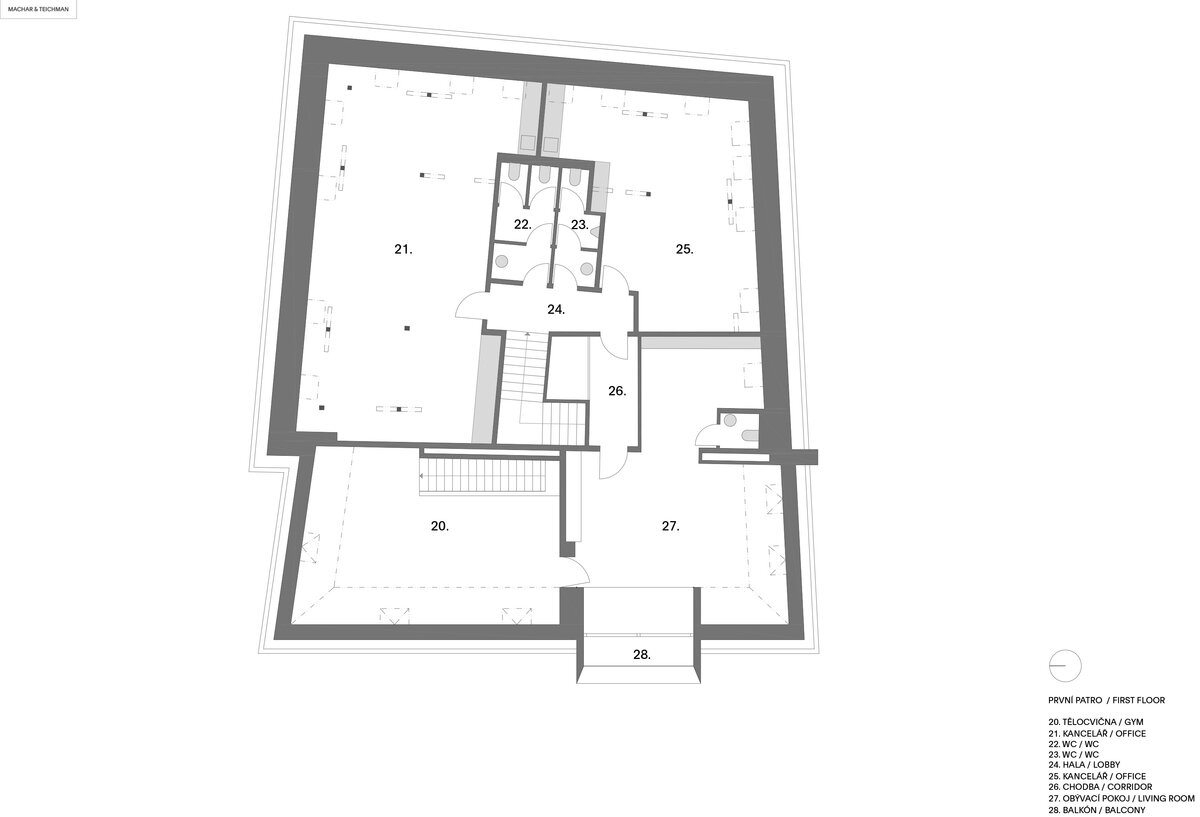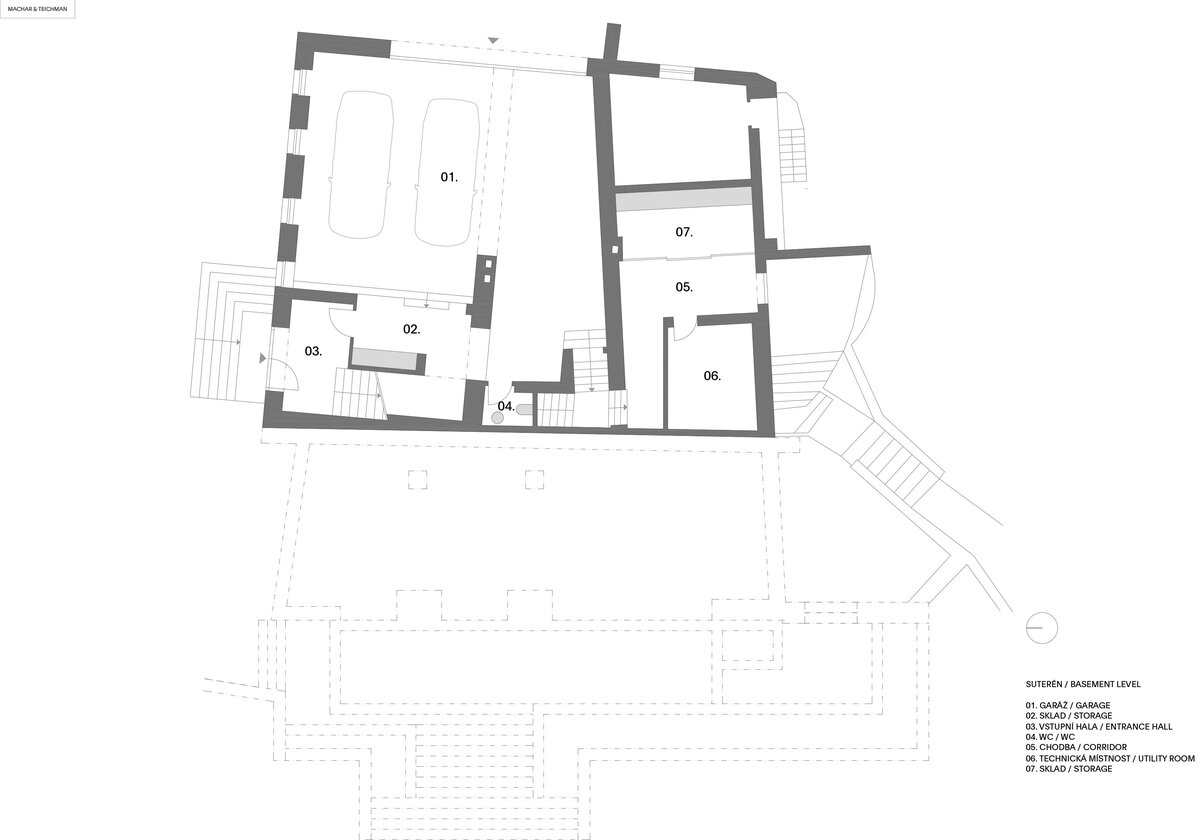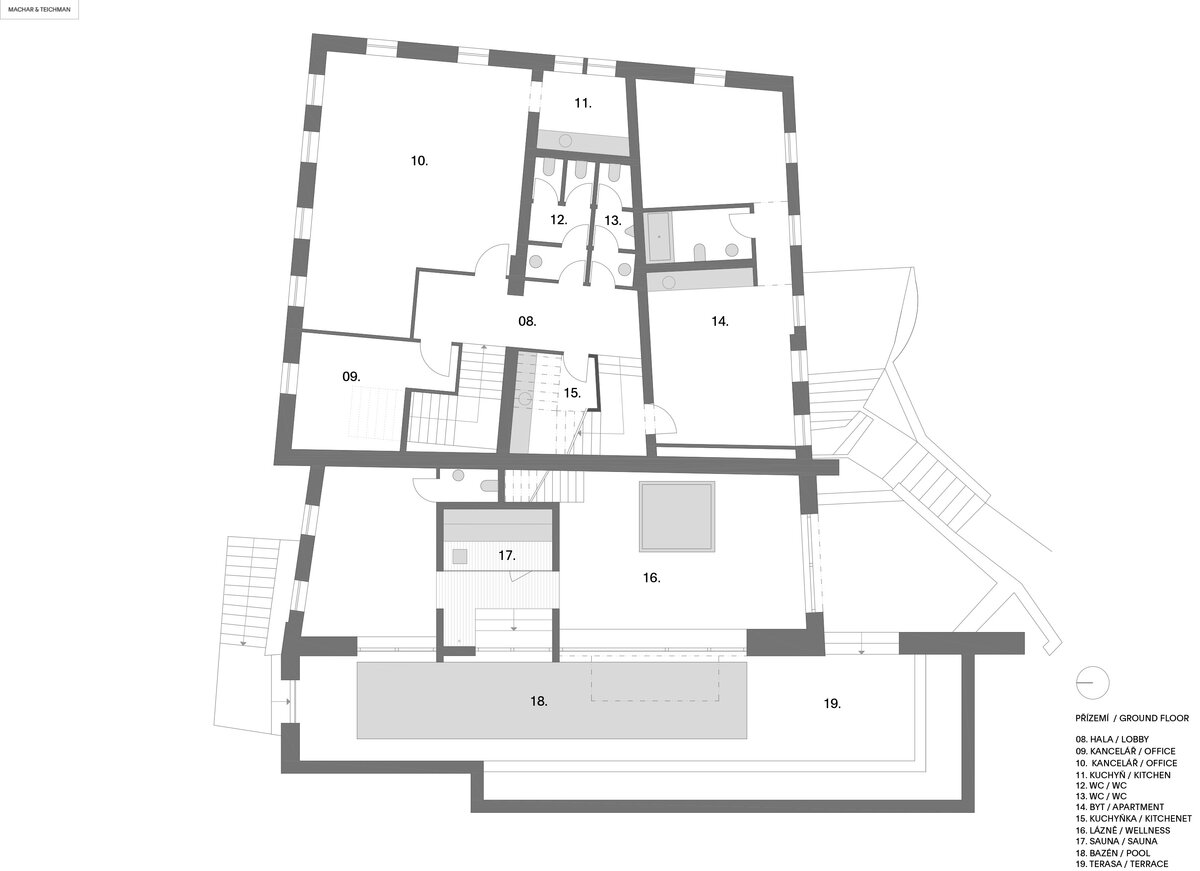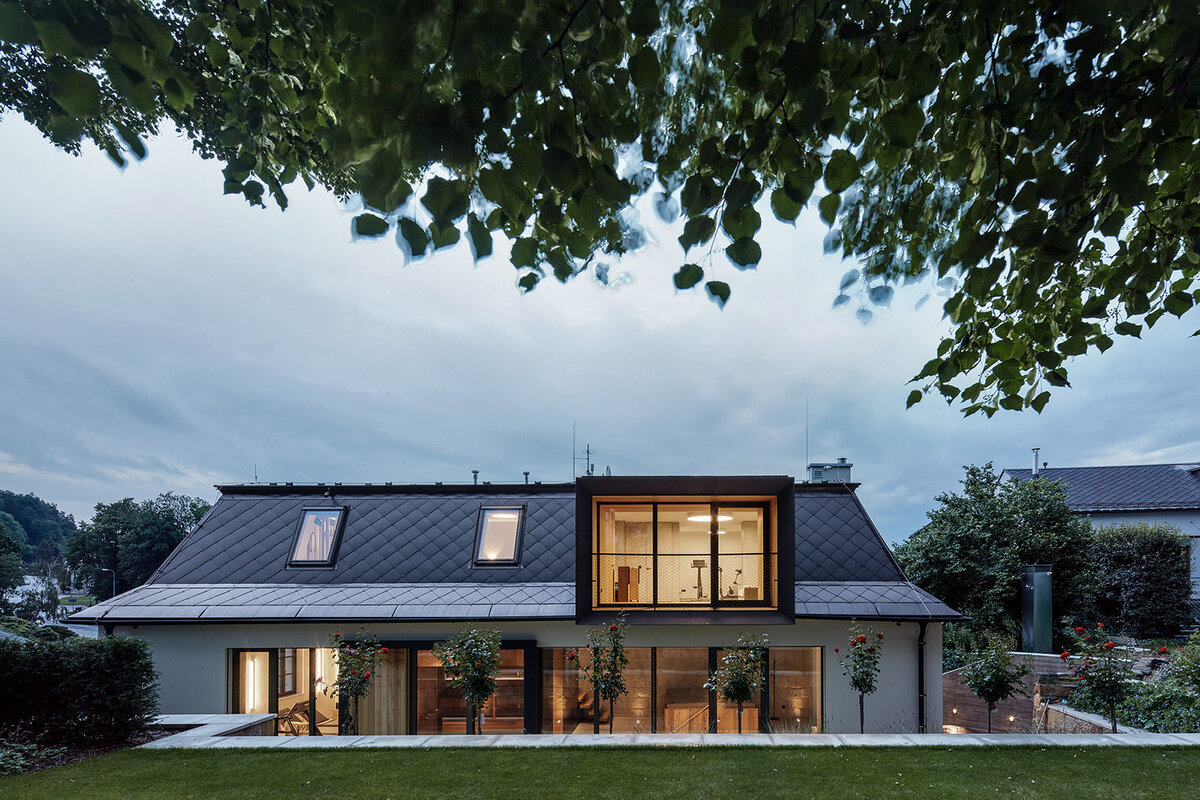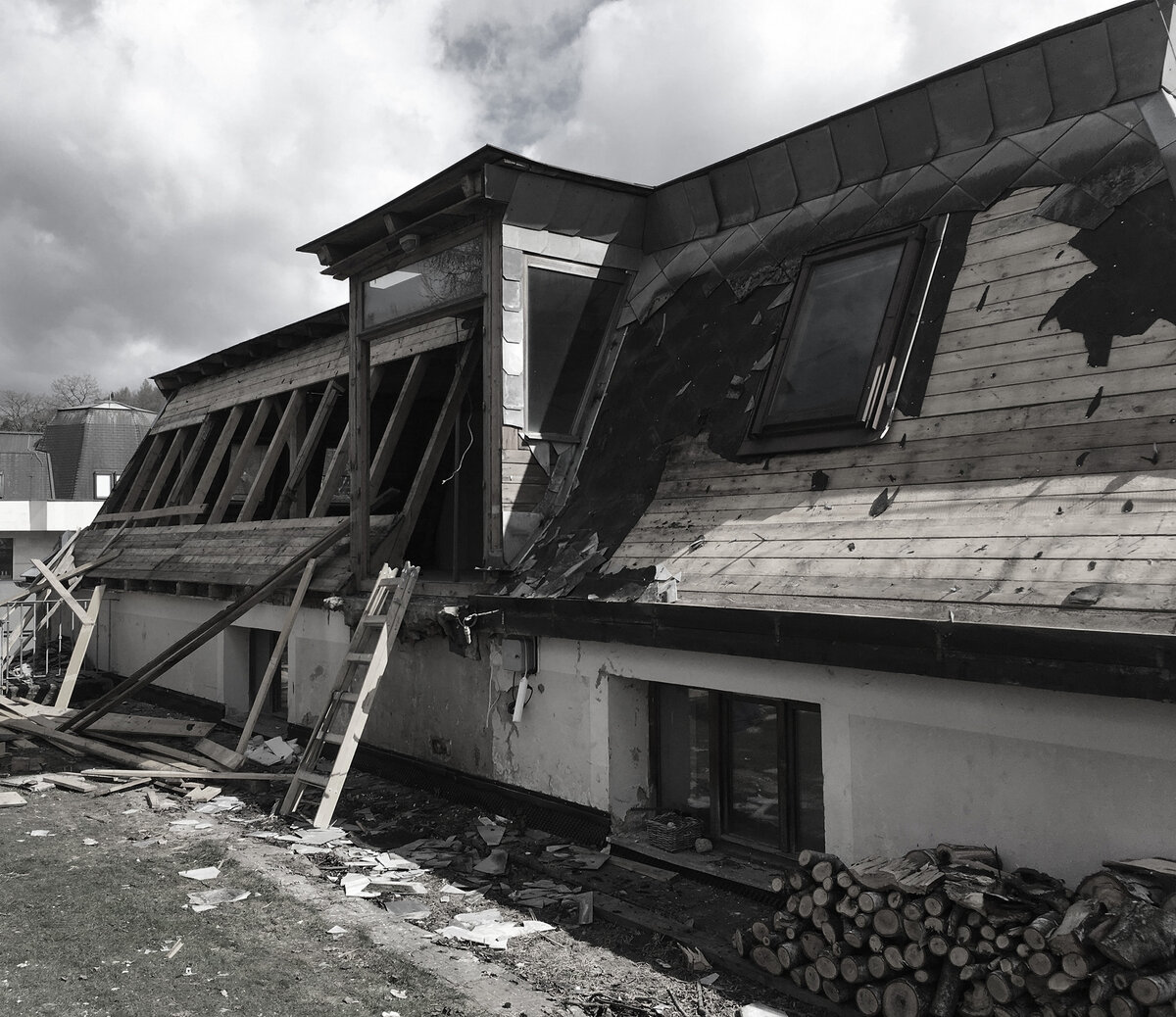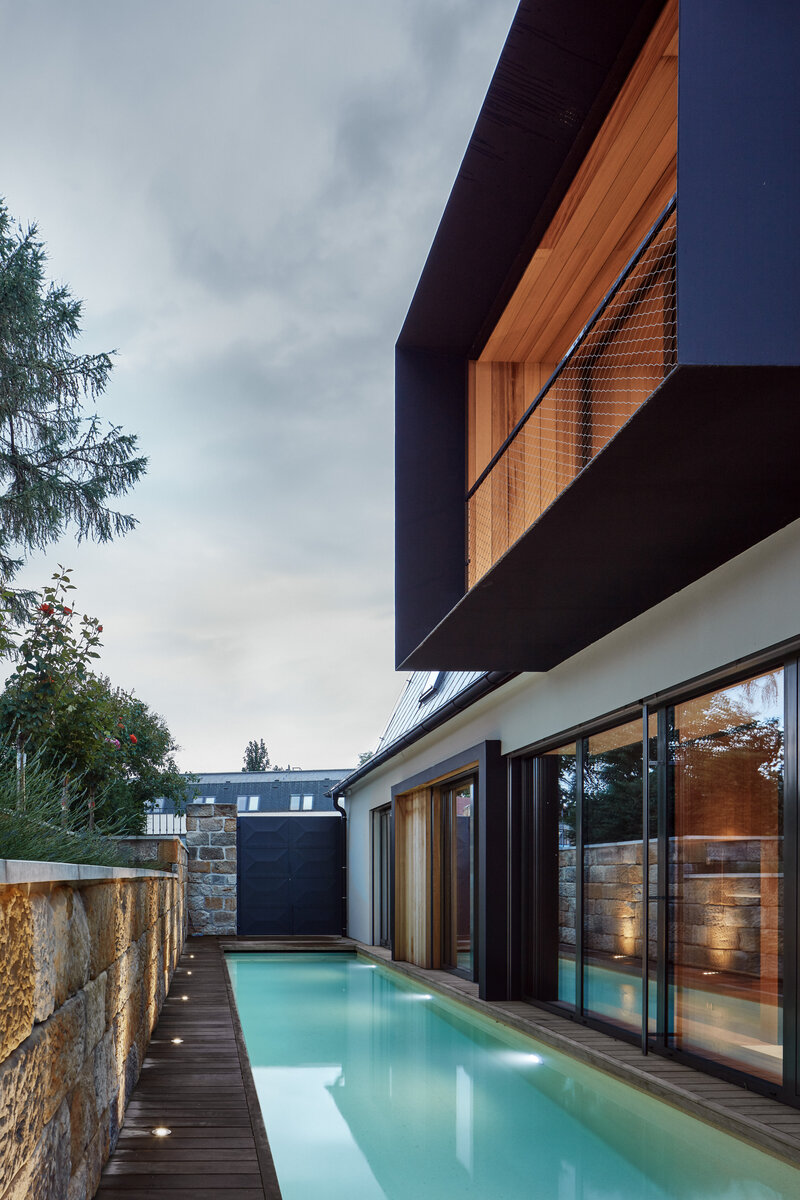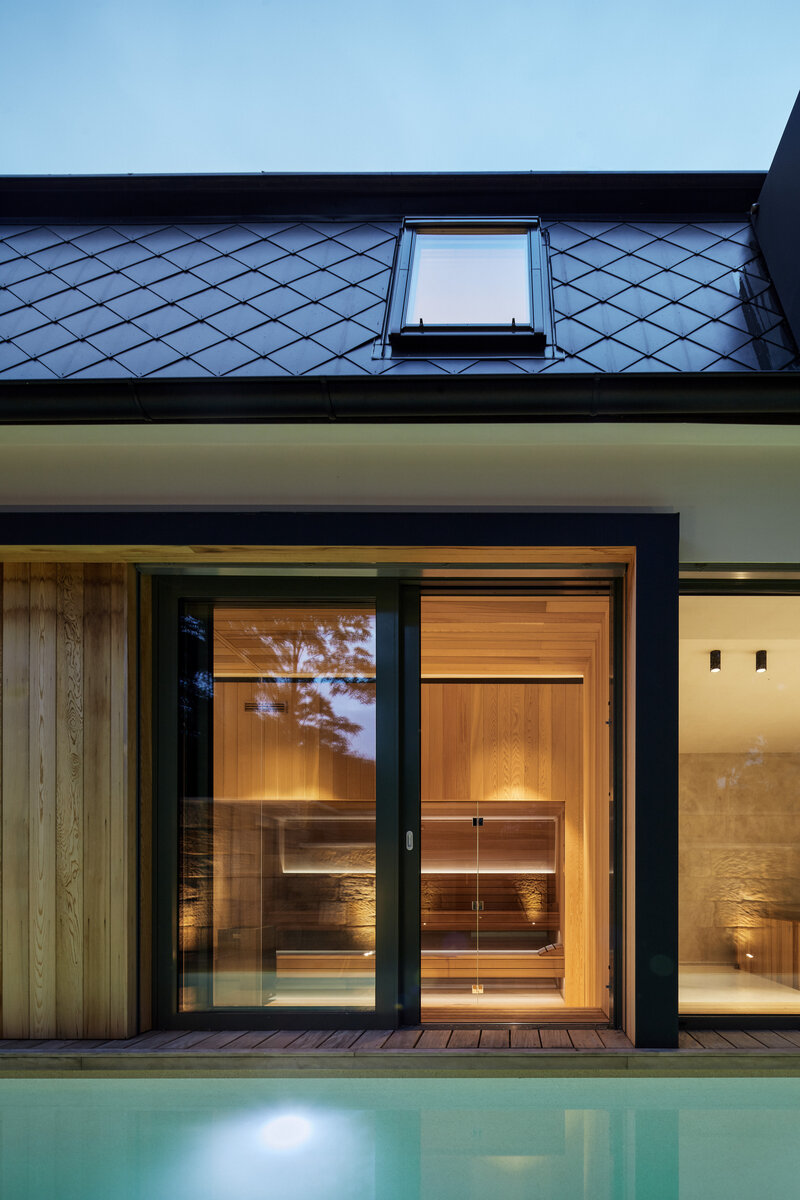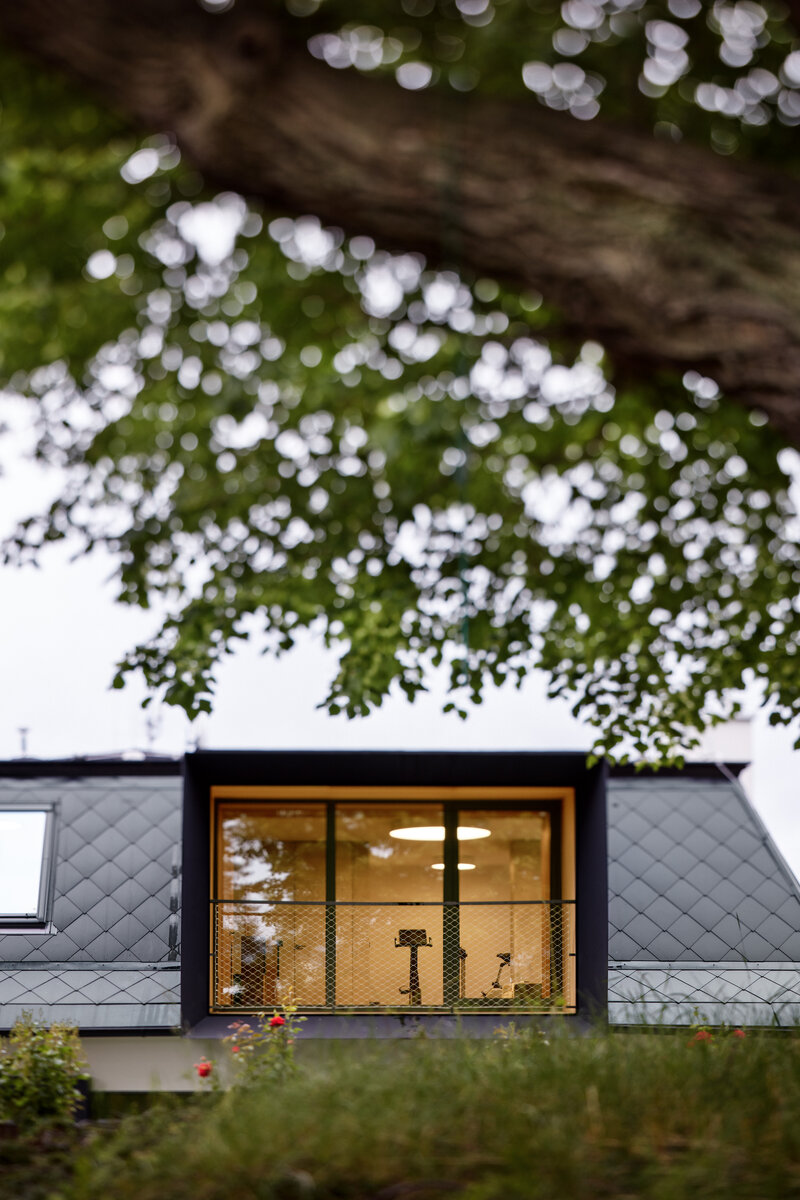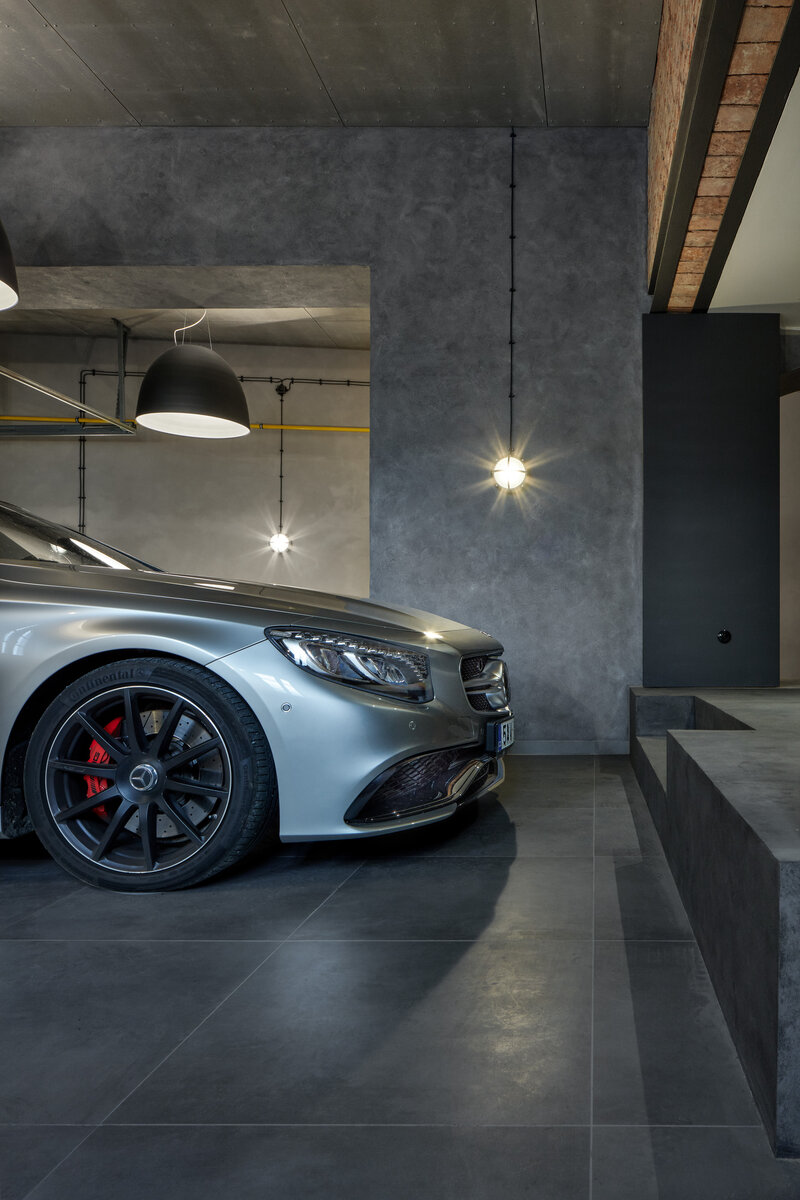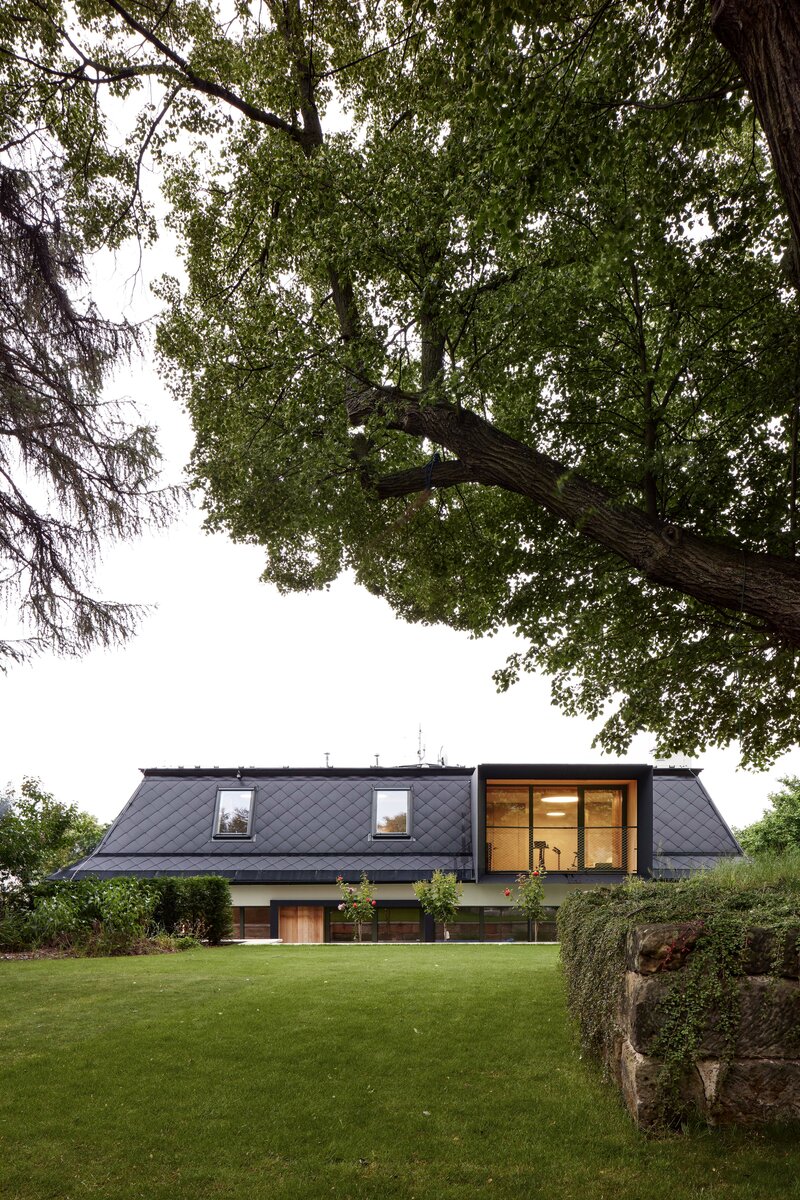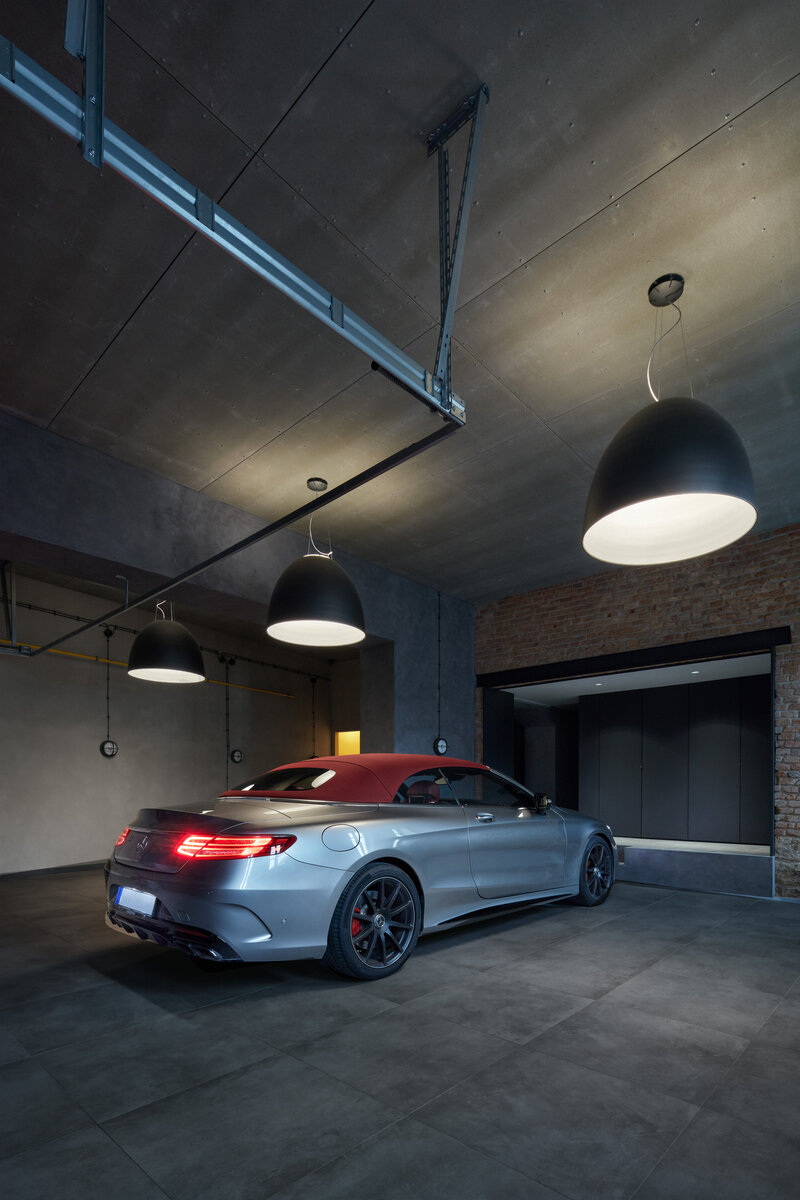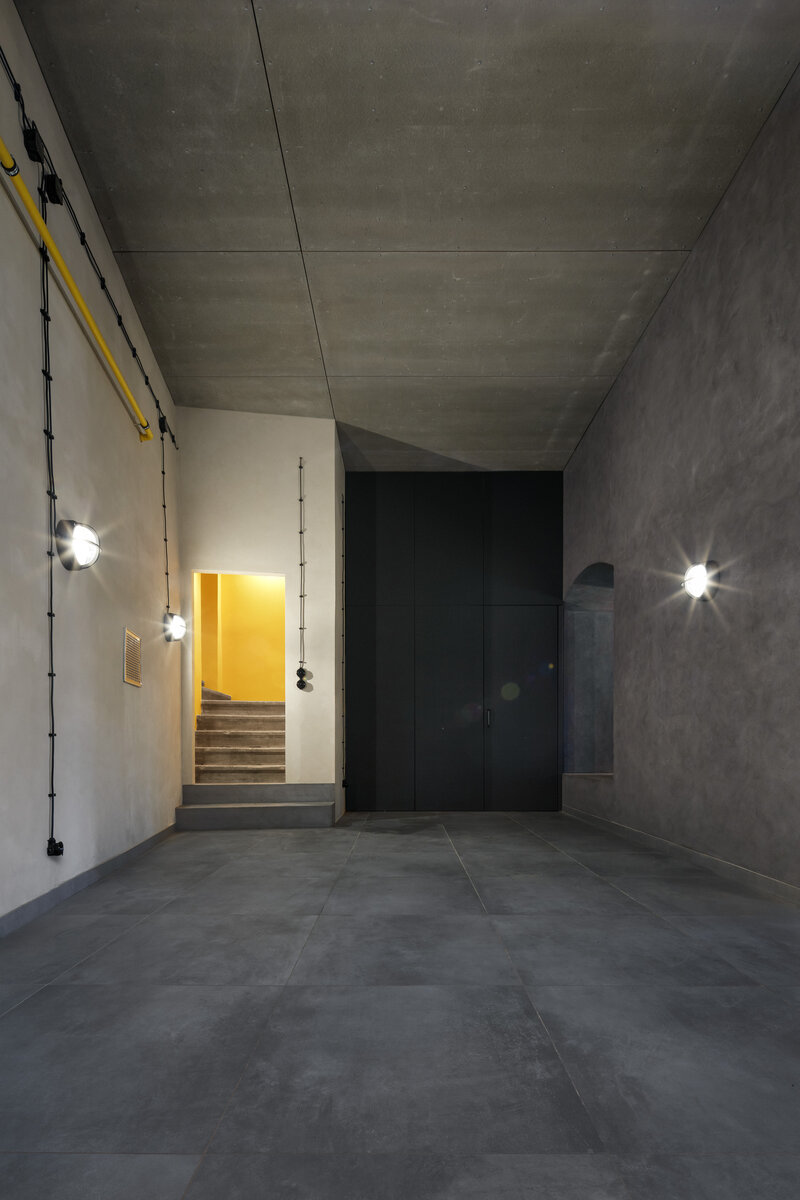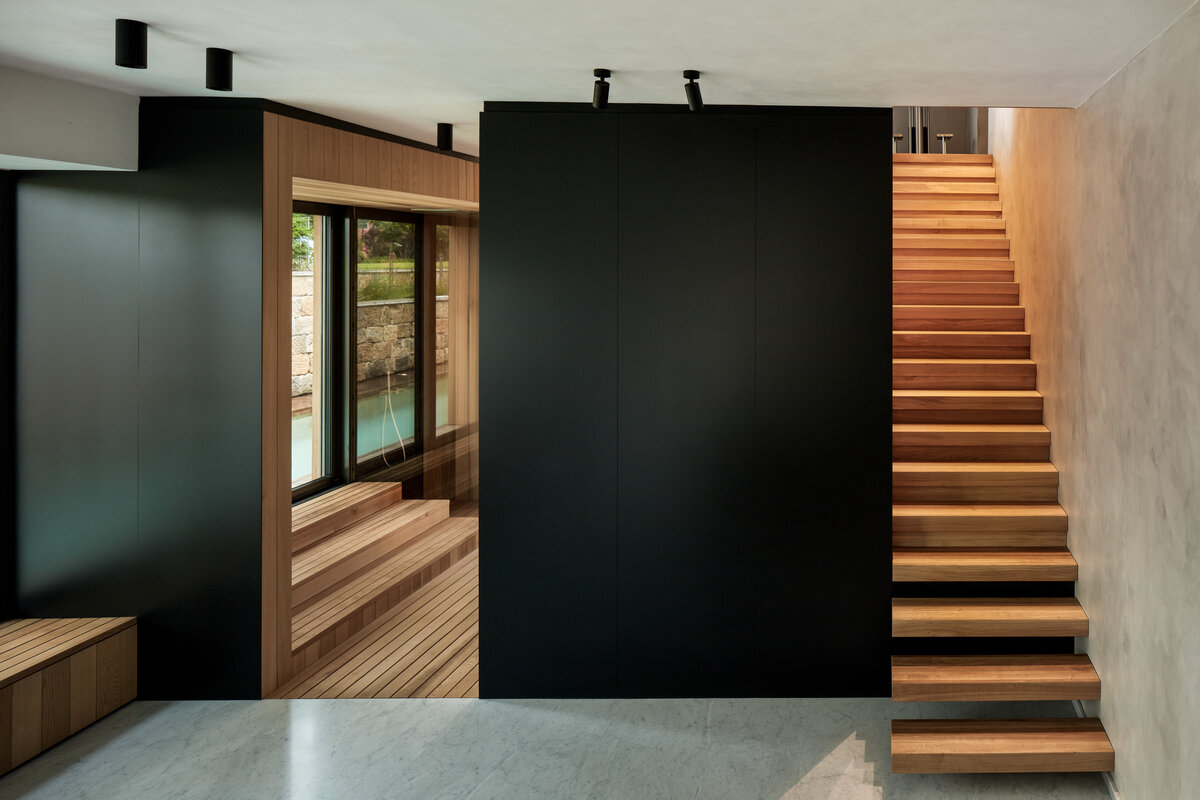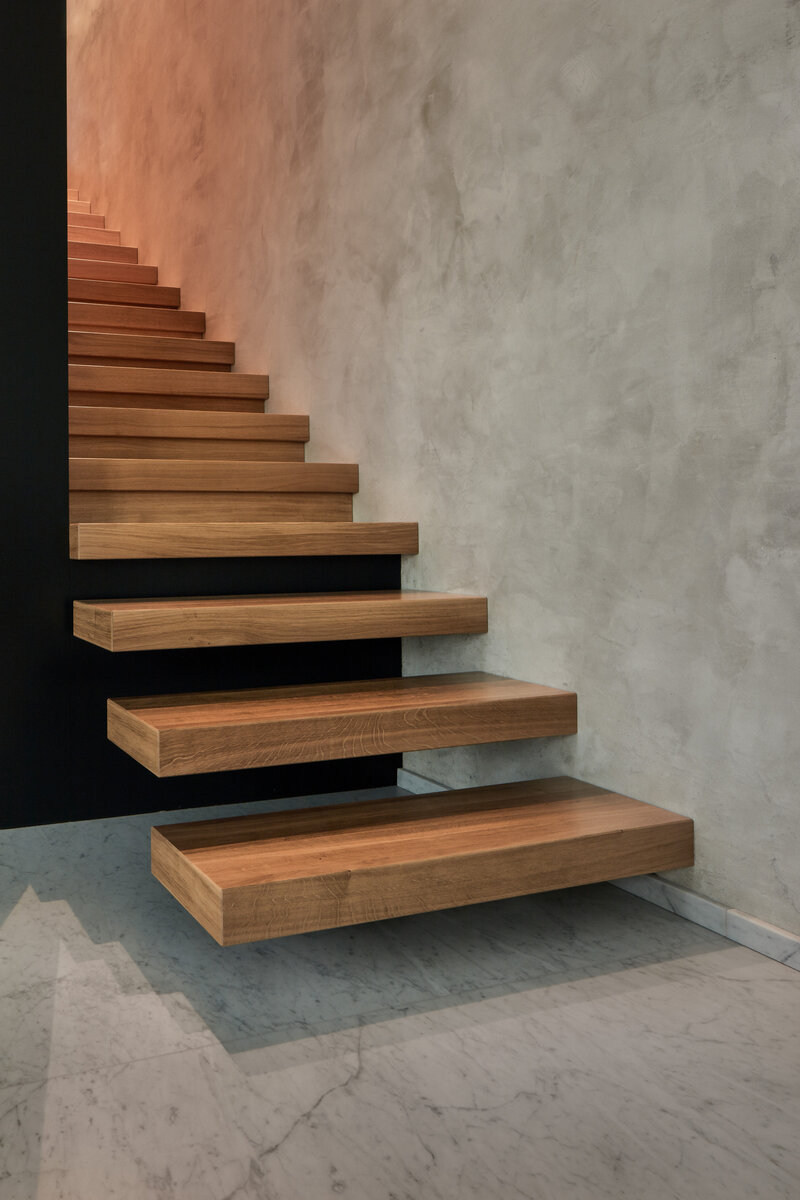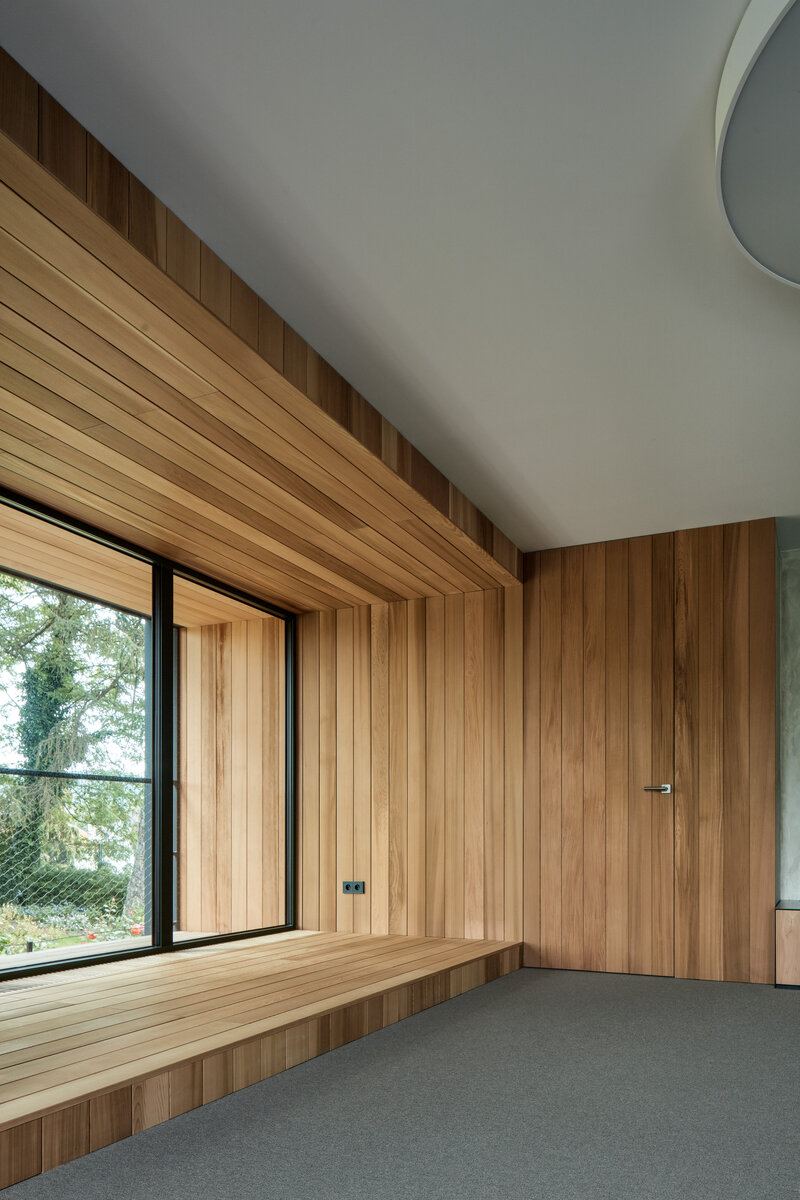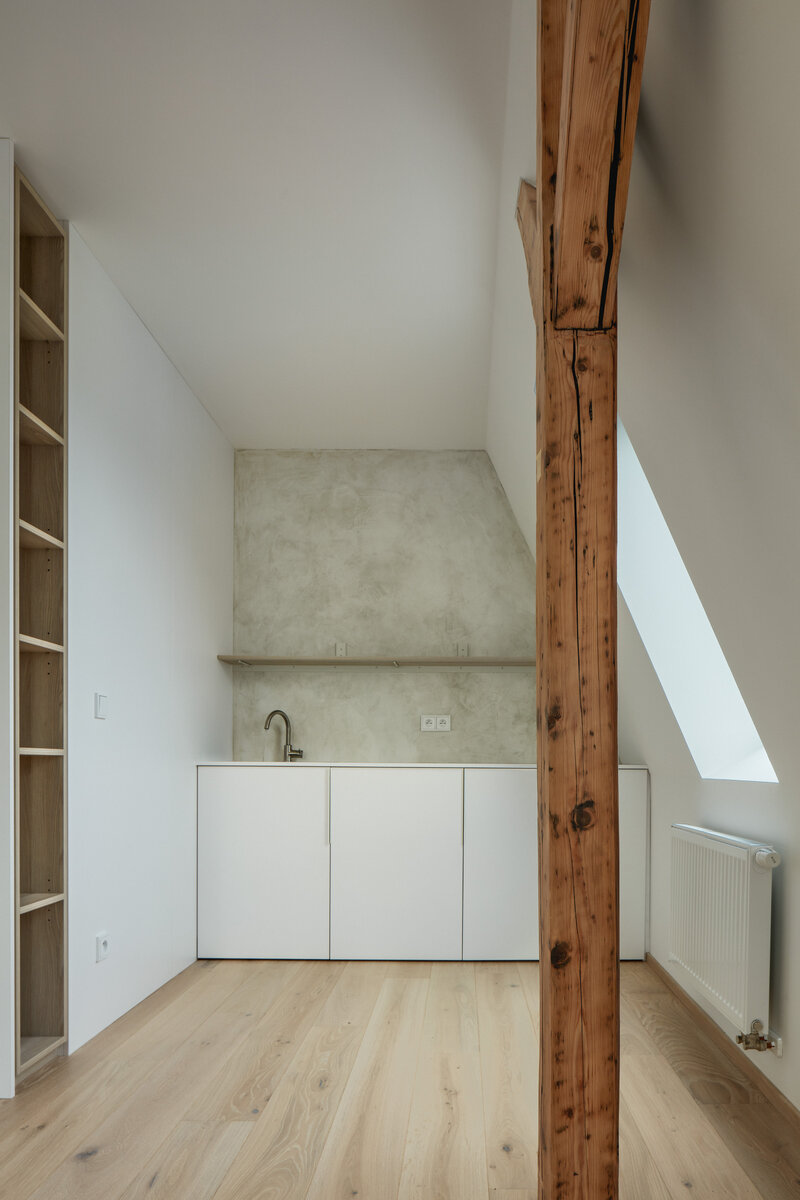 | | |
| --- | --- |
| Author | Ing. arch. Radek Teichman, Ing. arch. Pavel Machar / MACHAR & TEICHMAN |
| Studio | |
| Location | Nový Bor |
| Investor | soukromá osoba |
| Supplier | Foukal s.r.o. |
| Date of project approval | January 2021 |
| Fotograf | |
The investor's brief was originally just to design the interior of a private wellness and auditorium in a historic house from the turn-of-the-century which was used for offices and car parking for his company. The scope of the brief has grown over time to include a complete renovation of the house and adjacent public space.
The building has a total of three storeys including an attic and is perched on the edge of a terrain ridge in the central part of the town. Facing the public open space, the semibasement level contains a garage and the entrance lobby of the office wing. There are offices facing the street and a spa oriented towards the private garden on the first floor. The attic contains offices more offices to the street side on the garden side there are lounge and gym.

The space intended for the wellness was originally semi-basement, lacking neither sufficient daylight nor contact with the adjacent garden full of mature trees. Light access was resolved by excavating part of the garden and opening up the north wall facing the garden as much as possible. A linear swimming pool was subsequently installed in the space created alongside the house.

In addition to the full height glazing, the garden façade also features two contemporary objects that breaks through the facade into interior of the house. The black metal-clad blocks integrate a sauna on the lower floor and a balcony with a lounge on the upper floor. The interiors of the buildings are clad in cedar wood, which is set in contrast with the otherwise monochromatic interior, dominated by white marble and walls finished with cement screed.

The interior of the newly renovated garage emphasises fragments of the old building. Original colour of 'imperfect' brick wall and the sandstone plinth in the space under the staircase stand out in rather monochromatic industrial interior.
The façade of the house is traditionally finished in plaster. Roof is lined with eternit tiles, material which is often used in the region. Sandstone blocks acquired during reconstruction were used for the retaining walls in the garden.
Green building
Environmental certification
| | |
| --- | --- |
| Type and level of certificate | - |
Water management
| | |
| --- | --- |
| Is rainwater used for irrigation? | |
| Is rainwater used for other purposes, e.g. toilet flushing ? | |
| Does the building have a green roof / facade ? | |
| Is reclaimed waste water used, e.g. from showers and sinks ? | |
The quality of the indoor environment
| | |
| --- | --- |
| Is clean air supply automated ? | |
| Is comfortable temperature during summer and winter automated? | |
| Is natural lighting guaranteed in all living areas? | |
| Is artificial lighting automated? | |
| Is acoustic comfort, specifically reverberation time, guaranteed? | |
| Does the layout solution include zoning and ergonomics elements? | |
Principles of circular economics
| | |
| --- | --- |
| Does the project use recycled materials? | |
| Does the project use recyclable materials? | |
| Are materials with a documented Environmental Product Declaration (EPD) promoted in the project? | |
| Are other sustainability certifications used for materials and elements? | |
Energy efficiency
| | |
| --- | --- |
| Energy performance class of the building according to the Energy Performance Certificate of the building | B |
| Is efficient energy management (measurement and regular analysis of consumption data) considered? | |
| Are renewable sources of energy used, e.g. solar system, photovoltaics? | |
Interconnection with surroundings
| | |
| --- | --- |
| Does the project enable the easy use of public transport? | |
| Does the project support the use of alternative modes of transport, e.g cycling, walking etc. ? | |
| Is there access to recreational natural areas, e.g. parks, in the immediate vicinity of the building? | |