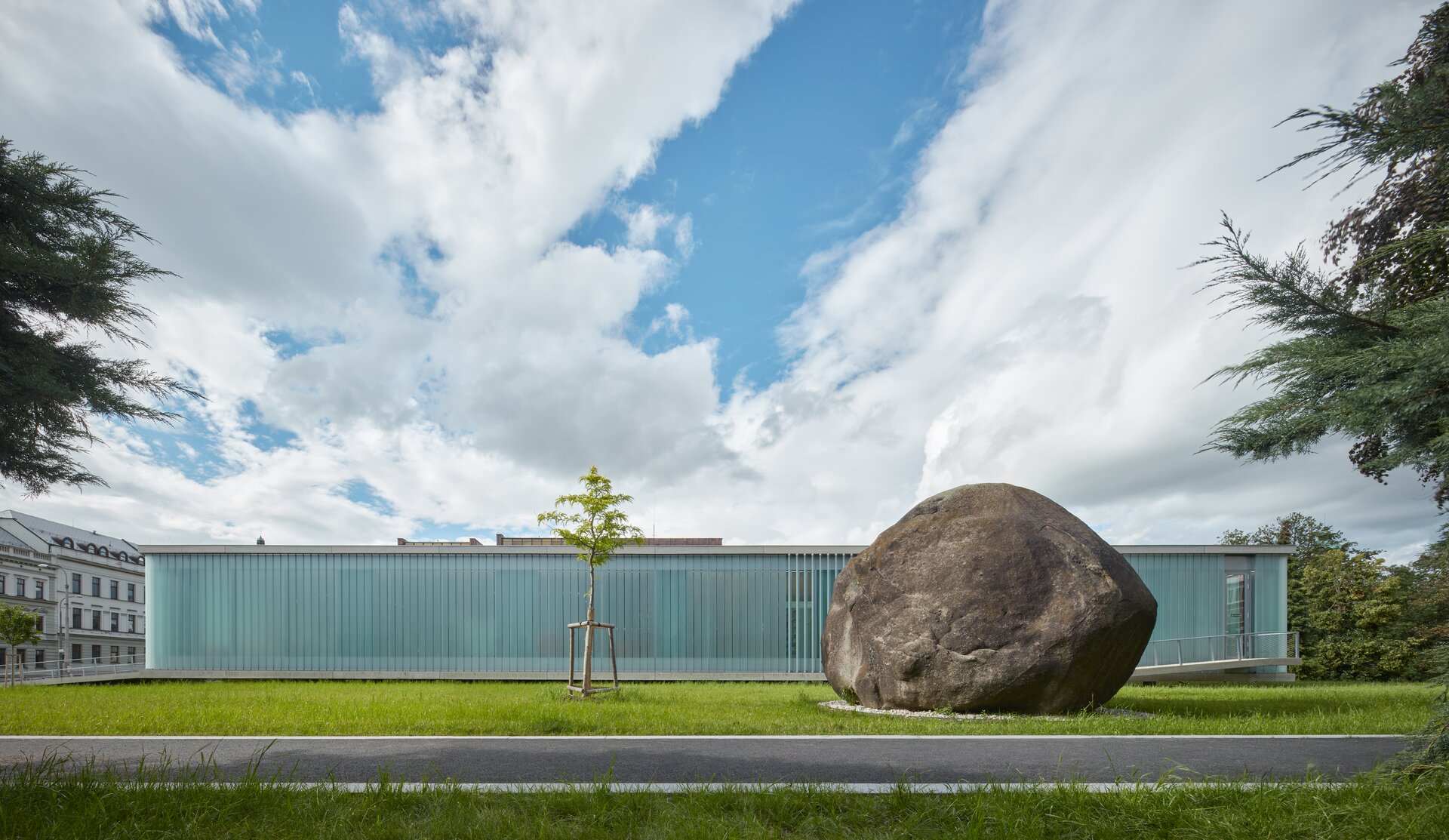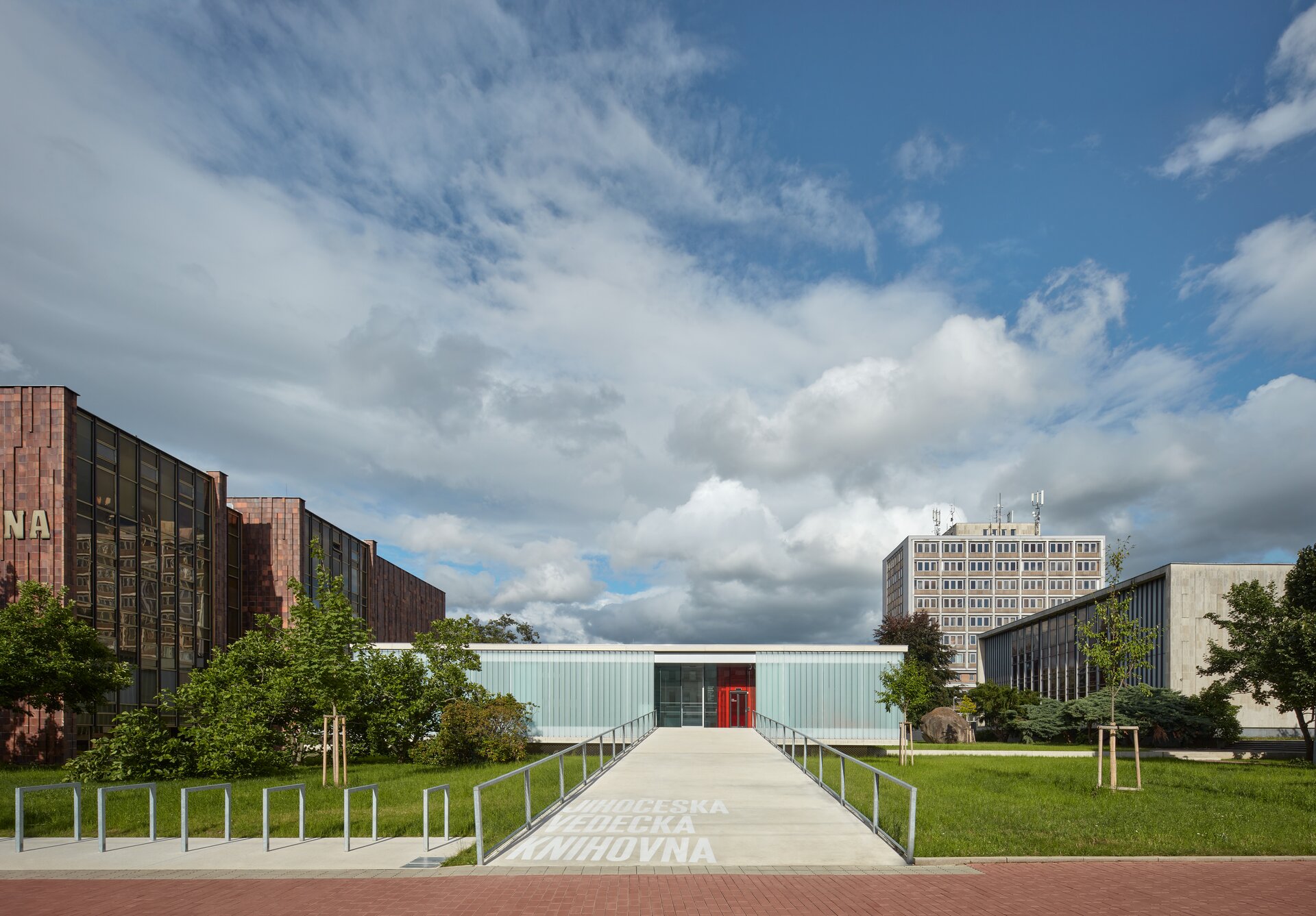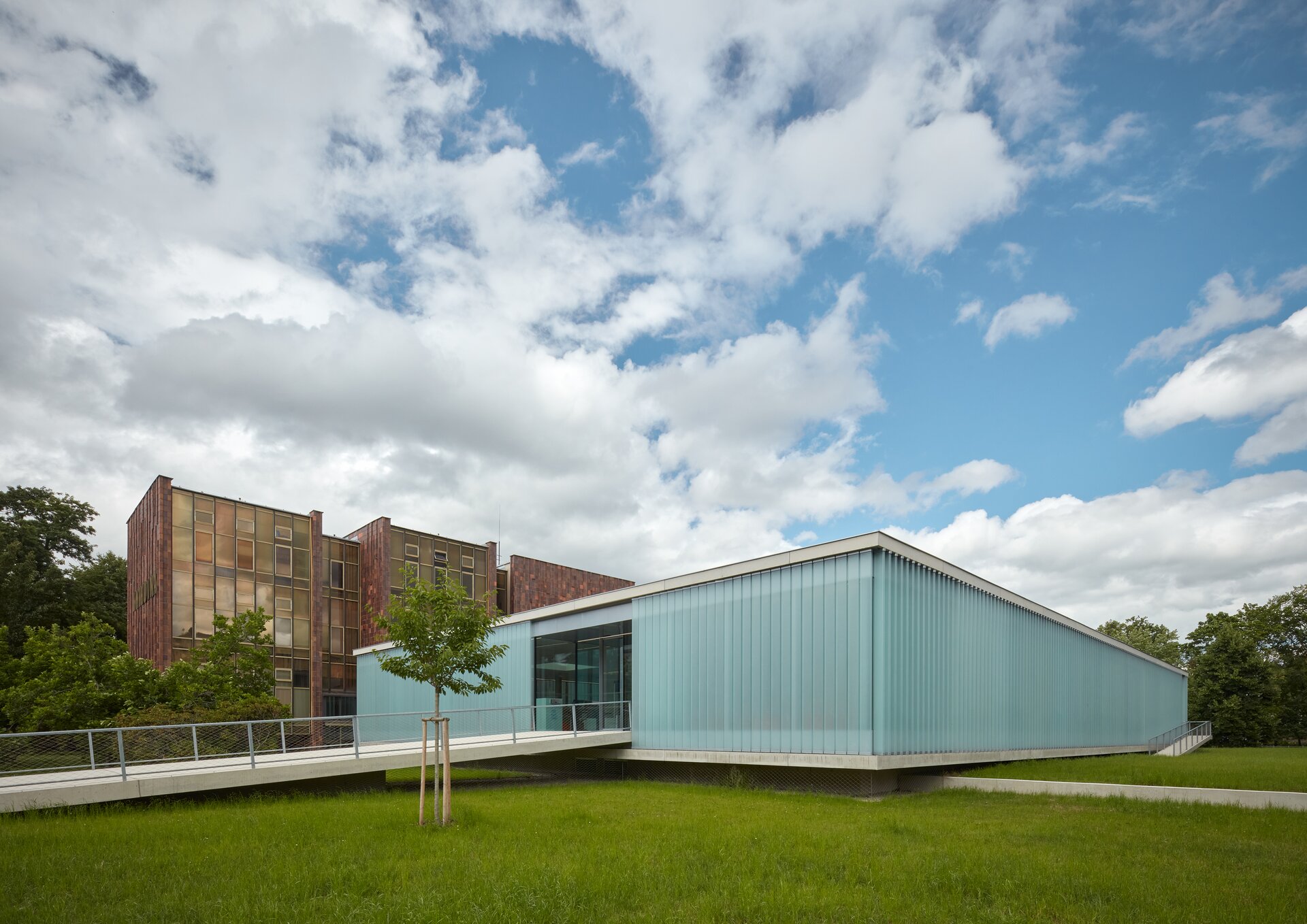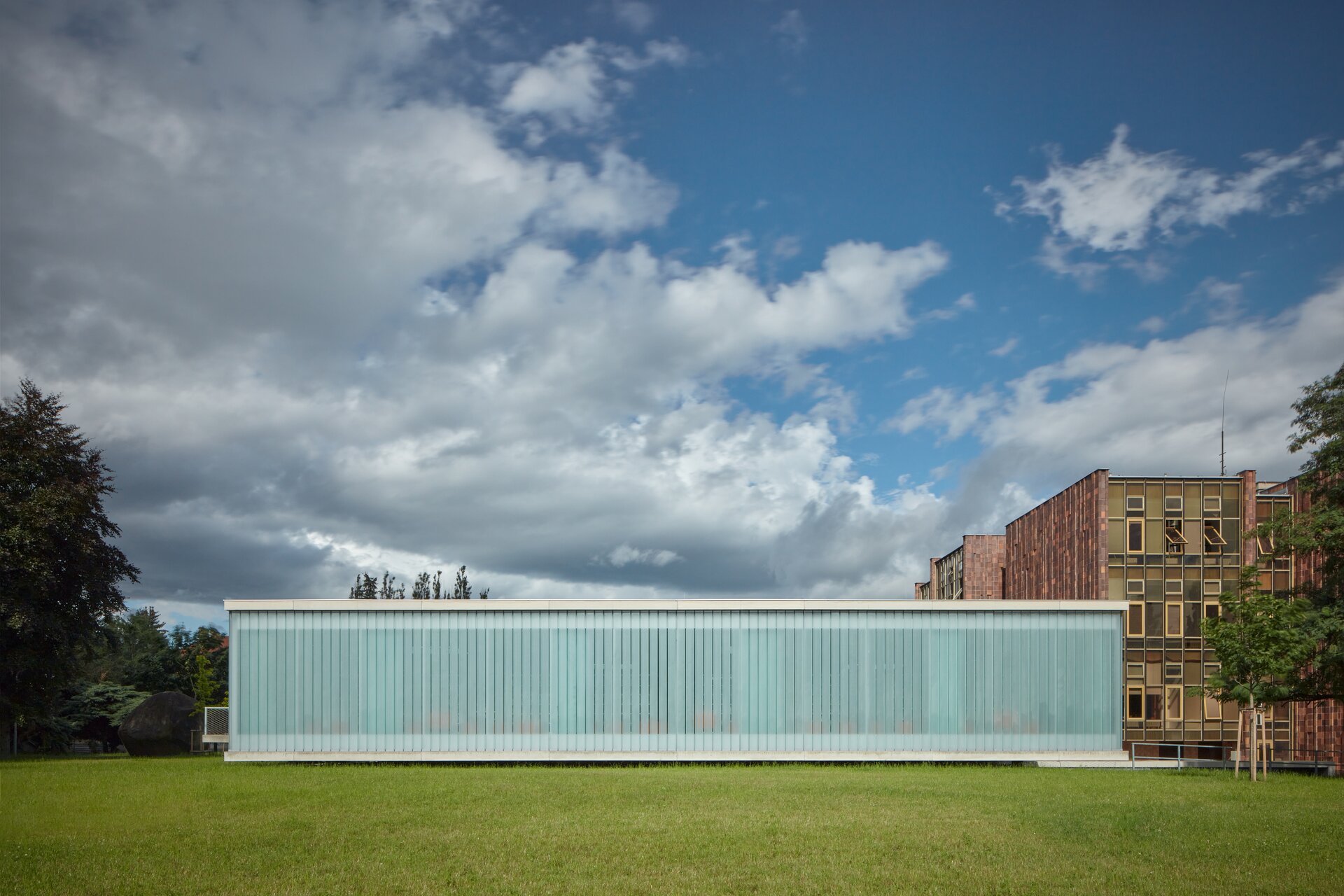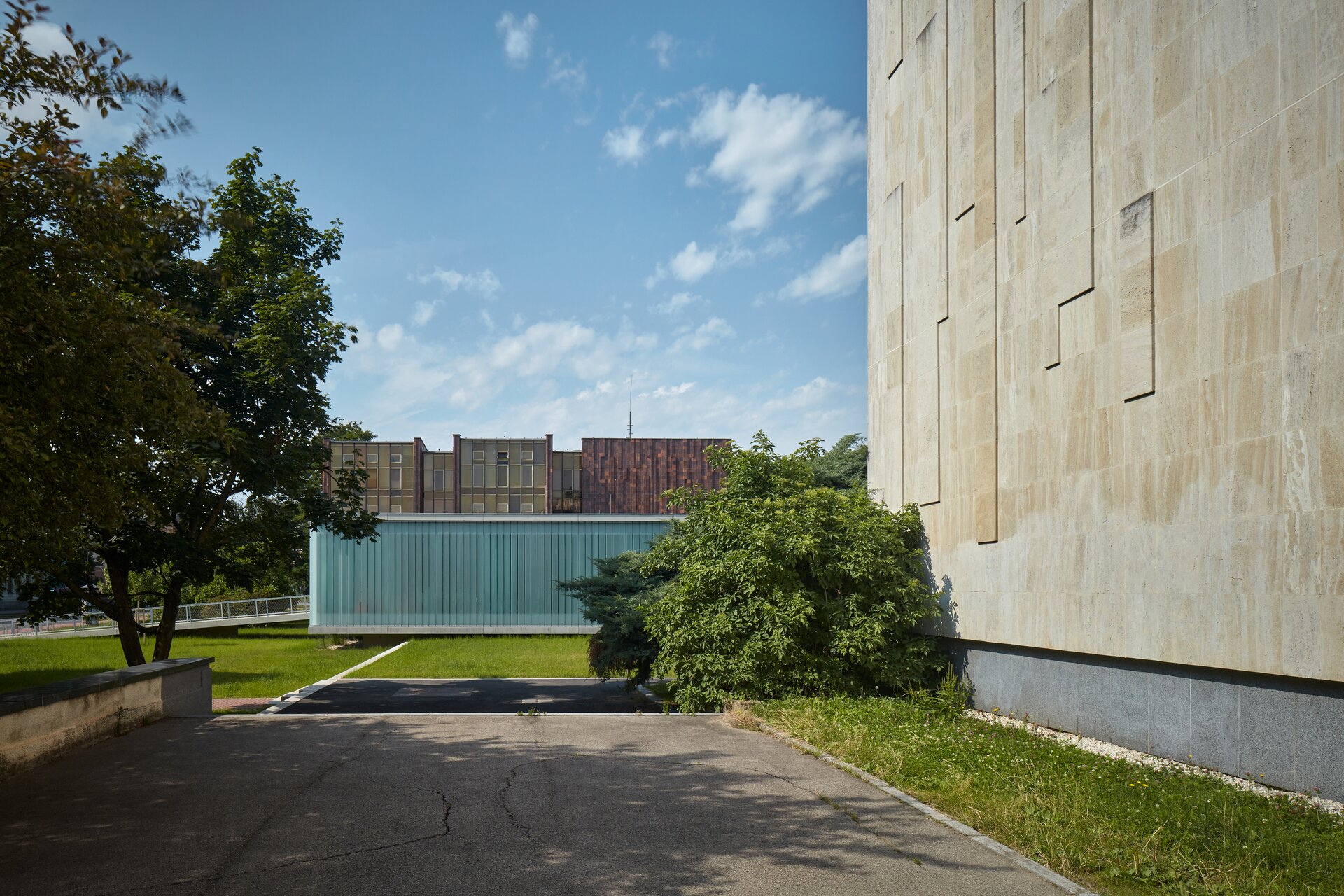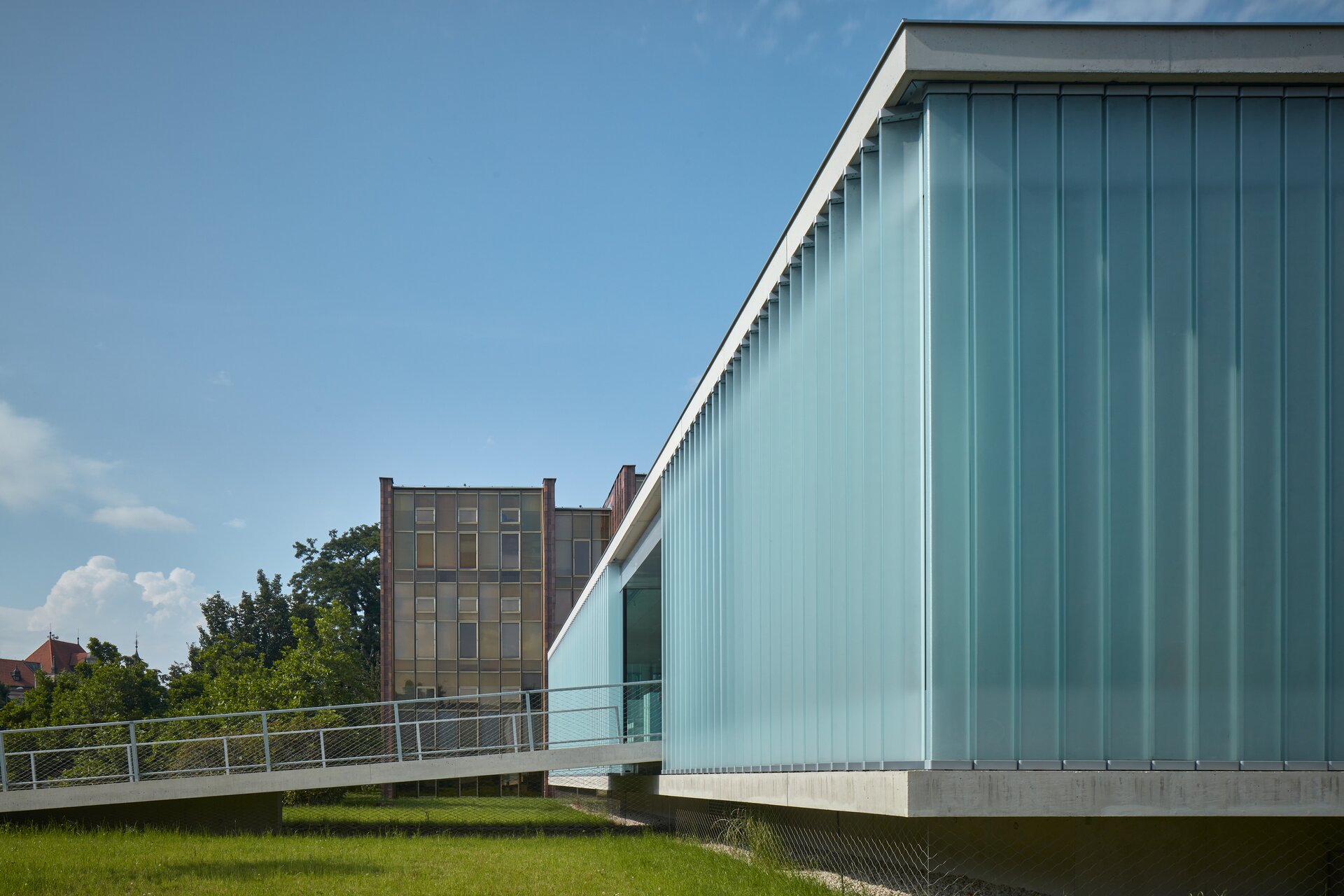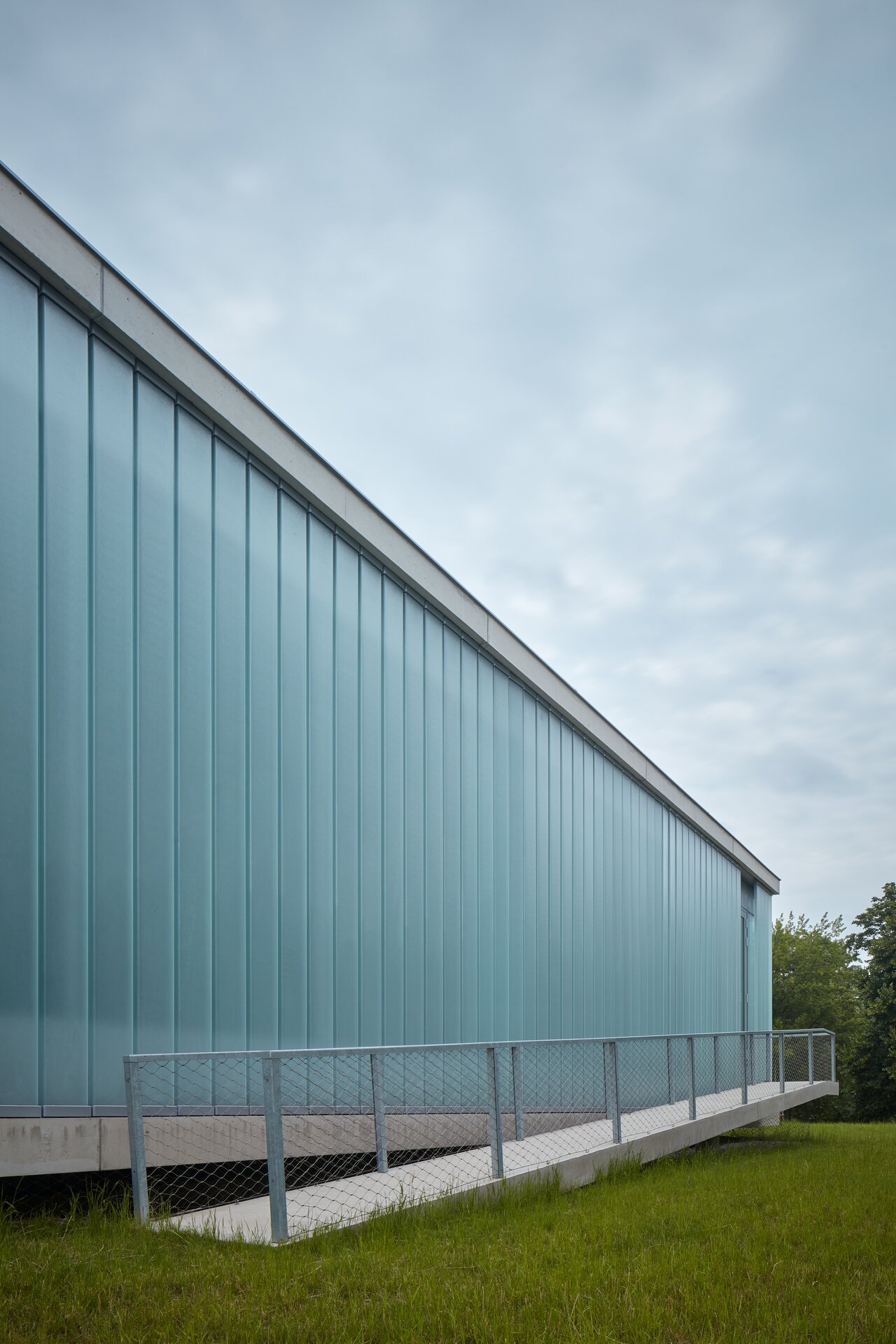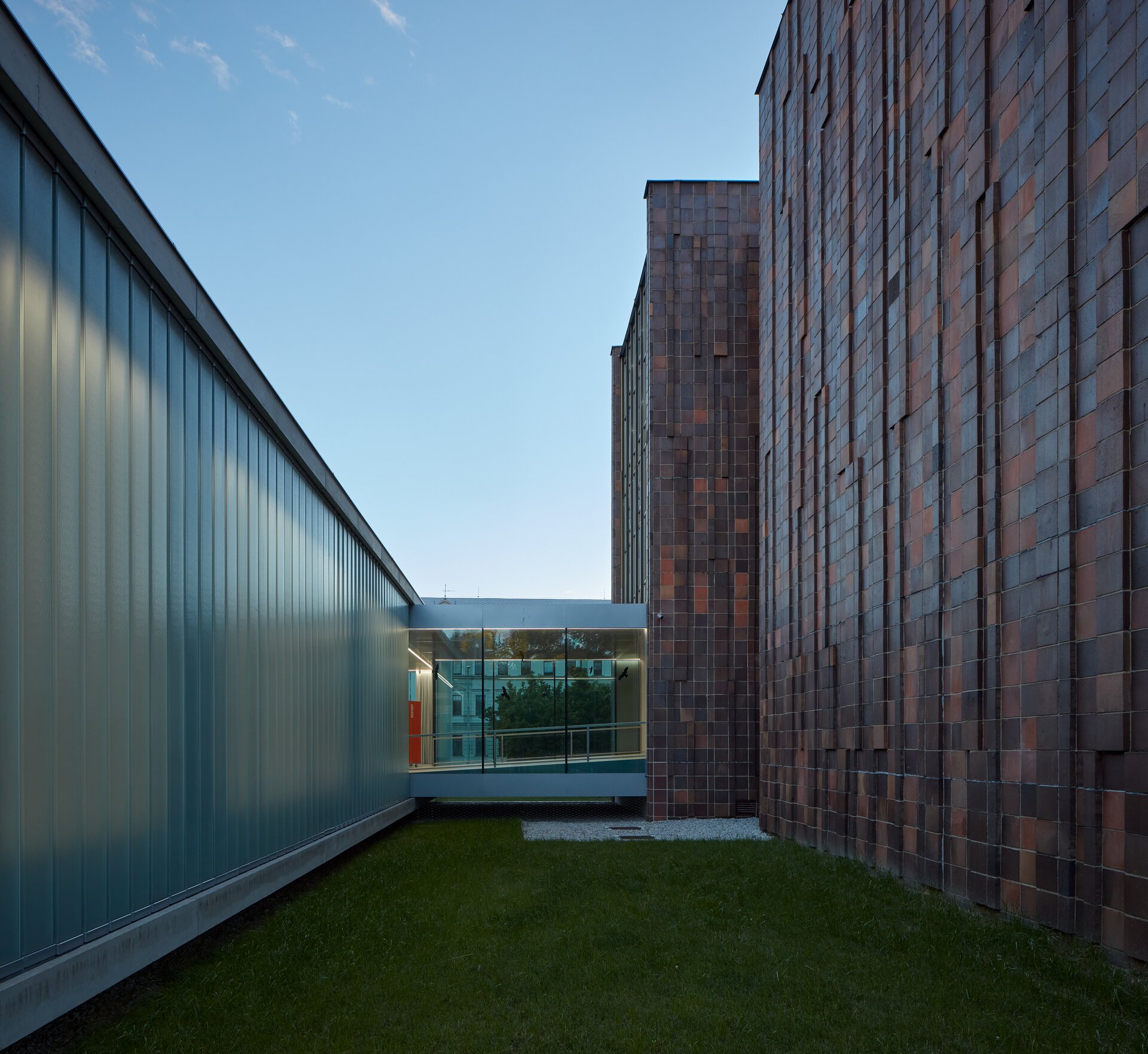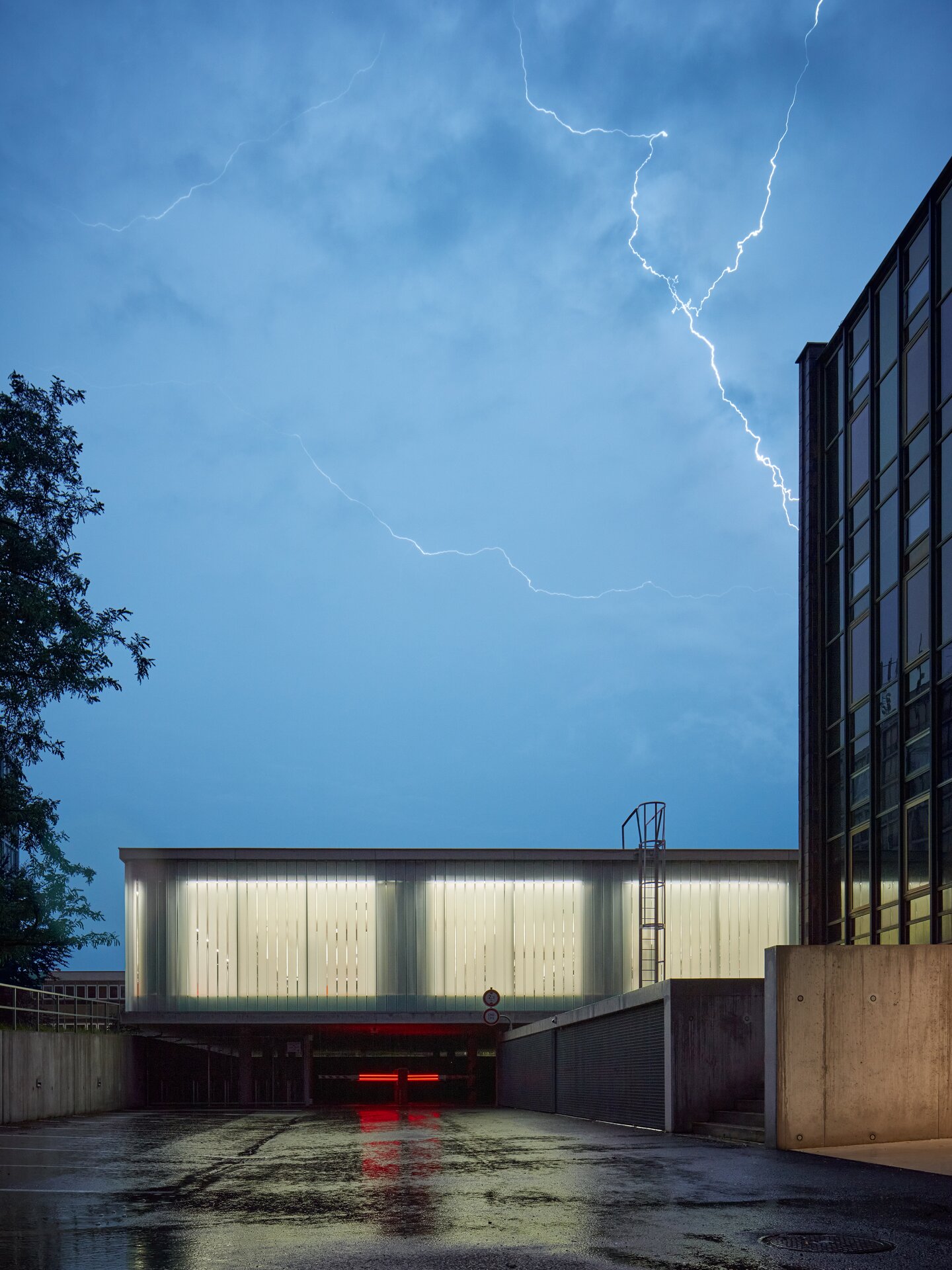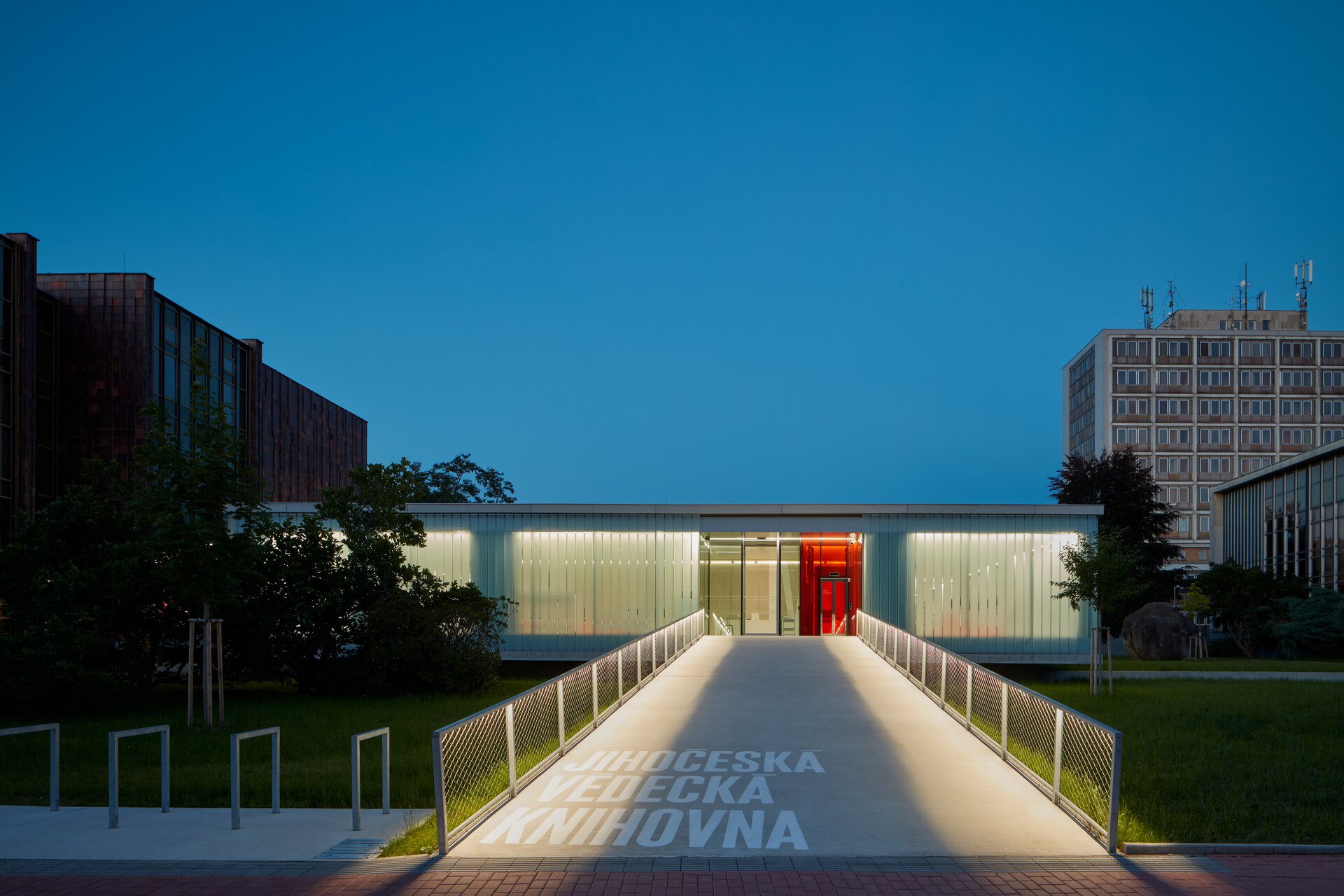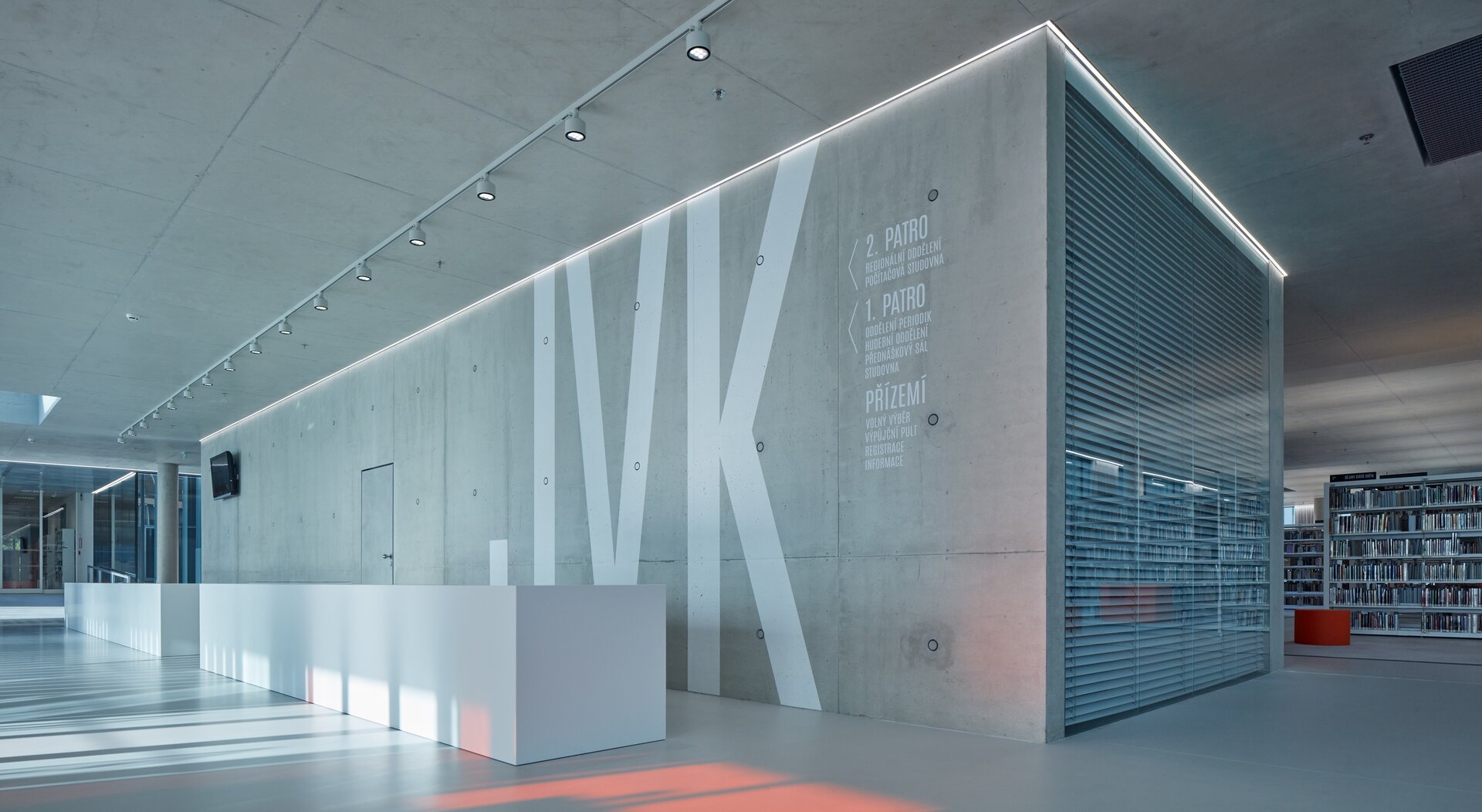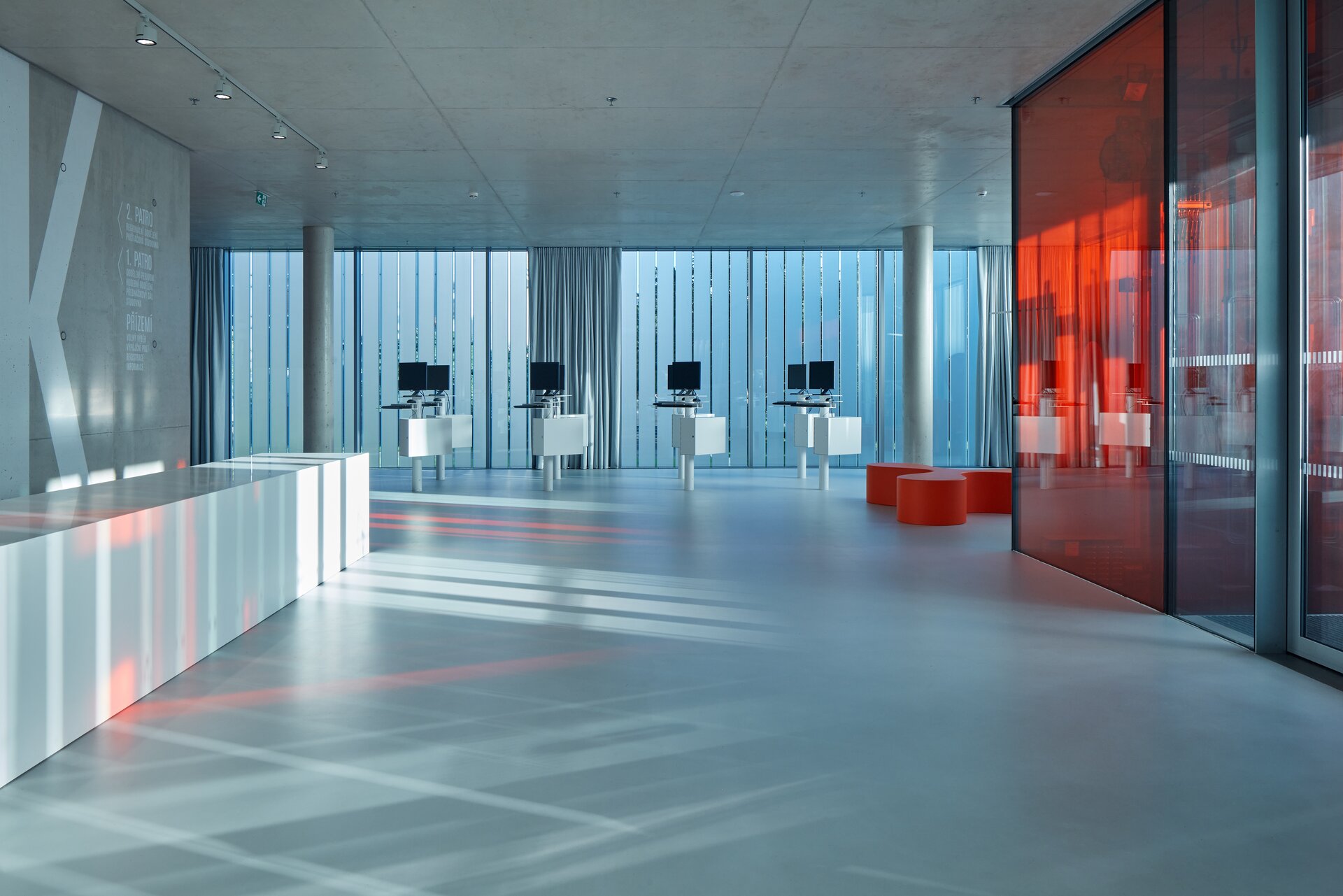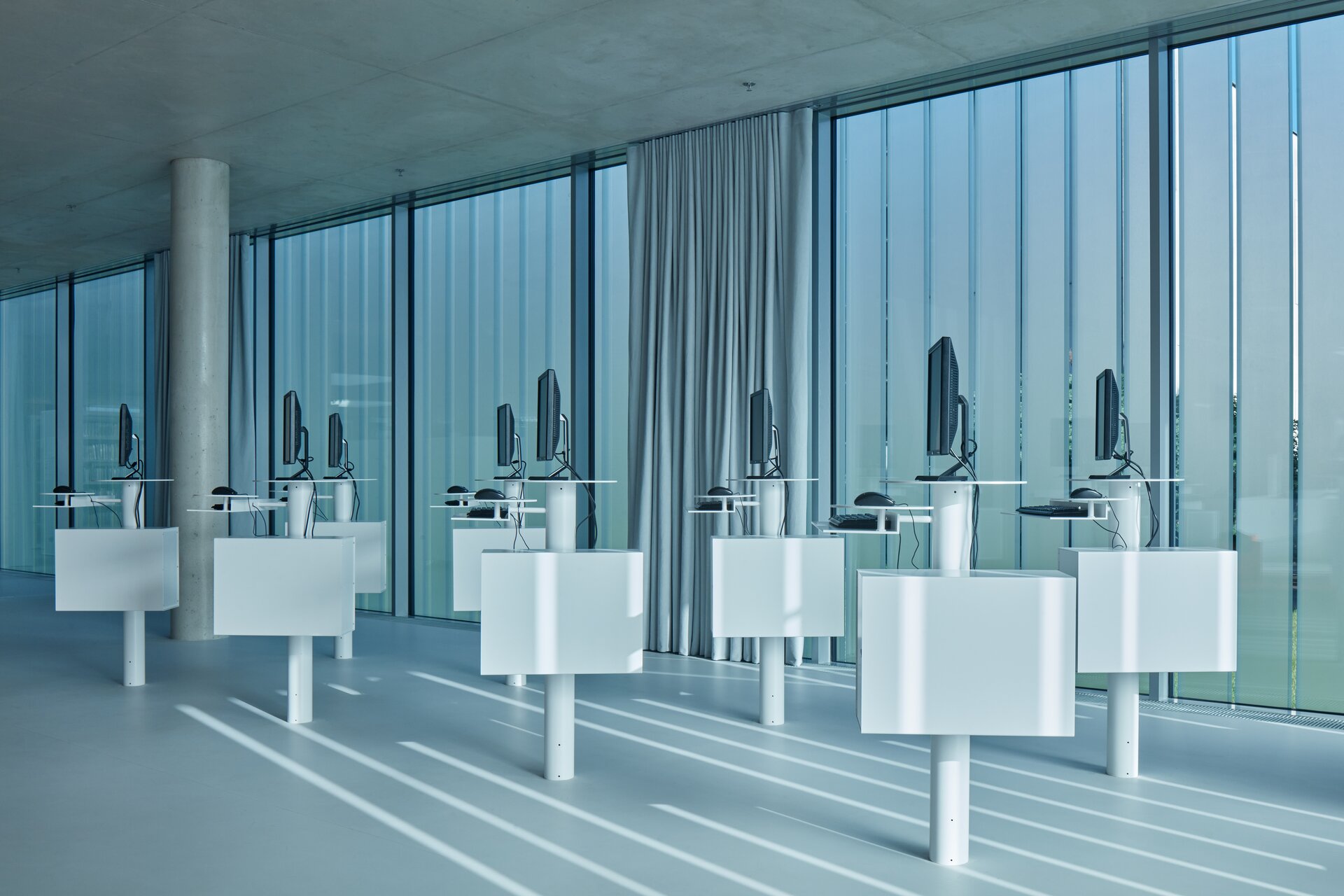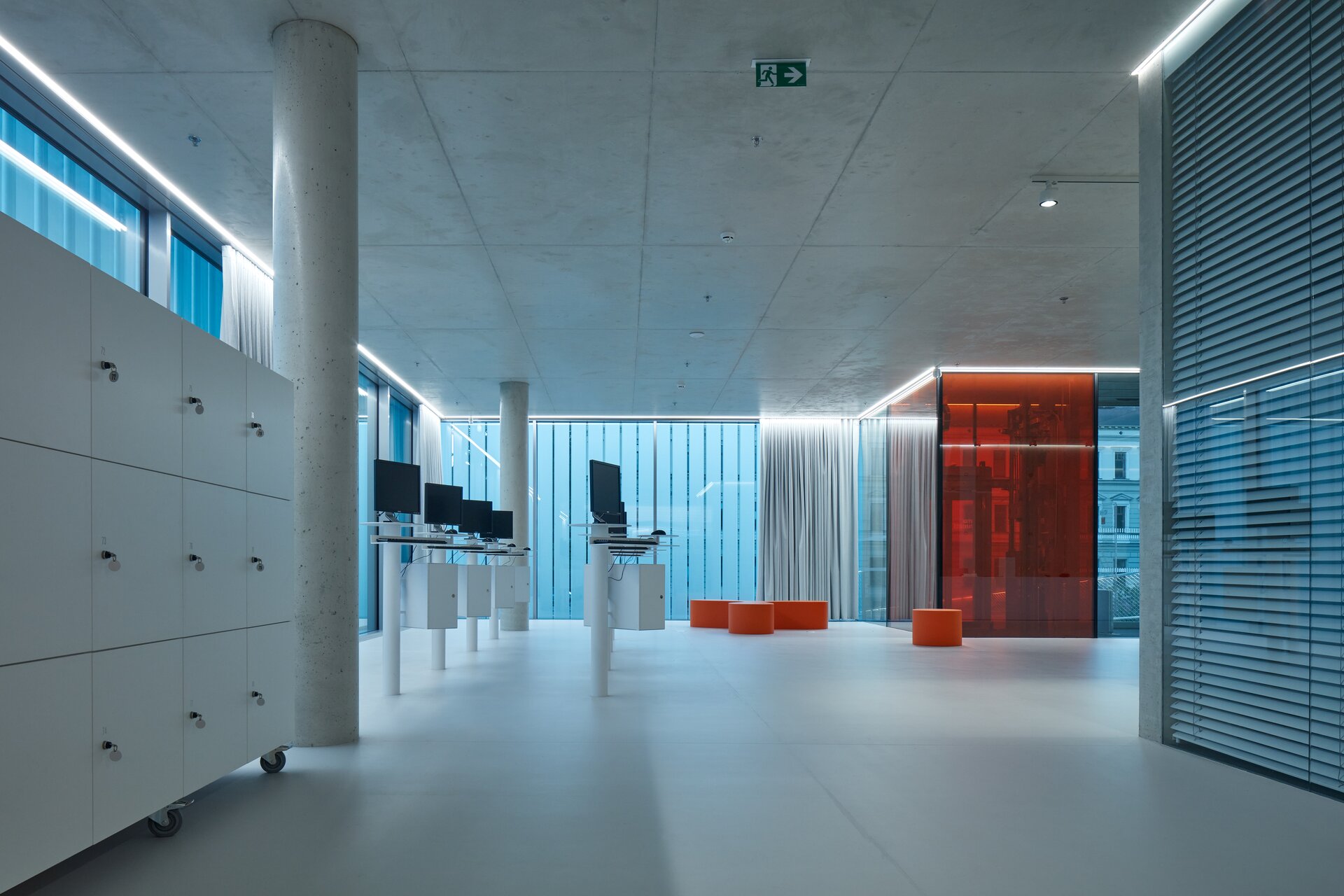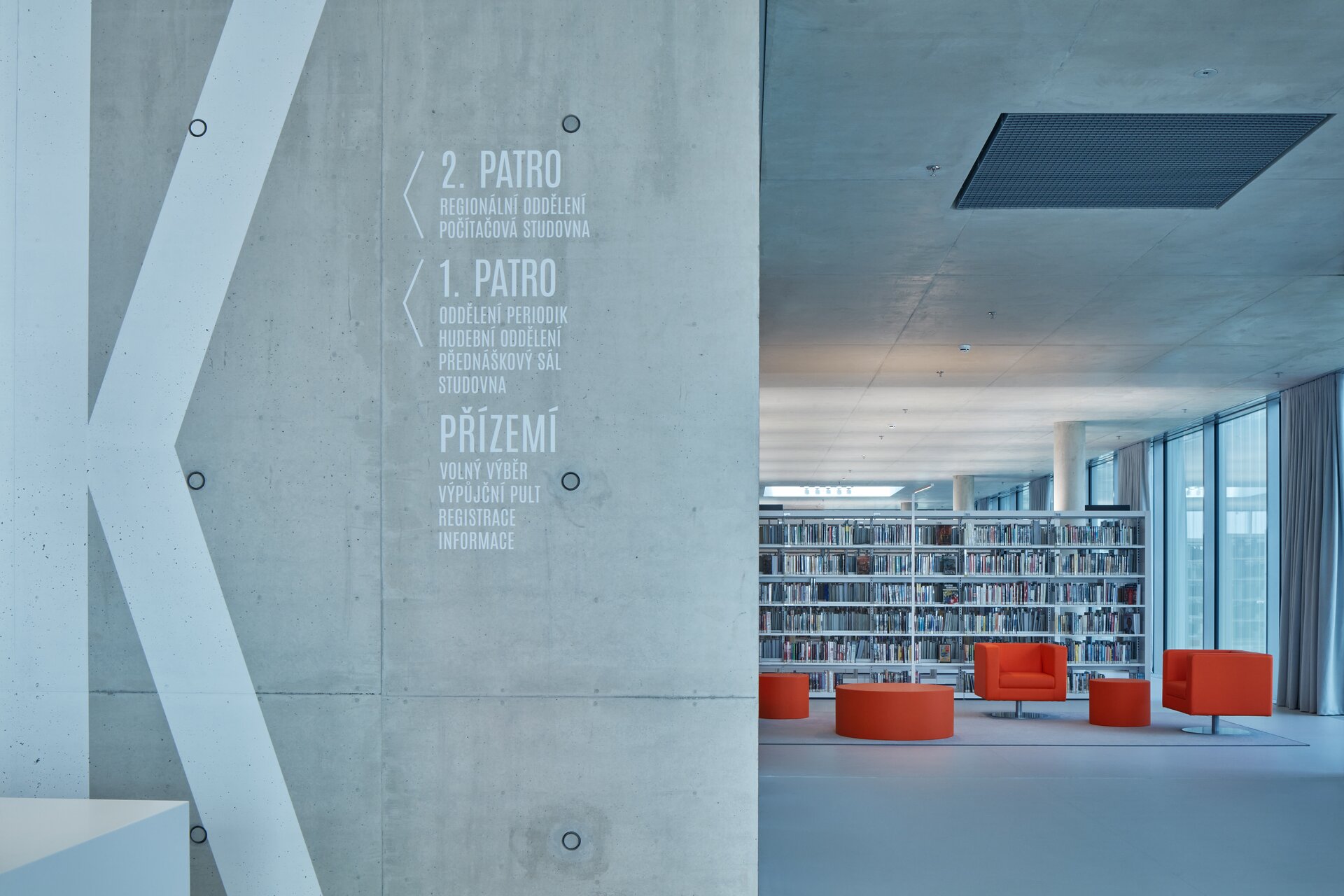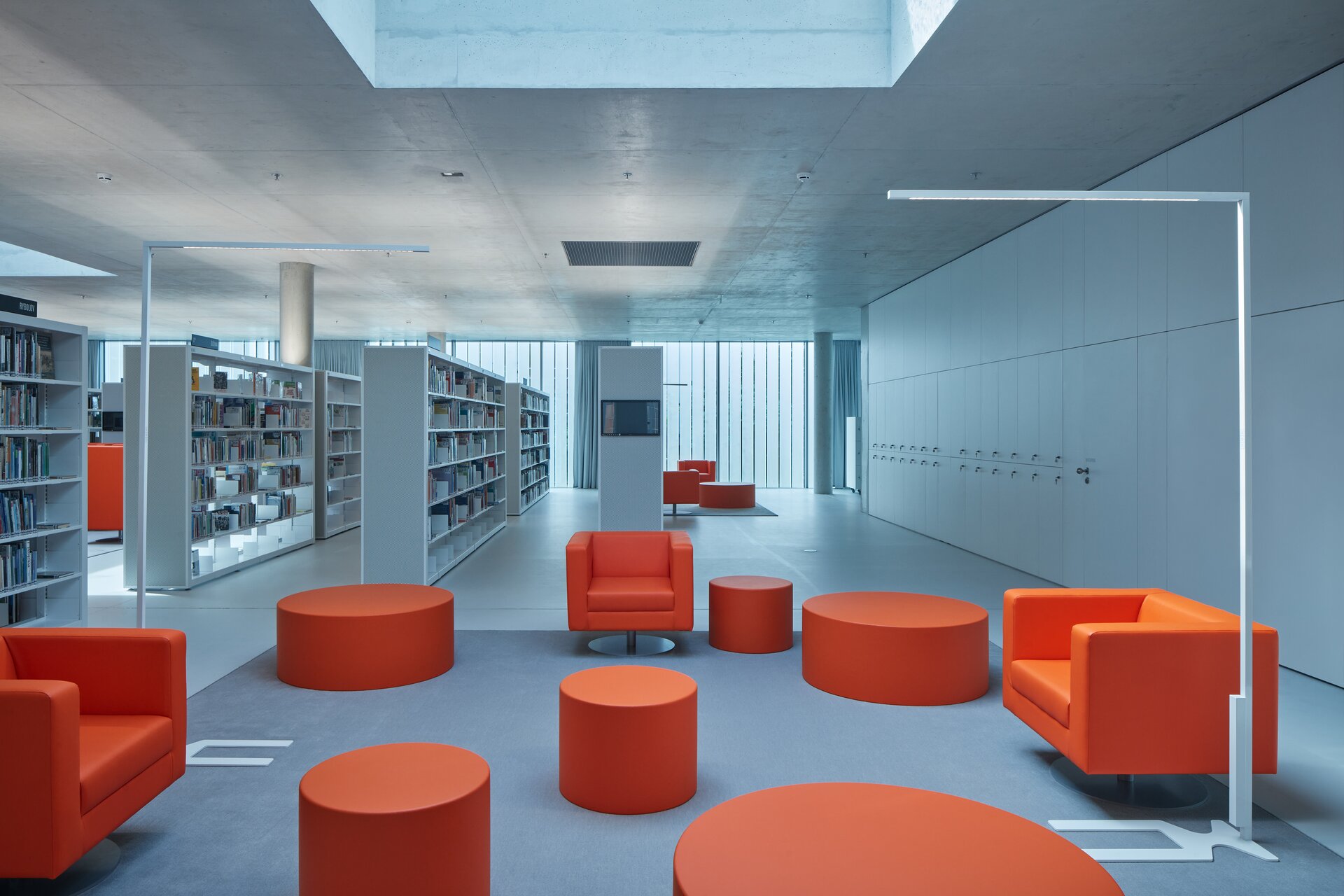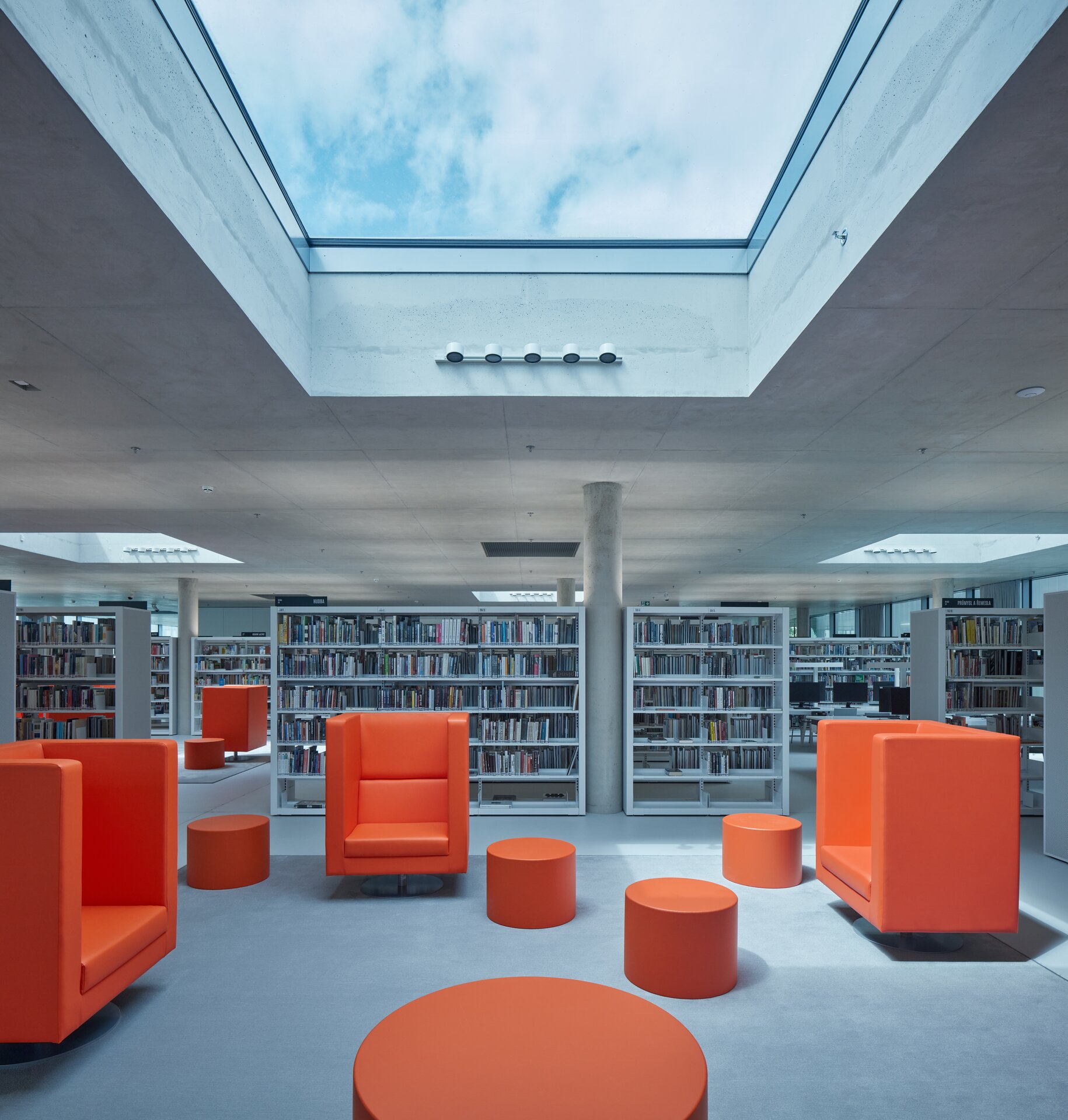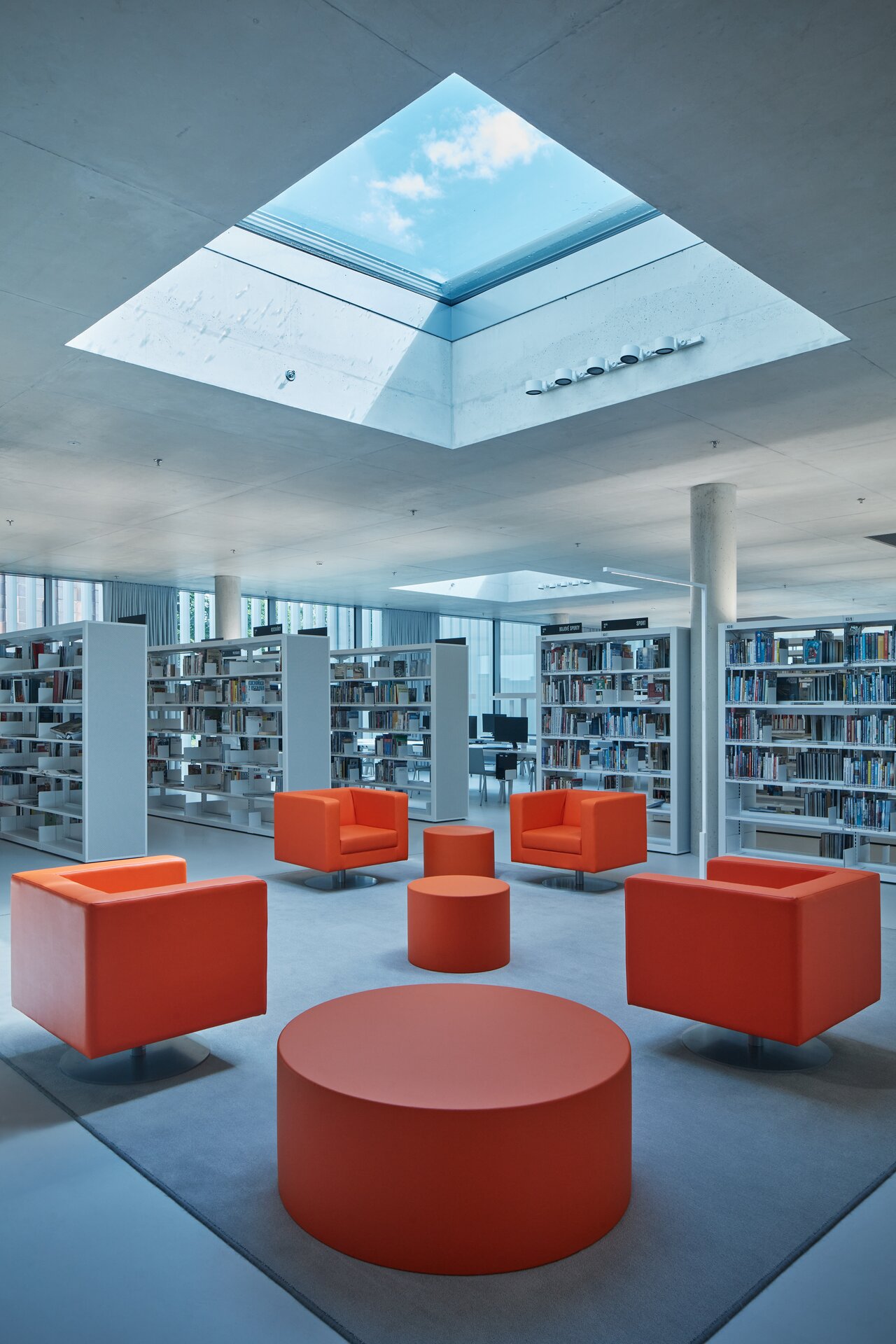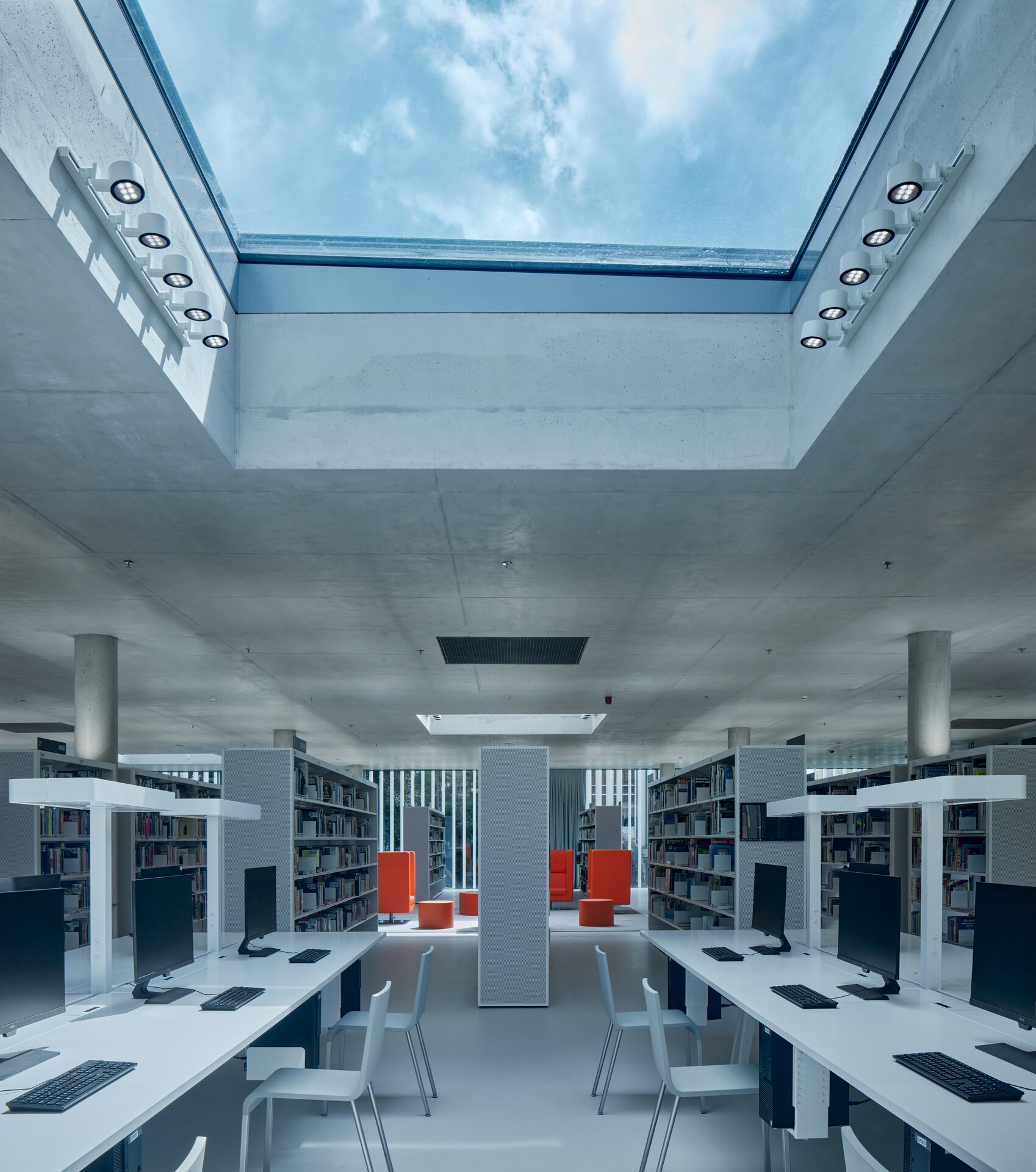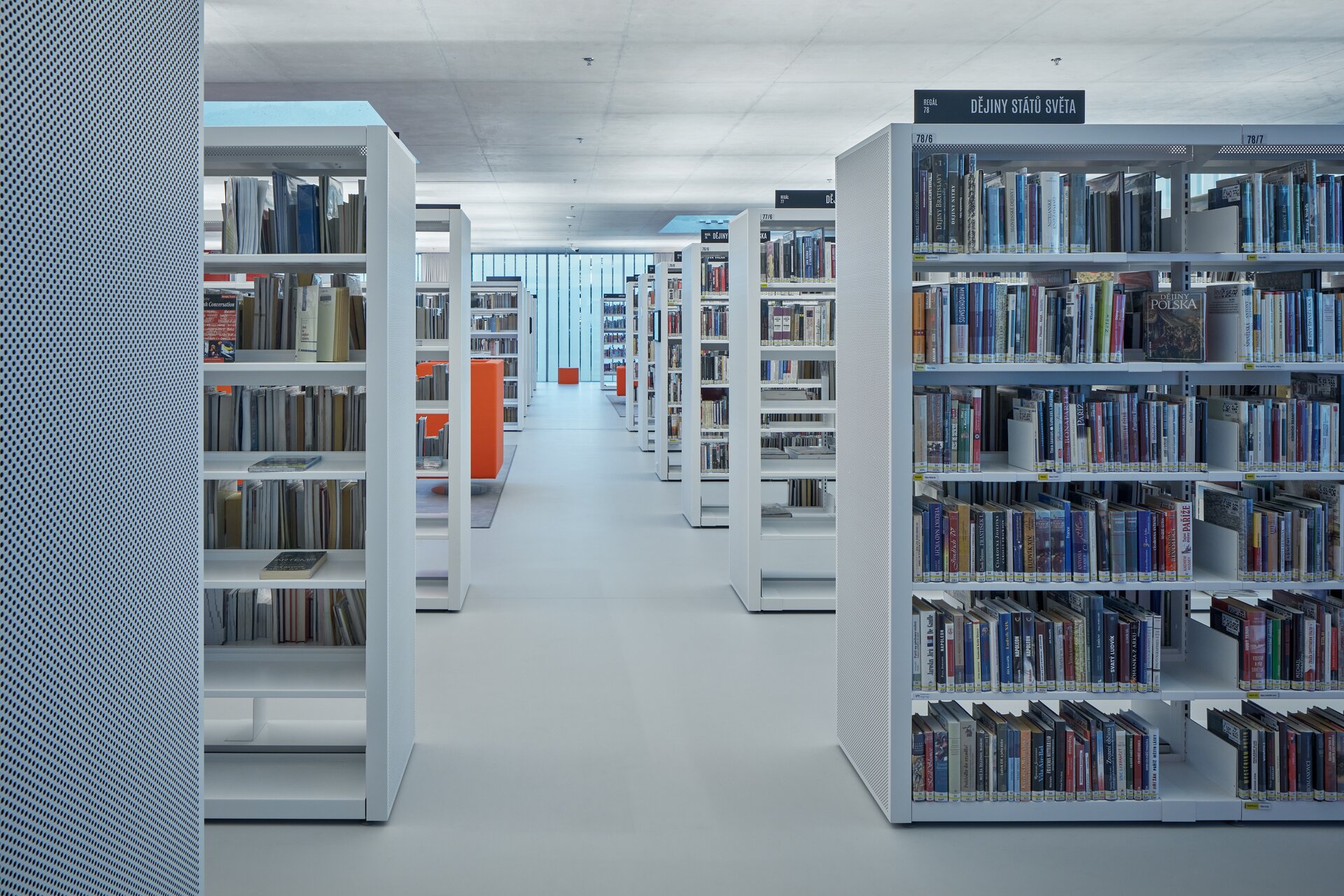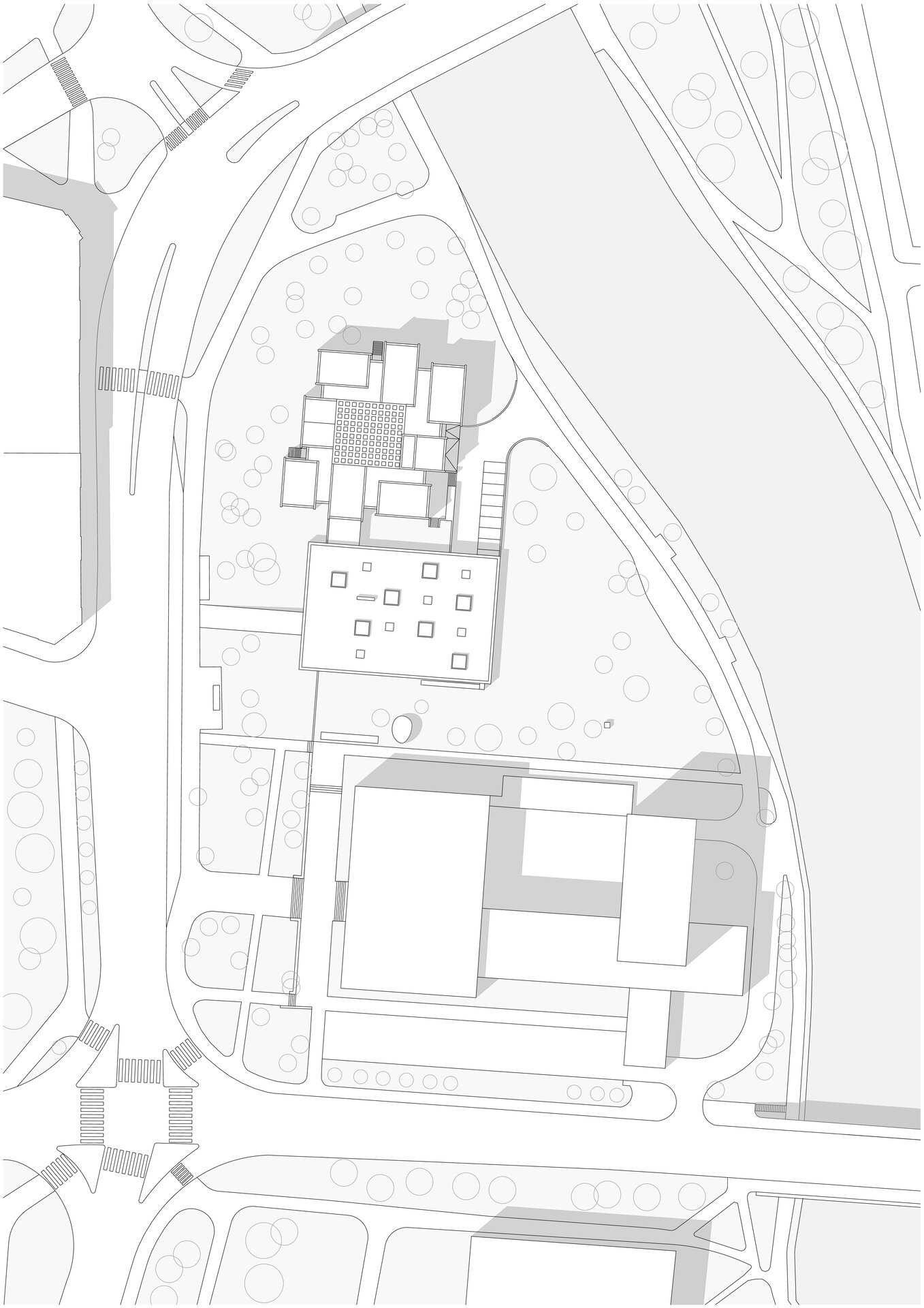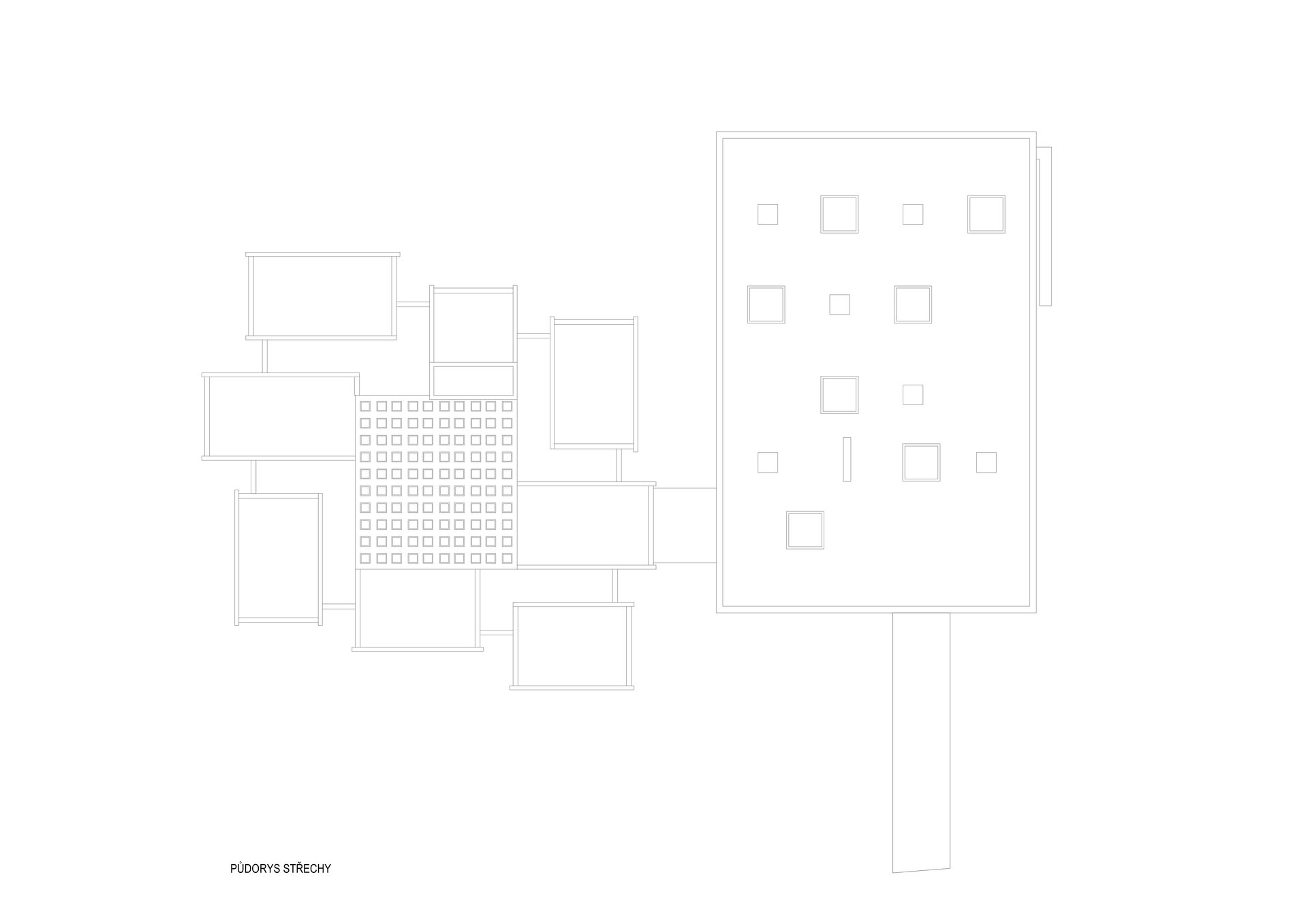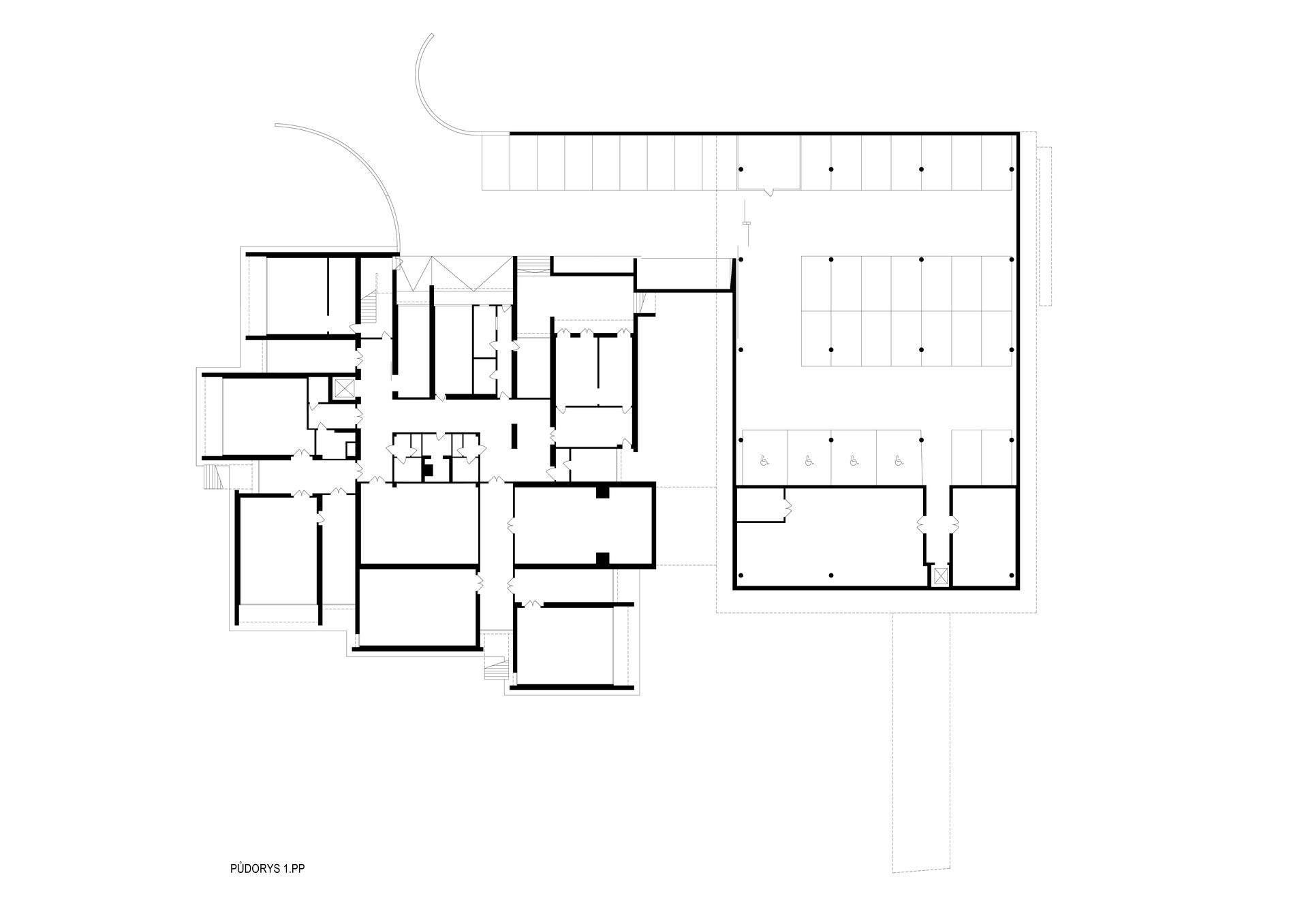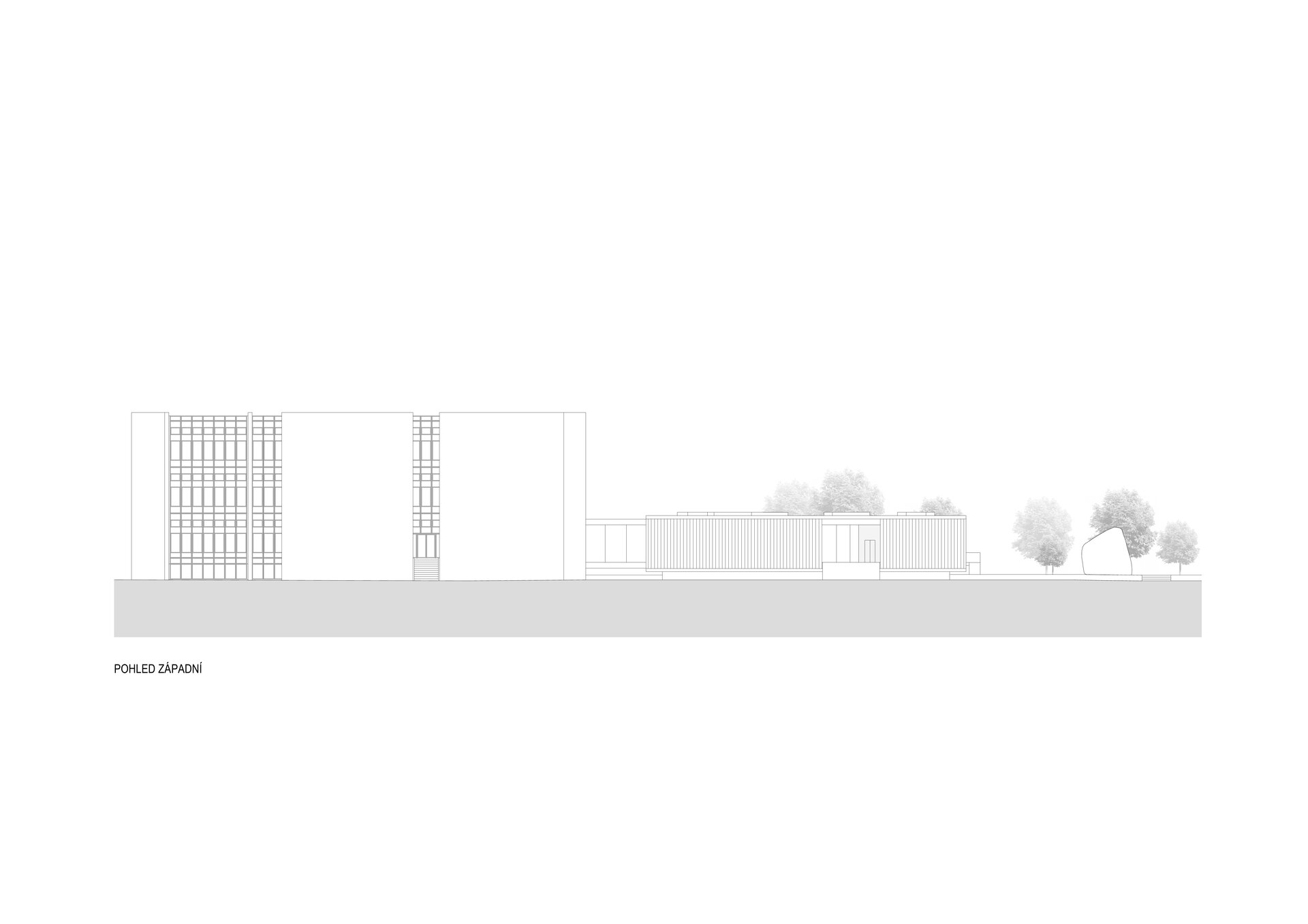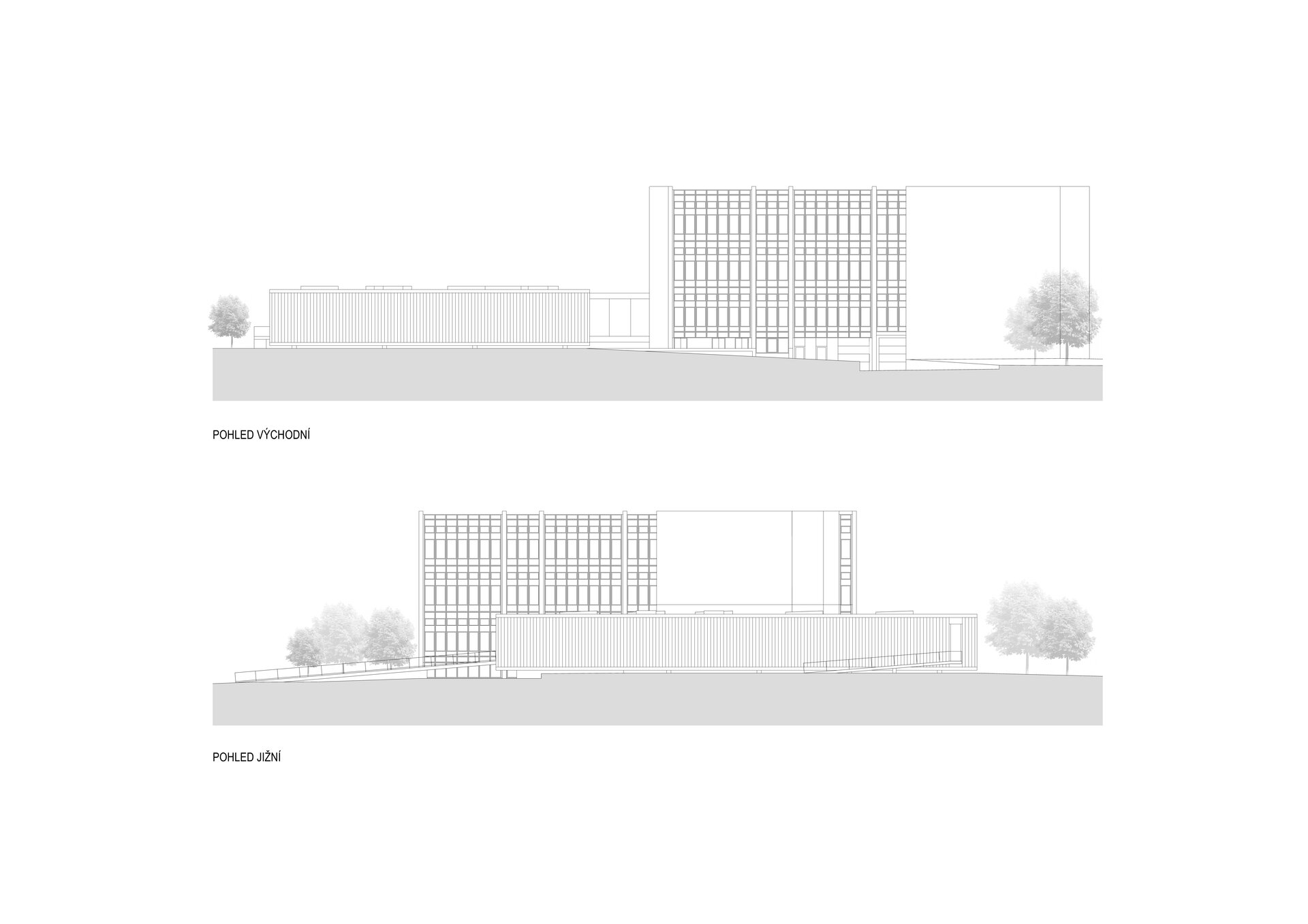 Author
Ladislav Kuba, Tomáš Pilař, Kateřina Jechová, Patrik Obr / Kuba & Pilař architekti
Studio
Location
Lidická třída 1, České Budějovice
Investor
Jihočeská vědecká knihovna v Českých Budějovicích,
Na Sadech 27, 370 59 České Budějovice
Supplier
OHL ŽS, a.s.,
Burešova 938/17, 602 00 Brno
Date of project approval
February 2021
Fotograf
Proposed elementary volume of Research Library of South Bohemia responds to sculptural form of existing building from 70's of the last century, which reflects time of its origin and original function of Museum of working class revolutionary movement. Quality brutalist architecture of this building has highly fragmented form, however the layout is not really suitable for the function of library with open shelves collection.
The library extension is designed as one level pavilion floating above the ground with fully glazed facade allowing views into surrounding landscape. The outer skin is created by vertical revolving slats, which work as shading element and at the same time separate events inside and outside the building.
Inner space of deep layout of the building is lit by square rooflights located above the study spaces.
Compact horizontal form reflects the client's brief which asked for enlarging the space for visitors with open flexible plan, open shelves collection and representative barrier-free entrance into the library, which is designed in a form of sloping pavement from Lidická třída. Connection of both buildings is provided by ramp in glazed tube. Passage through the park towards the river Malše opens on the side of the building. Art elements - Novohradský cobble and War Memorial of battle by Zborov.
The construction of the building consists of a monolithic reinforced concrete structure, which is visually reflected in the interior and exterior of the building. Activation of the concrete core of ceiling construction, when the mass of the concrete is used for accumulation of cold or heat is used in the design. The aim is comfortable inner climate. The heating and cooling is economical and environmentally friendly due to lower temperature gradient. Night natural ventilation cooling is also envisaged in summer period.
Higher solar gains during the summer are prevented by green roof, facade triple glazing with shading protection and glazed revolving slats with imprint, which are driven by motors and function as sun shade. Rooflights are shaded by exterior screen blinds.
The extensive green roof not only provides better thermal insulation but also helps to retain the rain water and slows its outlet. The underground tank serves for rain water retention, which will be used for plants watering.
Green building
Environmental certification
| | |
| --- | --- |
| Type and level of certificate | - |
Water management
| | |
| --- | --- |
| Is rainwater used for irrigation? | |
| Is rainwater used for other purposes, e.g. toilet flushing ? | |
| Does the building have a green roof / facade ? | |
| Is reclaimed waste water used, e.g. from showers and sinks ? | |
The quality of the indoor environment
| | |
| --- | --- |
| Is clean air supply automated ? | |
| Is comfortable temperature during summer and winter automated? | |
| Is natural lighting guaranteed in all living areas? | |
| Is artificial lighting automated? | |
| Is acoustic comfort, specifically reverberation time, guaranteed? | |
| Does the layout solution include zoning and ergonomics elements? | |
Principles of circular economics
| | |
| --- | --- |
| Does the project use recycled materials? | |
| Does the project use recyclable materials? | |
| Are materials with a documented Environmental Product Declaration (EPD) promoted in the project? | |
| Are other sustainability certifications used for materials and elements? | |
Energy efficiency
| | |
| --- | --- |
| Energy performance class of the building according to the Energy Performance Certificate of the building | A |
| Is efficient energy management (measurement and regular analysis of consumption data) considered? | |
| Are renewable sources of energy used, e.g. solar system, photovoltaics? | |
Interconnection with surroundings
| | |
| --- | --- |
| Does the project enable the easy use of public transport? | |
| Does the project support the use of alternative modes of transport, e.g cycling, walking etc. ? | |
| Is there access to recreational natural areas, e.g. parks, in the immediate vicinity of the building? | |