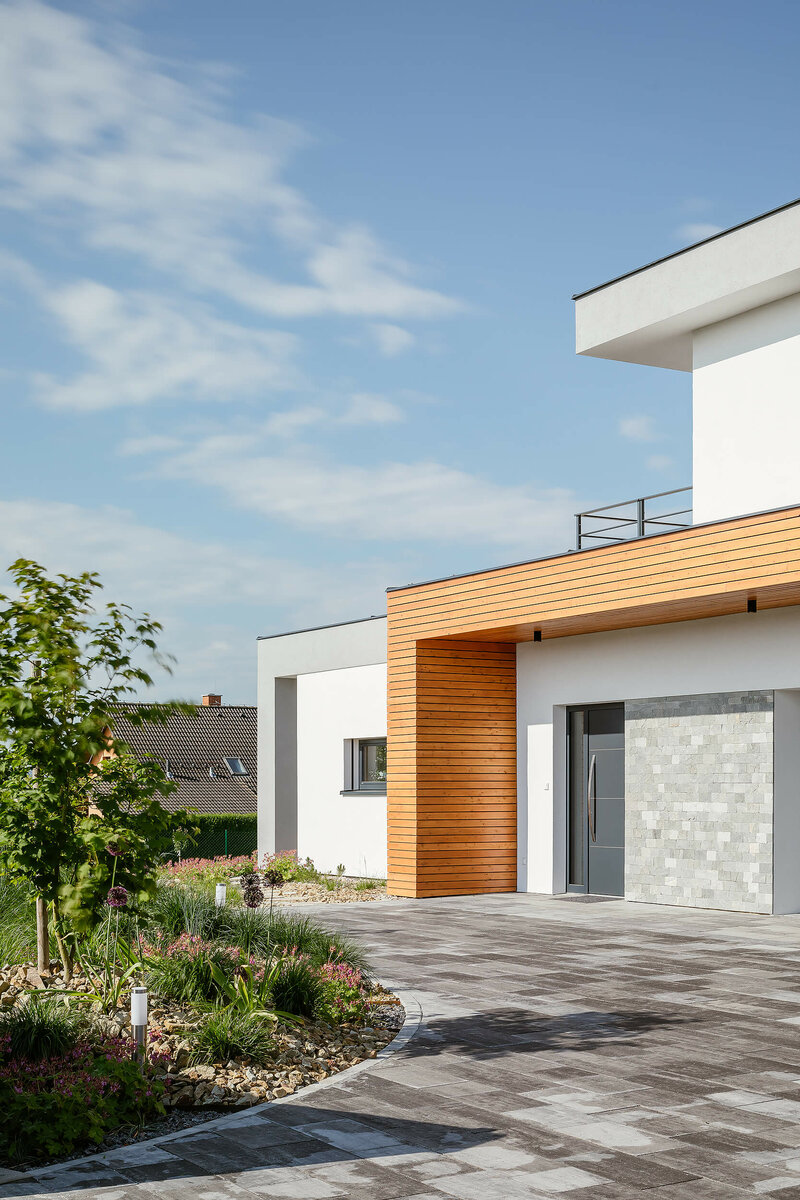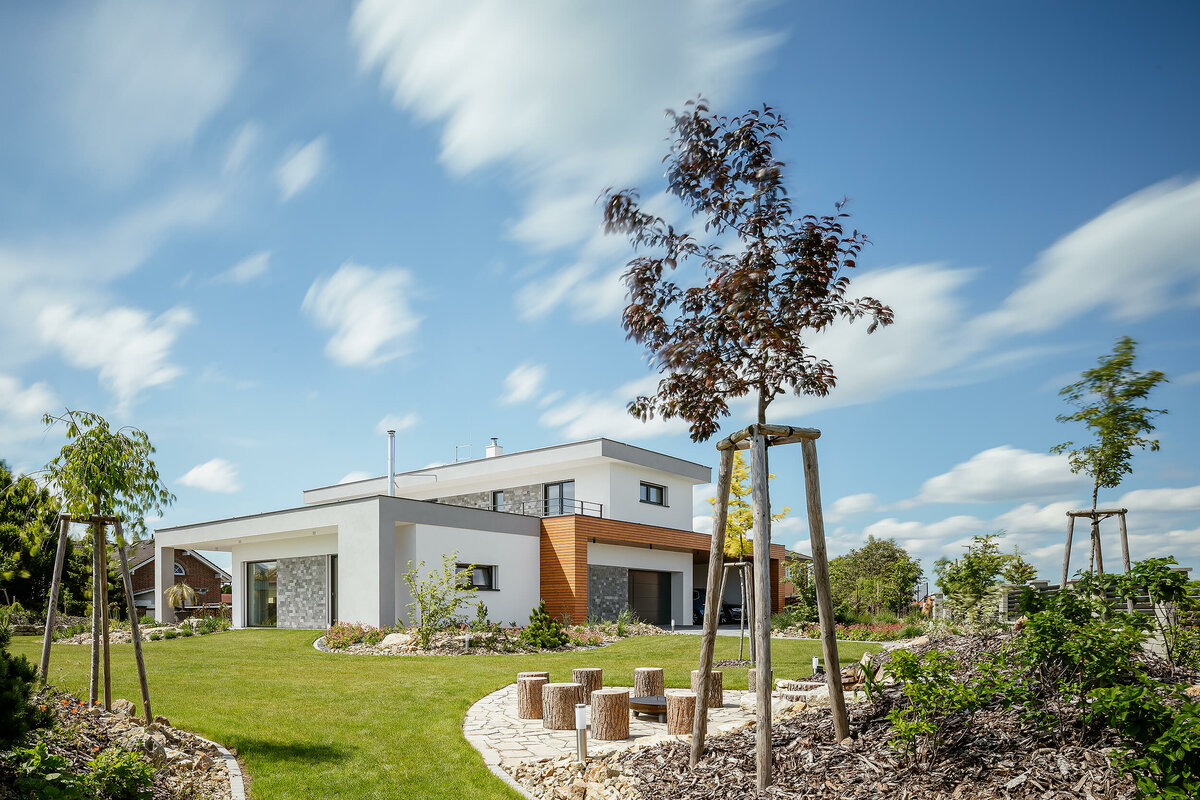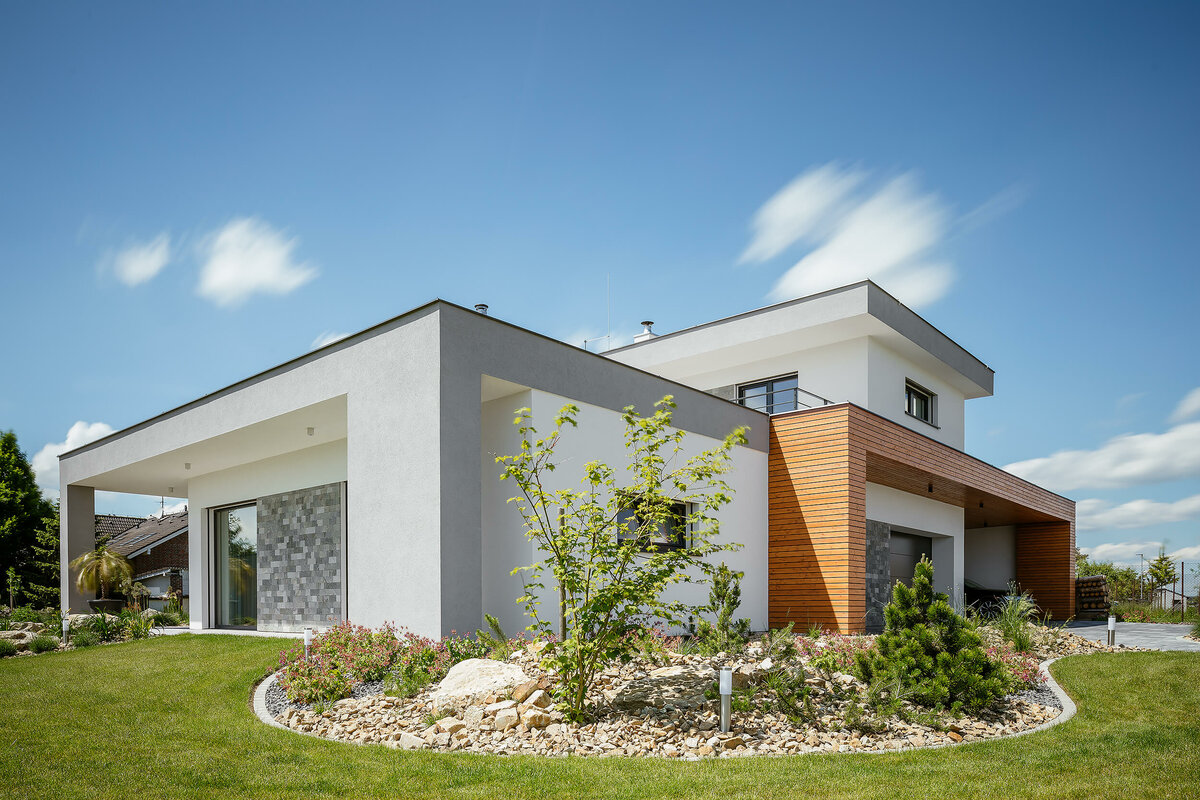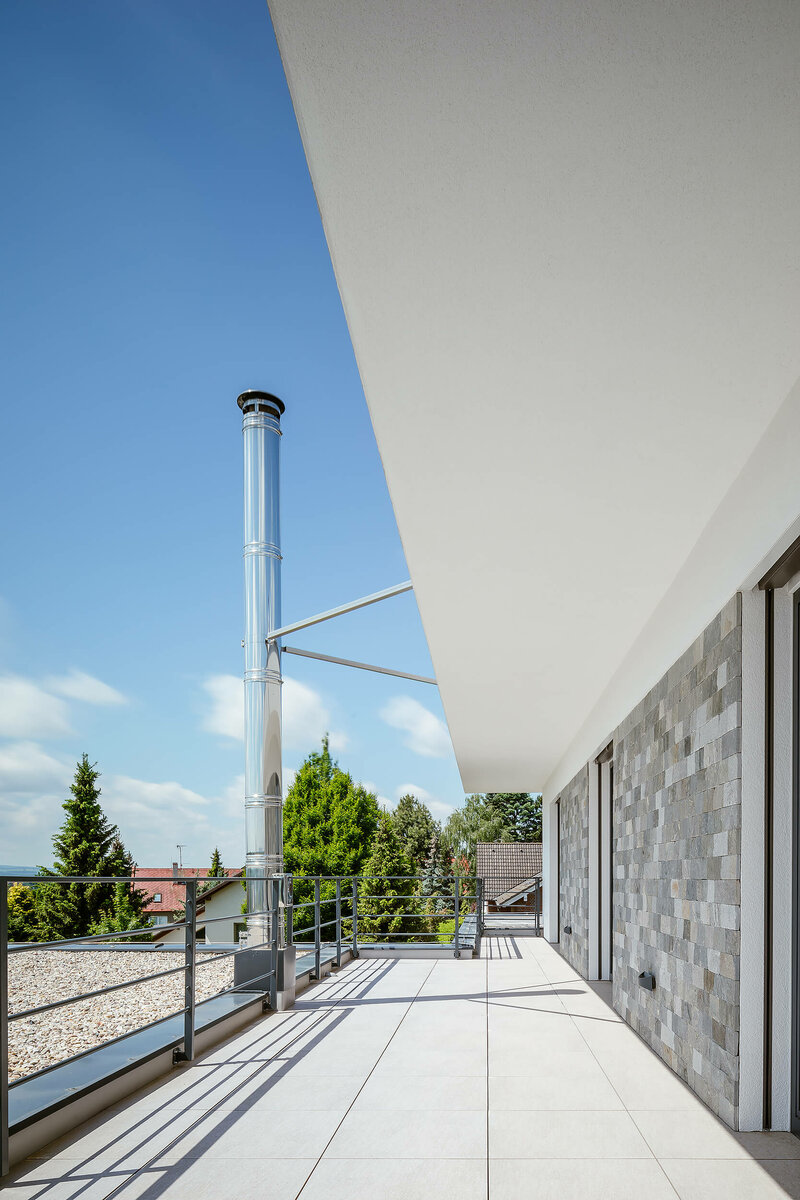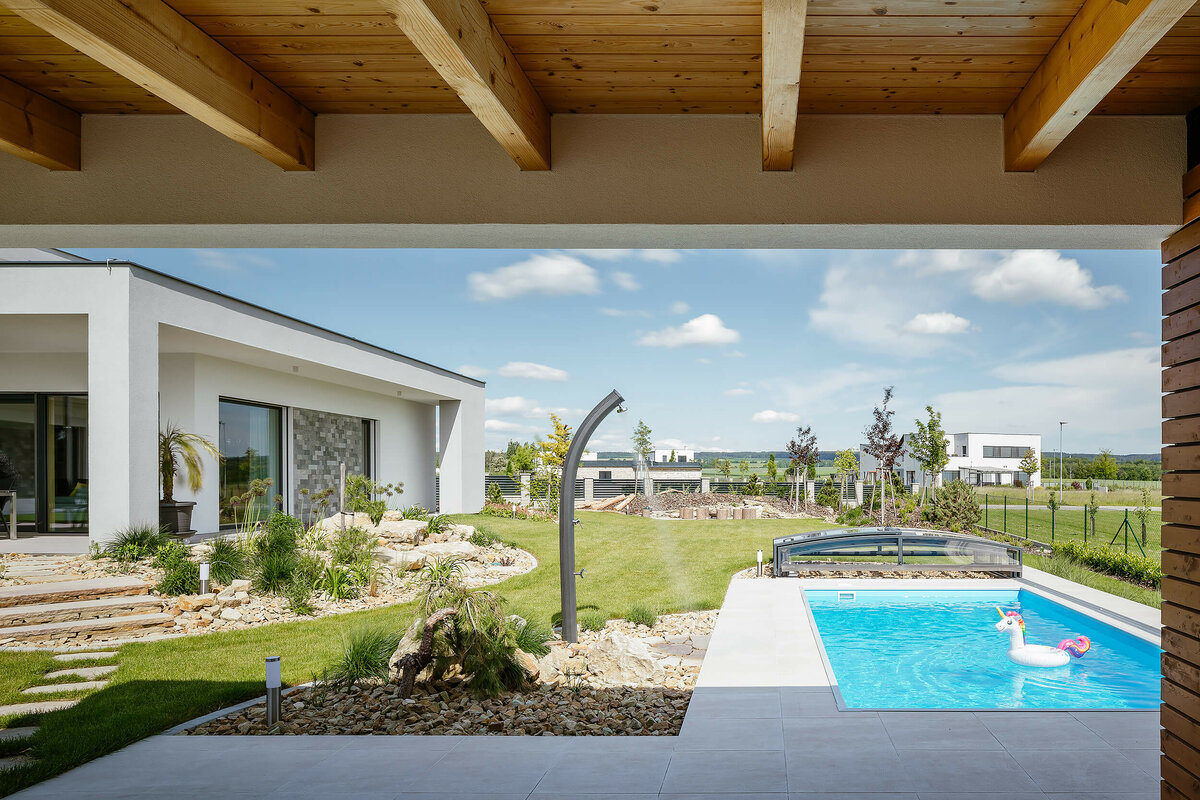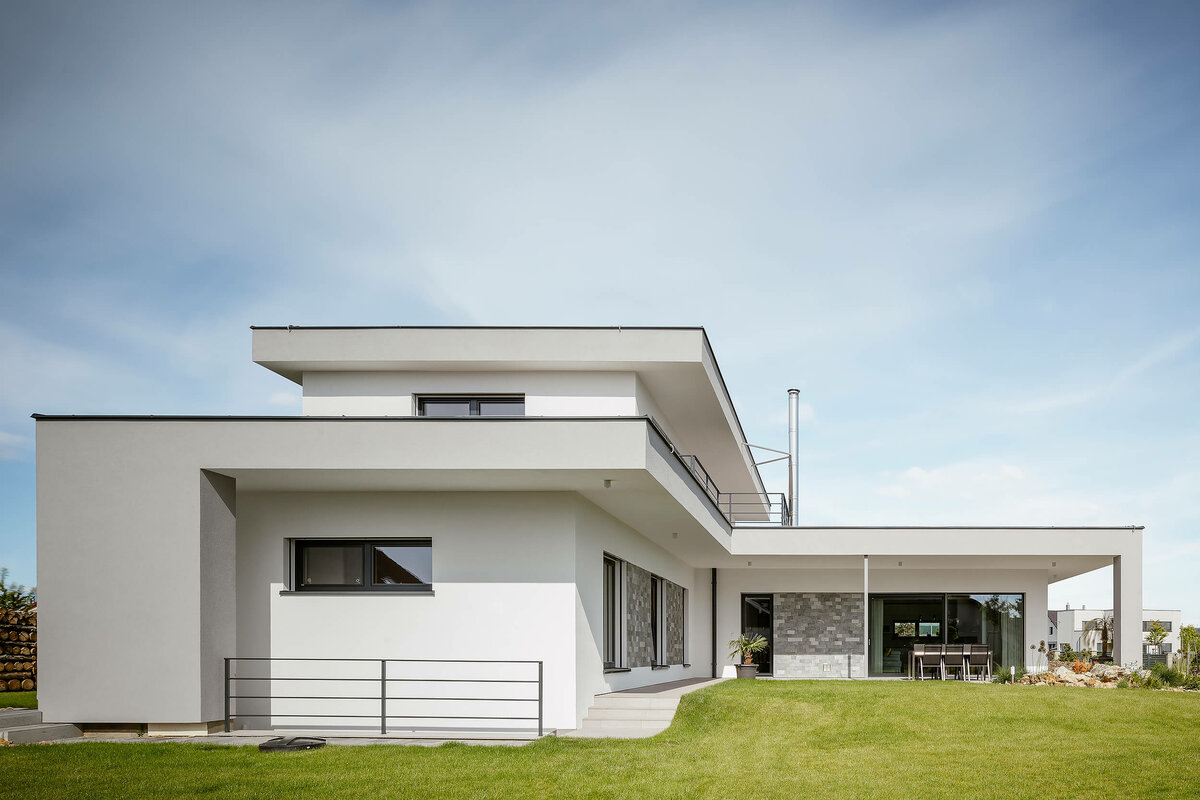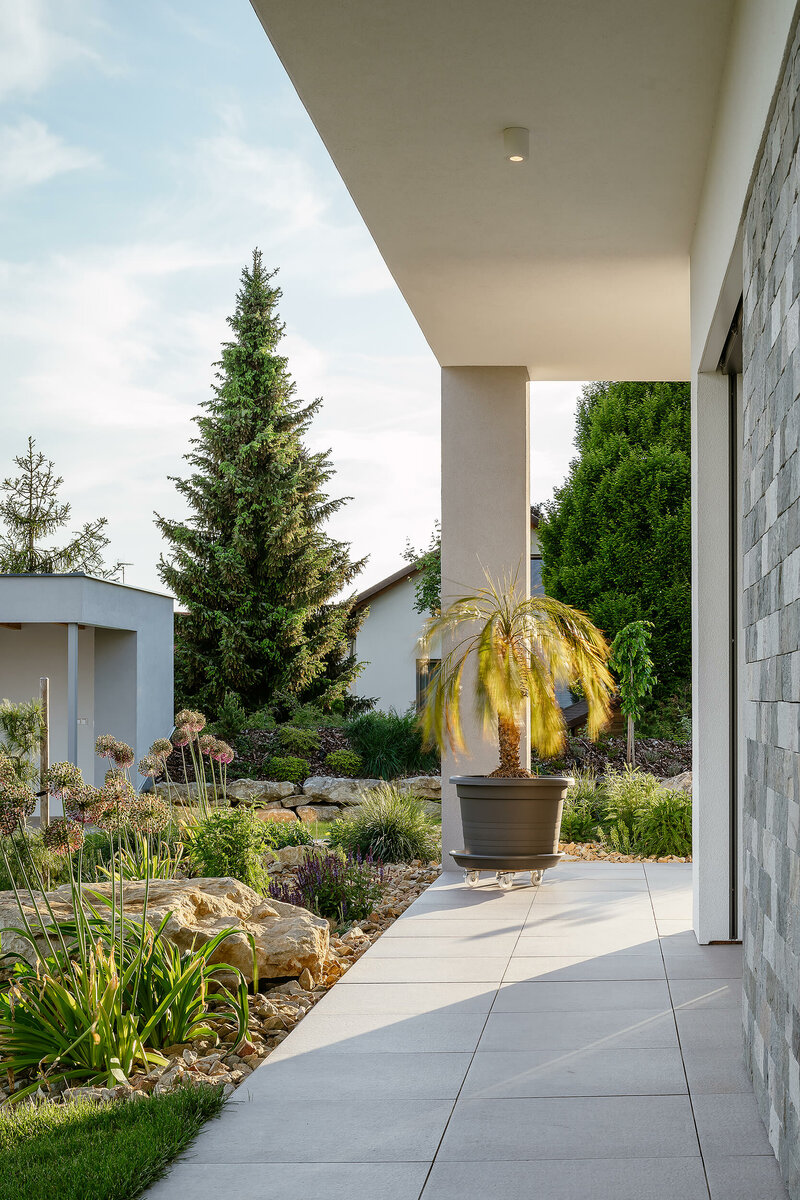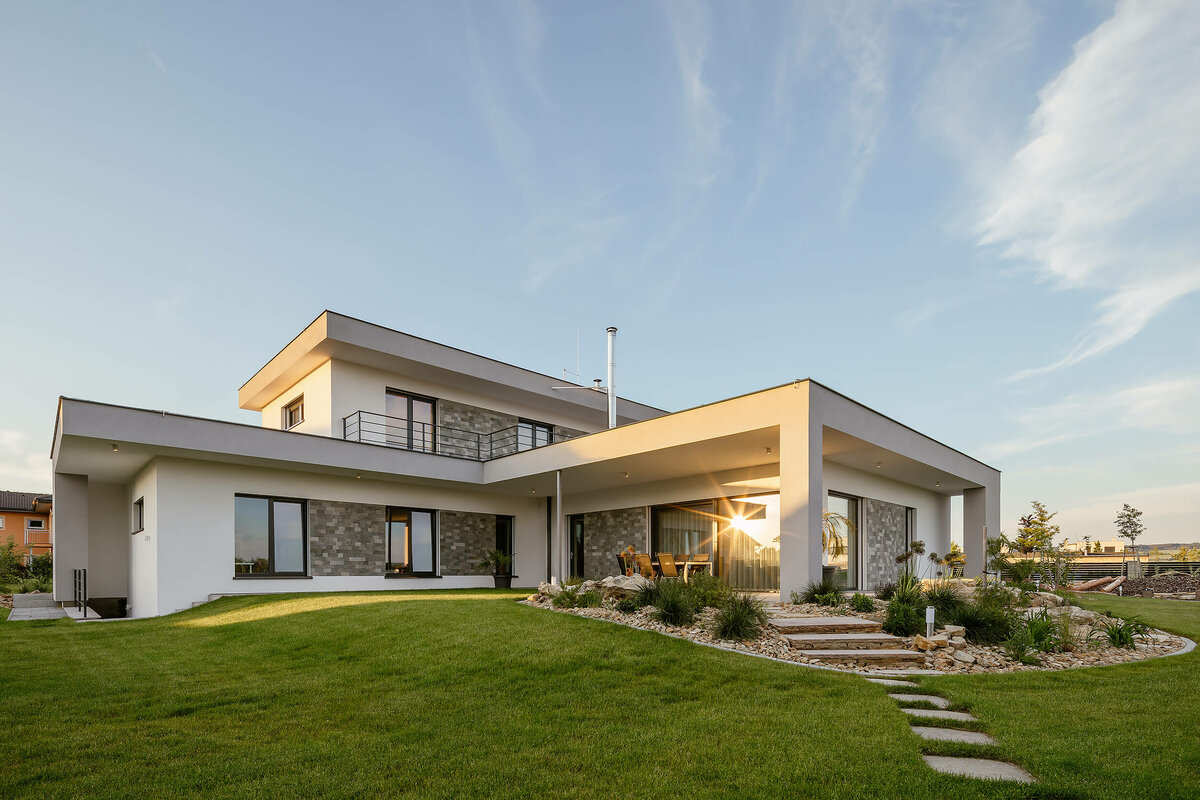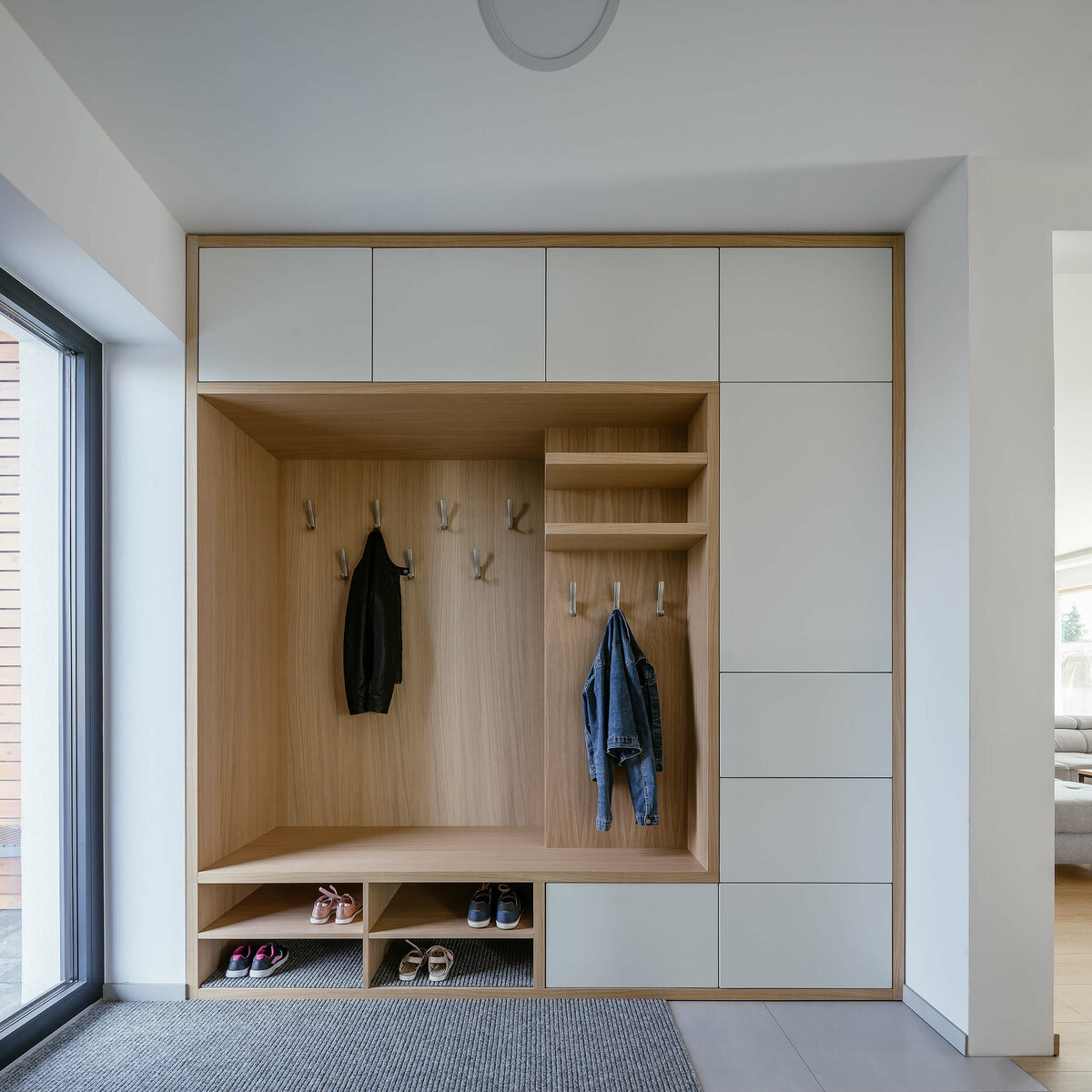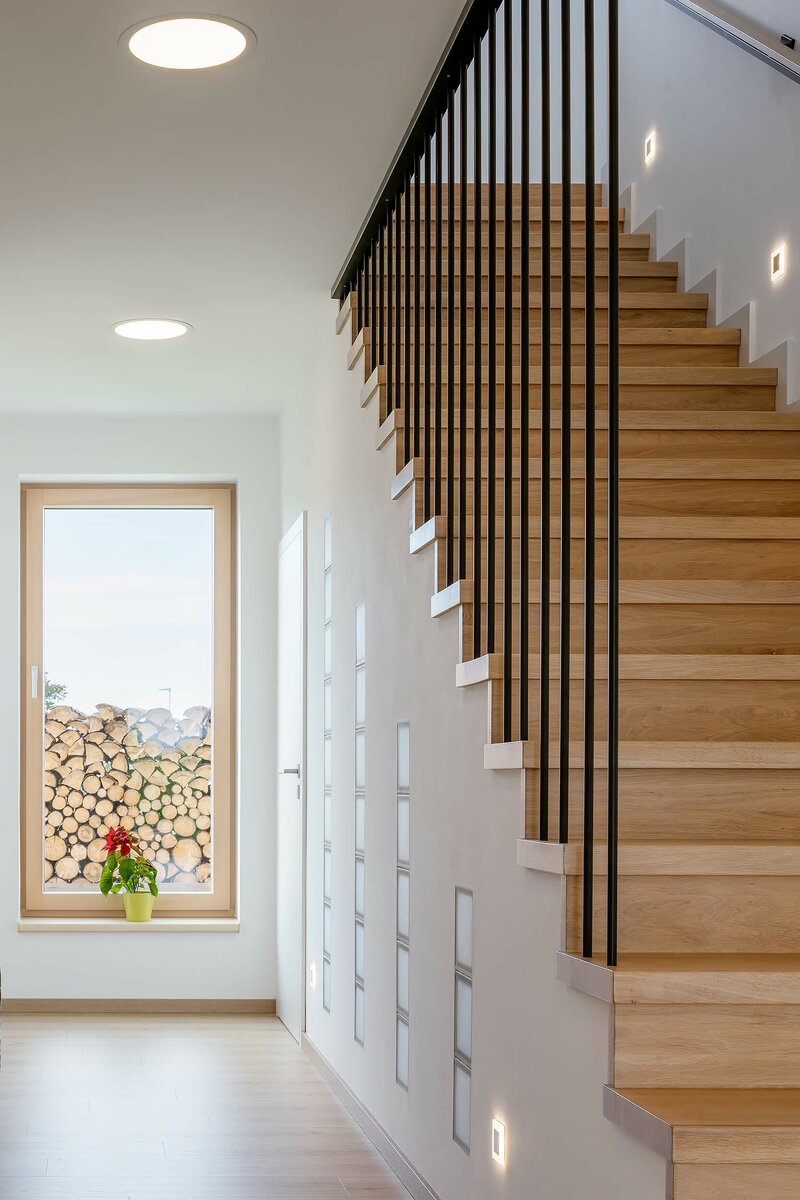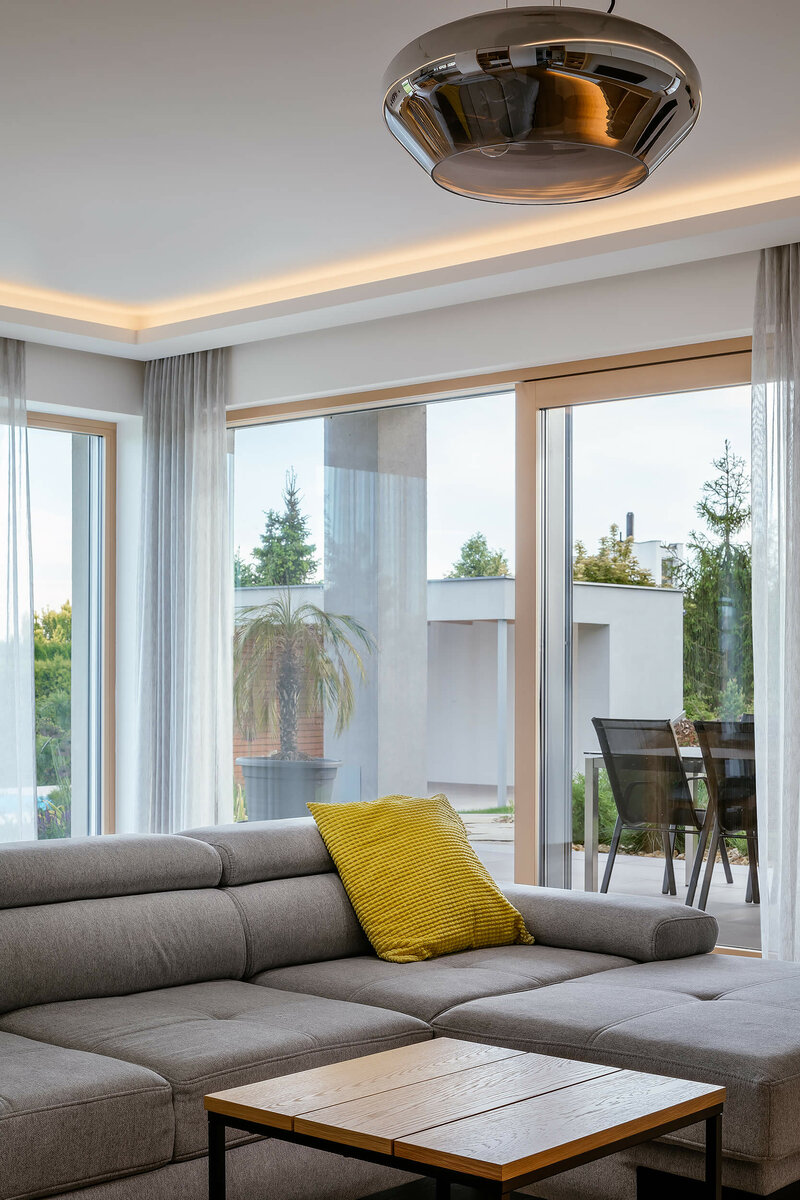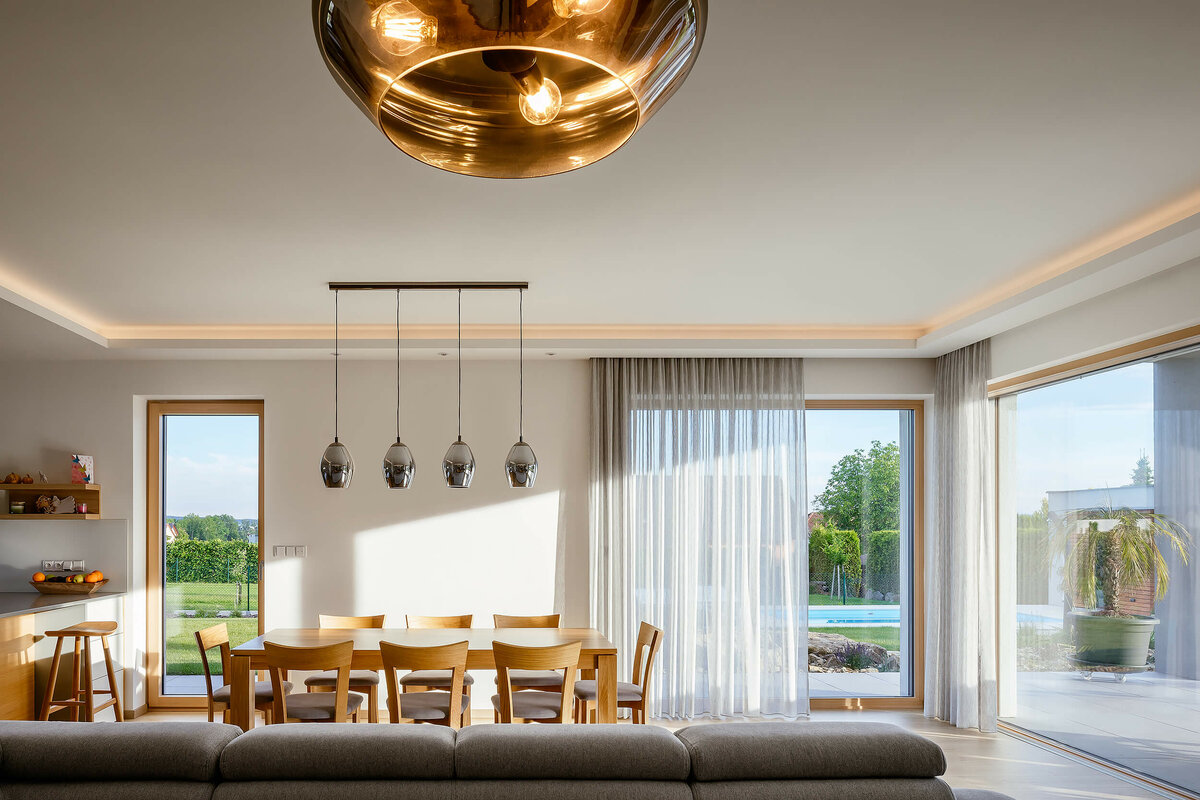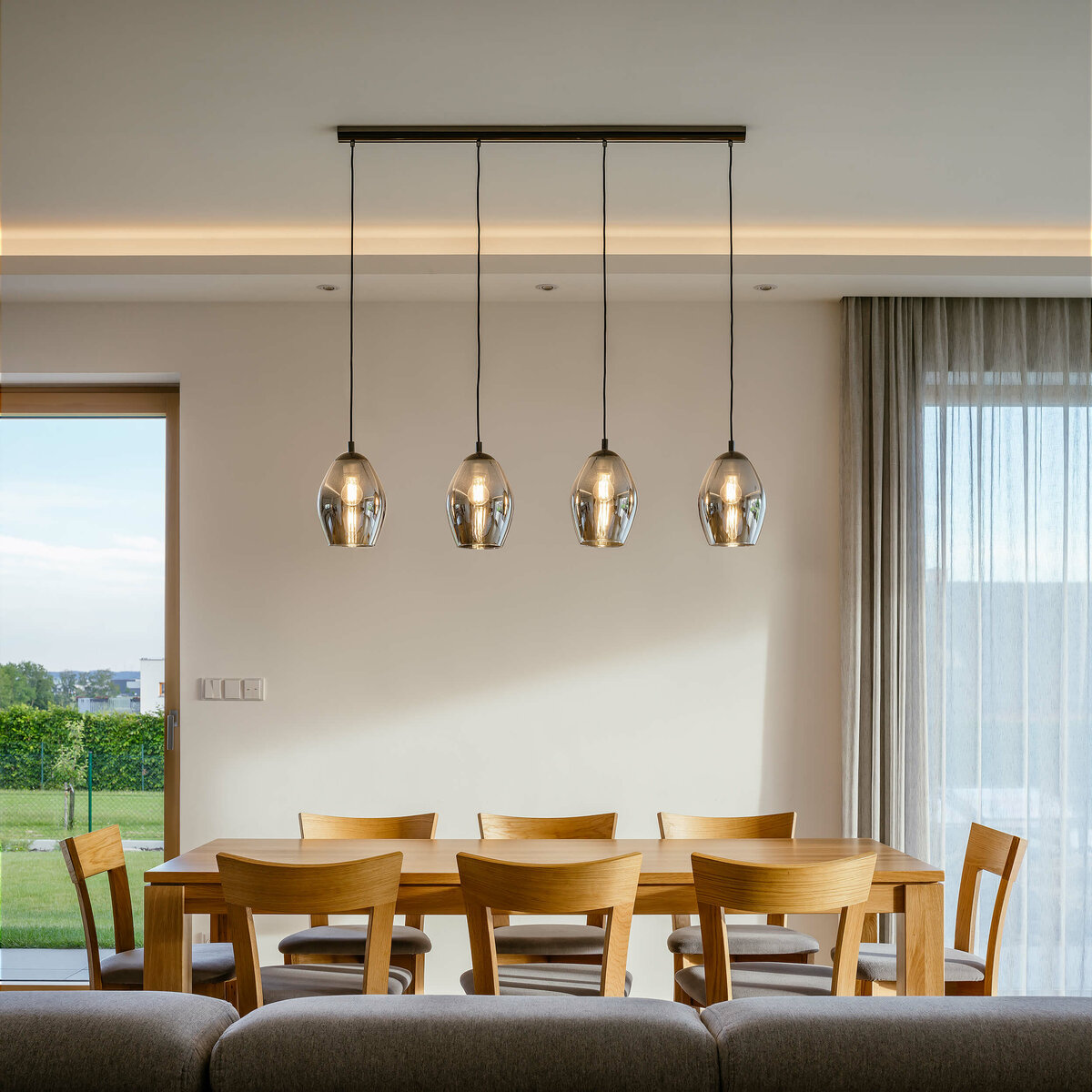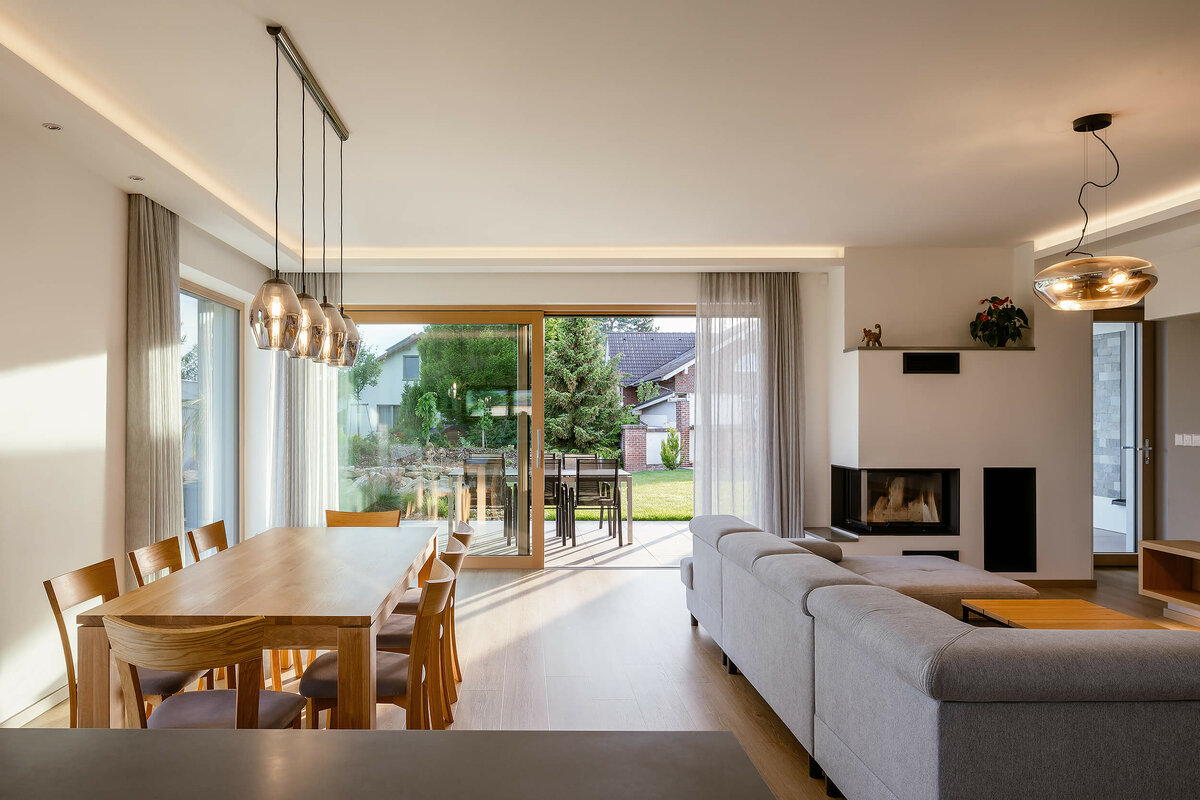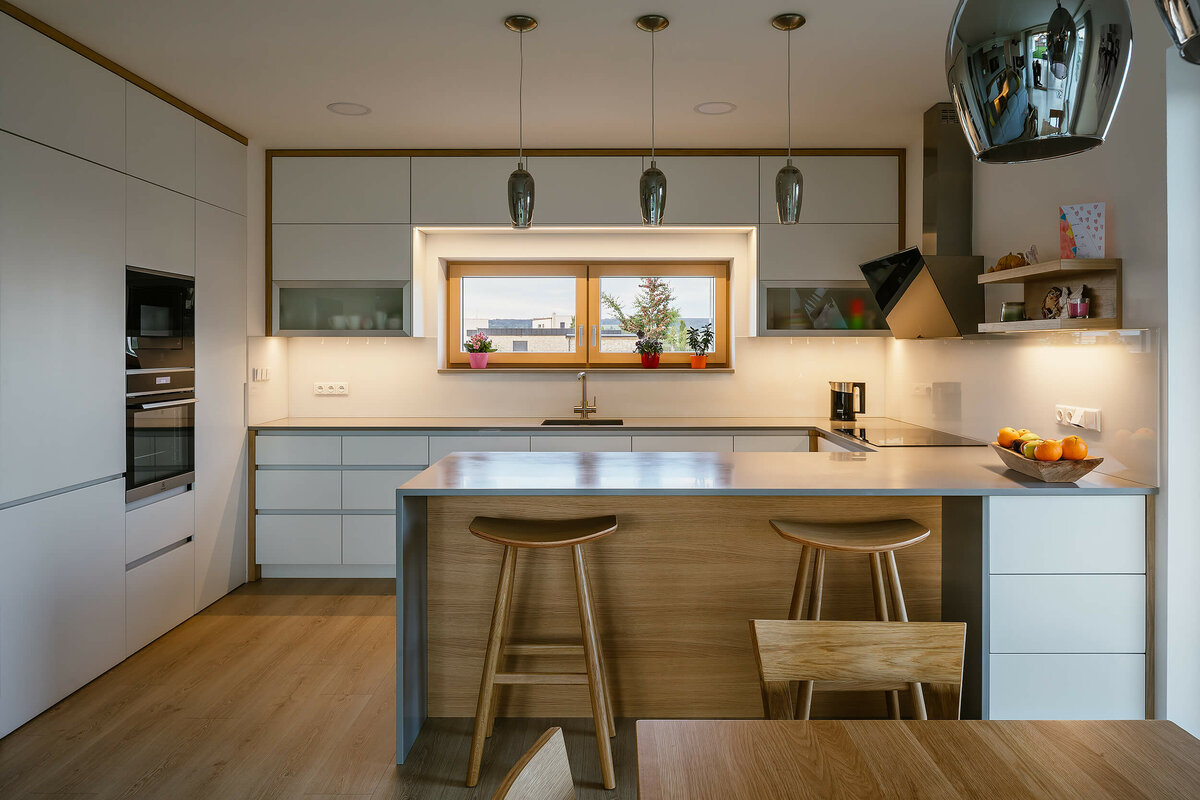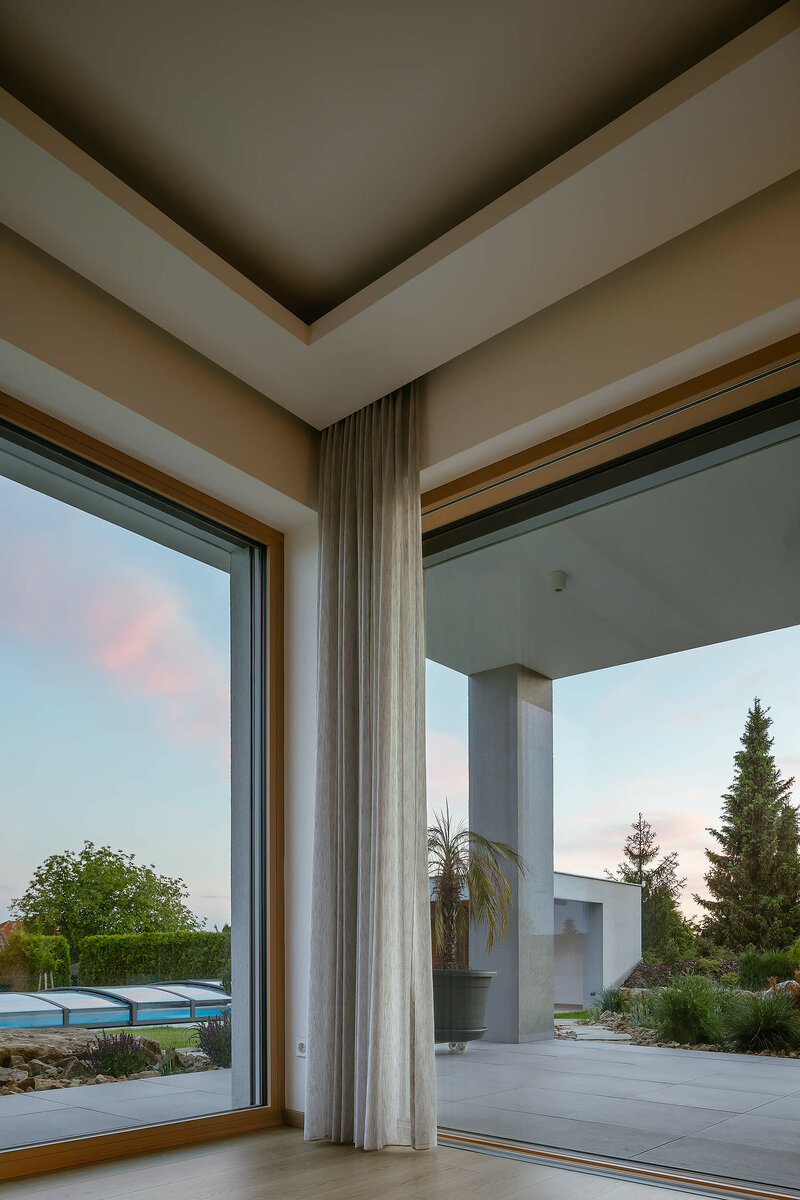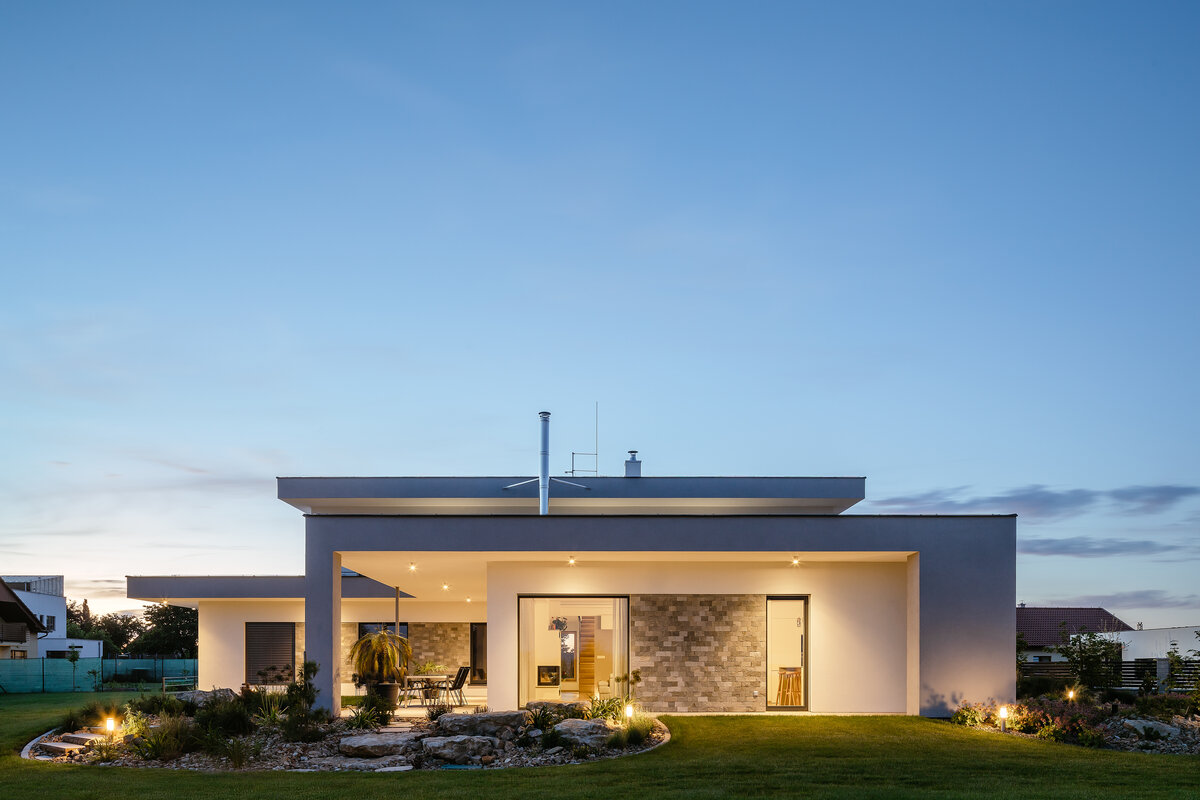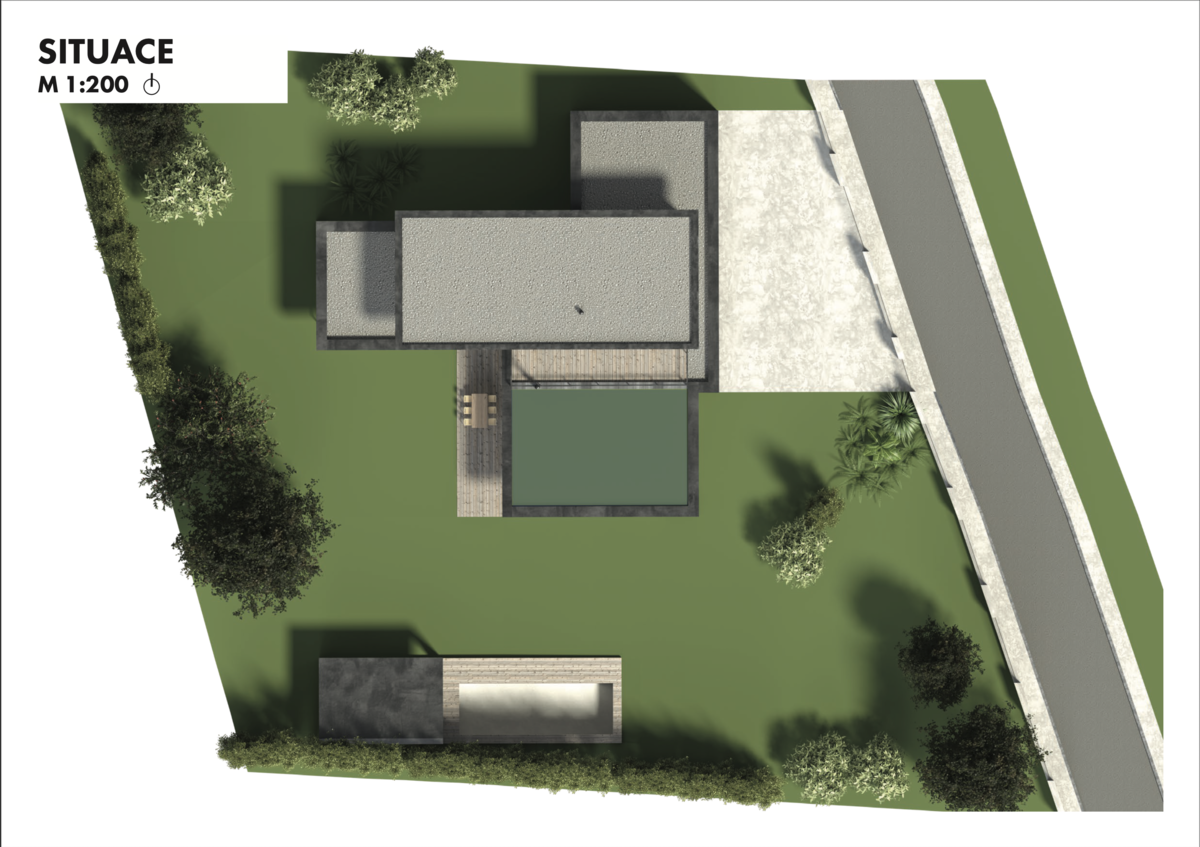 | | |
| --- | --- |
| Author | Ing. arch. Dan Merta / Studio MA s.r.o , Ing. arch. David Lukas |
| Studio | |
| Location | Litomyšl |
| Investor | - |
| Supplier | Černý s.r.o, Studio MA s.r.o |
| Date of project approval | May 2021 |
| Fotograf | |
The villa is located in the northeastern part of the plot. The plot is mostly flat with a slight south-westerly slope.

The basic idea of the house is three masses - ground floor, carport and second floor. By linking these three units with roof overhangs, the final mass of the 'L' shaped floor plan was created. It is layout oriented and open towards the garden. The entire southern wing of the house consists of a large living room with kitchen, connected to the outdoor terrace. The north wing consists of an outdoor shed and an attached garage. The west wing is residential and consists of two rooms and a bathroom. The house is basemented at this point. A centrally located staircase serves the basement and first floor. The first floor of the house is exclusively residential, consisting of three rooms and a bathroom.

The exterior of the house is made up of a combination of four materials. Roof overhangs in grey, a carport with wooden cladding, stone cladding and a white facade.

At the southern boundary of the property there is a garden house with a terrace and a swimming pool, designed for recreation and outdoor dining in the summer months
The house is based on a reinforced concrete foundation slab with belts. The load-bearing ceramic masonry perimeter wall carries the prefabricated reinforced concrete ceiling structure above the living room. The second floor is then roofed using timber trusses.

The windows were chosen as a combination of natural wood and aluminium in a dark shade. From the outside, the windows match the mood of the façade and the wooden surface of the windows completes the light interior.

In the underground floor there are storage rooms and a utility room where we find gas boilers, a back-up boiler for wood chips, preparation for heat pumps and PV batteries.
Green building
Environmental certification
| | |
| --- | --- |
| Type and level of certificate | - |
Water management
| | |
| --- | --- |
| Is rainwater used for irrigation? | |
| Is rainwater used for other purposes, e.g. toilet flushing ? | |
| Does the building have a green roof / facade ? | |
| Is reclaimed waste water used, e.g. from showers and sinks ? | |
The quality of the indoor environment
| | |
| --- | --- |
| Is clean air supply automated ? | |
| Is comfortable temperature during summer and winter automated? | |
| Is natural lighting guaranteed in all living areas? | |
| Is artificial lighting automated? | |
| Is acoustic comfort, specifically reverberation time, guaranteed? | |
| Does the layout solution include zoning and ergonomics elements? | |
Principles of circular economics
| | |
| --- | --- |
| Does the project use recycled materials? | |
| Does the project use recyclable materials? | |
| Are materials with a documented Environmental Product Declaration (EPD) promoted in the project? | |
| Are other sustainability certifications used for materials and elements? | |
Energy efficiency
| | |
| --- | --- |
| Energy performance class of the building according to the Energy Performance Certificate of the building | B |
| Is efficient energy management (measurement and regular analysis of consumption data) considered? | |
| Are renewable sources of energy used, e.g. solar system, photovoltaics? | |
Interconnection with surroundings
| | |
| --- | --- |
| Does the project enable the easy use of public transport? | |
| Does the project support the use of alternative modes of transport, e.g cycling, walking etc. ? | |
| Is there access to recreational natural areas, e.g. parks, in the immediate vicinity of the building? | |