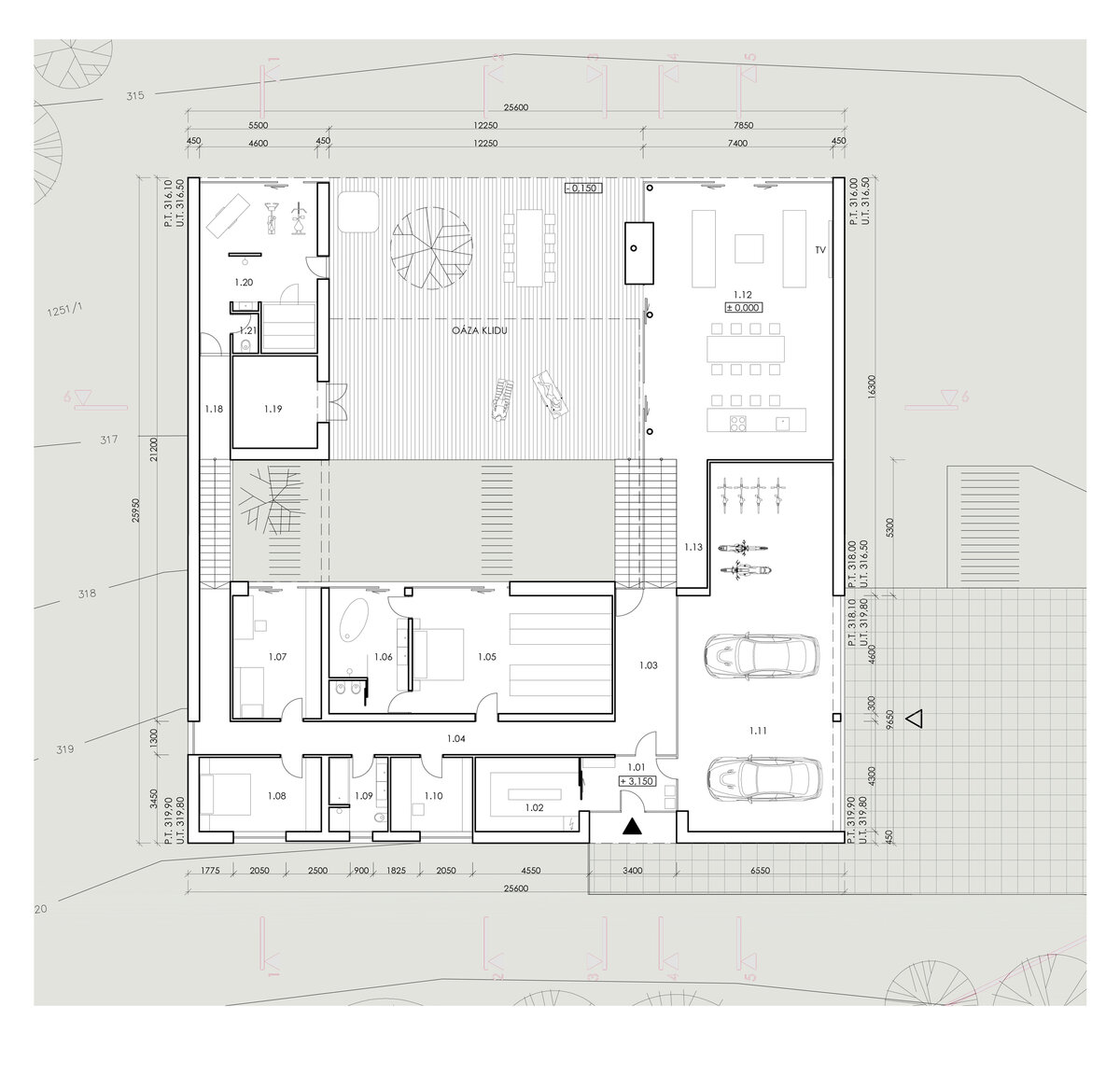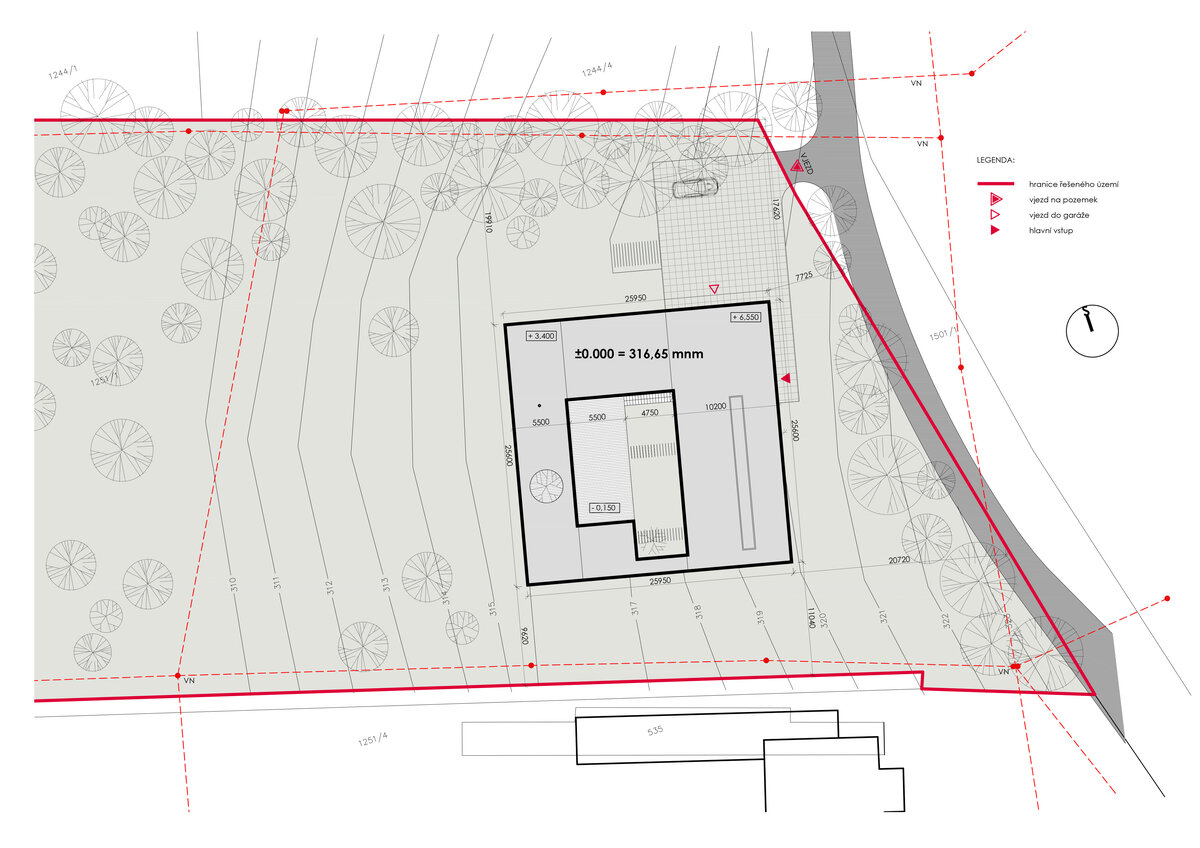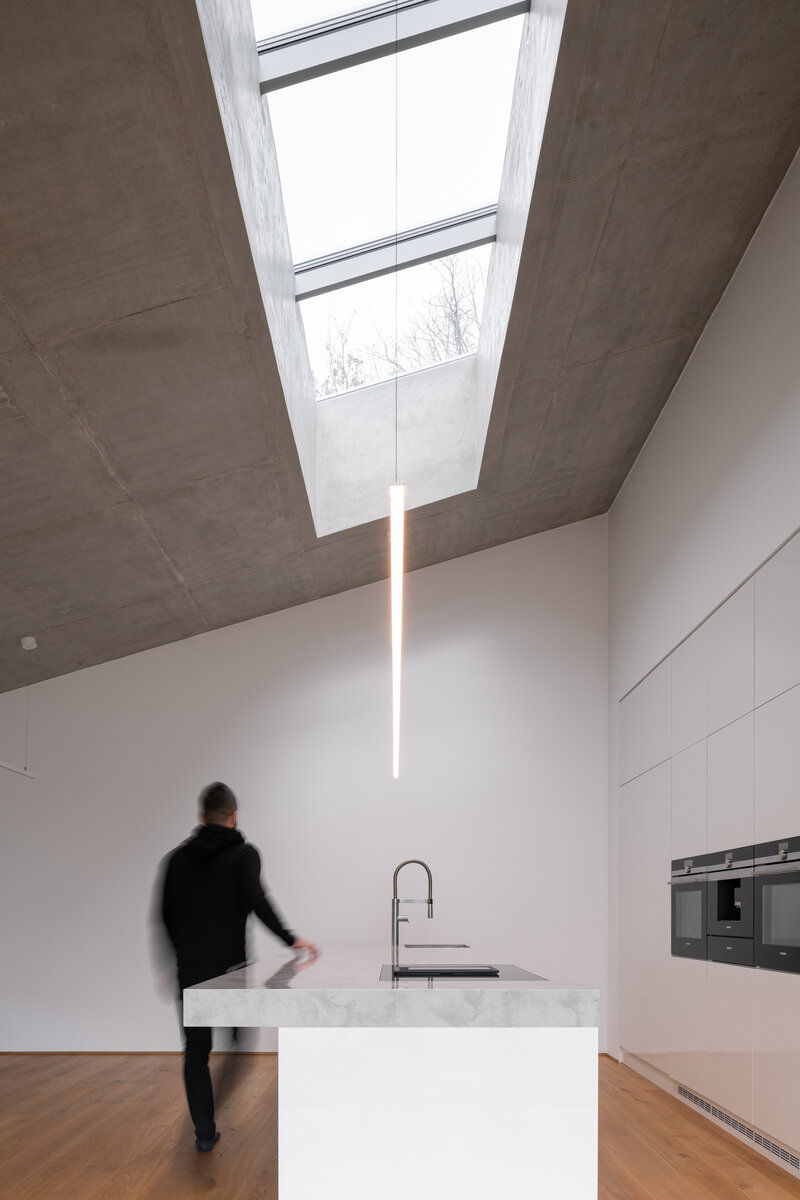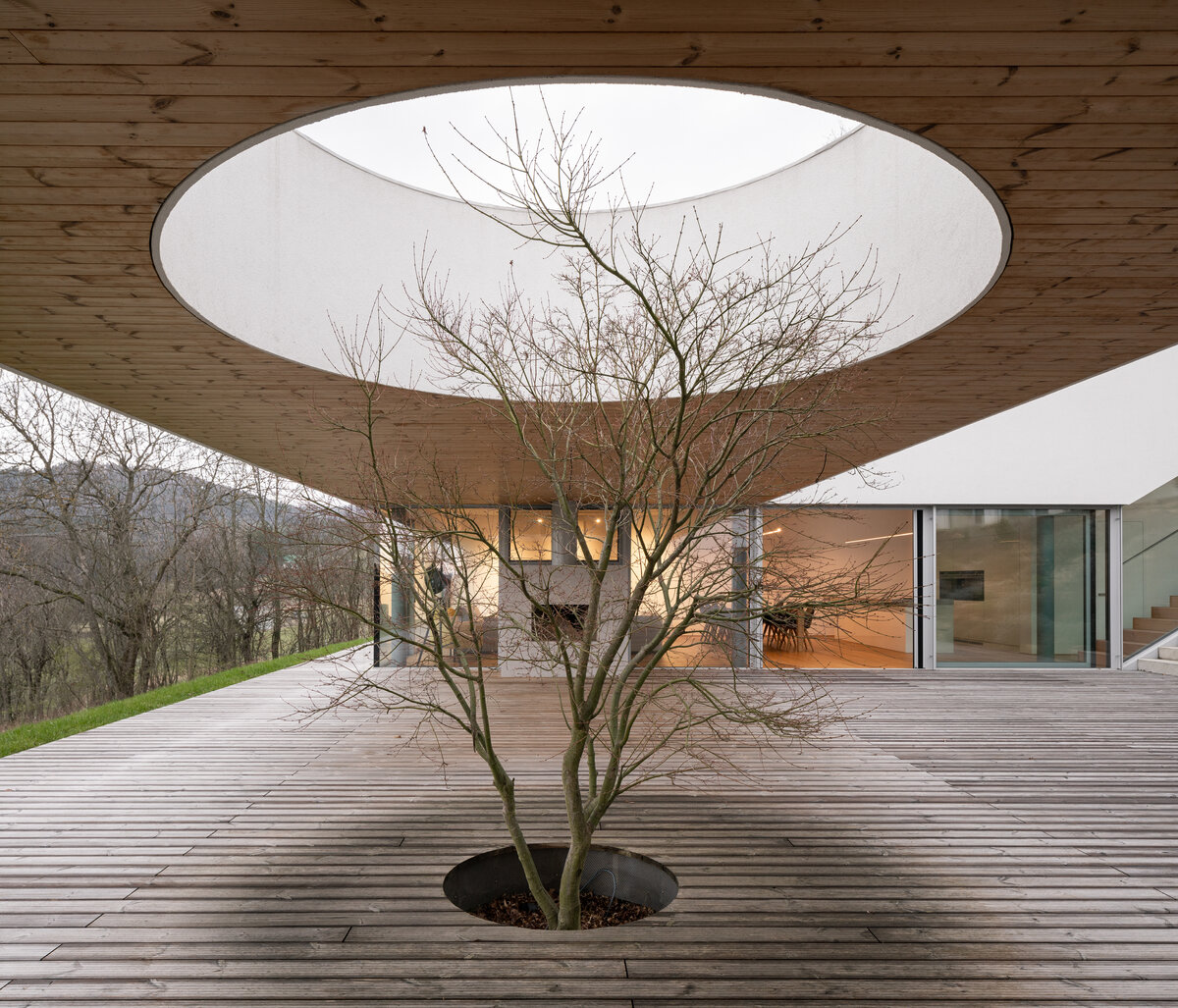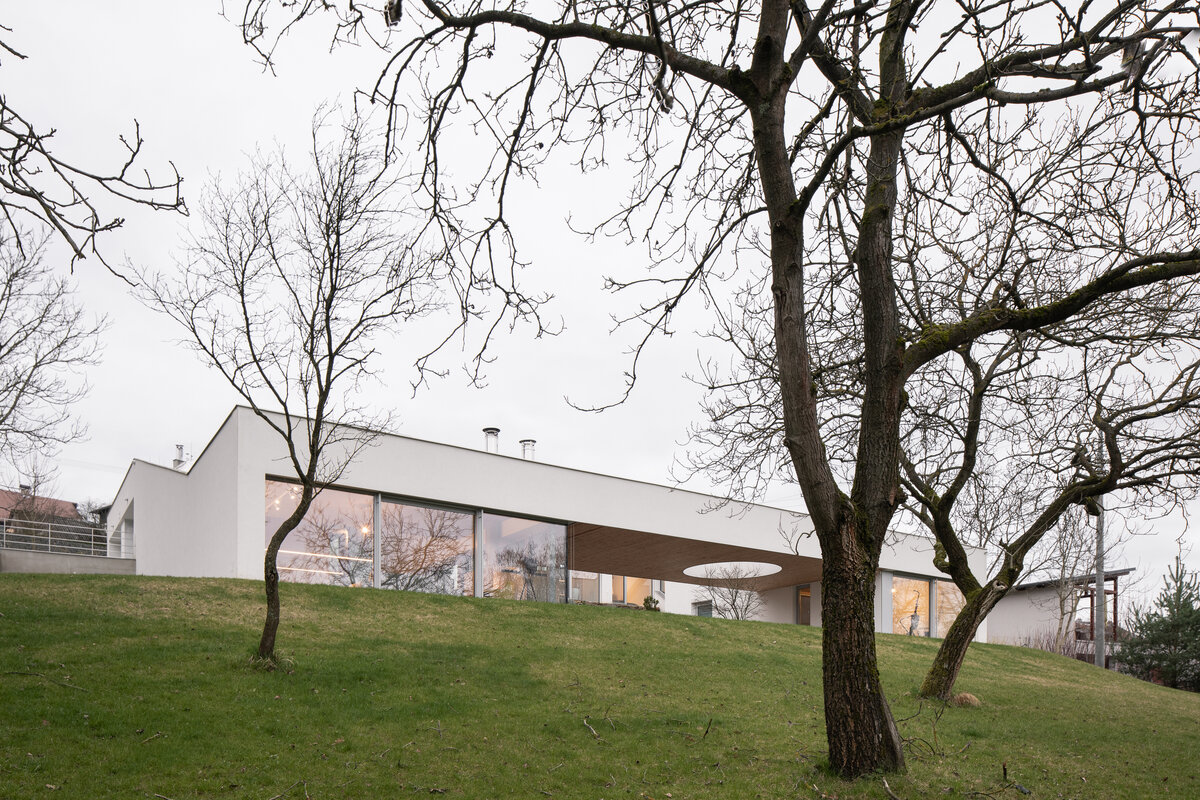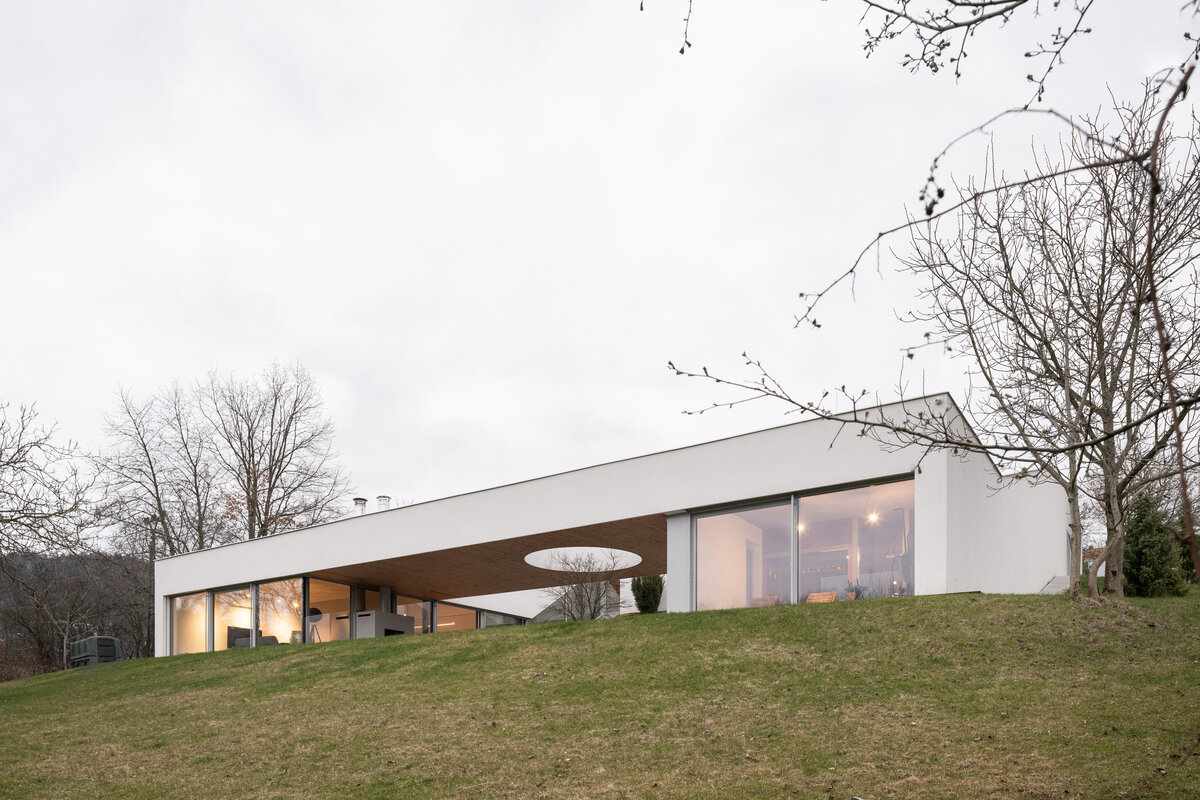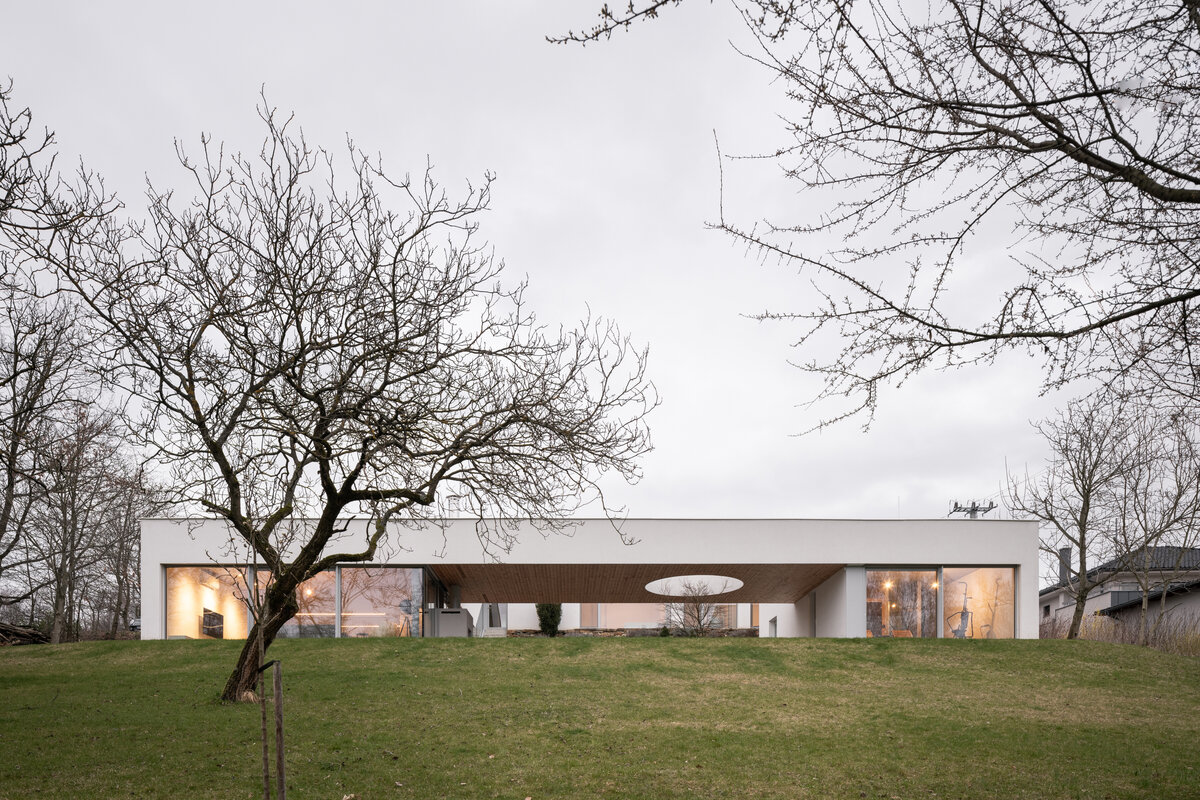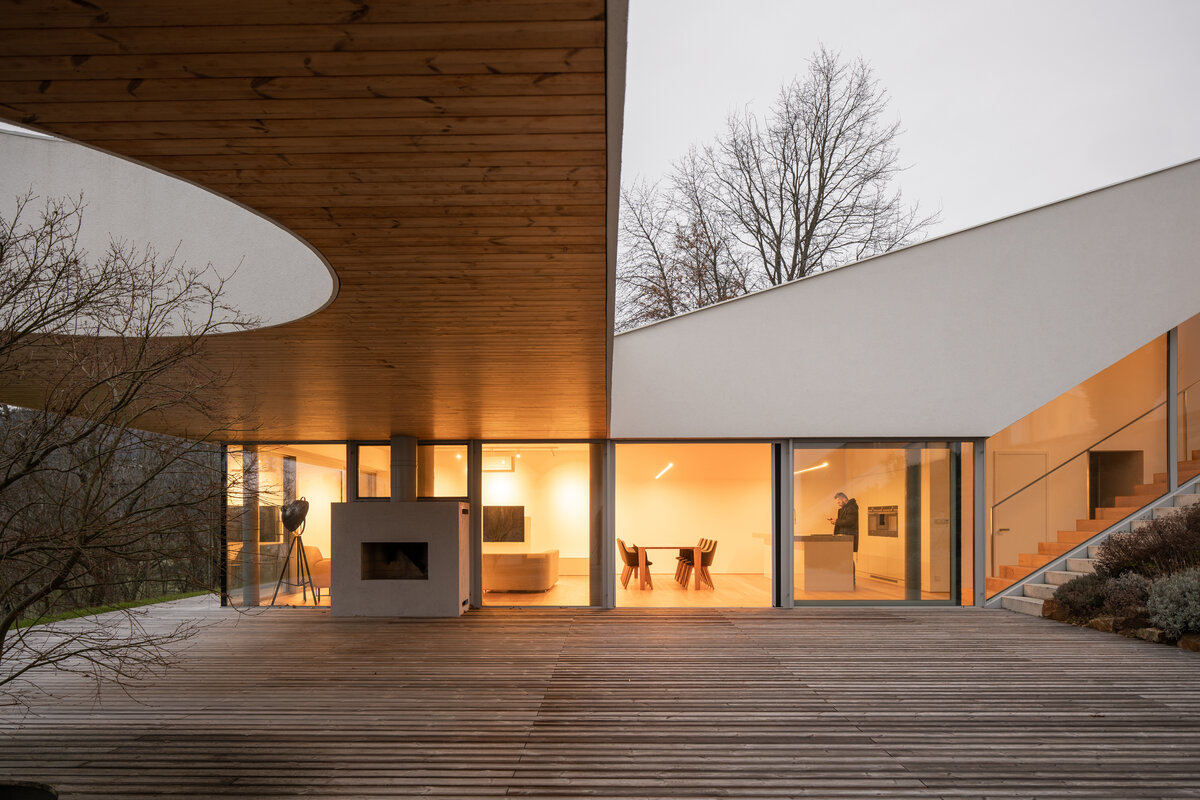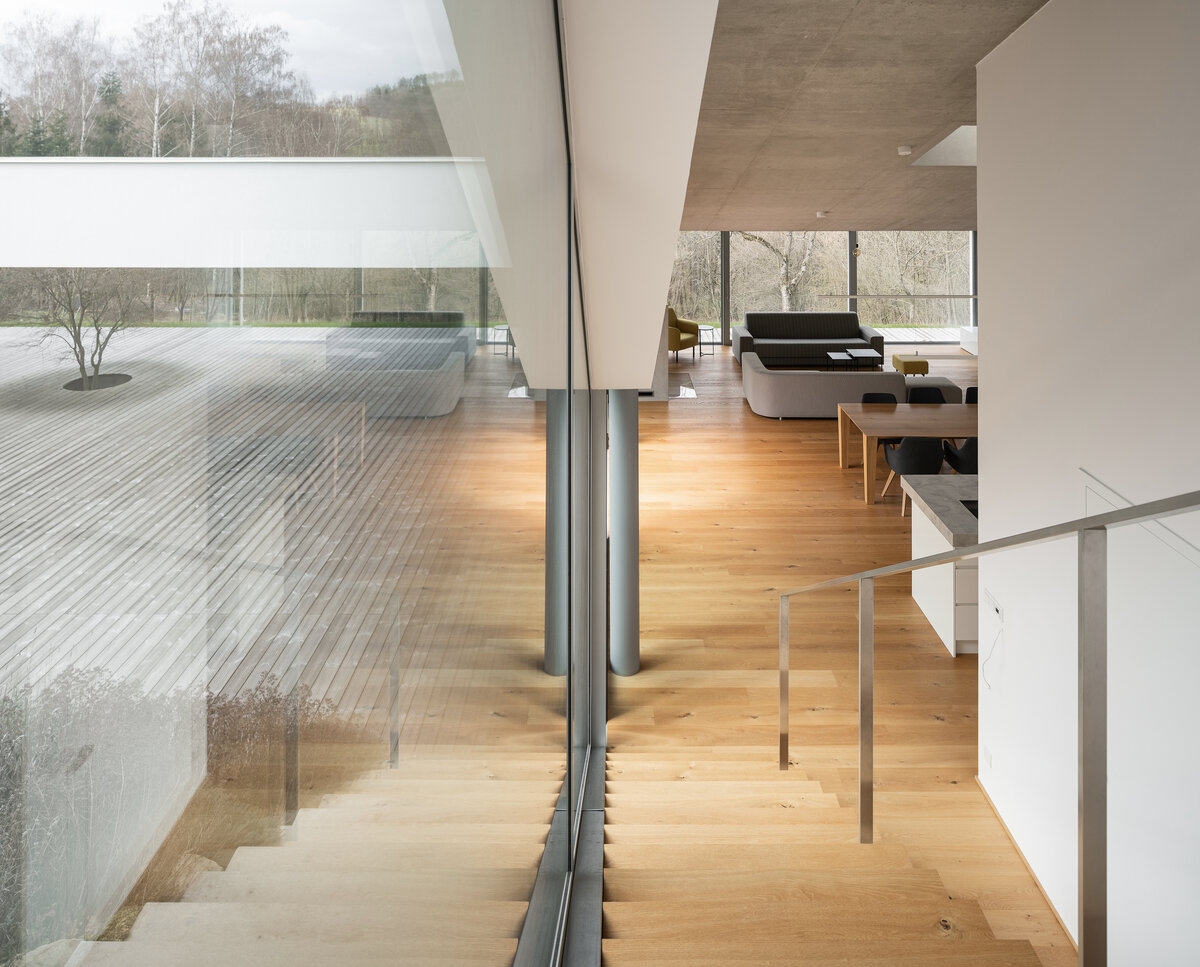 | | |
| --- | --- |
| Author | David Průša, Katarína Srnová / Platforma architekti s.r.o. |
| Studio | |
| Location | Zlínský kraj |
| Investor | Soukromá osoba |
| Supplier | Sdružení subdodavatelů |
| Date of project approval | March 2022 |
| Fotograf | |
Architectural solution
1 / Wish of the future lady of the house to create an absolute outdoor intimate space, without uninvited views from the surroundings. We called it an oasis of calm.
2 / genius loci - flowing sloping terrain with a view of the opposite hills and forests.
How to achieve views from all areas of the house on the picturesque hills, use the terrain with the elimination of excavation work and, above all, how to create absolute privacy that will allow you to enjoy the house indoors and outdoors without shame?
These attributes determined the clear, clean and simple concept of the atrium house on a platform, copying the smoothly sloping terrain. Flowing house in flowing terrain - FLOW HOUSE.
A very simple, clean and well-arranged house was created from a demanding request. The one-storey building breaks through the terrain and opens up space for views from the quiet and social part of the house. This bend optically creates two floors, and at the same time leaves the impression of a single-storey, spatially varied body. The house is designed as a noise barrier for the local road, relatively tucked below the road level. The whole house is open to the garden in the western part with a descent, thus creating an intimate, hidden and protected, quiet living space from the surroundings. The main mass of the house consists of three wings, forming the letter U. These are connected by a covered terrace, which completes the designed atrium - an oasis of calm. From the upper part of the house and from the lower part of the terrace there is the same view of the garden full of trees and the opposite hills.
Built-up area of ​​the house 523, 91 m2
Usable area of ​​the house 397, 40 m2
Built-up area of ​​the house 1.775, 35 m3
Green building
Environmental certification
| | |
| --- | --- |
| Type and level of certificate | - |
Water management
| | |
| --- | --- |
| Is rainwater used for irrigation? | |
| Is rainwater used for other purposes, e.g. toilet flushing ? | |
| Does the building have a green roof / facade ? | |
| Is reclaimed waste water used, e.g. from showers and sinks ? | |
The quality of the indoor environment
| | |
| --- | --- |
| Is clean air supply automated ? | |
| Is comfortable temperature during summer and winter automated? | |
| Is natural lighting guaranteed in all living areas? | |
| Is artificial lighting automated? | |
| Is acoustic comfort, specifically reverberation time, guaranteed? | |
| Does the layout solution include zoning and ergonomics elements? | |
Principles of circular economics
| | |
| --- | --- |
| Does the project use recycled materials? | |
| Does the project use recyclable materials? | |
| Are materials with a documented Environmental Product Declaration (EPD) promoted in the project? | |
| Are other sustainability certifications used for materials and elements? | |
Energy efficiency
| | |
| --- | --- |
| Energy performance class of the building according to the Energy Performance Certificate of the building | |
| Is efficient energy management (measurement and regular analysis of consumption data) considered? | |
| Are renewable sources of energy used, e.g. solar system, photovoltaics? | |
Interconnection with surroundings
| | |
| --- | --- |
| Does the project enable the easy use of public transport? | |
| Does the project support the use of alternative modes of transport, e.g cycling, walking etc. ? | |
| Is there access to recreational natural areas, e.g. parks, in the immediate vicinity of the building? | |