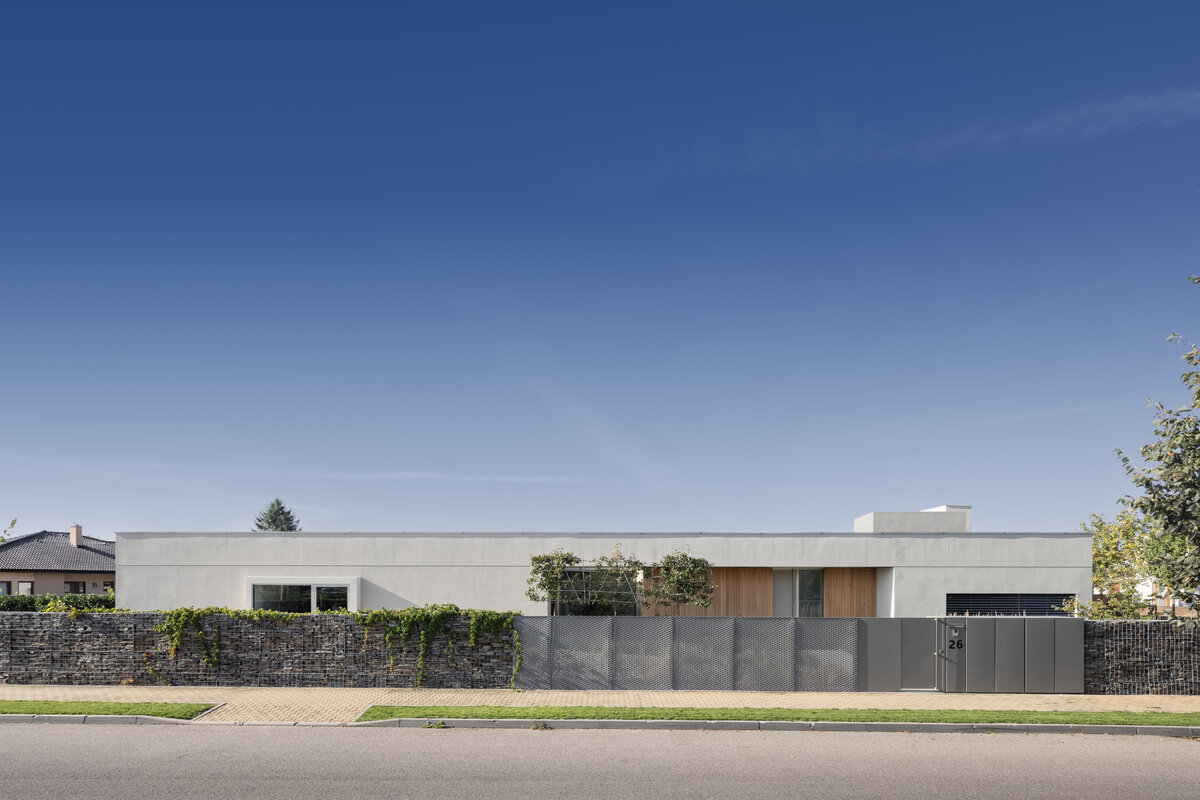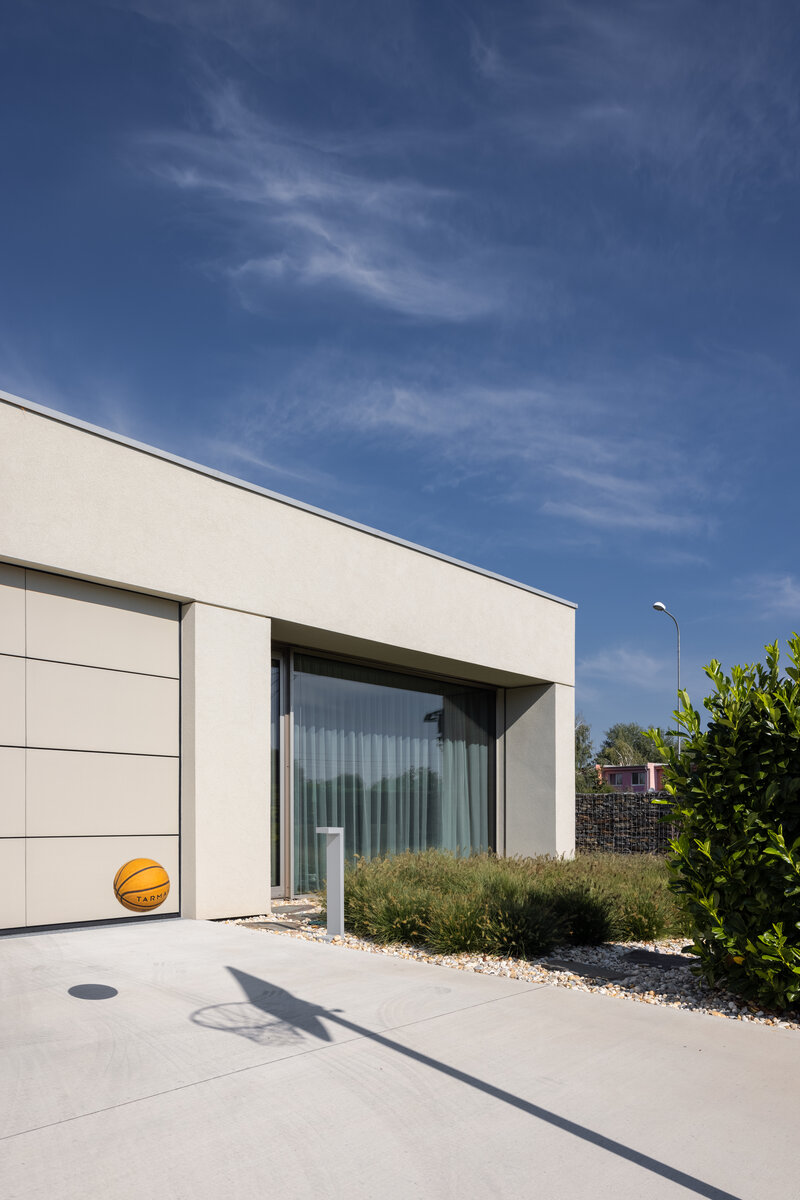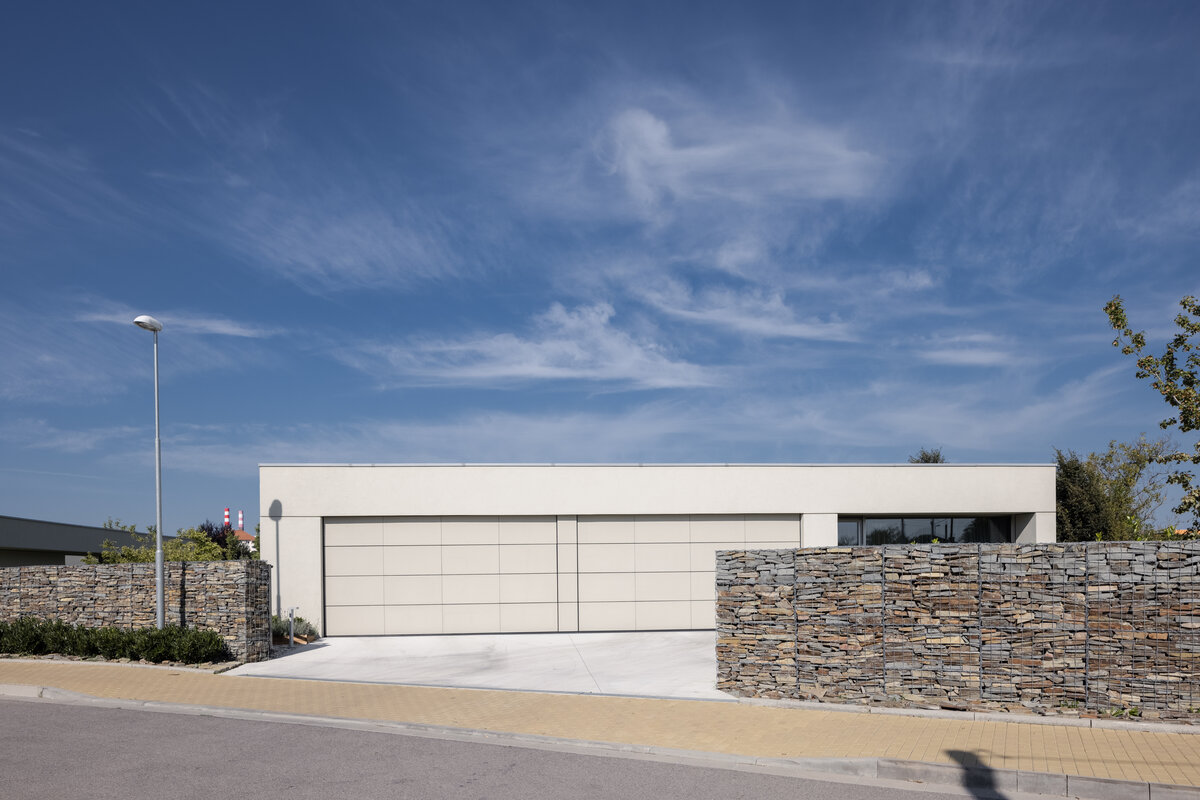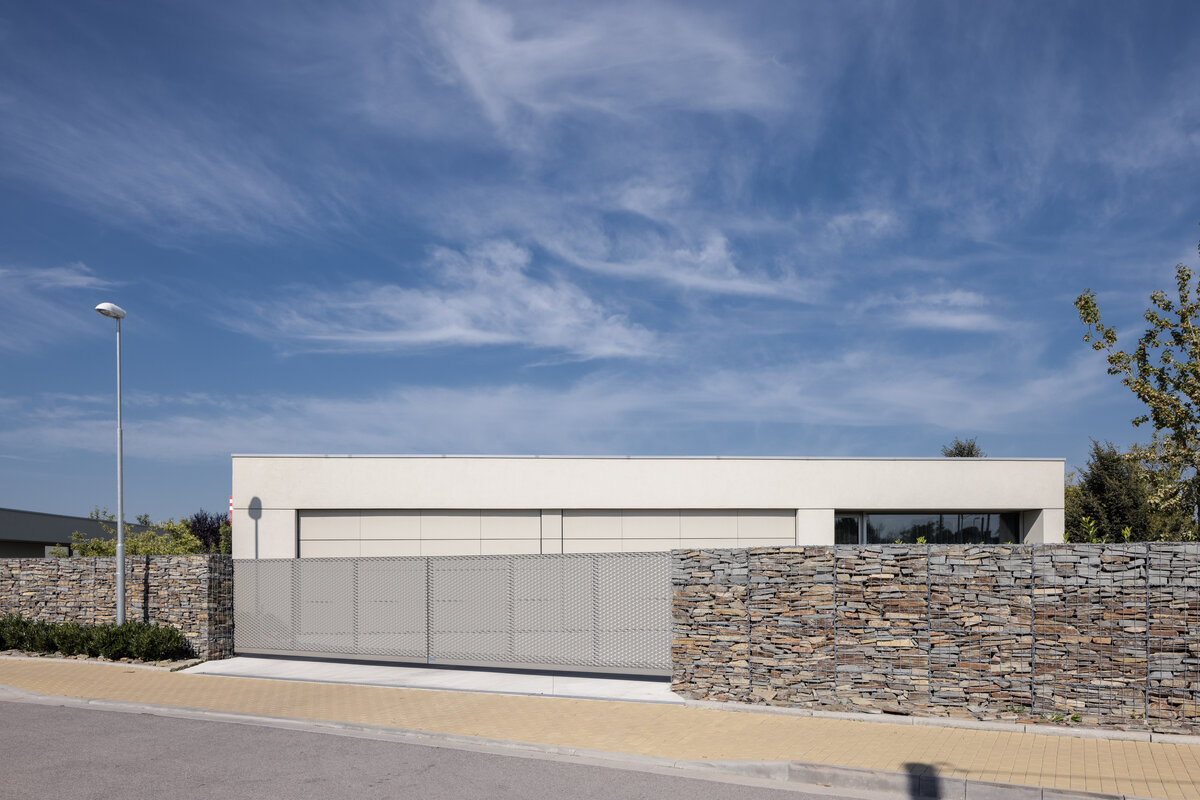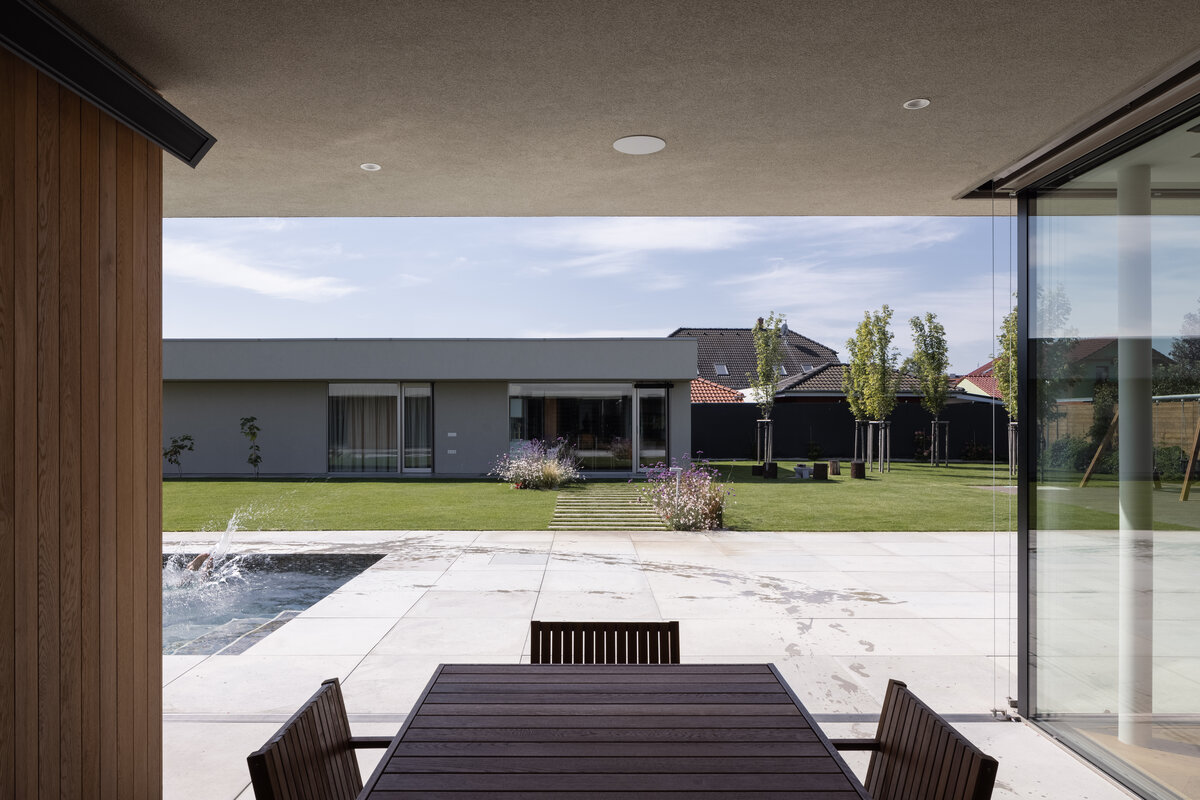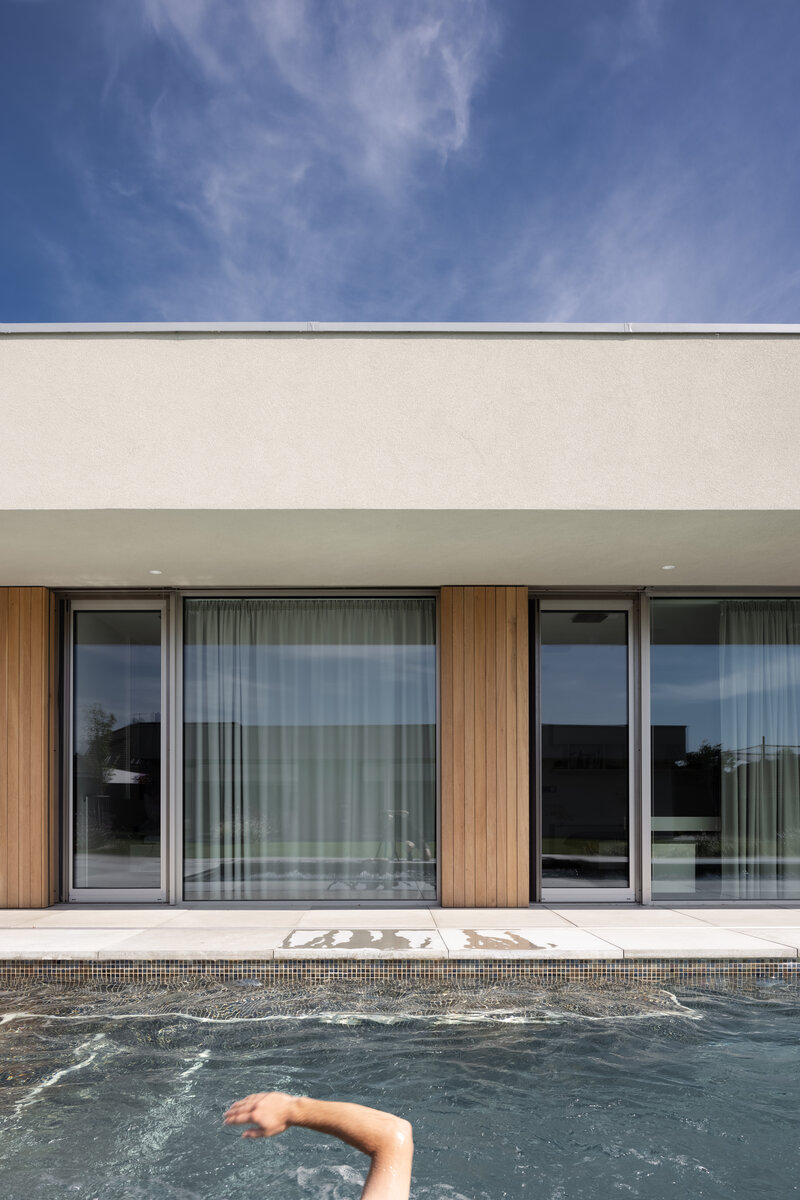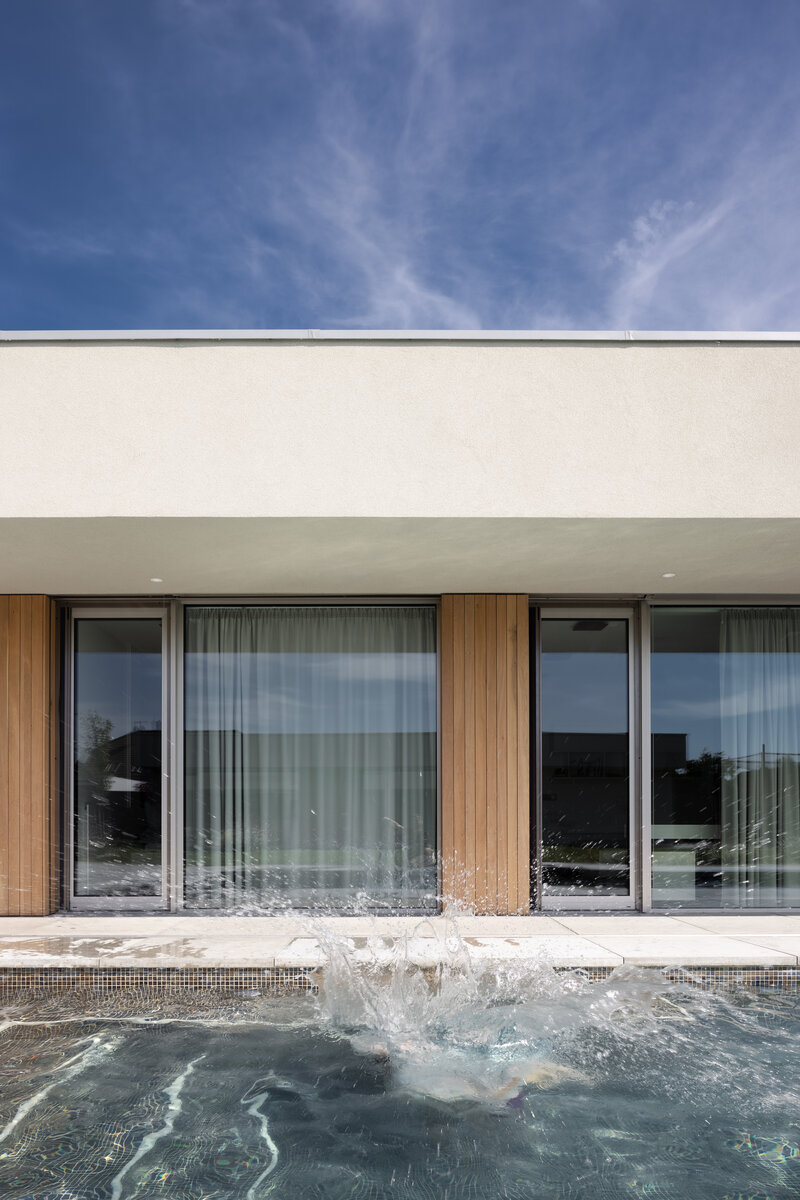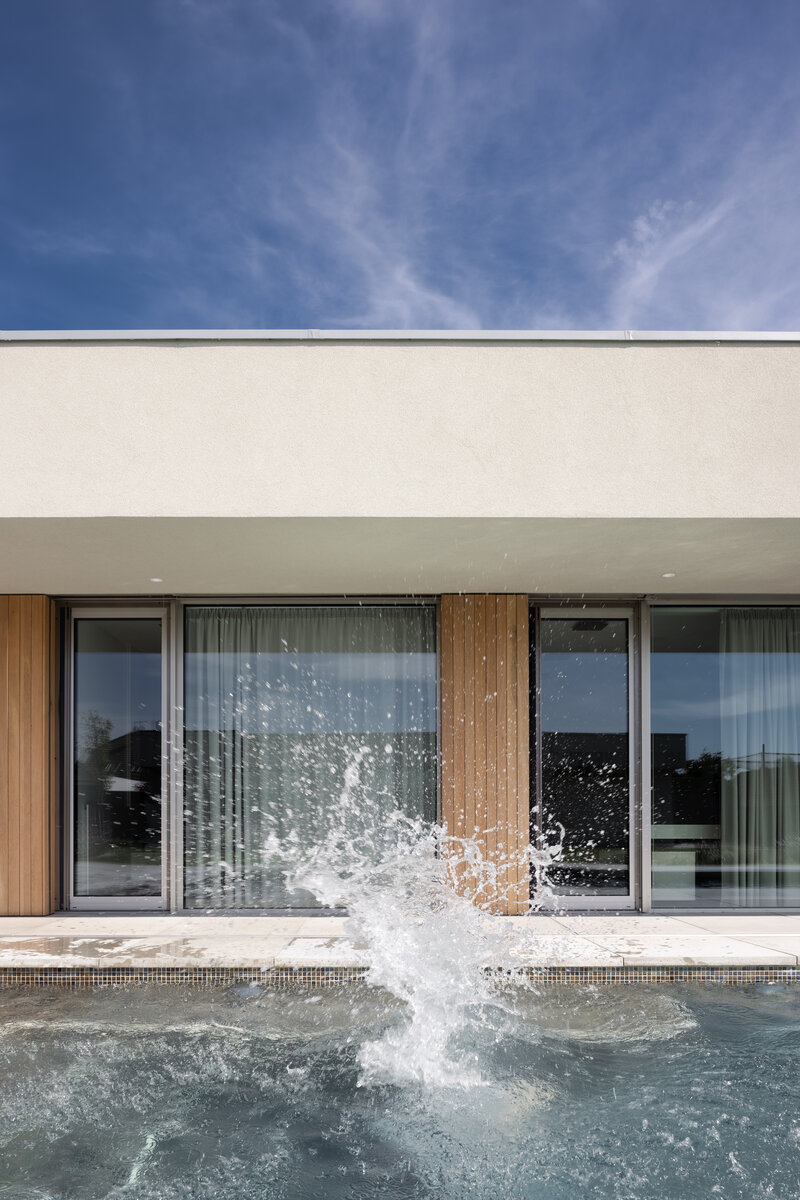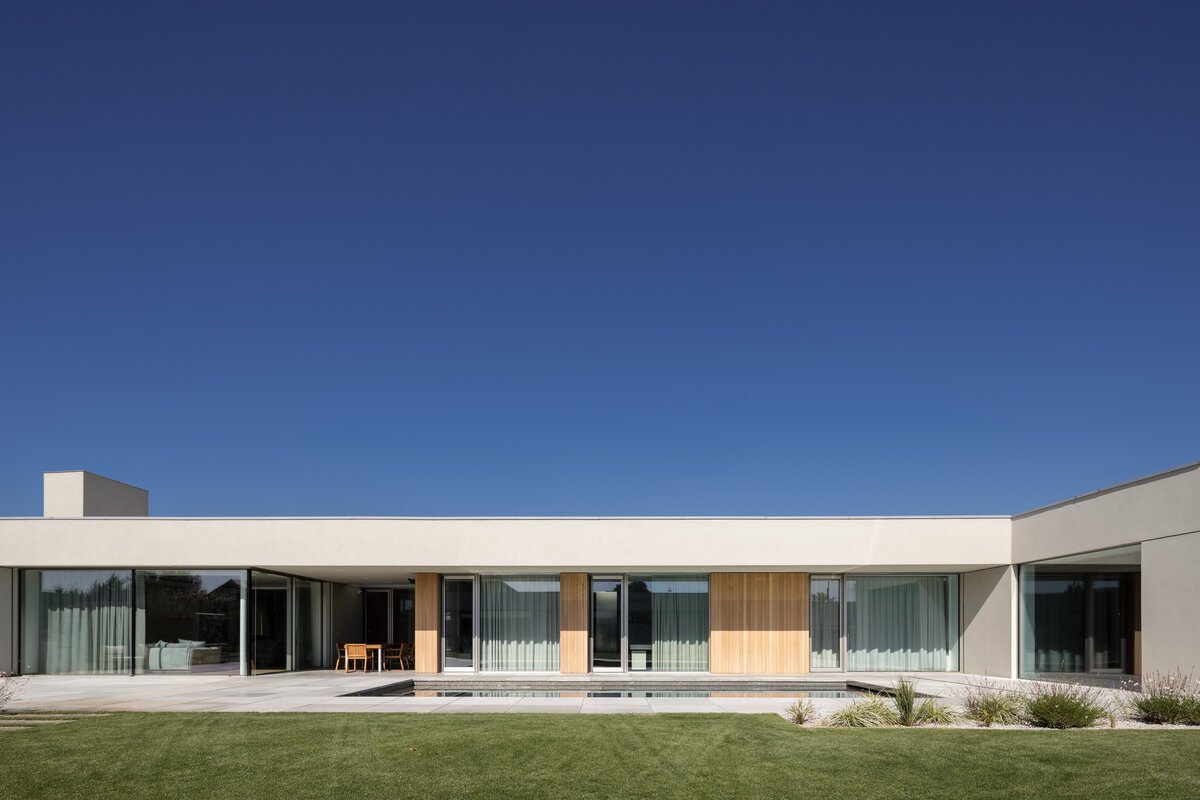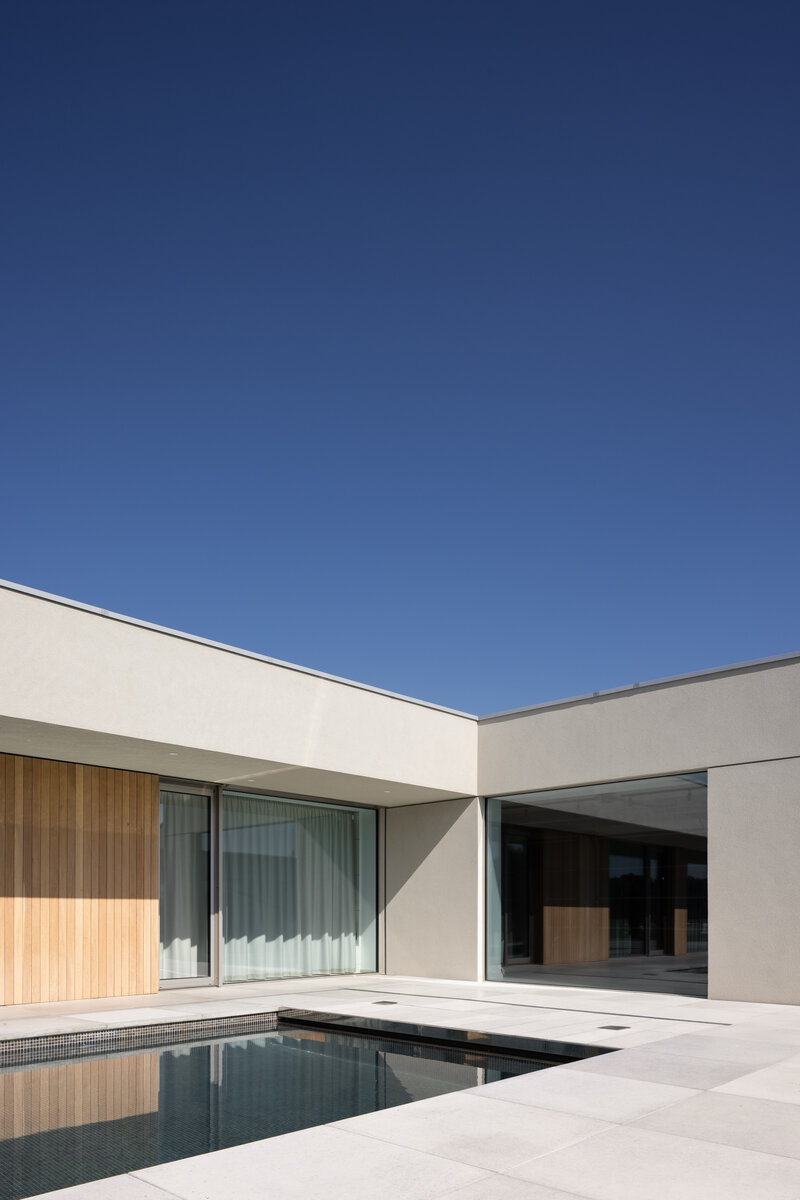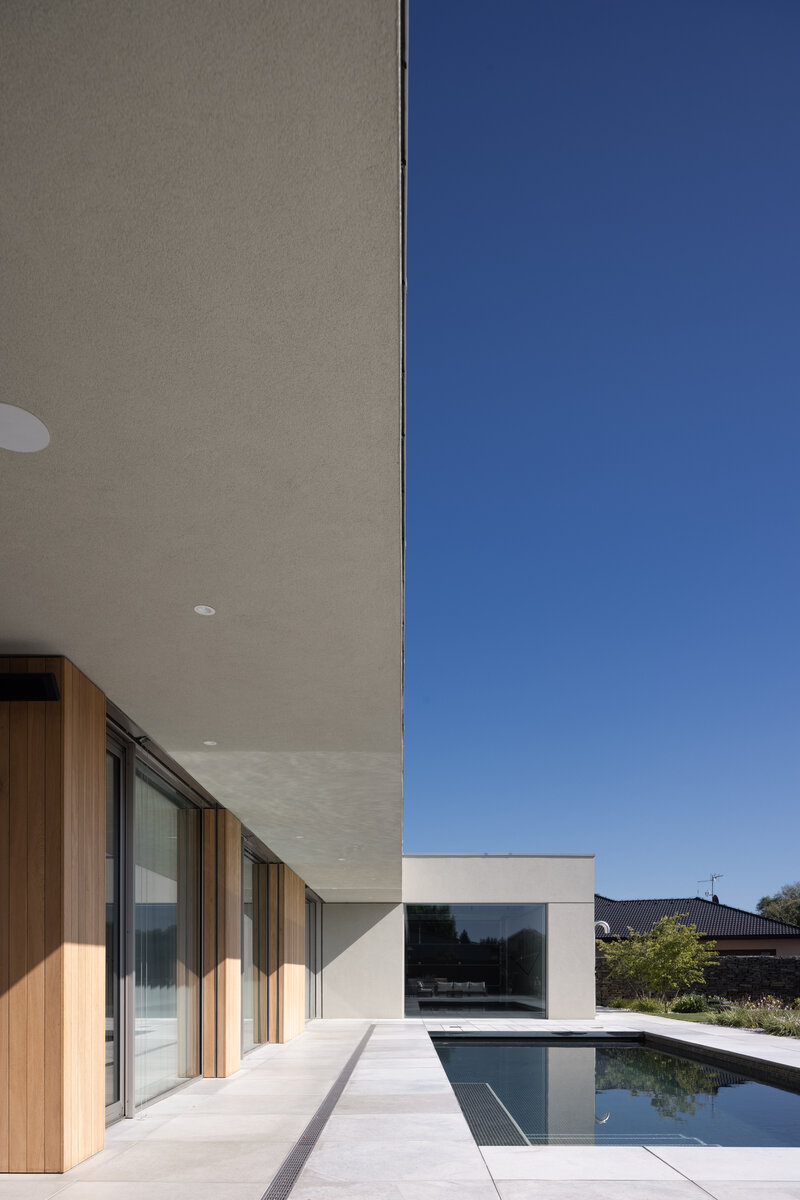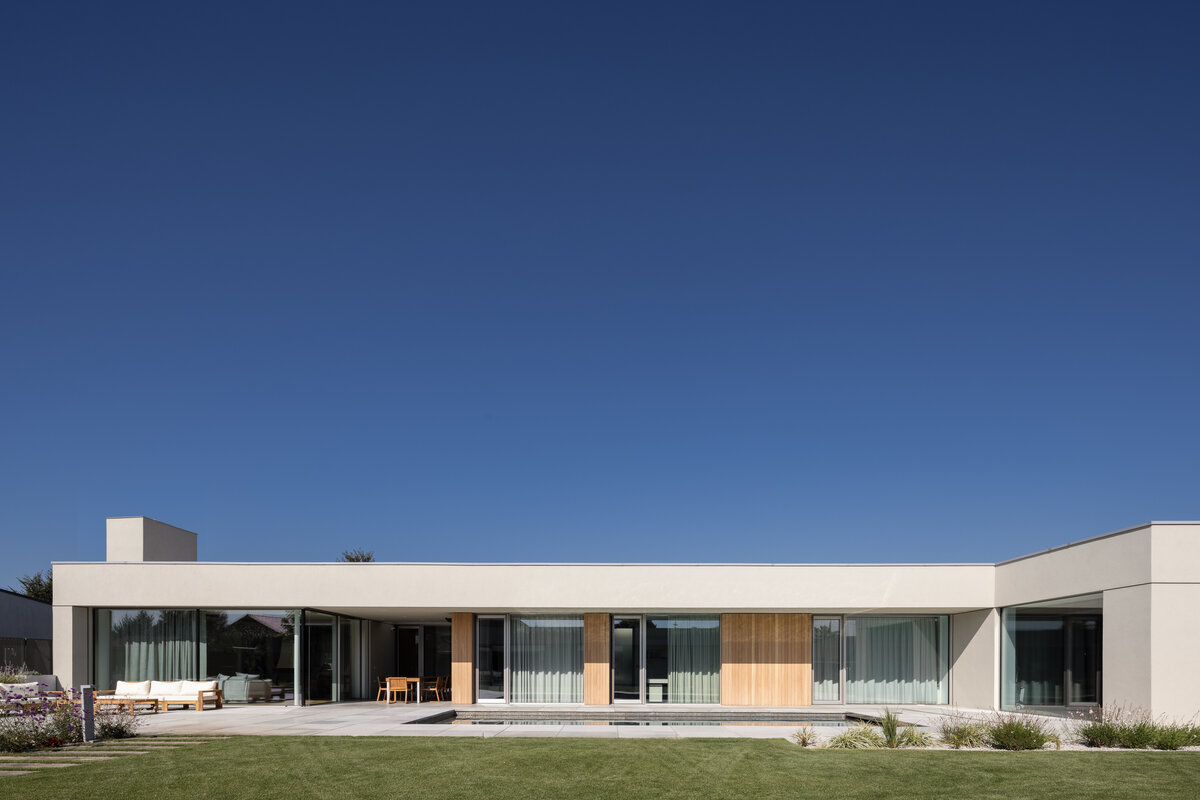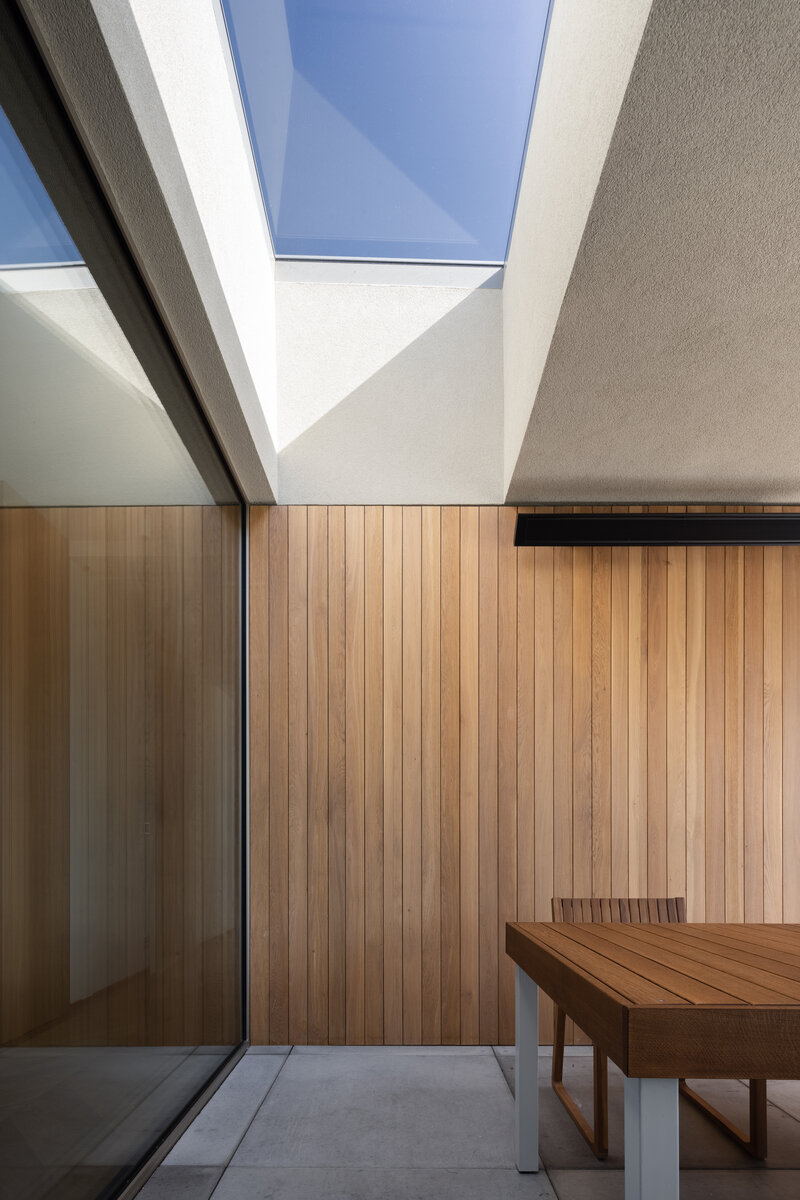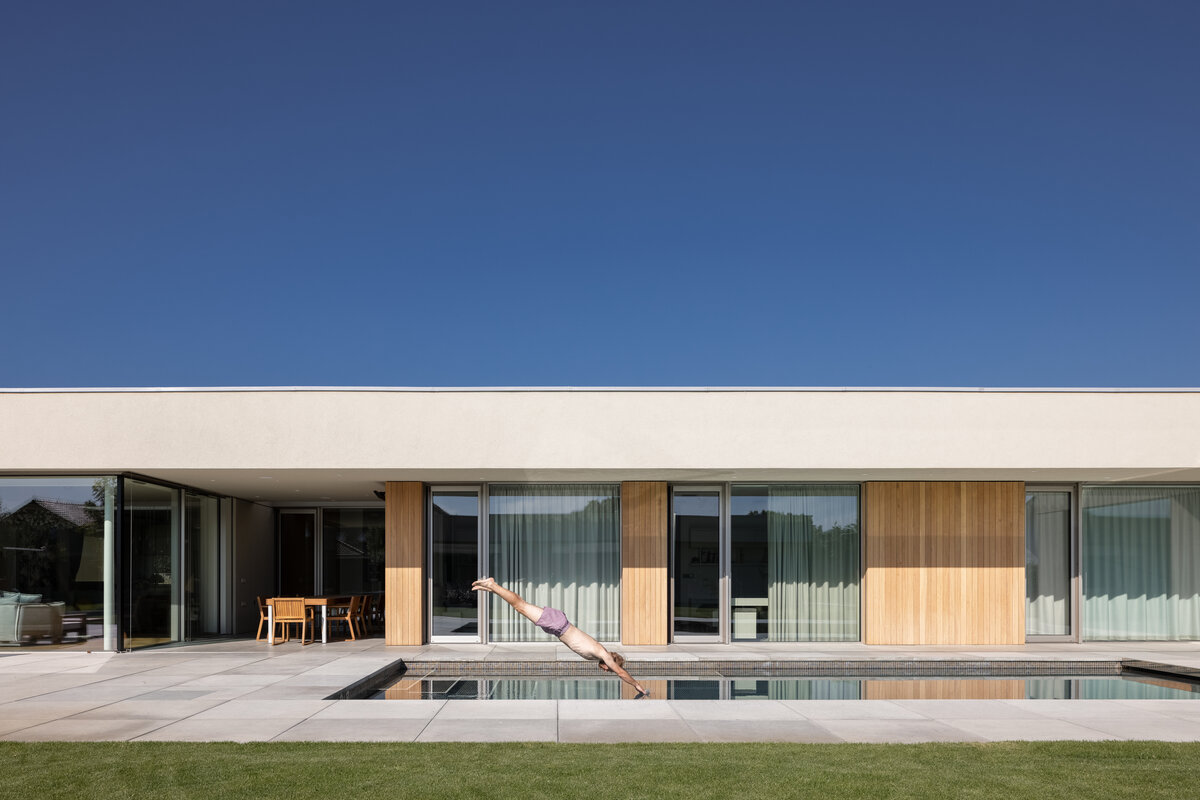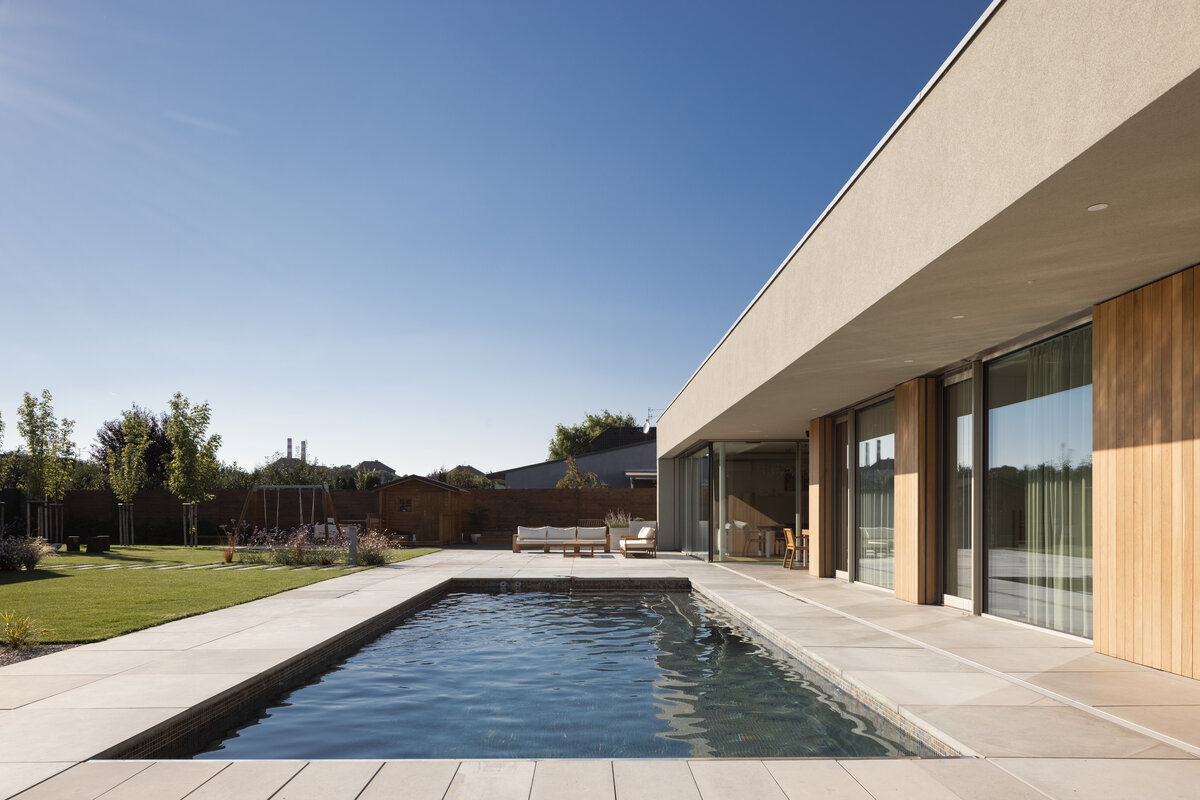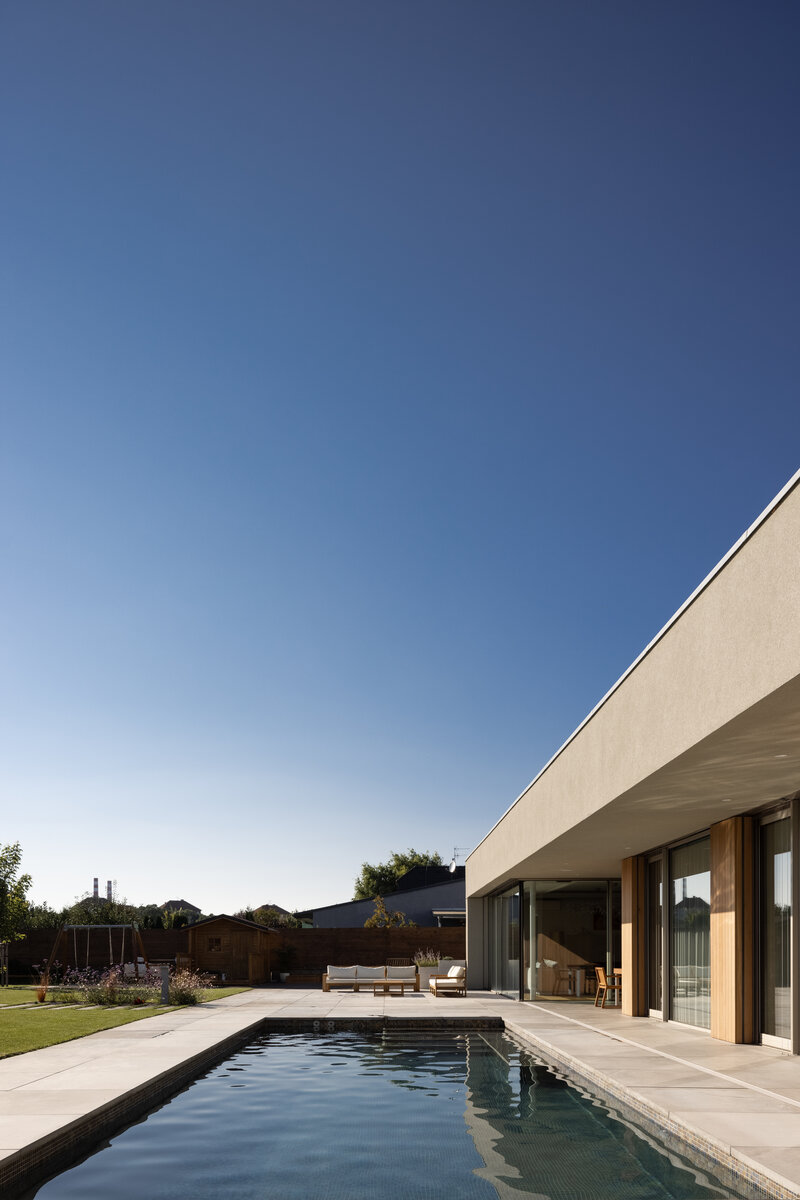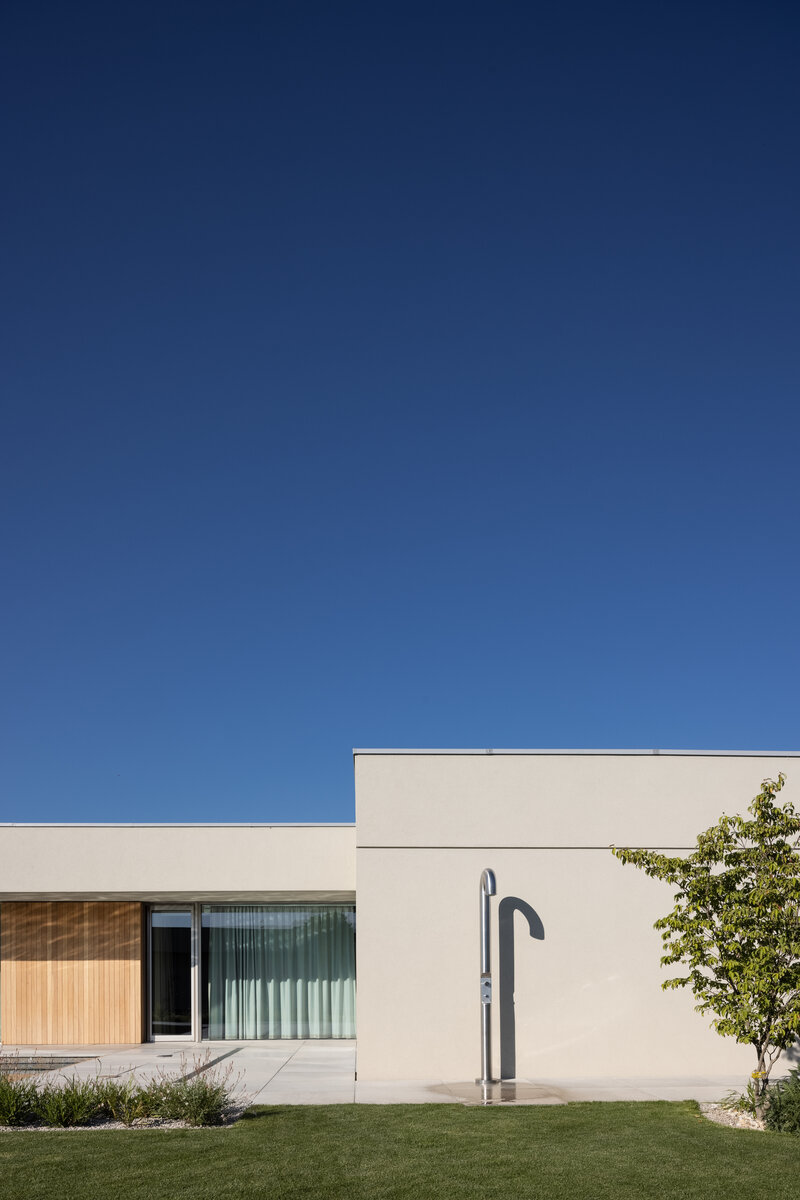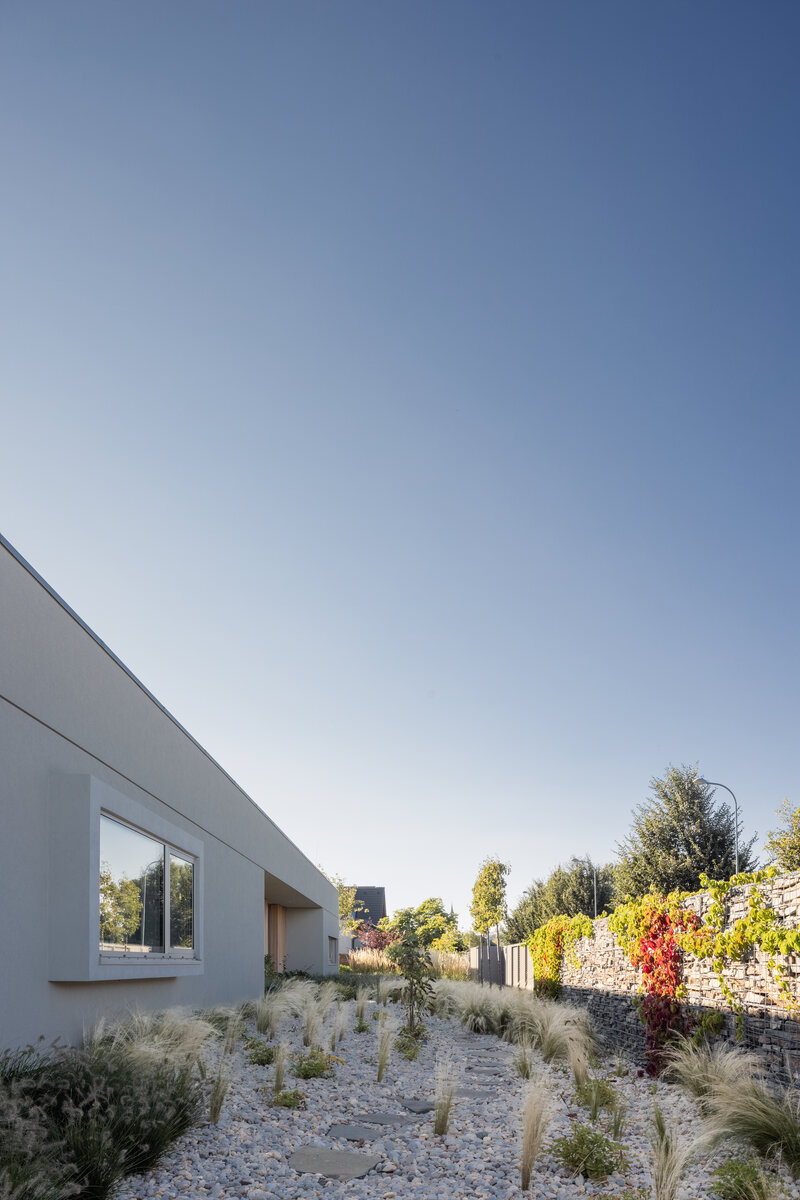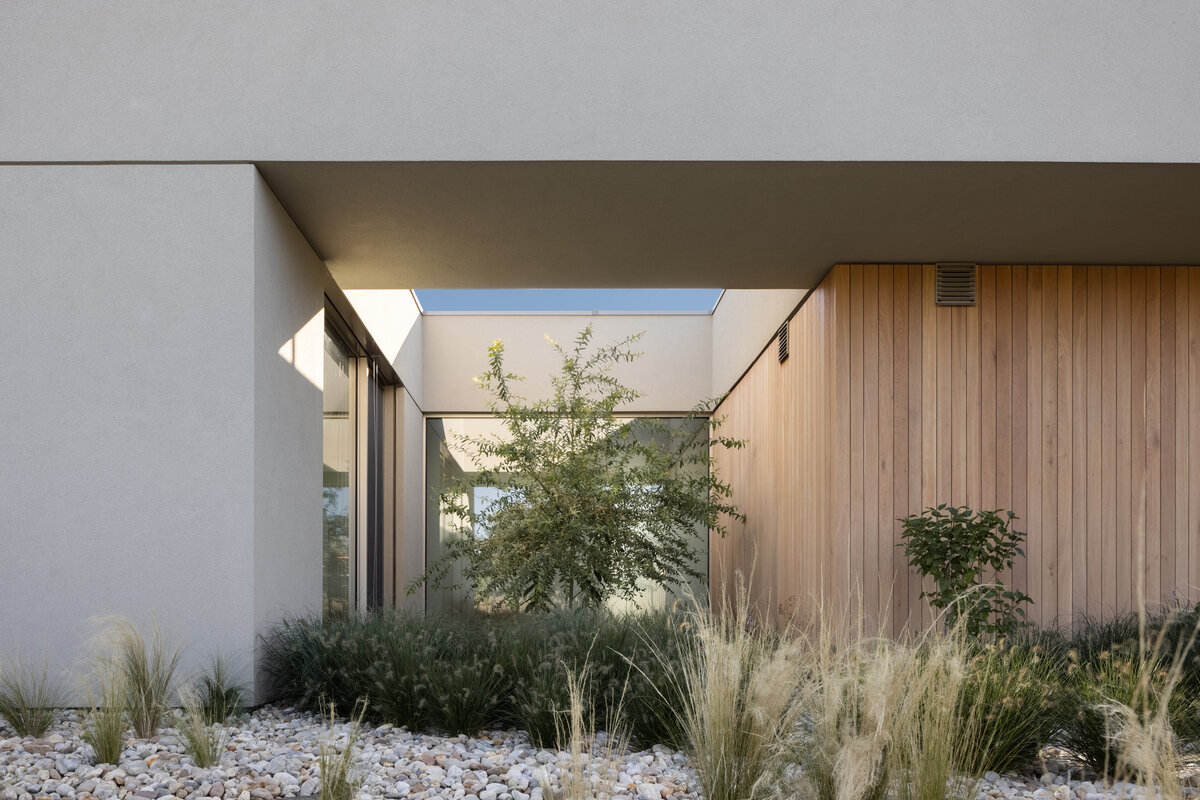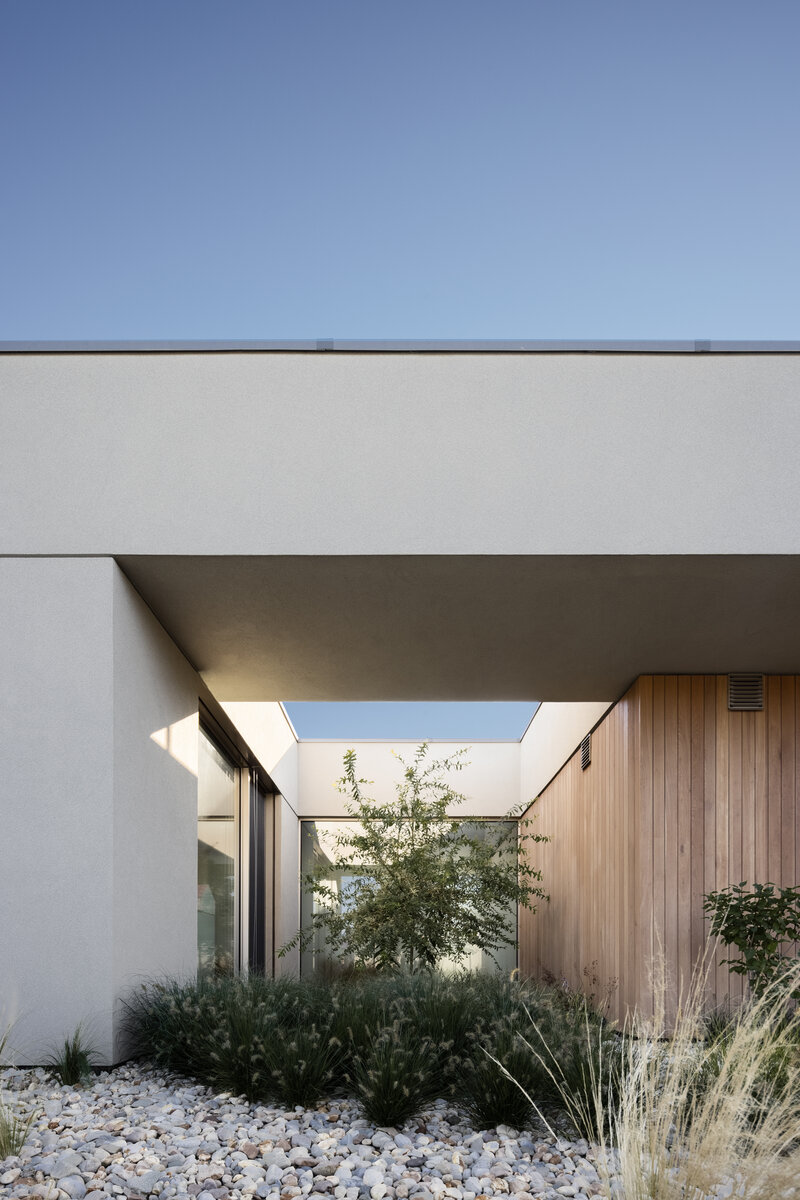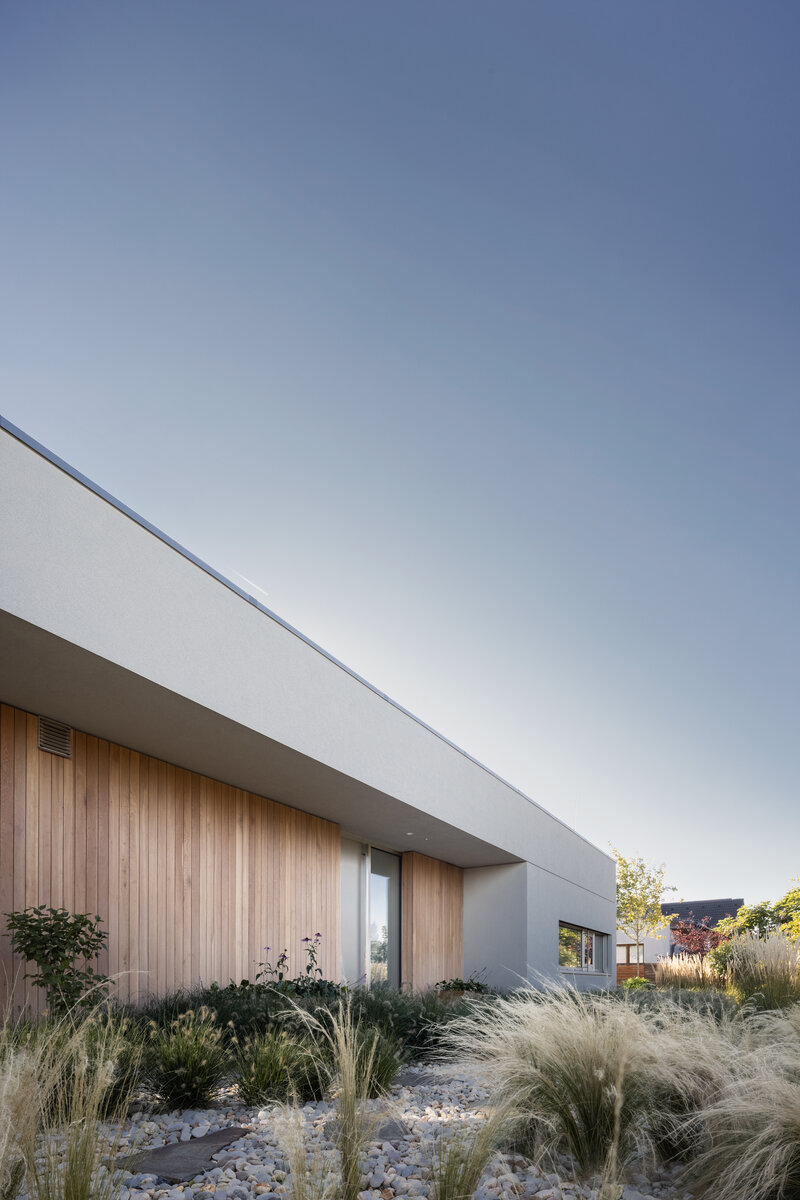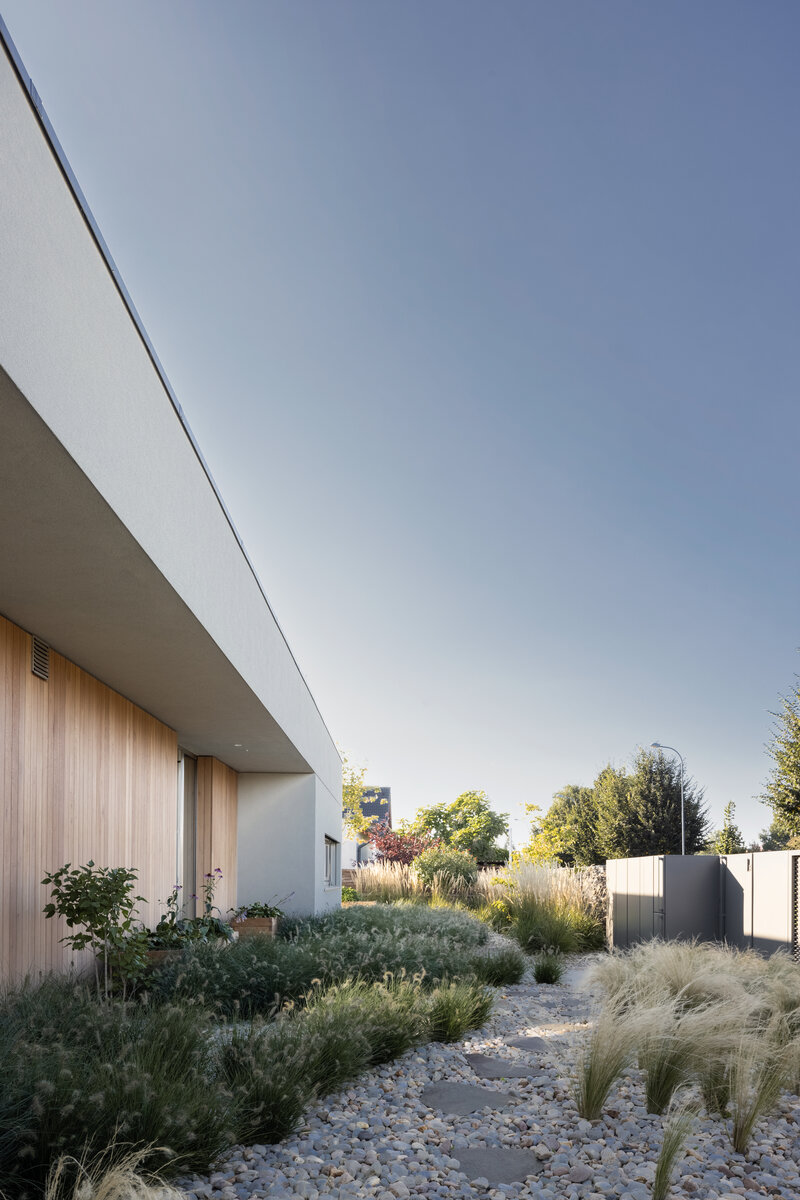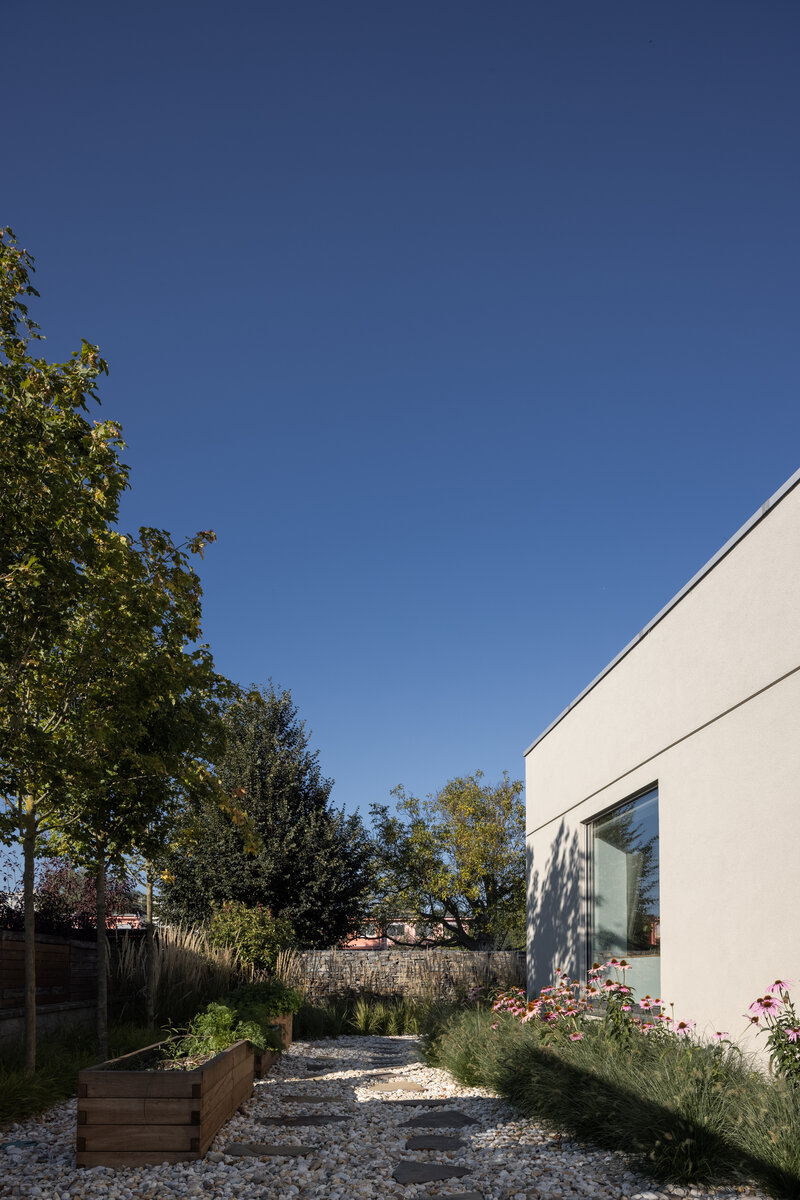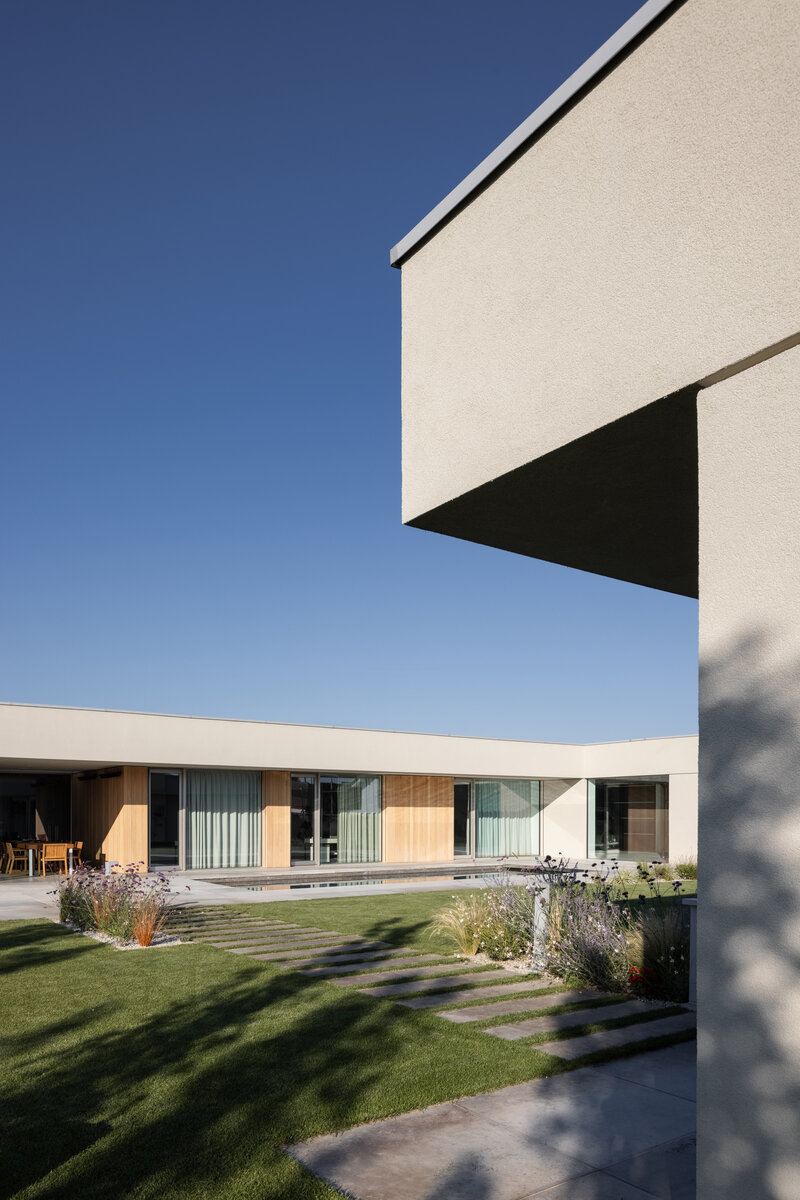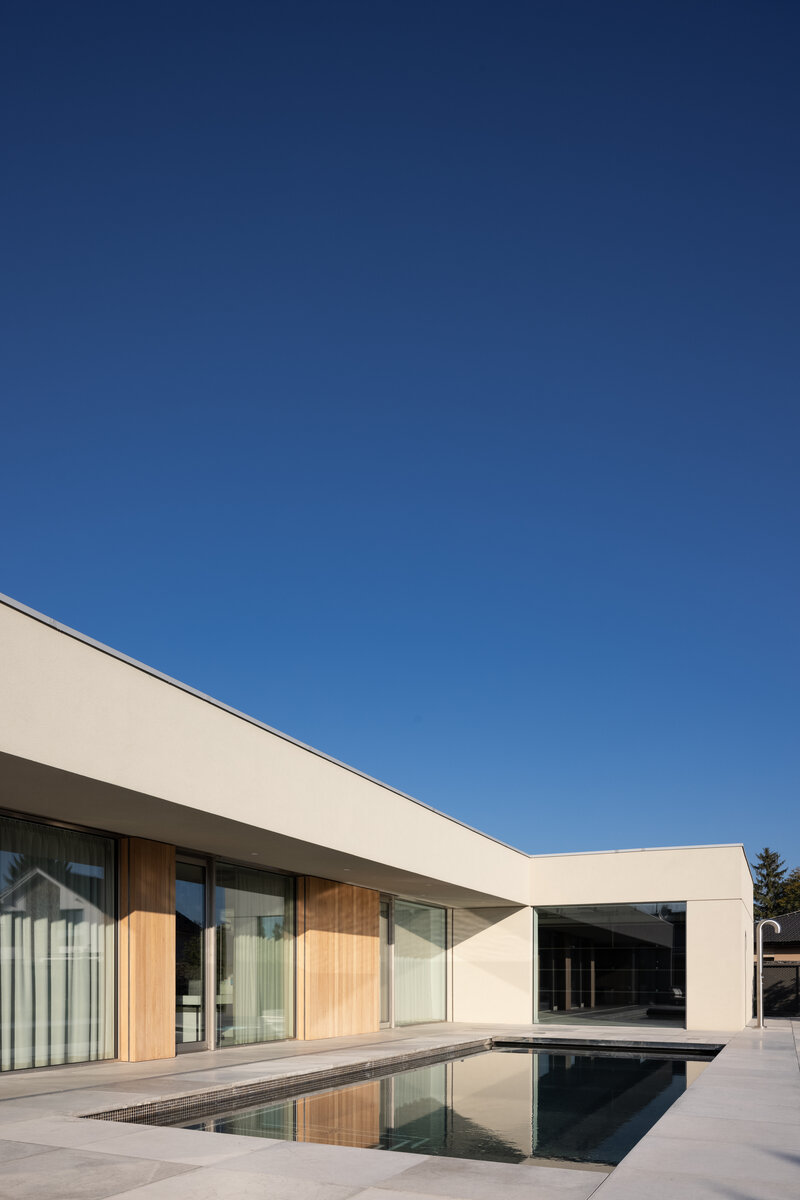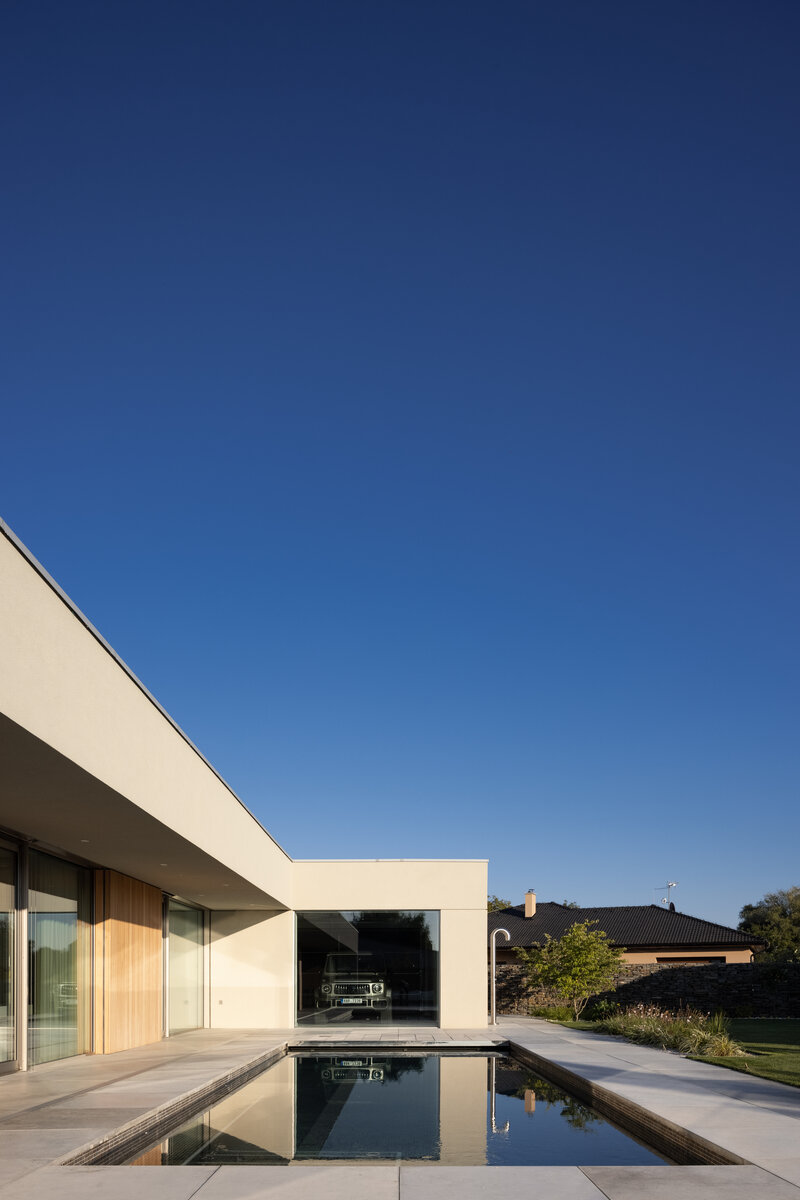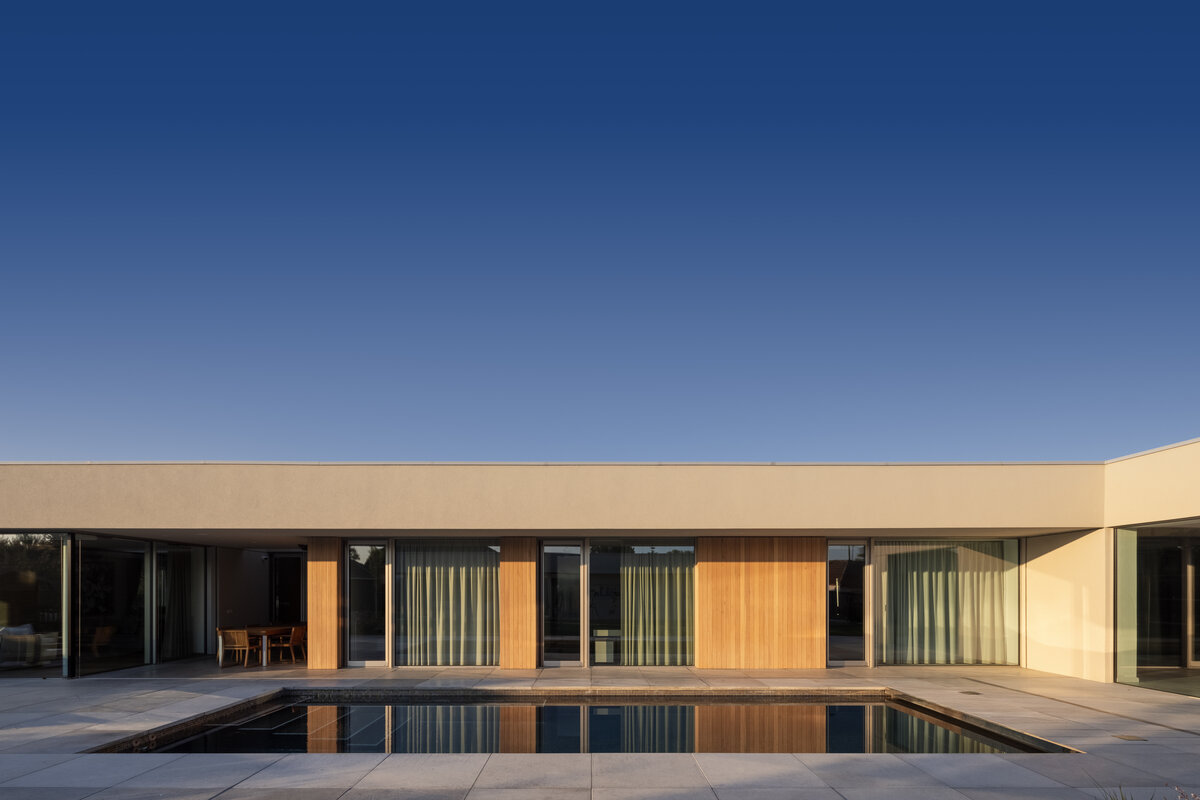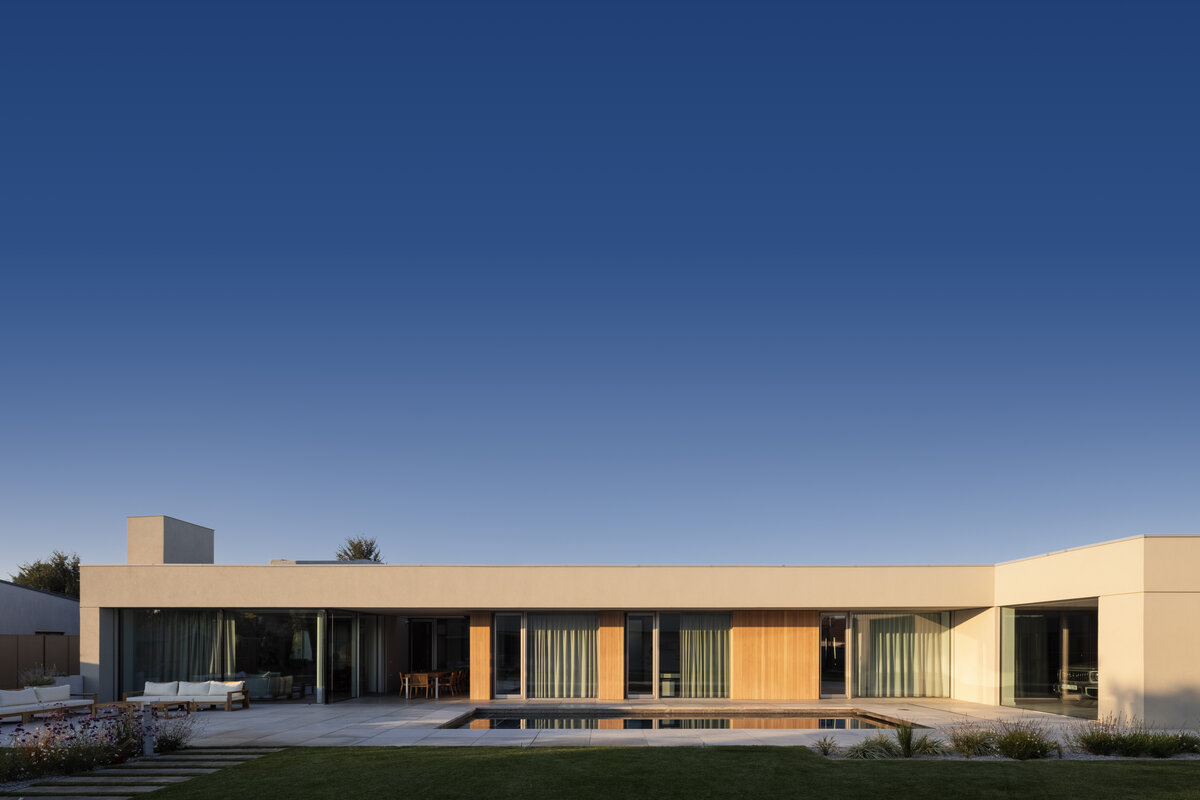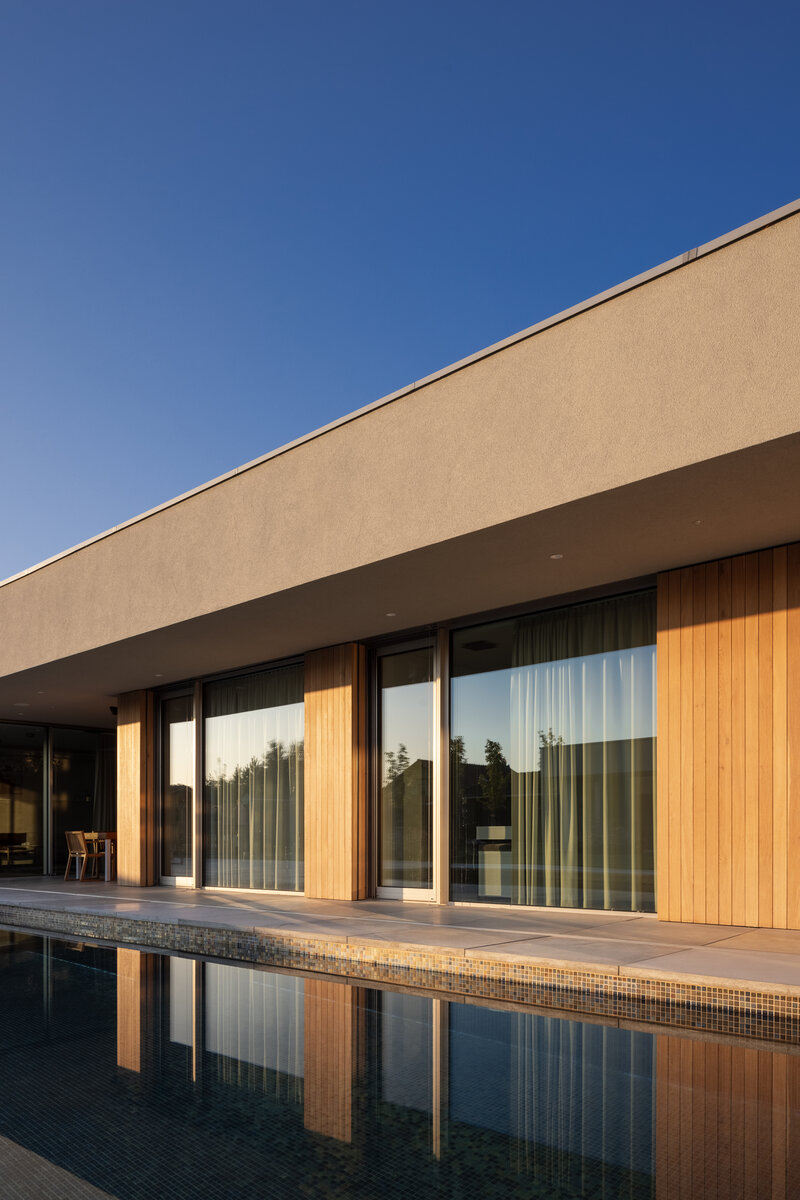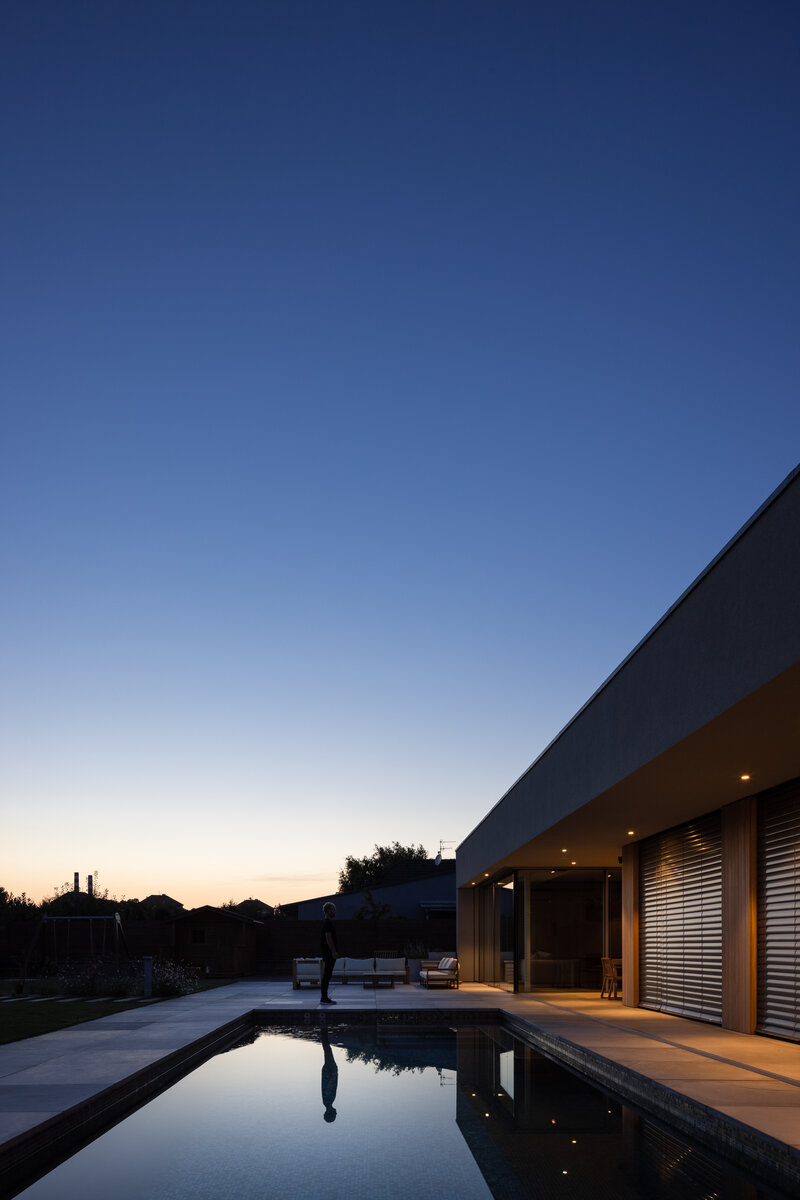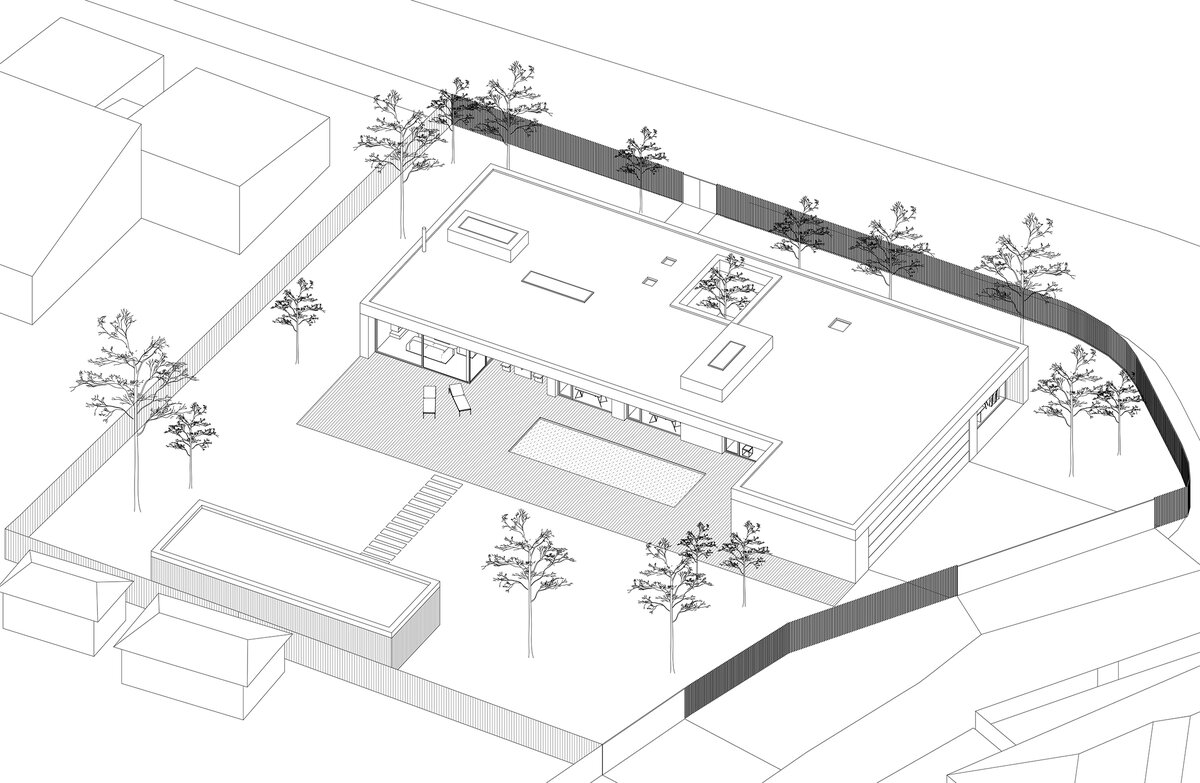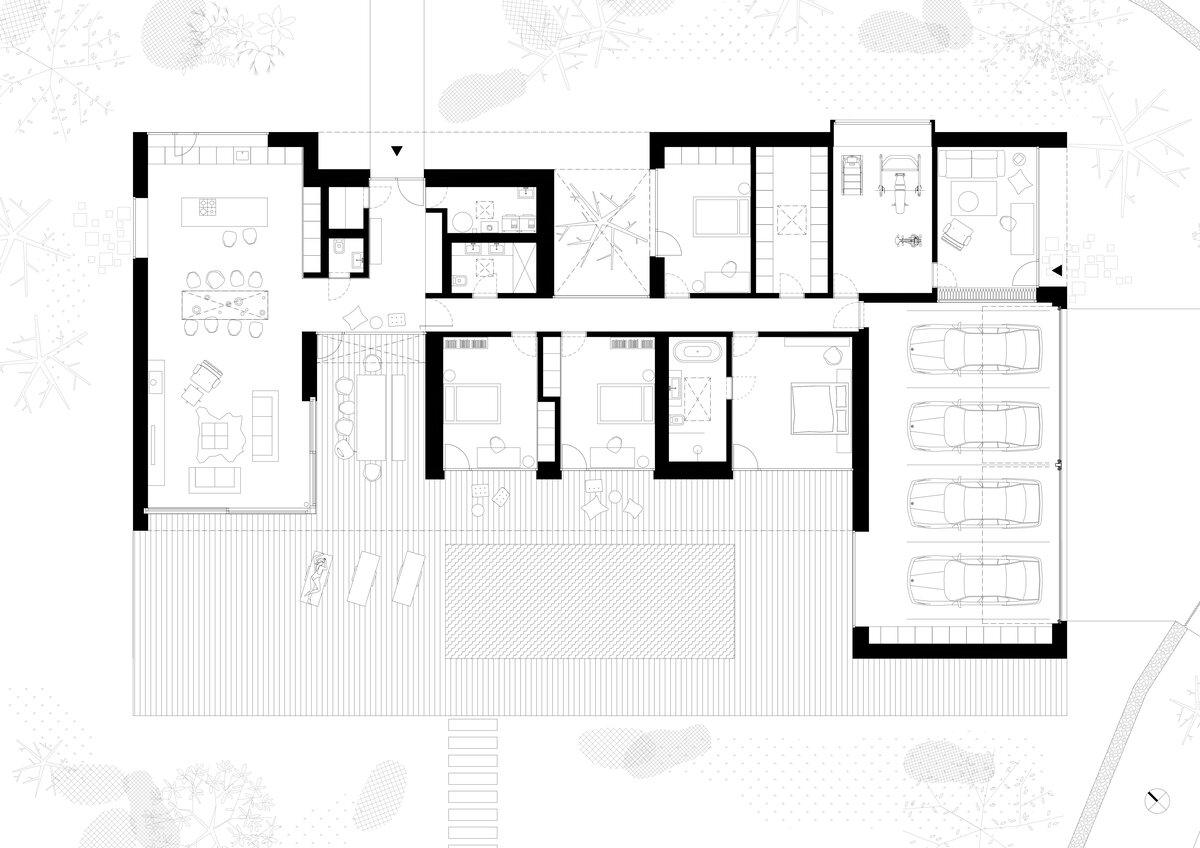 | | |
| --- | --- |
| Author | GRAU |
| Studio | |
| Location | Hodonín |
| Investor | Anonym |
| Supplier | Neuvedený |
| Date of project approval | May 2021 |
| Fotograf | |
The family house is located in Moravia, in a built-up area near the embankment of a river. A quiet, stabilized zone with a typical development of family houses and the requirements of future residents were the impulse for the design of a single-storey house. For the needs of arranging the functions and demands of the client, the building occupies two plots.
We create a fragmented house, while the roof intentionally remains compact. It overlaps the atrium, but at the same time we intentionally cut it out somewhere. By using skylights, we let light into the house and create another dynamically changing element. The house has different nooks and atmospheres, it opens more somewhere, on the other side it closes introvertly. The vestibule becomes the main communication space of the house and divides the space into a social and residential tract. The living area together with the rooms faces the garden and opens onto a terrace with a swimming pool. In the axis of the house is situated a garden house, which serves as a lounge and guest room or storage. We work with simple materiality, we let stand out the structure of the house and the play of light on clean surfaces.
Green building
Environmental certification
| | |
| --- | --- |
| Type and level of certificate | - |
Water management
| | |
| --- | --- |
| Is rainwater used for irrigation? | |
| Is rainwater used for other purposes, e.g. toilet flushing ? | |
| Does the building have a green roof / facade ? | |
| Is reclaimed waste water used, e.g. from showers and sinks ? | |
The quality of the indoor environment
| | |
| --- | --- |
| Is clean air supply automated ? | |
| Is comfortable temperature during summer and winter automated? | |
| Is natural lighting guaranteed in all living areas? | |
| Is artificial lighting automated? | |
| Is acoustic comfort, specifically reverberation time, guaranteed? | |
| Does the layout solution include zoning and ergonomics elements? | |
Principles of circular economics
| | |
| --- | --- |
| Does the project use recycled materials? | |
| Does the project use recyclable materials? | |
| Are materials with a documented Environmental Product Declaration (EPD) promoted in the project? | |
| Are other sustainability certifications used for materials and elements? | |
Energy efficiency
| | |
| --- | --- |
| Energy performance class of the building according to the Energy Performance Certificate of the building | A |
| Is efficient energy management (measurement and regular analysis of consumption data) considered? | |
| Are renewable sources of energy used, e.g. solar system, photovoltaics? | |
Interconnection with surroundings
| | |
| --- | --- |
| Does the project enable the easy use of public transport? | |
| Does the project support the use of alternative modes of transport, e.g cycling, walking etc. ? | |
| Is there access to recreational natural areas, e.g. parks, in the immediate vicinity of the building? | |