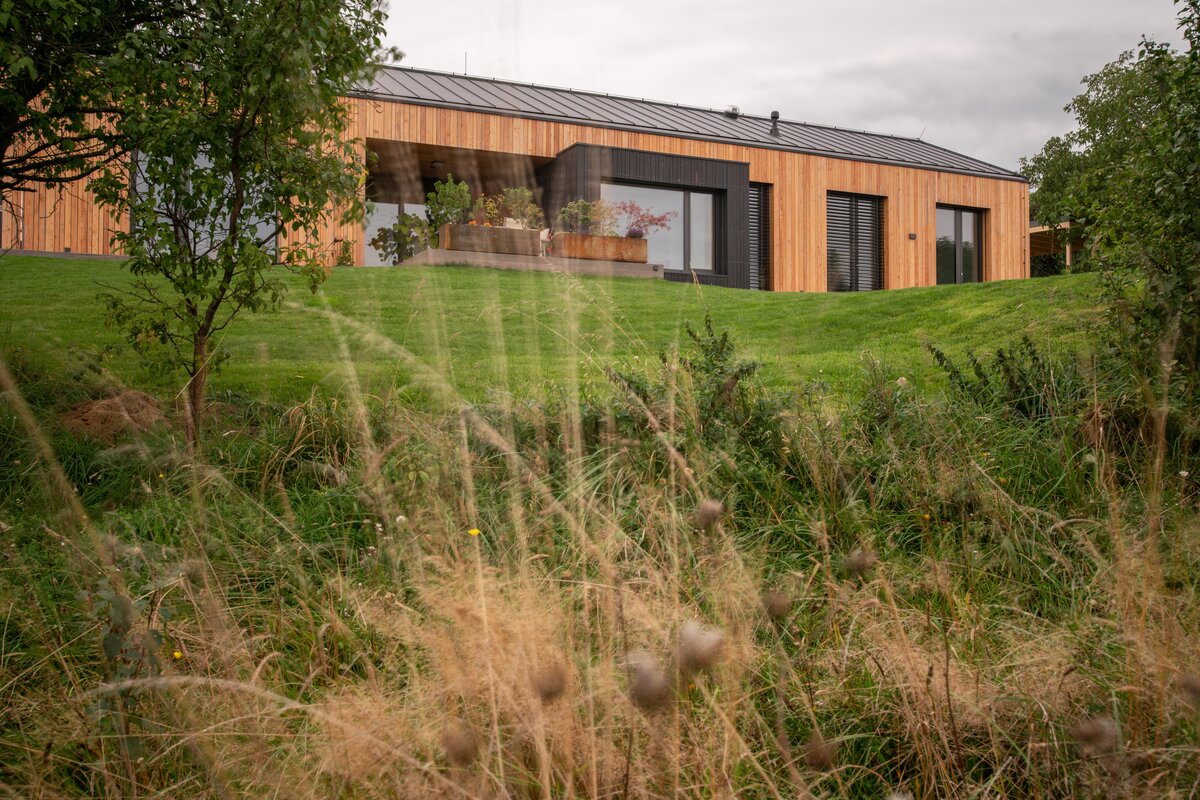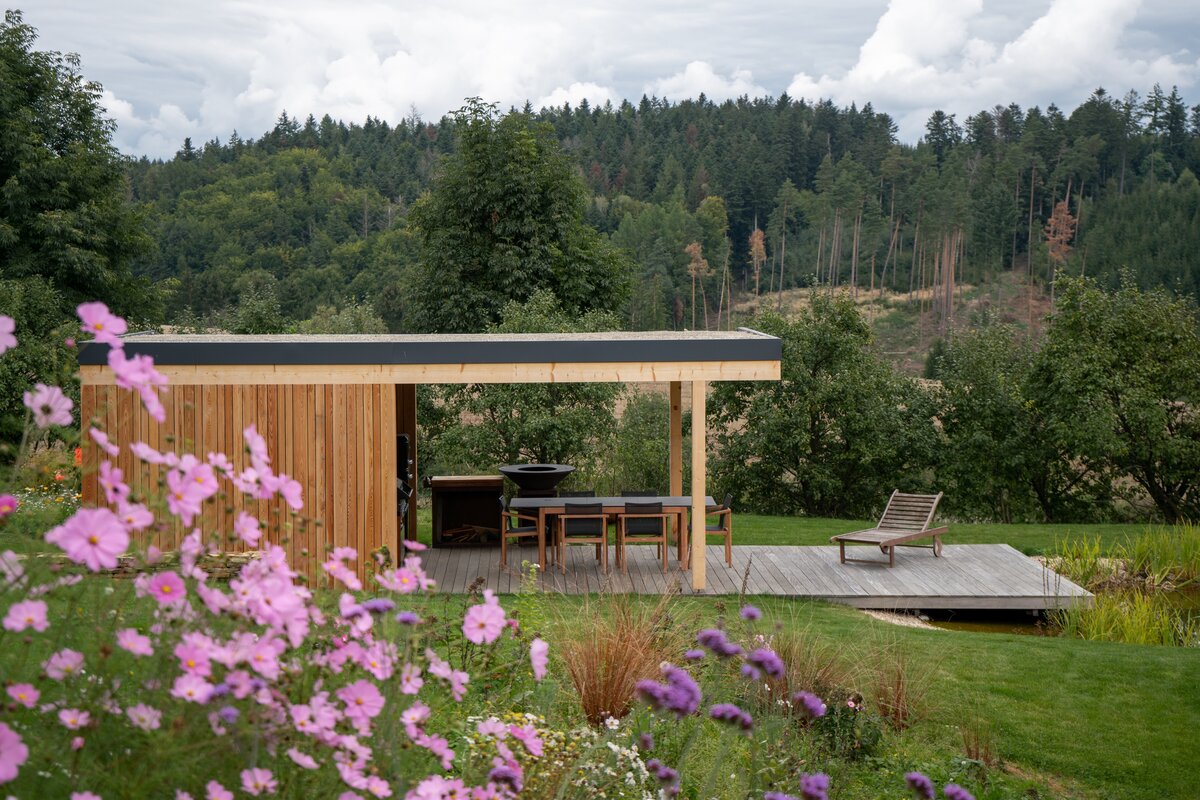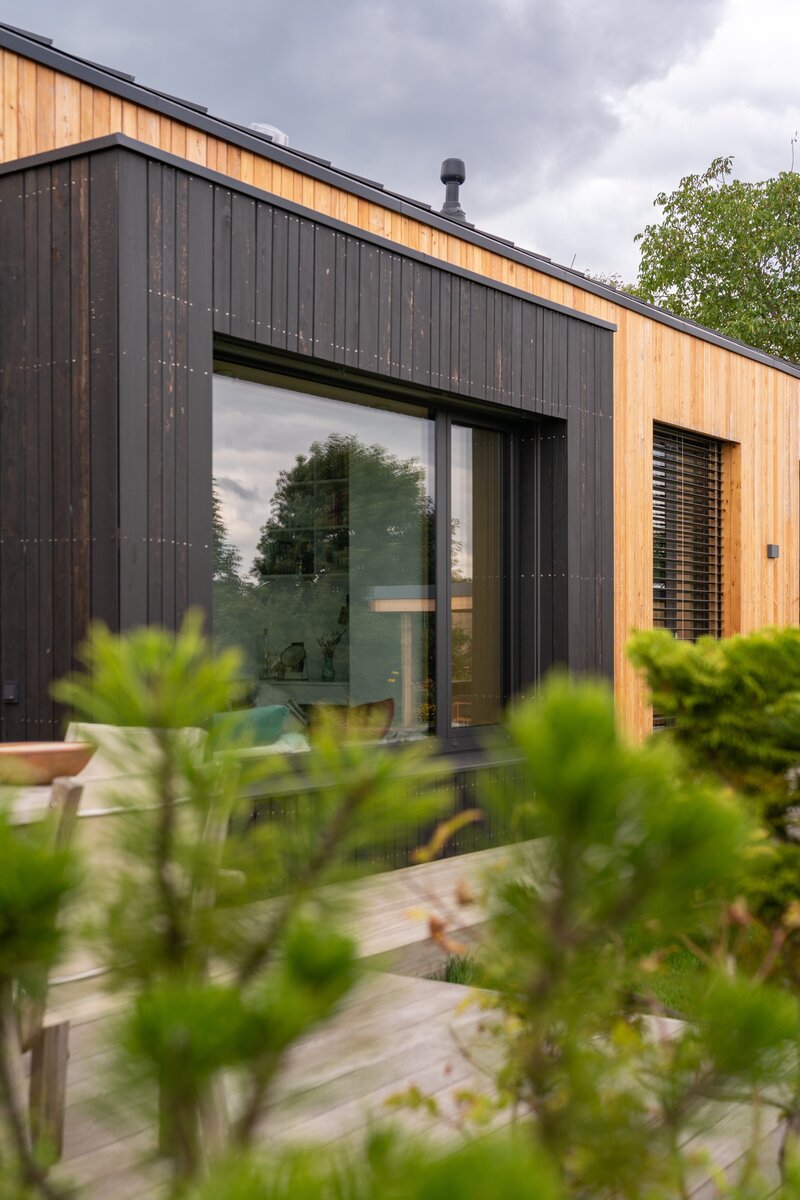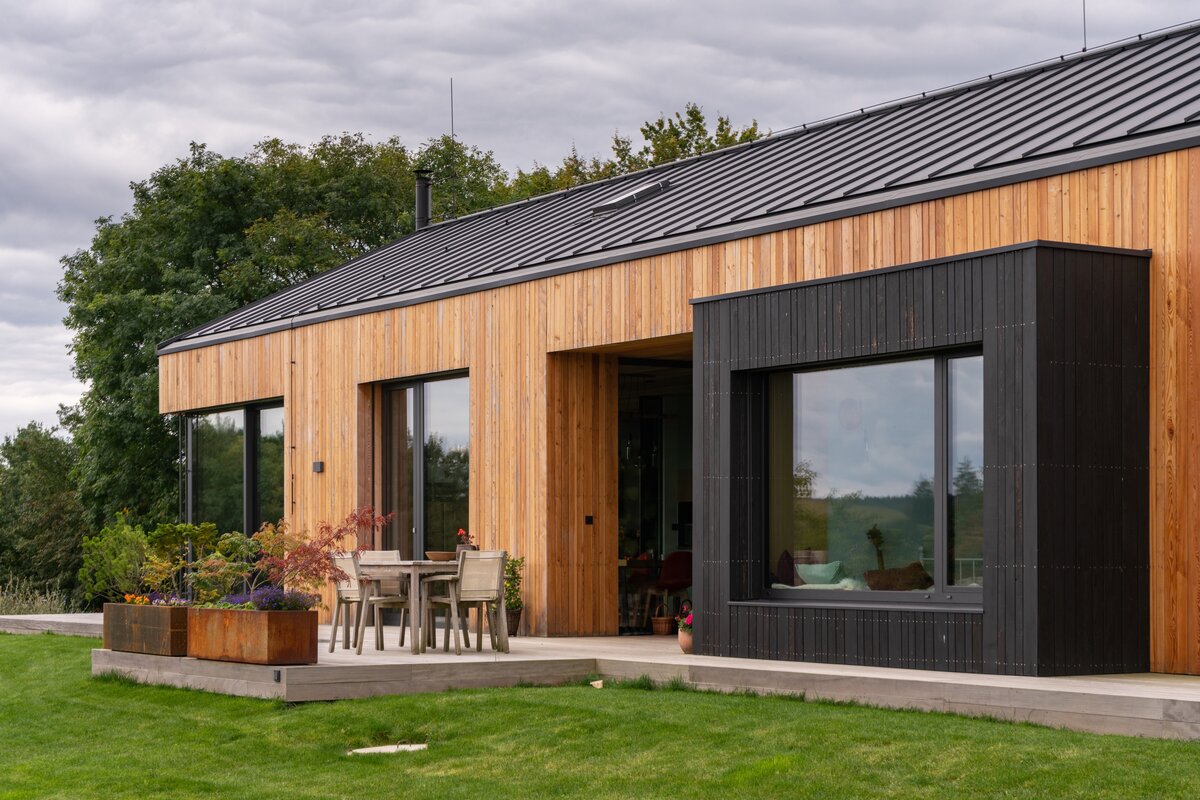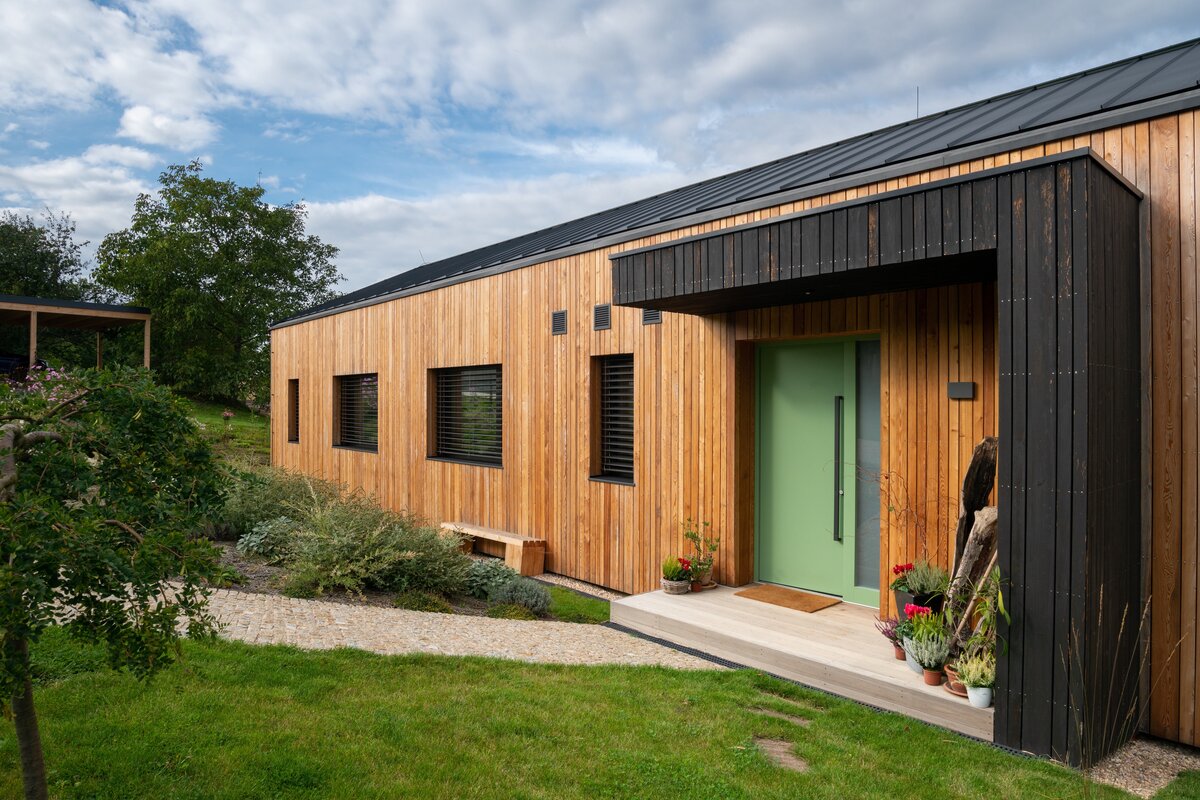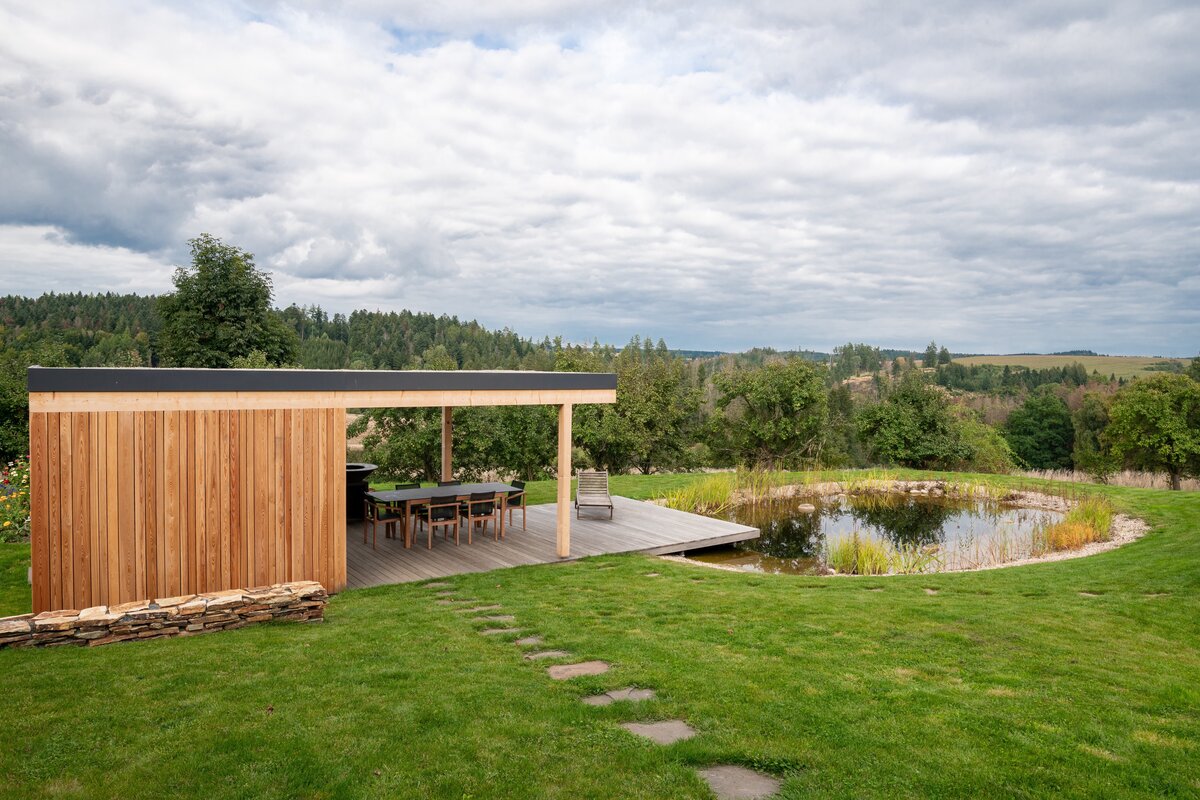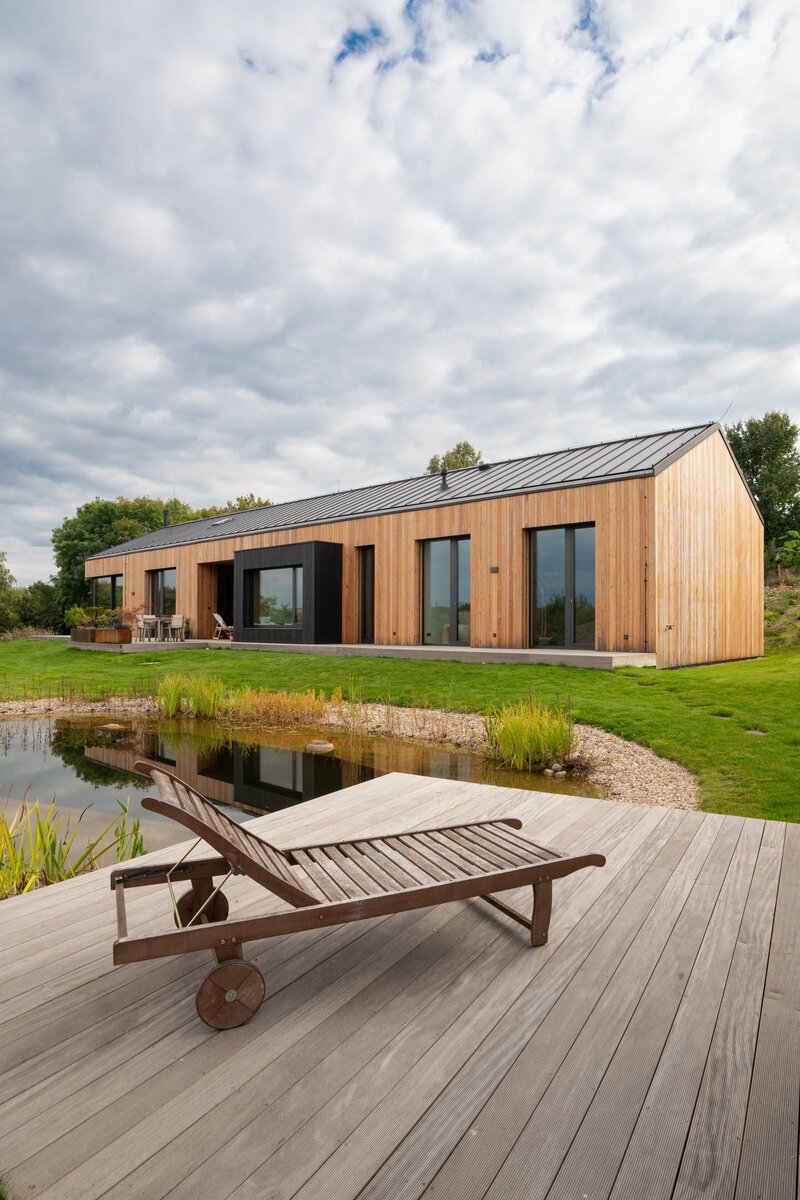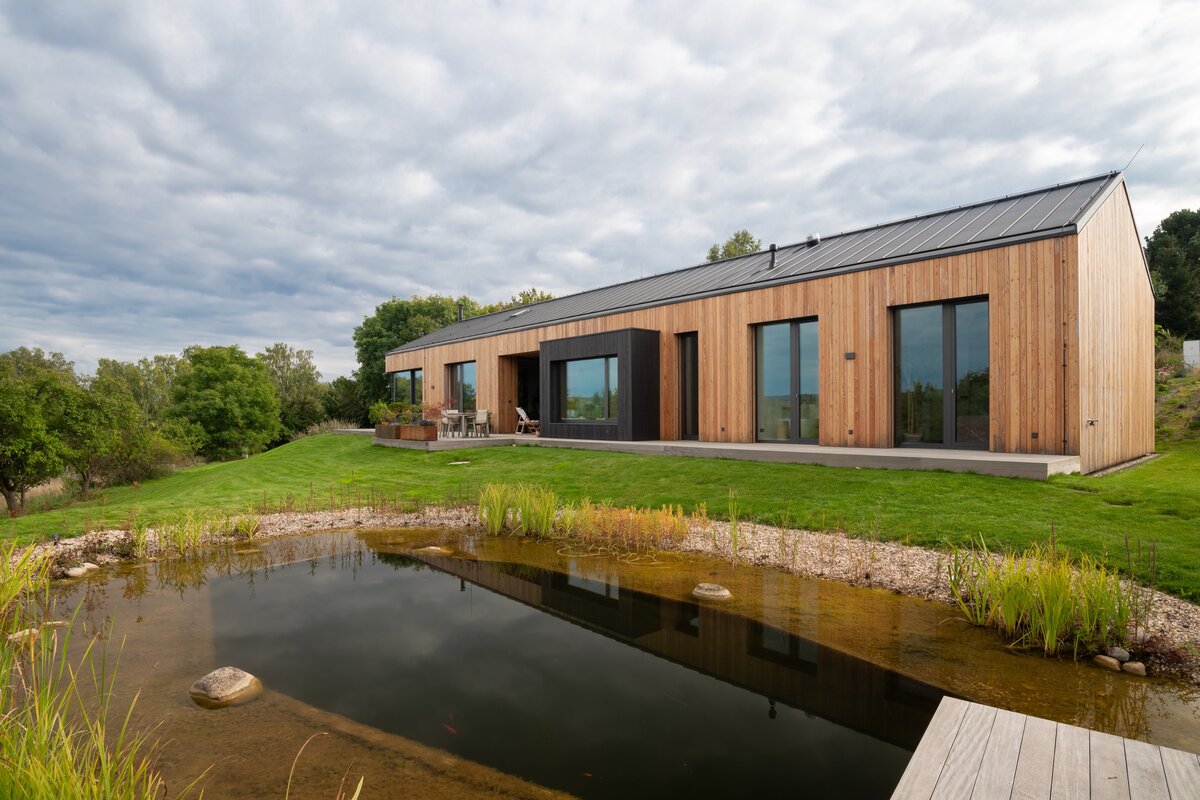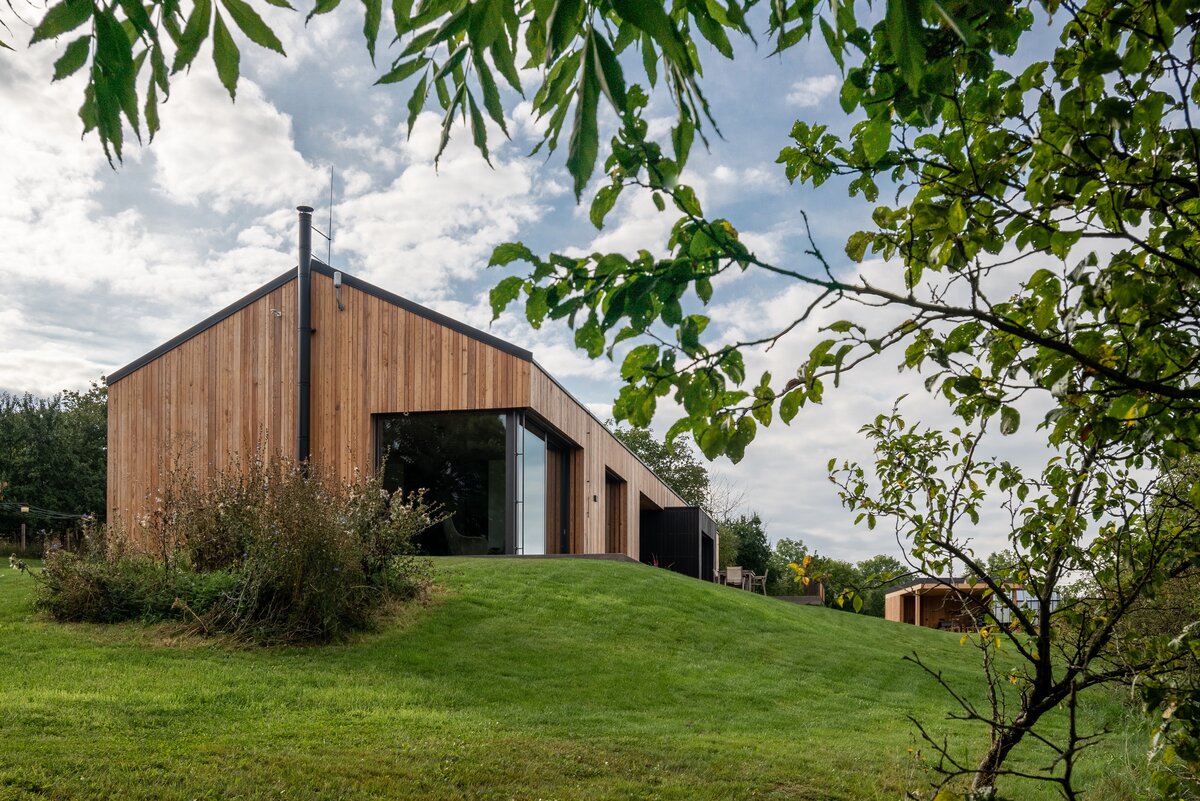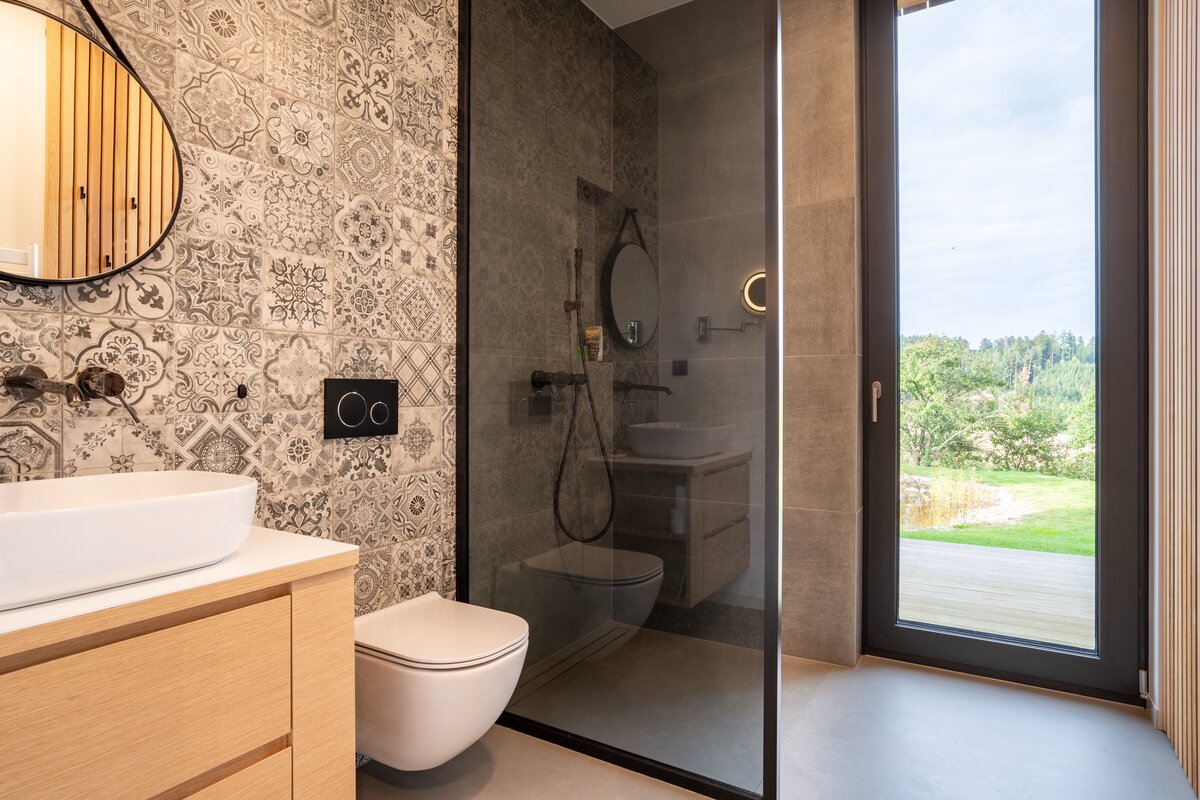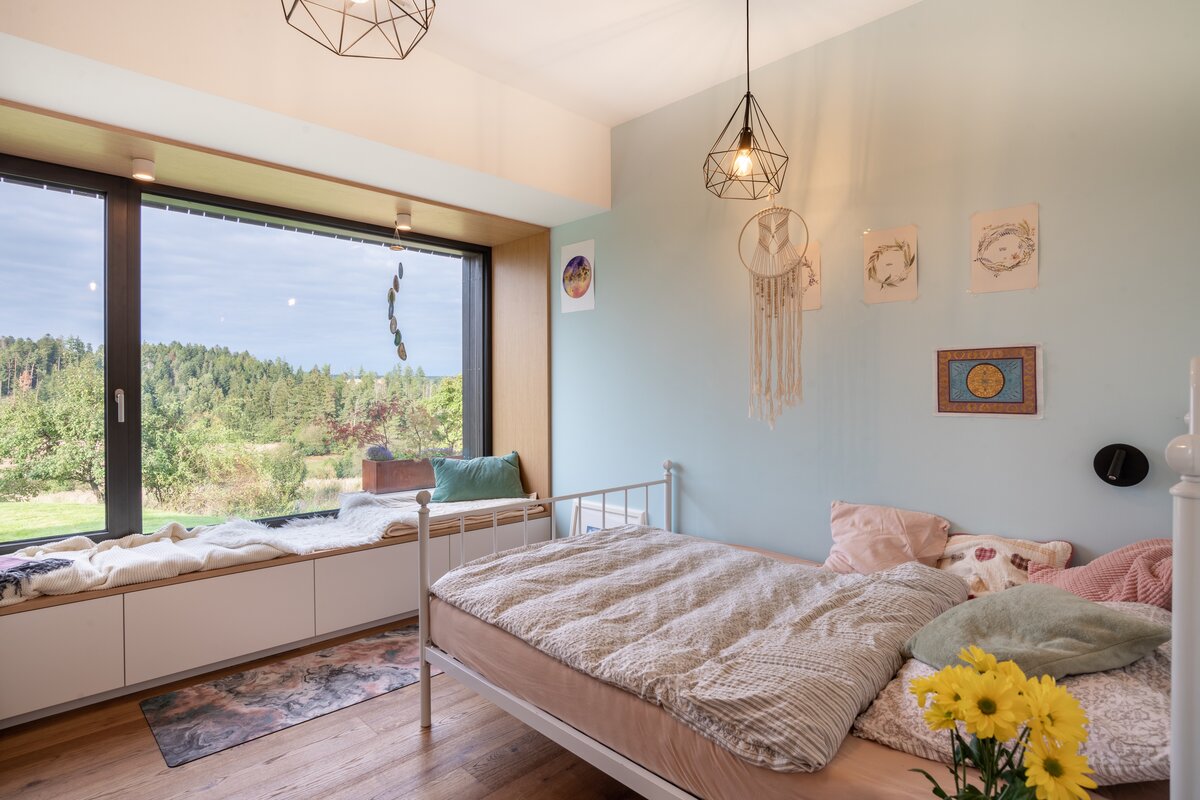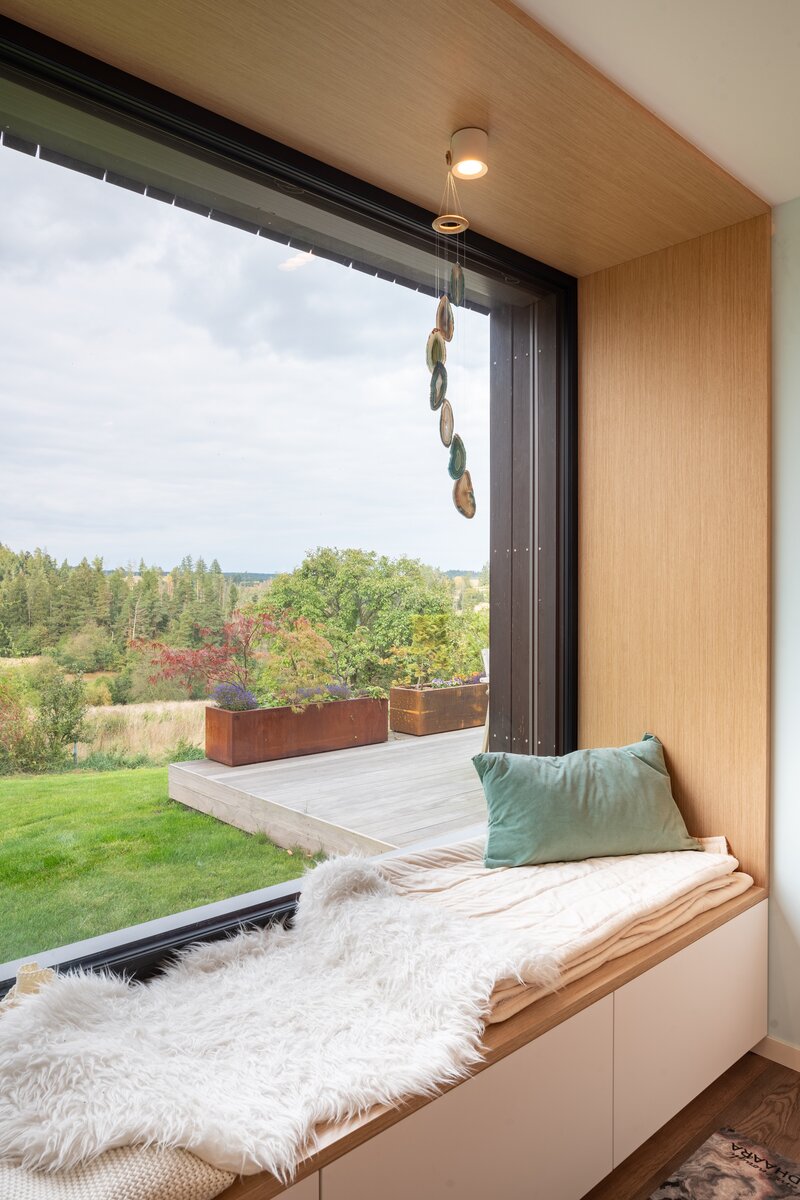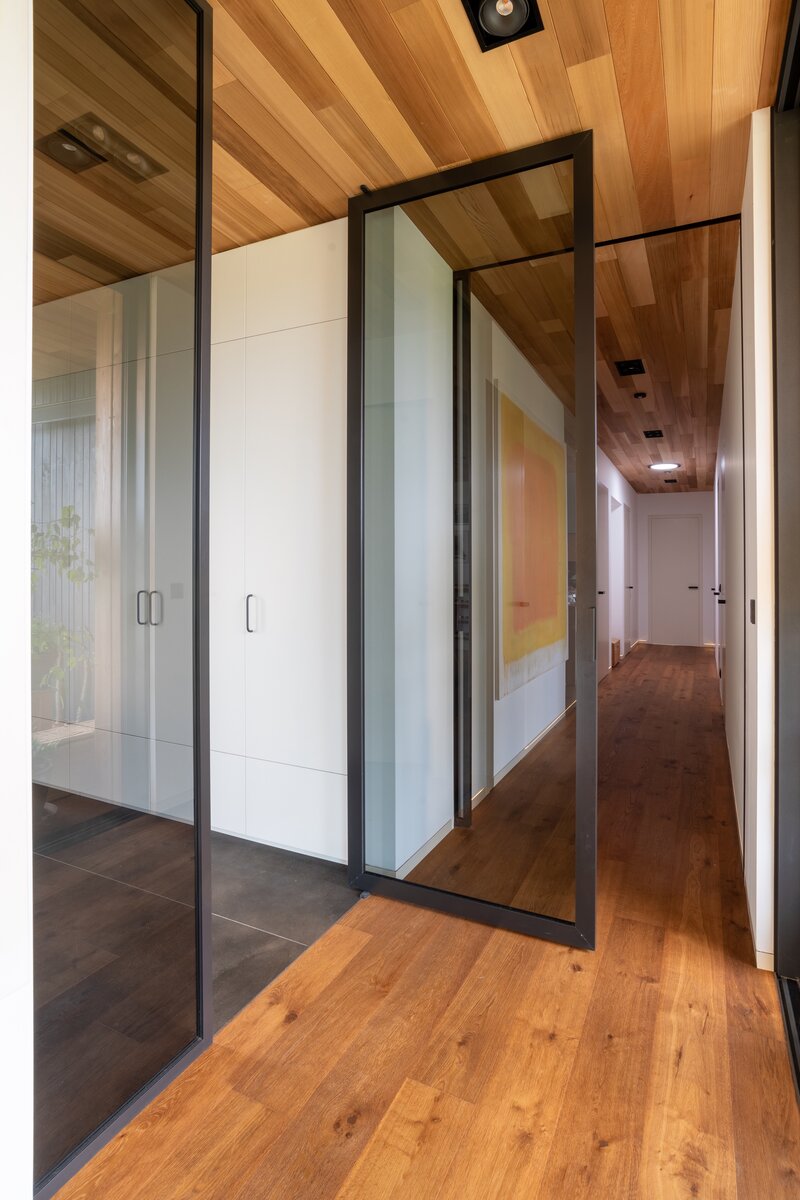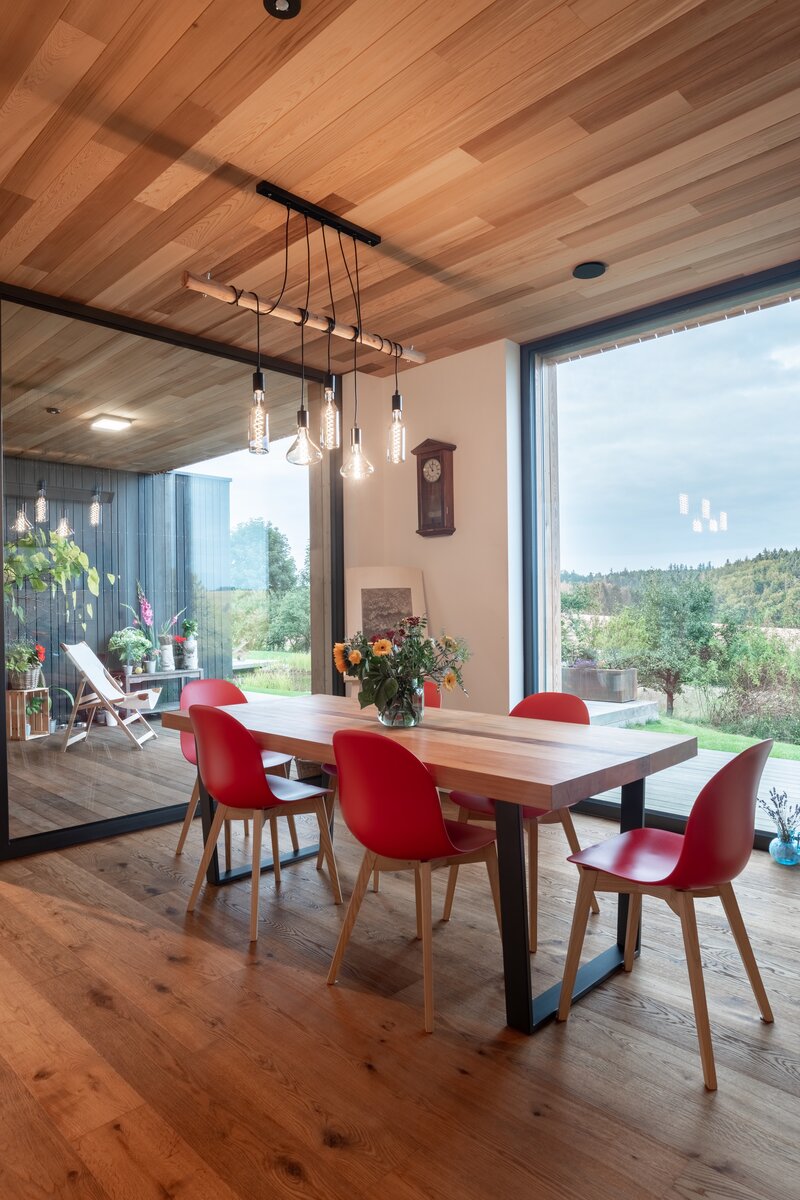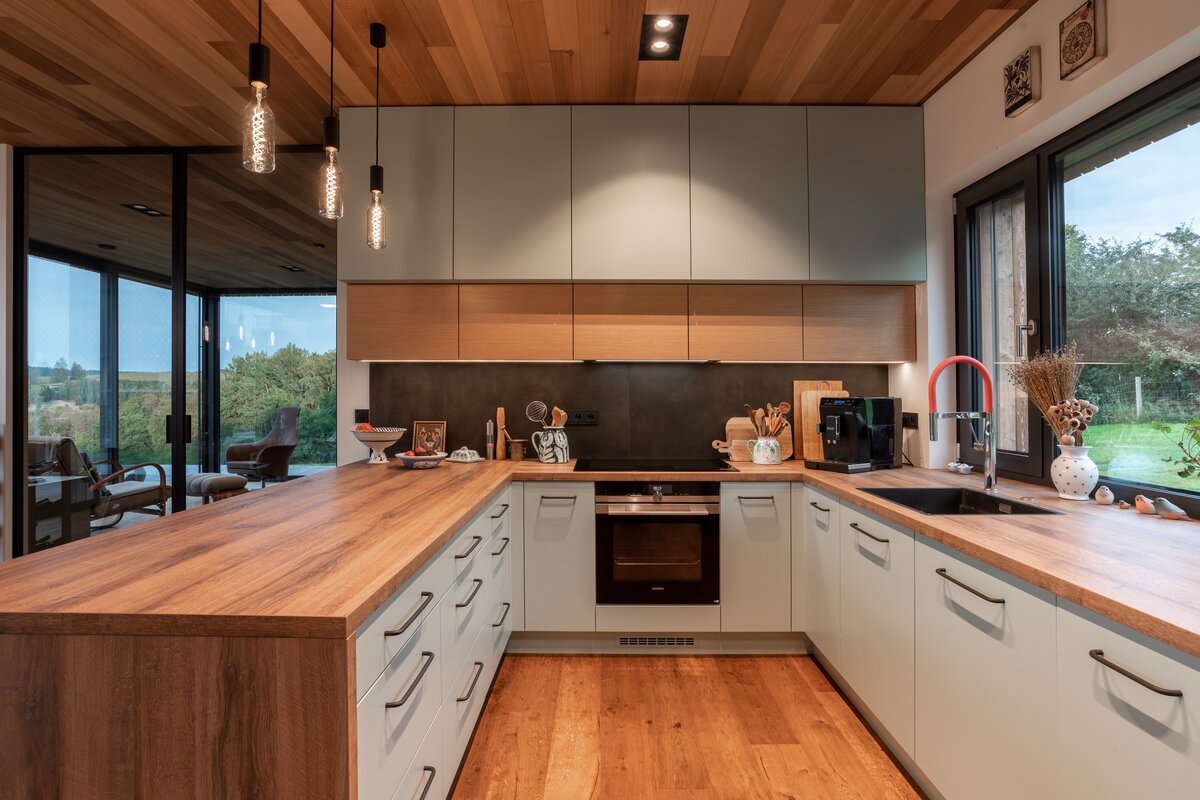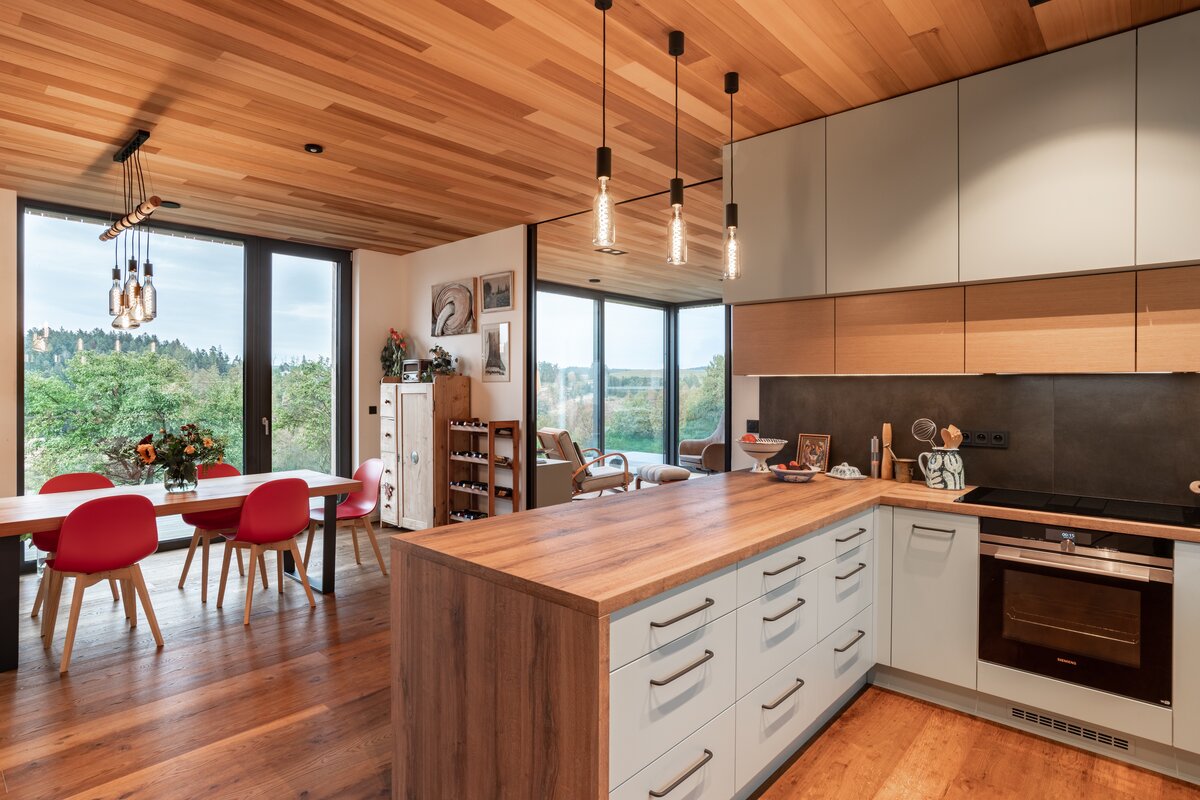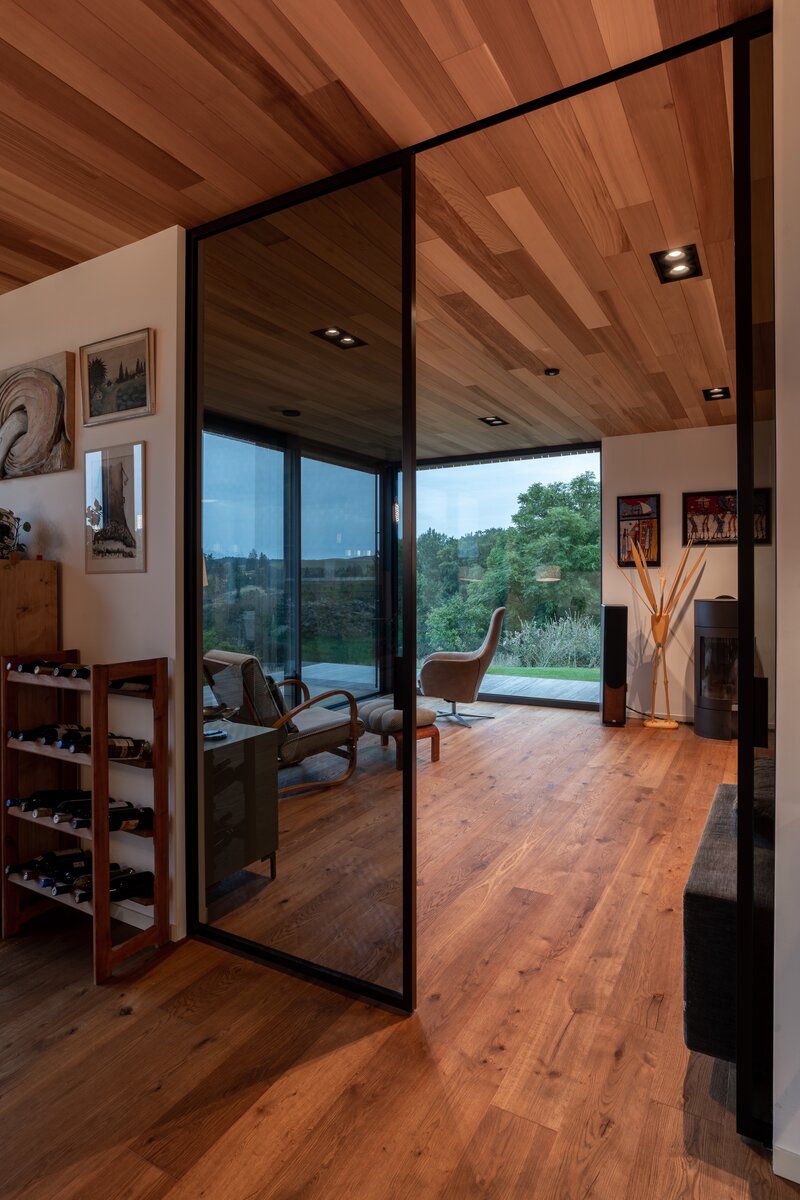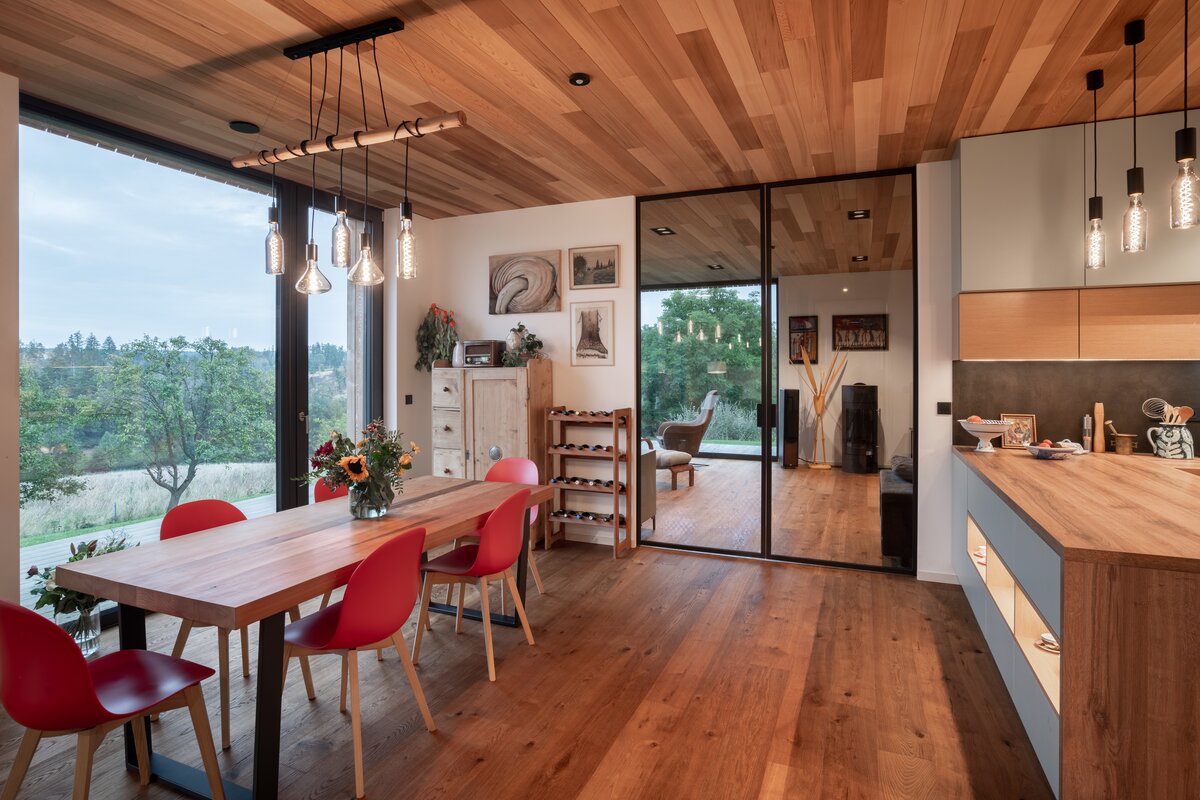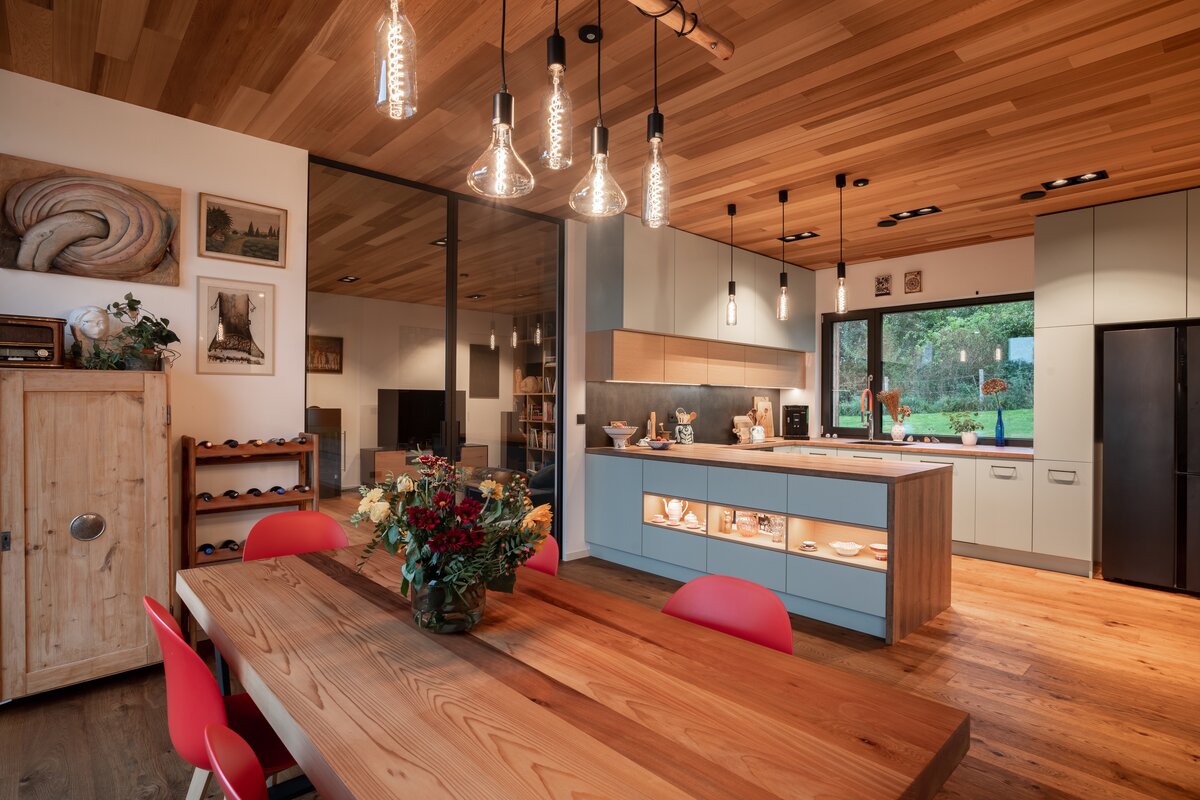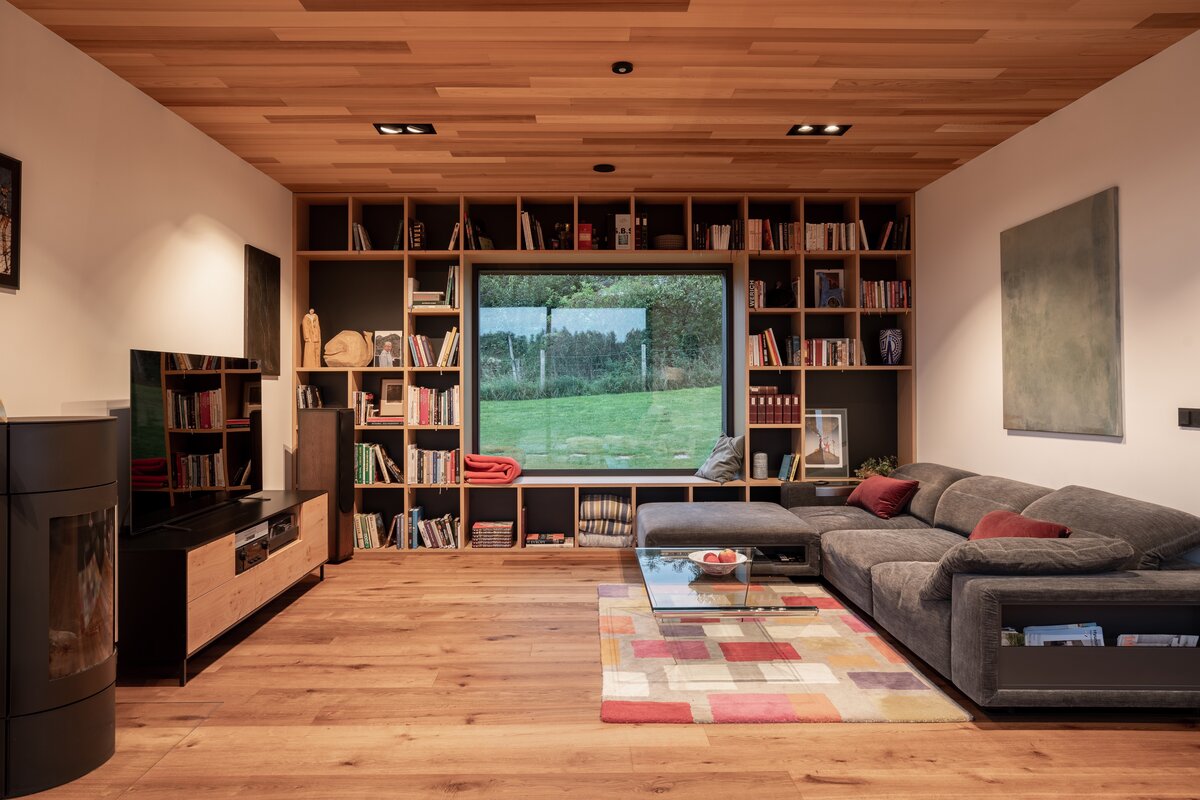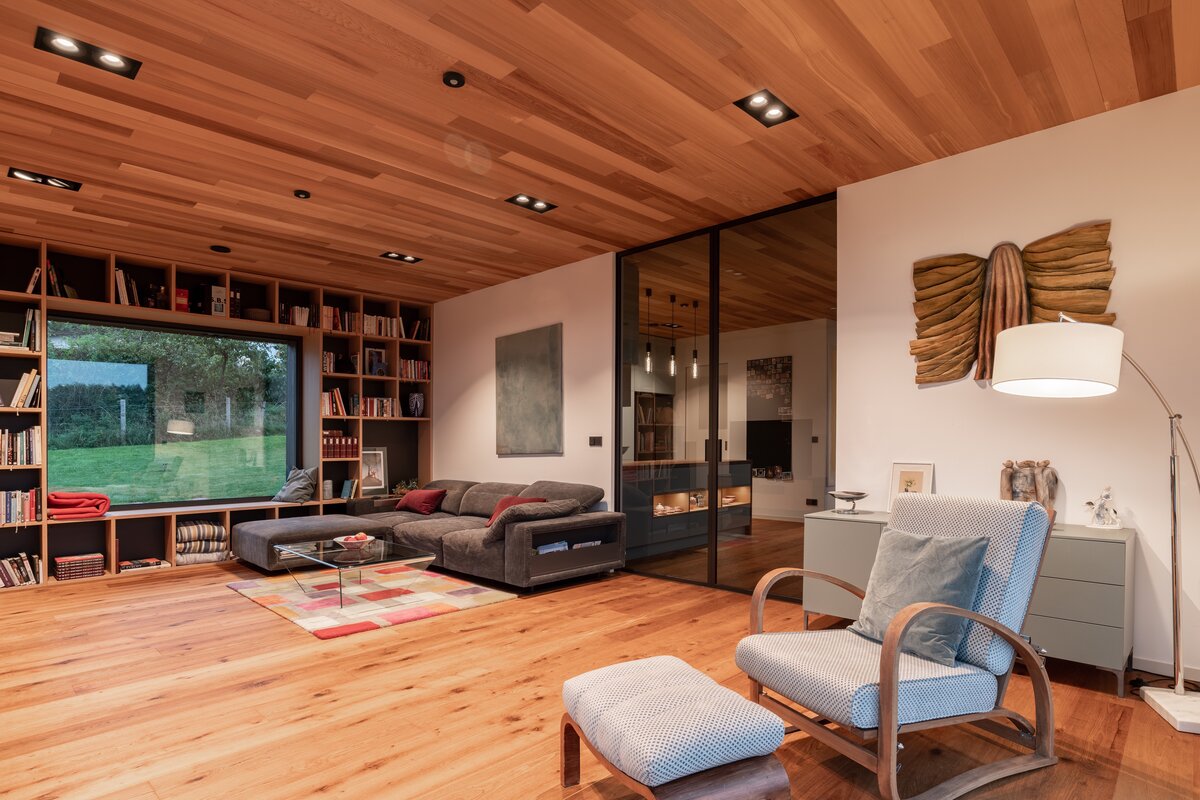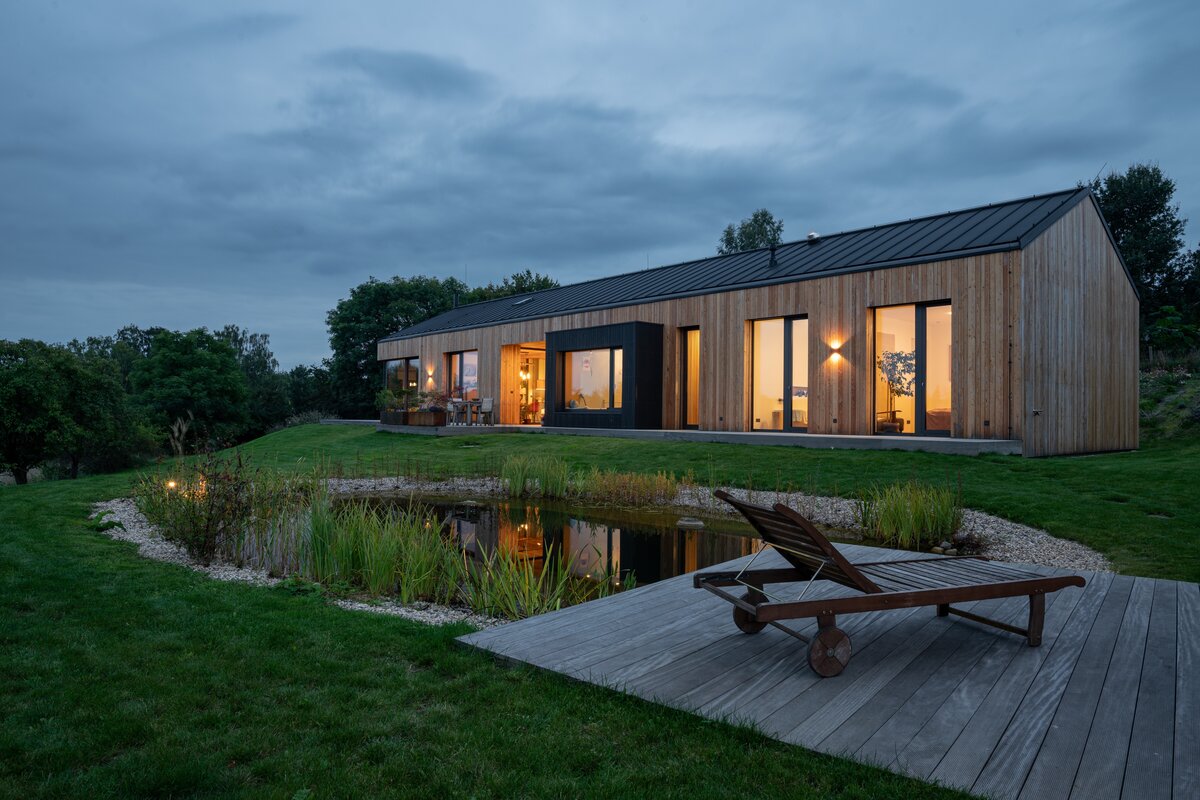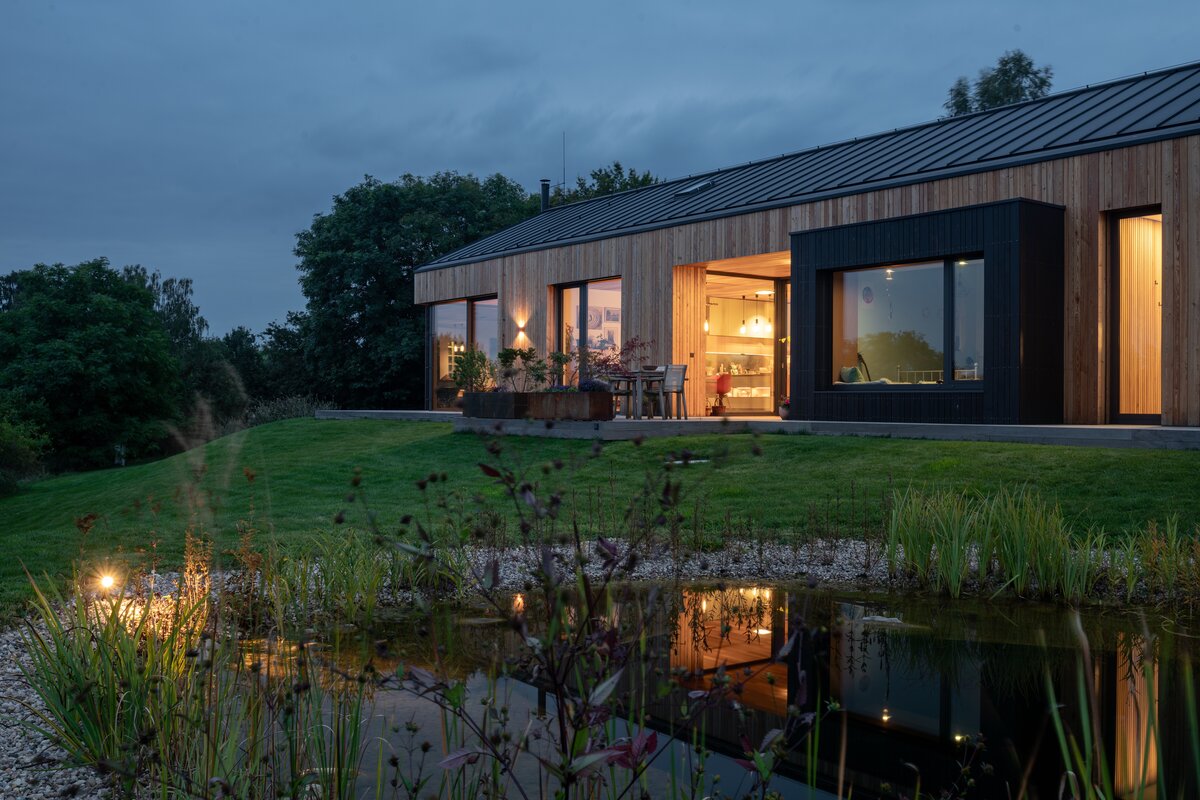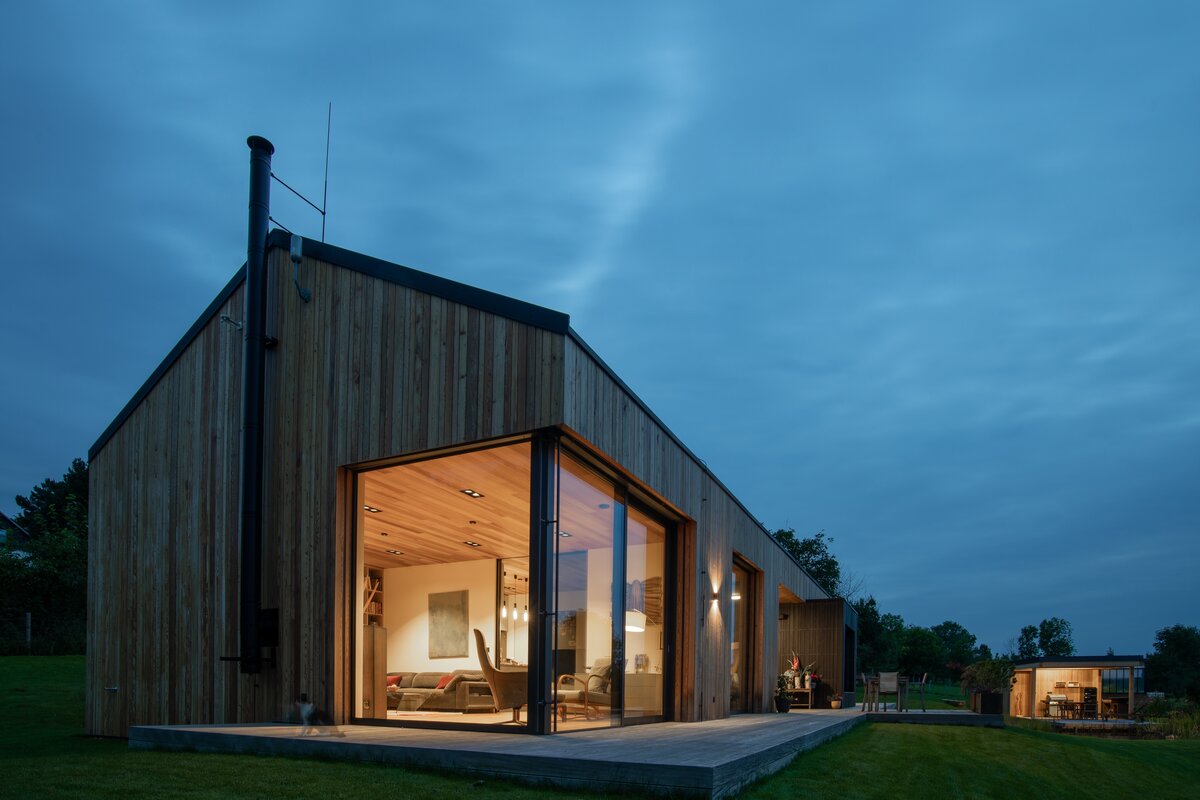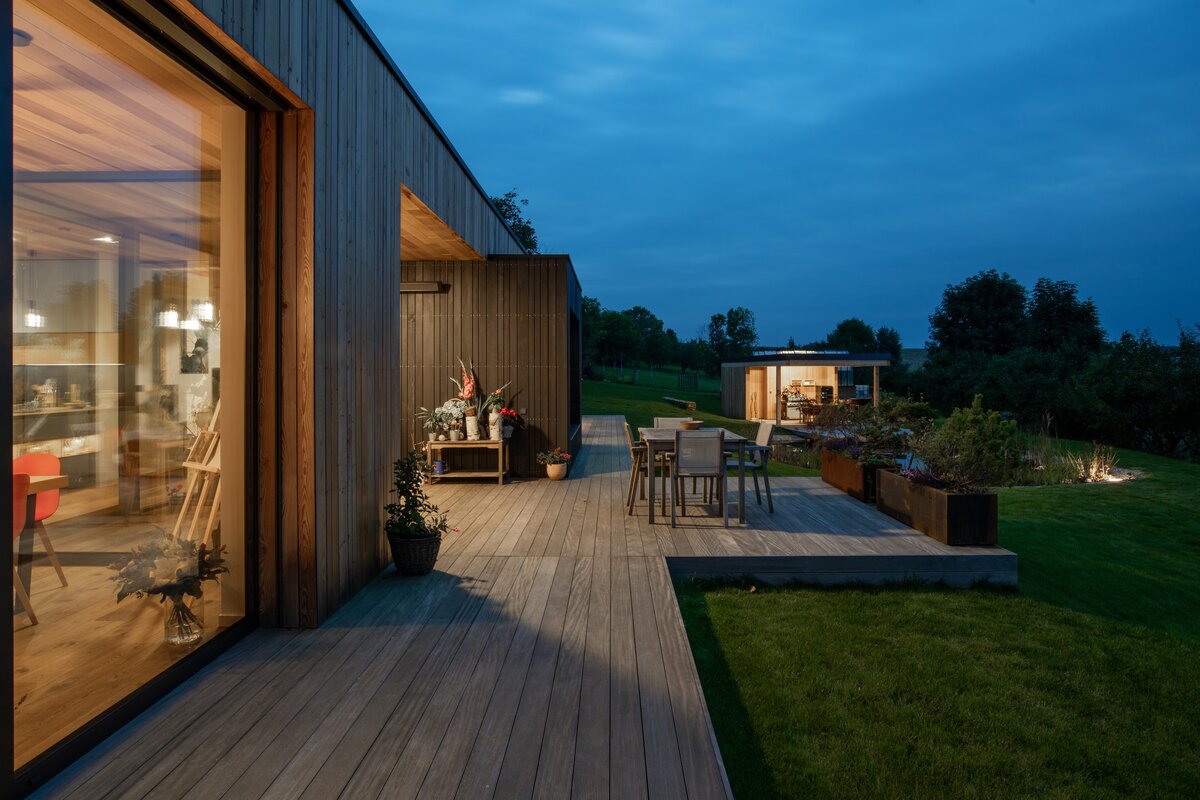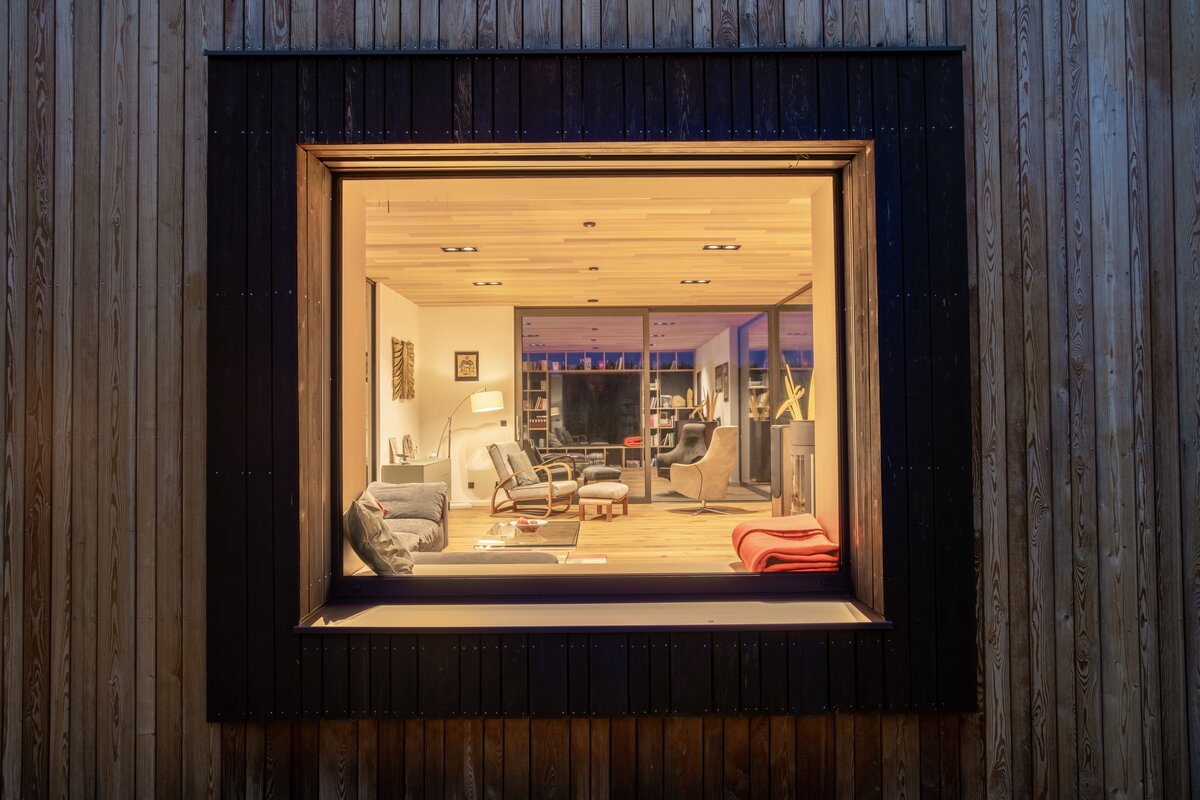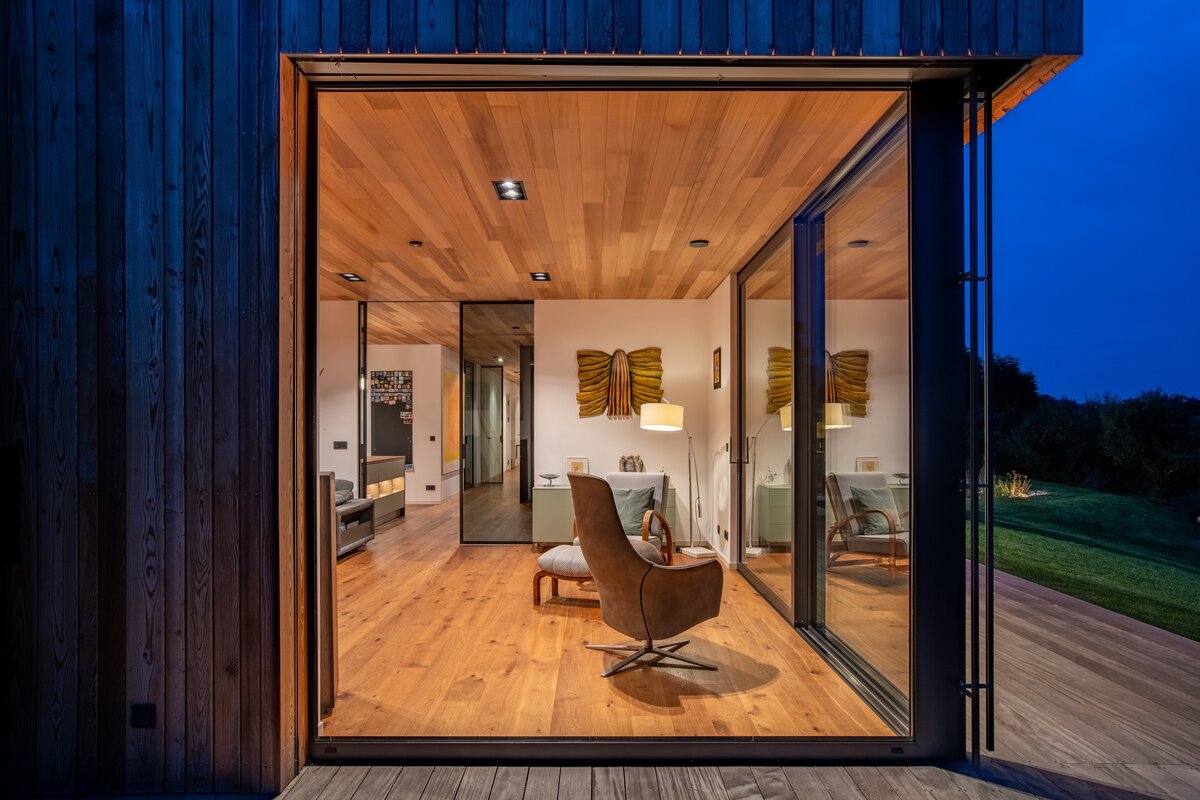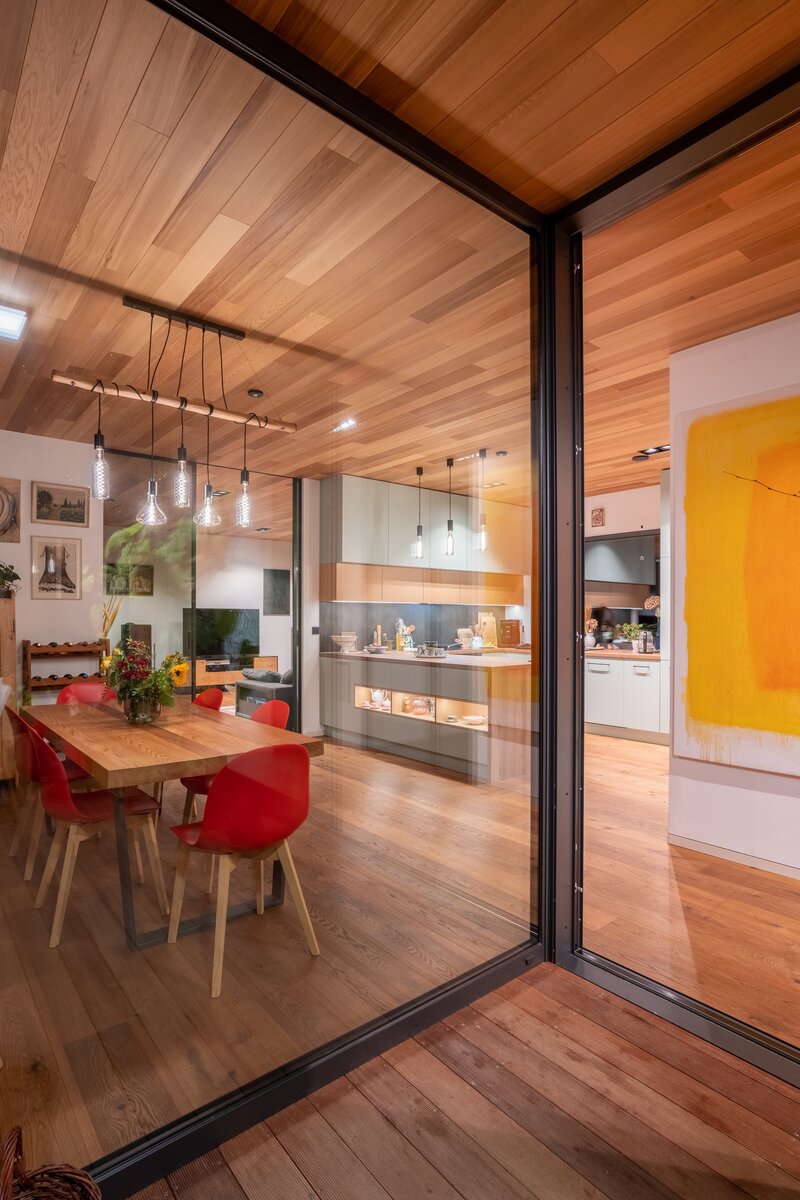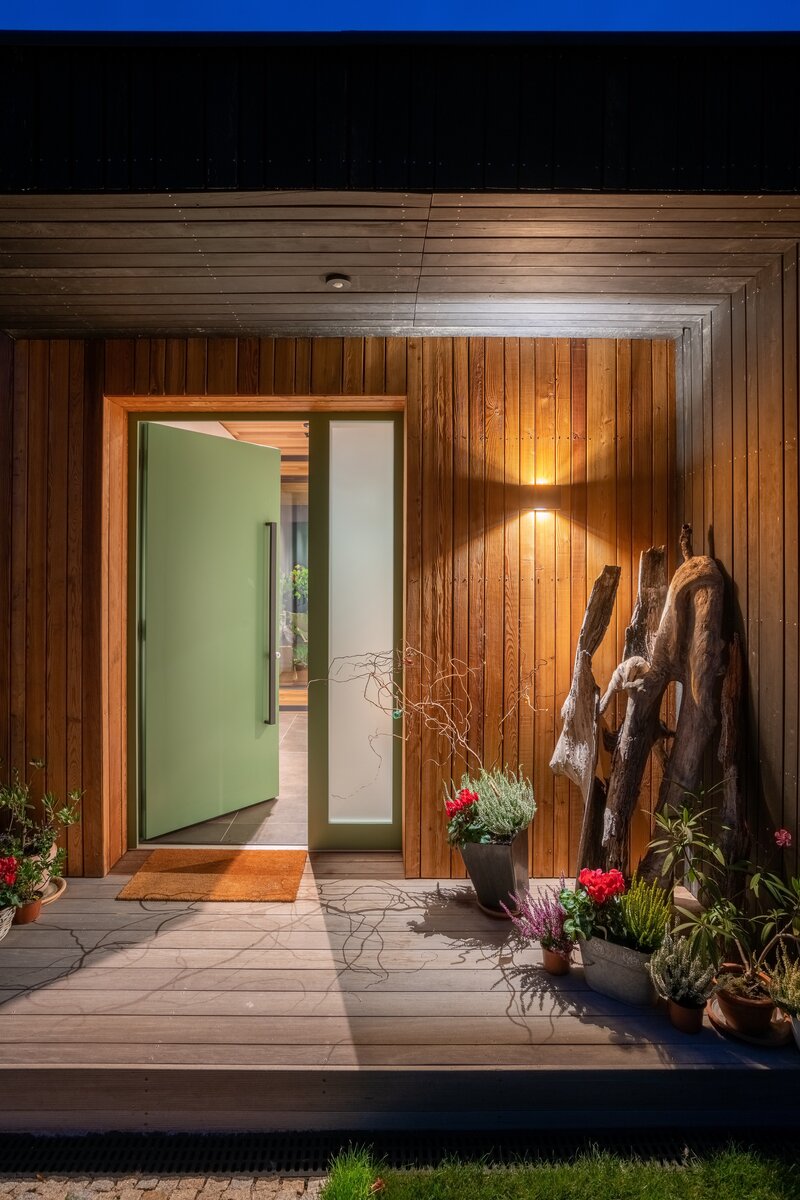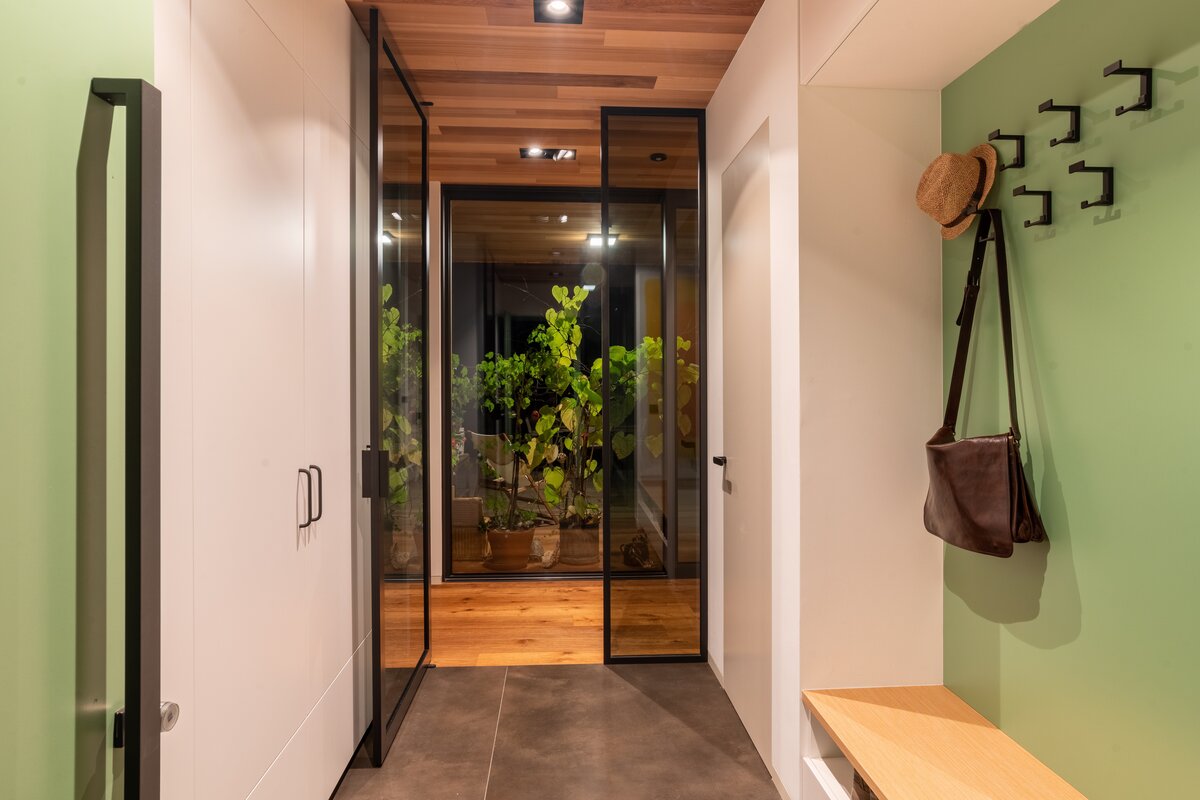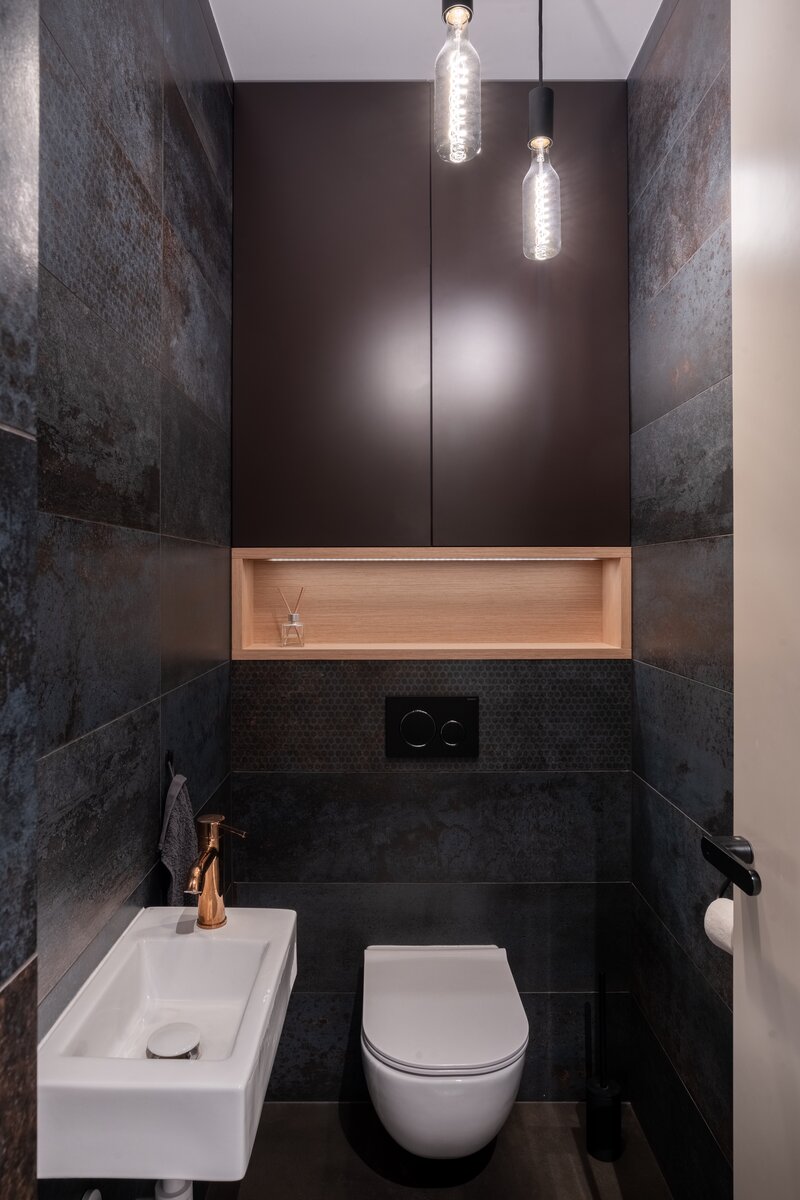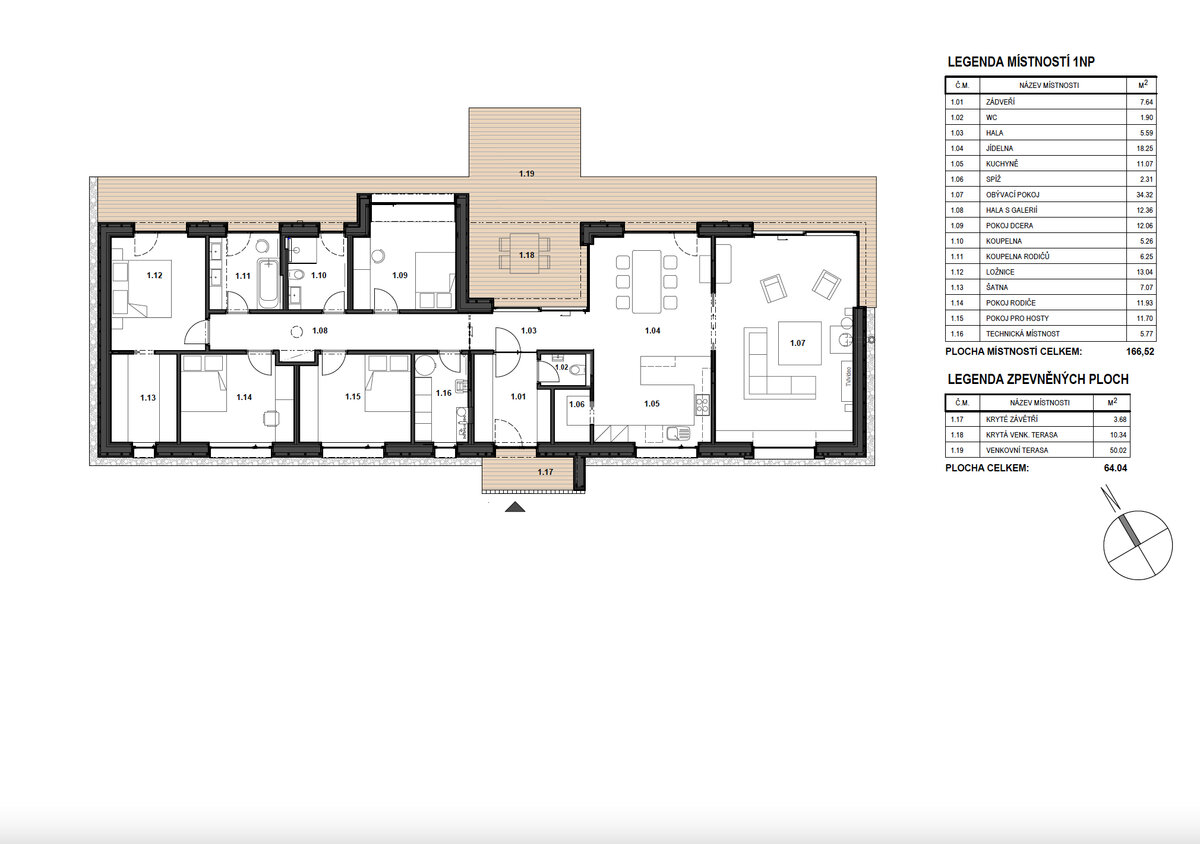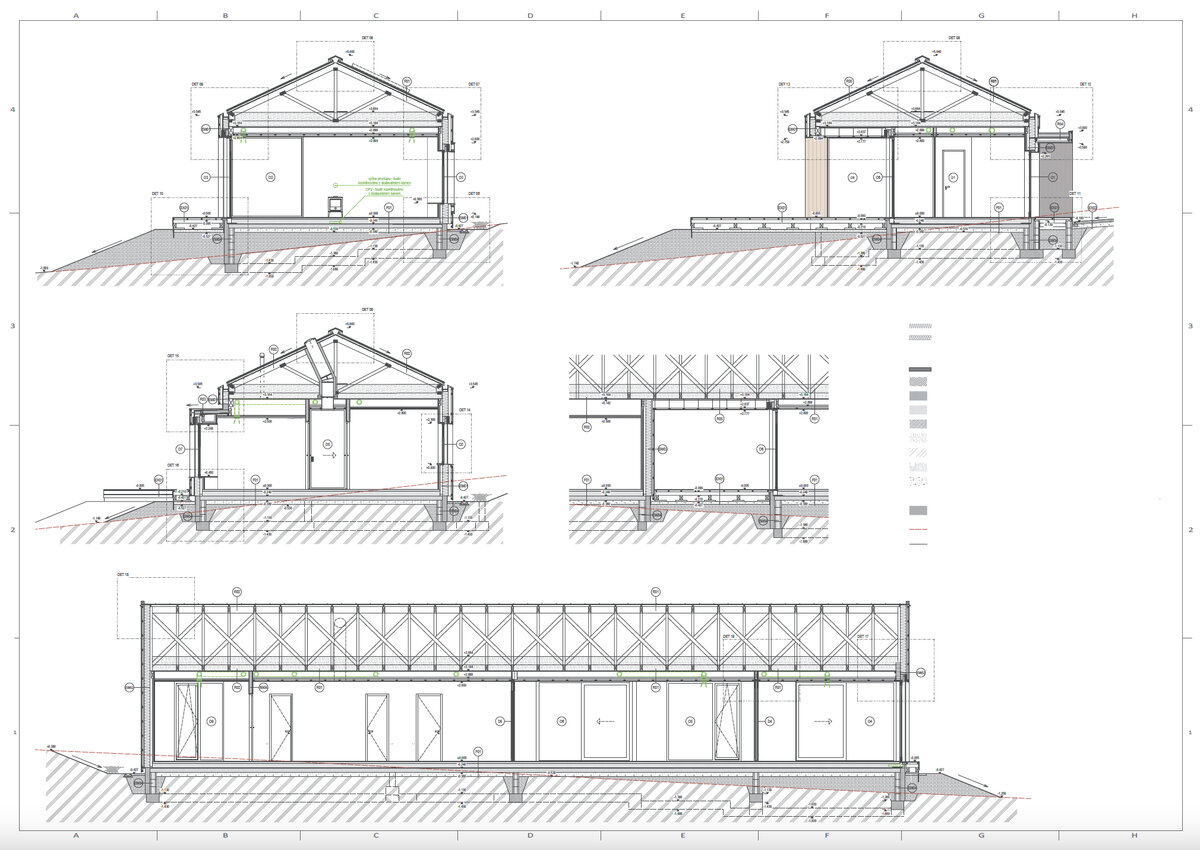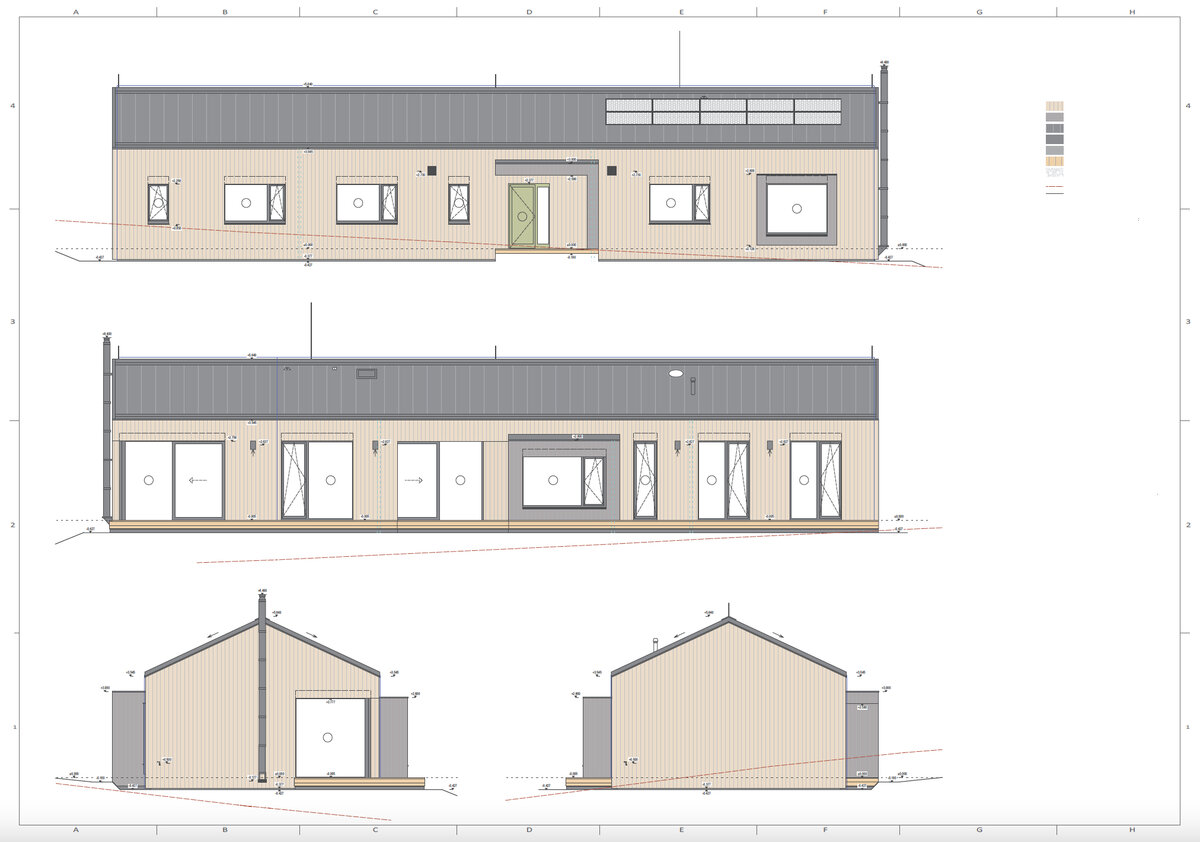 | | |
| --- | --- |
| Author | Ing. Irena Truhlářová, Ing. arch. Martin Valášek / ARCHCON atelier, s.r.o. |
| Studio | |
| Location | Středočeský kraj |
| Investor | neuvedeno |
| Supplier | DŘEVOSTAVBY BISKUP s.r.o., Studené 106, Jílové u Prahy 254 01 - hrubá stavba + střecha, carport, zahradní zázemí; dokončení svépomocí, 2020 |
| Date of project approval | April 2021 |
| Fotograf | |
The investors' brief was to create a modern barn, sensitively set on a sloping site on the boundary between a village with historic character and open countryside with spectacular views. It was these views that defined the whole design. The philosophy of feng-shui also spoke into our work, defining, for example, the precise rotation of the building to give the house the best energy and security.

We designed a simple ground floor house with a rectangular plan and a gable roof. We positioned the entrance to the south-west and accentuated it with a distinctive lee and sage entrance door. The northeast rhythmic façade is dominated by the contrasting "observation room" of the daughter and the adjacent covered portion of the terrace. The façade of the house consists of vertical Siberian larch cladding in several widths complemented by contrasting tan wood cladding. The roof is metal, corrugated.

From the vestibule we enter the border between the private and the social zone. The social area begins with a kitchen connected to the dining room, which is connected to a sunken covered terrace. At the owners' request, we have separated the living room with a glass sliding door and if necessary, the two spaces can be combined. The private zone contains 4 bedrooms, 2 bathrooms with direct access to the terrace and the technical facilities of the house. The corridor is illuminated by a skylight and divided by a niche for placing decorations.

When designing the interior, we focused on creating an airy yet cozy space. Therefore, we balanced the use of full-height aluminium windows with cedar ceiling paneling and oak flooring. This principle is complemented by subtle interior doors in the colour of the windows (anthracite). An unusual element of the interior is the sage green colour. It gradually appeared on the chest of drawers, was reflected in the design of the kitchen, and then appeared on the entrance door.

The house is complemented by a garden house with an outdoor kitchen and a planned sauna, as well as a lightweight parking structure. Both of these buildings have an extensive green roof to seamlessly relate to the natural environment. The natural pond is an indispensable element here, as well as the objects in the garden - greenhouse, flower beds and workshop. We designed the paved areas with natural stone, flagstone and wooden terraces.
Type of house: low energy
Built-up area: house 213,55 m2 (other areas 121,25 m2)
Usable area: house 166,52 m2 (other areas 131,37 m2)
Layout: 6+kk
Construction system: massive screwed panels - DEKPANEL D, diffuse open construction
Energy, heat: electric underfloor heating + bathroom tubes with electric cartridge), photovoltaics
Ventilation: air handling unit with passive heat recovery enthalpy exchanger
Wall heat transfer coefficient U: 0,148 W/m2K
Windows, doors: triple glazed aluminum windows, DORSIS interior doors
Volume of wood consumed for construction: 39,80 m3
Green building
Environmental certification
| | |
| --- | --- |
| Type and level of certificate | - |
Water management
| | |
| --- | --- |
| Is rainwater used for irrigation? | |
| Is rainwater used for other purposes, e.g. toilet flushing ? | |
| Does the building have a green roof / facade ? | |
| Is reclaimed waste water used, e.g. from showers and sinks ? | |
The quality of the indoor environment
| | |
| --- | --- |
| Is clean air supply automated ? | |
| Is comfortable temperature during summer and winter automated? | |
| Is natural lighting guaranteed in all living areas? | |
| Is artificial lighting automated? | |
| Is acoustic comfort, specifically reverberation time, guaranteed? | |
| Does the layout solution include zoning and ergonomics elements? | |
Principles of circular economics
| | |
| --- | --- |
| Does the project use recycled materials? | |
| Does the project use recyclable materials? | |
| Are materials with a documented Environmental Product Declaration (EPD) promoted in the project? | |
| Are other sustainability certifications used for materials and elements? | |
Energy efficiency
| | |
| --- | --- |
| Energy performance class of the building according to the Energy Performance Certificate of the building | A |
| Is efficient energy management (measurement and regular analysis of consumption data) considered? | |
| Are renewable sources of energy used, e.g. solar system, photovoltaics? | |
Interconnection with surroundings
| | |
| --- | --- |
| Does the project enable the easy use of public transport? | |
| Does the project support the use of alternative modes of transport, e.g cycling, walking etc. ? | |
| Is there access to recreational natural areas, e.g. parks, in the immediate vicinity of the building? | |