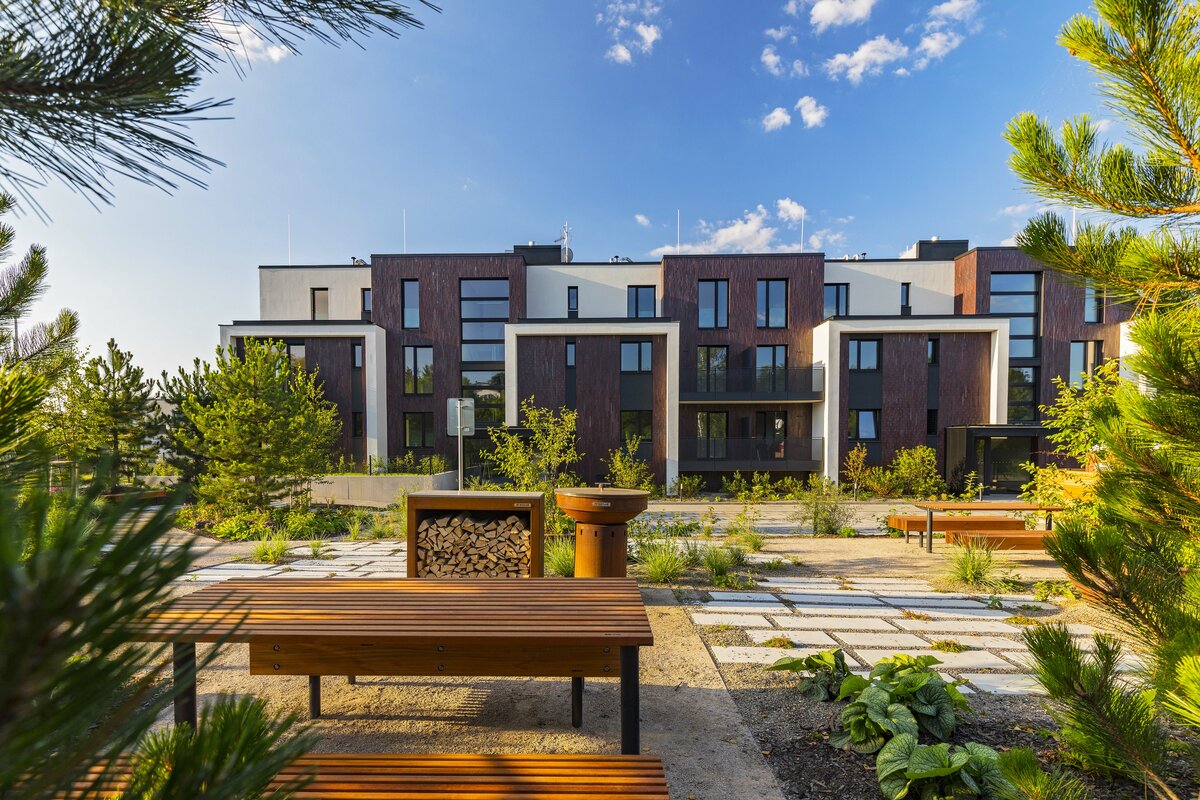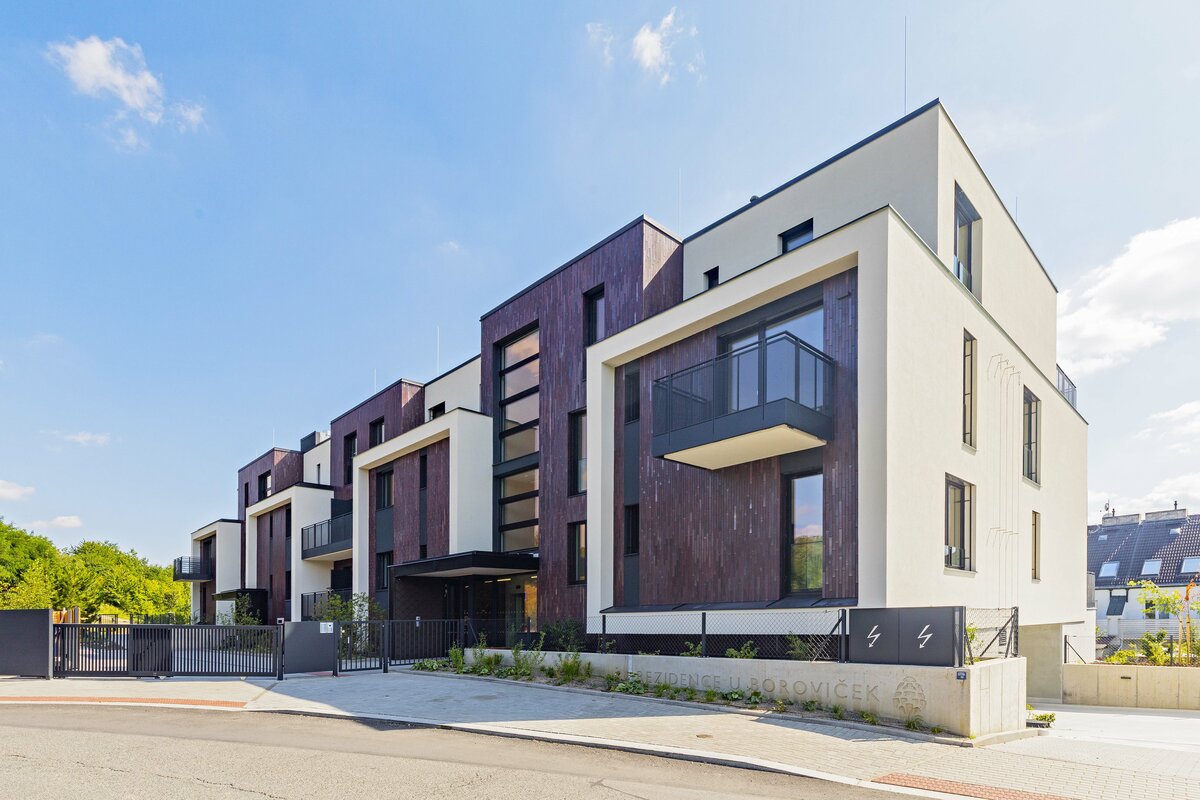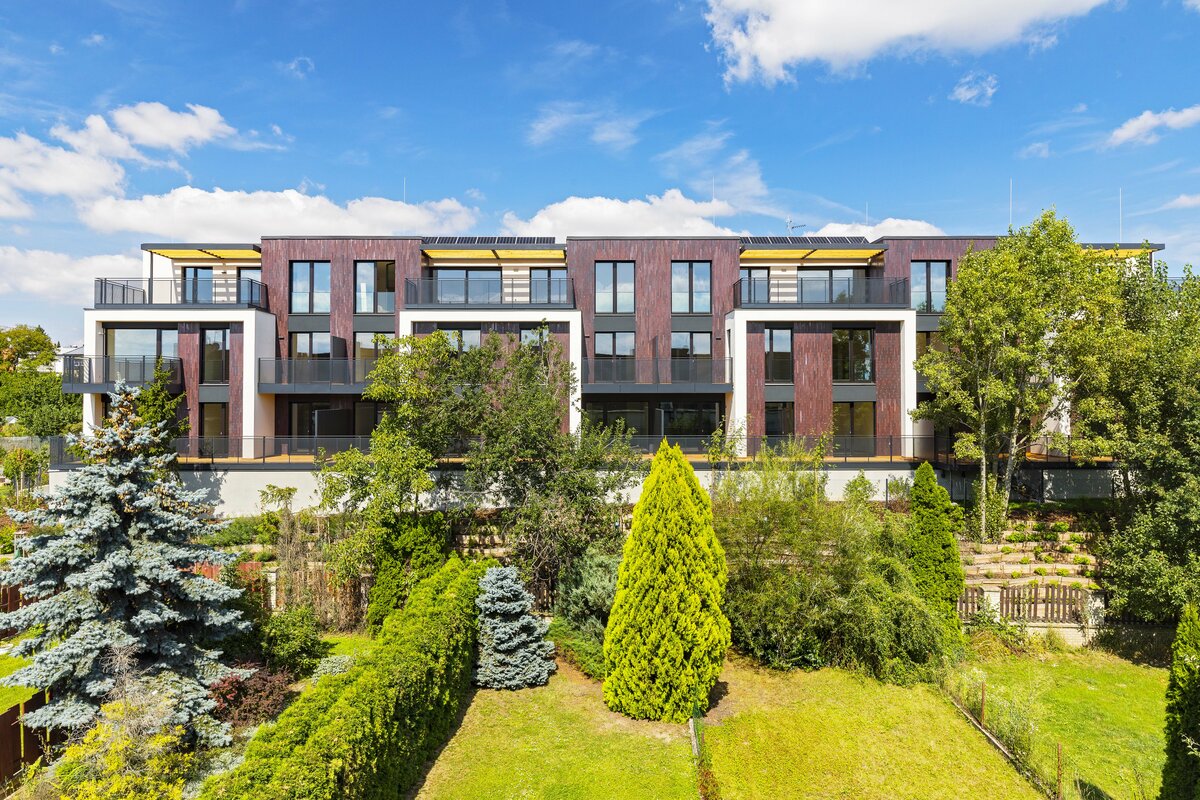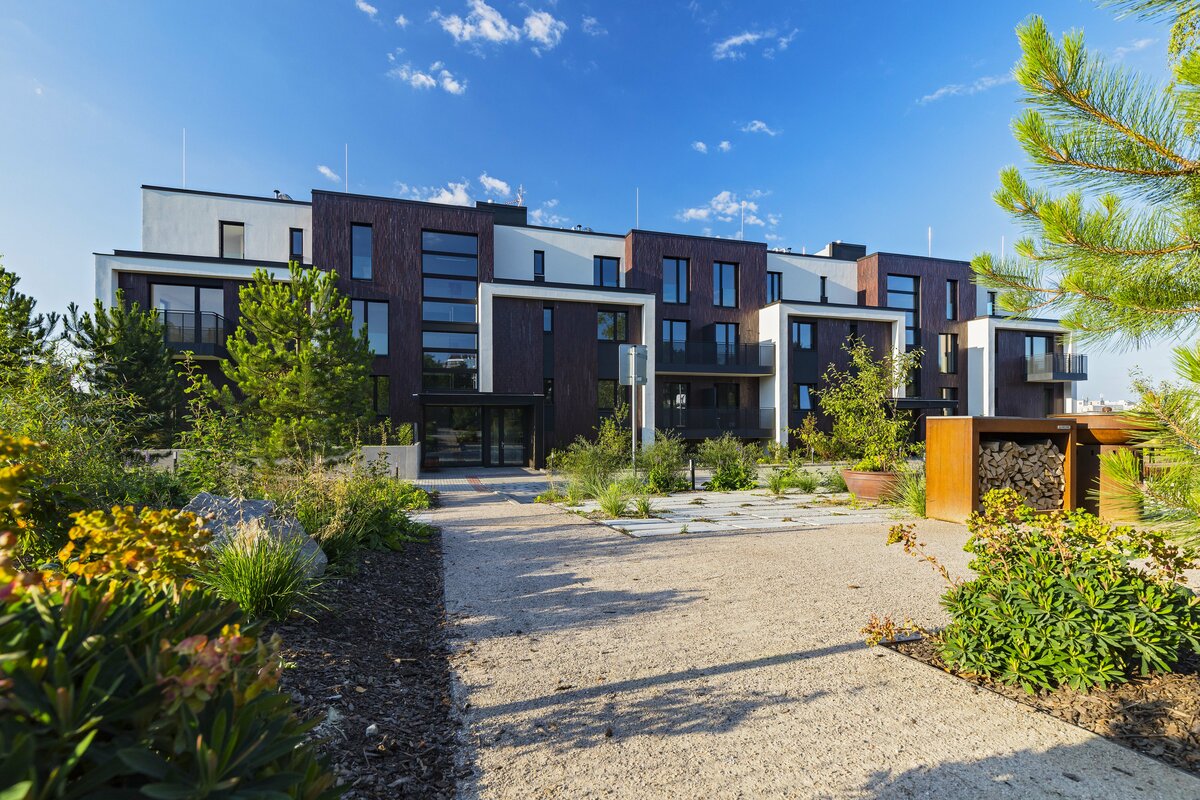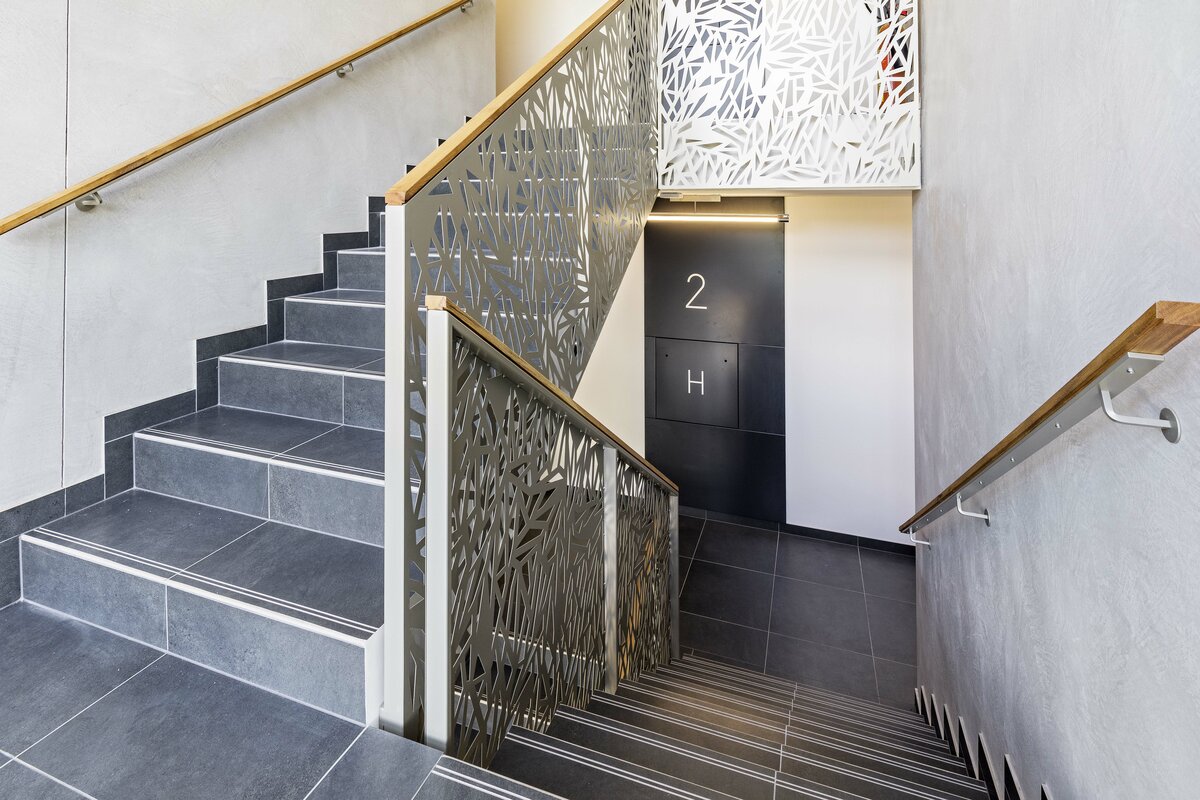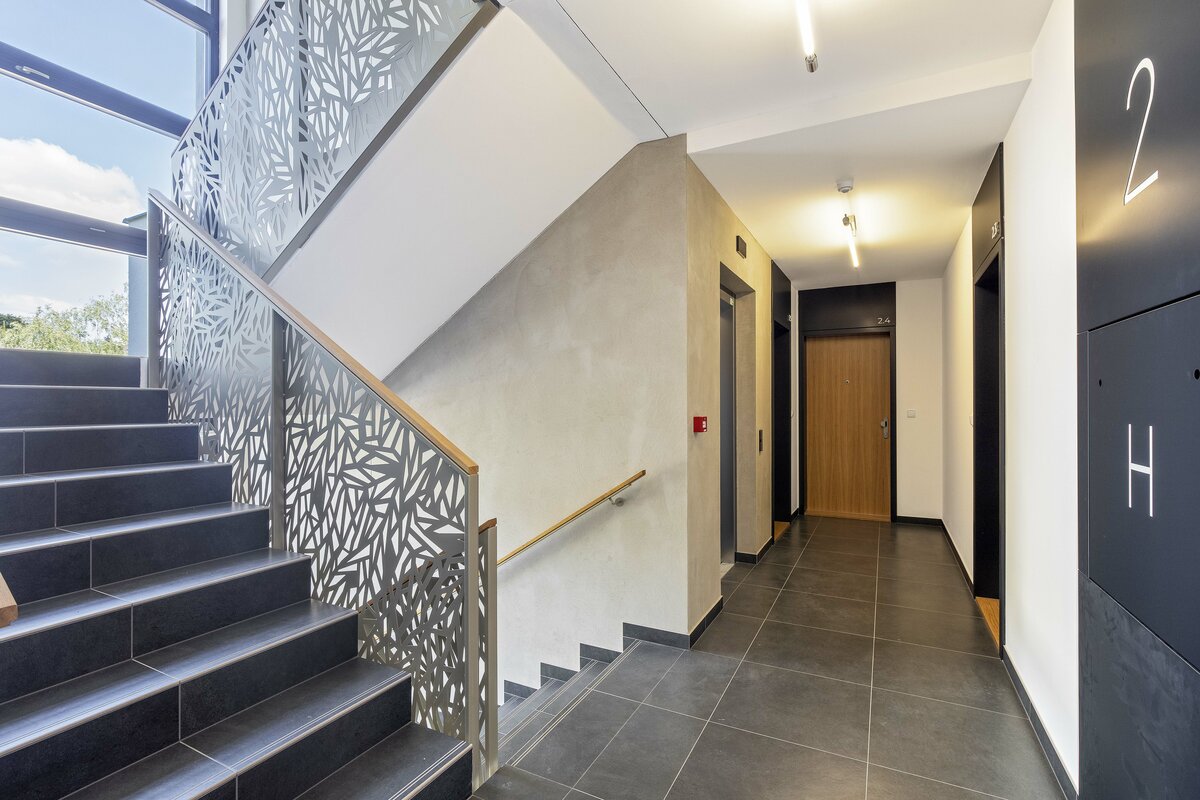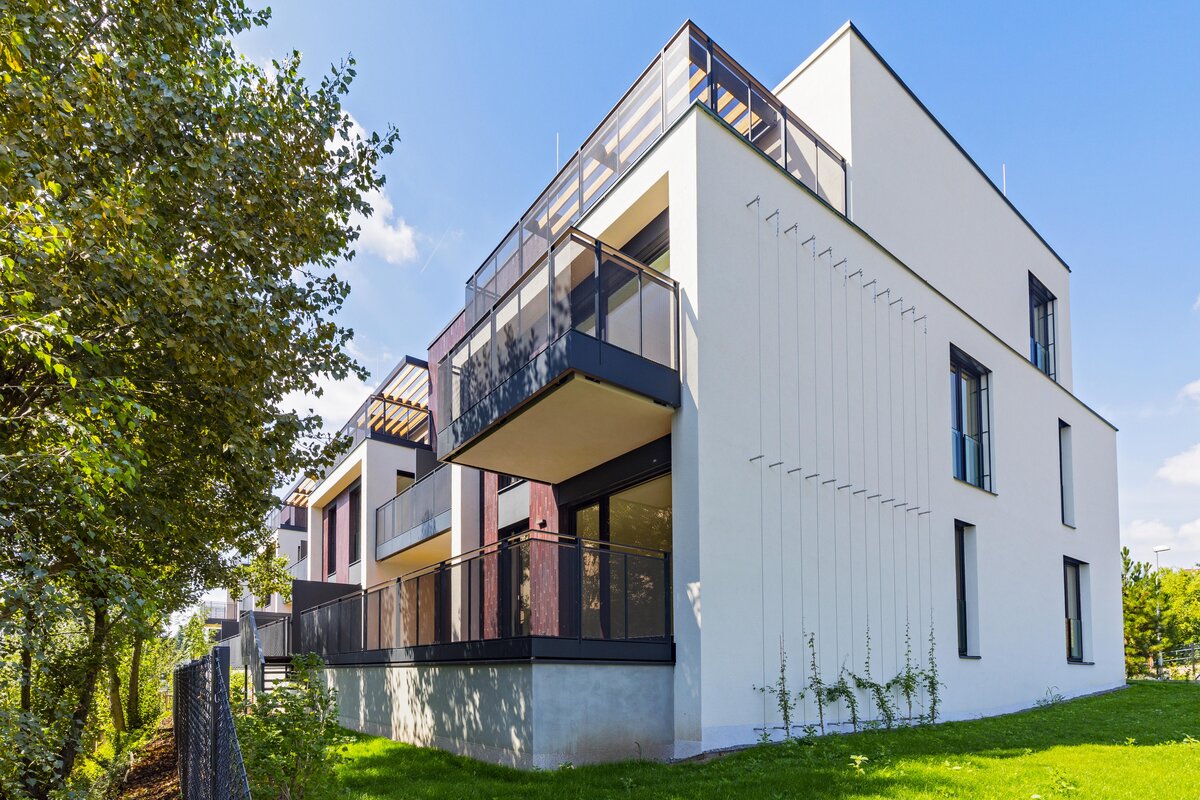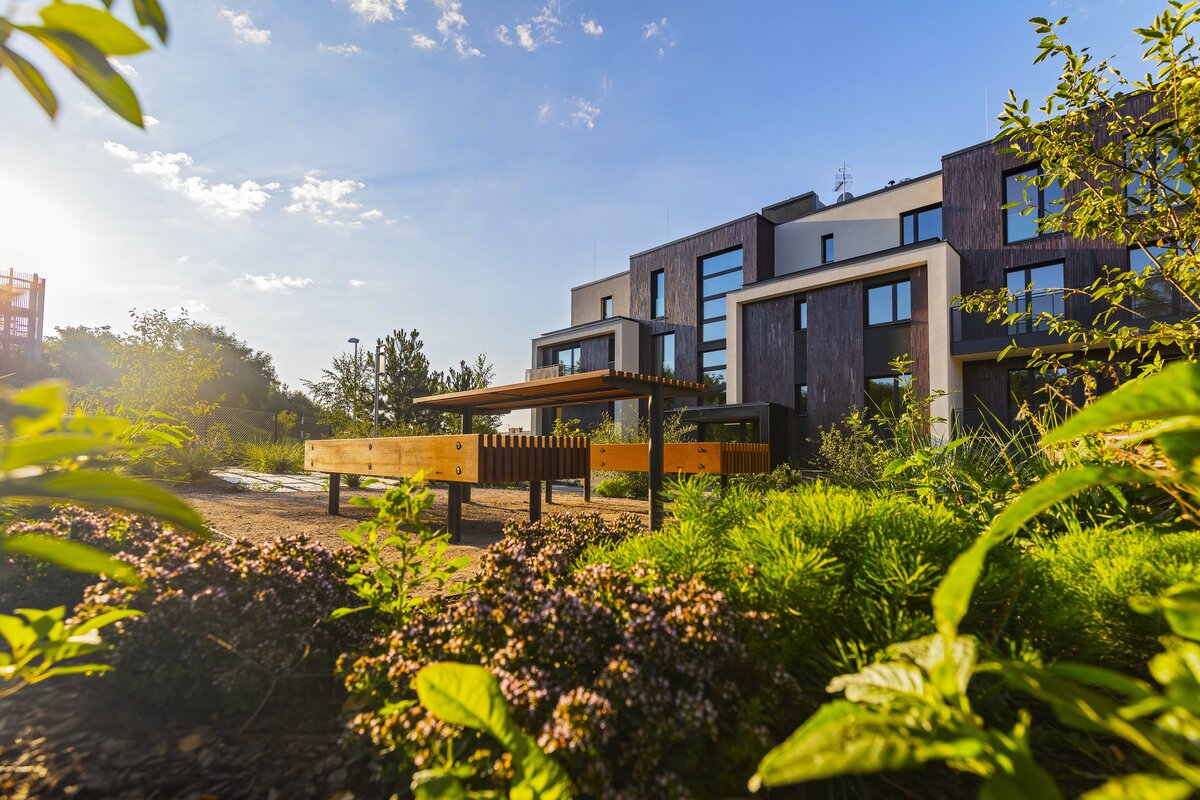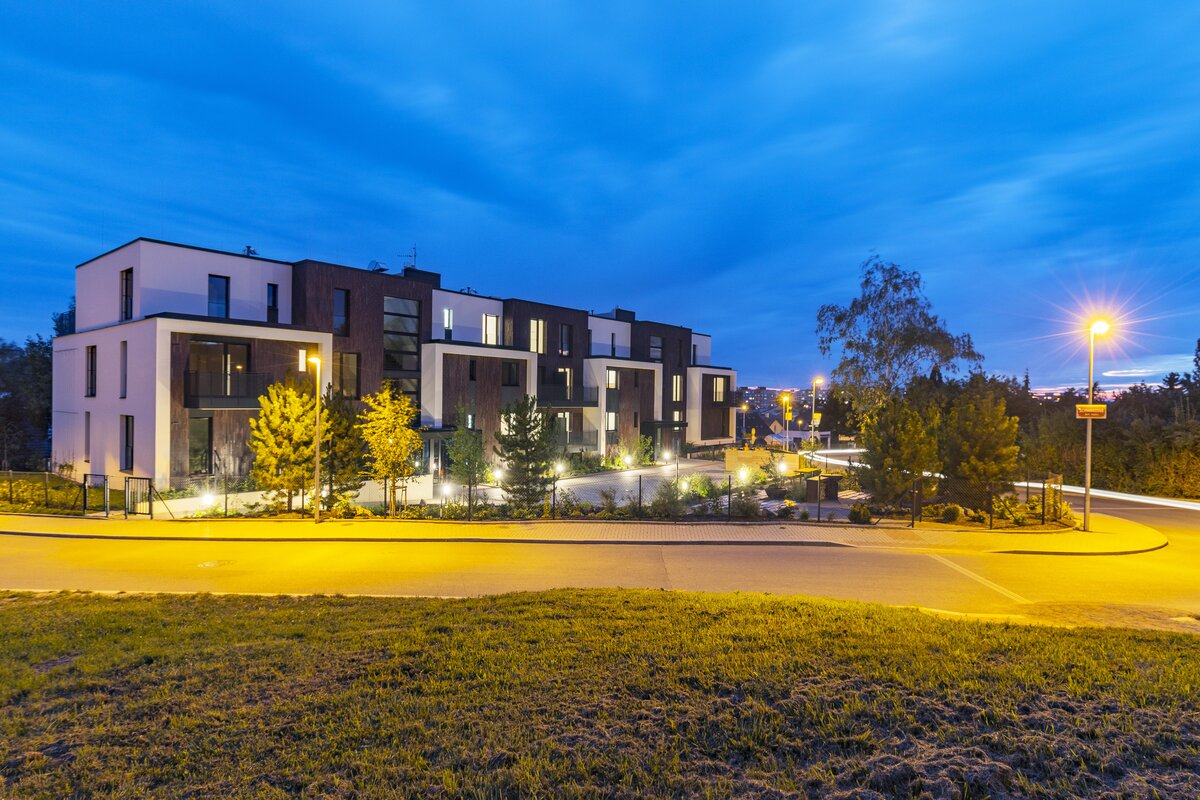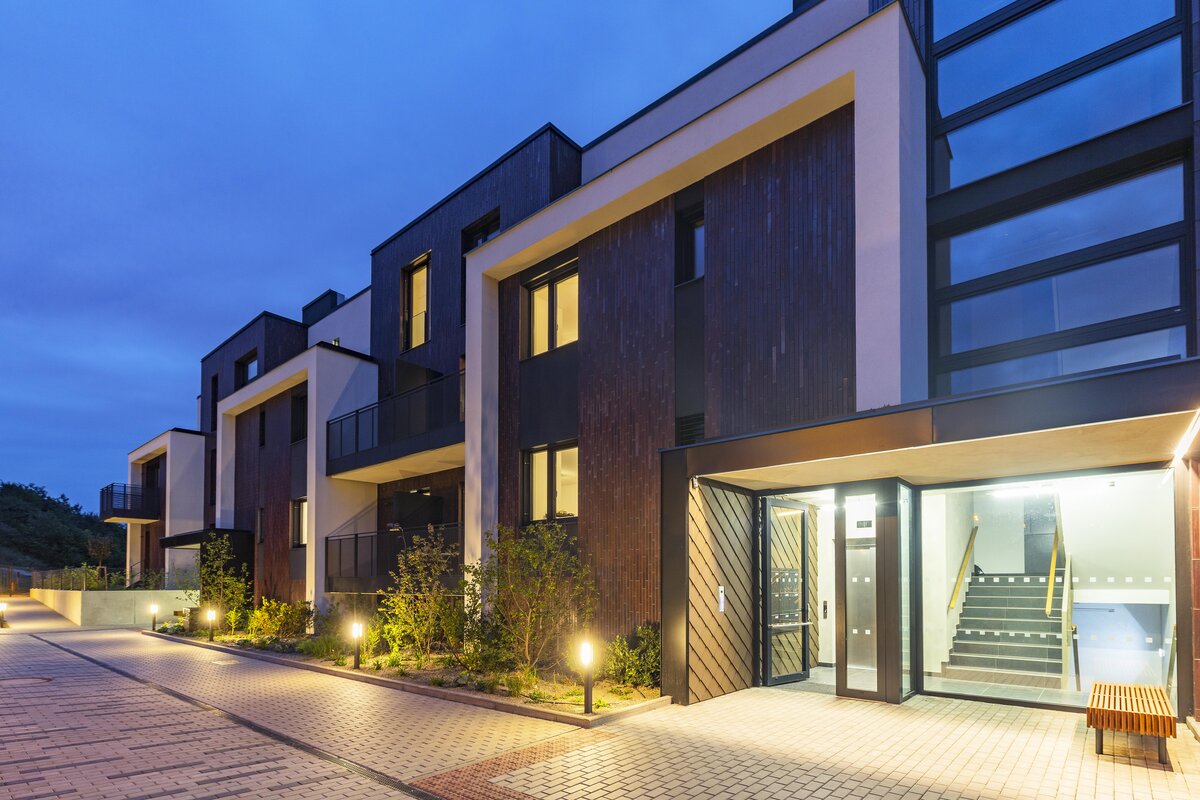 | | |
| --- | --- |
| Author | ing. arch. Luděk Podlipný, ing. Martin Sladký, ing. arch. Tomáš Gloser, ing. arch. Aleš Janoušek / Podlipný Sladký architekti s.r.o. |
| Studio | |
| Location | ul. U Boroviček, Praha 17 - Řepy |
| Investor | All New Development a.s. |
| Supplier | AND Construction s.r.o. |
| Date of project approval | September 2021 |
| Fotograf | |
The proposed apartment building with 24 apartments is connected to the surrounding linear development of terraced houses, which form the southern and eastern part of the adjacent area.
The building has 2 +1 aboveground floor and one underground floor with a garage. The mass of the house is oriented in the east - west direction, parallel to the terraced houses and is located on a terrain break, into which the underground floor is sunk. The southern part of the plot with mature trees slopes significantly to the neighboring gardens, it is newly terraced and planted with low greenery. In the northern part of the plot there is an area road with entrances to the building and parking spaces, the adjoining area is landscaped, planted with mature pine trees and serves as a common garden.
The material concept is based on dividing the mass of the house into smaller volumes and creating a smaller scale typical of terraced houses. The north and south facades are made up of four blocks that intersect the volume of the house in the perpendicular direction. These four volumes are plastically accentuated by overhanging frames on the south and north sides. The top floor of the house is receding, creating spacious sunken roof terraces with a southern view.
The material solution of the house is designed in a combination of white smooth plaster and vertical brick cladding of dark brown color.
The railings of balconies and terraces are designed from black perforated sheet metal. The terraces are complemented by steel pergolas filled with larch planks. The name of the project refers to the name of U Boroviček Street, and mature pines were also planted in the common garden in front of the house. The pine motif is further described on the details of the house in the entrance and in the common areas.
The load-bearing structure of the house is designed in a combination of reinforced concrete and lime-sand masonry. On the south and north facades are balcony brackets in the form of ISO beams. The envelope of the building is above-standard insulated and equipped with windows with triple glazing. The windows are equipped with window blinds as standard. The heating of the flats is hot water, the source of heating is a gas boiler. DHW heating is complemented by photovoltaic panels located on the roof of the house.
Green building
Environmental certification
| | |
| --- | --- |
| Type and level of certificate | - |
Water management
| | |
| --- | --- |
| Is rainwater used for irrigation? | |
| Is rainwater used for other purposes, e.g. toilet flushing ? | |
| Does the building have a green roof / facade ? | |
| Is reclaimed waste water used, e.g. from showers and sinks ? | |
The quality of the indoor environment
| | |
| --- | --- |
| Is clean air supply automated ? | |
| Is comfortable temperature during summer and winter automated? | |
| Is natural lighting guaranteed in all living areas? | |
| Is artificial lighting automated? | |
| Is acoustic comfort, specifically reverberation time, guaranteed? | |
| Does the layout solution include zoning and ergonomics elements? | |
Principles of circular economics
| | |
| --- | --- |
| Does the project use recycled materials? | |
| Does the project use recyclable materials? | |
| Are materials with a documented Environmental Product Declaration (EPD) promoted in the project? | |
| Are other sustainability certifications used for materials and elements? | |
Energy efficiency
| | |
| --- | --- |
| Energy performance class of the building according to the Energy Performance Certificate of the building | B |
| Is efficient energy management (measurement and regular analysis of consumption data) considered? | |
| Are renewable sources of energy used, e.g. solar system, photovoltaics? | |
Interconnection with surroundings
| | |
| --- | --- |
| Does the project enable the easy use of public transport? | |
| Does the project support the use of alternative modes of transport, e.g cycling, walking etc. ? | |
| Is there access to recreational natural areas, e.g. parks, in the immediate vicinity of the building? | |