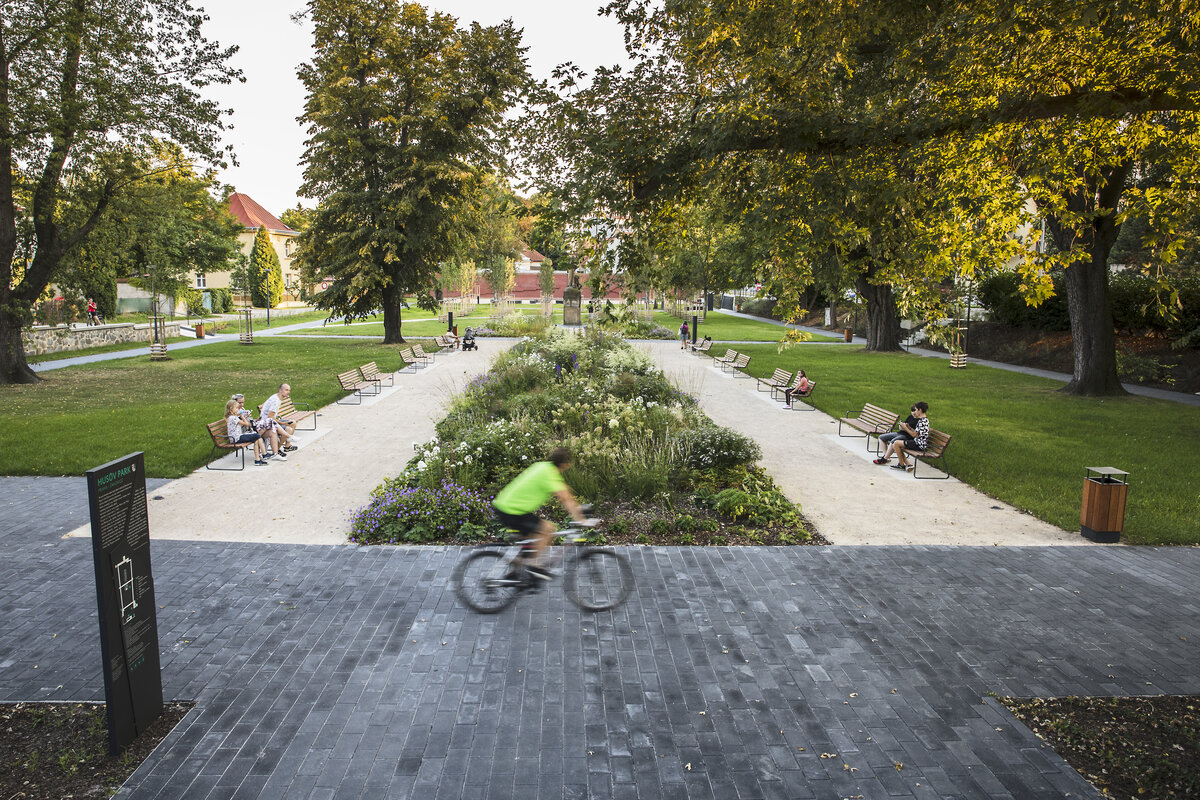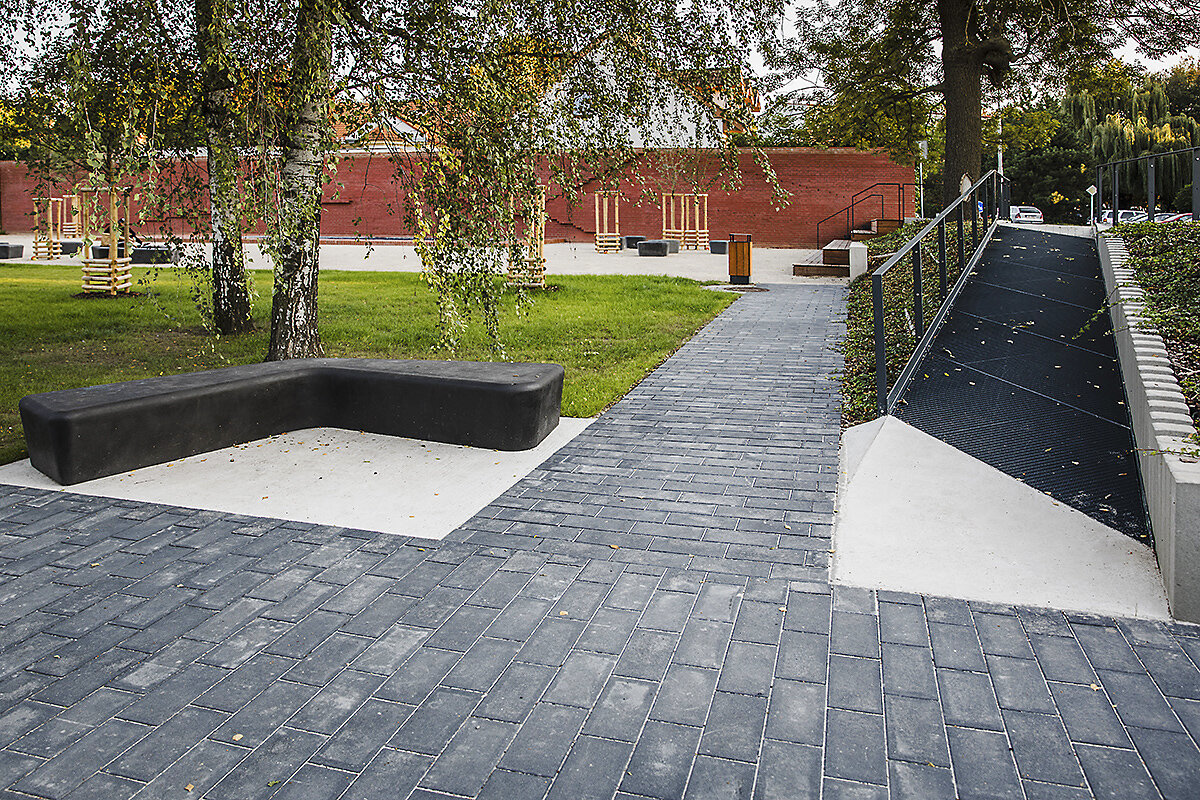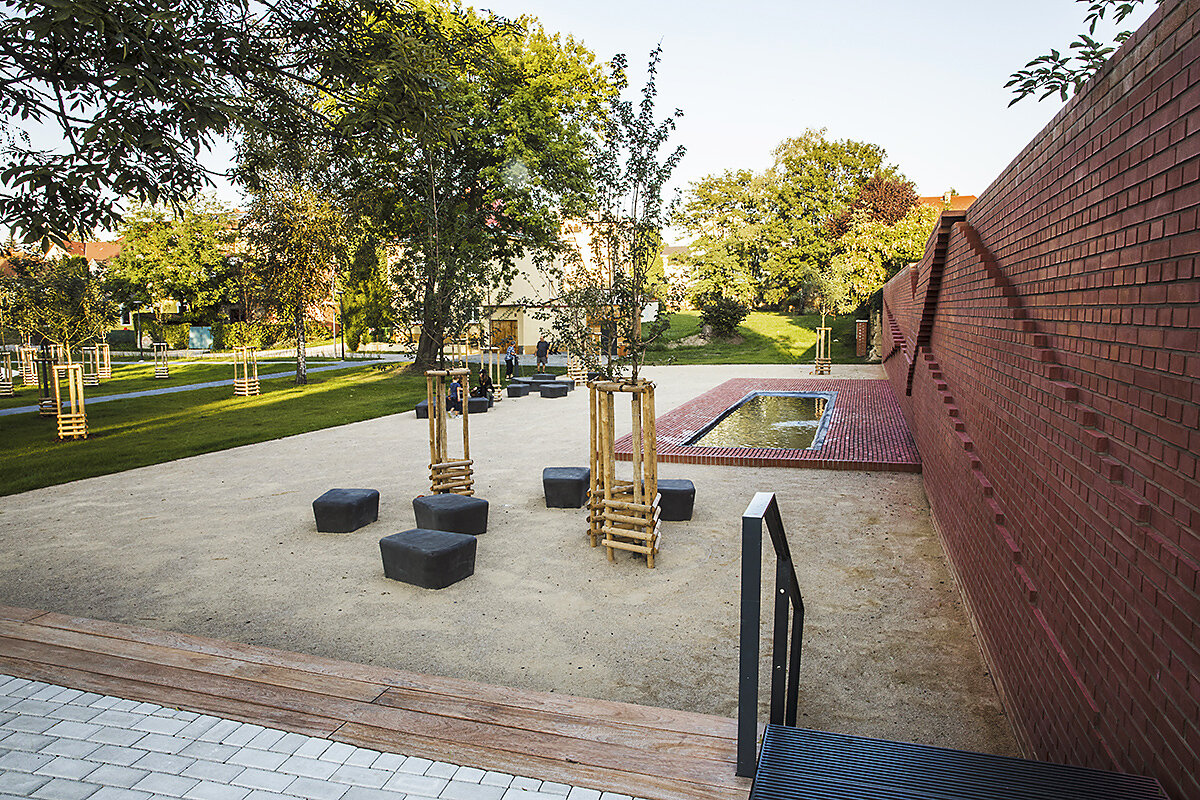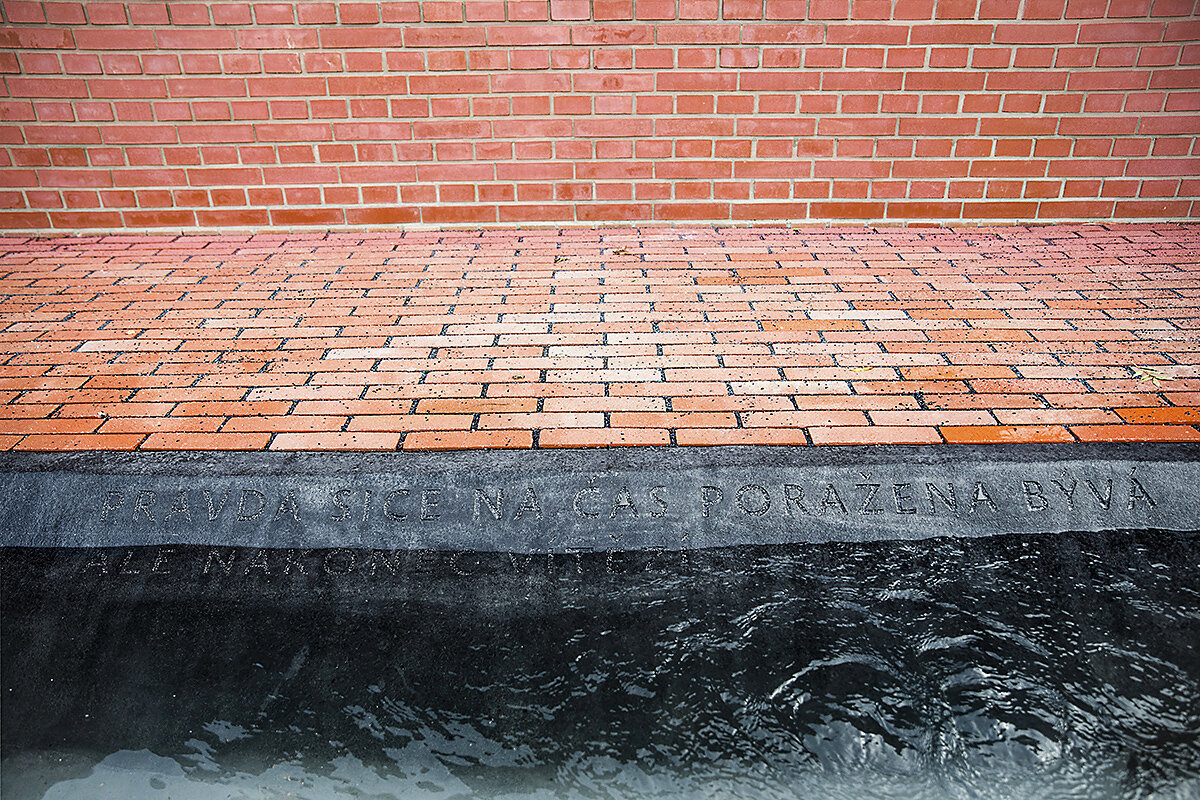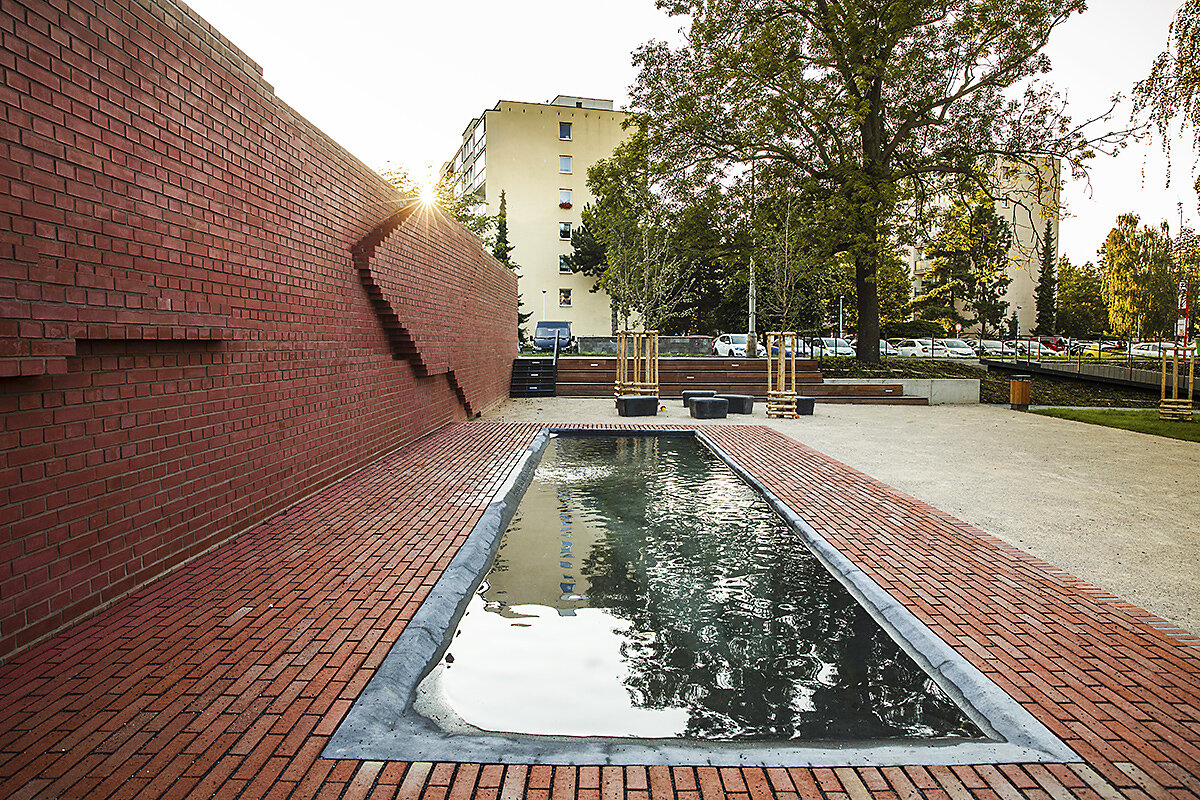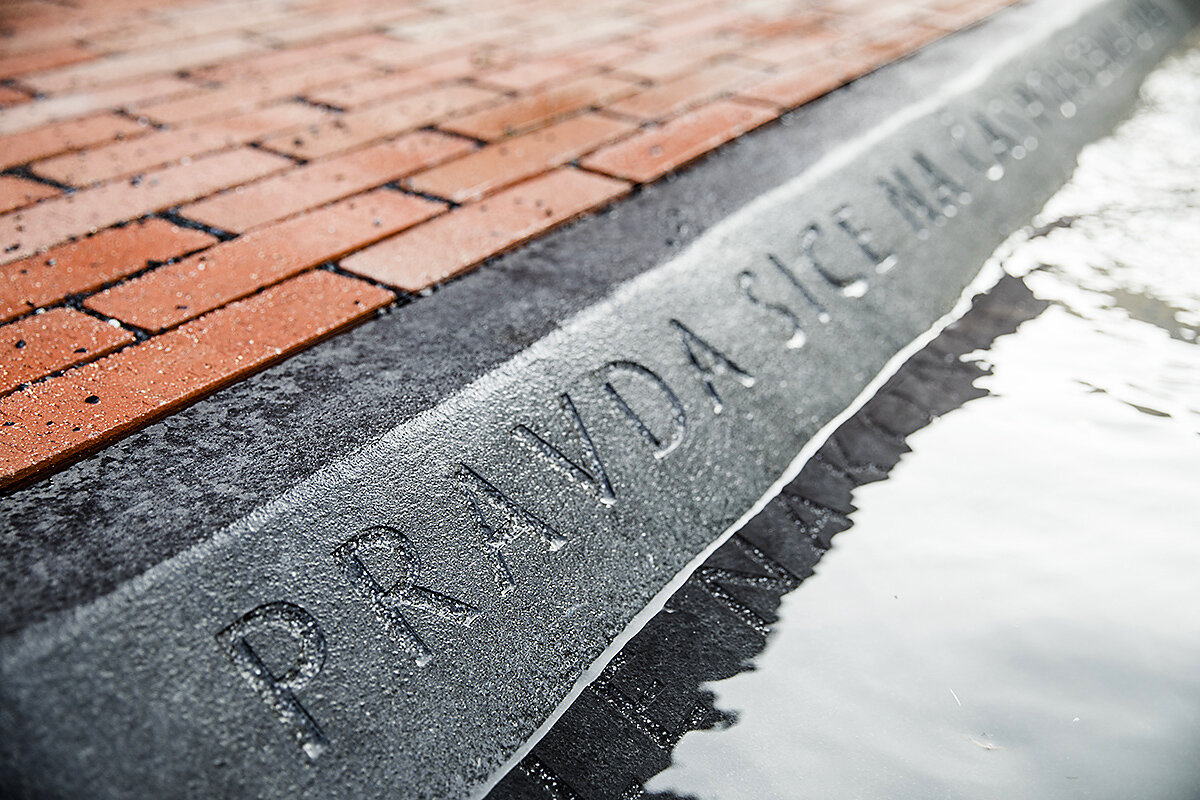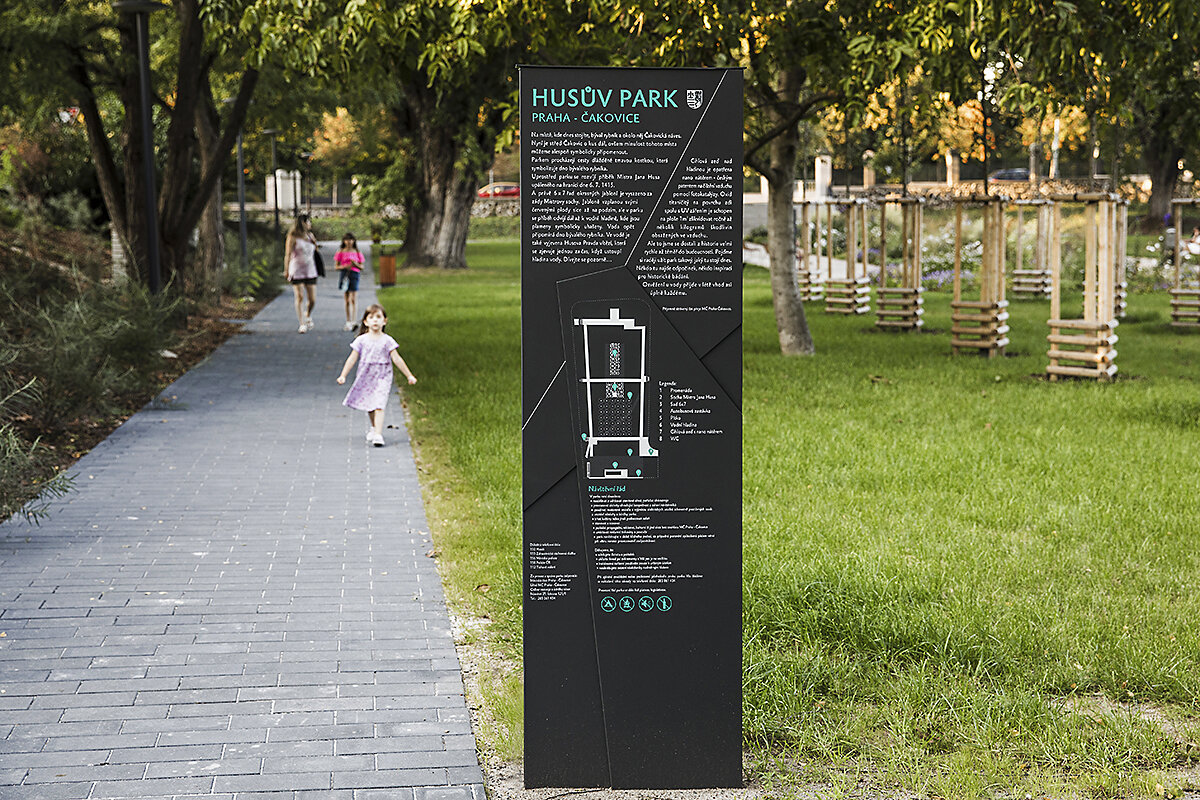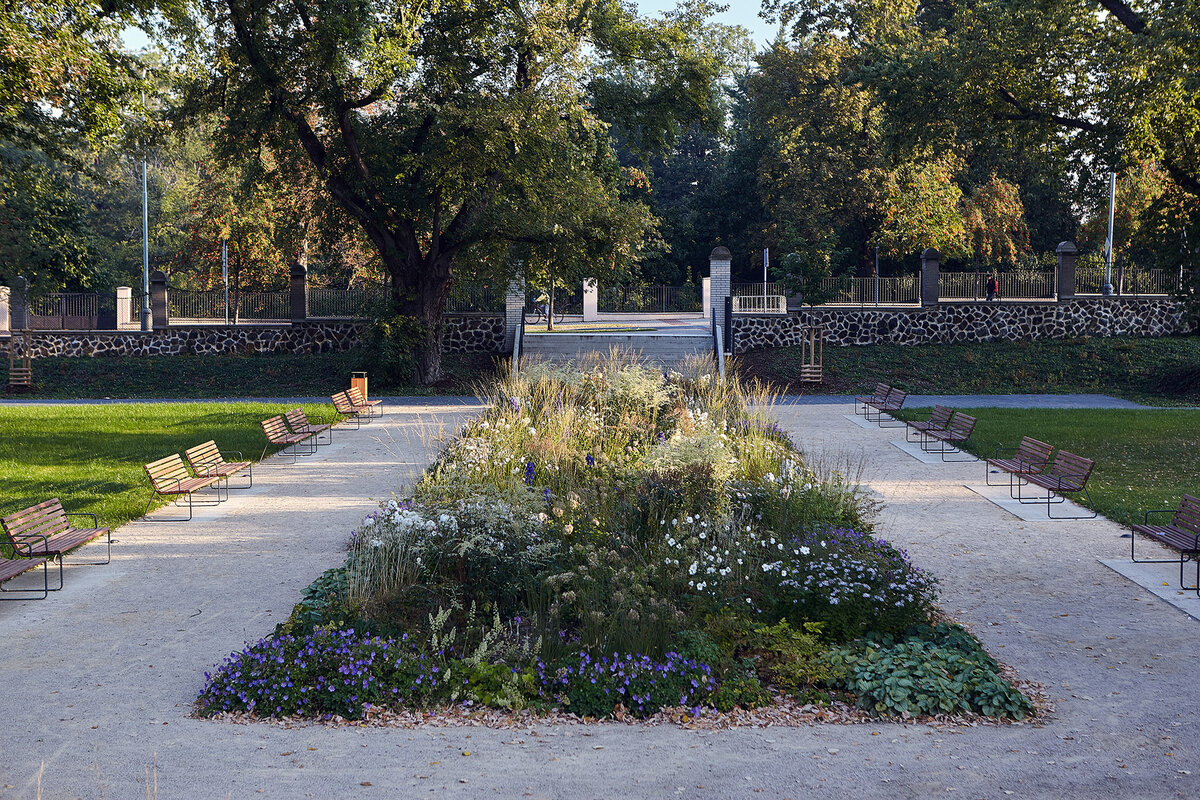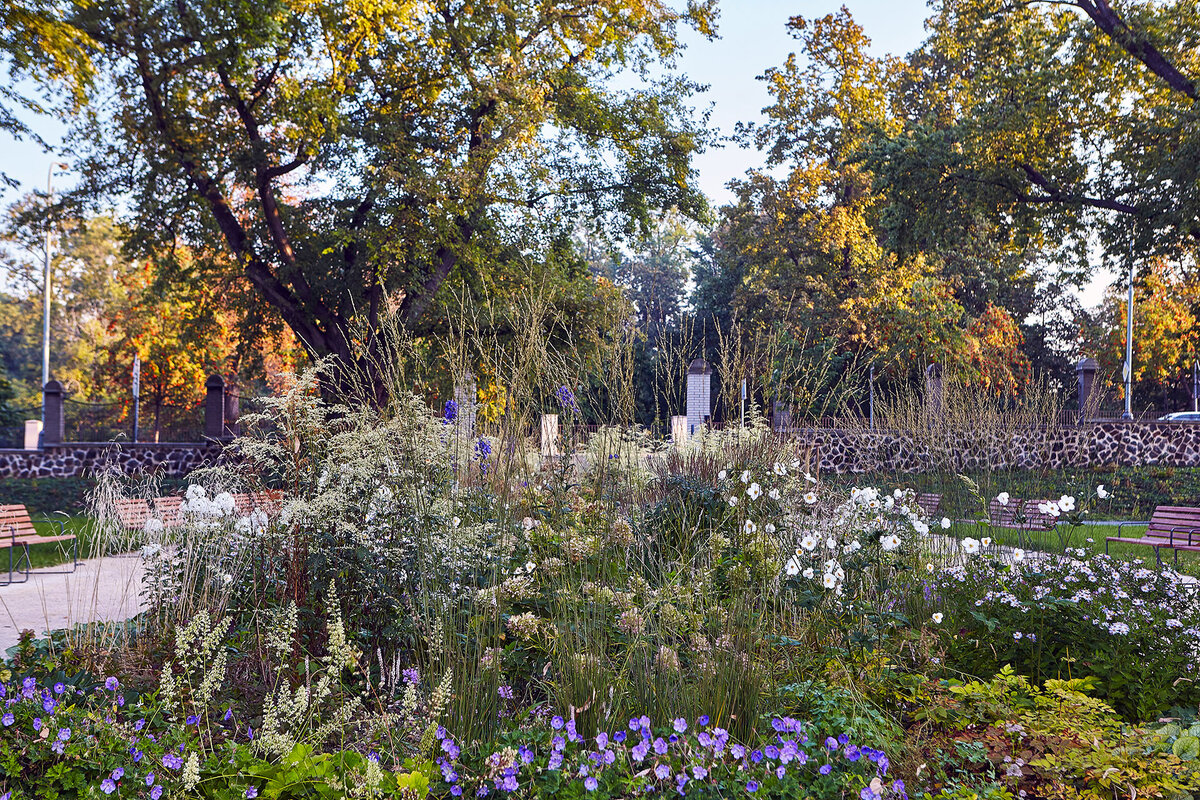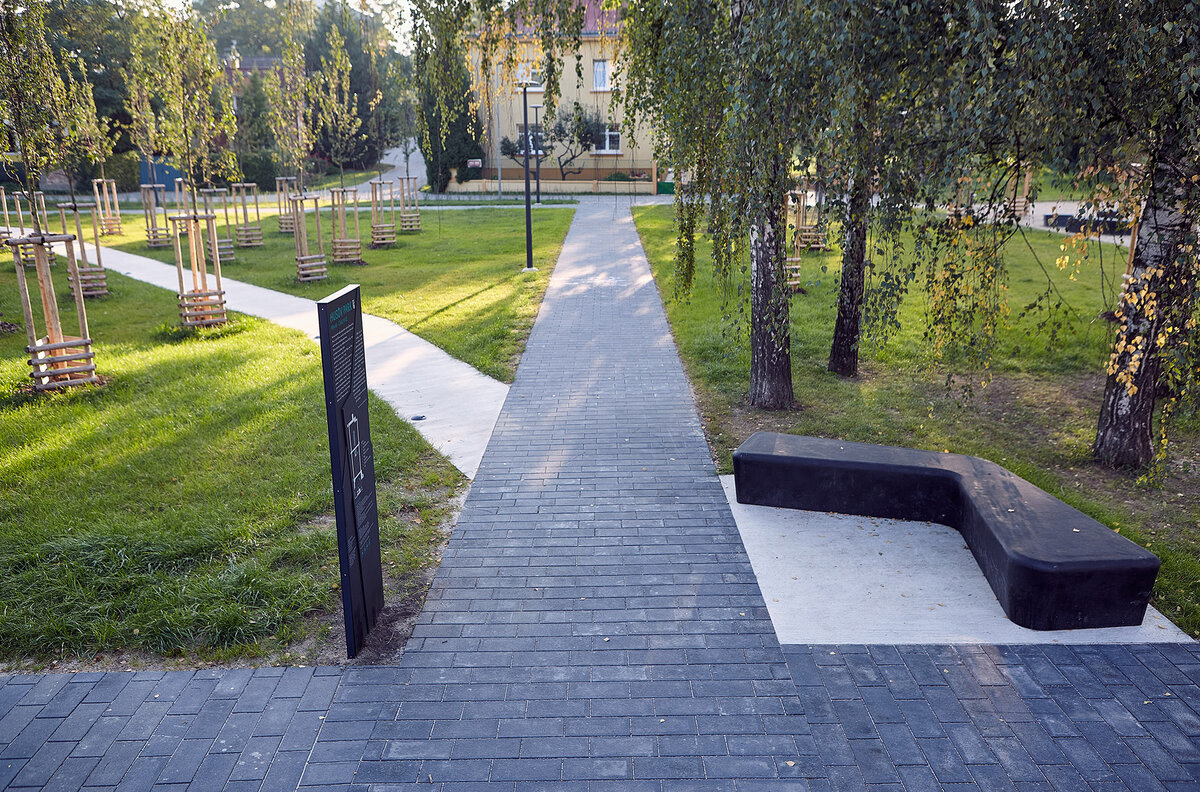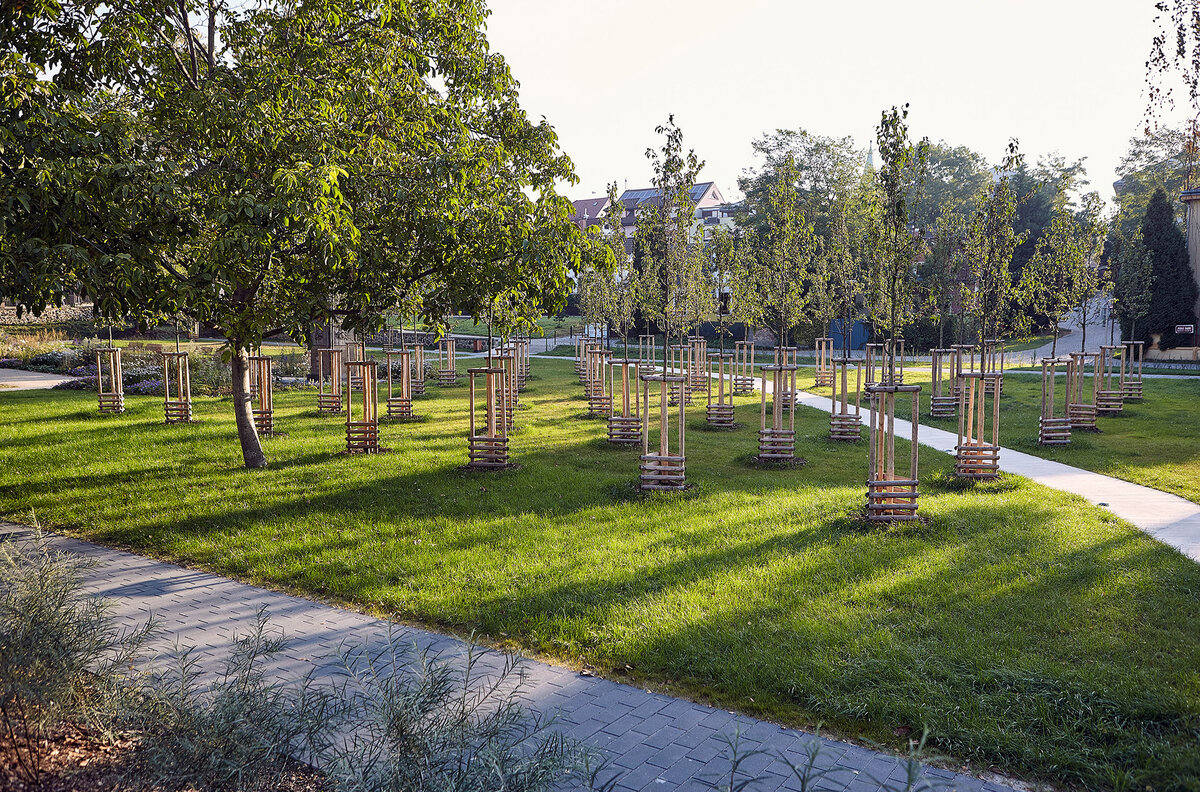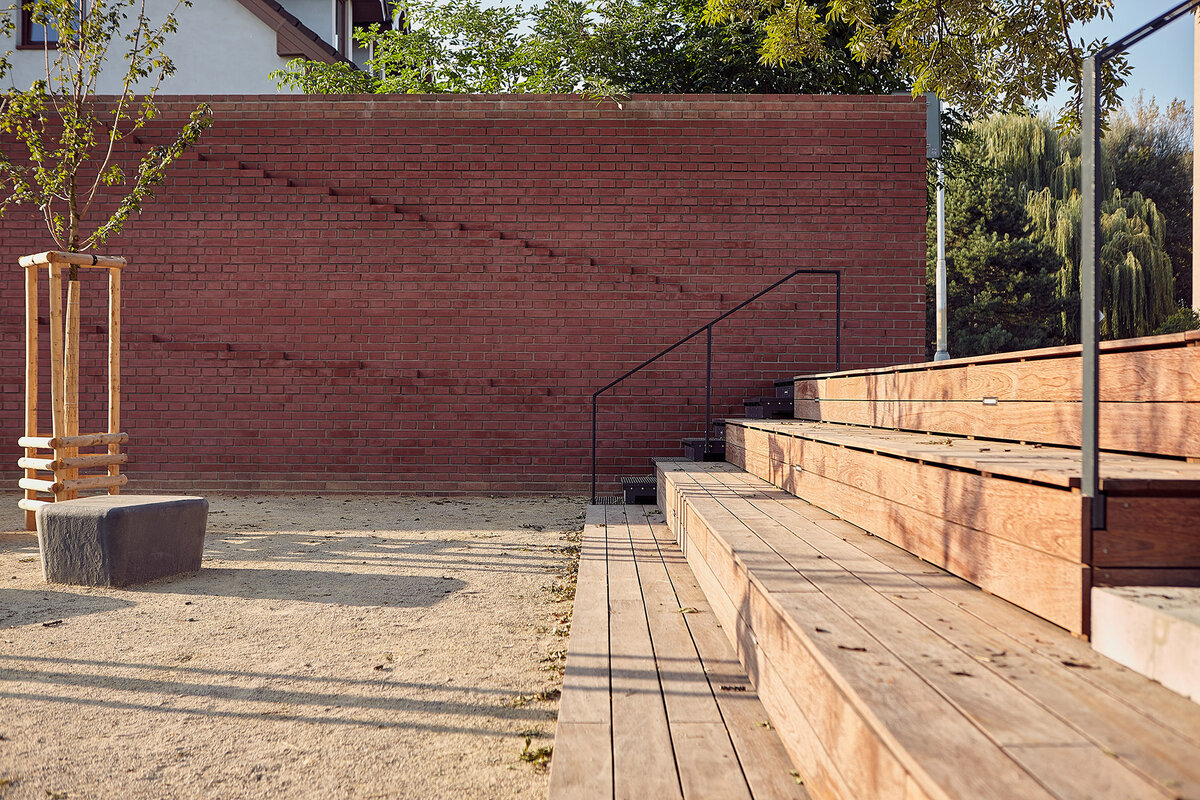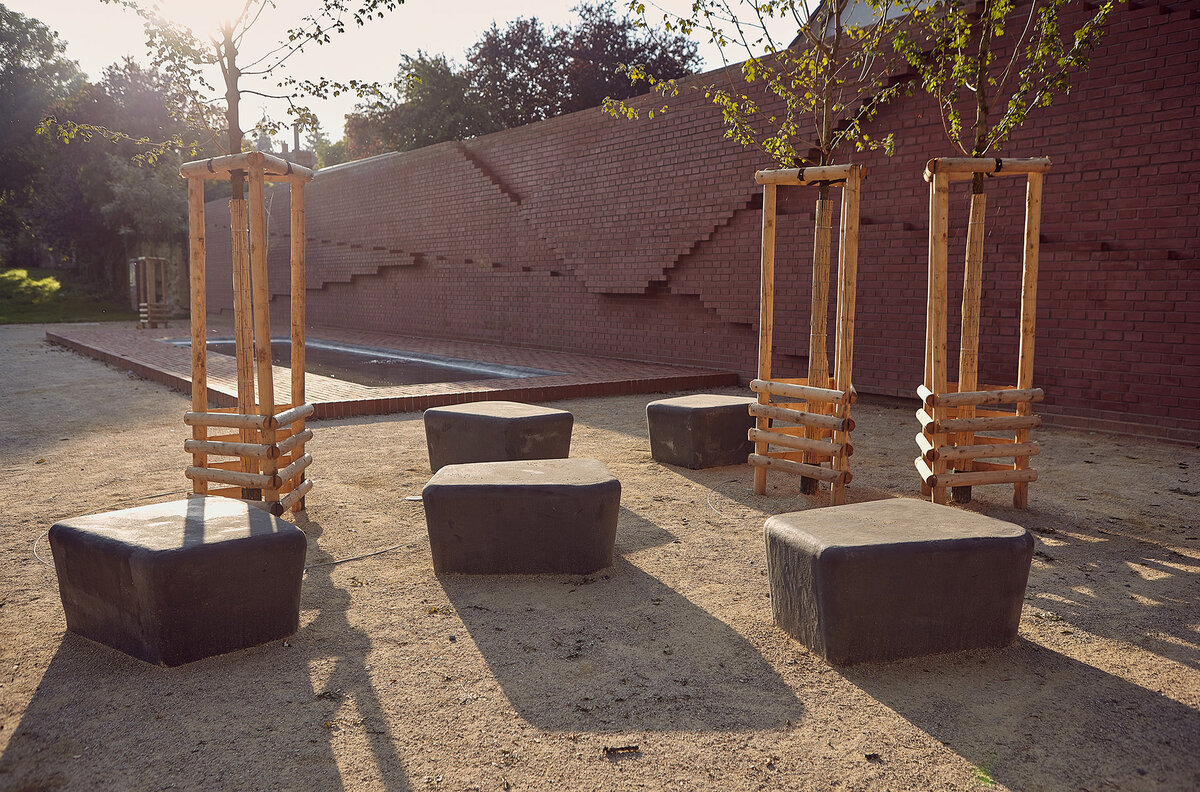 | | |
| --- | --- |
| Author | Martina Forejtová, Martina Havlová / Land05; spolupráce: Matěj Hájek (design zdi), Pavel Buryška (vodní prvek) |
| Studio | |
| Location | Praha Čakovice |
| Investor | Městská část Praha - Čakovice |
| Supplier | MV Bau |
| Date of project approval | January 2021 |
| Fotograf | |
'Jan Hus' Park in Prague

Annotation: City park that tells the story of Jan Hus.

Jan Hus Park is situated in the middle of the square at the bottom of the former pond.

Mr Jan Hus, the Czech philosopher and the Church reformer, was burnt at stake on 6th July 1415. The story of this inspirer of Hussitism is being told throughout the park. Seven lines of six apple trees are planted behind the back of Jan Hus statue situated in the middle of the park. During the fall the dark red fruit of the apple trees reminds the visitor of the fire flames symbolically being extinguished at the end of the park in the water feature located in the area of the former pond. The famous quote 'The truth prevails' is being revealed with the periodically receding water level. Dark tiling of the paths is to mark the shape of the original pond together with the dark grey concrete benches in the shape of a boomerang. The seating arrangement offers the visitor a place to rest near the water feature and at the junctions where many paths cross.

The bricklayed relief wall above the water is protected by Nano coating, Czech patent for air cleaning through photo catalysis. Each 1 m2 of titanium dioxide paint together with natural UV light helps to clean several kilograms of air pollutants each year.

Multigenerational design of Jan Hus Park allows people of all ages to find enjoyment in this open space. Some might be inspired by the history, others may use this space to get active or on a hot day to relax by the water feature, a few might be simply looking to rest. Ideally positioned threshing floor area in the middle of the park is designed to host small social events, markets, performances or outdoor exhibitions. All essential facilities such as public toilets, drinking water fountain and electrical points are also located at the same place. Wide wooden staircase positioned above the area is a great place to sit down to enjoy the water feature or view any performances which may be taking place below.

Perennial flower beds lined with many benches are designed to change colours throughout the seasons. First bulbs showing at early spring are then followed by asters in late autumn and gold coloured ornamental grasses.

The park lighting has also been refurbished, apart from traditional lamp posts, the floor lights have been used to lit up the crowns of the trees and also less frequently used paths for more intimate illumination.
Project Name: 'Jan Hus' Park in Prague - Cakovice
Project role: General Designer
Investor: Prague City Council
Project documentation: 2018
Construction: 2020
Location: Praha - Čakovice
Costs: 20 mil. CZK (1 mil USD)
Project Area: 7.500 sq. m
Green building
Environmental certification
| | |
| --- | --- |
| Type and level of certificate | - |
Water management
| | |
| --- | --- |
| Is rainwater used for irrigation? | |
| Is rainwater used for other purposes, e.g. toilet flushing ? | |
| Does the building have a green roof / facade ? | |
| Is reclaimed waste water used, e.g. from showers and sinks ? | |
The quality of the indoor environment
| | |
| --- | --- |
| Is clean air supply automated ? | |
| Is comfortable temperature during summer and winter automated? | |
| Is natural lighting guaranteed in all living areas? | |
| Is artificial lighting automated? | |
| Is acoustic comfort, specifically reverberation time, guaranteed? | |
| Does the layout solution include zoning and ergonomics elements? | |
Principles of circular economics
| | |
| --- | --- |
| Does the project use recycled materials? | |
| Does the project use recyclable materials? | |
| Are materials with a documented Environmental Product Declaration (EPD) promoted in the project? | |
| Are other sustainability certifications used for materials and elements? | |
Energy efficiency
| | |
| --- | --- |
| Energy performance class of the building according to the Energy Performance Certificate of the building | |
| Is efficient energy management (measurement and regular analysis of consumption data) considered? | |
| Are renewable sources of energy used, e.g. solar system, photovoltaics? | |
Interconnection with surroundings
| | |
| --- | --- |
| Does the project enable the easy use of public transport? | |
| Does the project support the use of alternative modes of transport, e.g cycling, walking etc. ? | |
| Is there access to recreational natural areas, e.g. parks, in the immediate vicinity of the building? | |