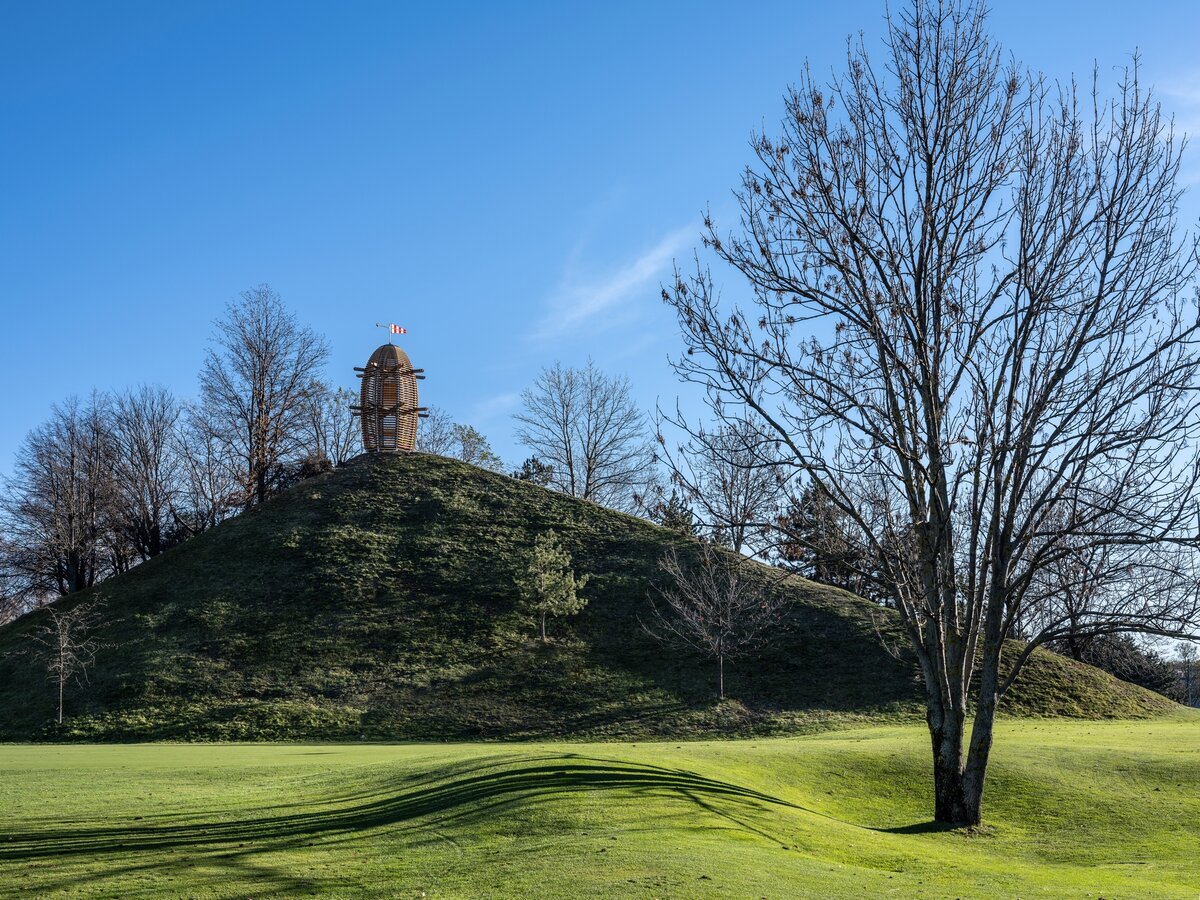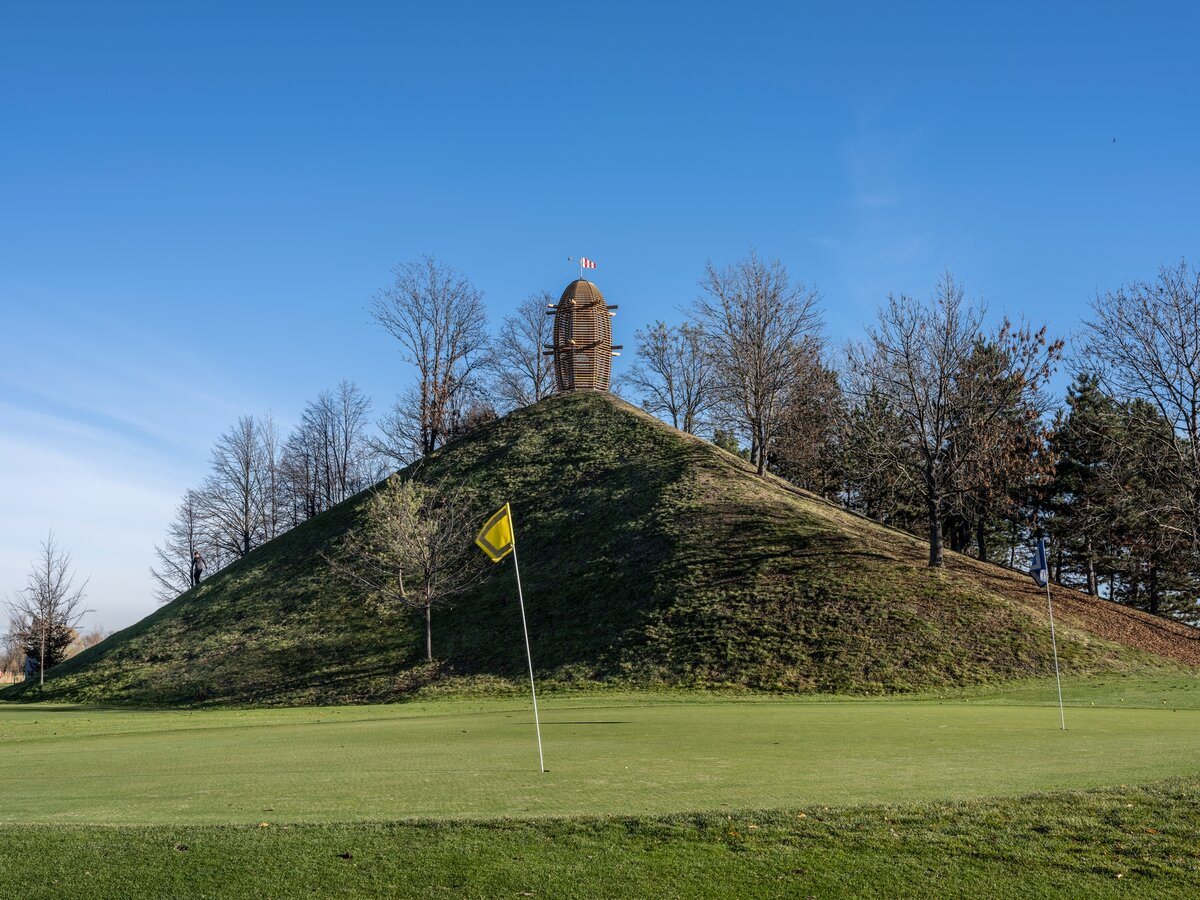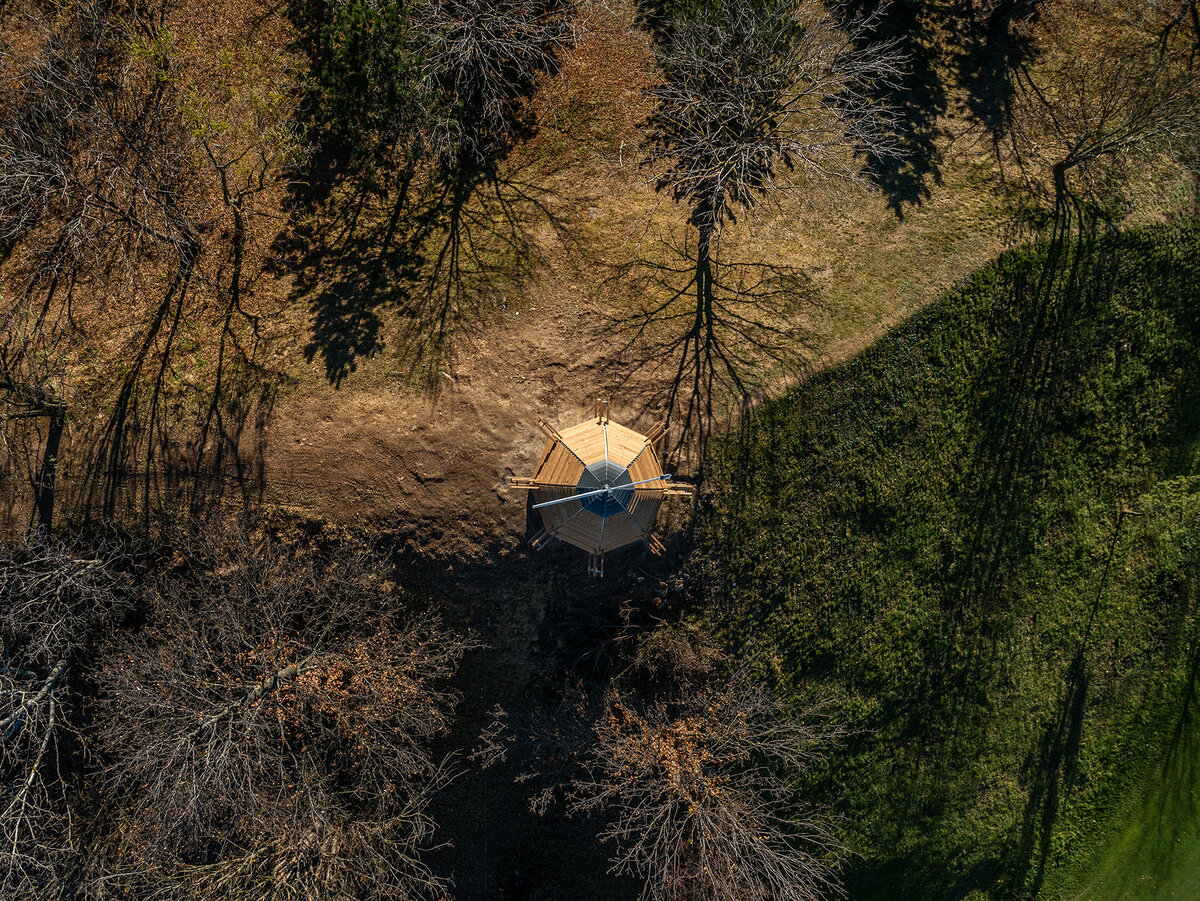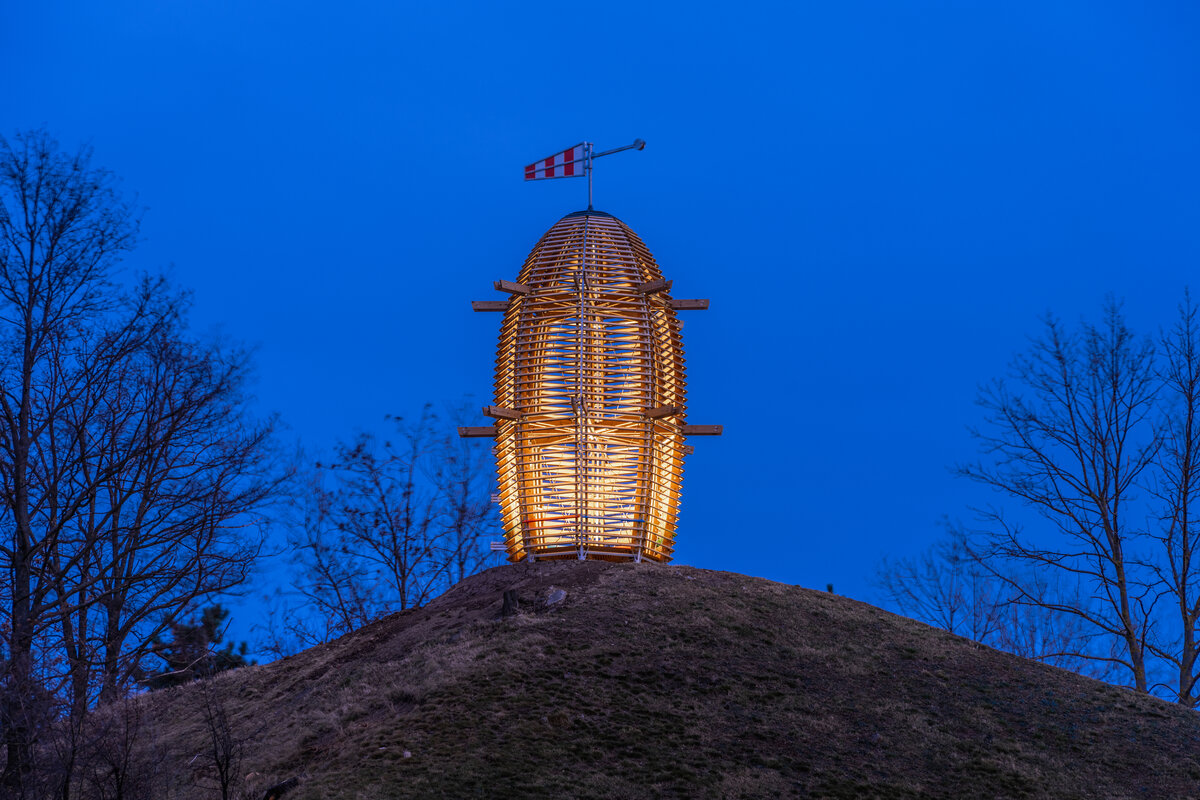 | | |
| --- | --- |
| Author | Martin Rajniš, David Kubík, Tomáš Kosnar, Zbyněk Šrůtek |
| Studio | |
| Location | Hostivař, Praha, Česko |
| Investor | Galerie Golf Hostivař, Martin Kulík |
| Supplier | Timberdesign+ |
| Date of project approval | January 2022 |
| Fotograf | |
In November 2021, we completed the construction of an apiary located in the Galerie Golf Hostivař complex. It stands on a slight elevation near the entrance to the golf course, forming an attractive view from the restaurant terrace. All the same, there lies behind this small-scale work a highly symbolic tale.

It was some time in 2014 that we were contacted by ladies from the "Hradčany Bees" association, who needed someone to design and construct an apiary in the Petřín Gardens.

What we designed then for the apiary was an elevated cupola of wooden slats with an octagonal ground plan, not unlike the cupola above the church of Santa Maria del Fiore in Florence. After many alterations, the project even won the approval of the heritage authorities, who supported its construction (as altered) on the site in the Petřín Gardens. As it happened, though, the realisation turned out to involve certain political complications, thus unfortunately, despite the utmost of efforts, it has yet to be raised.

Then came spring 2021 and a meeting of investors was held in our office to discuss one of our projects. All of a sudden, the owner of the Hostivař golf course, Martin Kulík, noticed the visualization of the original version of the apiary hanging on the wall. Love at first sight! Our chief constructor and master builder Zbyněk Šrůtek – the same Zbyněk Šrůtek who led his carpenters in building the Ester tower in Jerusalem – turned on his tools only a few months after this meeting.

Yet even before we had the apiary completed, there turned up at our studio the organisers of the exhibition Czech Modern Architecture from Secessionism to Today, headed by Professor Vladimír Šlapeta and Petr Ivanov. The exhibition was to open in the Prague Castle Riding School in autumn 2021 and their question for us was: "Do you have any models that would be usable for such a prestigious exhibit?" We did! Our apiary, in 1:1 scale, was just then under production! The expansive and high-ceilinged space of the Riding School allowed the apiary – the first exhibition item past the entrance – to stand out fittingly.

Then, in November 2021, the apiary was moved from the Riding School to Hostivař, where it now stands proudly above the landscape. This slender work of ours should remind us that architecture sometimes faces its own hardships and the path to the goal often runs along unpredicted and winding routes.
Prefabricated wooden structure, wooden parts made on CNC machines, prefabricated metal joints. Height 6.5 m, diameter 3.5 m.
Green building
Environmental certification
| | |
| --- | --- |
| Type and level of certificate | - |
Water management
| | |
| --- | --- |
| Is rainwater used for irrigation? | |
| Is rainwater used for other purposes, e.g. toilet flushing ? | |
| Does the building have a green roof / facade ? | |
| Is reclaimed waste water used, e.g. from showers and sinks ? | |
The quality of the indoor environment
| | |
| --- | --- |
| Is clean air supply automated ? | |
| Is comfortable temperature during summer and winter automated? | |
| Is natural lighting guaranteed in all living areas? | |
| Is artificial lighting automated? | |
| Is acoustic comfort, specifically reverberation time, guaranteed? | |
| Does the layout solution include zoning and ergonomics elements? | |
Principles of circular economics
| | |
| --- | --- |
| Does the project use recycled materials? | |
| Does the project use recyclable materials? | |
| Are materials with a documented Environmental Product Declaration (EPD) promoted in the project? | |
| Are other sustainability certifications used for materials and elements? | |
Energy efficiency
| | |
| --- | --- |
| Energy performance class of the building according to the Energy Performance Certificate of the building | A |
| Is efficient energy management (measurement and regular analysis of consumption data) considered? | |
| Are renewable sources of energy used, e.g. solar system, photovoltaics? | |
Interconnection with surroundings
| | |
| --- | --- |
| Does the project enable the easy use of public transport? | |
| Does the project support the use of alternative modes of transport, e.g cycling, walking etc. ? | |
| Is there access to recreational natural areas, e.g. parks, in the immediate vicinity of the building? | |