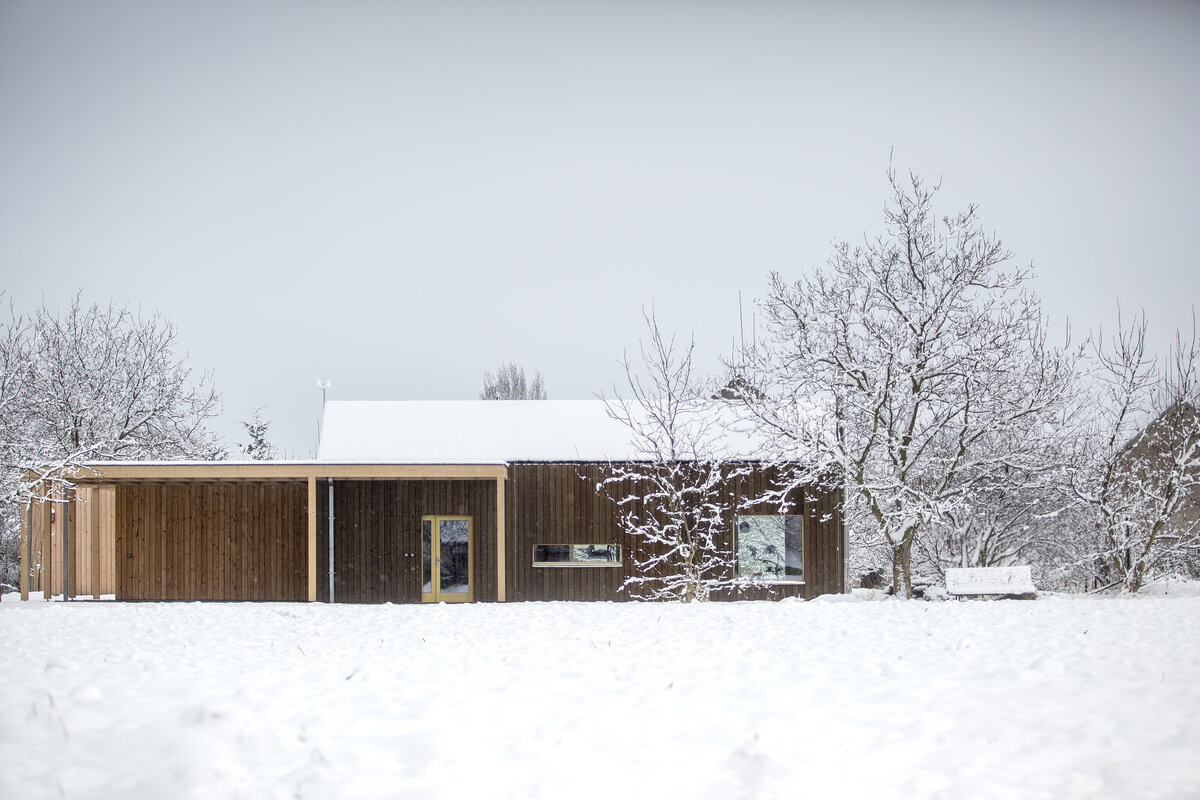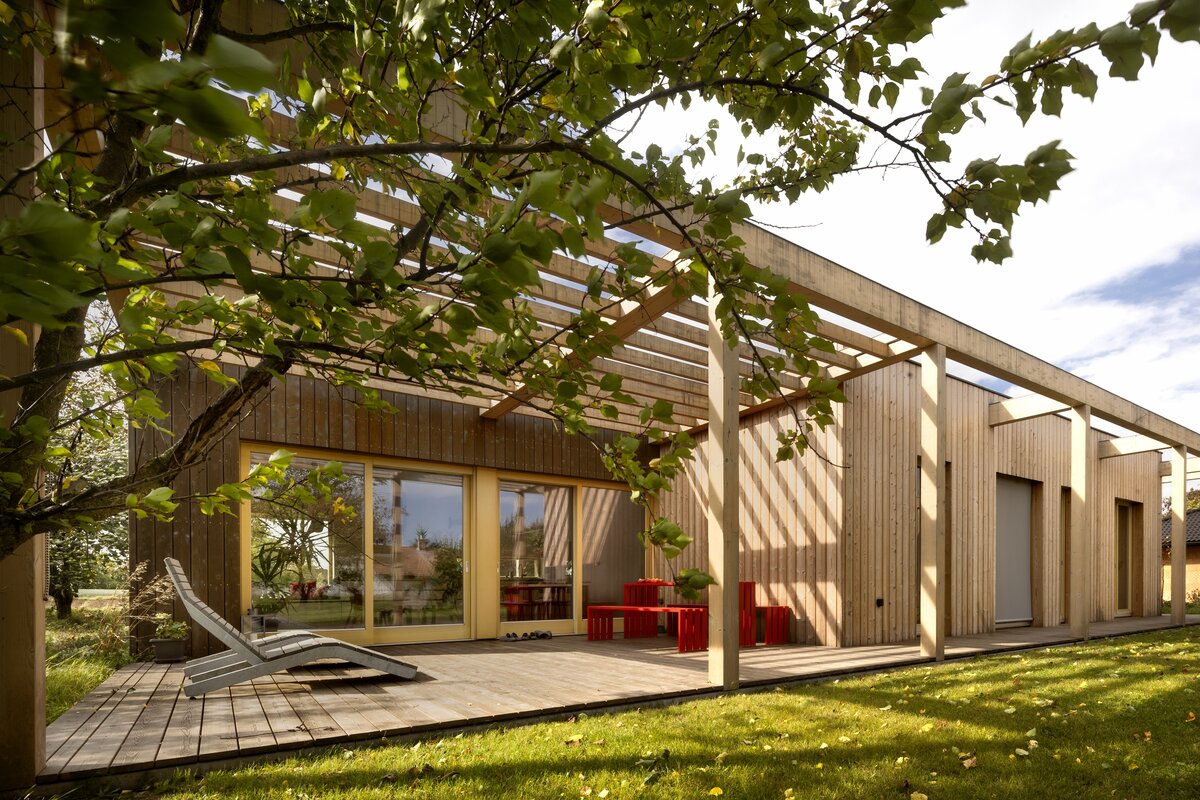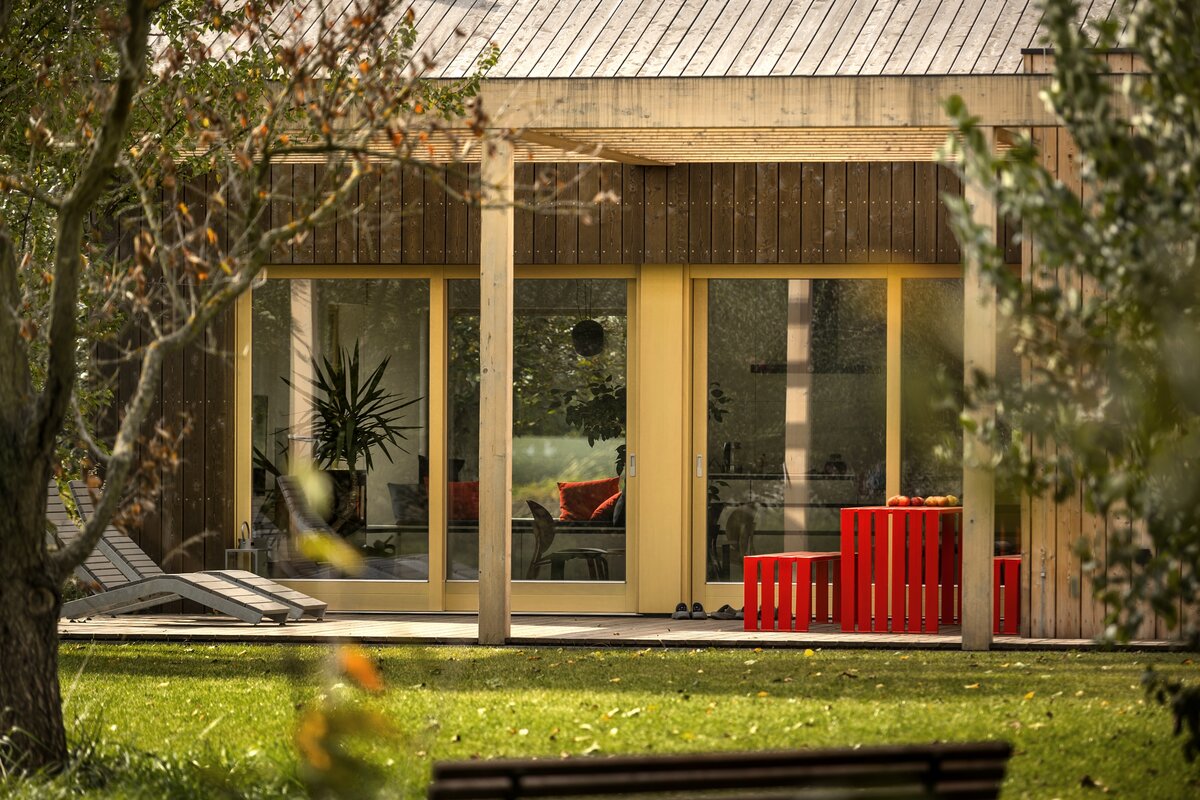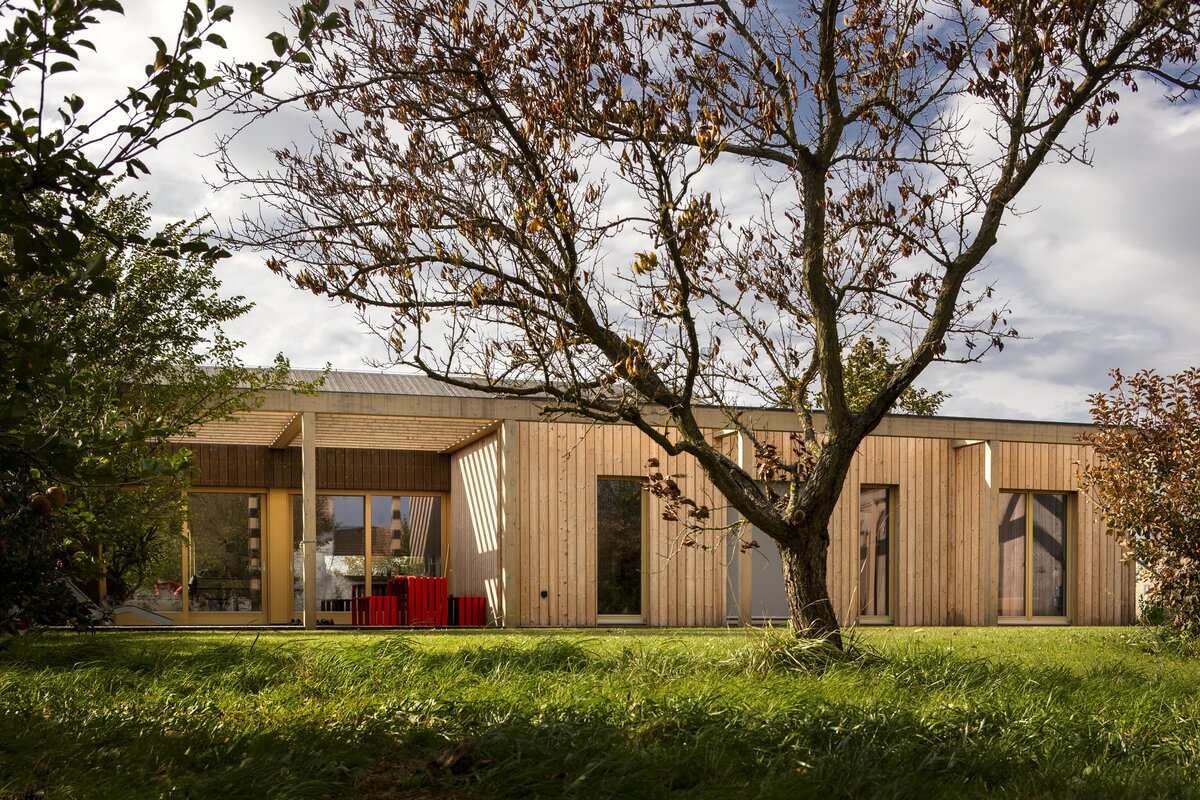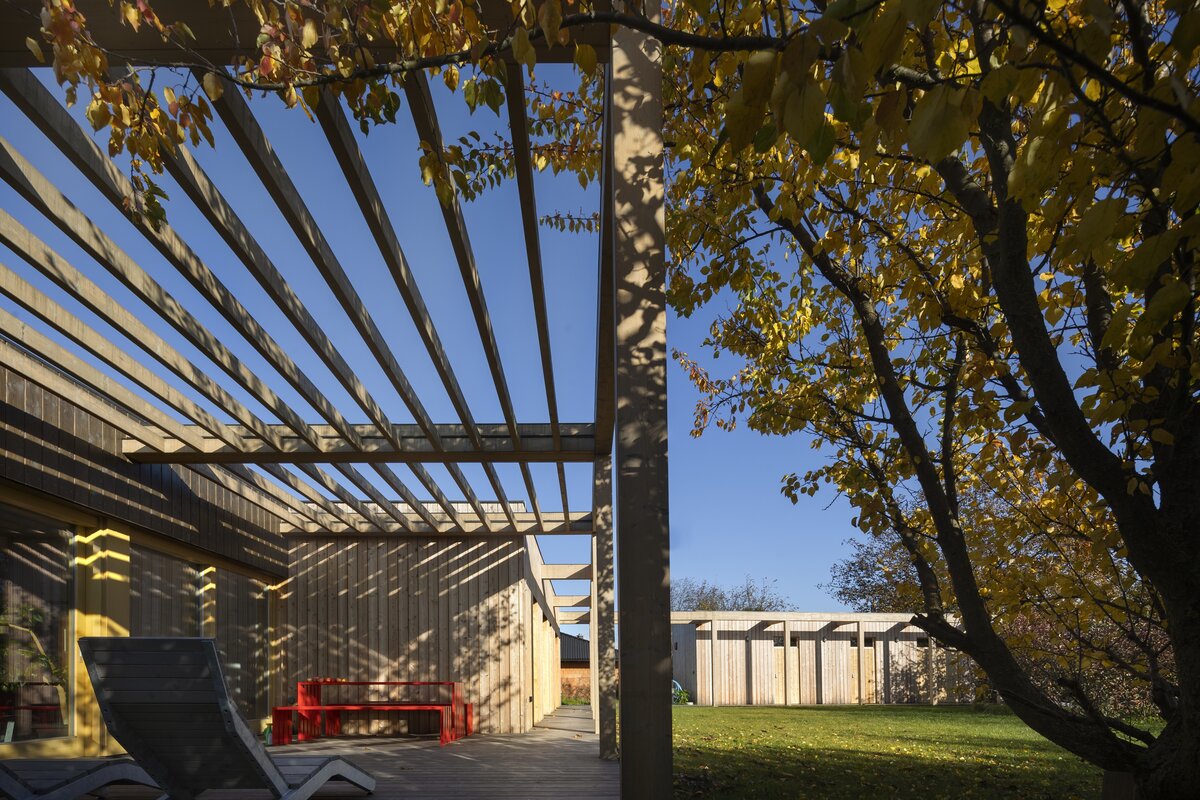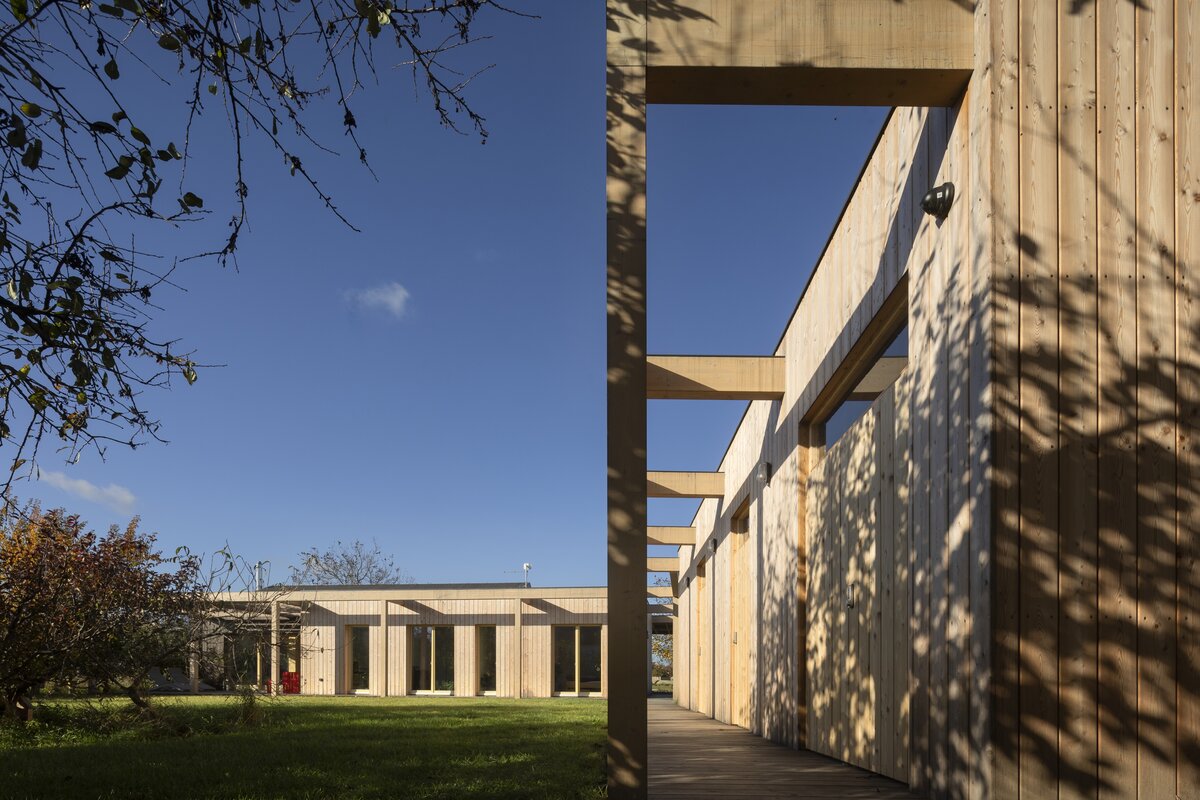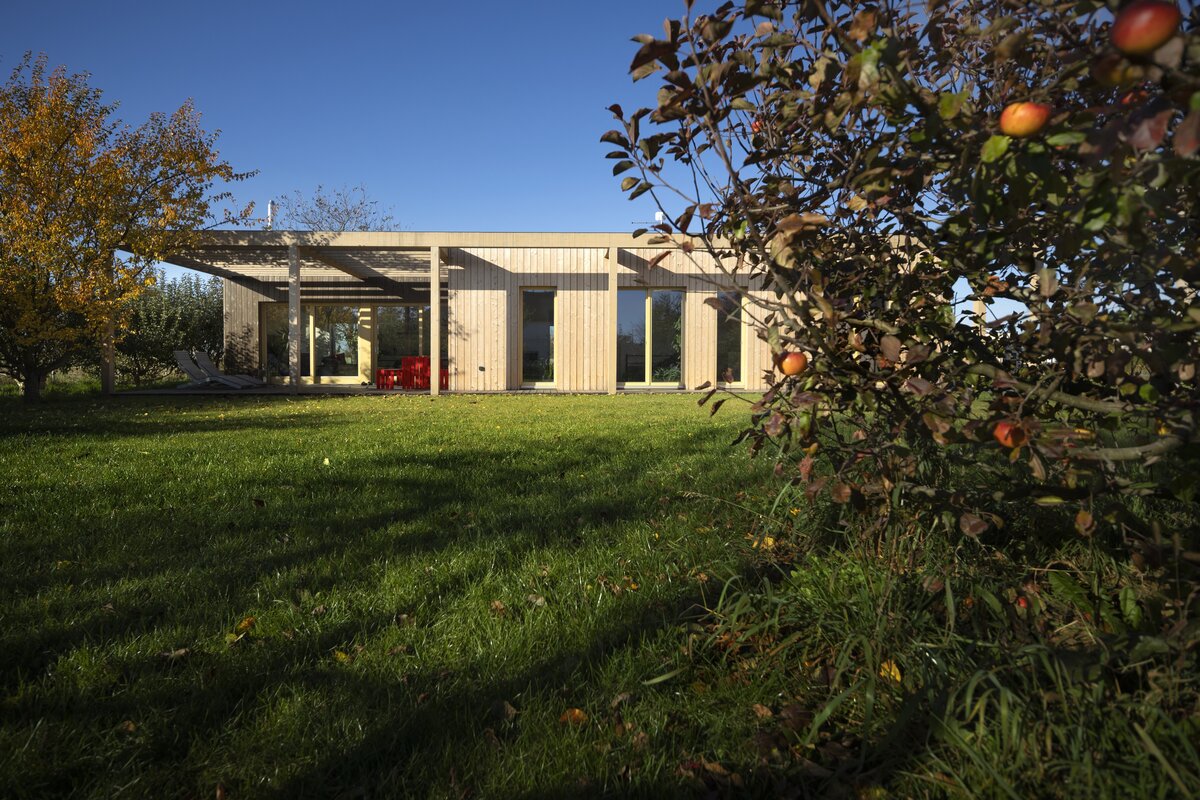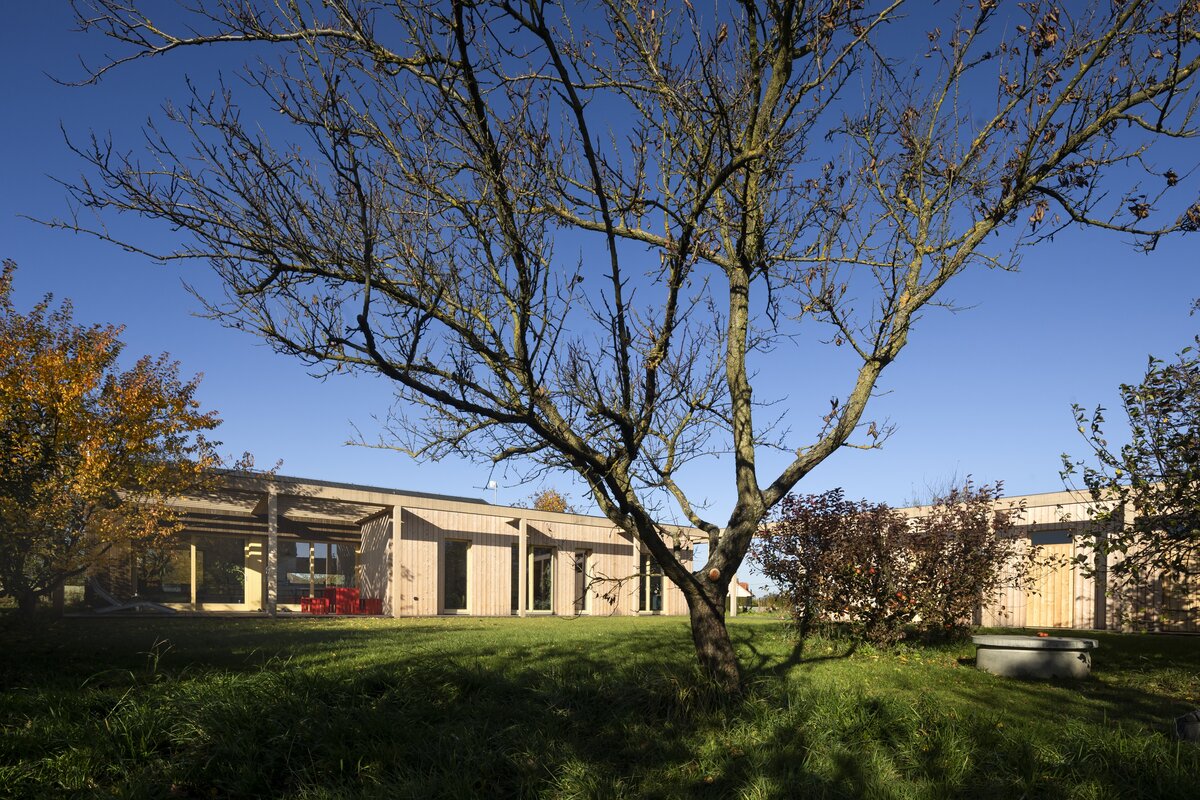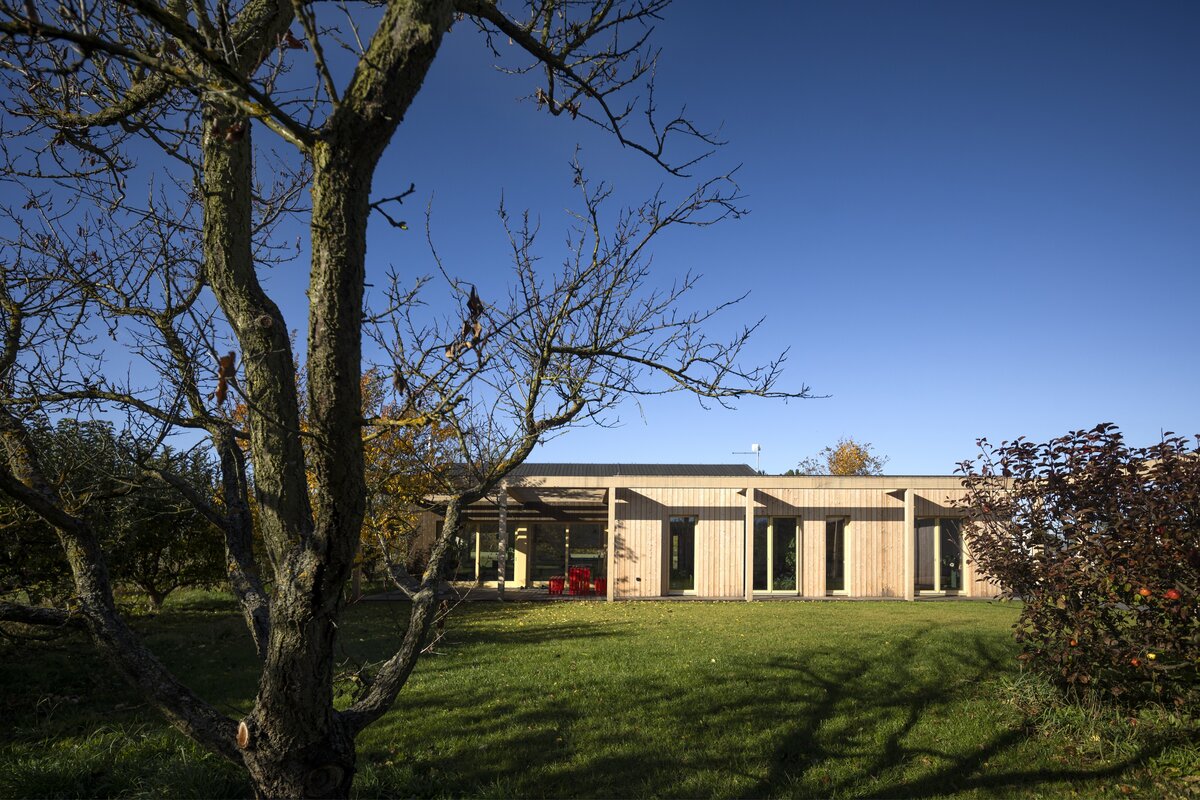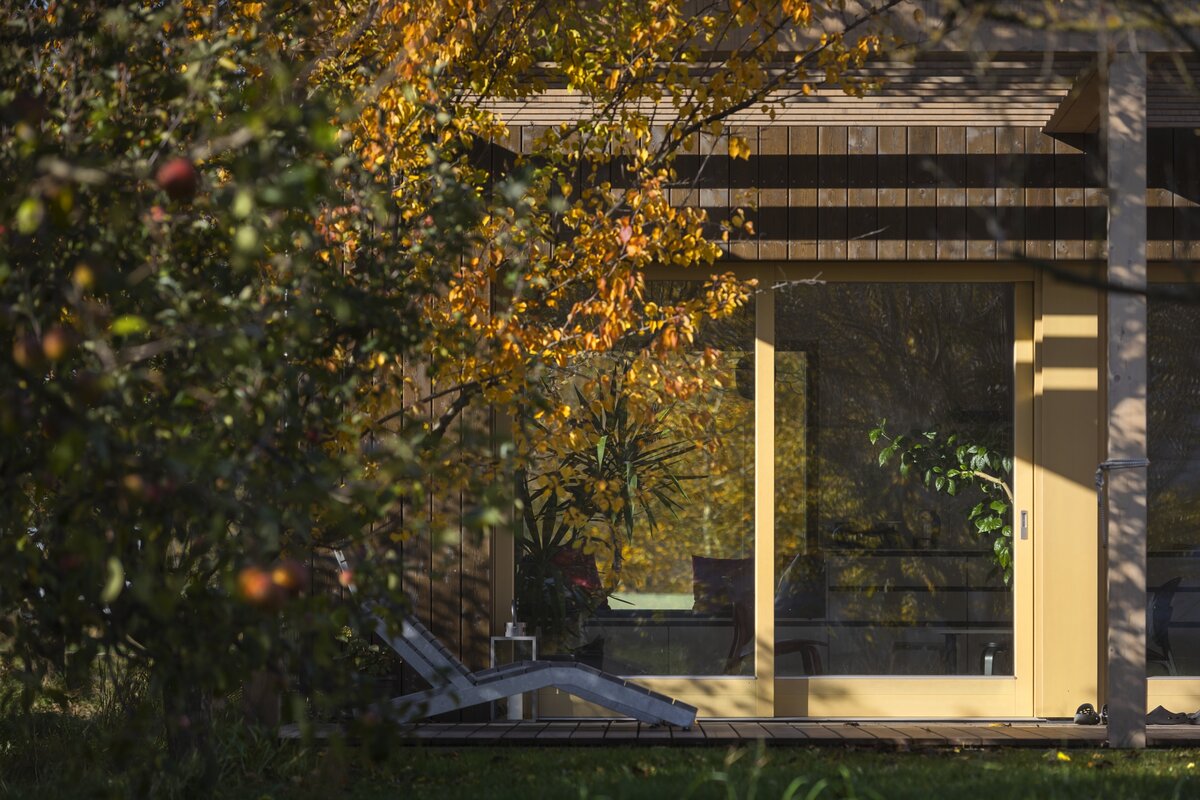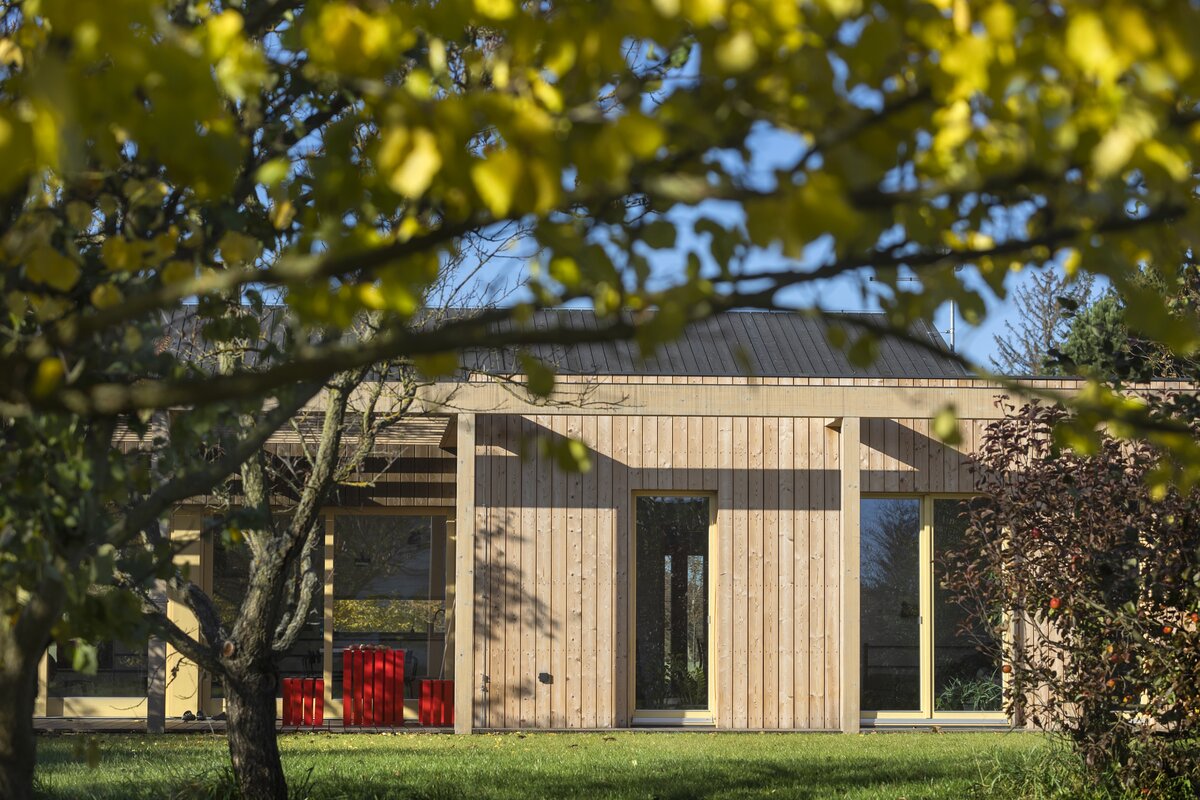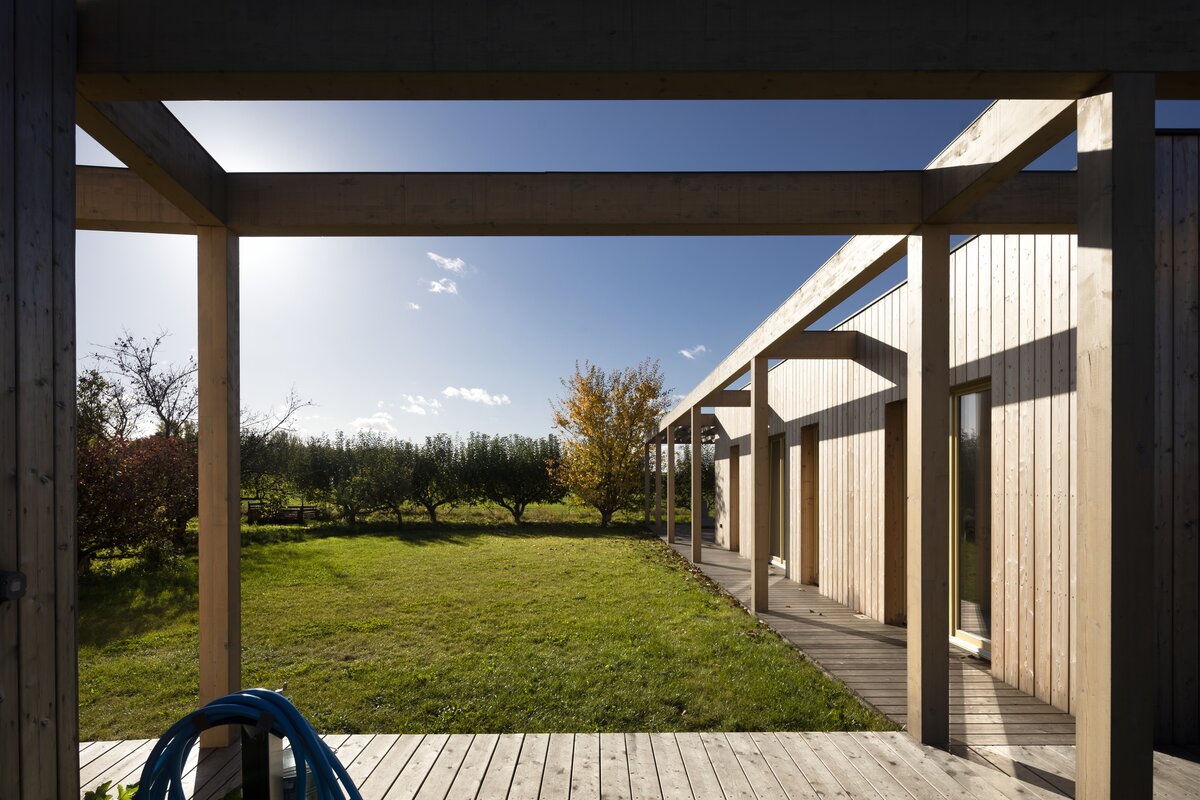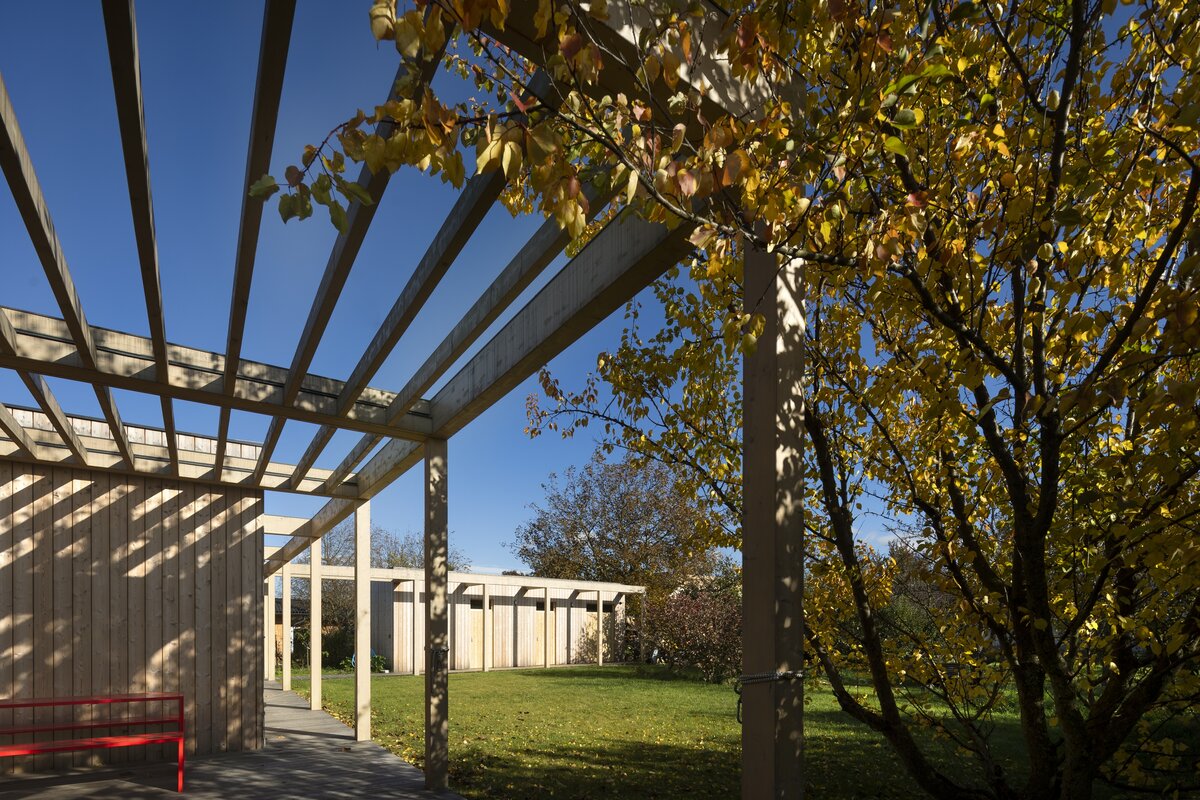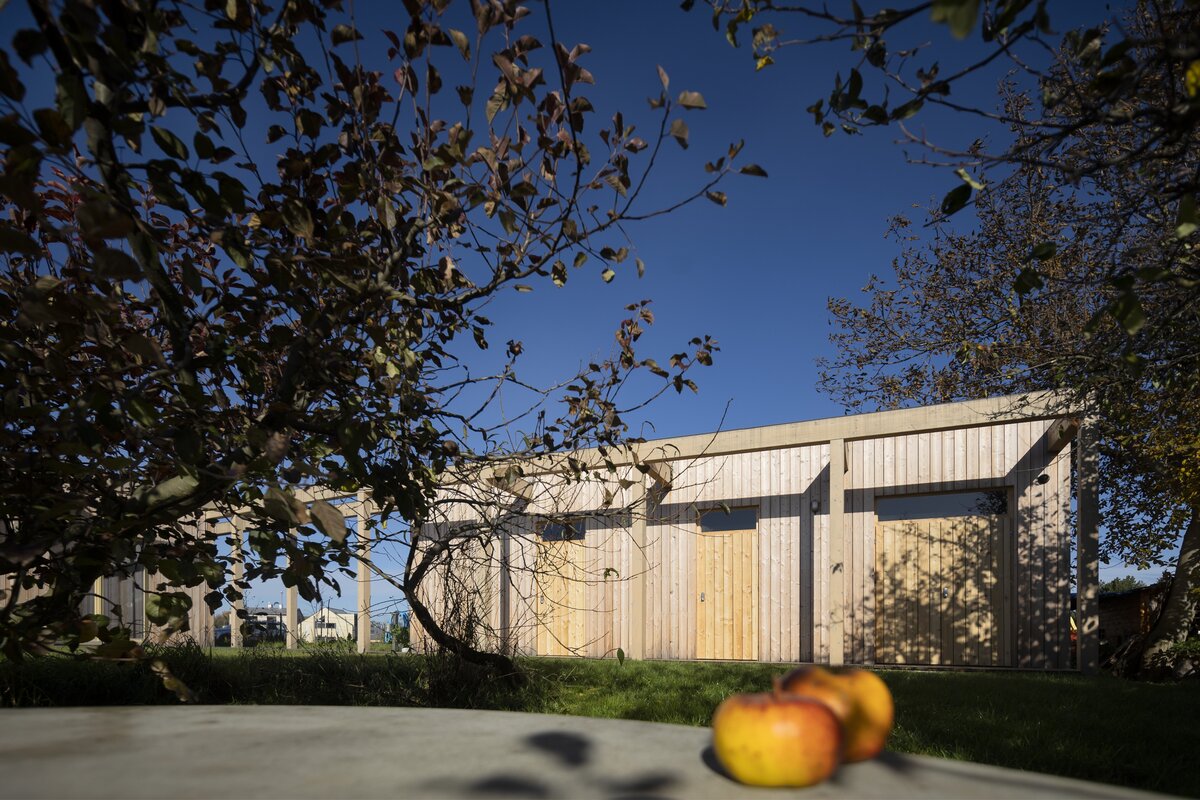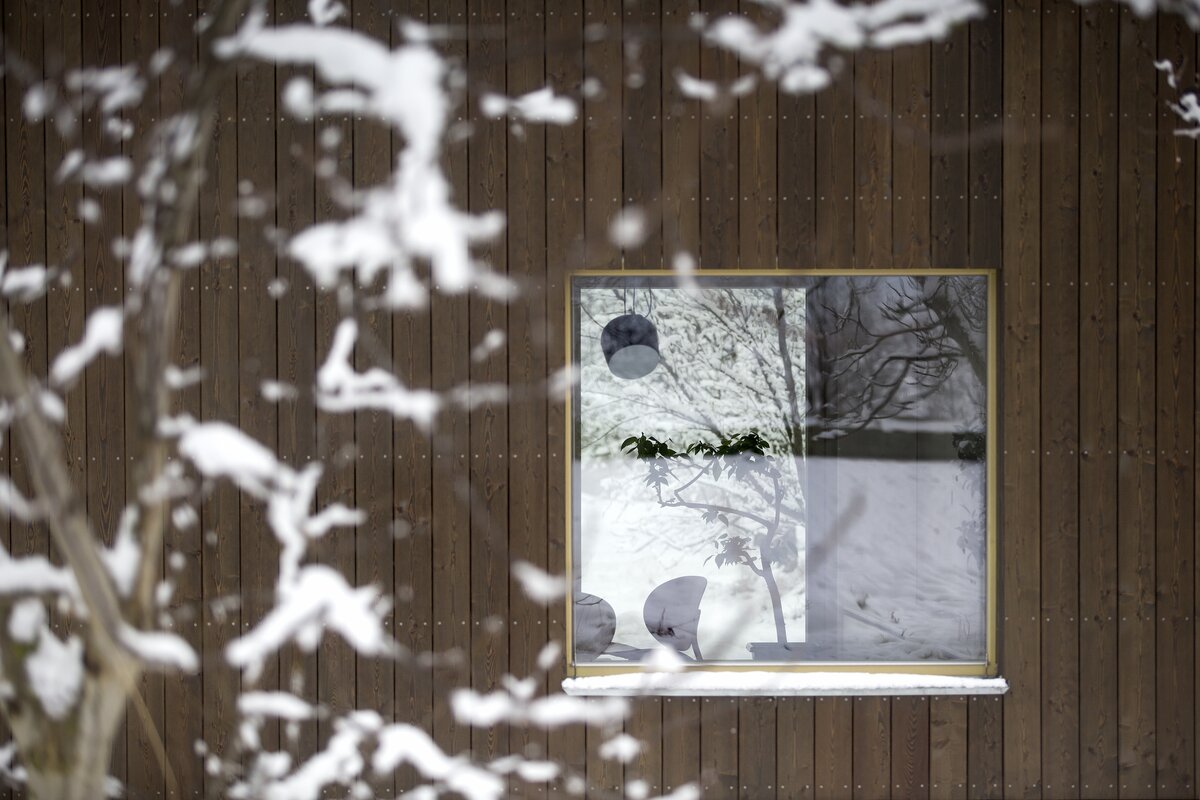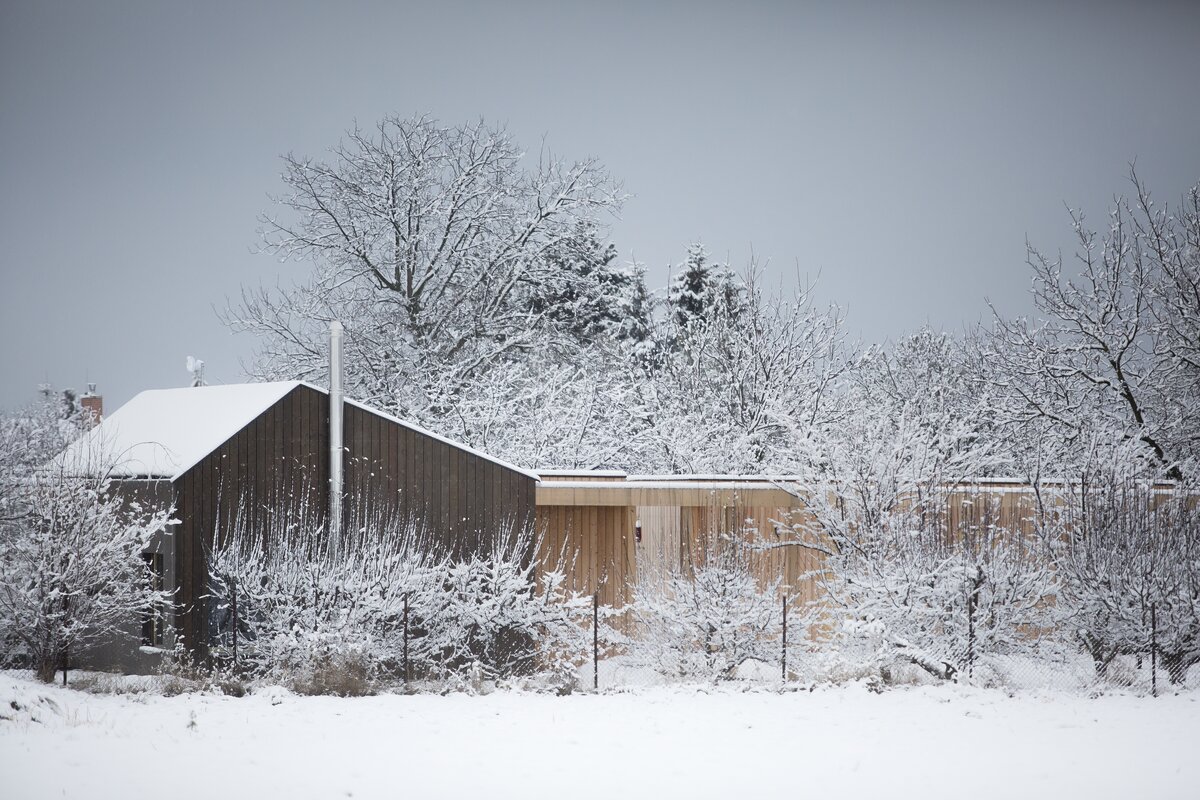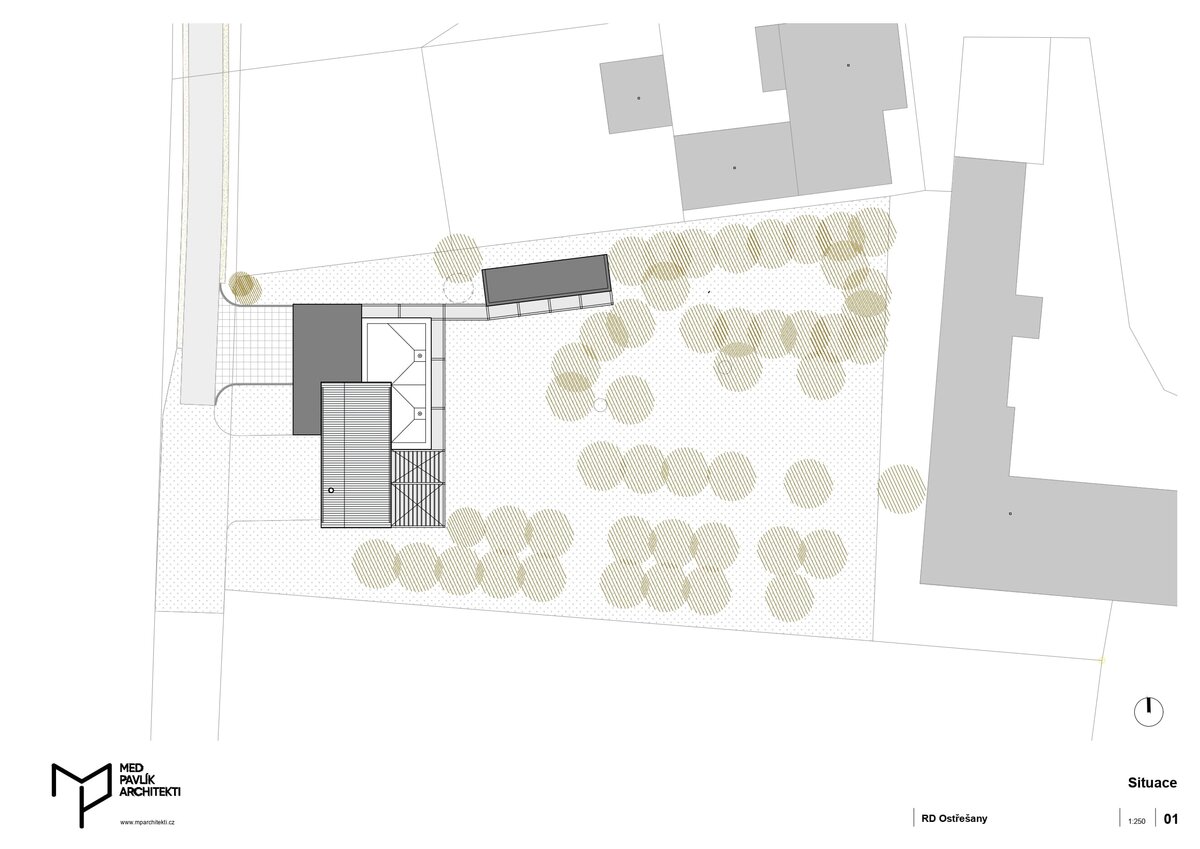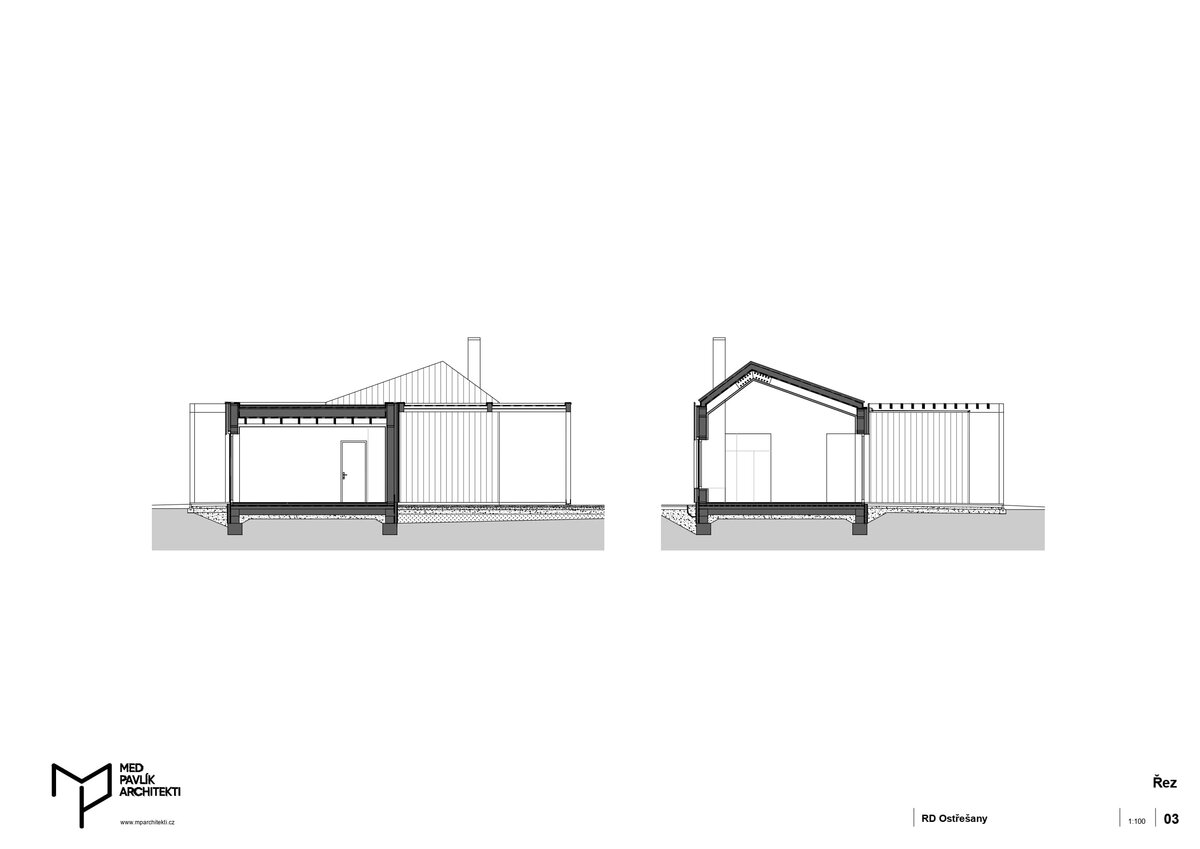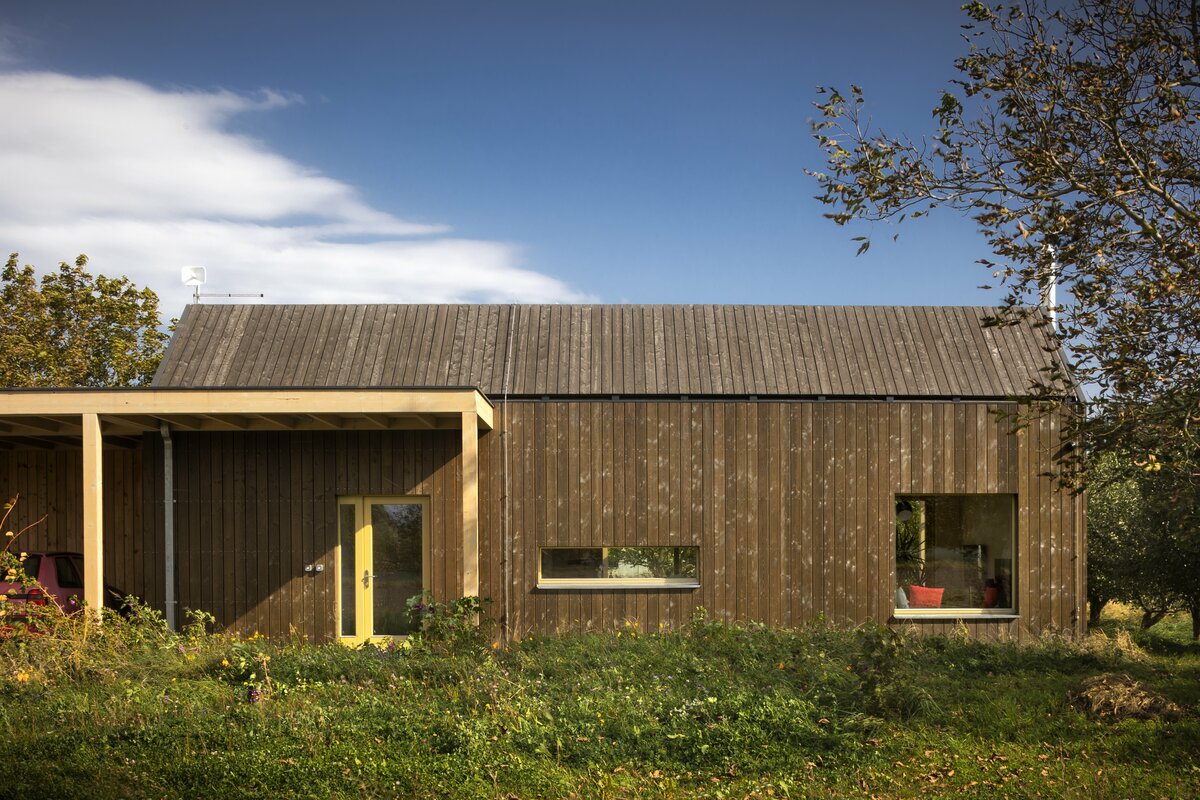 | | |
| --- | --- |
| Author | Med Pavlík architekti |
| Studio | |
| Location | Ostřešany 430, Pardubický kraj |
| Investor | soukromý |
| Supplier | Lukáš Kubů, tesař |
| Date of project approval | July 2021 |
| Fotograf | |
The investors of this house lived in a tastefully renovated large country house on the outskirts of the city. A new house is a life change. In careful discussions, we looked for minimal space for a comfortable life for their family. More important than the acreage of the rooms is living in harmony with an old orchard.
The house works with the concept of a grid of overhanging wooden construction, where the volumes of bedrooms and living space are inserted. Their mutual intersection then creates an entrance to the house, a communication node. The importance of the living space (the heart of the house) is emphasized by pushing this material out of the grid and using a gabled roof with a slightly offset ridge. The sun is let into the living space through two large windows on the west and south sides, where the living sill allows you to laze even in the winter months. These windows, combined with the window to the kitchen, form the characteristic entrance "face" of the house. The covered terrace to the east then connects the garden with the house. The wooden structure of the grid connects the house and the farm into one whole, it can also overgrow the greenery and let the house fully merge with the surrounding garden.
The sustainability is coded in the house by the approach of its builders. The house is as small as possible. It does not contain excess space. The biggest savings are achieved by the fact that the building material did not have to be produced, that there is no need to heat and maintain large, little-used spaces. Carbon footprint is minimalised, the house is designed as a wooden building in a two-by-four system with wood fiber thermal insulation. Wooden windows are equipped with external screen blinds. The sloping roof is designed as a double skin to minimalised overheating. Thanks to the careful solution of building structures and the minimization of the size of the house, the need for supplied energy is negligible and the wishes of investors to modest their needs have been fulfilled instead of investing in expensive technologies and thus contribute to environmental protection.
Green building
Environmental certification
| | |
| --- | --- |
| Type and level of certificate | - |
Water management
| | |
| --- | --- |
| Is rainwater used for irrigation? | |
| Is rainwater used for other purposes, e.g. toilet flushing ? | |
| Does the building have a green roof / facade ? | |
| Is reclaimed waste water used, e.g. from showers and sinks ? | |
The quality of the indoor environment
| | |
| --- | --- |
| Is clean air supply automated ? | |
| Is comfortable temperature during summer and winter automated? | |
| Is natural lighting guaranteed in all living areas? | |
| Is artificial lighting automated? | |
| Is acoustic comfort, specifically reverberation time, guaranteed? | |
| Does the layout solution include zoning and ergonomics elements? | |
Principles of circular economics
| | |
| --- | --- |
| Does the project use recycled materials? | |
| Does the project use recyclable materials? | |
| Are materials with a documented Environmental Product Declaration (EPD) promoted in the project? | |
| Are other sustainability certifications used for materials and elements? | |
Energy efficiency
| | |
| --- | --- |
| Energy performance class of the building according to the Energy Performance Certificate of the building | A |
| Is efficient energy management (measurement and regular analysis of consumption data) considered? | |
| Are renewable sources of energy used, e.g. solar system, photovoltaics? | |
Interconnection with surroundings
| | |
| --- | --- |
| Does the project enable the easy use of public transport? | |
| Does the project support the use of alternative modes of transport, e.g cycling, walking etc. ? | |
| Is there access to recreational natural areas, e.g. parks, in the immediate vicinity of the building? | |