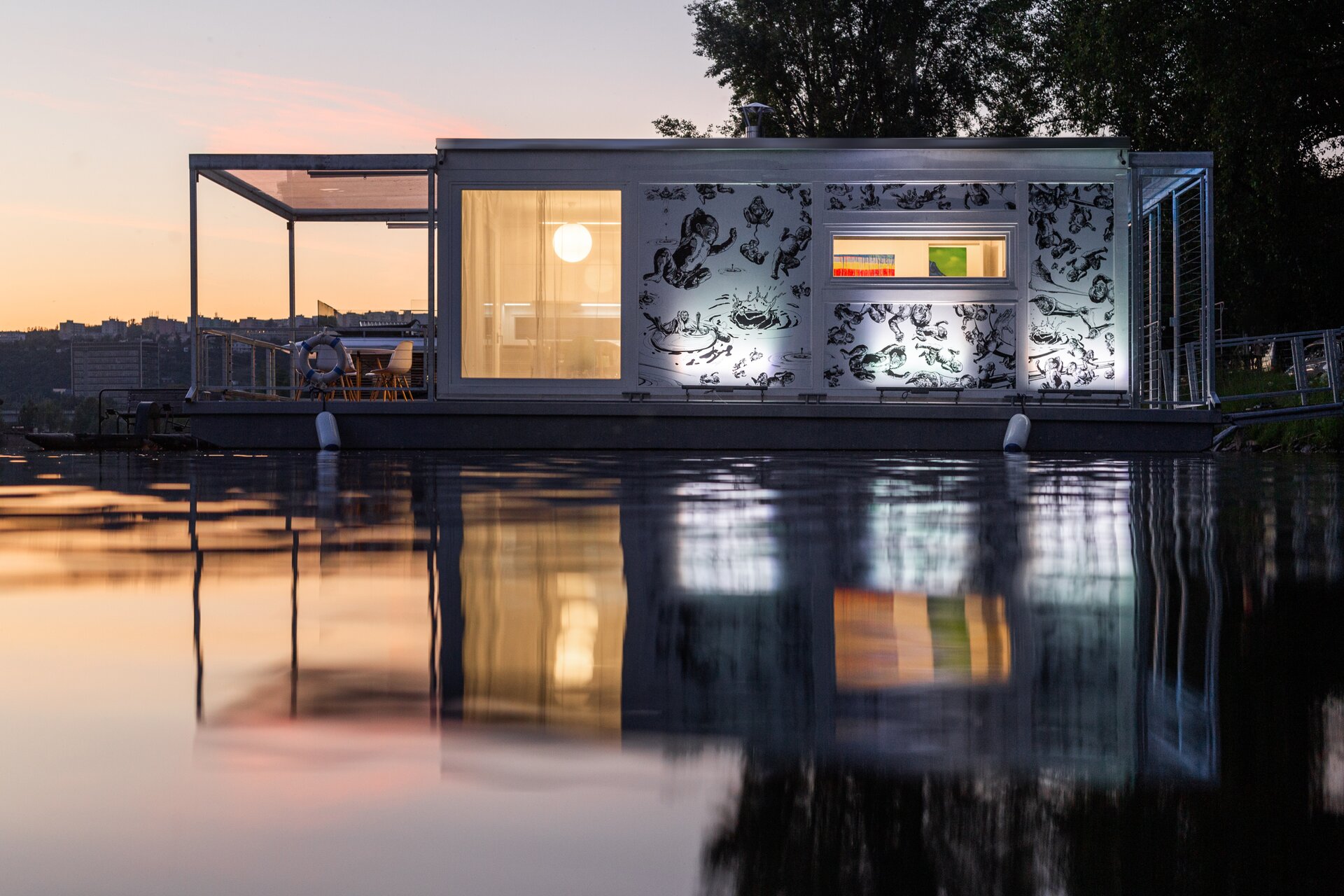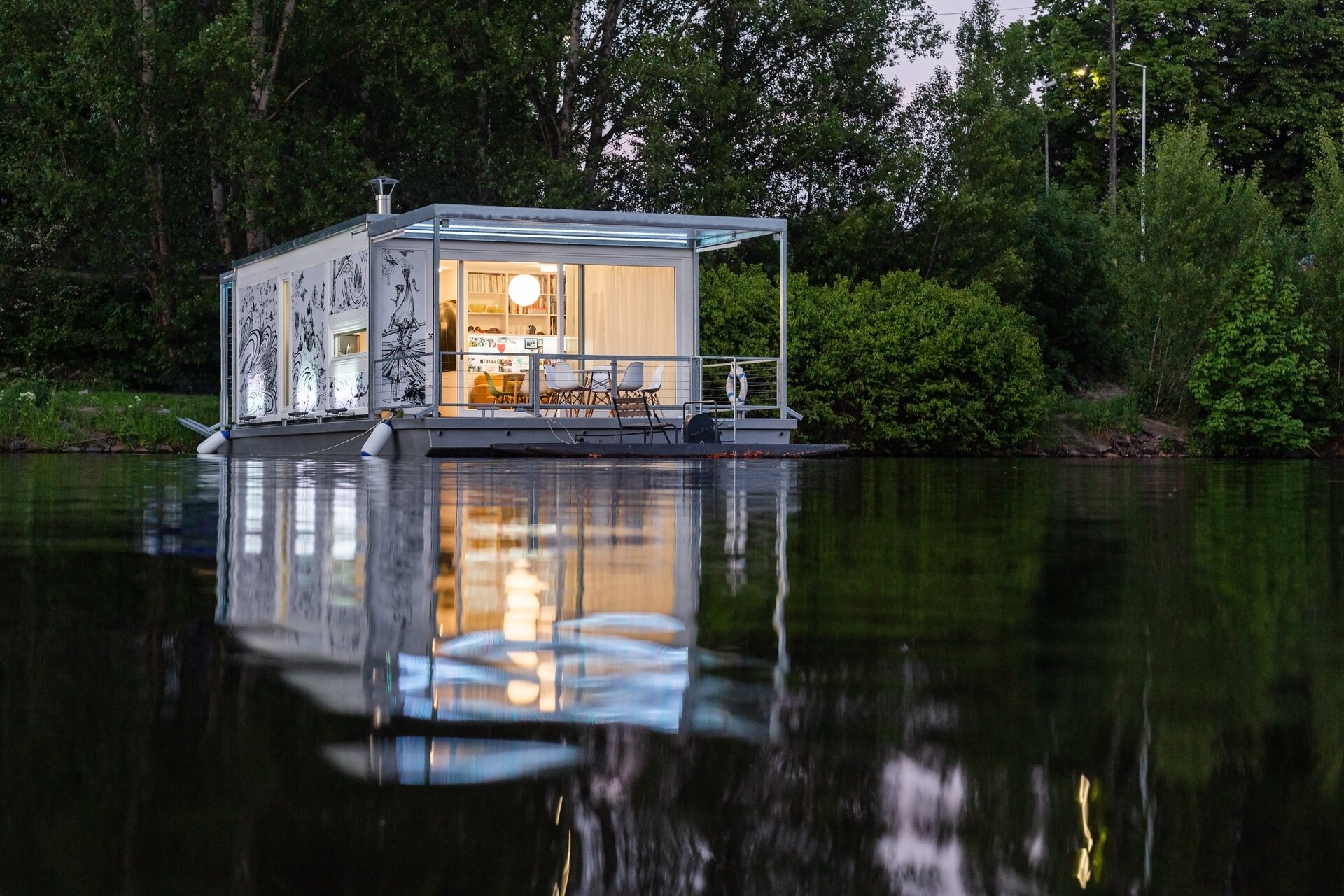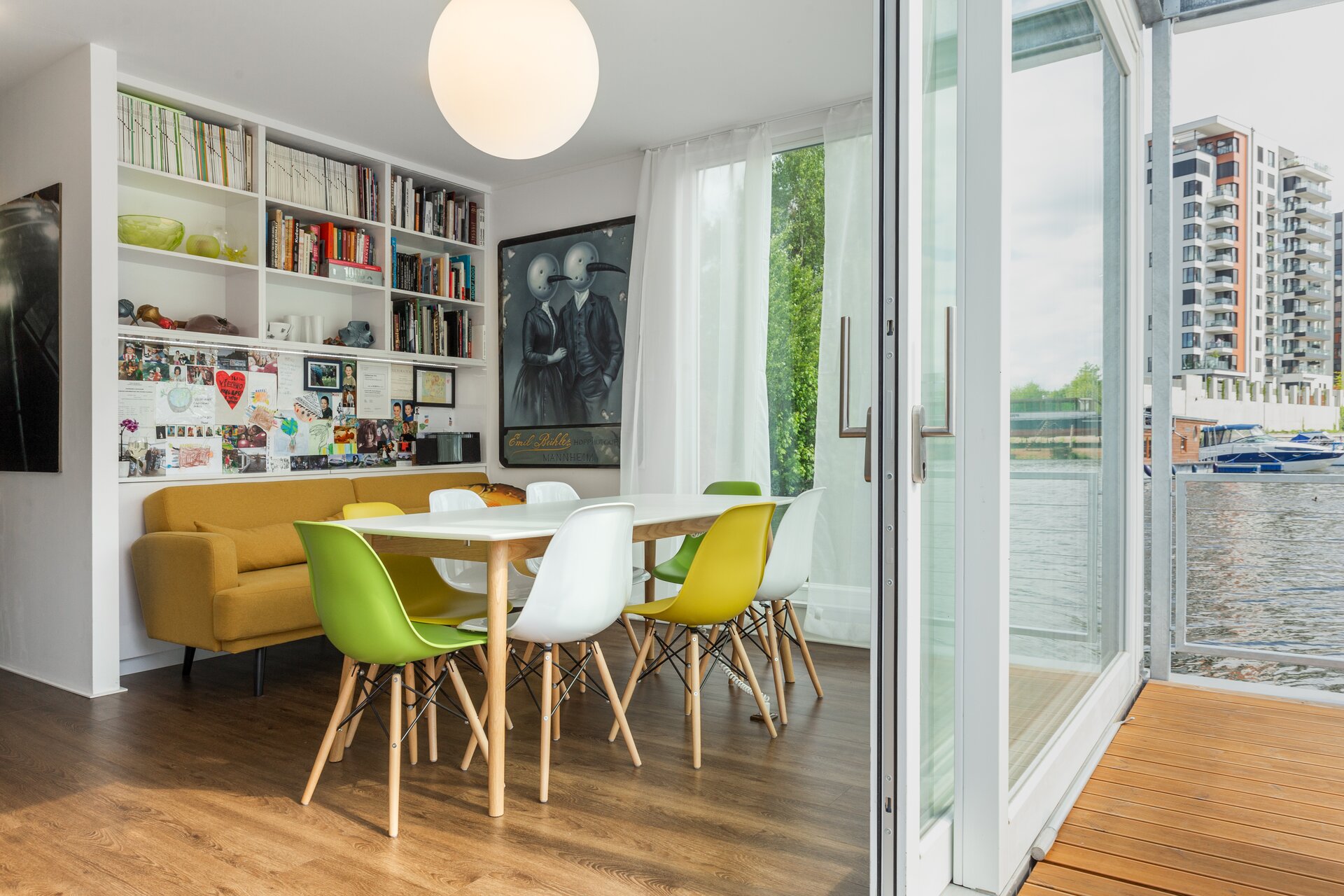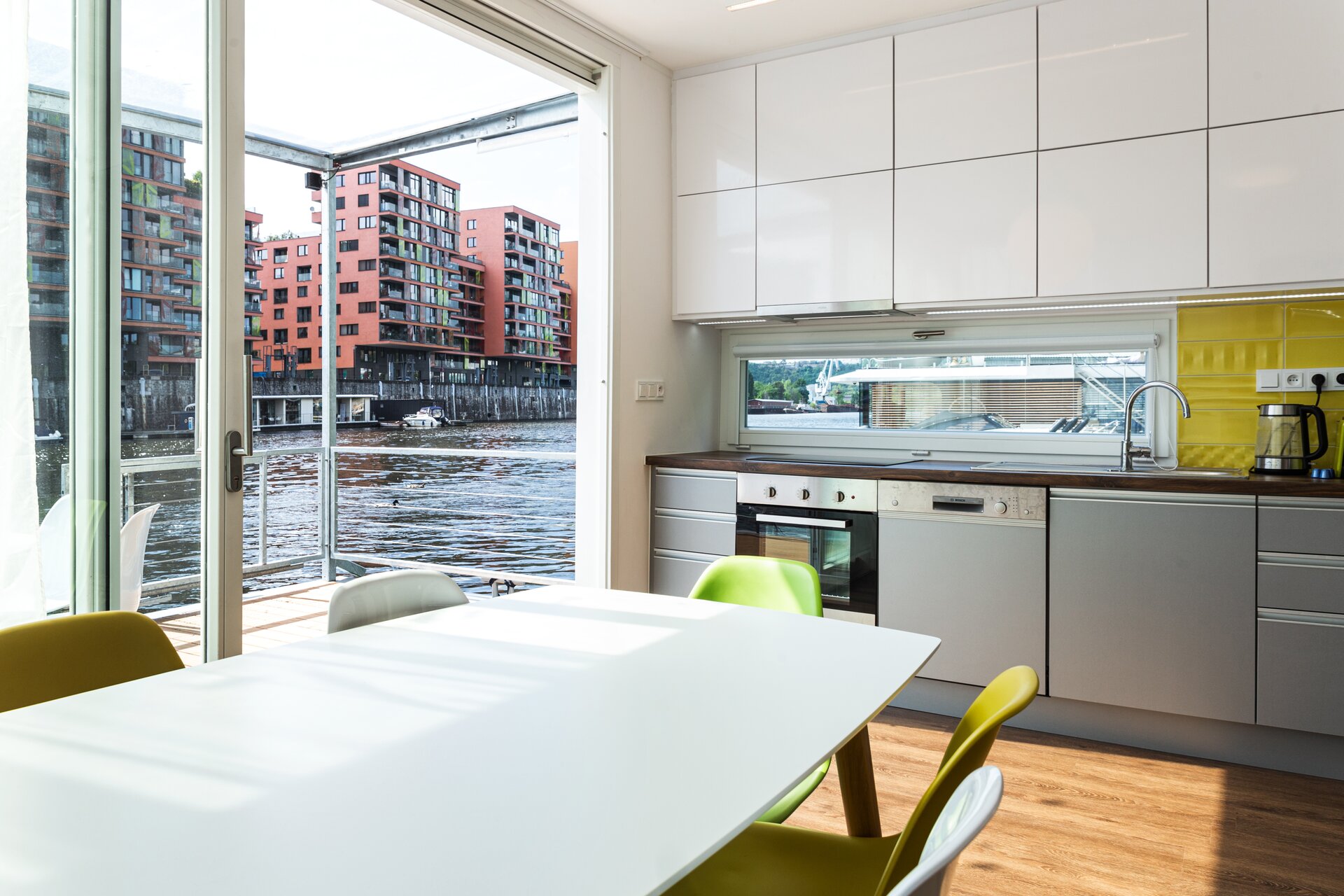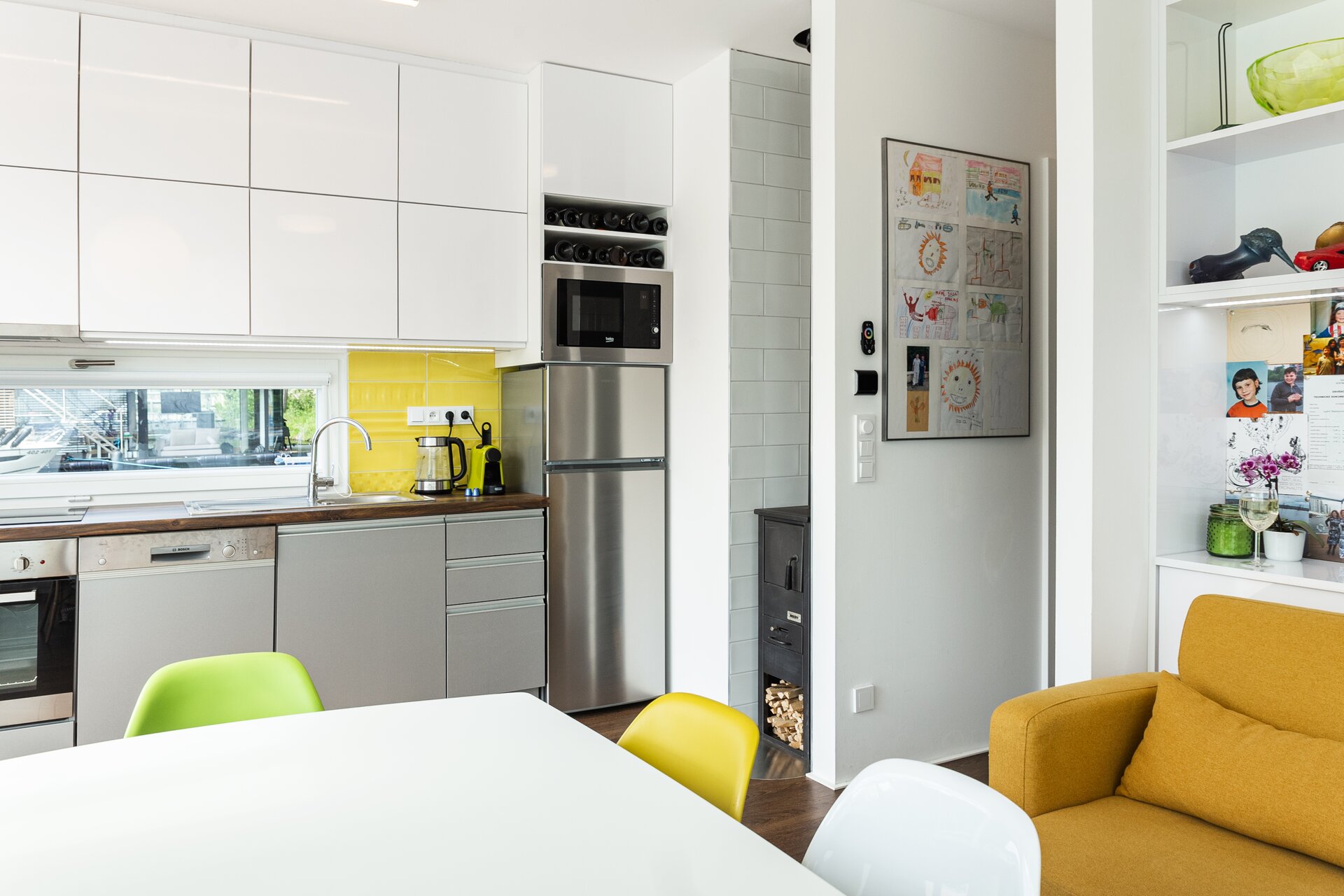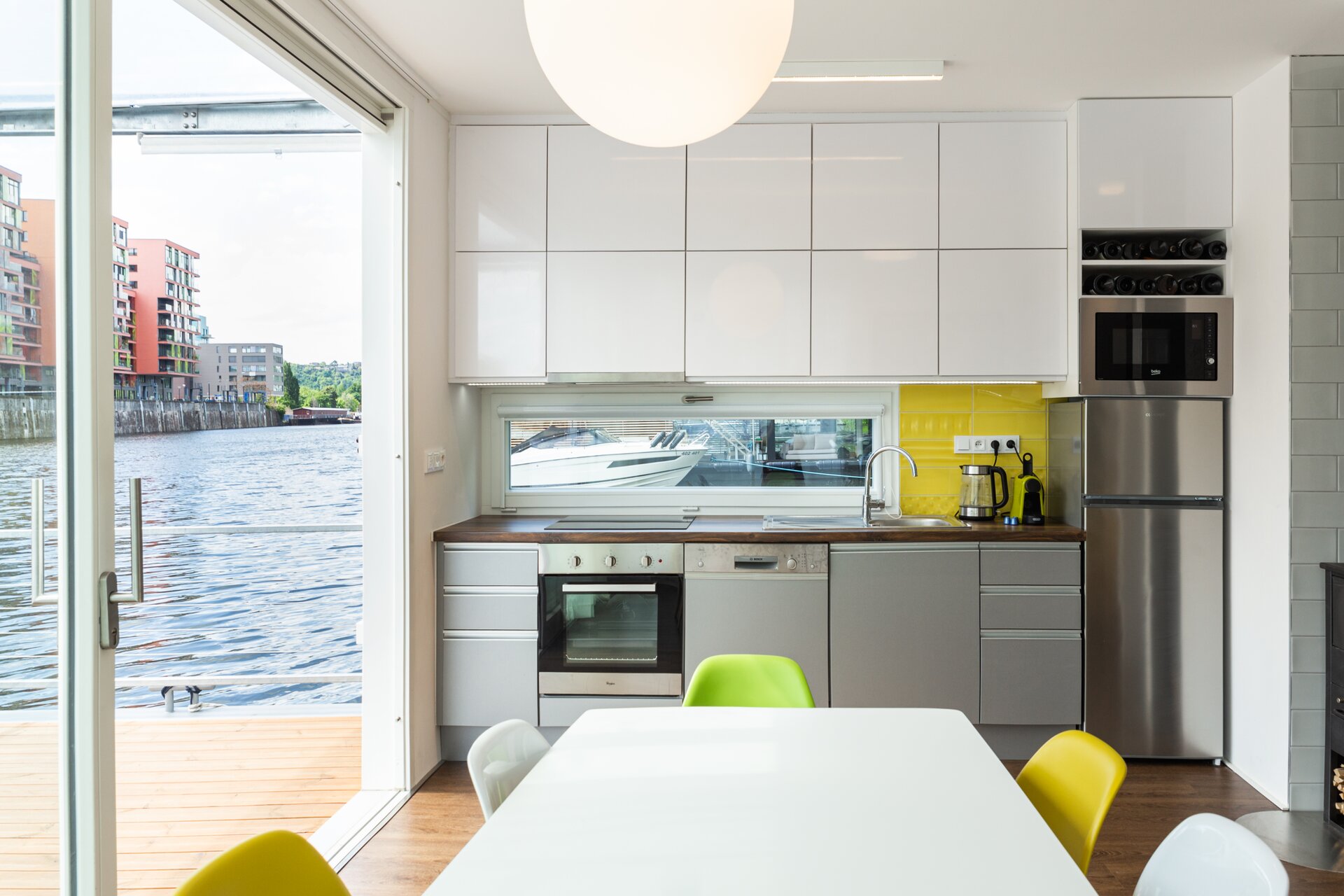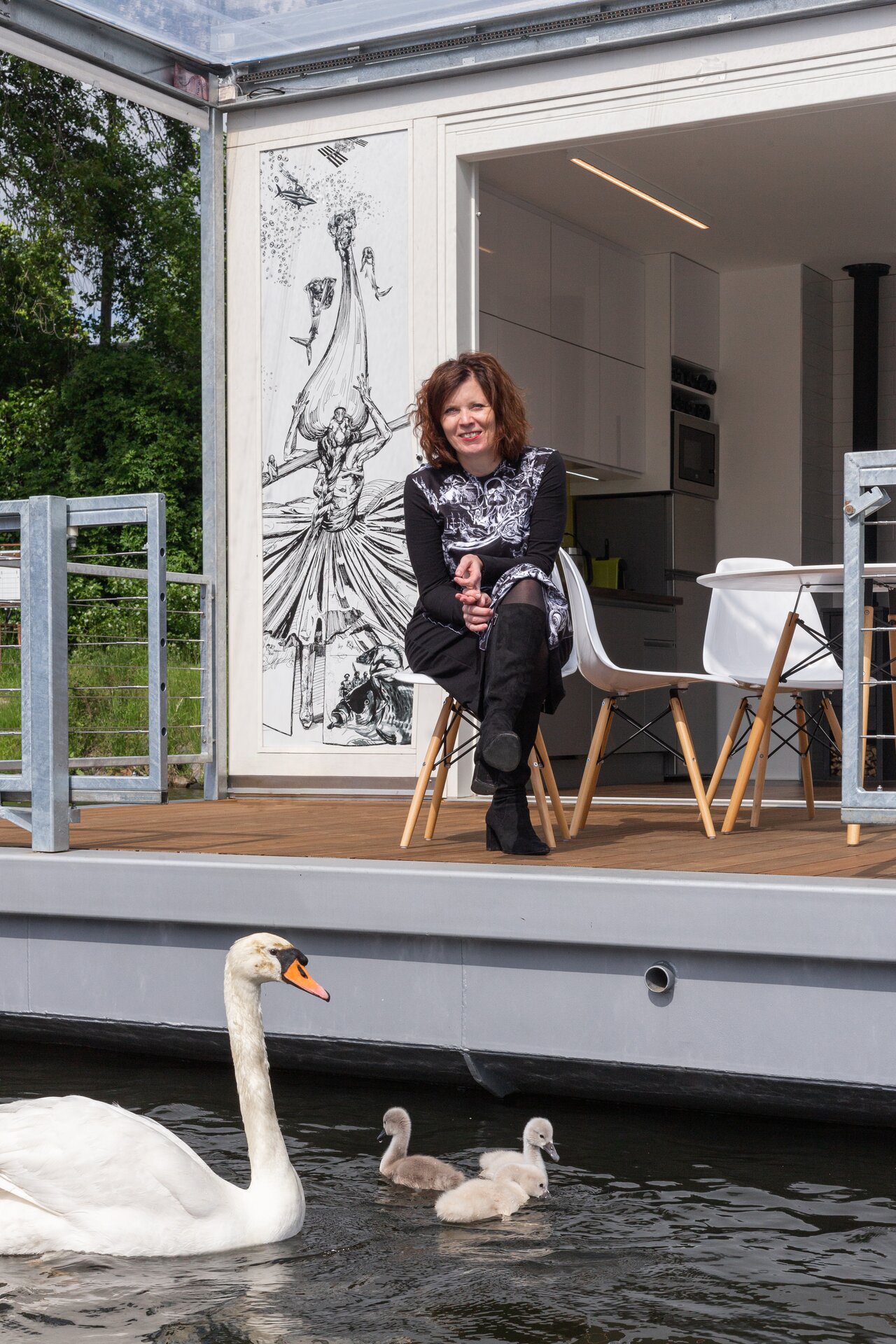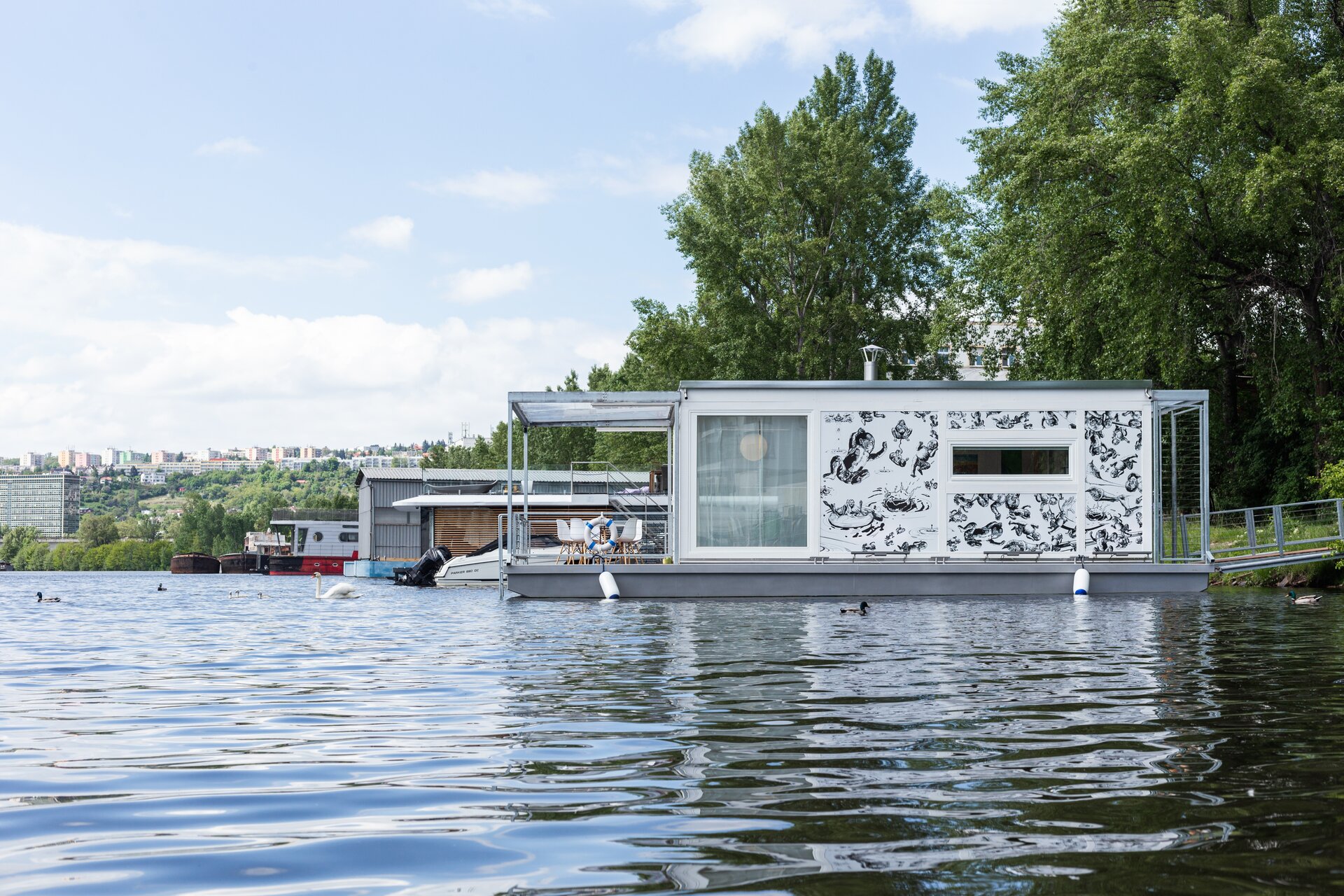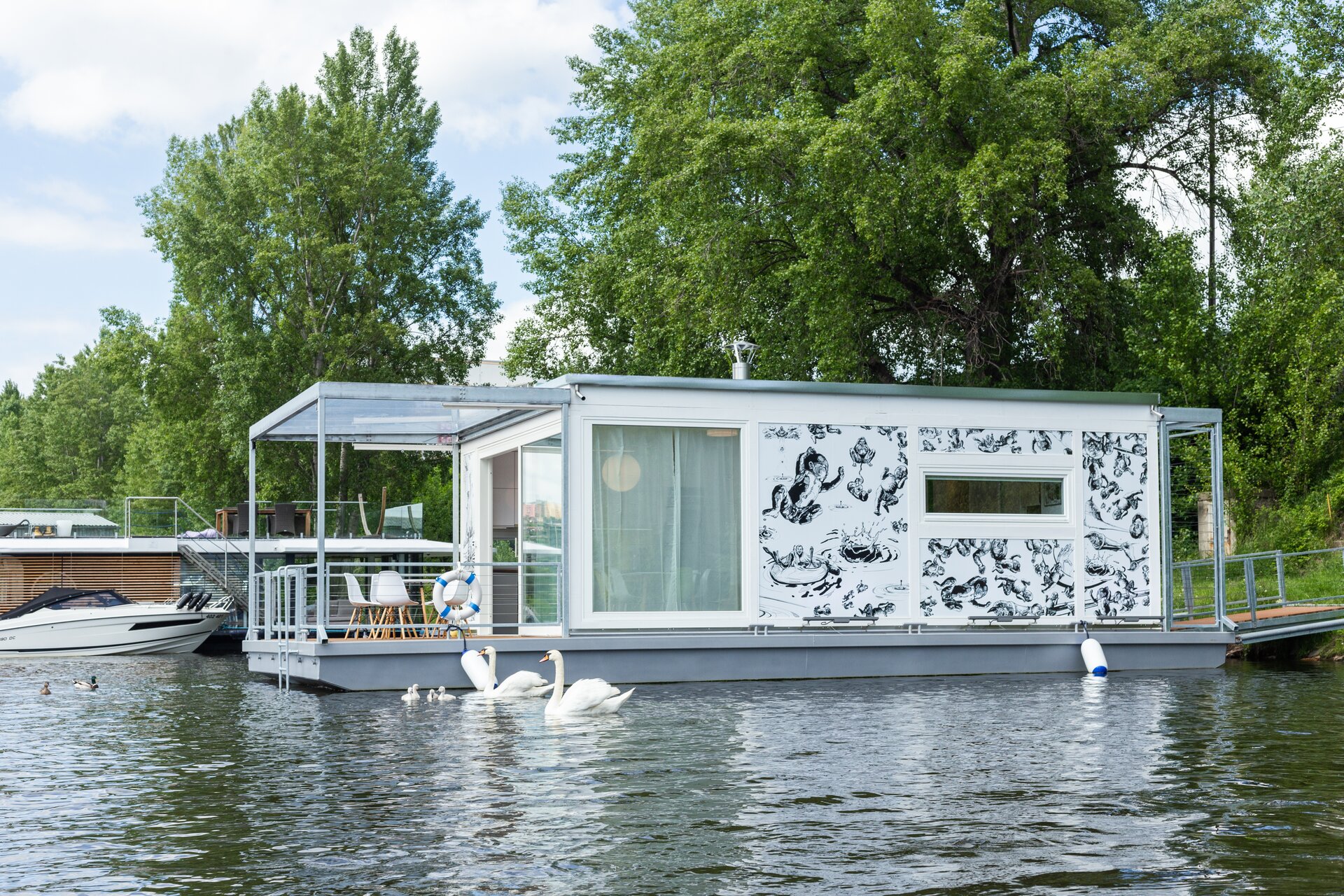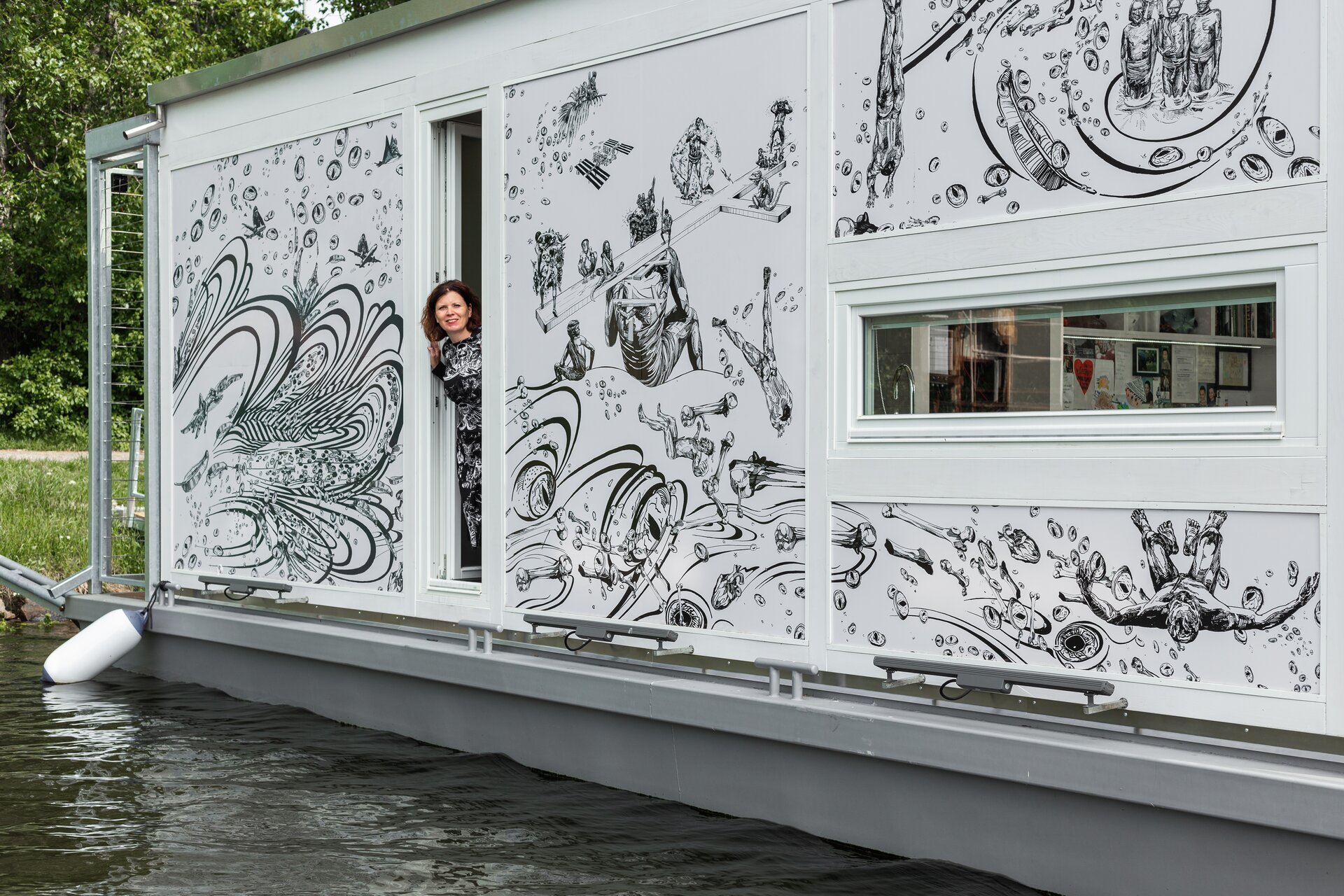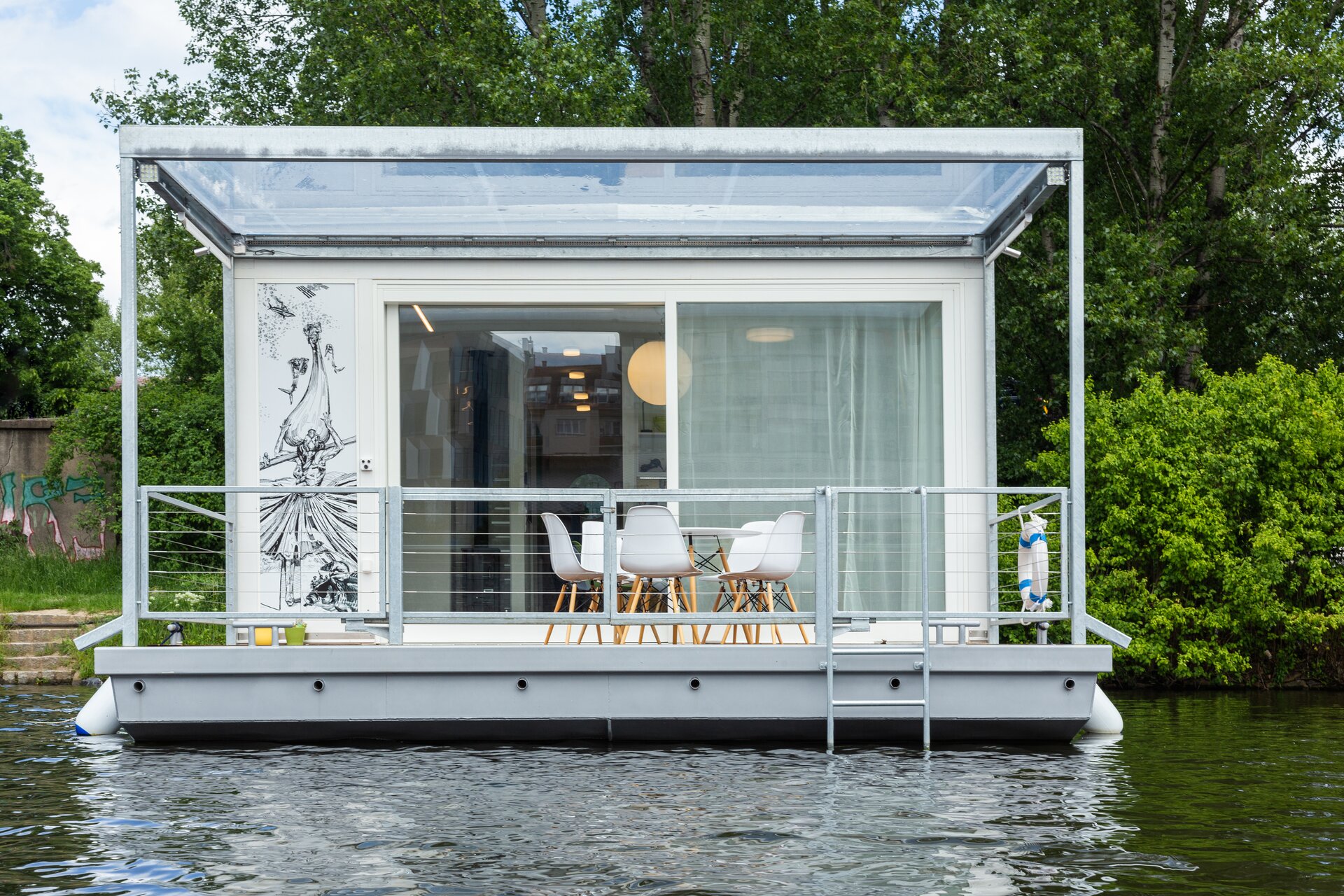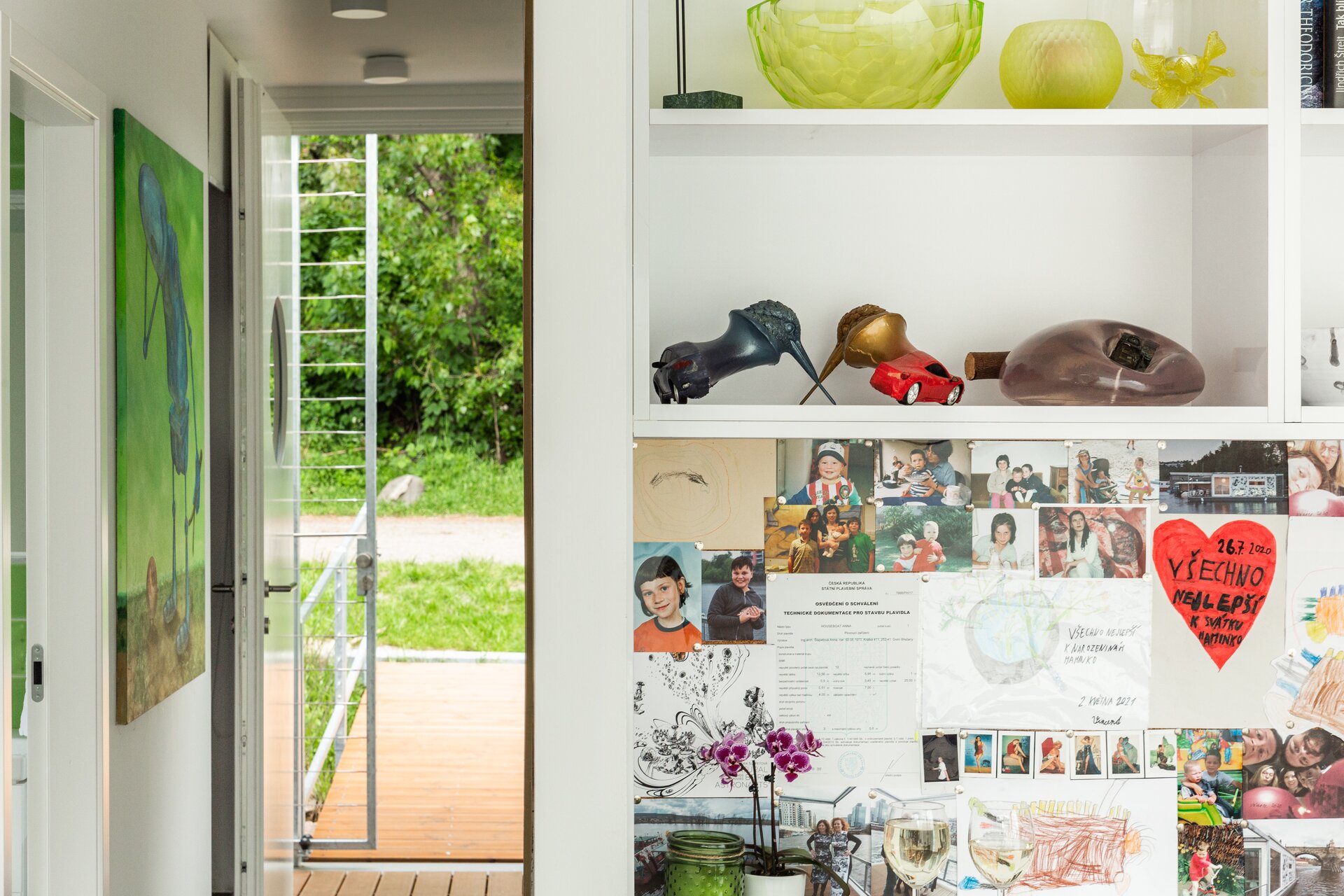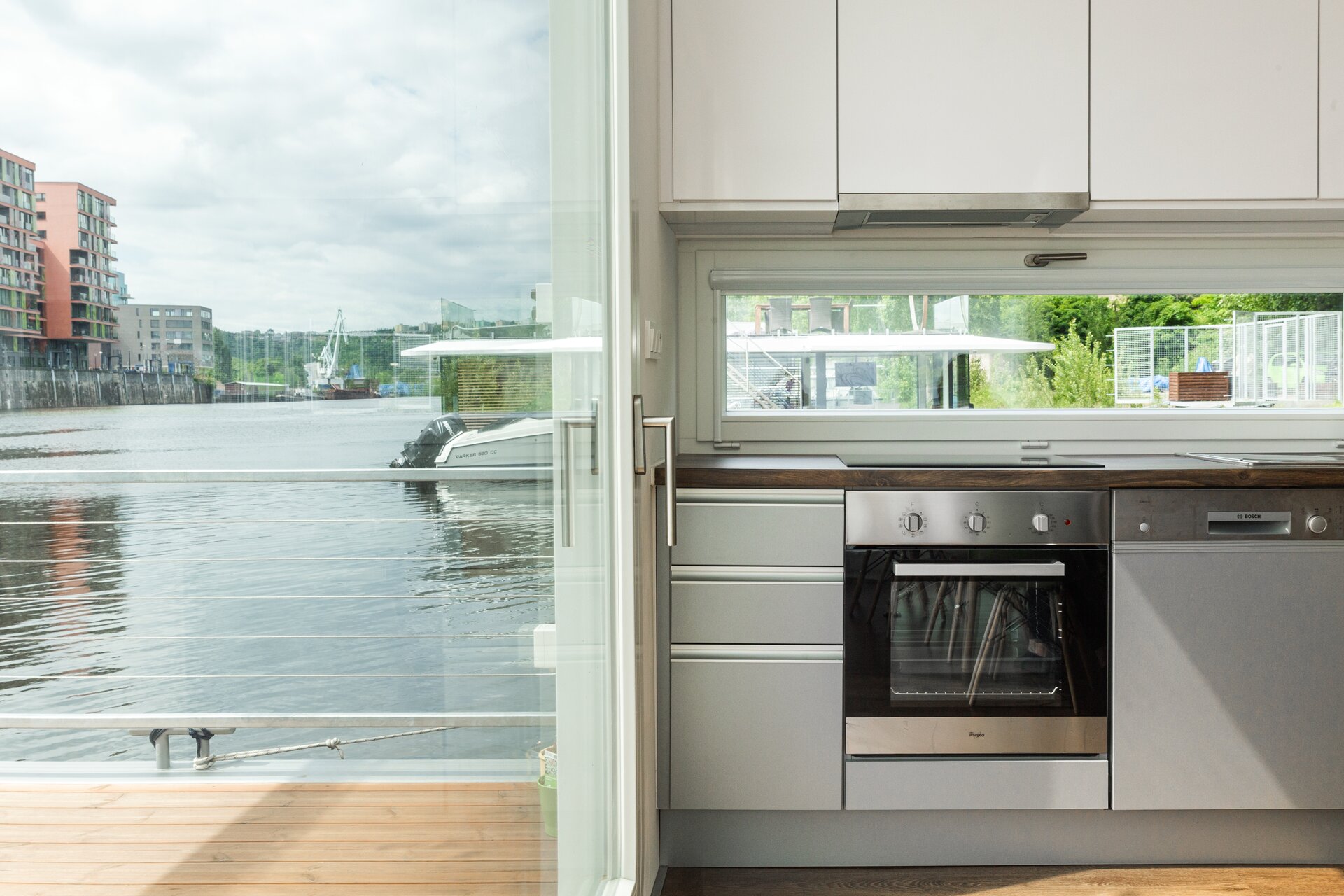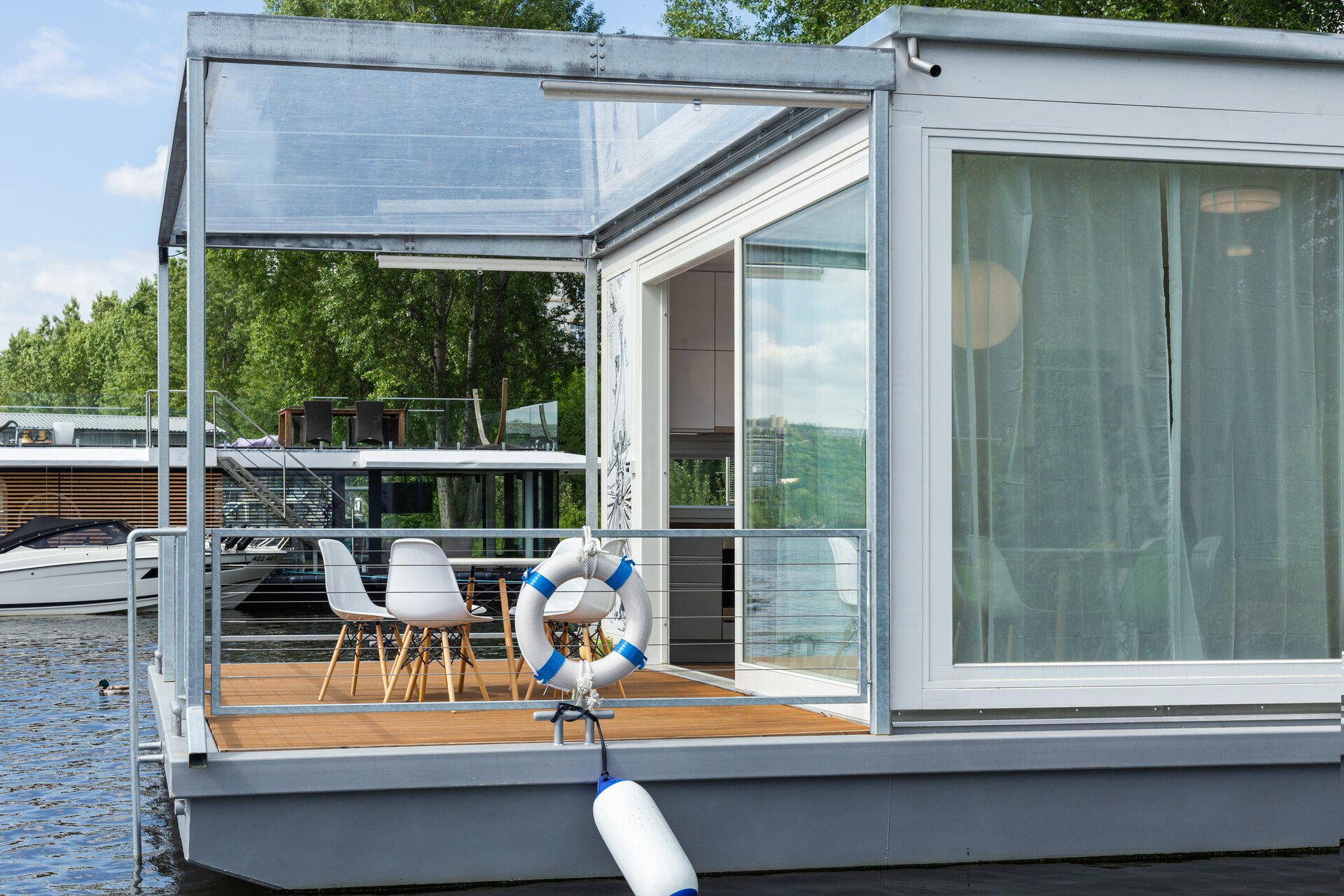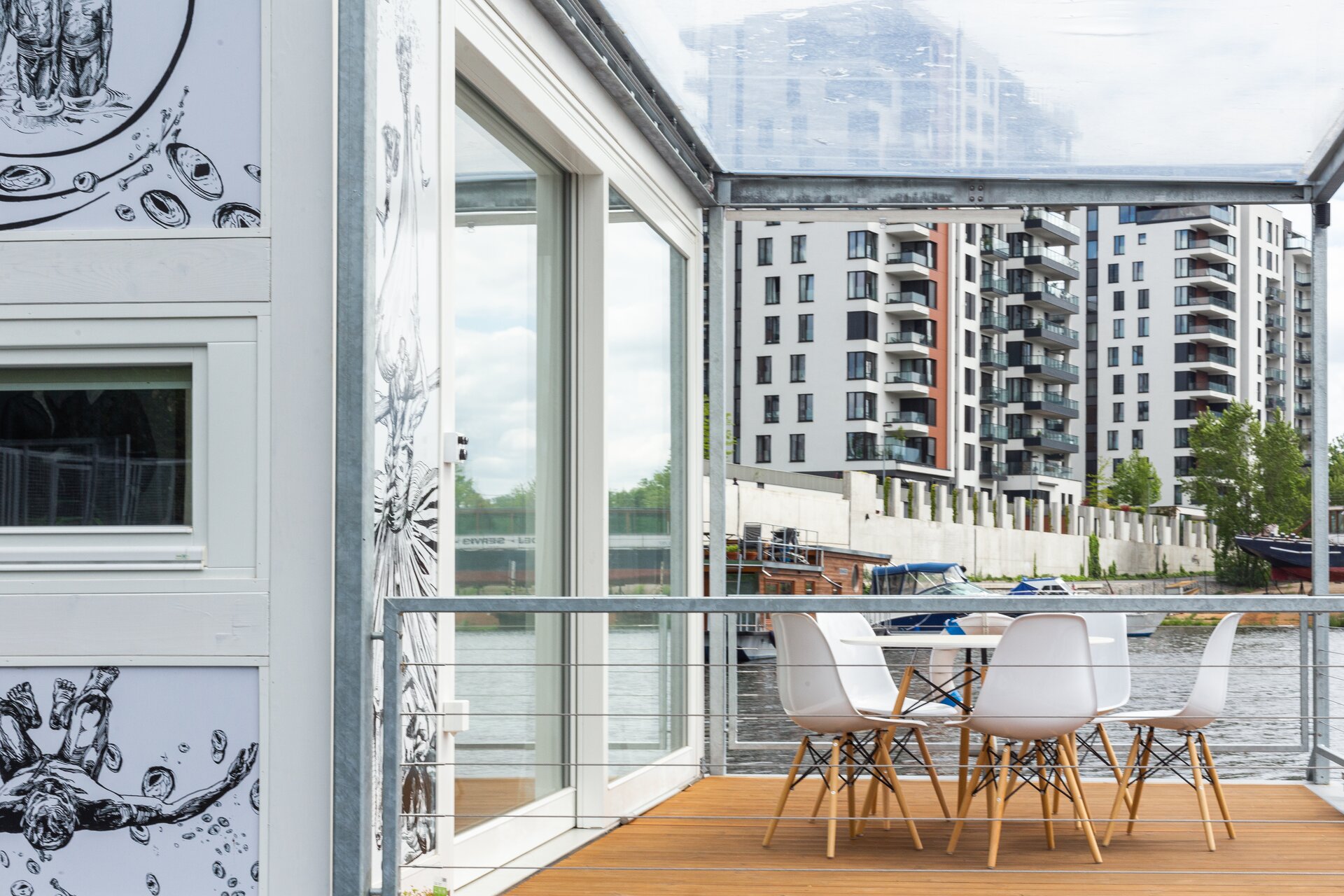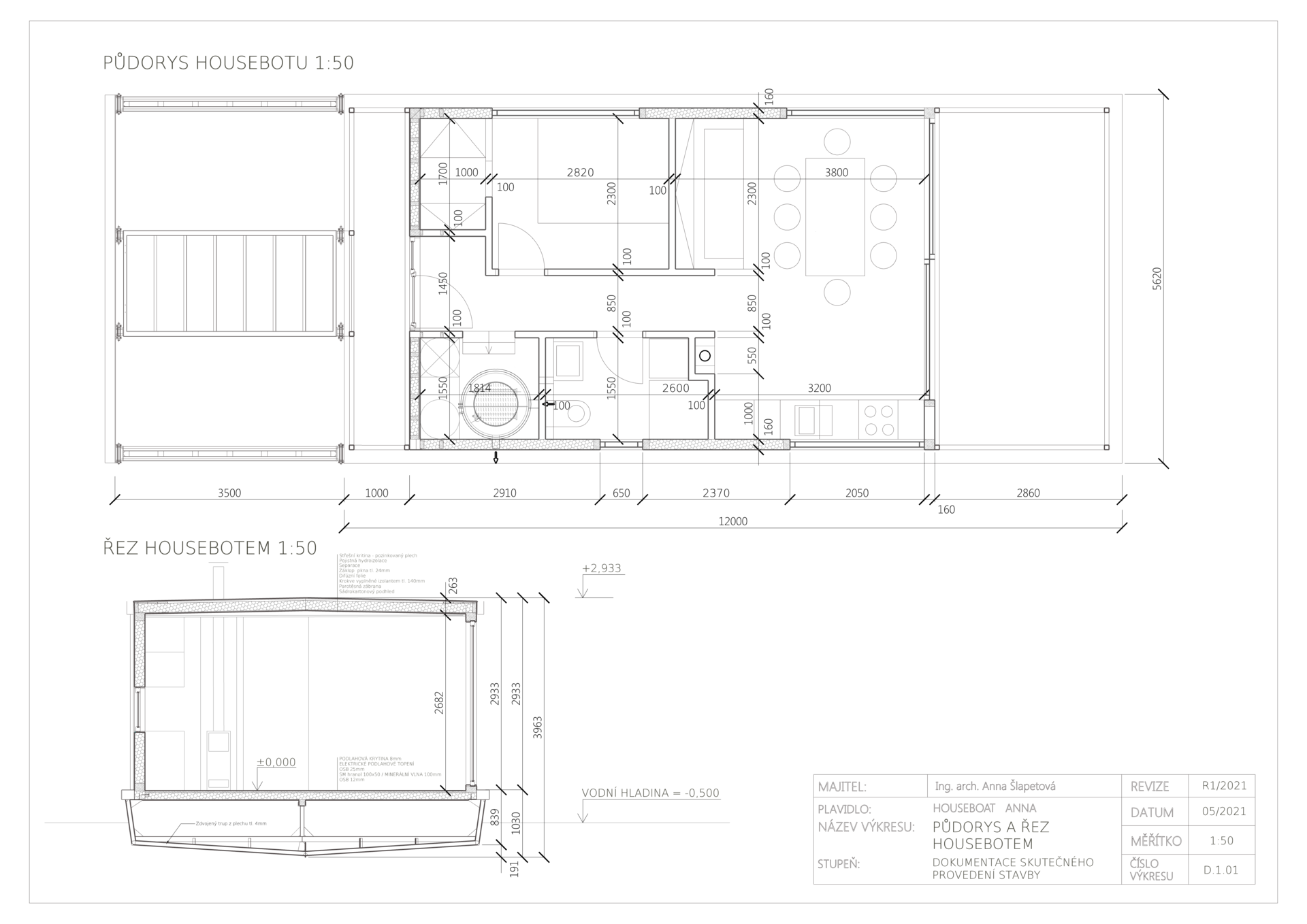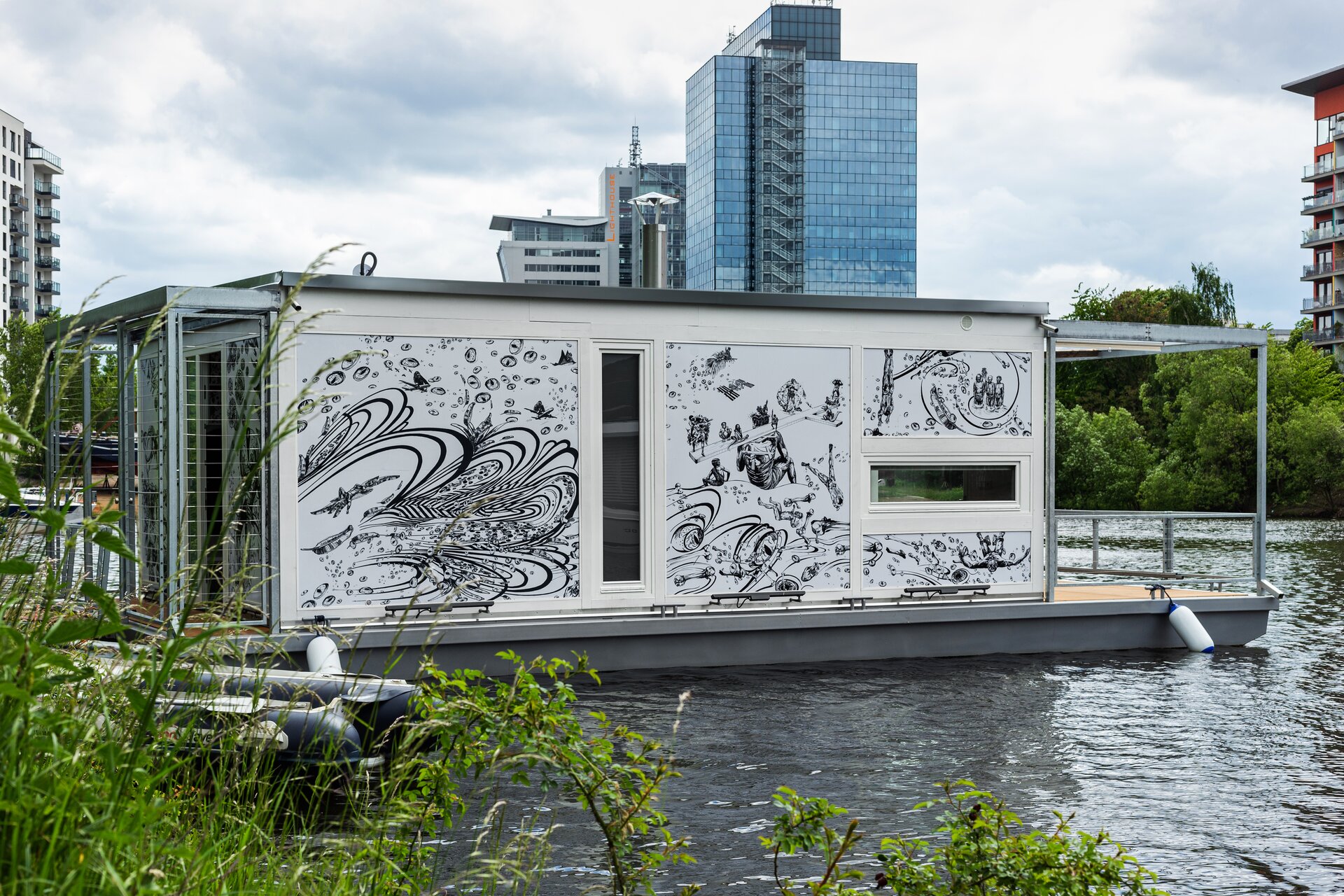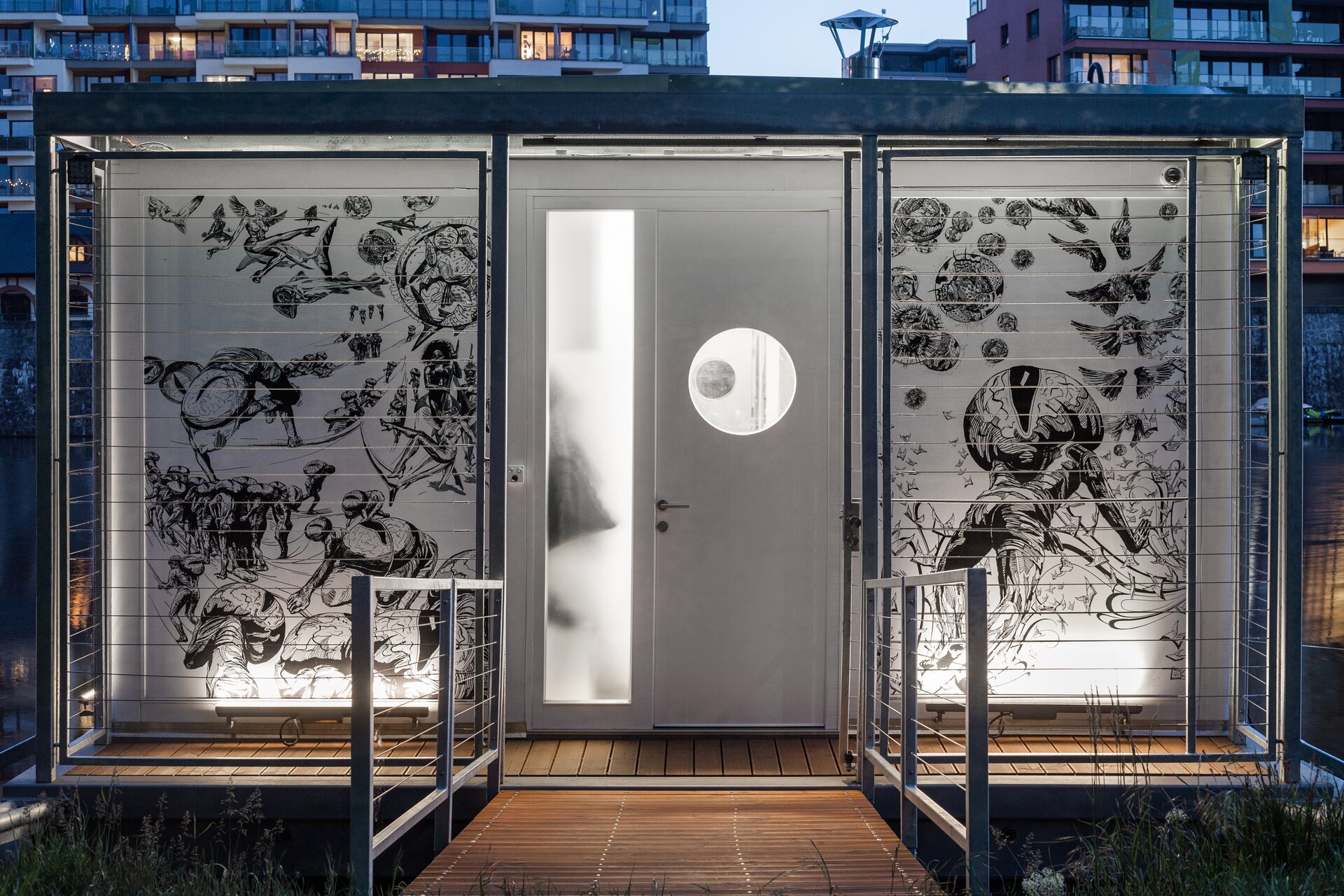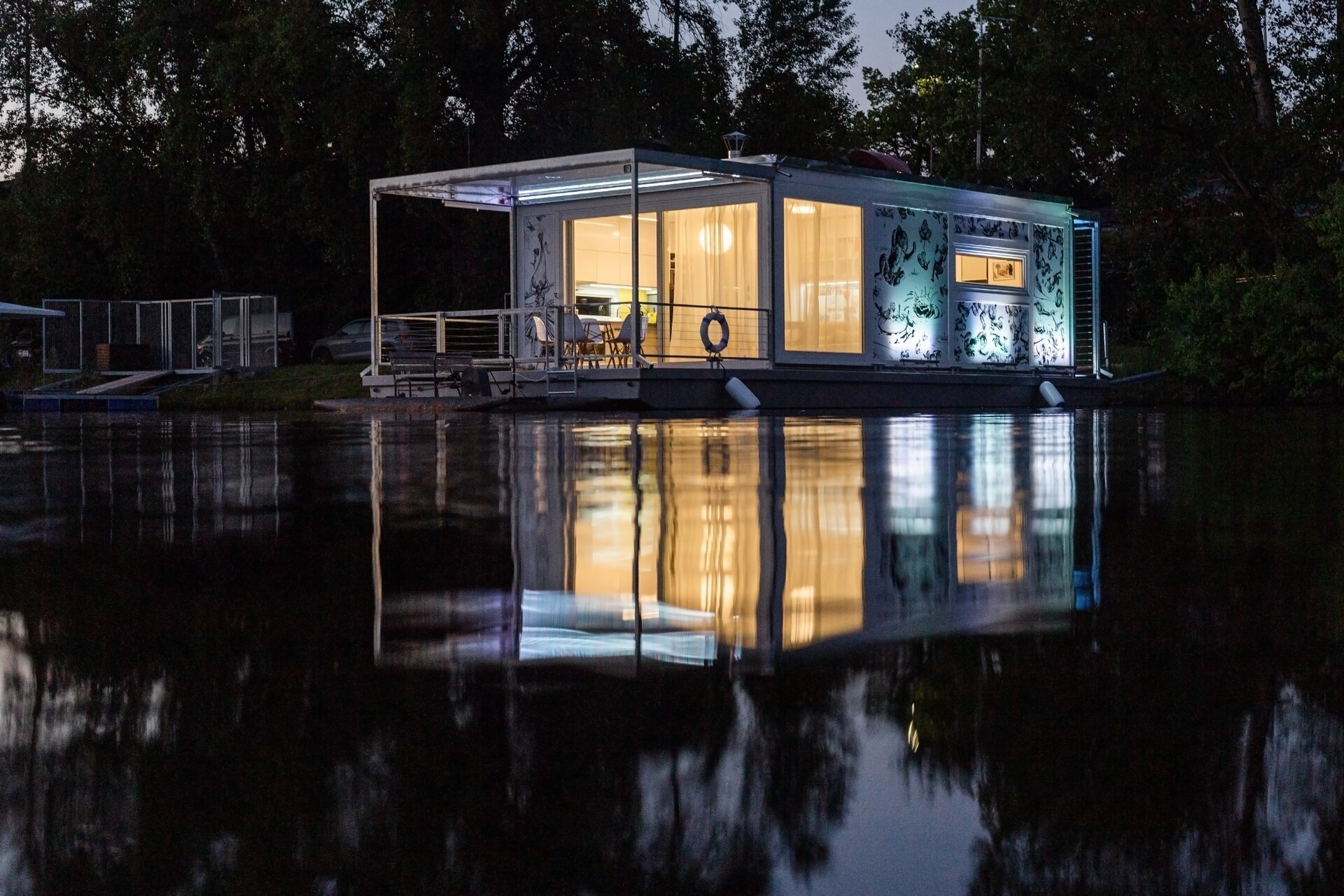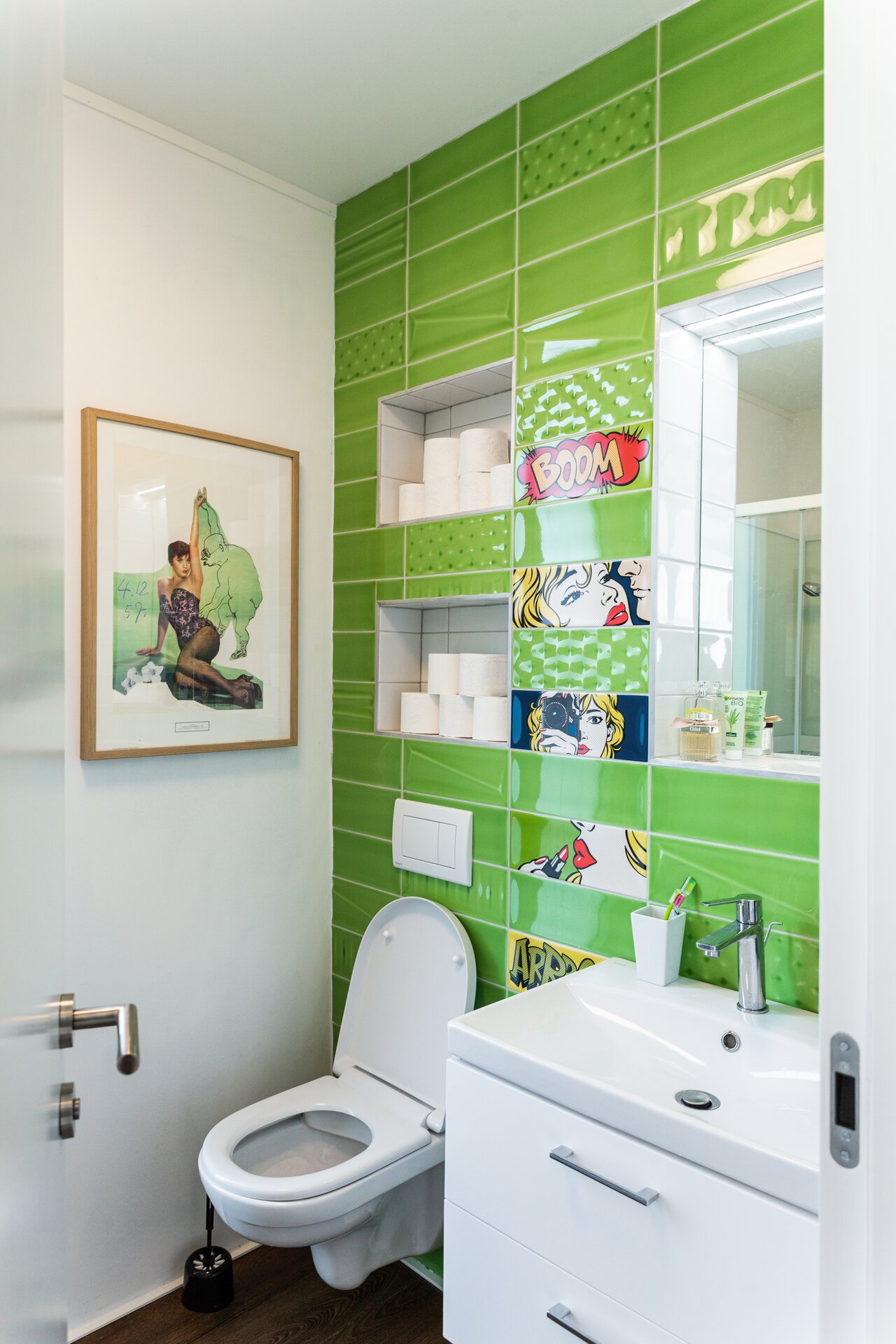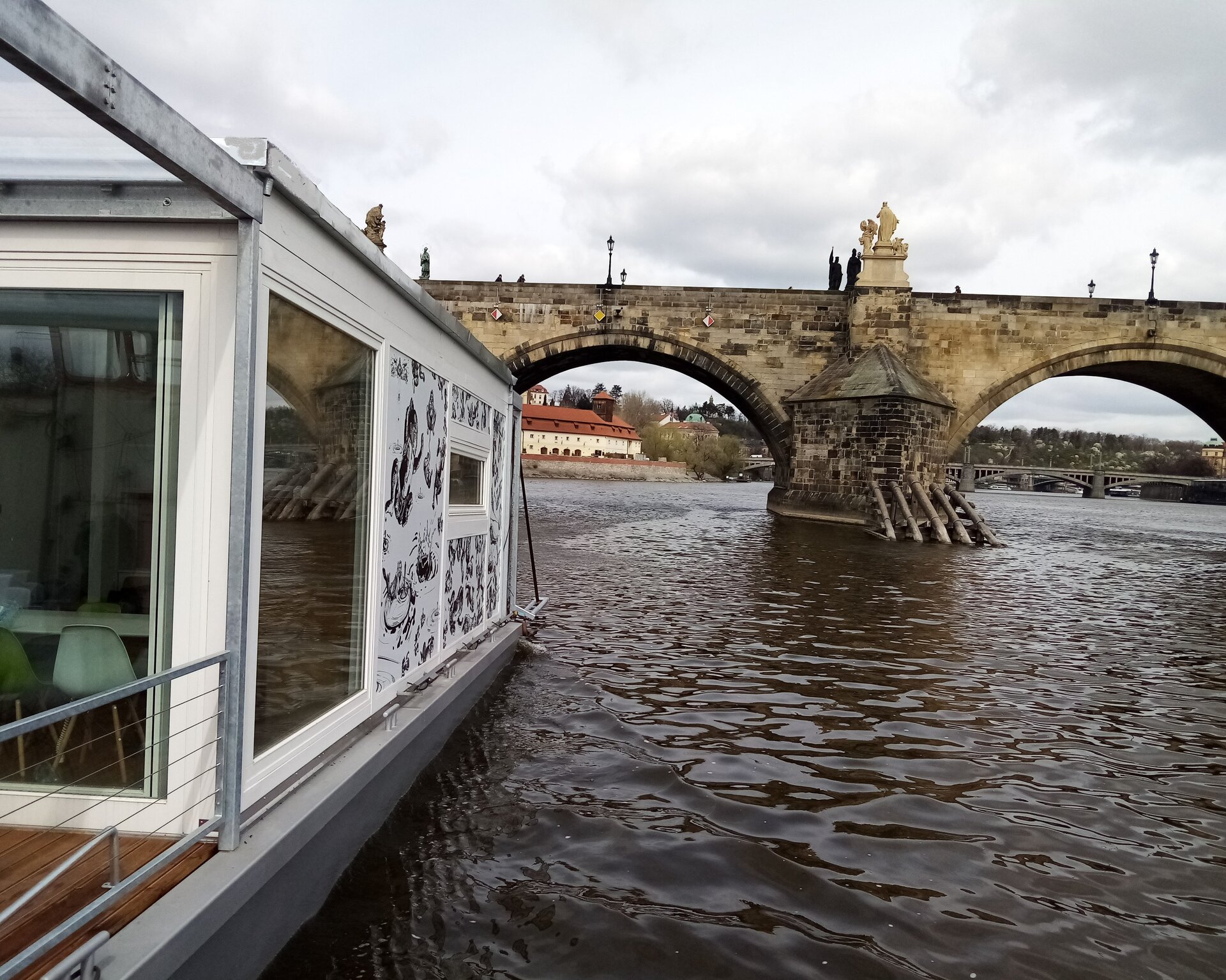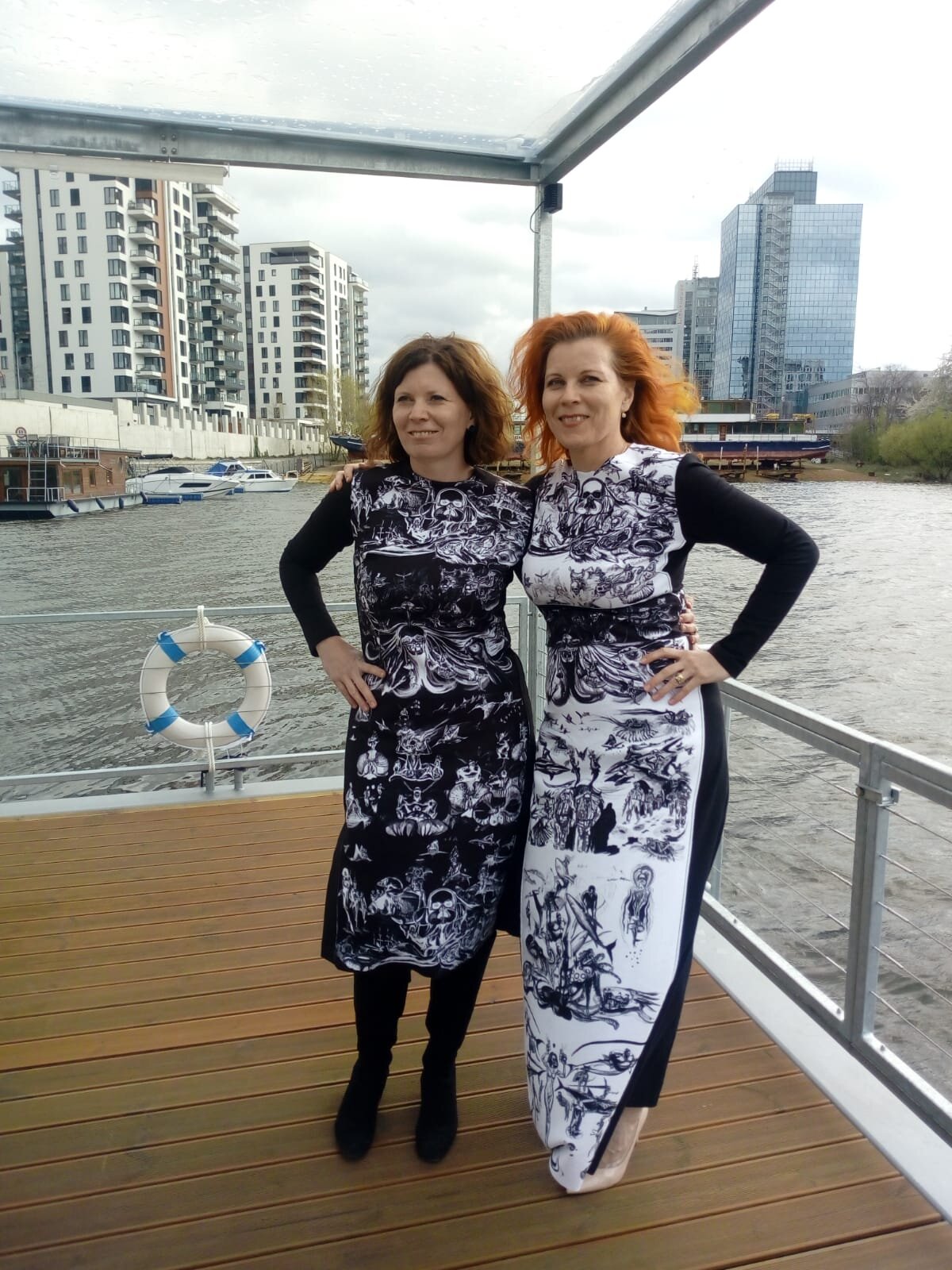 Author
Ing. arch. Anna Šlapetová
Studio
Location
PŘÍSTAV HOLEŠOVICE, Praha 7 (nejblíže ulice Sanderova, souřadnice (50.10, 14.45)
Investor
Ing. arch. Anna Šlapetová, Krátká 411, 252 41 Dolní Břežany
tel.: +420 776 496 586 www.annaslapetova.com
Supplier
Ing. arch. Anna Šlapetová, Krátká 411, 252 41 Dolní Břežany, tel.: +420 776 496 586 www.annaslapetova.com
Obrazy na všech fasádách: Mgr.ak.mal. Barbora Šlapetová
Stavba - Hausboty a lodě Novák (Chyňava)
Date of project approval
March 2021
Fotograf
The main idea of living on the water is to fulfill a romantic dream and demonstrate the symbiosis of painting and architecture. It is an example of the love of the twins. I am from the twins. (painter Barbora and architect Anna) Also here these two professions act as twins. One supports and underlines the other. (In reality it often happens that people complete building the house and there is no money left for art. In this houseboat art is the main vision) The paintings on the facade tell stories of our lives. There are also Papuan guards guarding the houseboat😊
Houseboat has different rules than living on land, you project it as a vessel. Among others you need to be a captain. As a result, you will get a comfortable whole year living apartment with the ground plan about 12x6m, clear height of 2.6m.
The technical solution is – a steel bath(tube) with stiffening ribs, where the technology of the purifier and the pipes of the infrastructure lead (electric and water) from the bank.
There is a wooden building with a metal roof above the bathtub.
Pergolas are made of steel as well with a membrane and railings with stainless steel ropes.
The footbridge articulated joint. The terrace is wooden. Heating in the building is electric floor, remote controlled. The lighting of the paintings is along the entire board. The cleaner(purifier) is below deck. Washing machine with dryer is in technology. The water connection is heated to ensure whole year use. The kitchen is fully equipped (dishwasher, refrigerator, oven, stove, hood, microwave)
The total weight is about 27 tons, prescribed for 12 people carrying capacity.
Green building
Environmental certification
| | |
| --- | --- |
| Type and level of certificate | - |
Water management
| | |
| --- | --- |
| Is rainwater used for irrigation? | |
| Is rainwater used for other purposes, e.g. toilet flushing ? | |
| Does the building have a green roof / facade ? | |
| Is reclaimed waste water used, e.g. from showers and sinks ? | |
The quality of the indoor environment
| | |
| --- | --- |
| Is clean air supply automated ? | |
| Is comfortable temperature during summer and winter automated? | |
| Is natural lighting guaranteed in all living areas? | |
| Is artificial lighting automated? | |
| Is acoustic comfort, specifically reverberation time, guaranteed? | |
| Does the layout solution include zoning and ergonomics elements? | |
Principles of circular economics
| | |
| --- | --- |
| Does the project use recycled materials? | |
| Does the project use recyclable materials? | |
| Are materials with a documented Environmental Product Declaration (EPD) promoted in the project? | |
| Are other sustainability certifications used for materials and elements? | |
Energy efficiency
| | |
| --- | --- |
| Energy performance class of the building according to the Energy Performance Certificate of the building | |
| Is efficient energy management (measurement and regular analysis of consumption data) considered? | |
| Are renewable sources of energy used, e.g. solar system, photovoltaics? | |
Interconnection with surroundings
| | |
| --- | --- |
| Does the project enable the easy use of public transport? | |
| Does the project support the use of alternative modes of transport, e.g cycling, walking etc. ? | |
| Is there access to recreational natural areas, e.g. parks, in the immediate vicinity of the building? | |