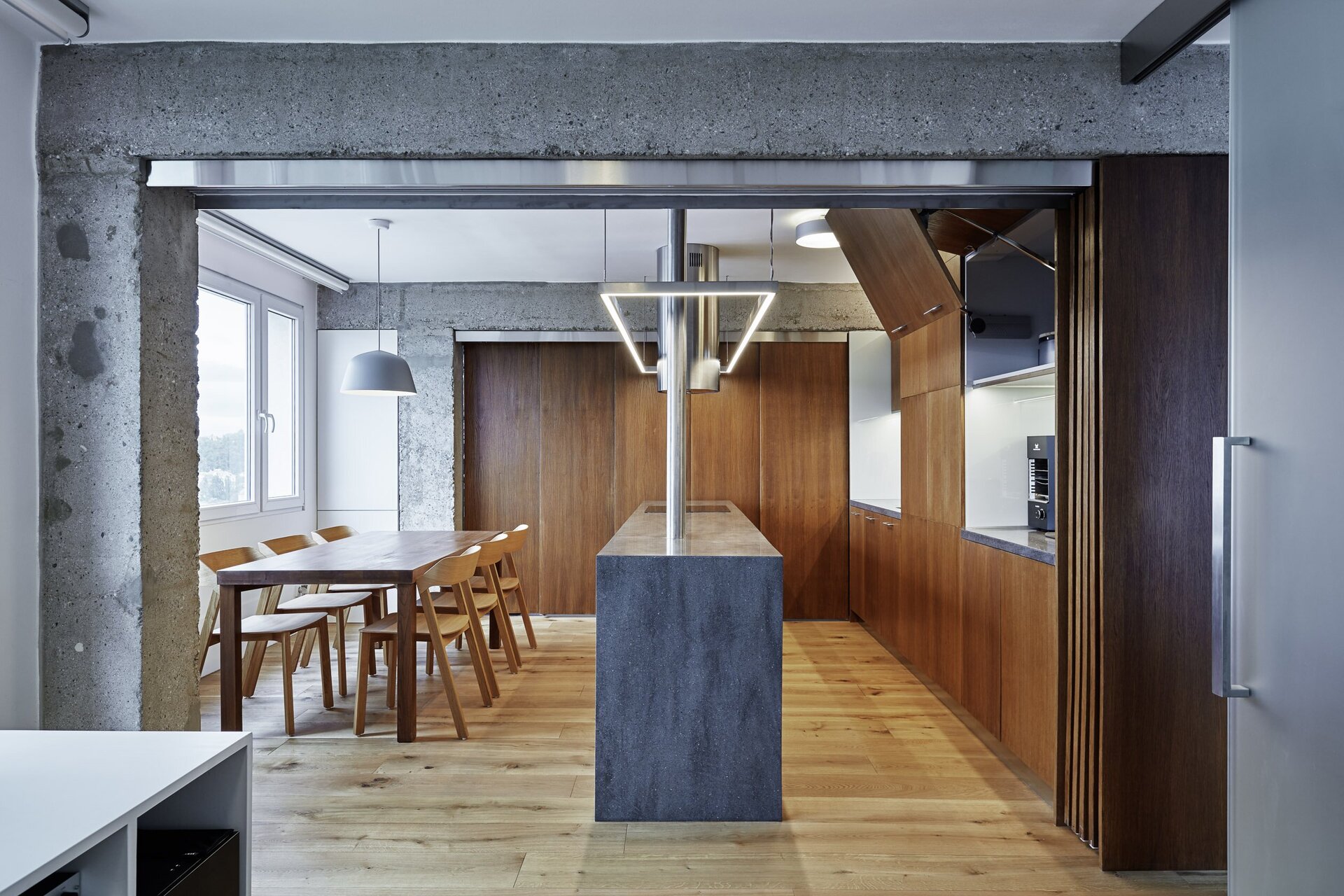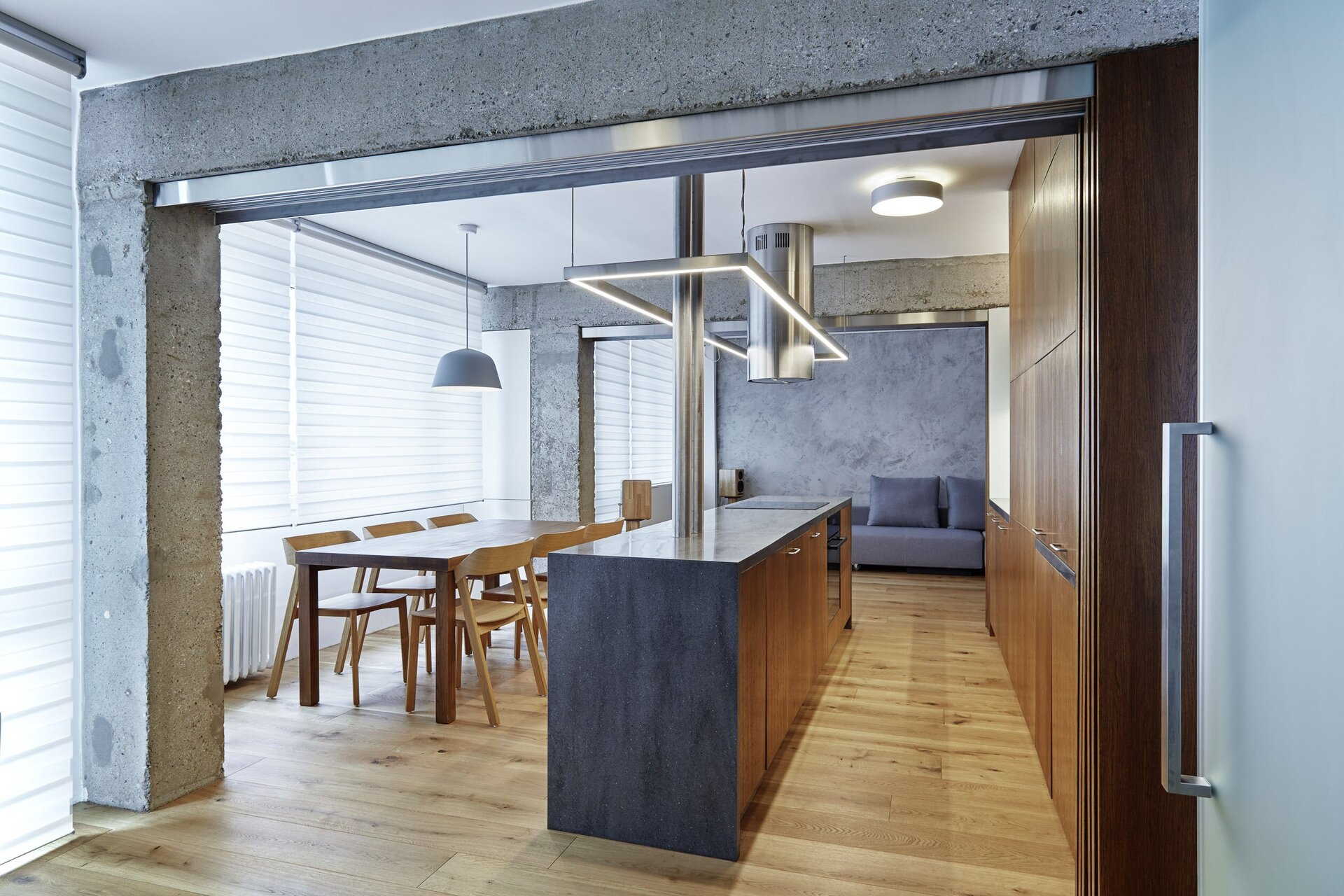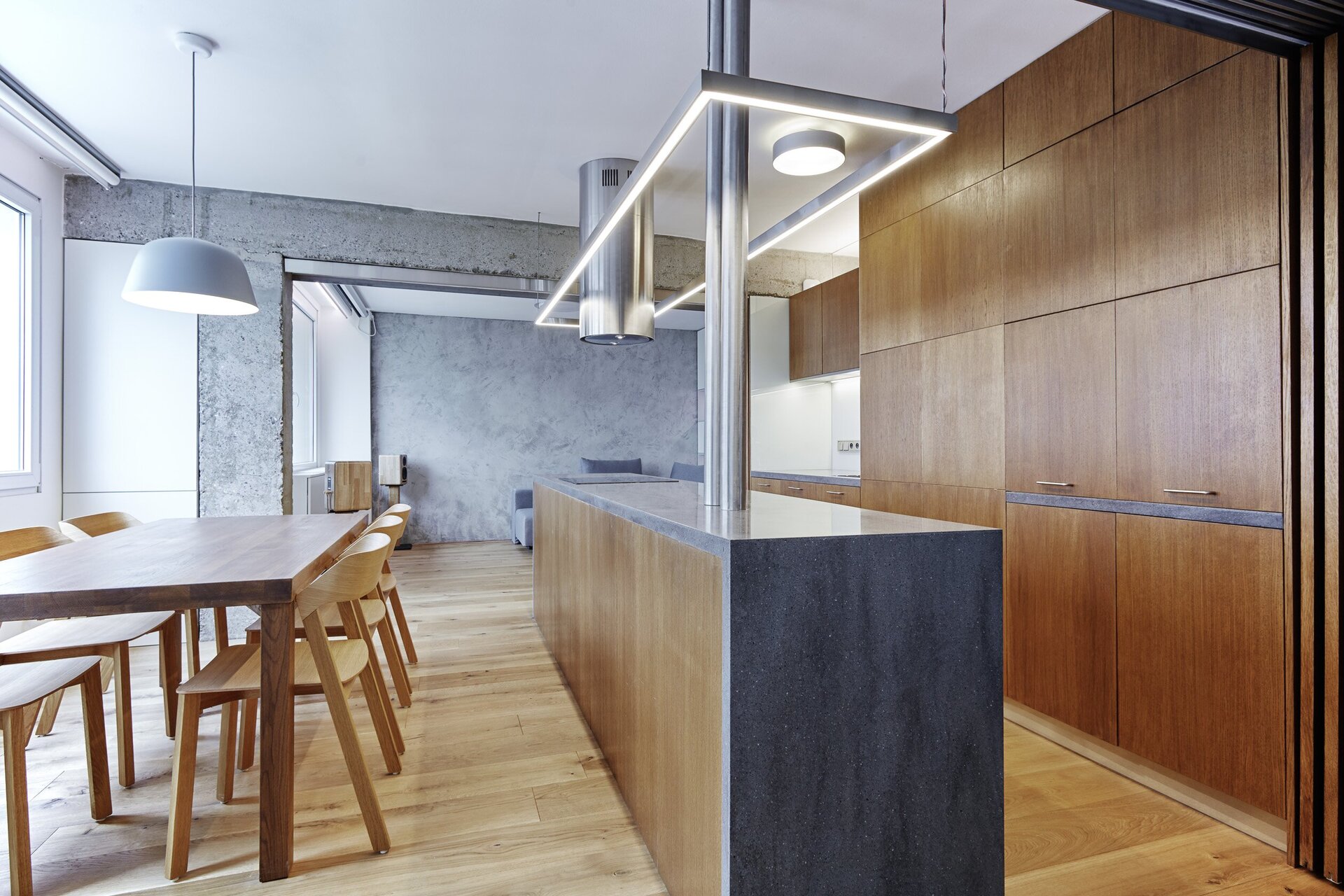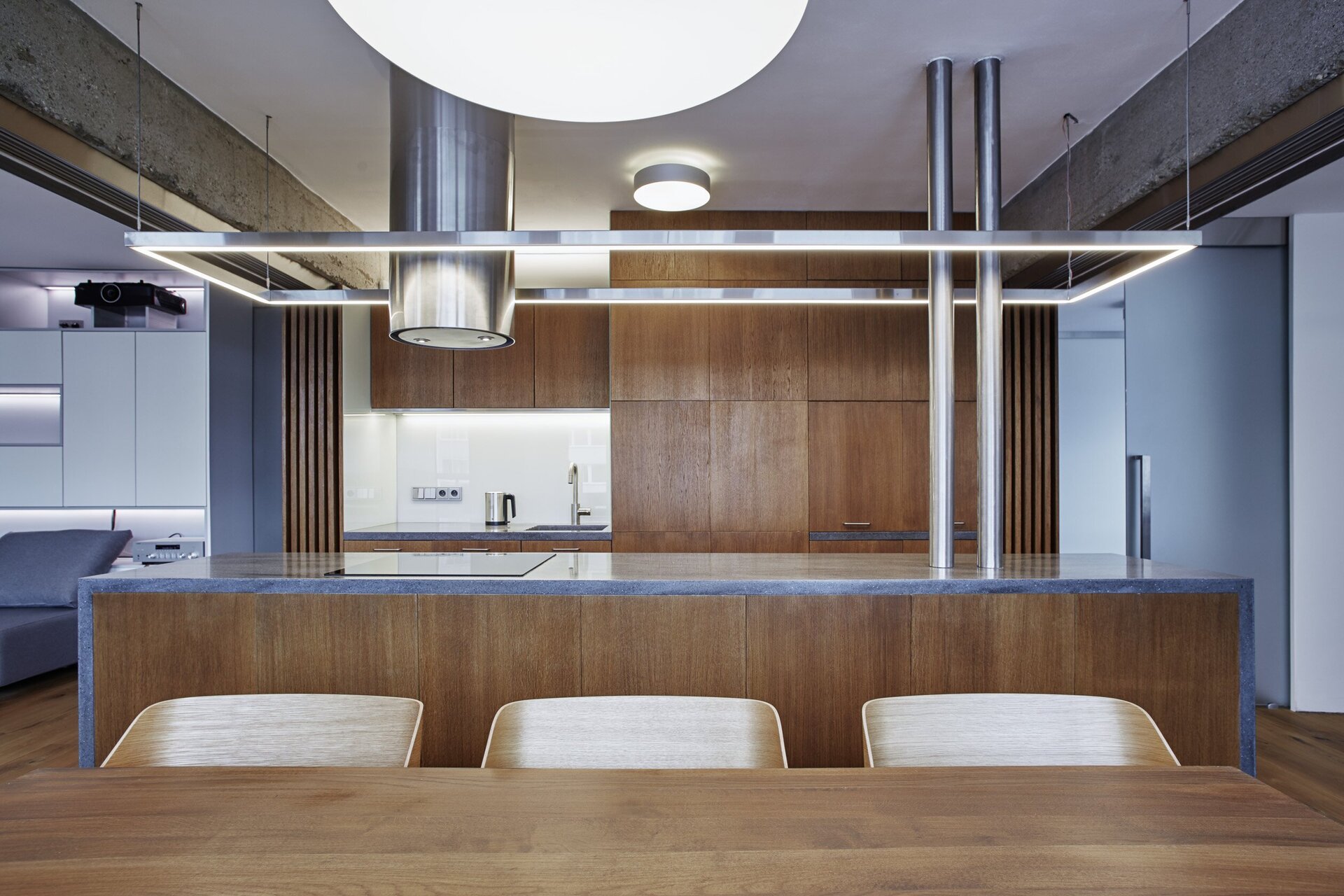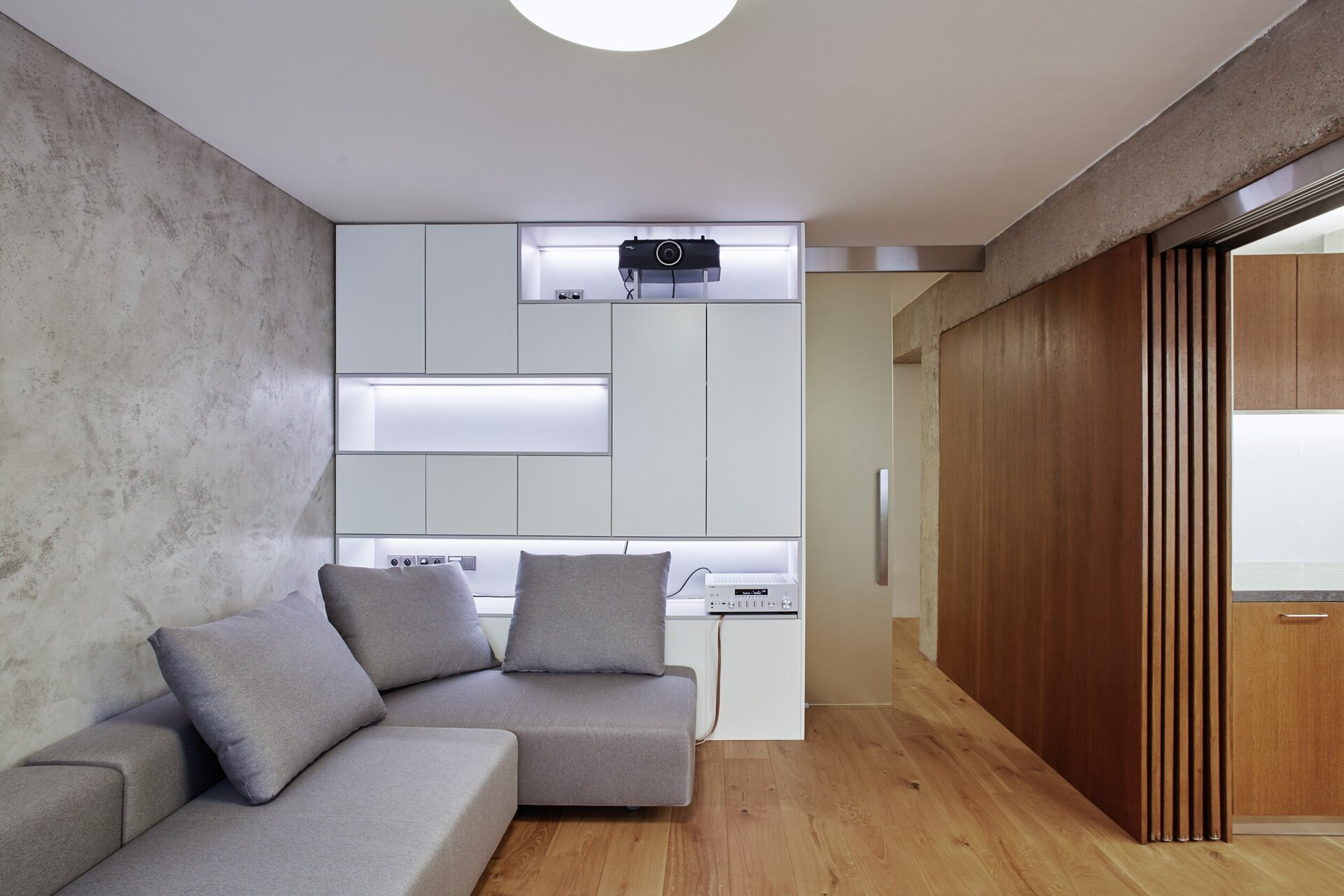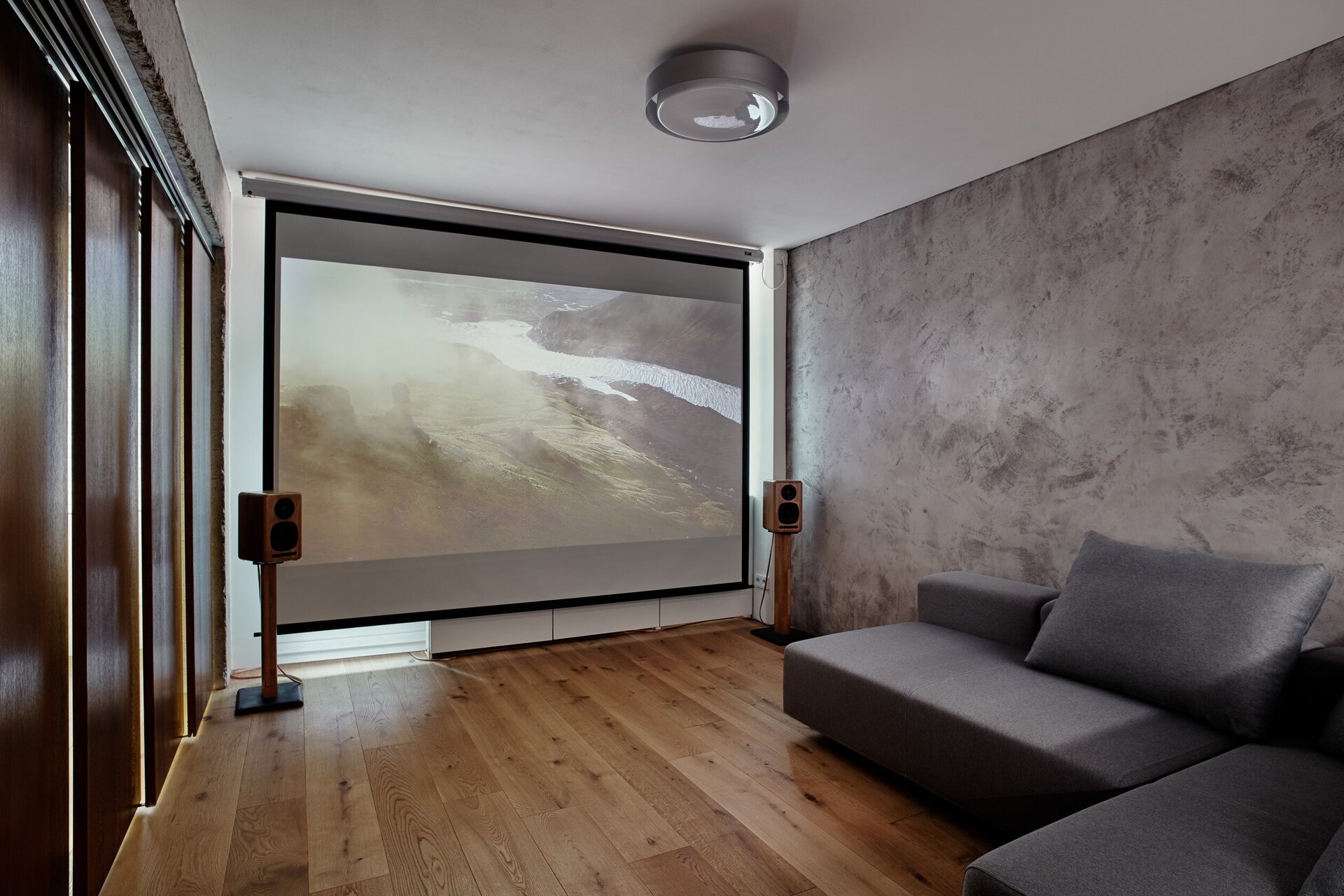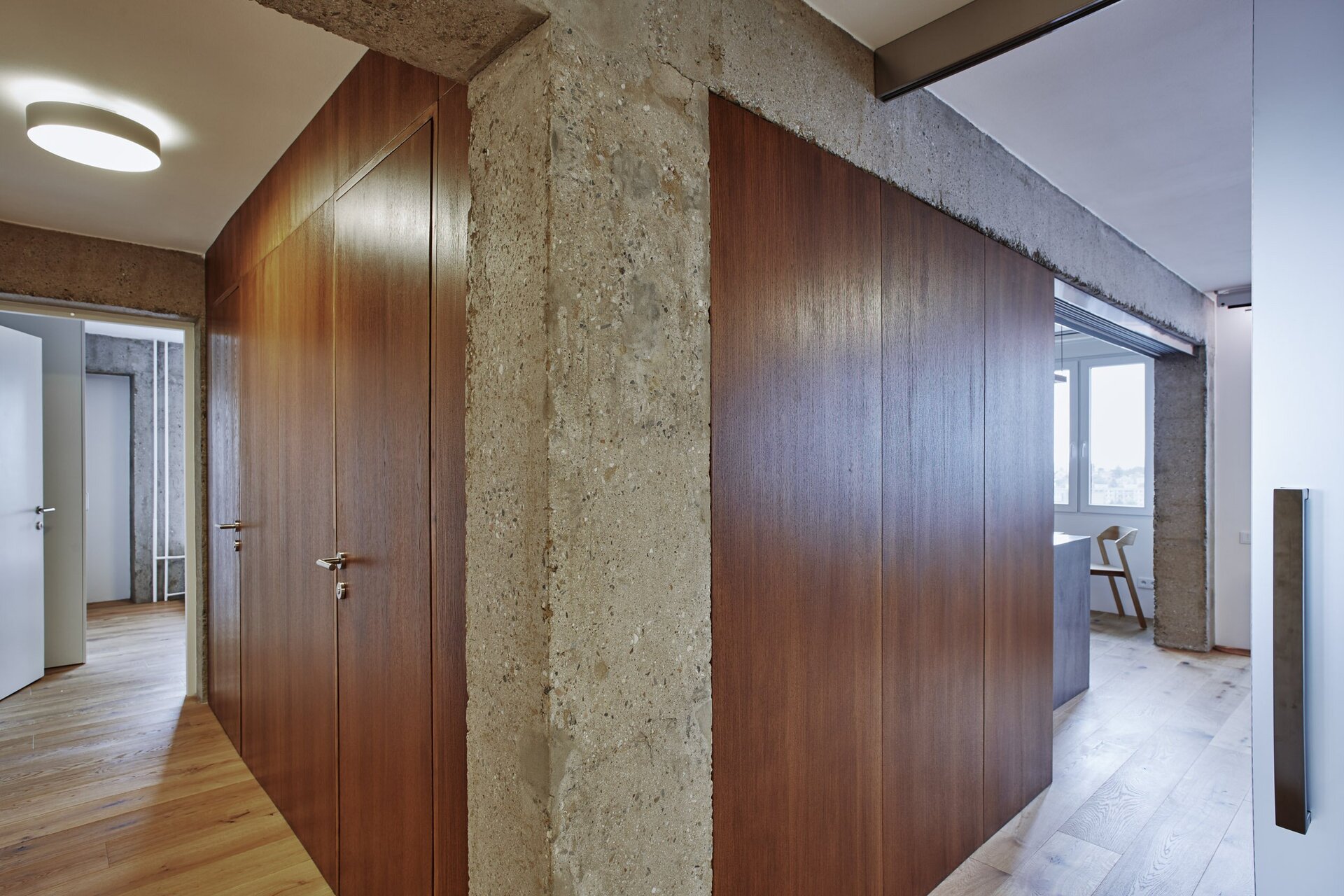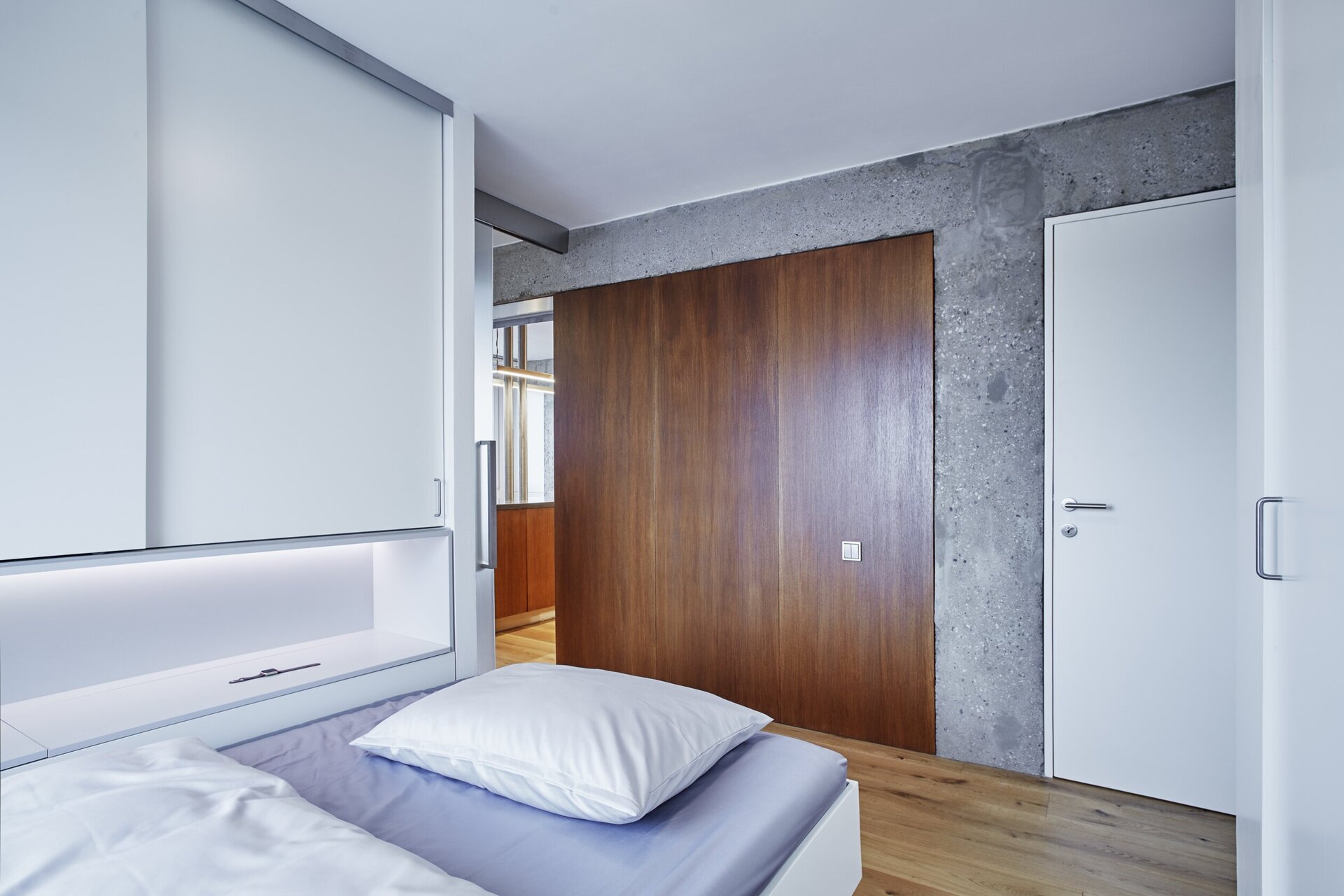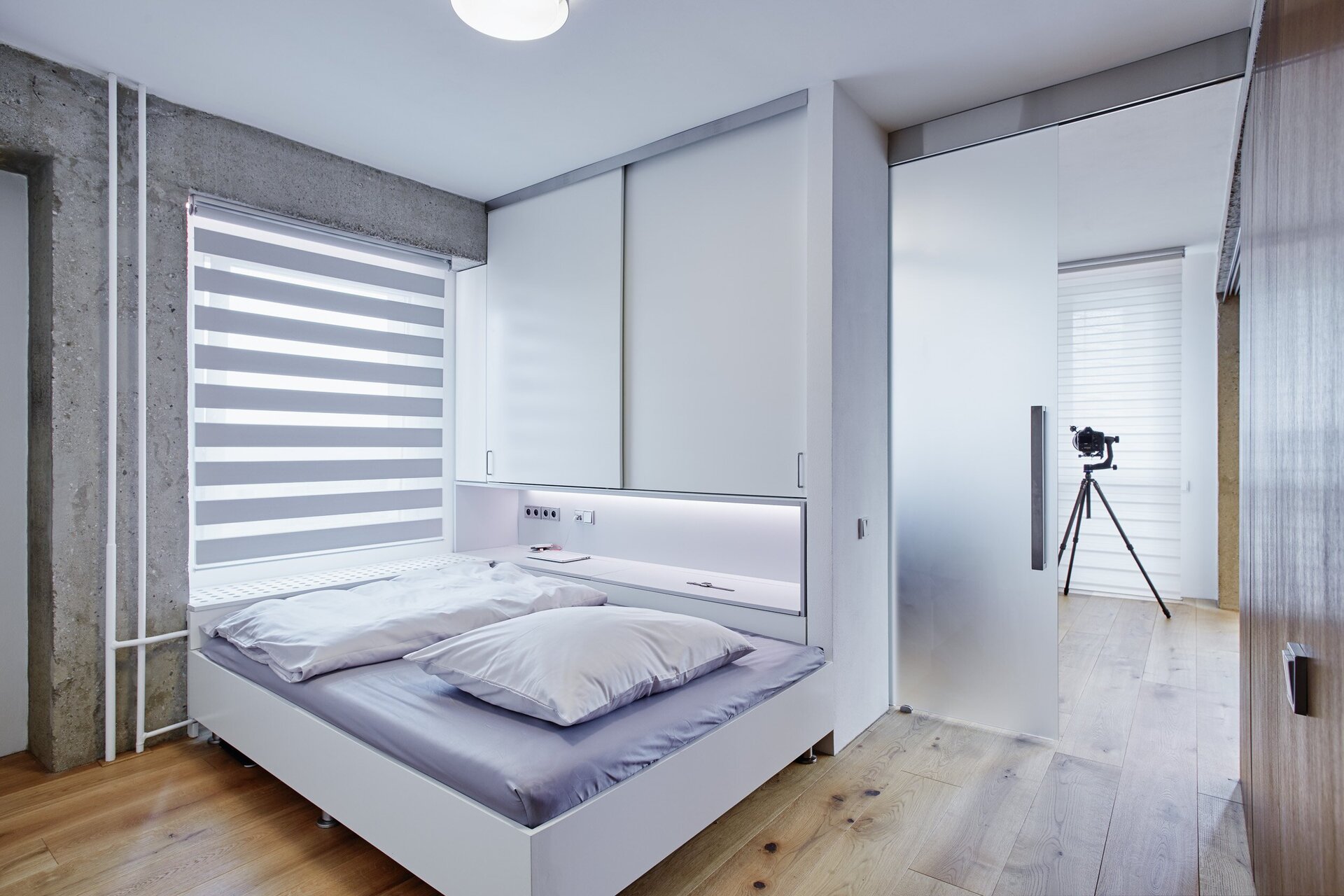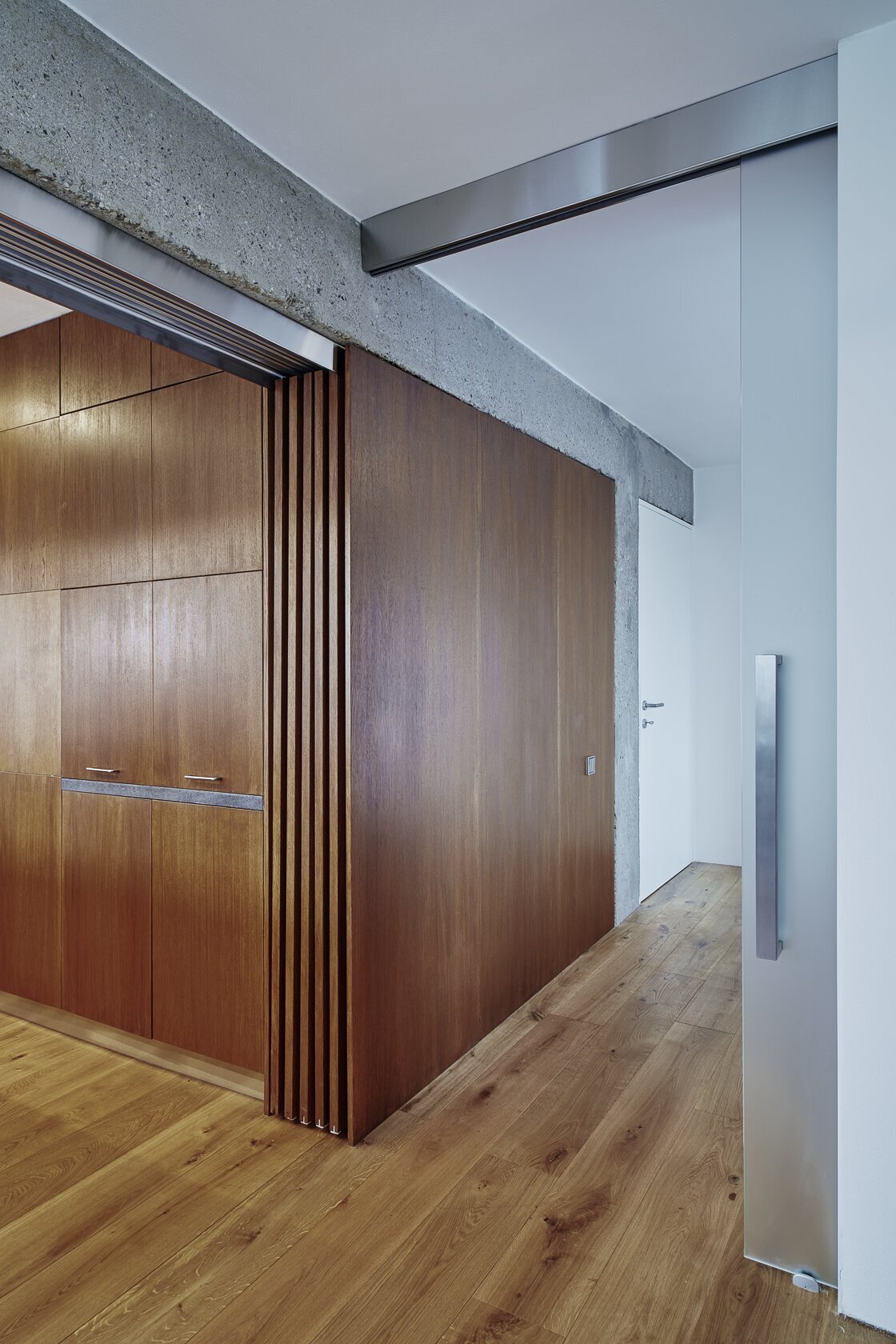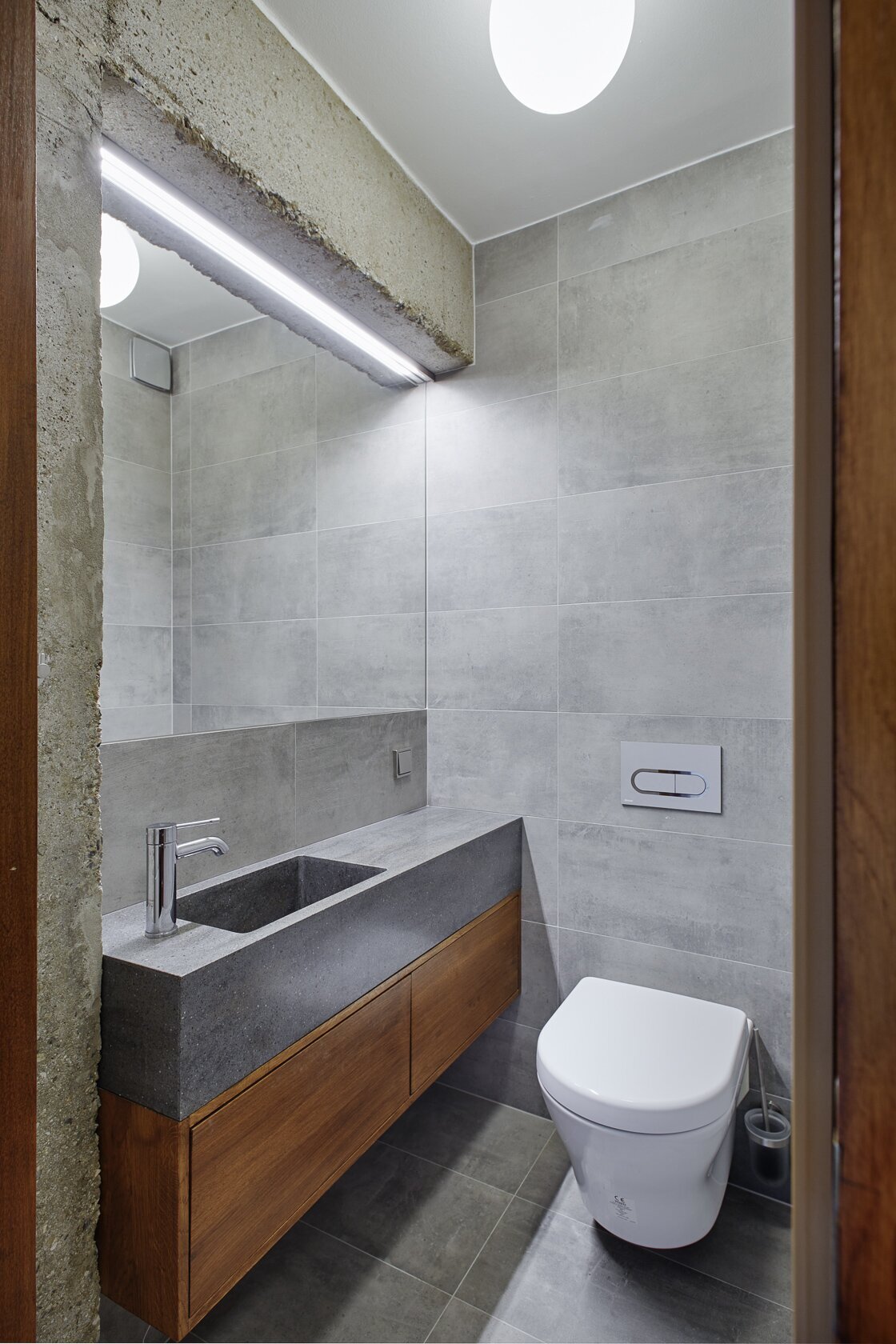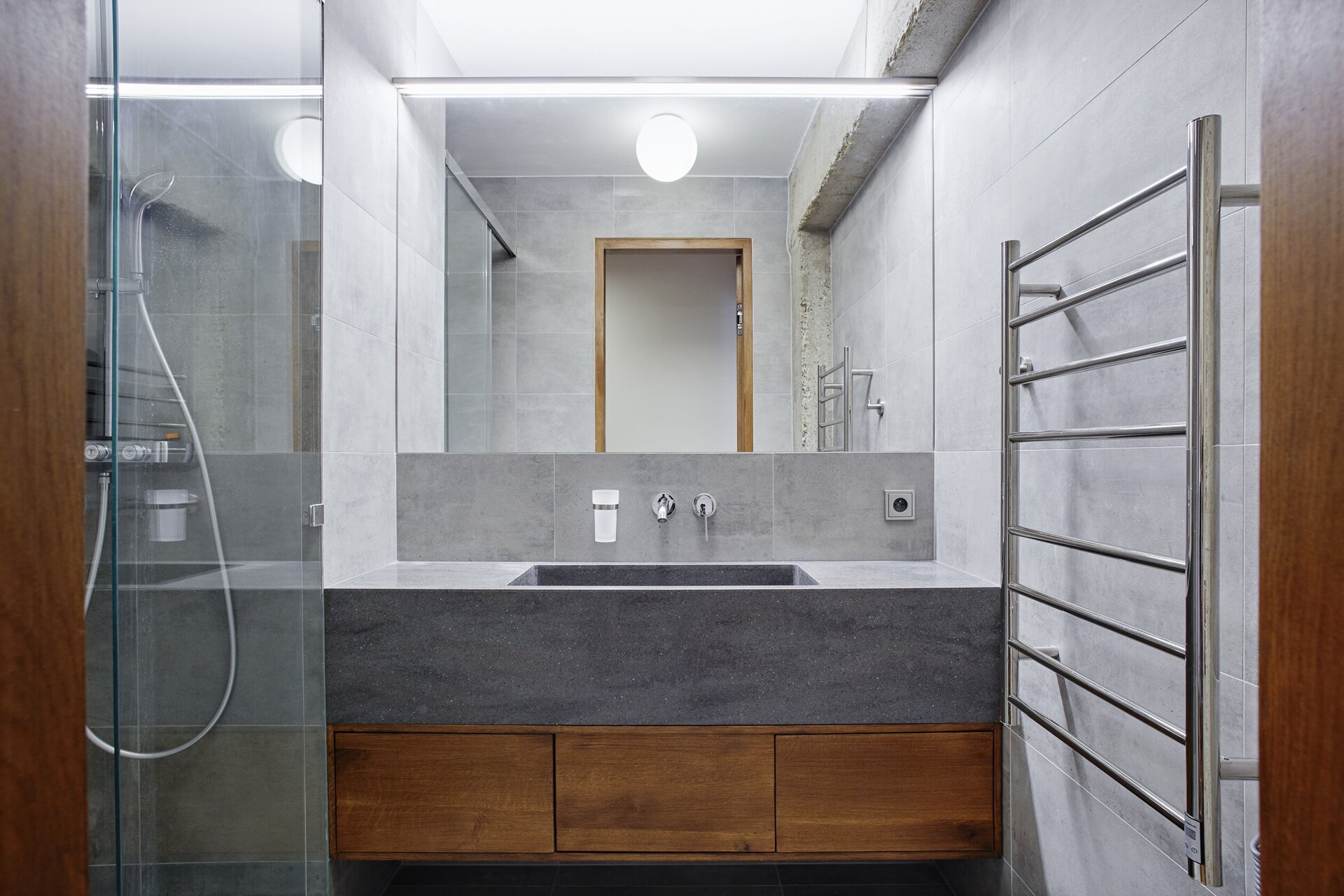 Author
Ing.arch.MgA. Klára Kučera Makovcová / Klára Makovcová Architects
Studio
Location
Není možné zveřejnit
Investor
Není možné zveřejnit
Supplier
Stavby Smutný s.r.o.
Pernerova 36/2
186 00 Praha 3
Truhlářství Jiří Koutník
Všeruby 96
34507 Všeruby
Date of project approval
March 2020
Fotograf
The apartment is located in atypical panel house, the construction system of which is a reinforced concrete skeleton. Therefore, it was possible to demolish all the original partitions and build a new layout of the apartment.
From the hall is the entrance to the living room, bathroom, toilet and bedroom. It is also accessible via a sliding door from the study. The living room with kitchen, dining area and study forms a generous western wing over the entire length of the apartment. The design provided for the possibility of separating the study and living room from the kitchen and dining area by a wooden sliding wall, which can turn the living room into a guest room. This will also create two independent units with a kitchen in the middle.
A compact wood-paneled block with a kitchen, bathroom, toilet and niche for a washing machine was created around the installation shaft. The original risers in the kitchen had to be preserved and are clad with stainless steel.
The concept of the material solution is based on the construction system. Concrete girders and columns are admitted and ground to rough concrete. The perimeter walls are re-plastered and provided with white painting. Only on the wall in the living room is a concrete trowel made. The solid wooden oak floor has been laid and treated with oil paint. In the bathroom and toilet are seamless large-format ceramic tiles and tiles imitating concrete. The doors to the bathroom and toilet are new, including door frames and are part of the wood paneling. Sliding doors to the living room and bedroom are made of sandblasted glass. The bedroom door is wooden, white lacquered. In the entrance hall, in the bedroom, living room and study, there are built-in wardrobes made of MDF board, painted in semi-matt white. The tiling in the kitchen is made of gray Lacobel. The kitchen is made of wooden walnut veneer, treated with walnut oil paint, as well as tiling the entire block and wooden sliding partitions.
Green building
Environmental certification
| | |
| --- | --- |
| Type and level of certificate | - |
Water management
| | |
| --- | --- |
| Is rainwater used for irrigation? | |
| Is rainwater used for other purposes, e.g. toilet flushing ? | |
| Does the building have a green roof / facade ? | |
| Is reclaimed waste water used, e.g. from showers and sinks ? | |
The quality of the indoor environment
| | |
| --- | --- |
| Is clean air supply automated ? | |
| Is comfortable temperature during summer and winter automated? | |
| Is natural lighting guaranteed in all living areas? | |
| Is artificial lighting automated? | |
| Is acoustic comfort, specifically reverberation time, guaranteed? | |
| Does the layout solution include zoning and ergonomics elements? | |
Principles of circular economics
| | |
| --- | --- |
| Does the project use recycled materials? | |
| Does the project use recyclable materials? | |
| Are materials with a documented Environmental Product Declaration (EPD) promoted in the project? | |
| Are other sustainability certifications used for materials and elements? | |
Energy efficiency
| | |
| --- | --- |
| Energy performance class of the building according to the Energy Performance Certificate of the building | |
| Is efficient energy management (measurement and regular analysis of consumption data) considered? | |
| Are renewable sources of energy used, e.g. solar system, photovoltaics? | |
Interconnection with surroundings
| | |
| --- | --- |
| Does the project enable the easy use of public transport? | |
| Does the project support the use of alternative modes of transport, e.g cycling, walking etc. ? | |
| Is there access to recreational natural areas, e.g. parks, in the immediate vicinity of the building? | |