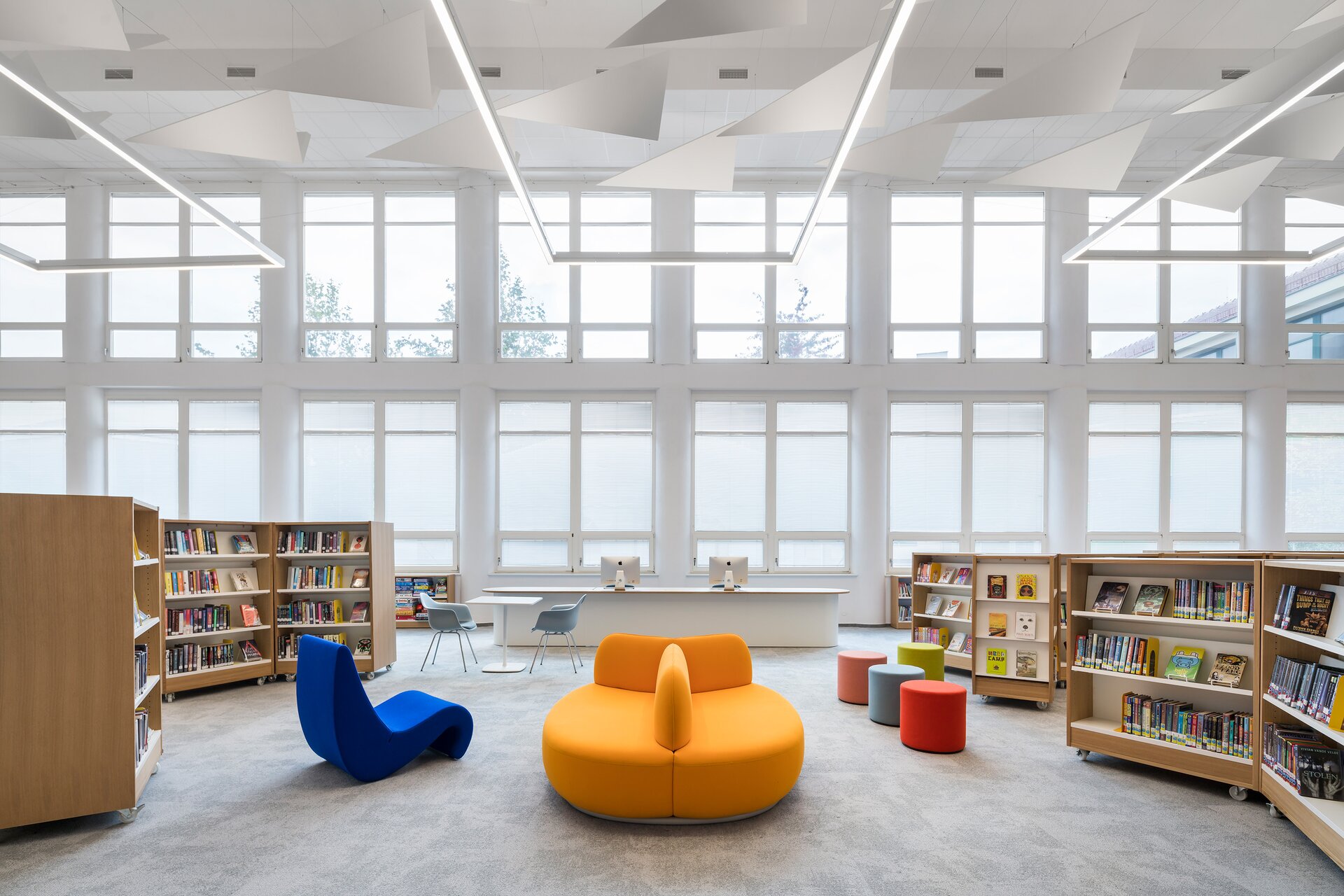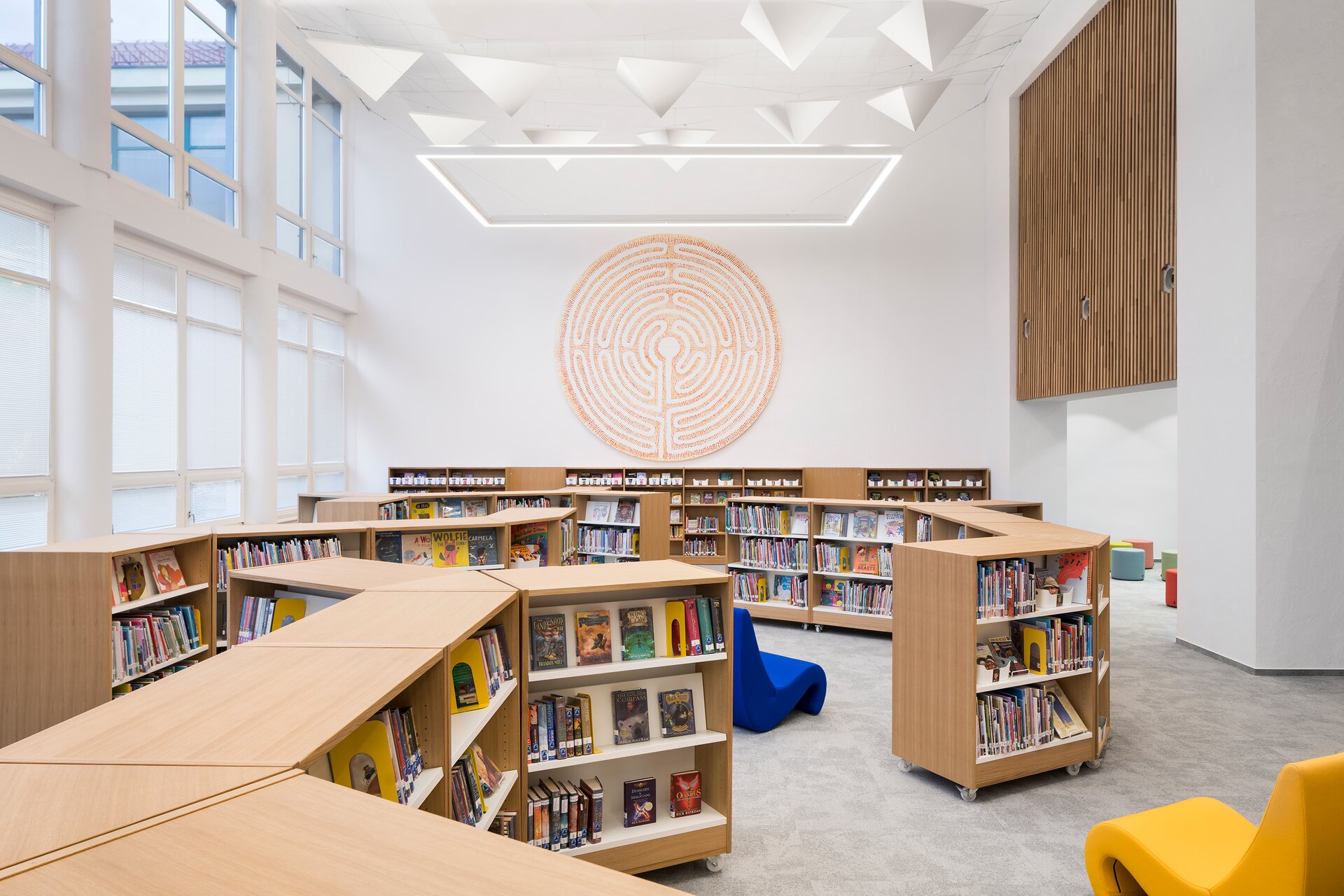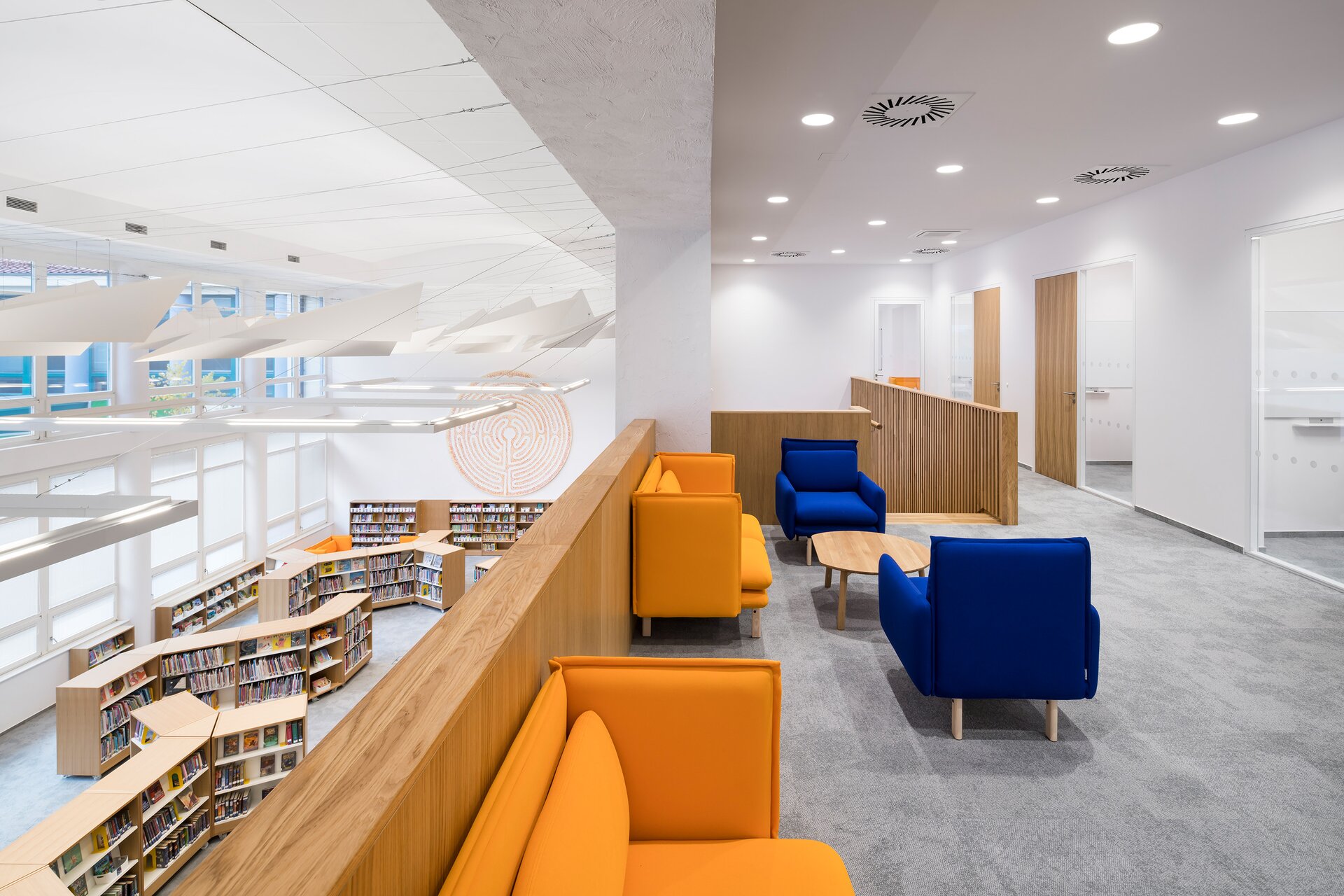 Author
Studio Perspektiv
Studio
Location
Nebušická 700
164 00 Praha 6
Investor
International School of Prague
Supplier
SIS s.r.o.
Date of project approval
September 2020
Fotograf
Studio Perspektiv designed a modern and inspiring space that reflects the demands of the changing world. The architects managed to realize a bold and strong vision of the new concept "new learning".

The original purpose of the library has changed and evolved - the introduction of digital media, 3D printing, and virtual or augmented reality has further enhanced this process. The main change is the incorporation of different types of teaching into one multifunctional space. The Innovation and Education Centre unites a library, study room and workshop with an integrated residential staircase. "We were able to implement a bold and strong vision of the concept, new learning." The aim was to bring maximum visual transparency and design equipment with an emphasis on the diverse ergonomics of children," add architects Antal and Stara. Library design specialists from the United Kingdom were also invited to join the project to consult the requirements of librarianship of the 21st century.
The library shelves have been designed with an emphasis on flexibility, so they are equipped with wheels and a variable arrangement of shelves. An important topic of the project was acoustic and light comfort. Acoustic panels in the shape of paper airplanes are supplemented by an enlarged reproduction of the labyrinth from the book Bird Assembly by Petr Sís. The space is highlighted by muted colours and natural materials used on vinyl flooring or recycled carpets from the Interface company. Natural materials are represented by oak veneer, which forms the cladding of the residential staircase and acoustic slats on the walls. Bright colours are enhanced by the colourful seating furniture. In the Idea-Lab, students can use 3D printers, CNC milling machines, or laser cutters. Workshop is furnished with special focus on flexibility. Desks can be moved in the space, and the electricity supply of the space is ensured by unusual ceiling winches.
Green building
Environmental certification
| | |
| --- | --- |
| Type and level of certificate | - |
Water management
| | |
| --- | --- |
| Is rainwater used for irrigation? | |
| Is rainwater used for other purposes, e.g. toilet flushing ? | |
| Does the building have a green roof / facade ? | |
| Is reclaimed waste water used, e.g. from showers and sinks ? | |
The quality of the indoor environment
| | |
| --- | --- |
| Is clean air supply automated ? | |
| Is comfortable temperature during summer and winter automated? | |
| Is natural lighting guaranteed in all living areas? | |
| Is artificial lighting automated? | |
| Is acoustic comfort, specifically reverberation time, guaranteed? | |
| Does the layout solution include zoning and ergonomics elements? | |
Principles of circular economics
| | |
| --- | --- |
| Does the project use recycled materials? | |
| Does the project use recyclable materials? | |
| Are materials with a documented Environmental Product Declaration (EPD) promoted in the project? | |
| Are other sustainability certifications used for materials and elements? | |
Energy efficiency
| | |
| --- | --- |
| Energy performance class of the building according to the Energy Performance Certificate of the building | C |
| Is efficient energy management (measurement and regular analysis of consumption data) considered? | |
| Are renewable sources of energy used, e.g. solar system, photovoltaics? | |
Interconnection with surroundings
| | |
| --- | --- |
| Does the project enable the easy use of public transport? | |
| Does the project support the use of alternative modes of transport, e.g cycling, walking etc. ? | |
| Is there access to recreational natural areas, e.g. parks, in the immediate vicinity of the building? | |