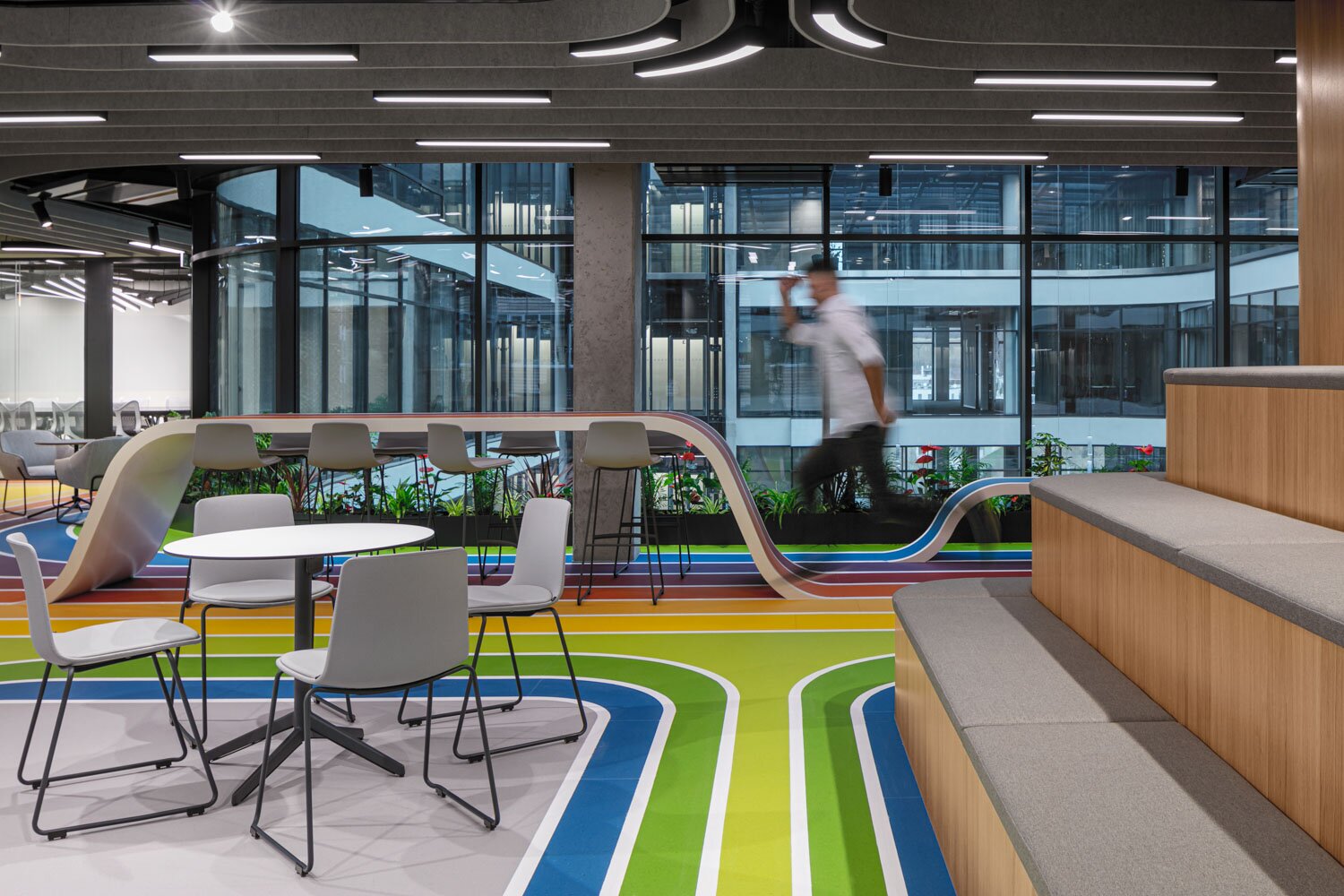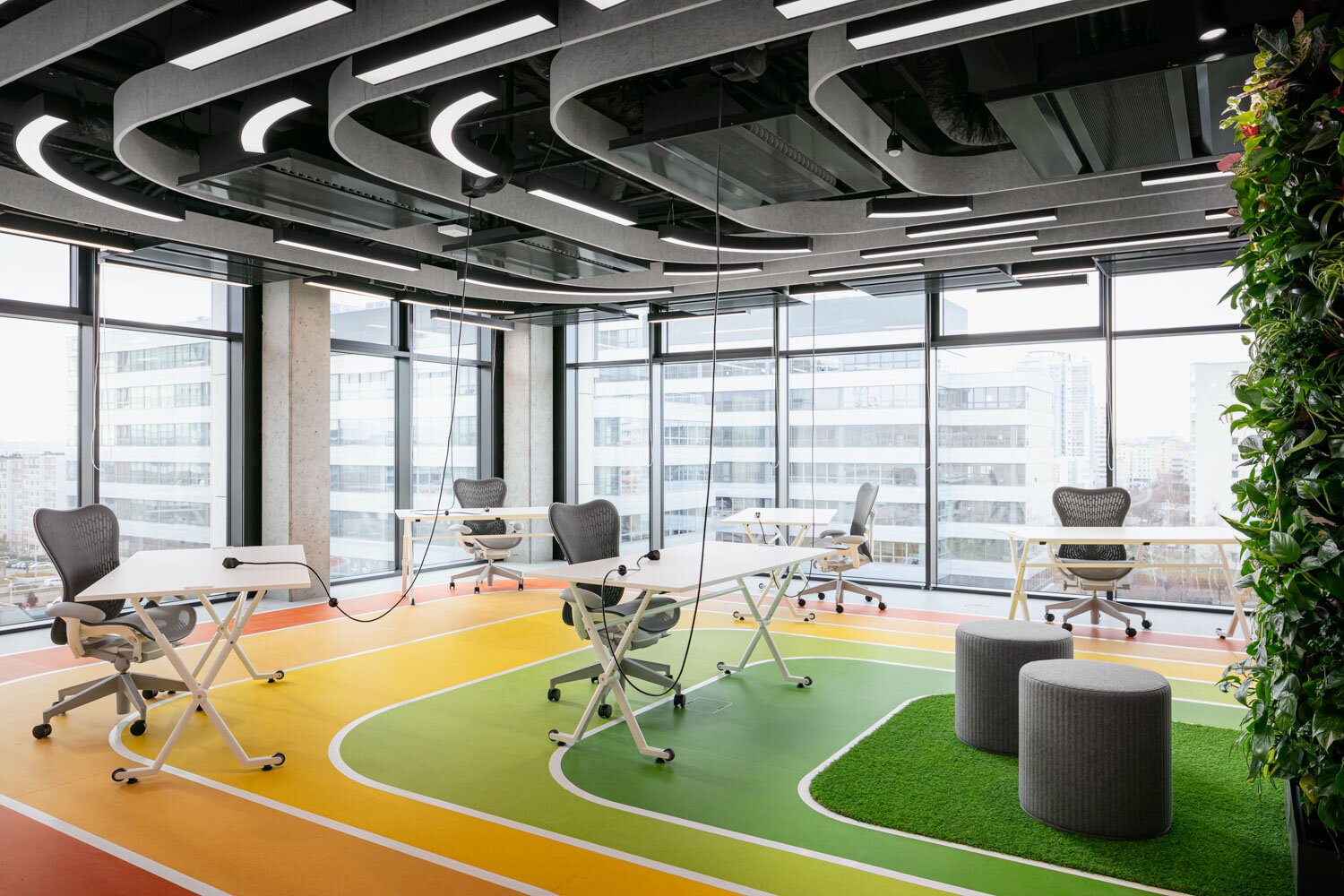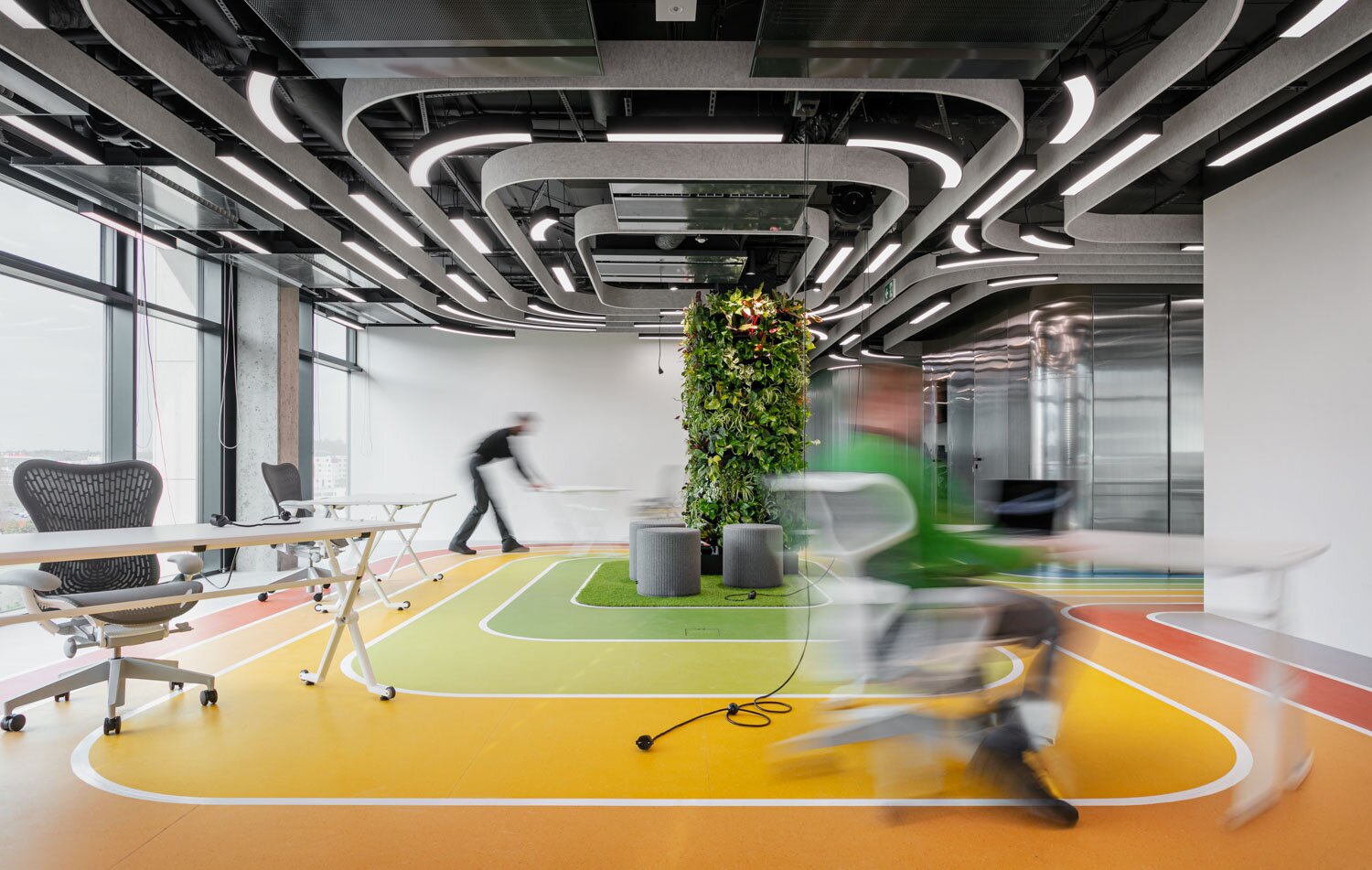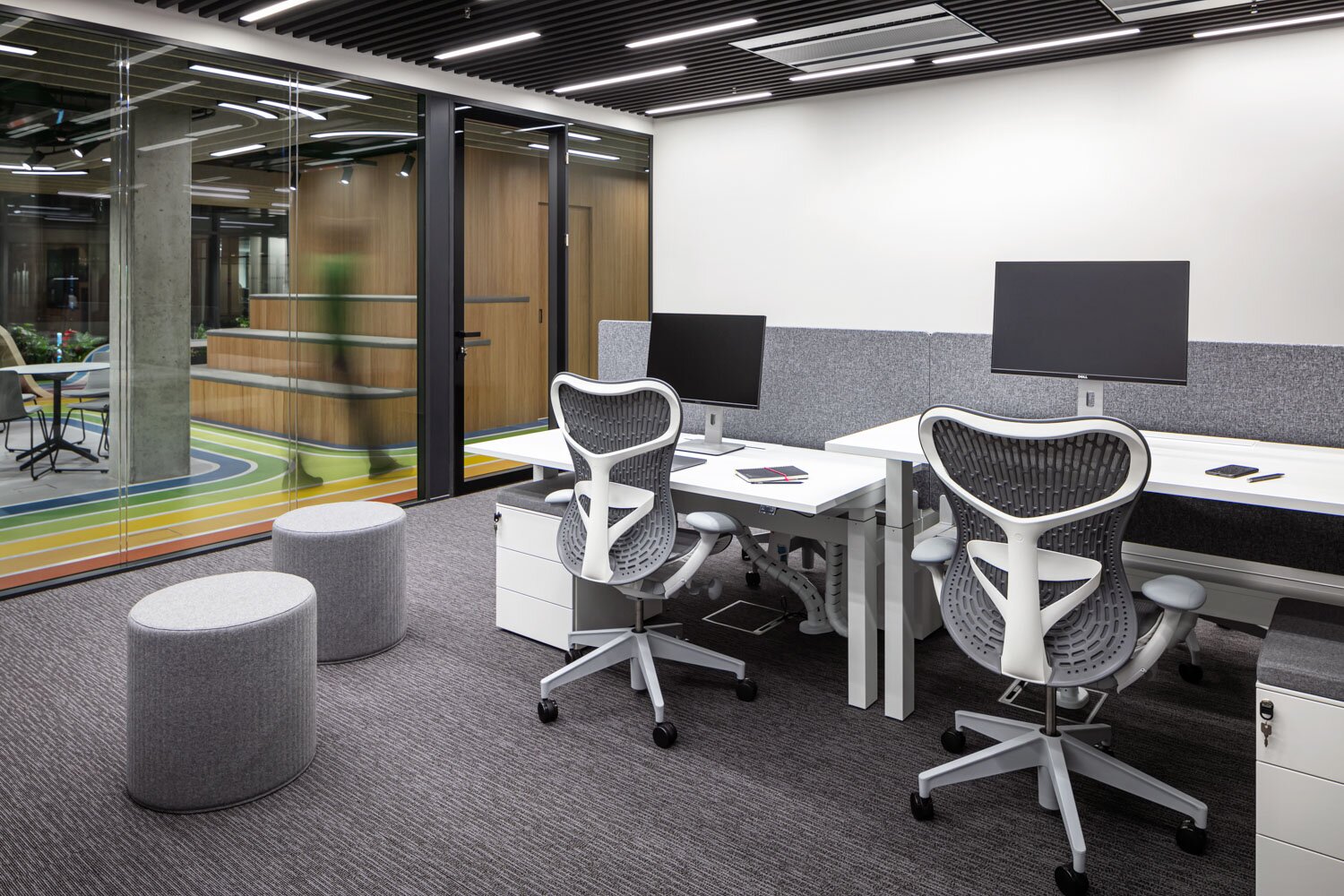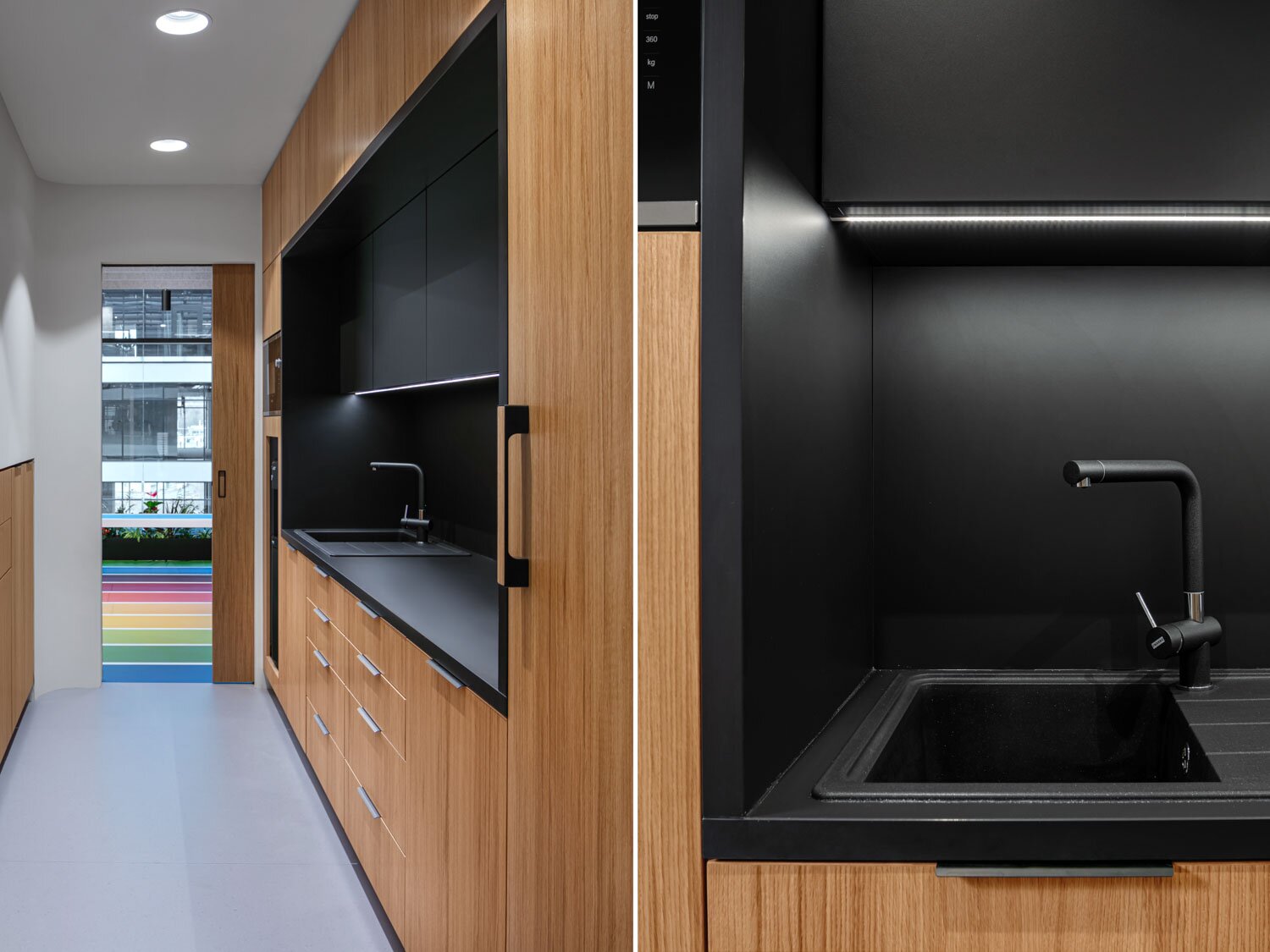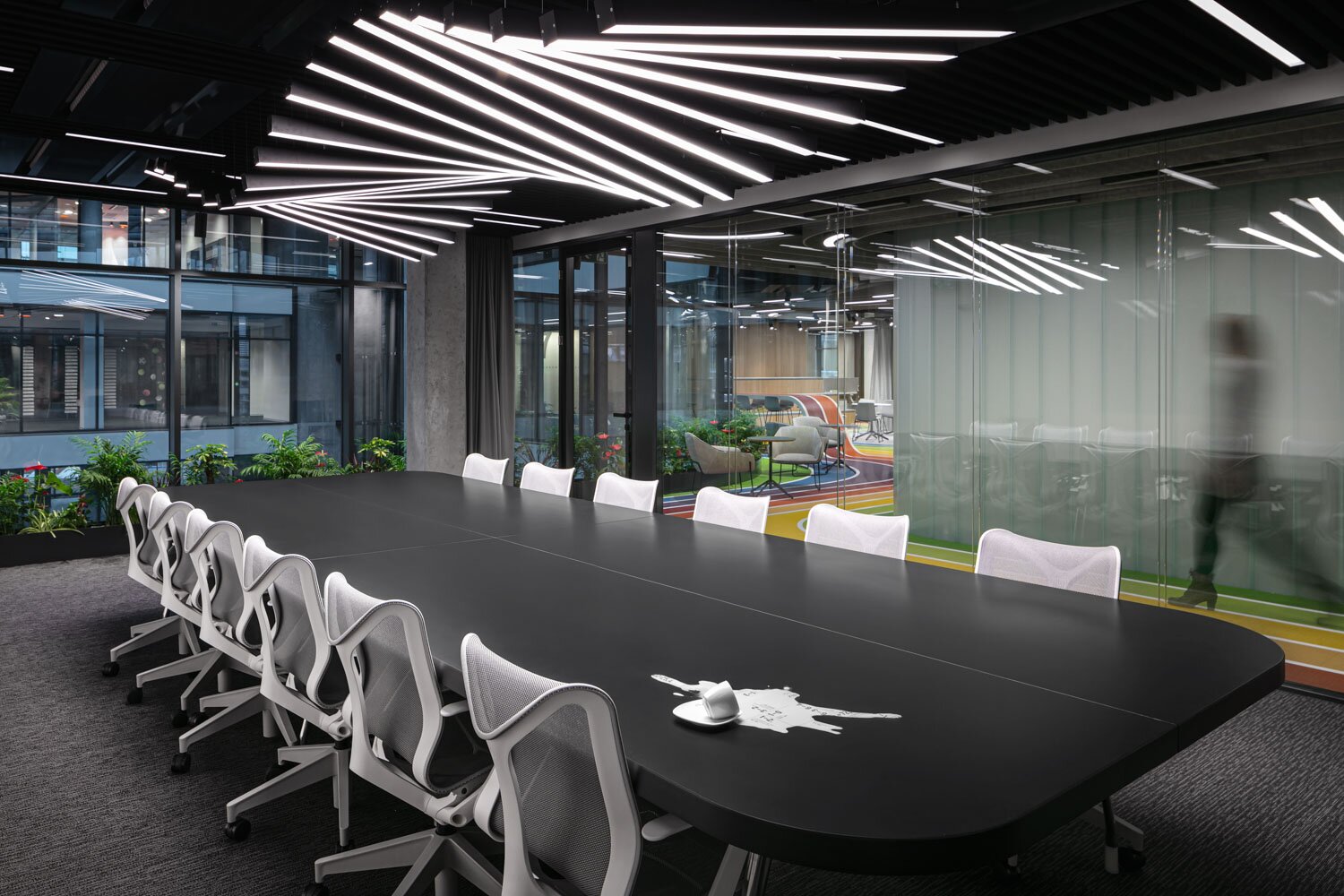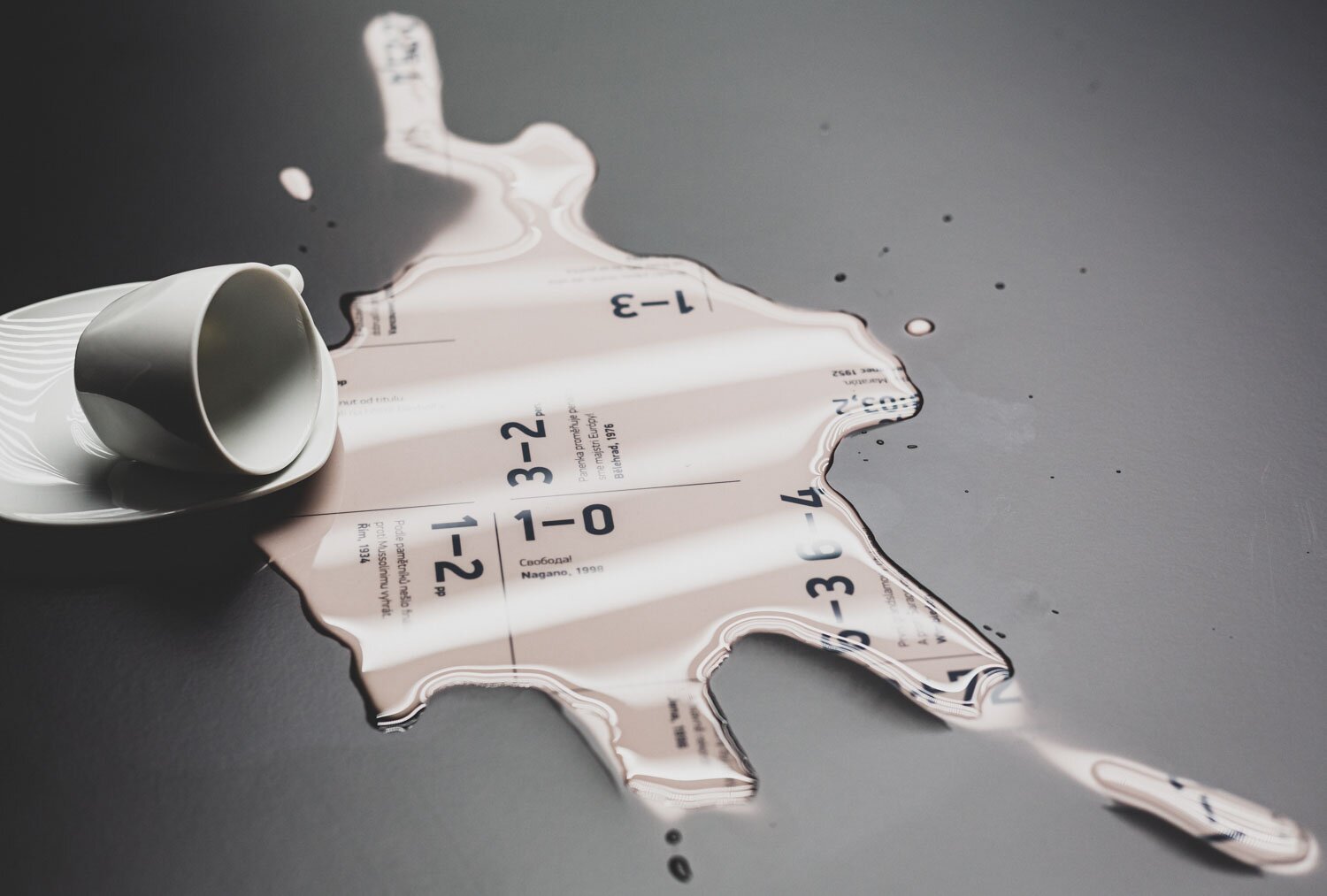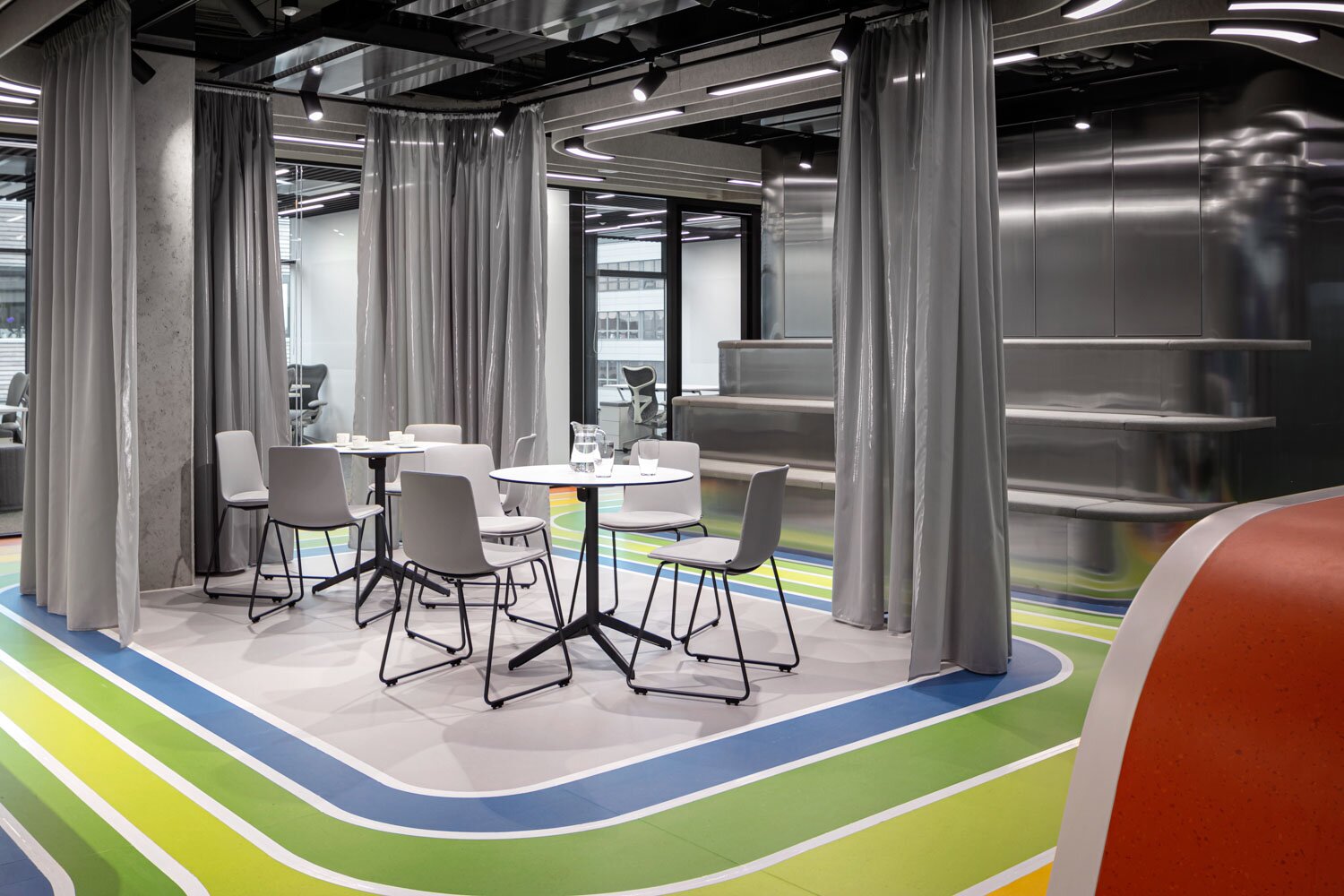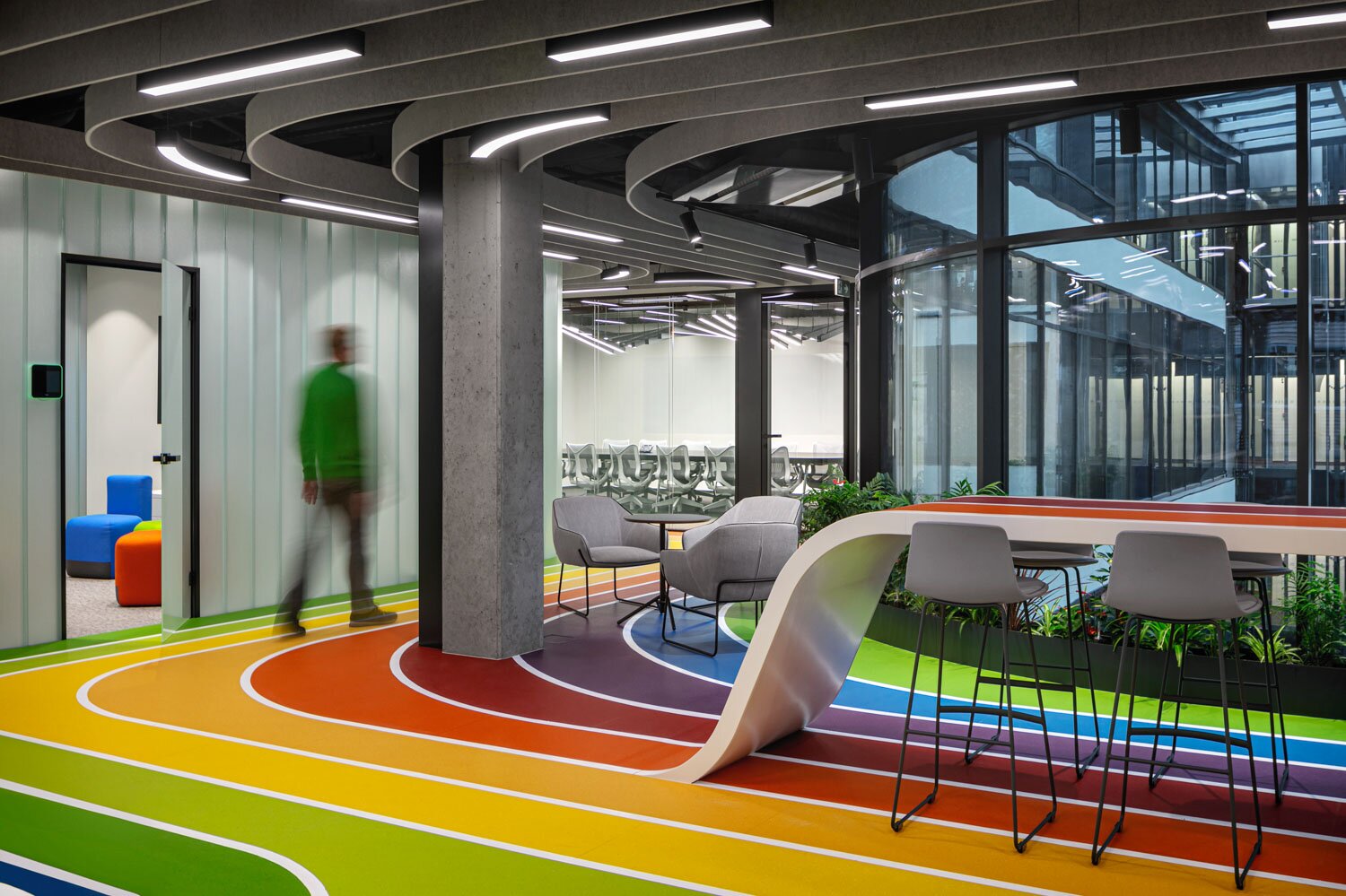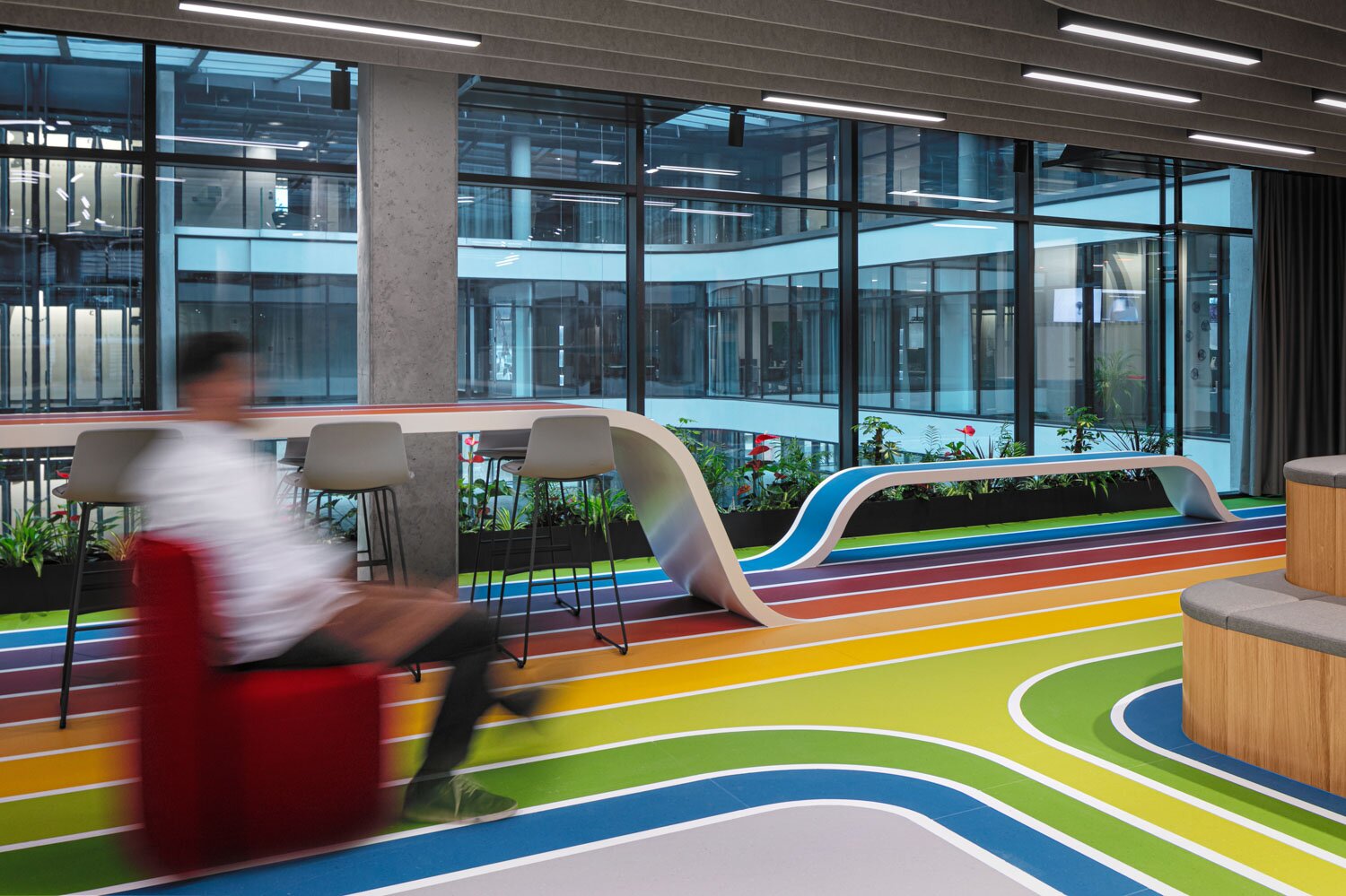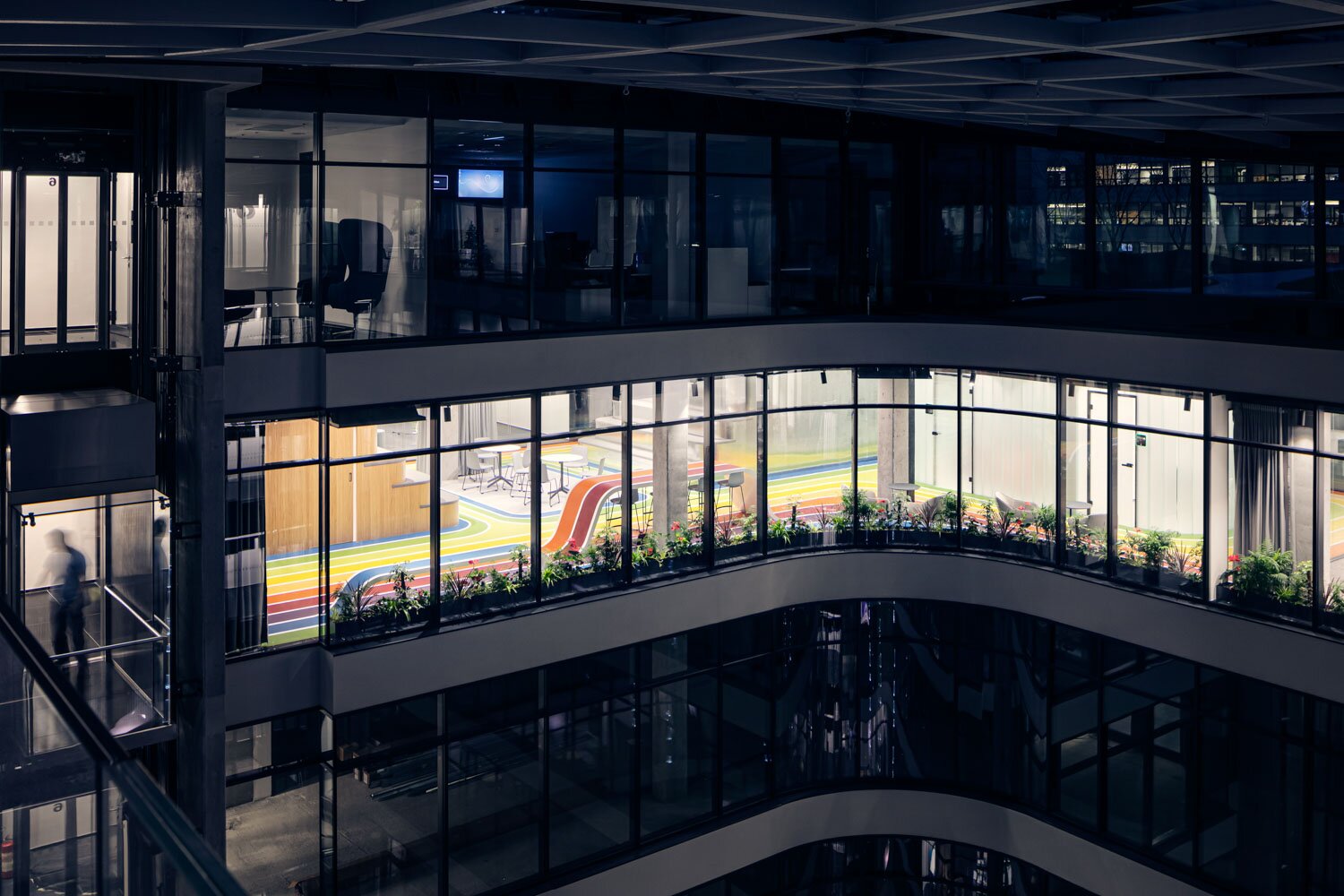 Author
studio reaktor s.r.o.
Studio
Location
Bucharova 2928/14a, Praha 13
Investor
Livesport s.r.o.
www.livesport.eu
Supplier
CONDECO s.r.o.
cre8 s.r.o.
HABARTline, s.r.o
Halla, a.s.
Herman Miller, Inc.
objectflor Art und Design Belags GmbH
LIKO-S, a.s.
MRM stavební servis, s.r.o.
Date of project approval
March 2020
Fotograf
The Livesport office in Prague features a colorful running track, concentrated work spaces, and an overall commitment to the sports media company's dynamic brand and presence.
The main goal was to create an attractive yet functional office space with a sporty vibe. Right from the start, the strategy of separating offices and shared space was set. While neutral colors and tactically selected soft surfaces create an environment for concentrated work, running tracks and acoustic sticks bring motion, agility, and dynamism.
We also placed several phone booths throughout the space helping handle loud and long phone calls.
With the end of the year and moving of new talents into the space, the pressure increased. We quickly covered the rounded boxes with sheet metal, veneer, and breeze blocks and lined the colorful running track. We finished by creating a stadium-style seating allowing programmers to relax and meet with their colleagues and discuss recent topics.
LIVESPORT offices are inspired by motion, speed, accuracy and dynamism and rapid data transfer.
For the speed along with the emotional connection with the space, permeable materials were used for the rooms - the double, acoustically sealed copilite allows the interior to be bright and airy. Typical materials were used for the sports circuit - caoutchouc, vinyl, tartan. Sheet metal semi-reflective linings on rounded boxes allow to see reflections of movement in the office. Thermochromic table with various sport results is another element reflecting movement and dynamics. Rolling cables and cable ties allow variable electricity delivery whenever and wherever it is needed, for example for work on mobile tables. Bent luminaires and indirect LED lighting support adaptability and variability of needs and evoke the illusion of a sports arena. Cooling modern technological beams ensure sufficient cooling or space heating for sports performances and resting on inverters.
Green building
Environmental certification
| | |
| --- | --- |
| Type and level of certificate | - |
Water management
| | |
| --- | --- |
| Is rainwater used for irrigation? | |
| Is rainwater used for other purposes, e.g. toilet flushing ? | |
| Does the building have a green roof / facade ? | |
| Is reclaimed waste water used, e.g. from showers and sinks ? | |
The quality of the indoor environment
| | |
| --- | --- |
| Is clean air supply automated ? | |
| Is comfortable temperature during summer and winter automated? | |
| Is natural lighting guaranteed in all living areas? | |
| Is artificial lighting automated? | |
| Is acoustic comfort, specifically reverberation time, guaranteed? | |
| Does the layout solution include zoning and ergonomics elements? | |
Principles of circular economics
| | |
| --- | --- |
| Does the project use recycled materials? | |
| Does the project use recyclable materials? | |
| Are materials with a documented Environmental Product Declaration (EPD) promoted in the project? | |
| Are other sustainability certifications used for materials and elements? | |
Energy efficiency
| | |
| --- | --- |
| Energy performance class of the building according to the Energy Performance Certificate of the building | |
| Is efficient energy management (measurement and regular analysis of consumption data) considered? | |
| Are renewable sources of energy used, e.g. solar system, photovoltaics? | |
Interconnection with surroundings
| | |
| --- | --- |
| Does the project enable the easy use of public transport? | |
| Does the project support the use of alternative modes of transport, e.g cycling, walking etc. ? | |
| Is there access to recreational natural areas, e.g. parks, in the immediate vicinity of the building? | |