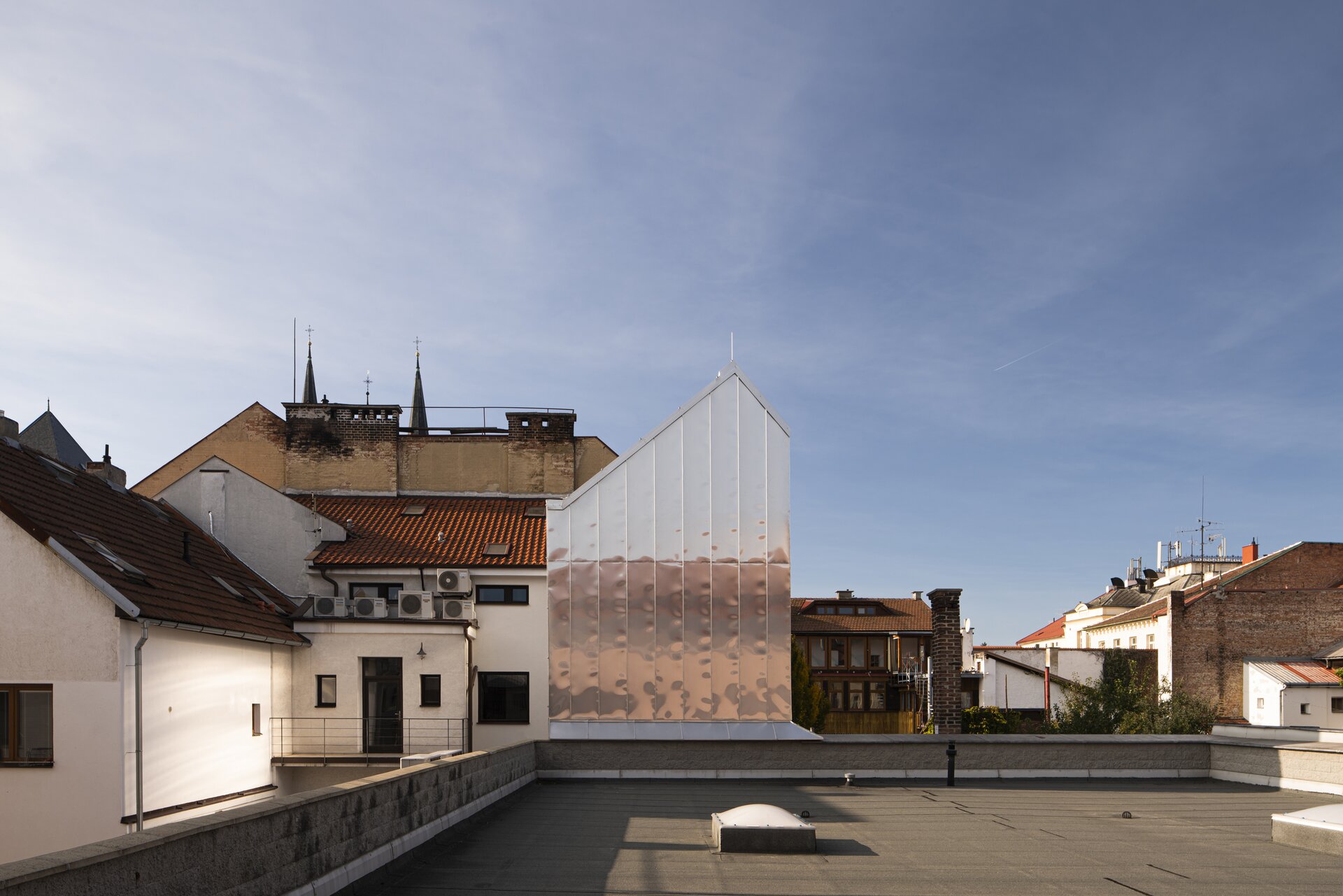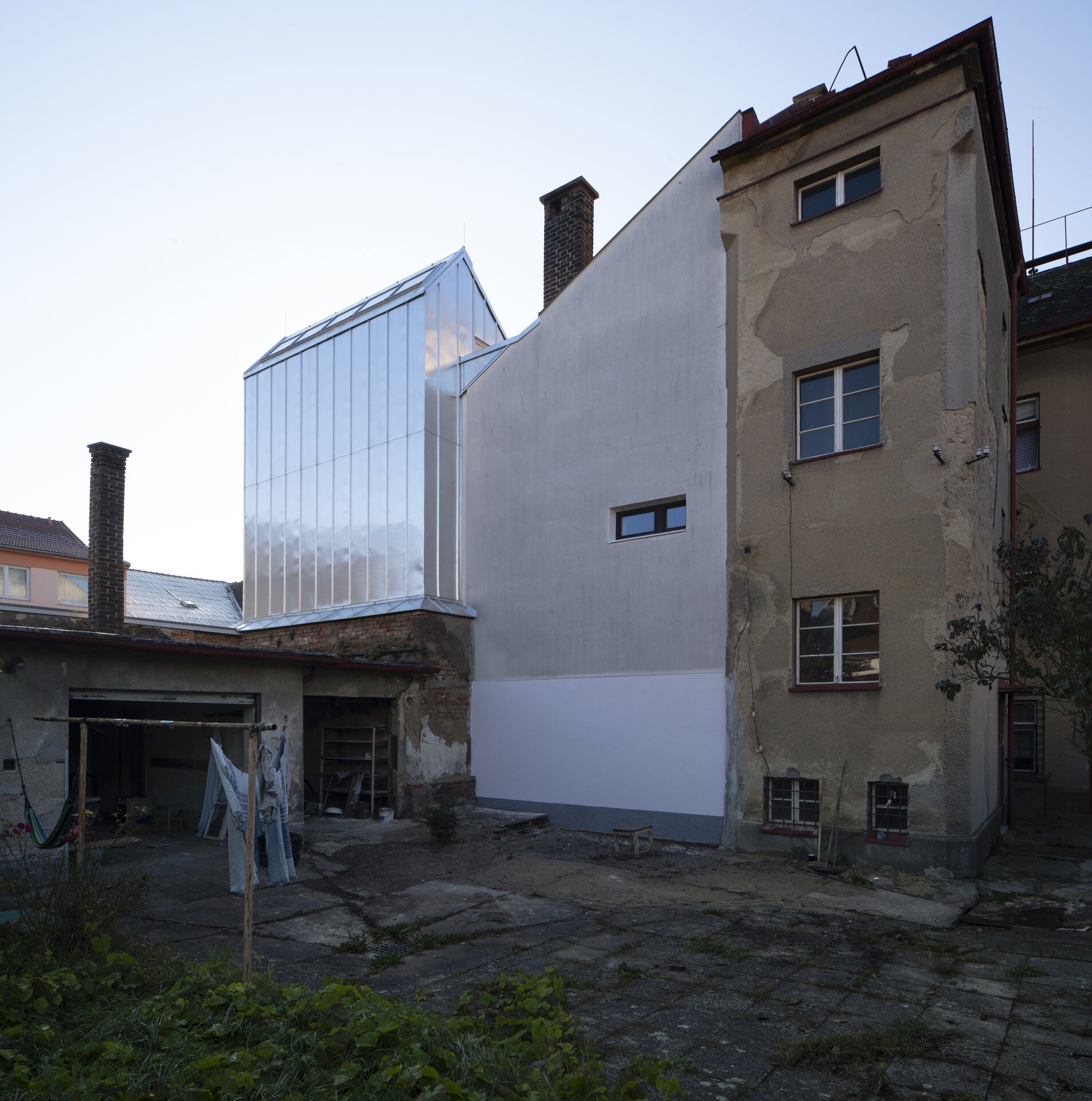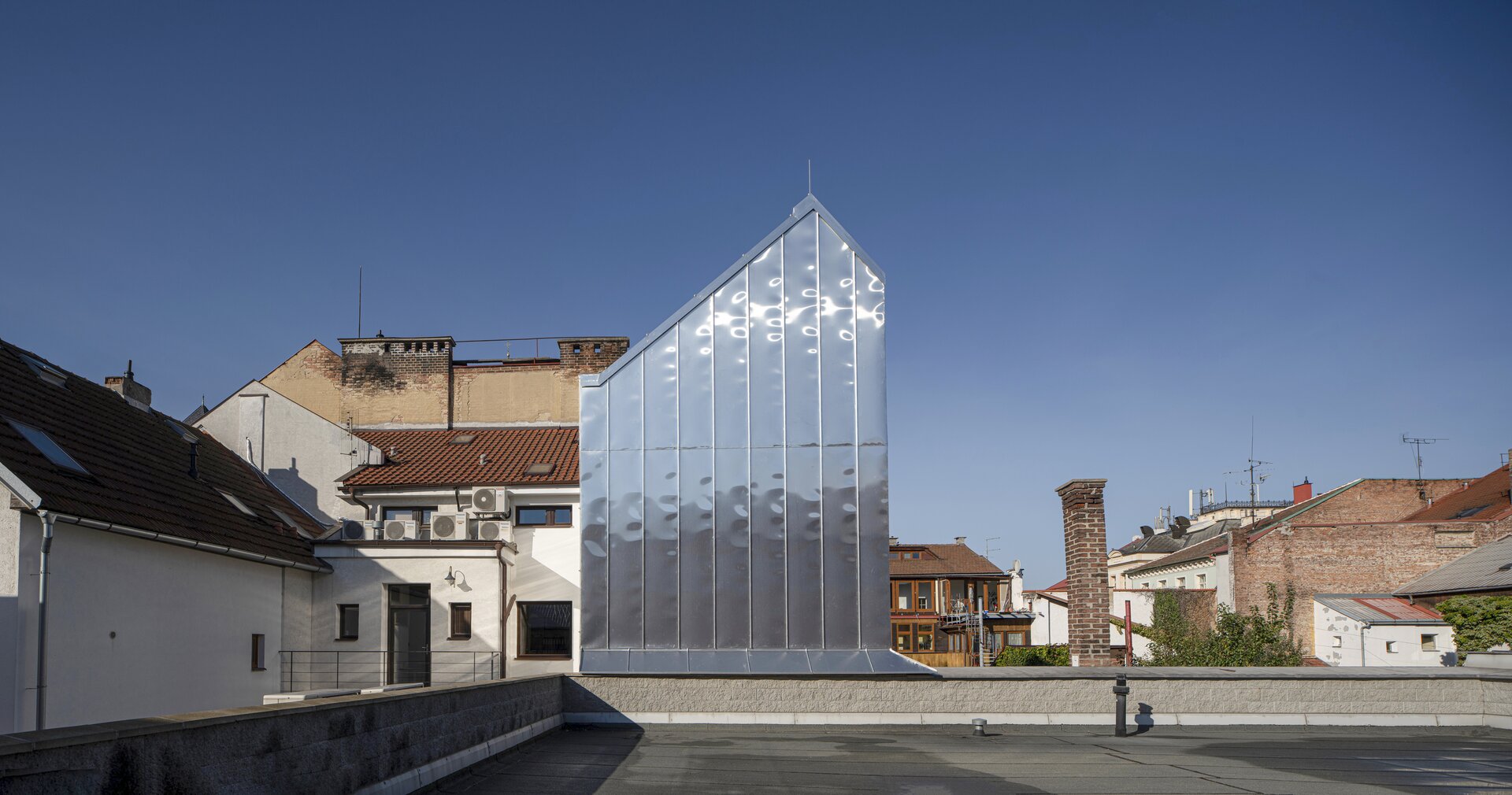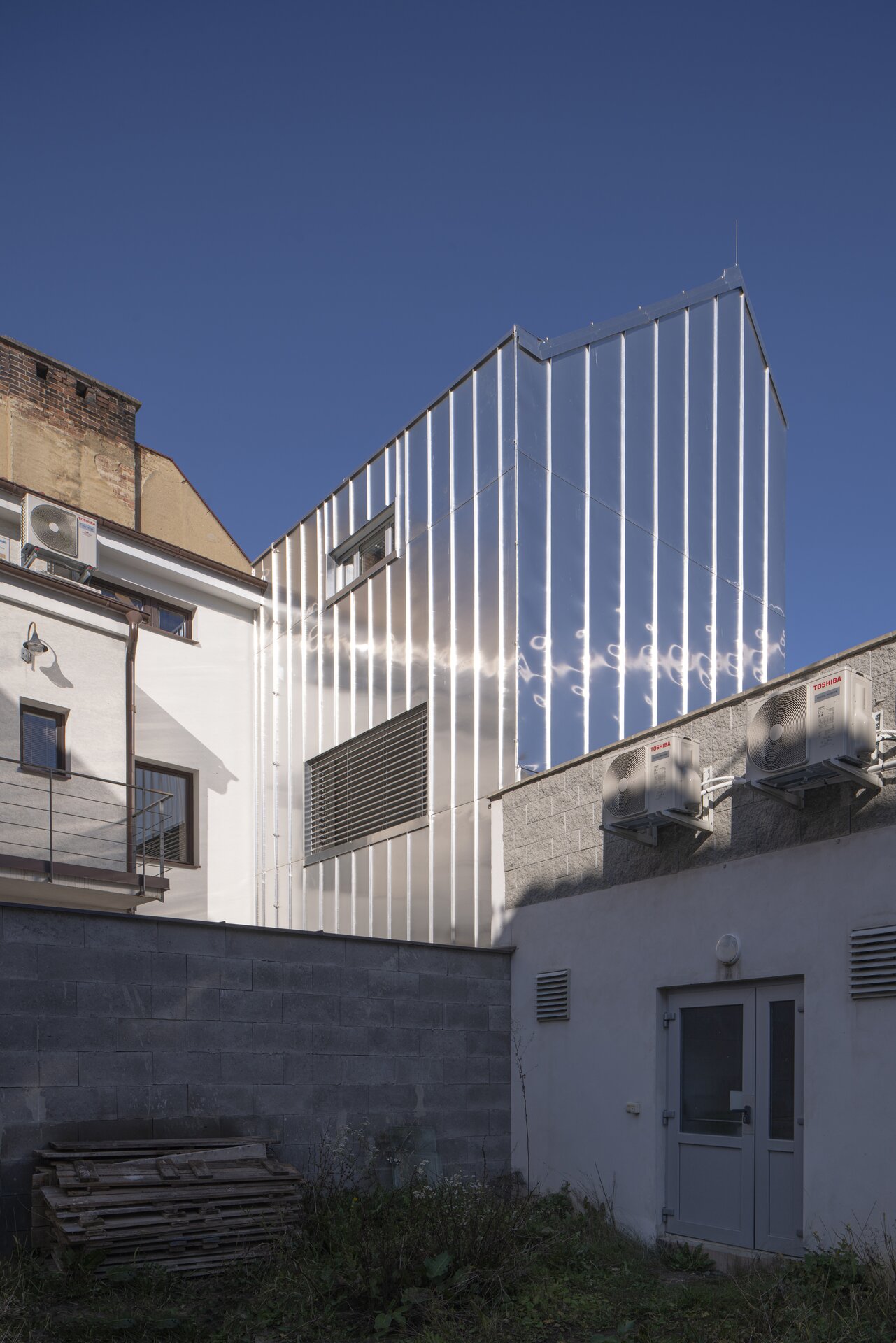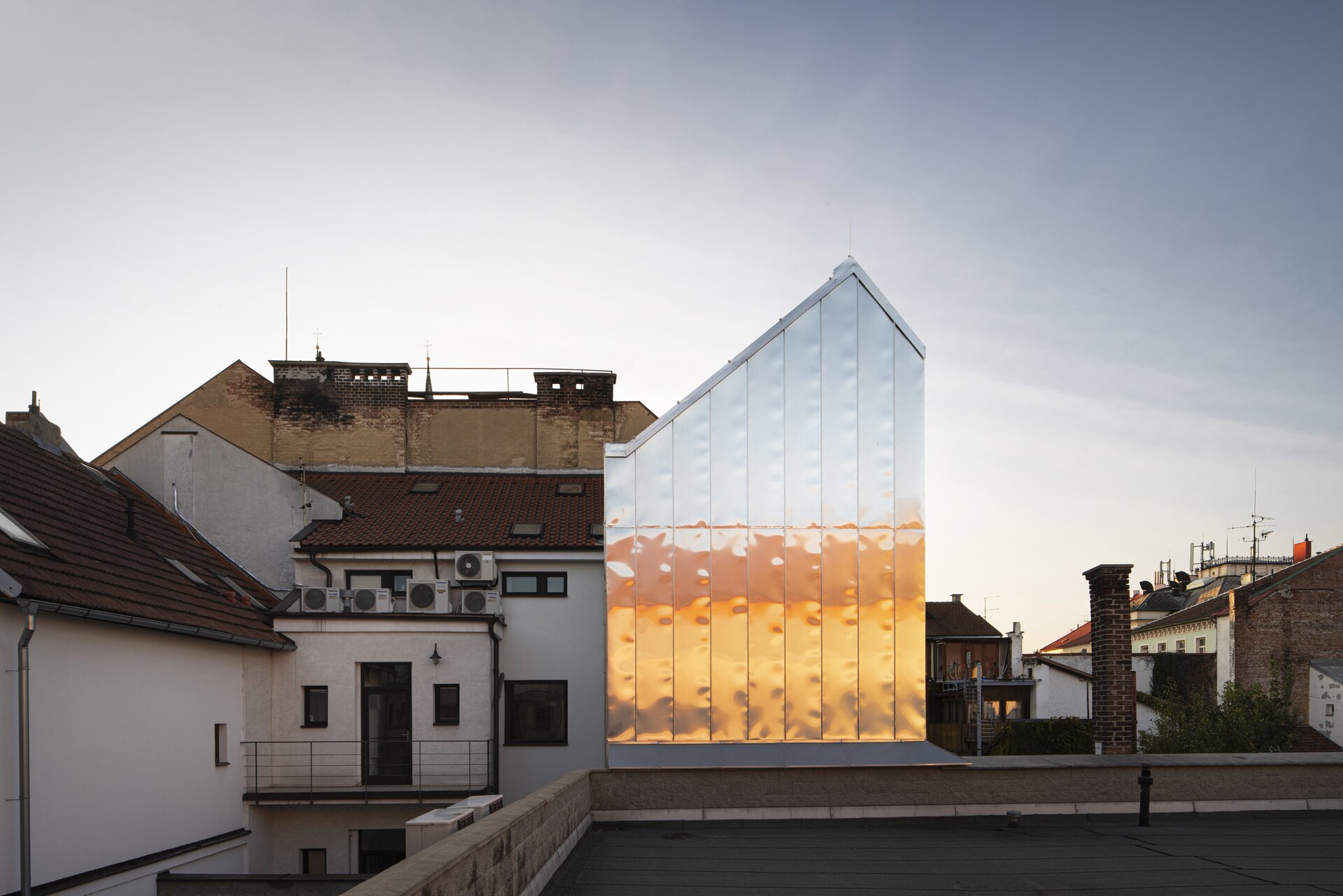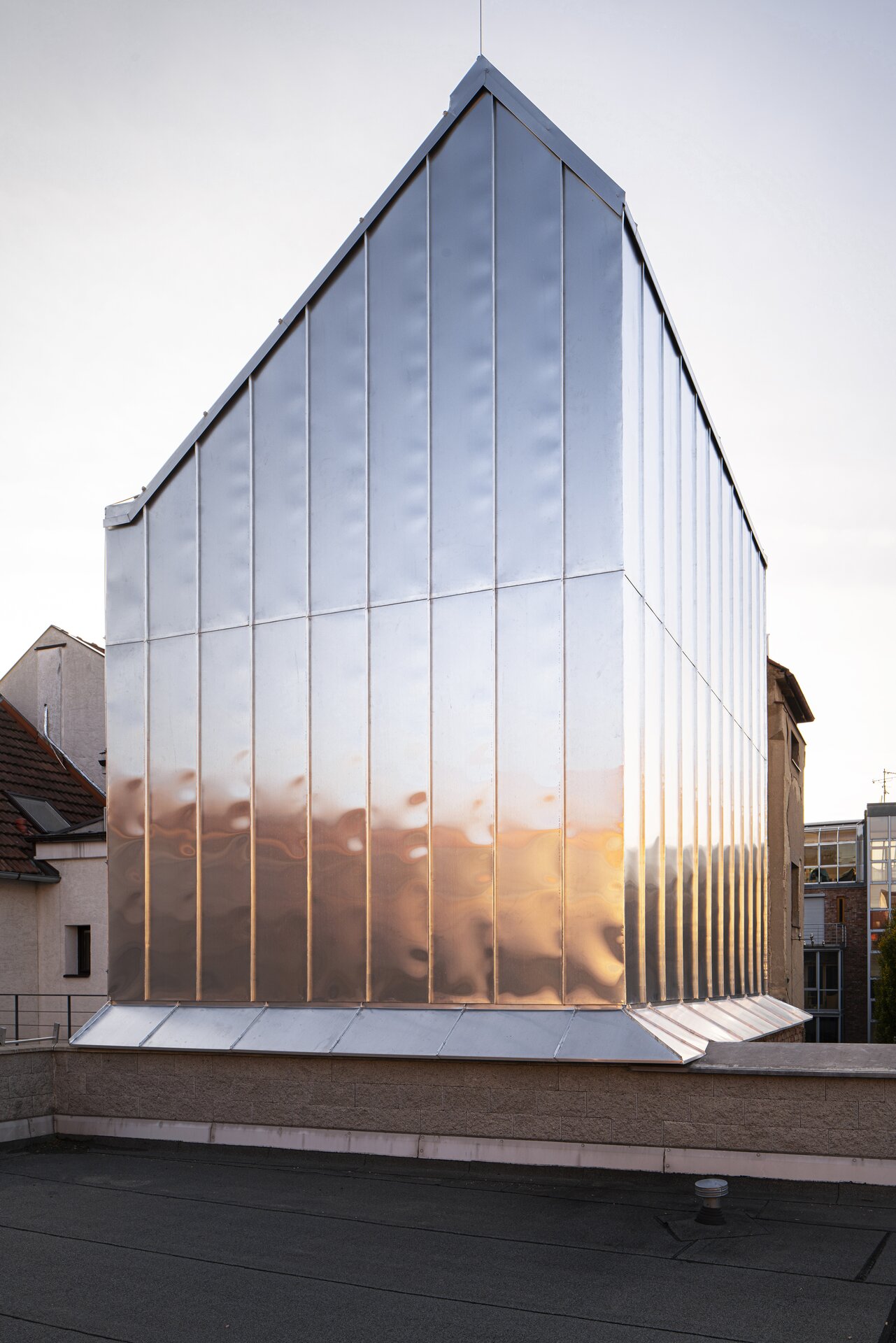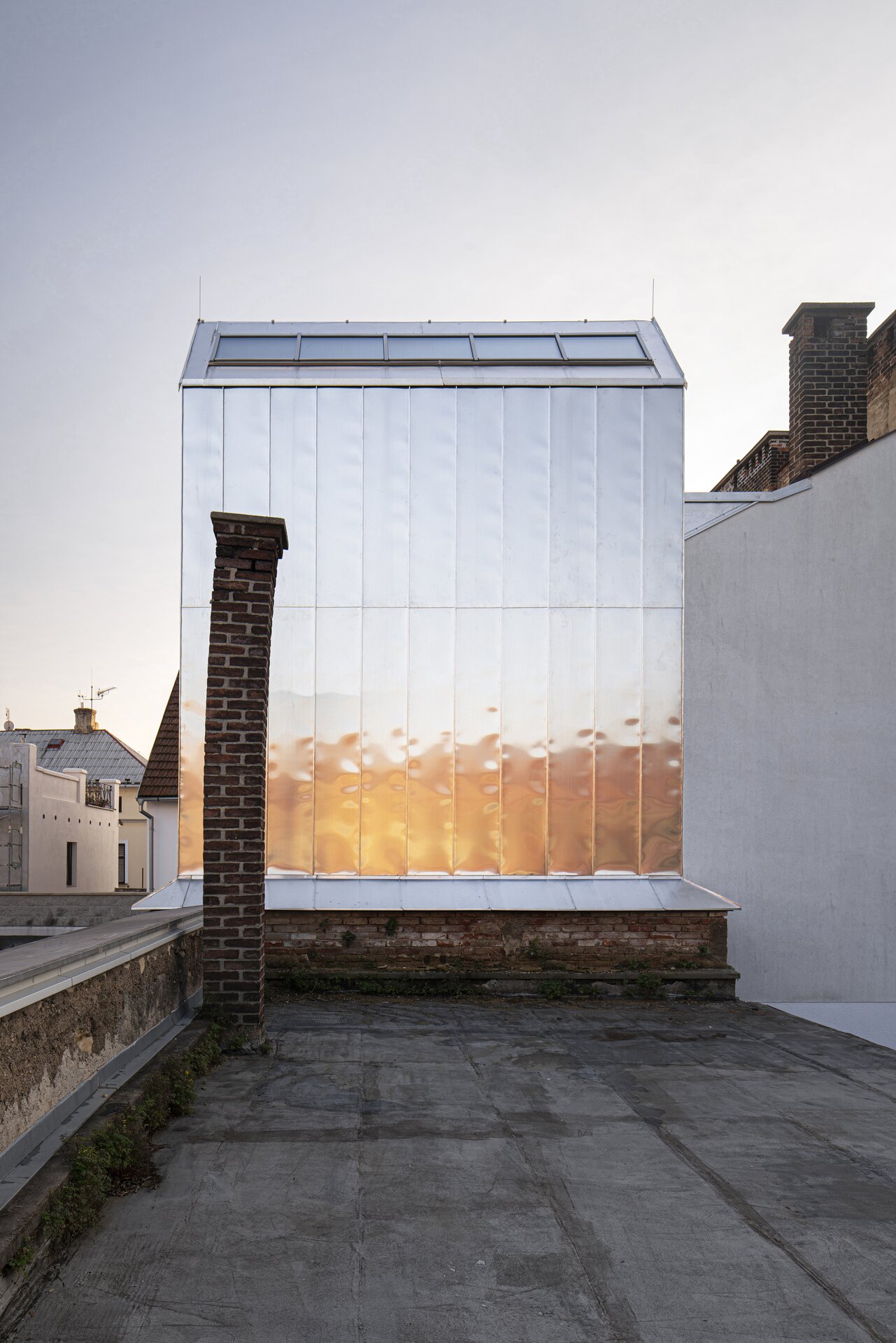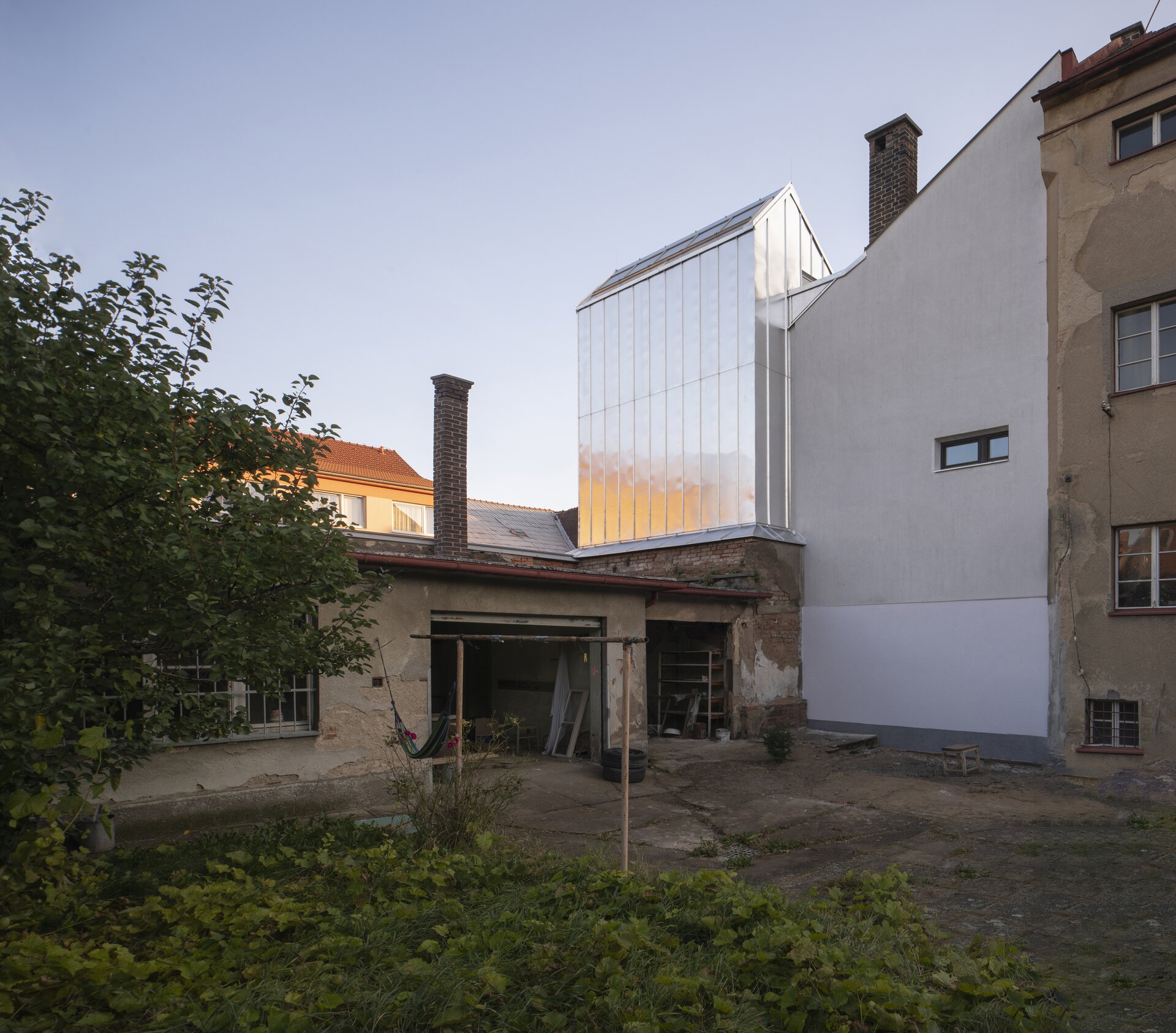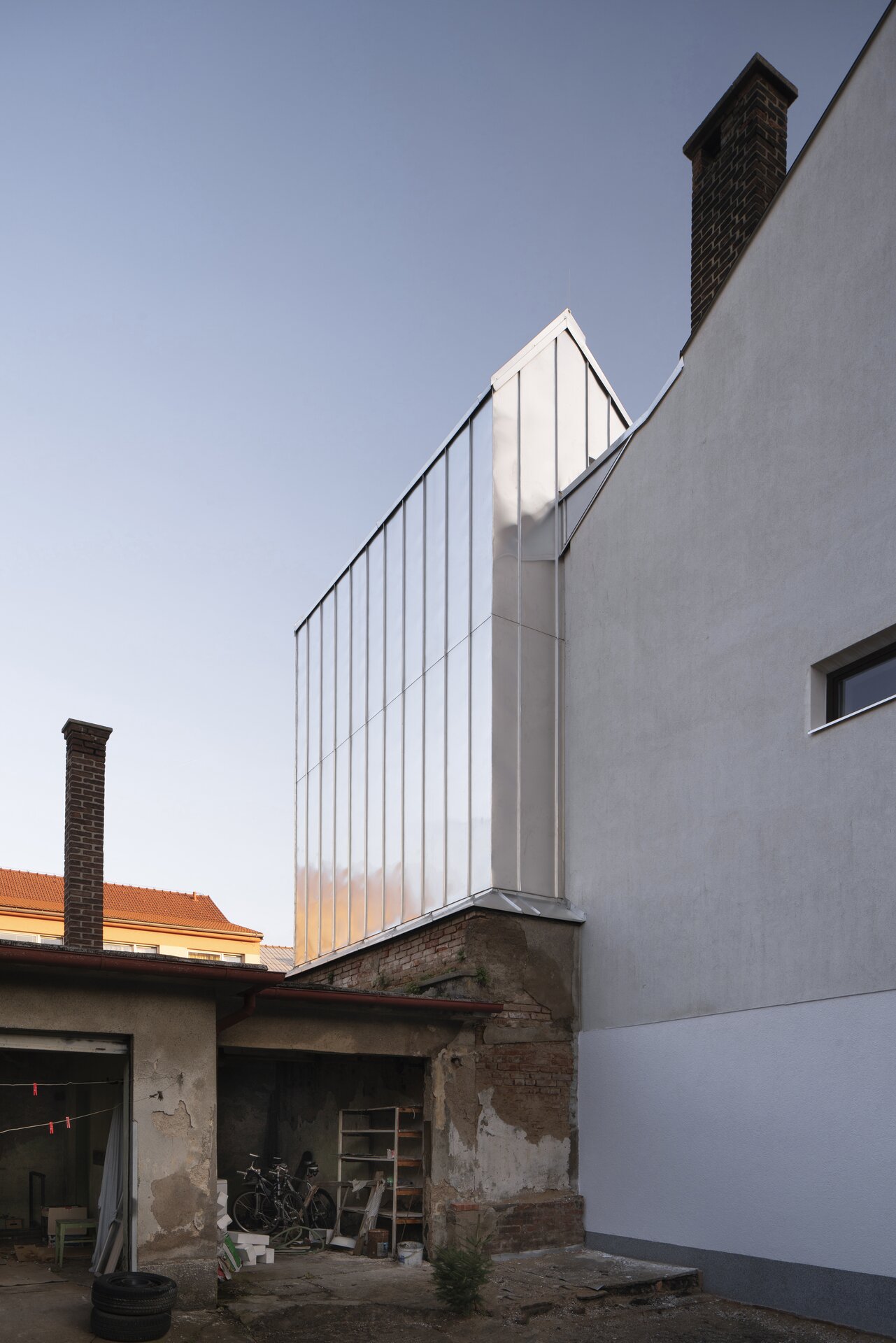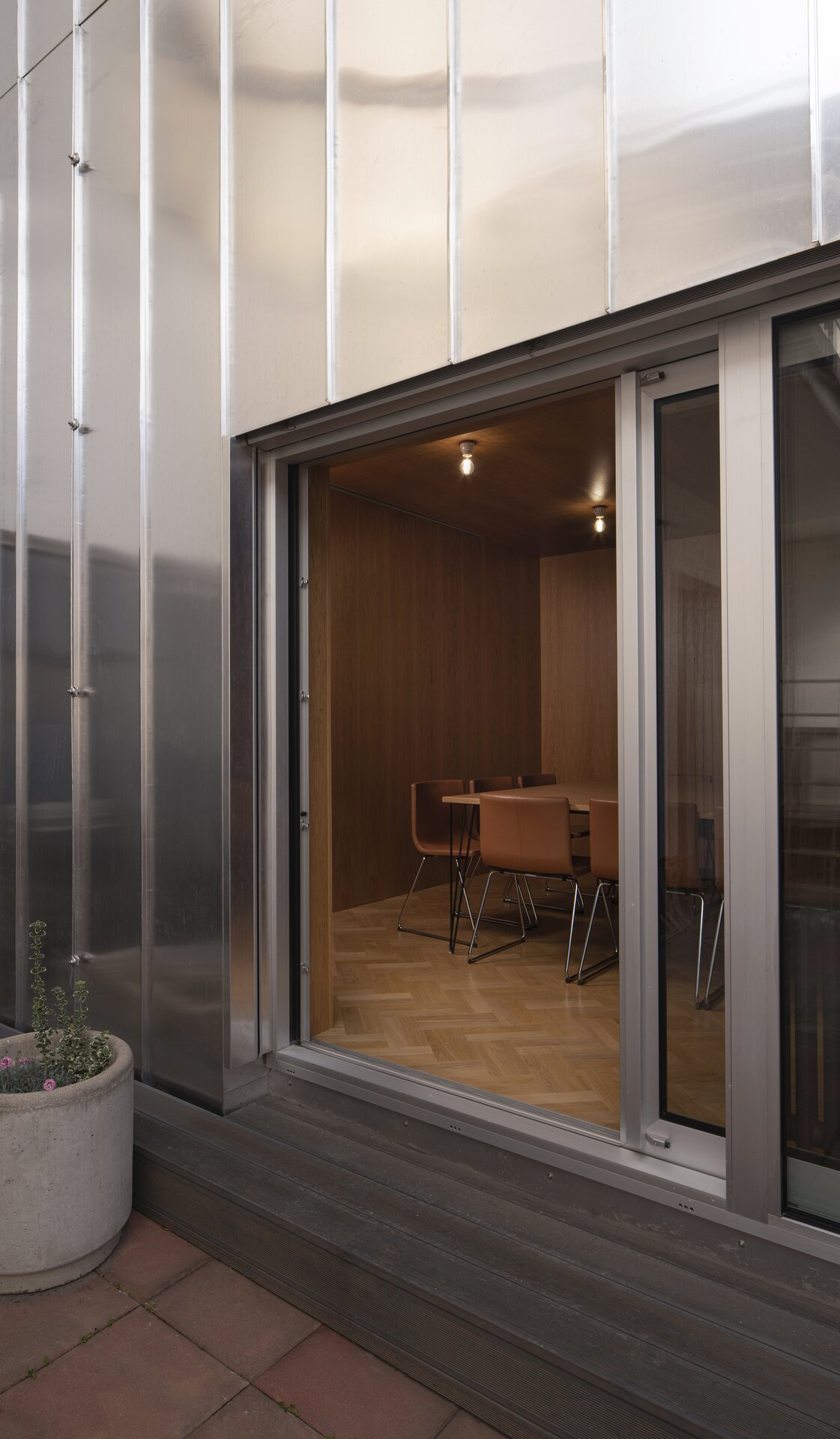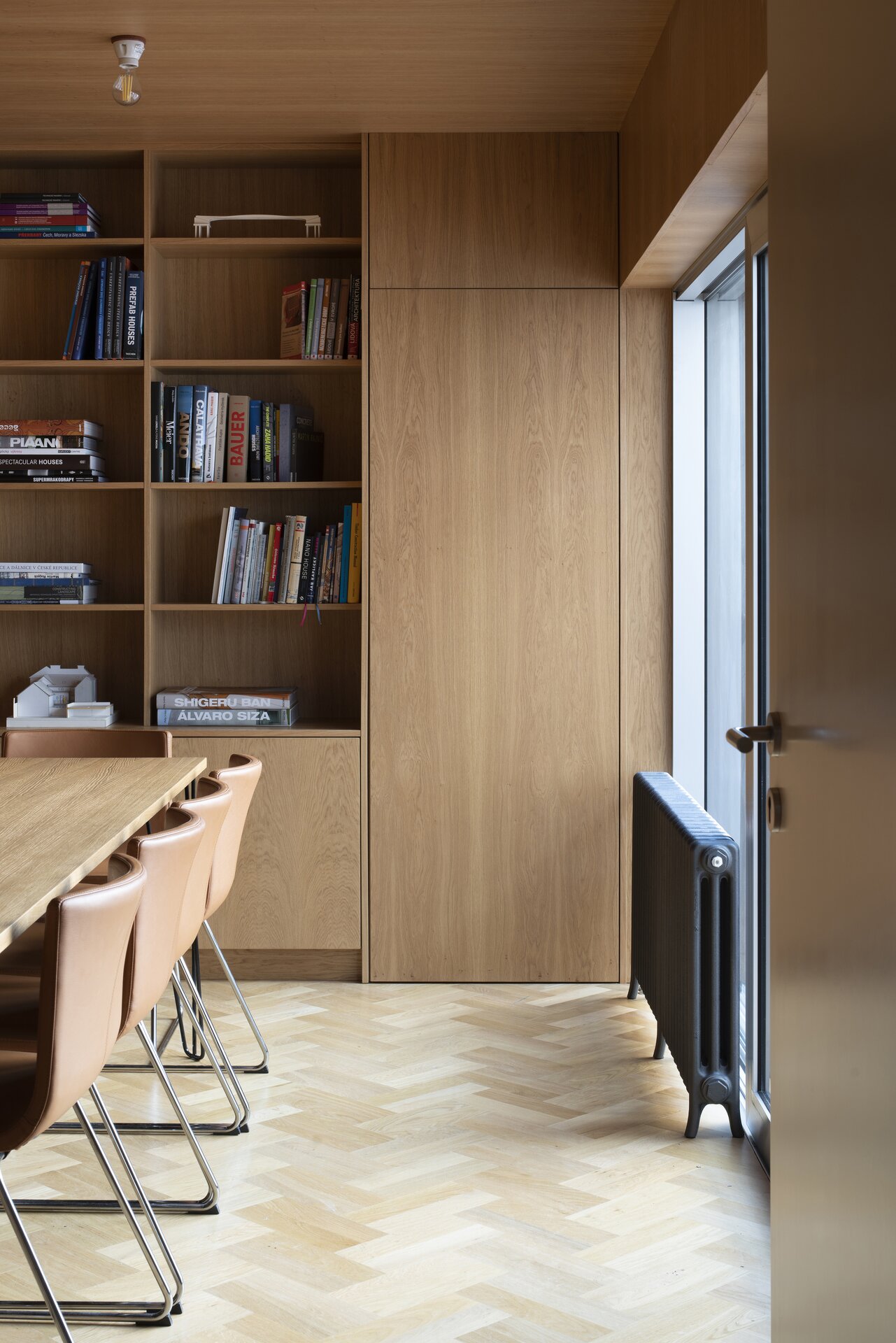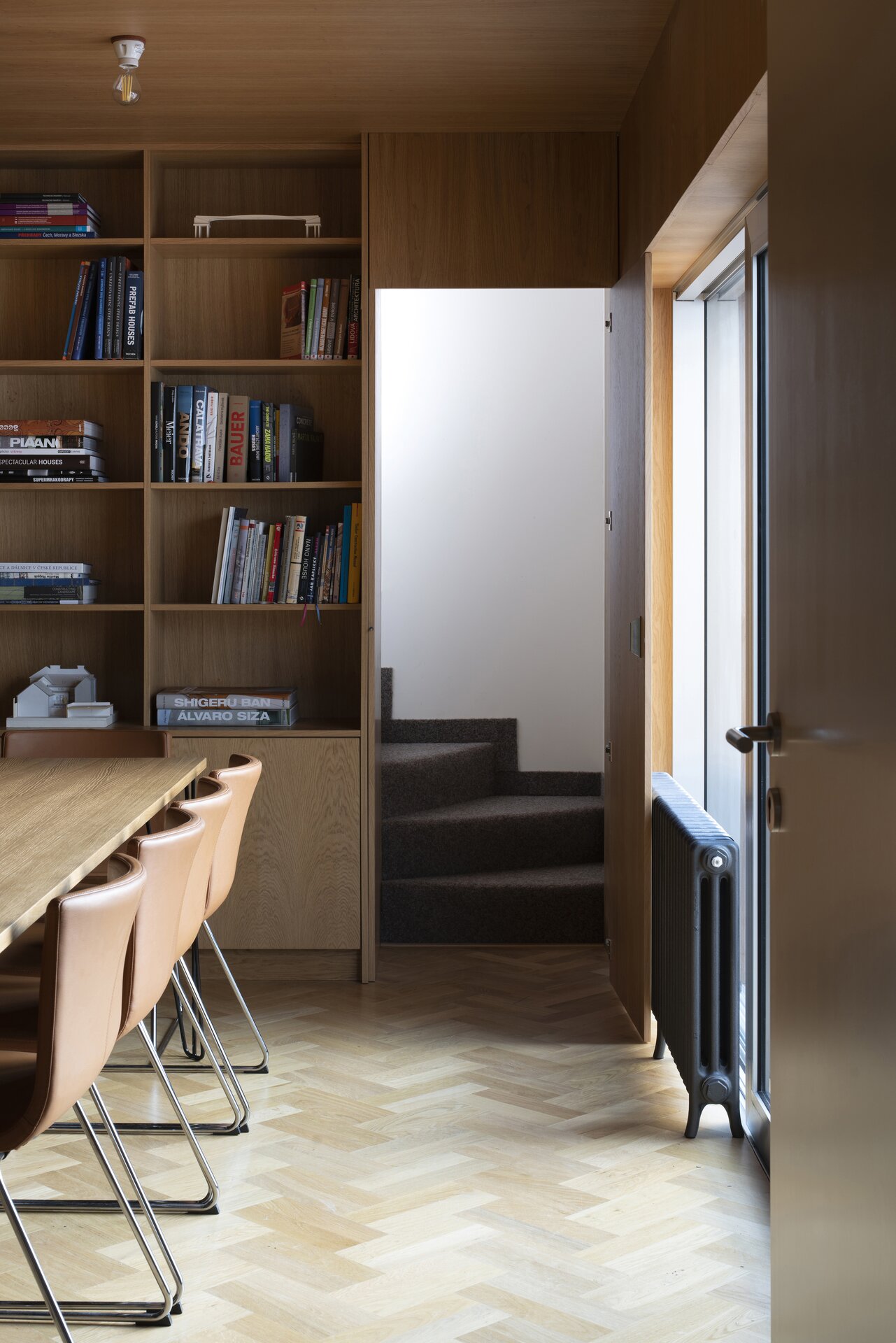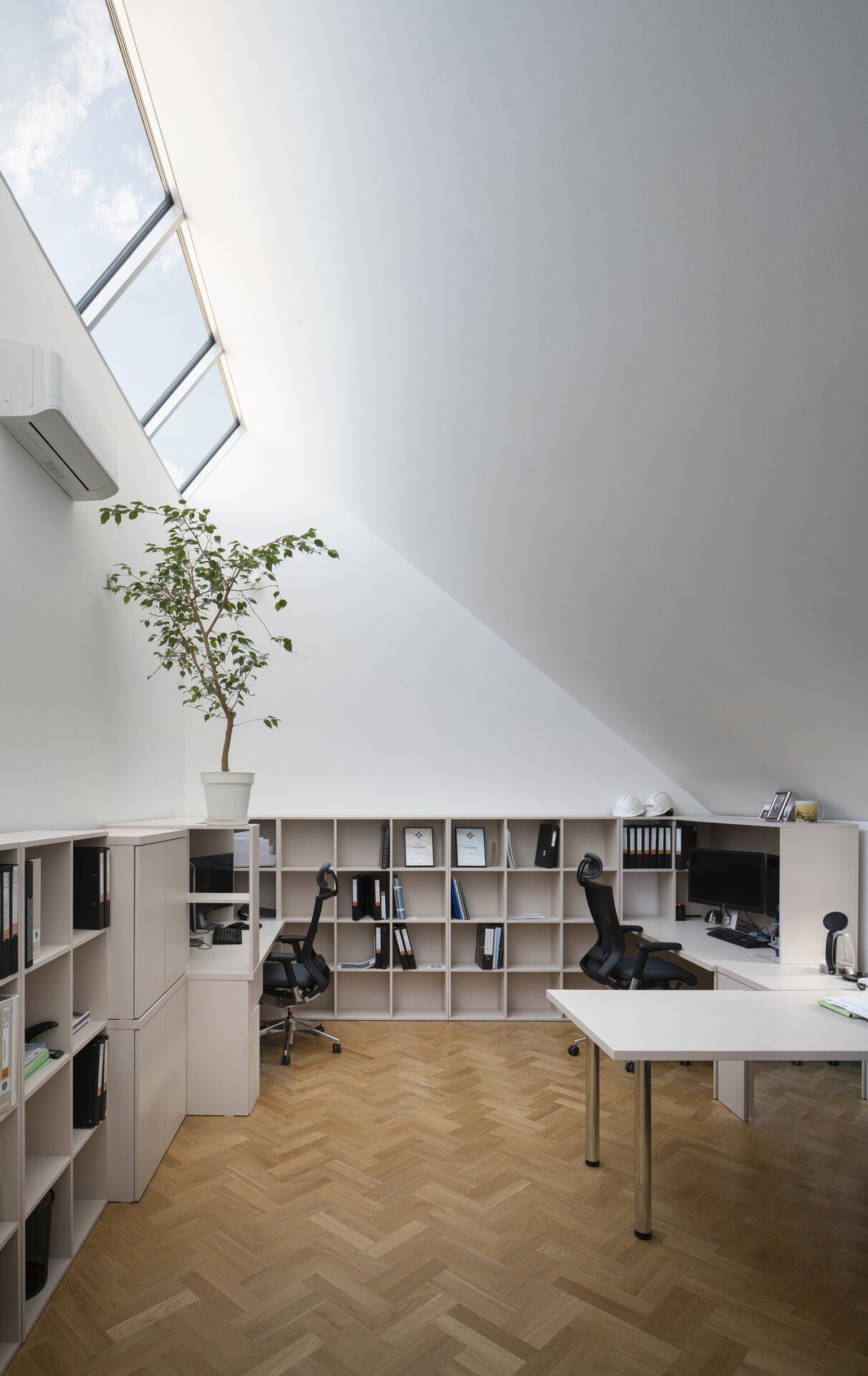 | | |
| --- | --- |
| Author | Martin Prokš, Marek Přikryl / Prokš Přikryl architekti |
| Studio | |
| Location | Försterova 175, 566 01 Vysoké Mýto |
| Investor | MDS projekt s.r.o. |
| Supplier | Tesaři Osík, klempířství Milan Halamka, okna Alurey, truhláři JR interiér |
| Date of project approval | March 2021 |
| Fotograf | |
A small plot, in the inner backyard, just behind the main square, surrounded by the solid walls, everything is cramped here.
These limits gave the extension the shape of a tower with a minimal floor plan and pushed it to the very border, to the northern part of the plot. The courtyard thus remained spacious and the tower neither shades nor interferes with the surroundings. The reflective aluminum façade mirrors the colorful and diverse world of the backyards from which the annex draws its shape and character, the silhouette of which fits to the surroundings and improves it at the same time. However, situated in the second plan from the street, it remains hidden from the passers-by.
Due to the limited access to the building site and to manage the quick assembling, a light timber frame was chosen, mounted on the concrete strip foundations with the plain aluminum façade, used also for the roofing. Floorplan is simple – one room per level. Between the meeting-room on the ground floor and the first floor there is a hidden operational staircase. A large skylight on the northern side brightens the attic in contrast to the small window on the southern façade. A wooden interior was chosen in contrast to the metal façade. Adjustments were necessary to combine all floors of an old building with a new one and technical equipment had to be renovated.
Dimensions: height 11.85 m, width 6.25 m, depth 4.9 m.
Green building
Environmental certification
| | |
| --- | --- |
| Type and level of certificate | - |
Water management
| | |
| --- | --- |
| Is rainwater used for irrigation? | |
| Is rainwater used for other purposes, e.g. toilet flushing ? | |
| Does the building have a green roof / facade ? | |
| Is reclaimed waste water used, e.g. from showers and sinks ? | |
The quality of the indoor environment
| | |
| --- | --- |
| Is clean air supply automated ? | |
| Is comfortable temperature during summer and winter automated? | |
| Is natural lighting guaranteed in all living areas? | |
| Is artificial lighting automated? | |
| Is acoustic comfort, specifically reverberation time, guaranteed? | |
| Does the layout solution include zoning and ergonomics elements? | |
Principles of circular economics
| | |
| --- | --- |
| Does the project use recycled materials? | |
| Does the project use recyclable materials? | |
| Are materials with a documented Environmental Product Declaration (EPD) promoted in the project? | |
| Are other sustainability certifications used for materials and elements? | |
Energy efficiency
| | |
| --- | --- |
| Energy performance class of the building according to the Energy Performance Certificate of the building | D |
| Is efficient energy management (measurement and regular analysis of consumption data) considered? | |
| Are renewable sources of energy used, e.g. solar system, photovoltaics? | |
Interconnection with surroundings
| | |
| --- | --- |
| Does the project enable the easy use of public transport? | |
| Does the project support the use of alternative modes of transport, e.g cycling, walking etc. ? | |
| Is there access to recreational natural areas, e.g. parks, in the immediate vicinity of the building? | |