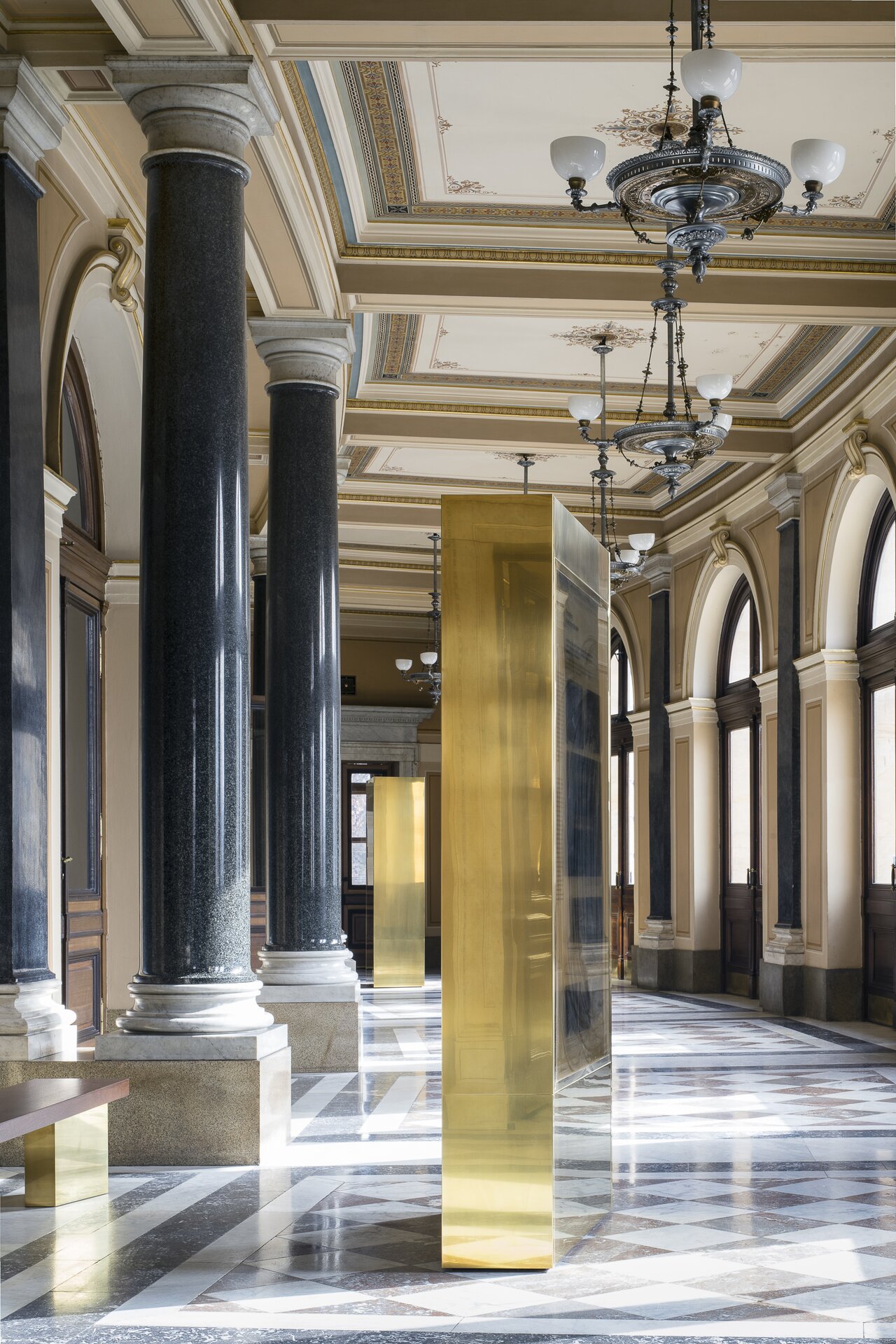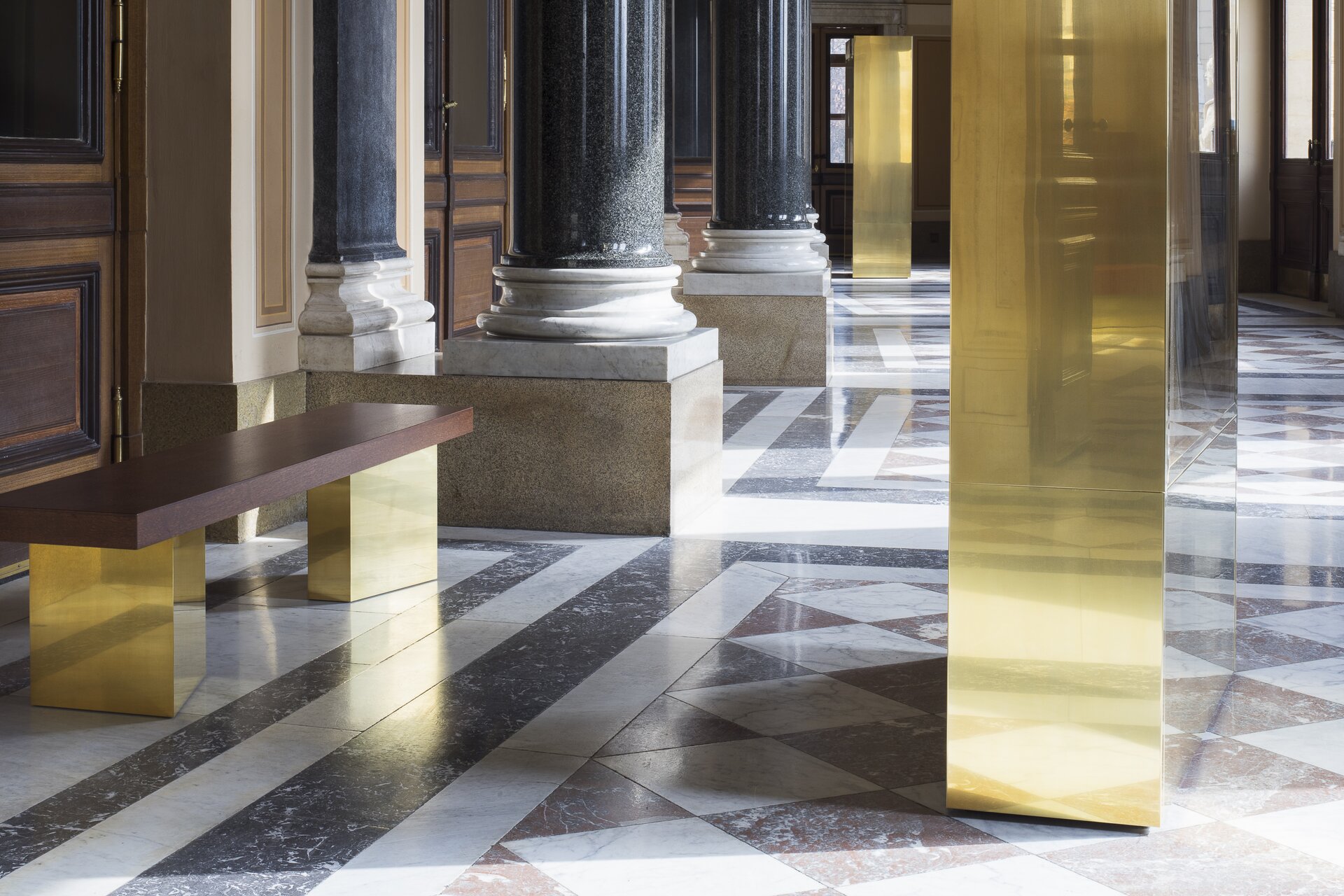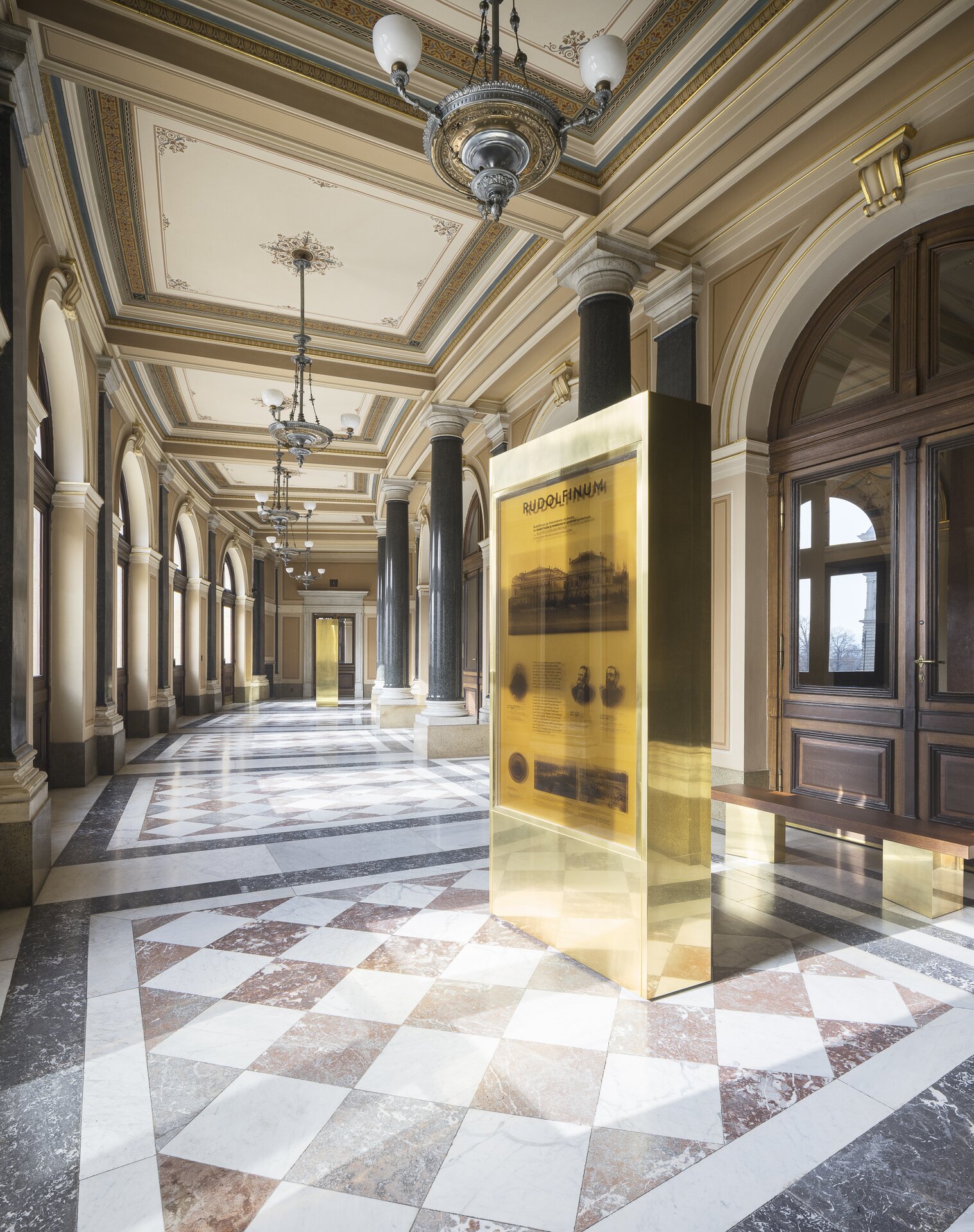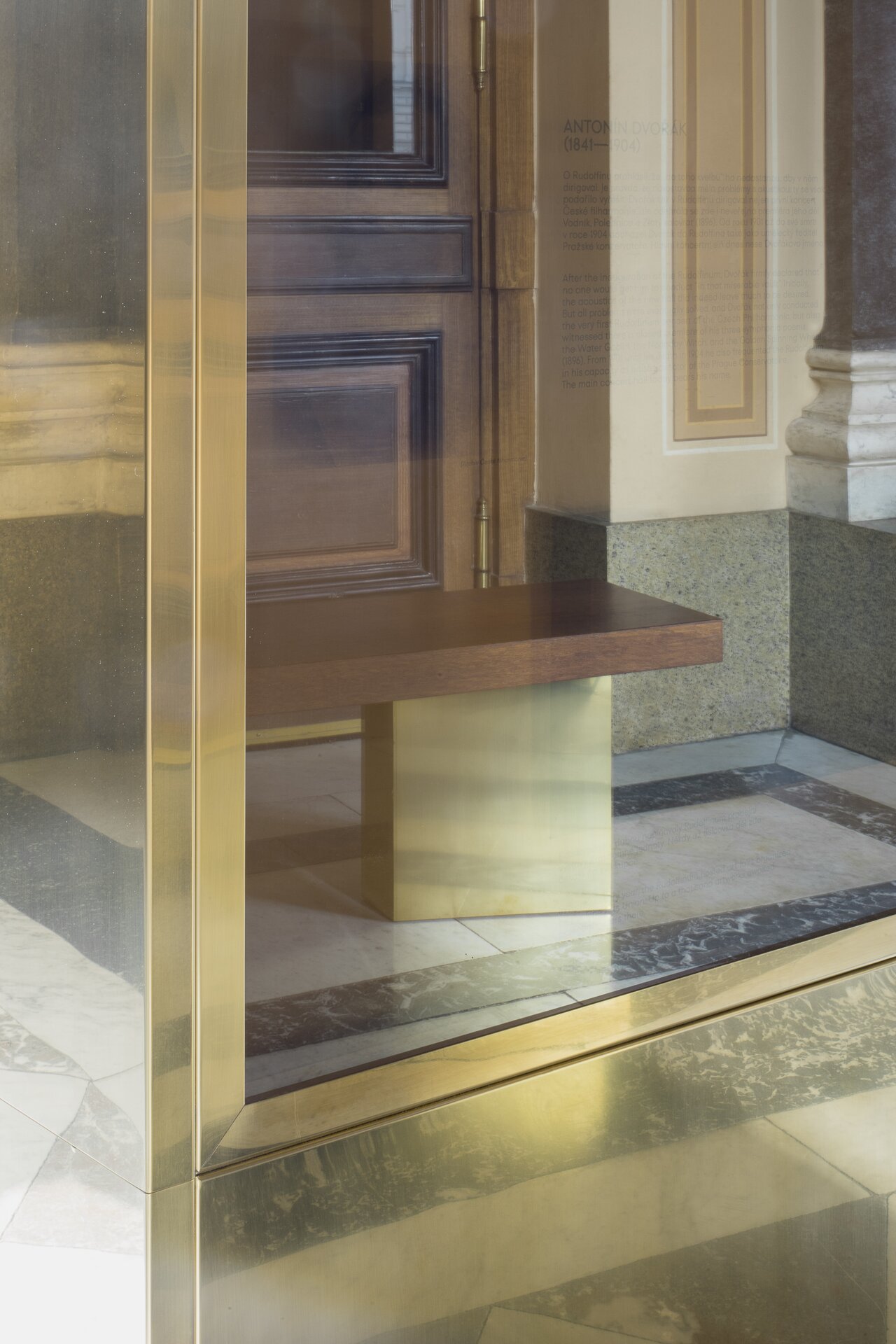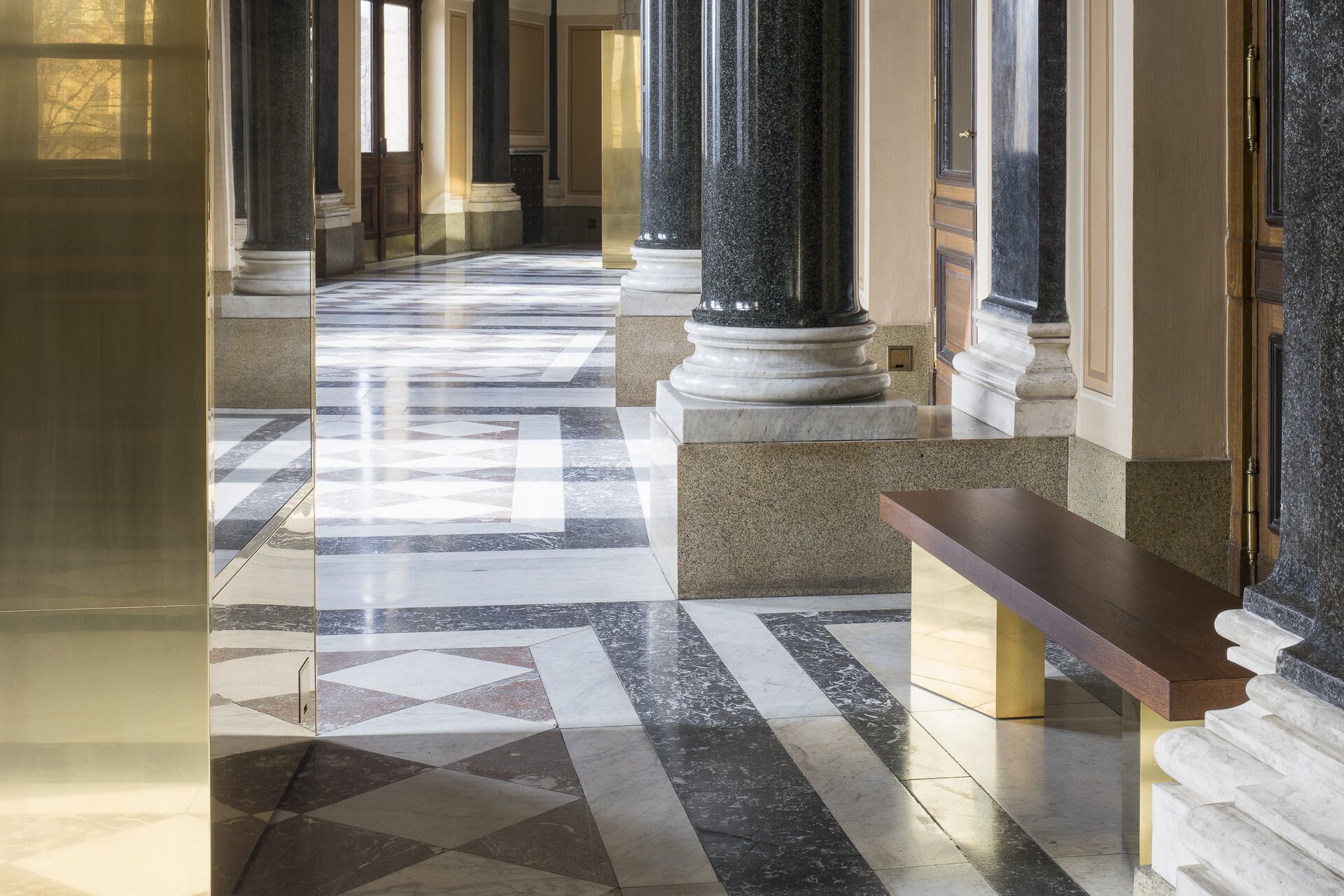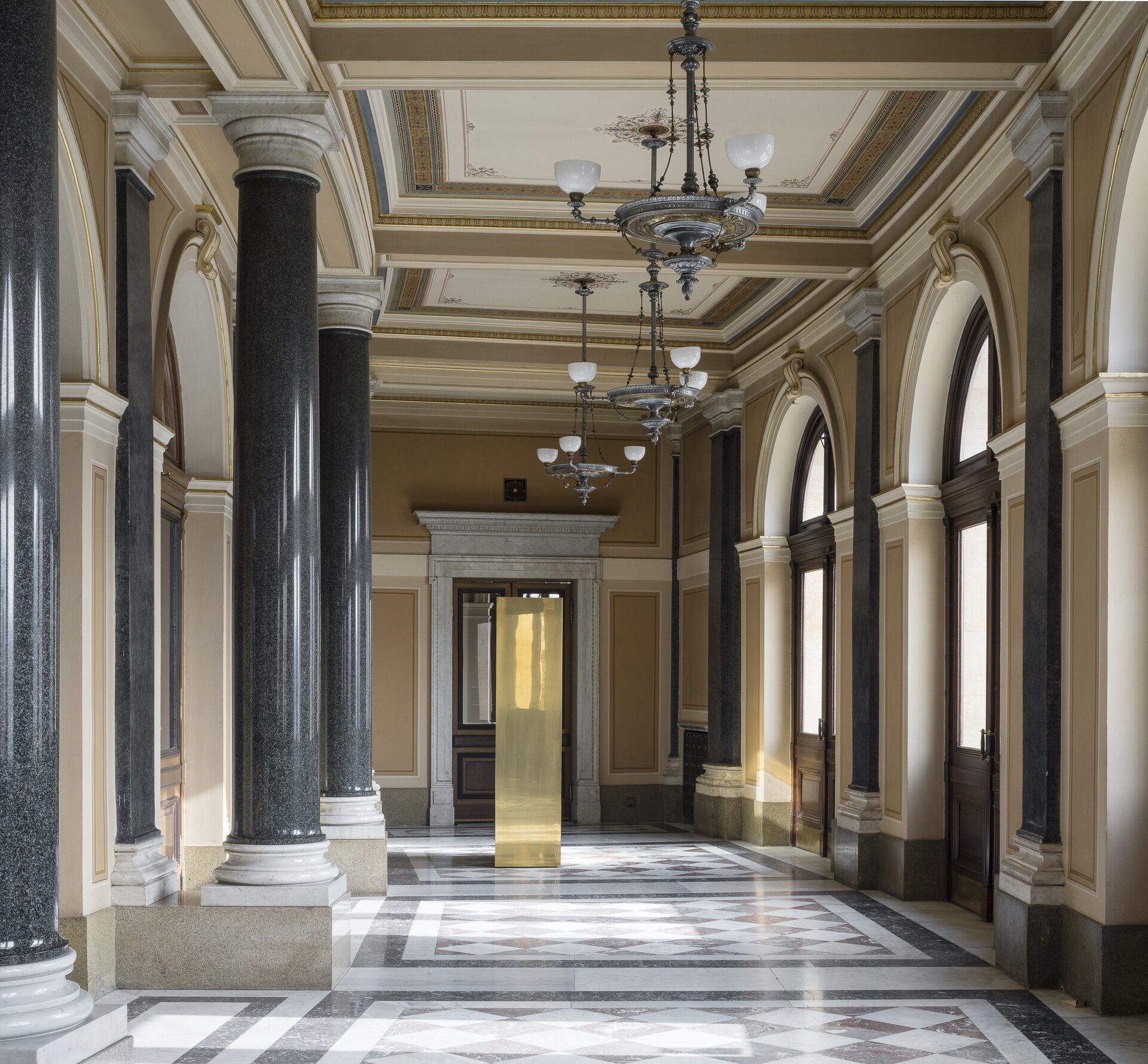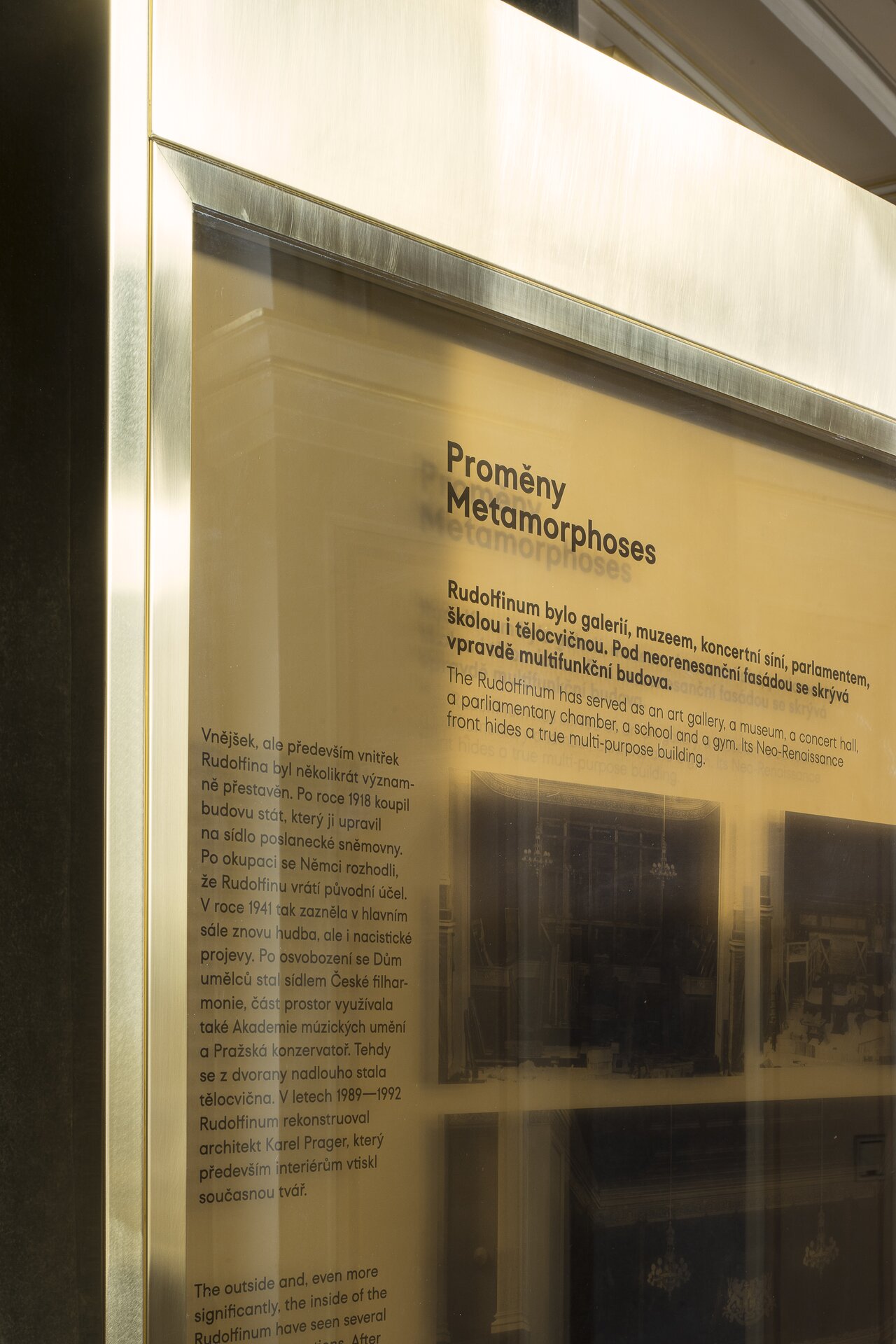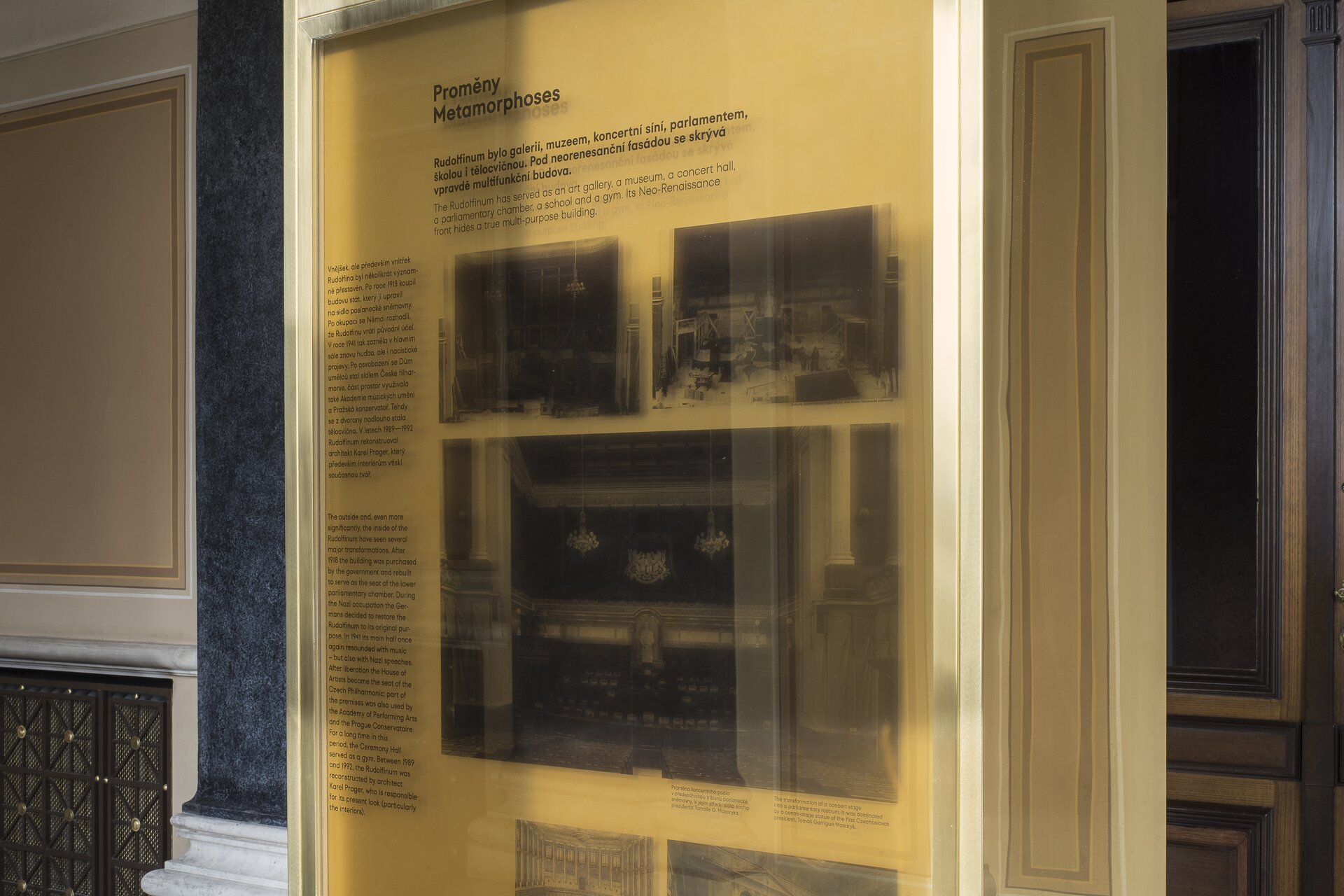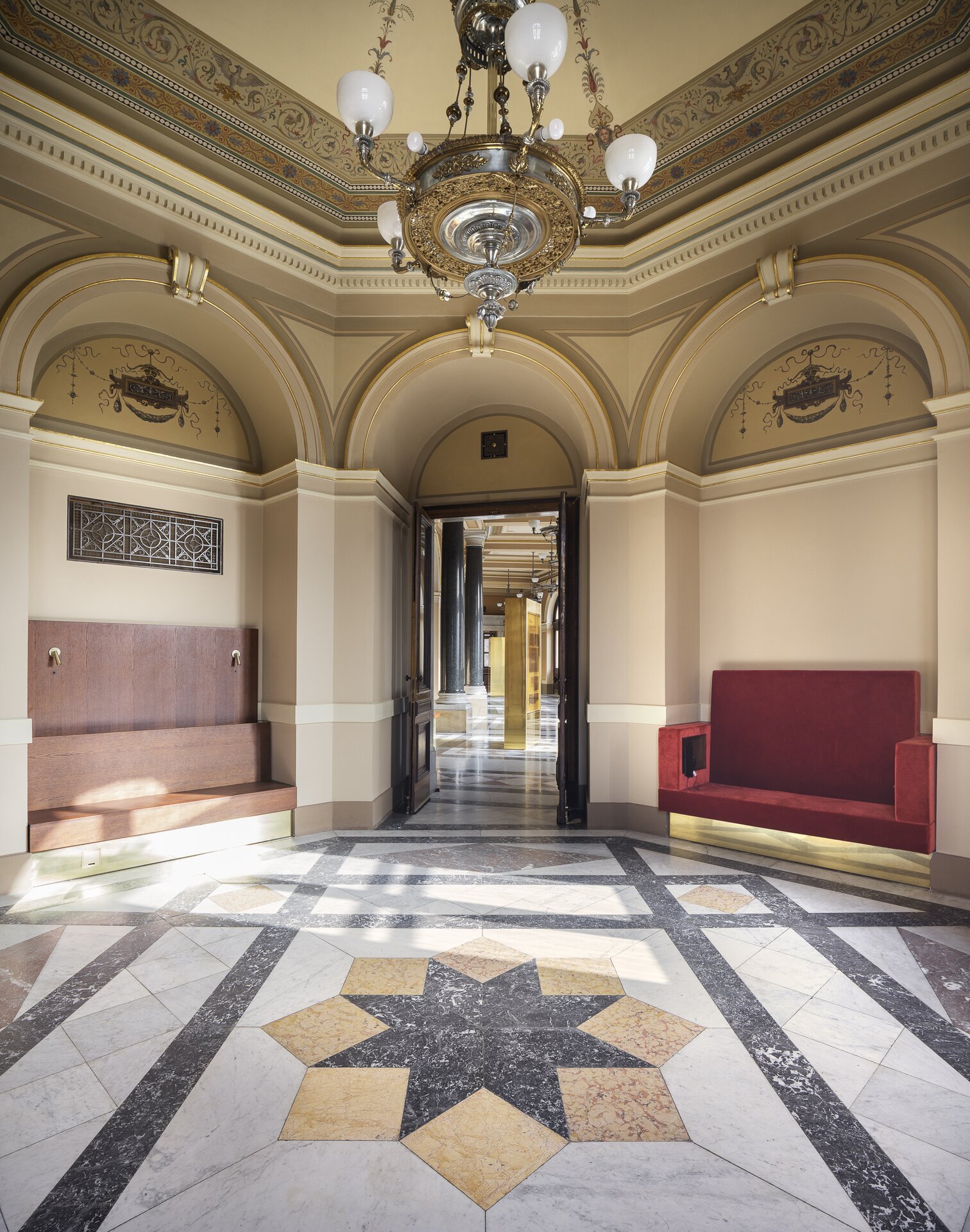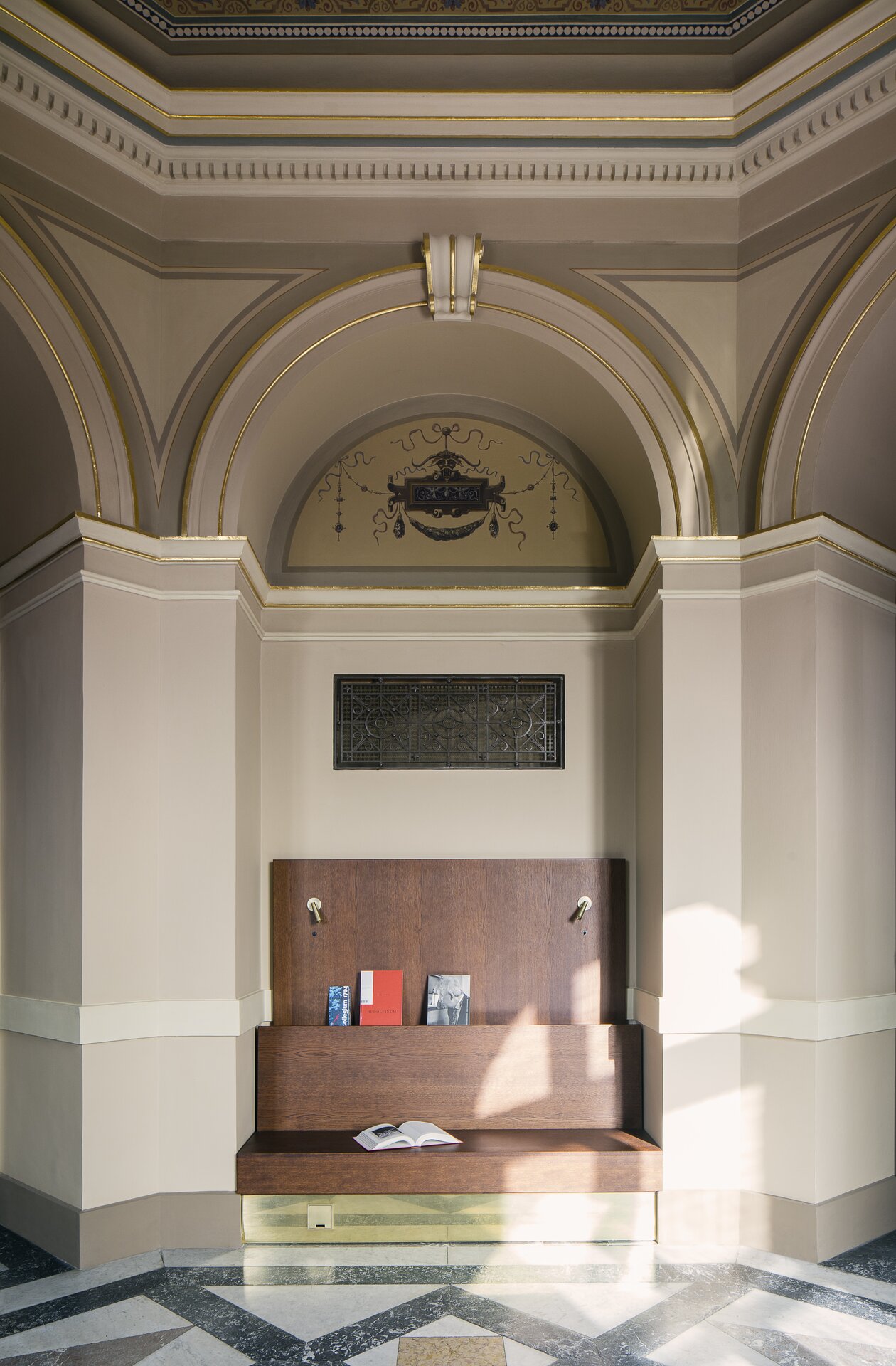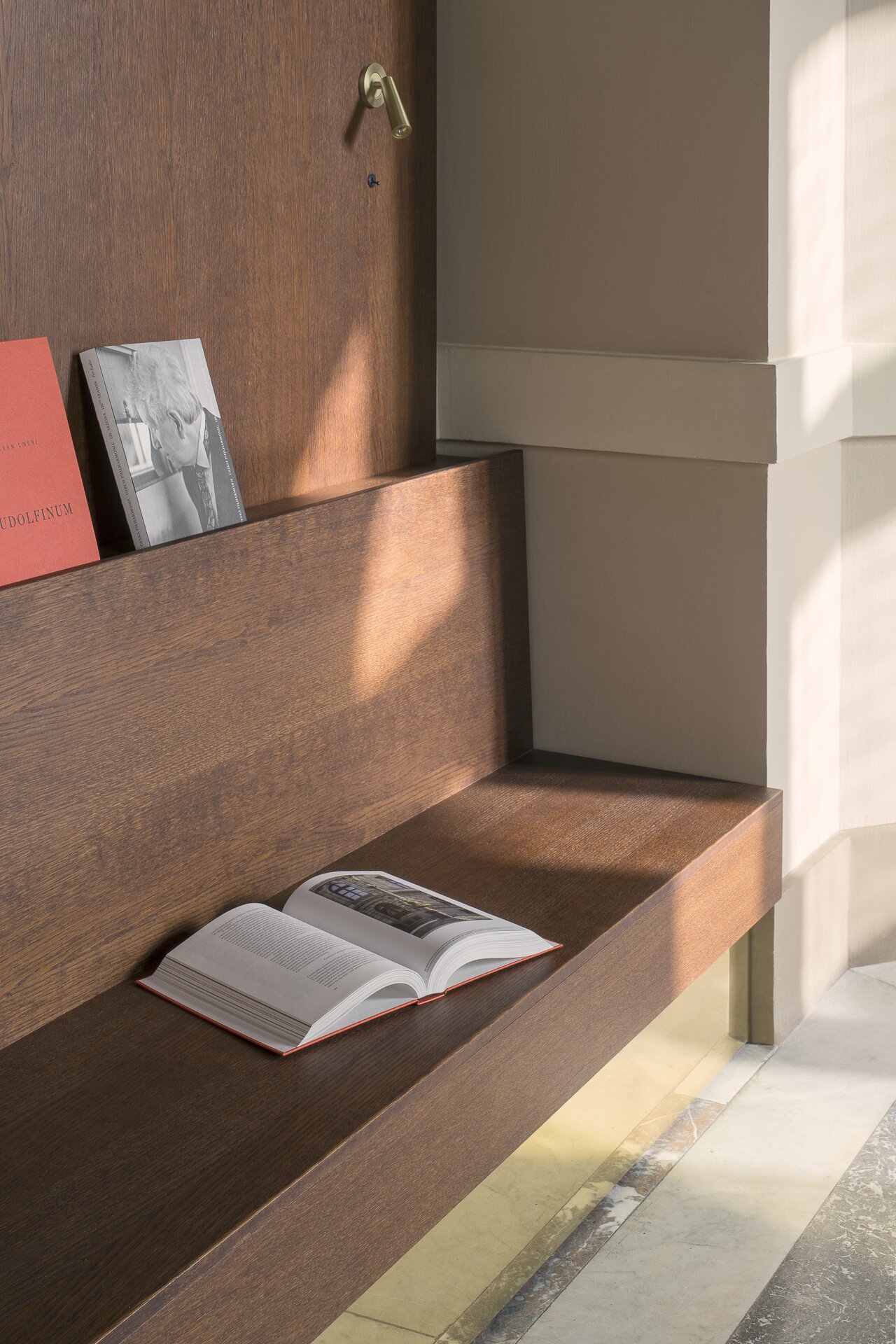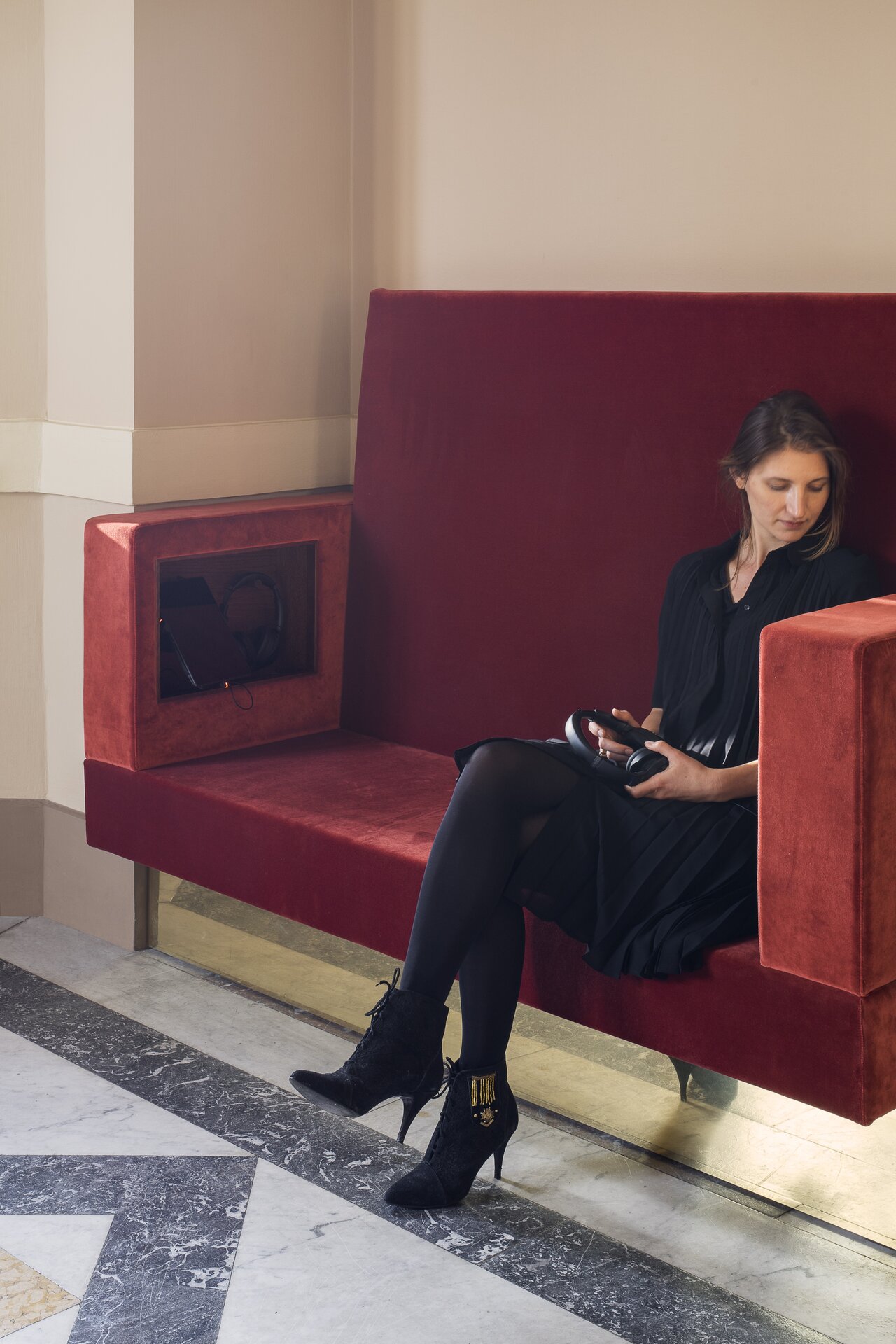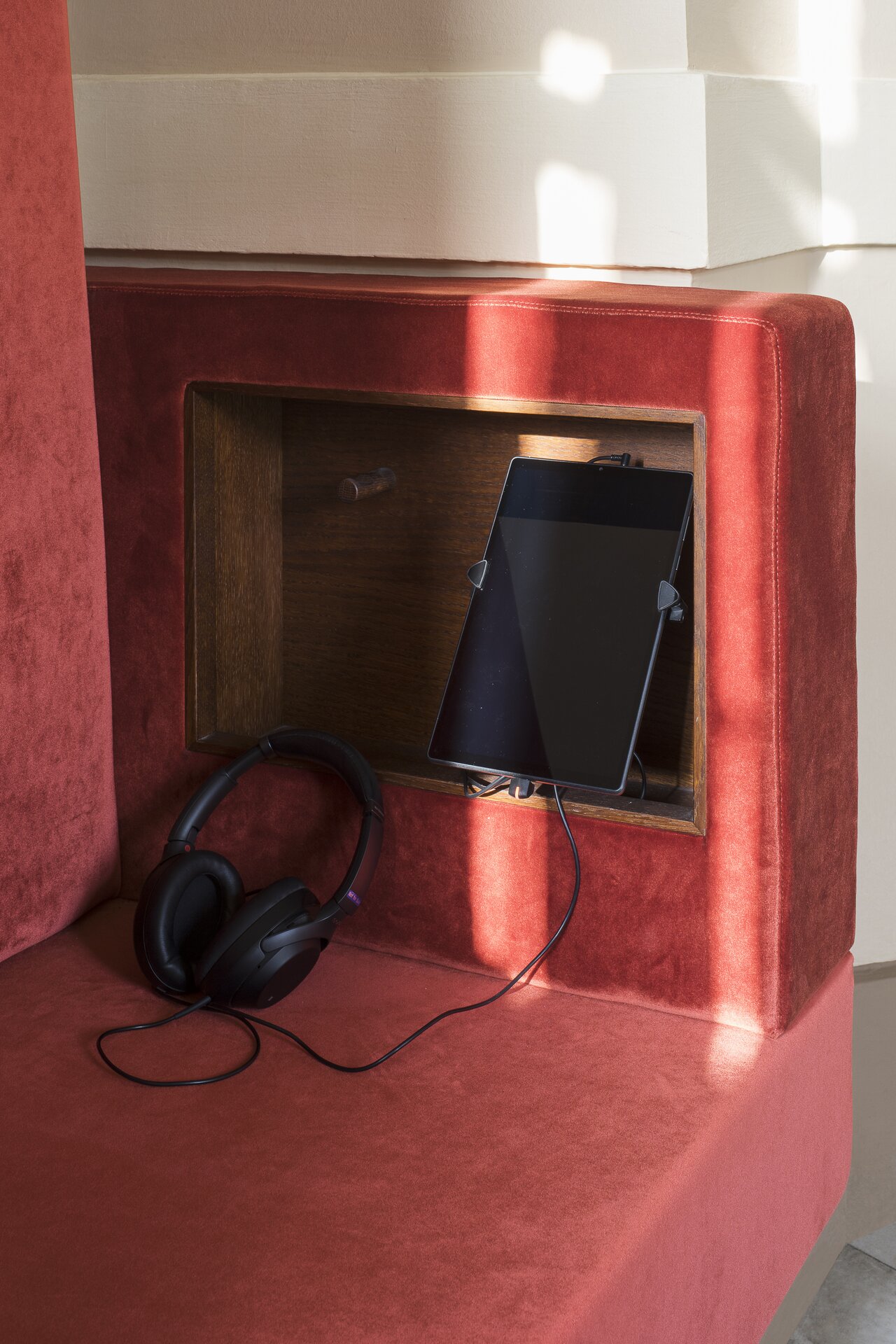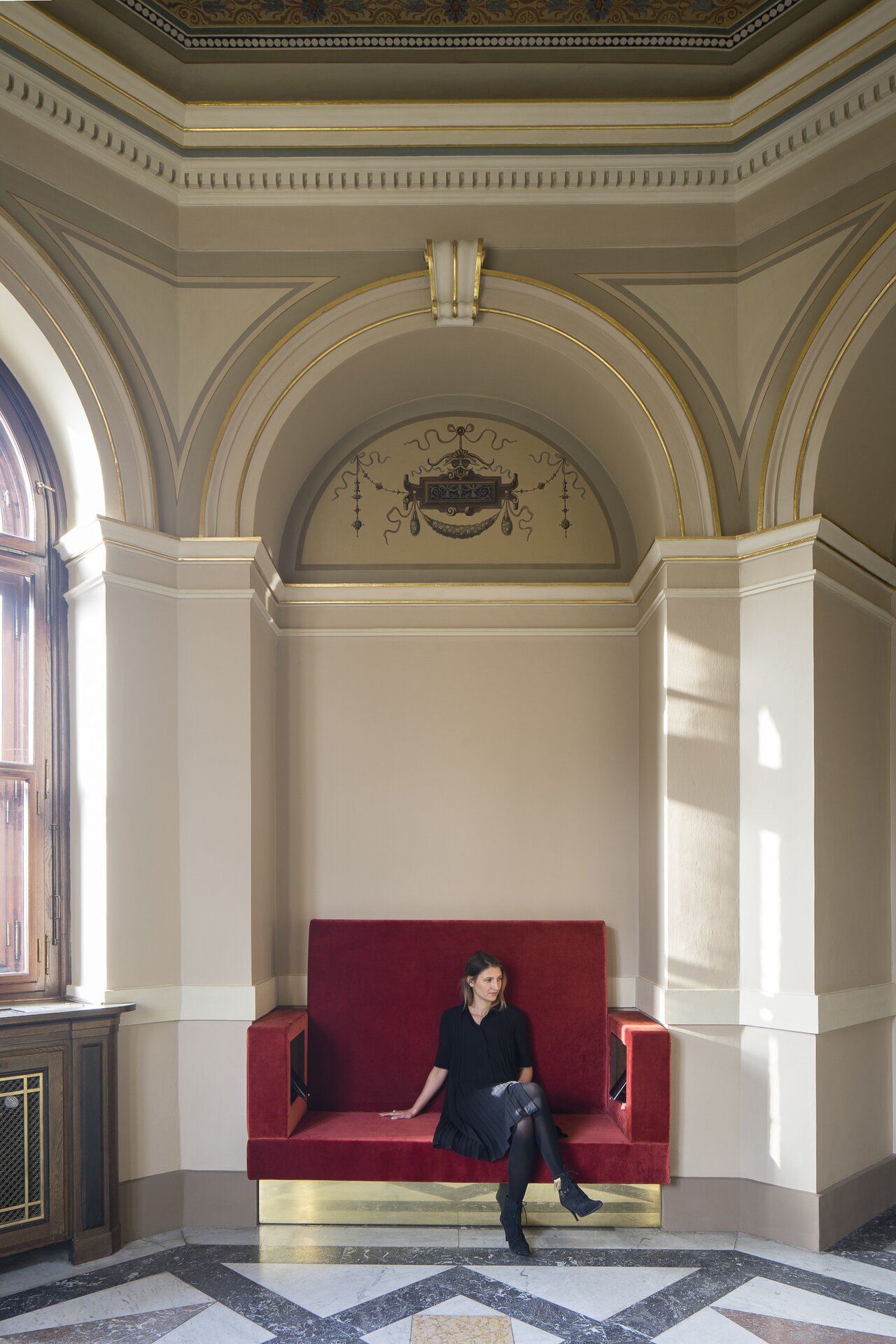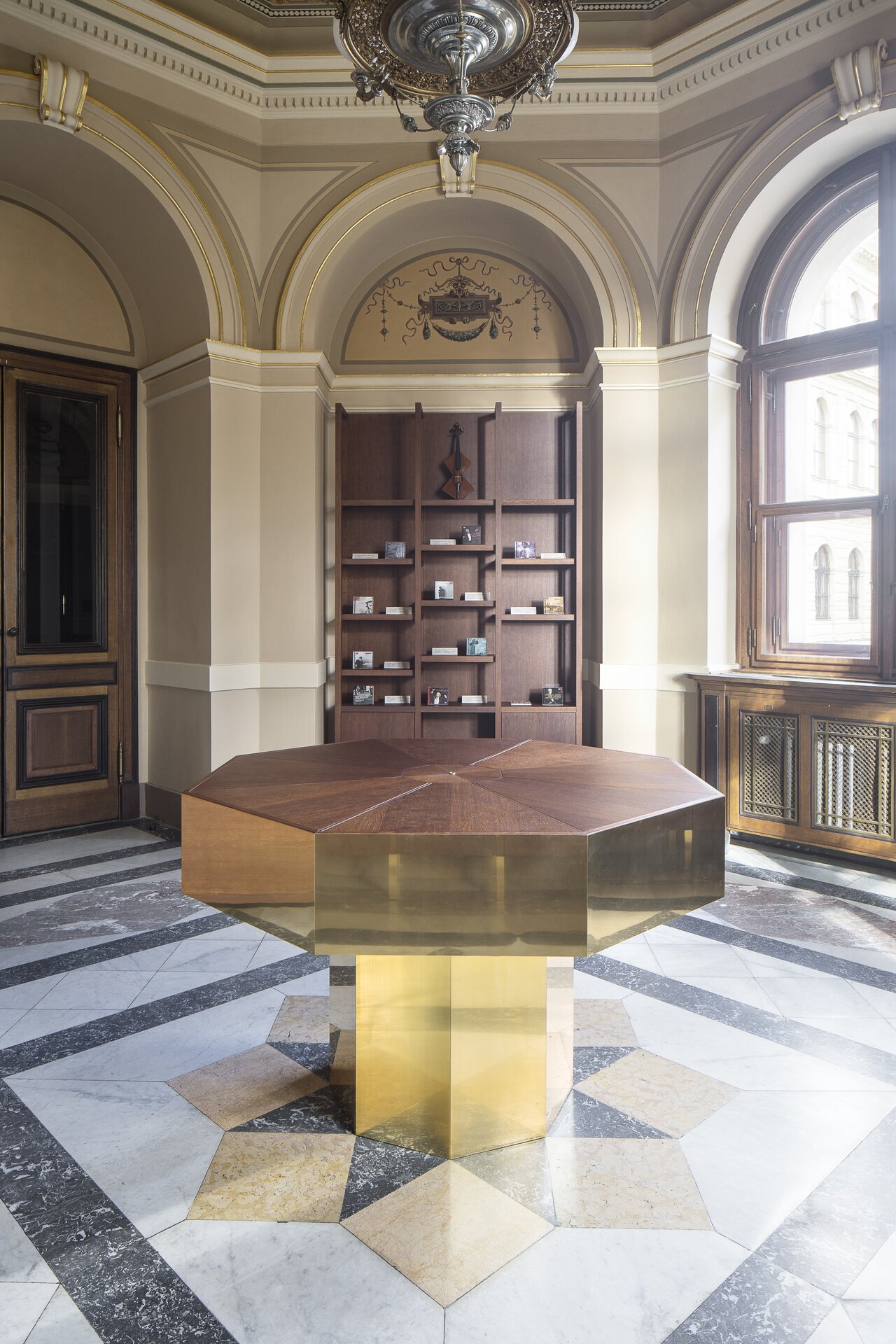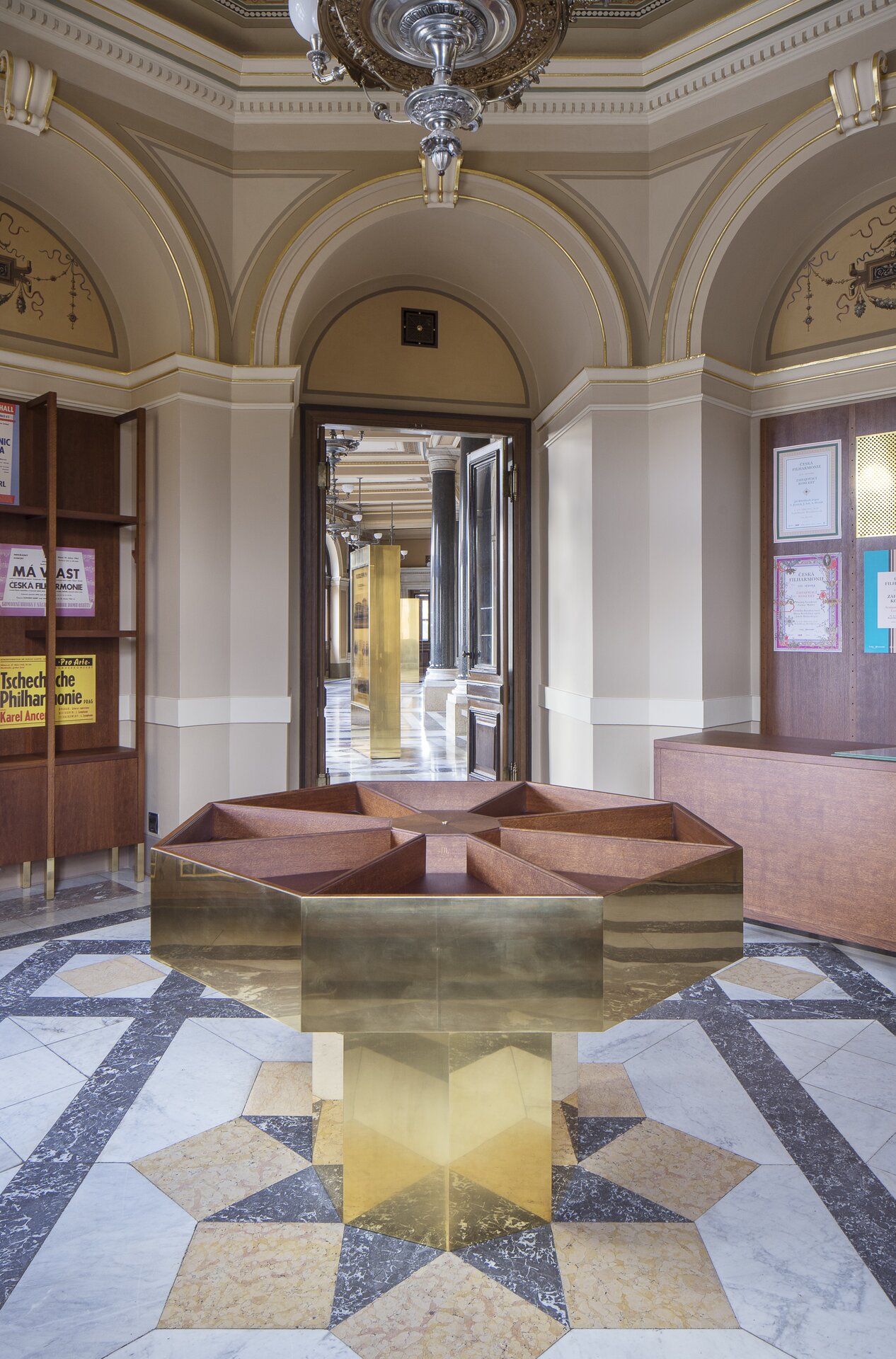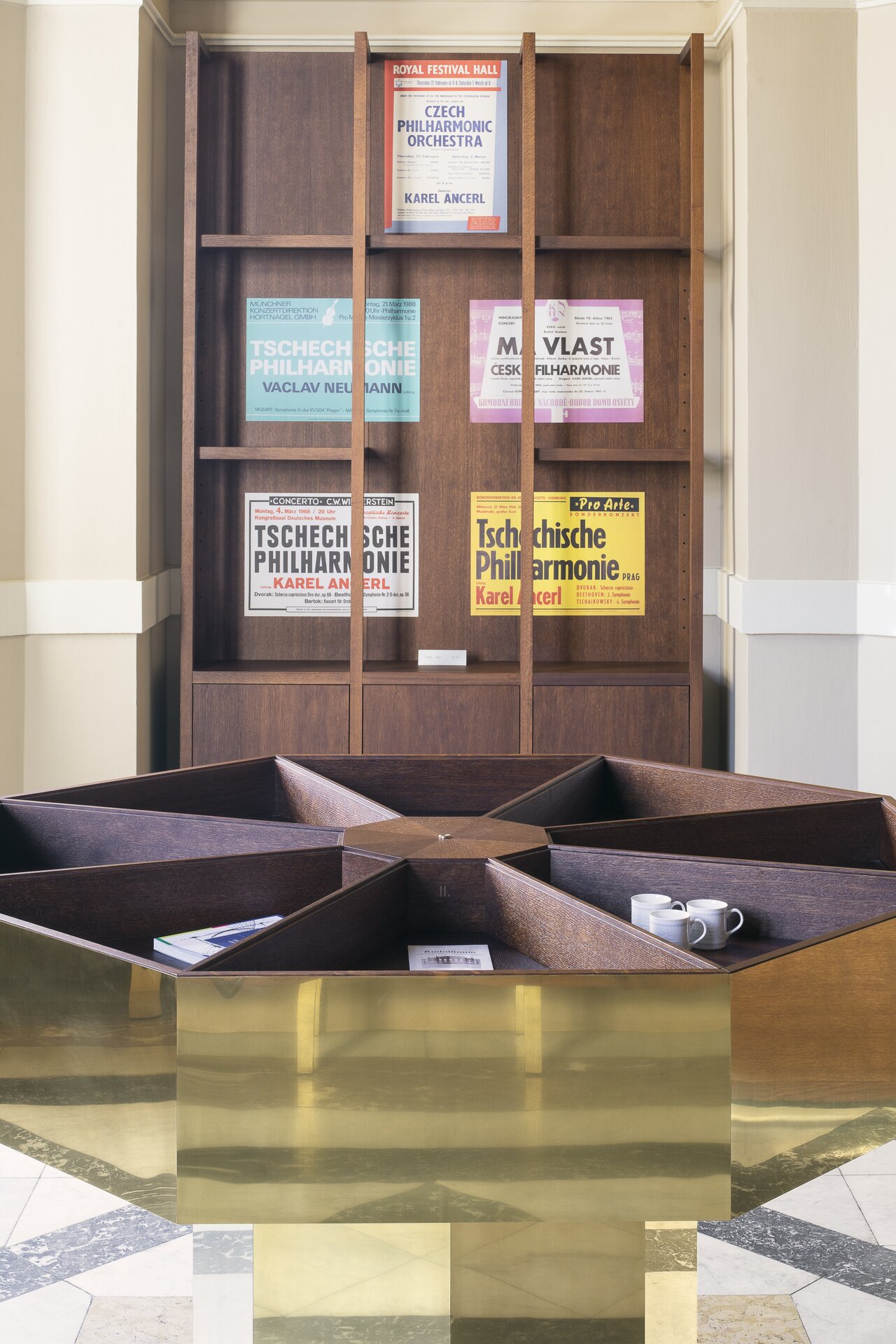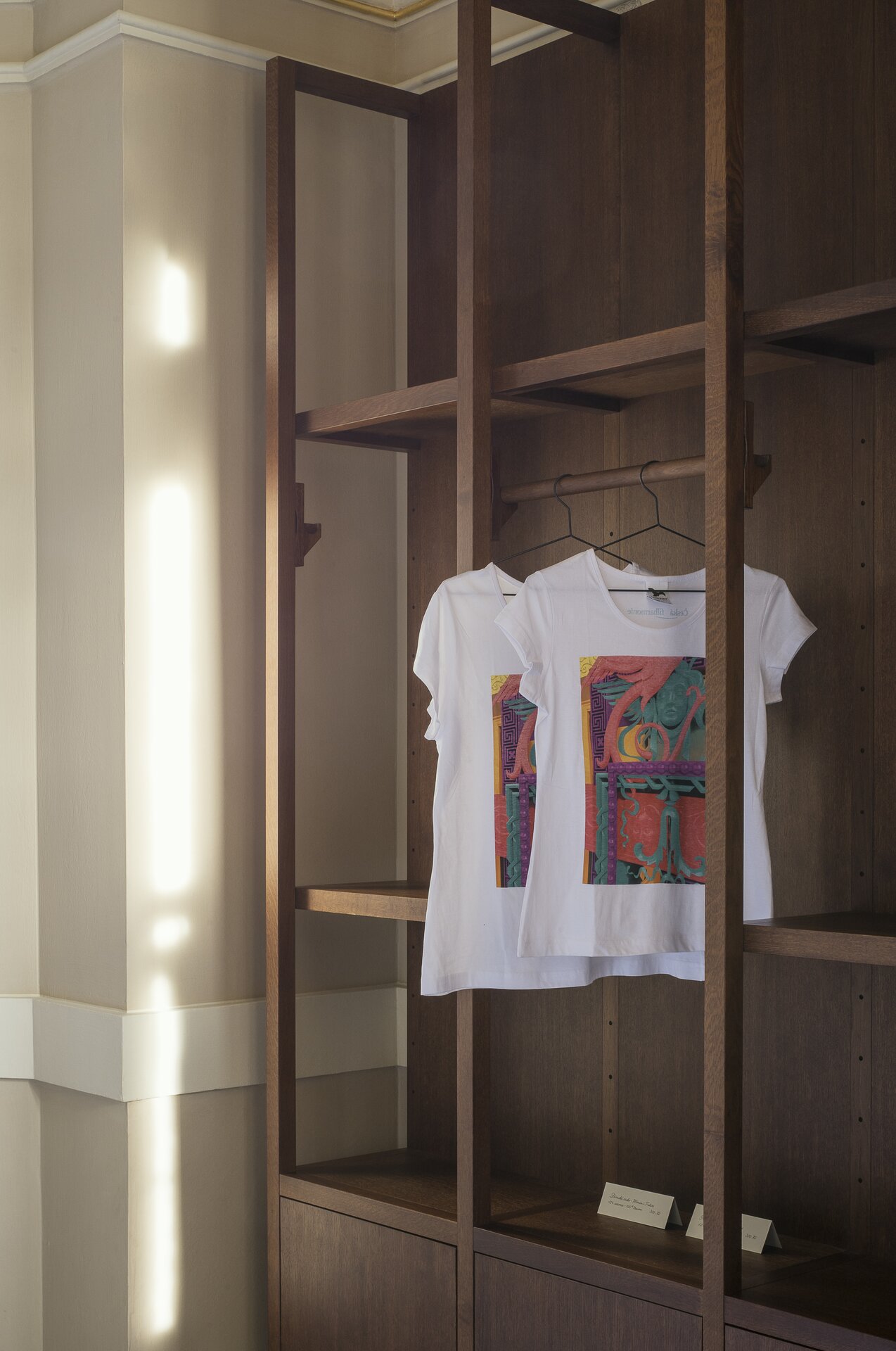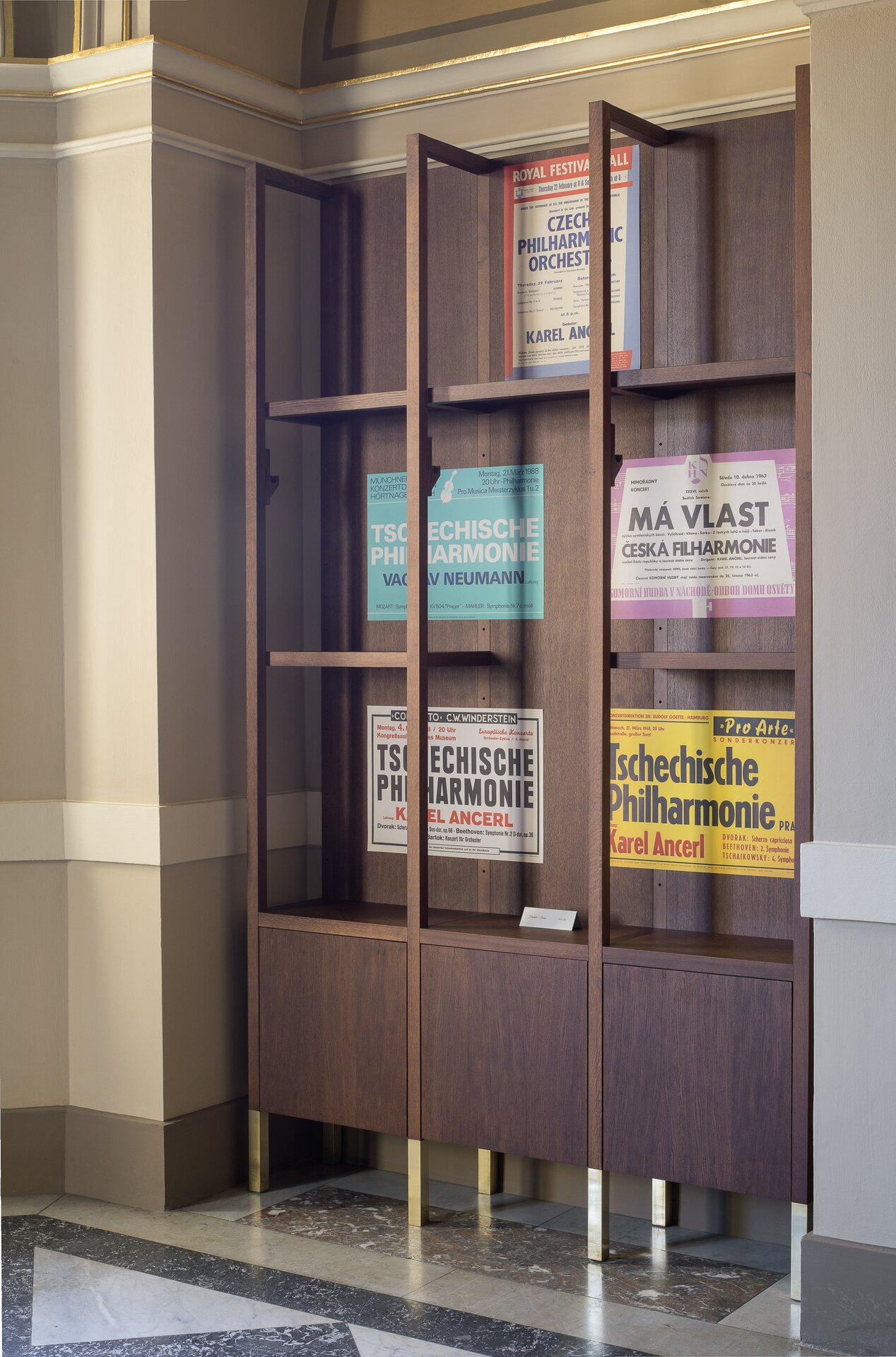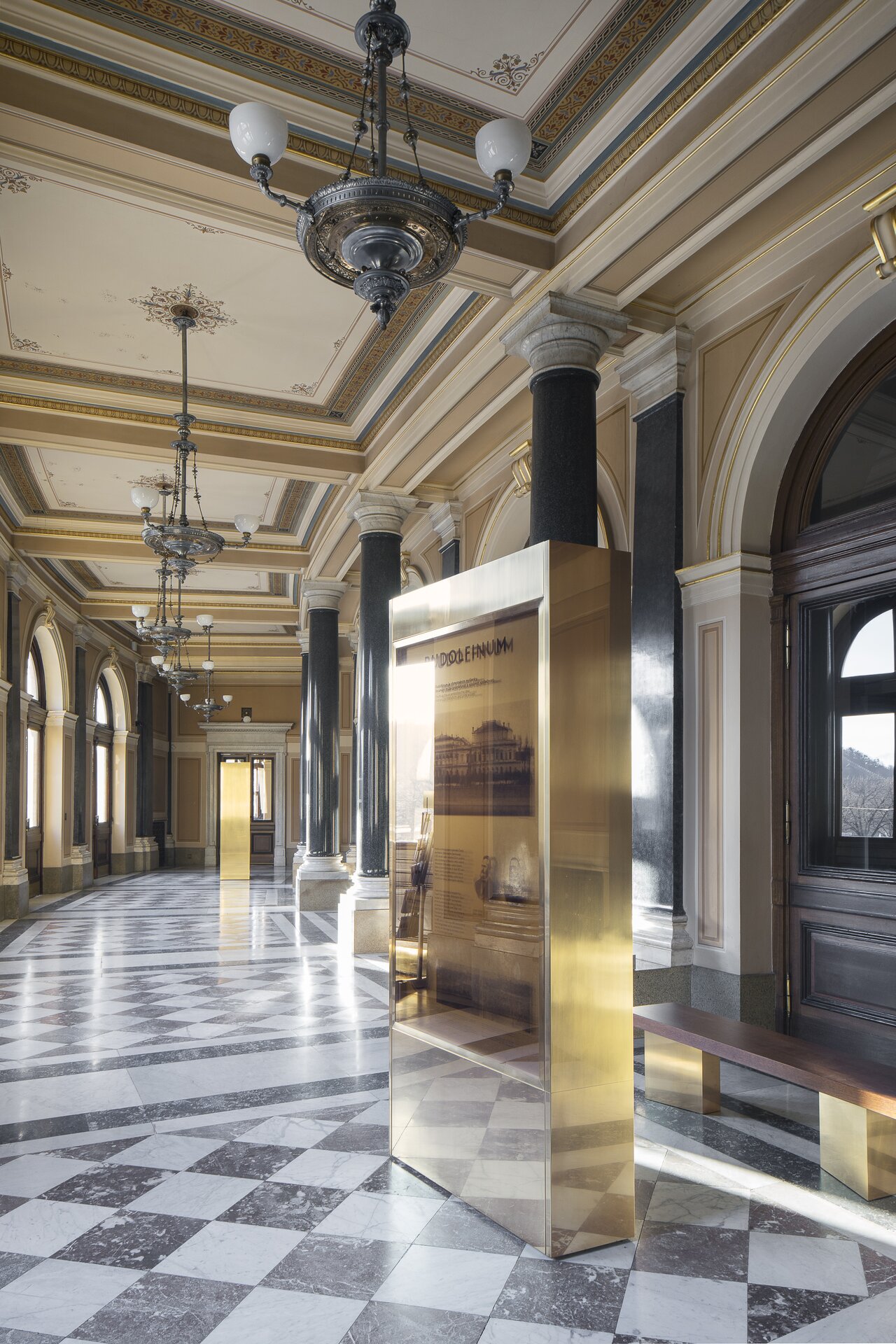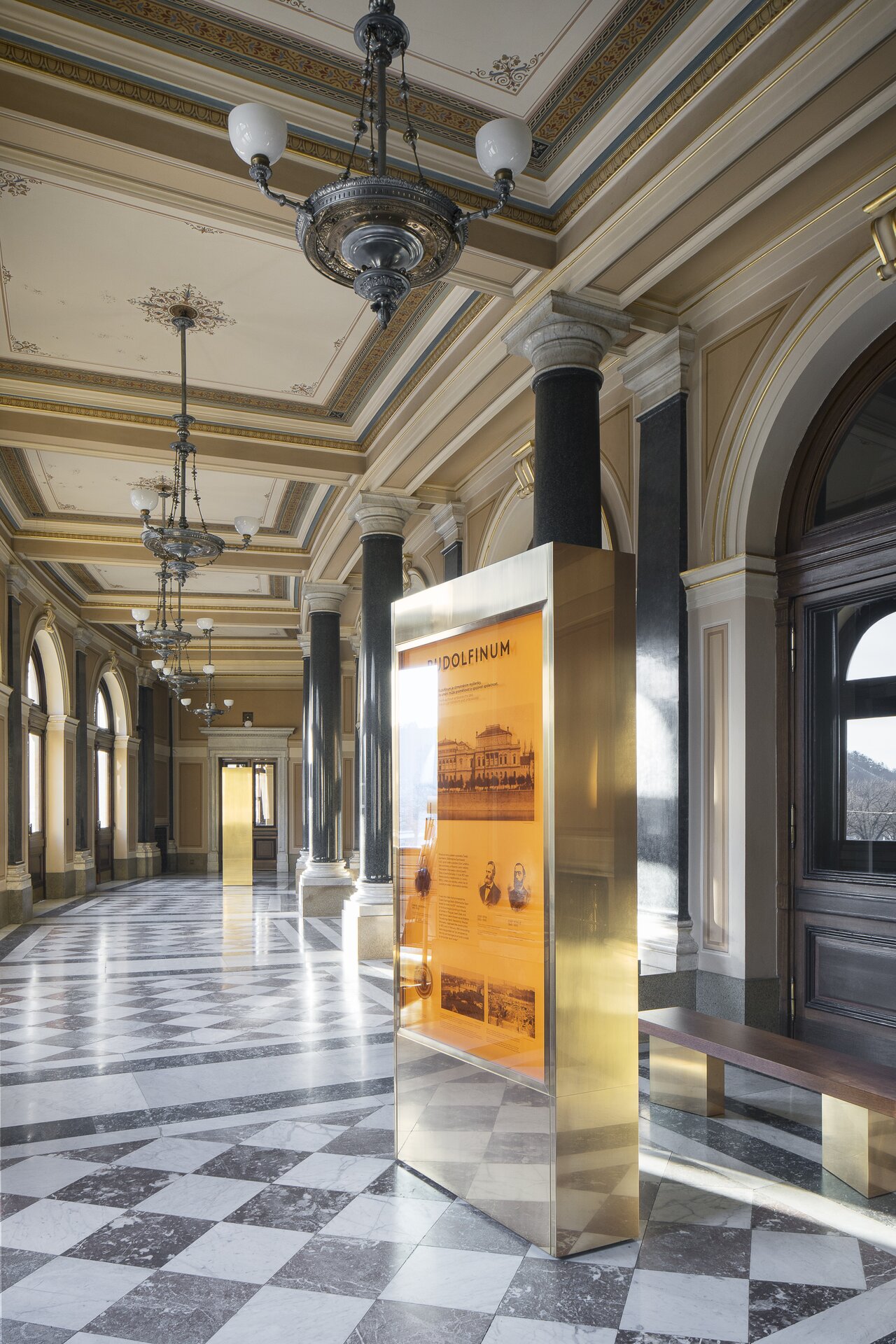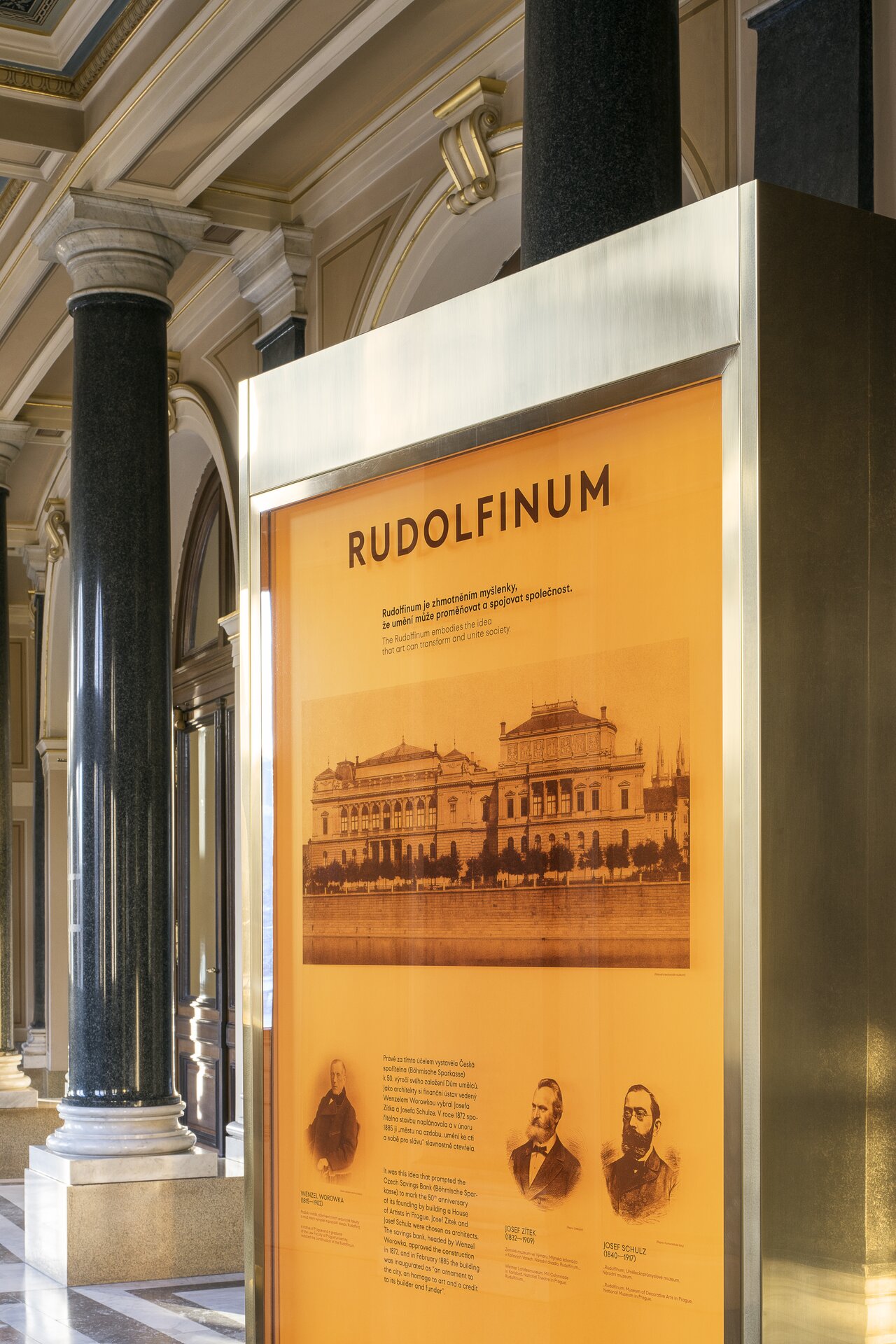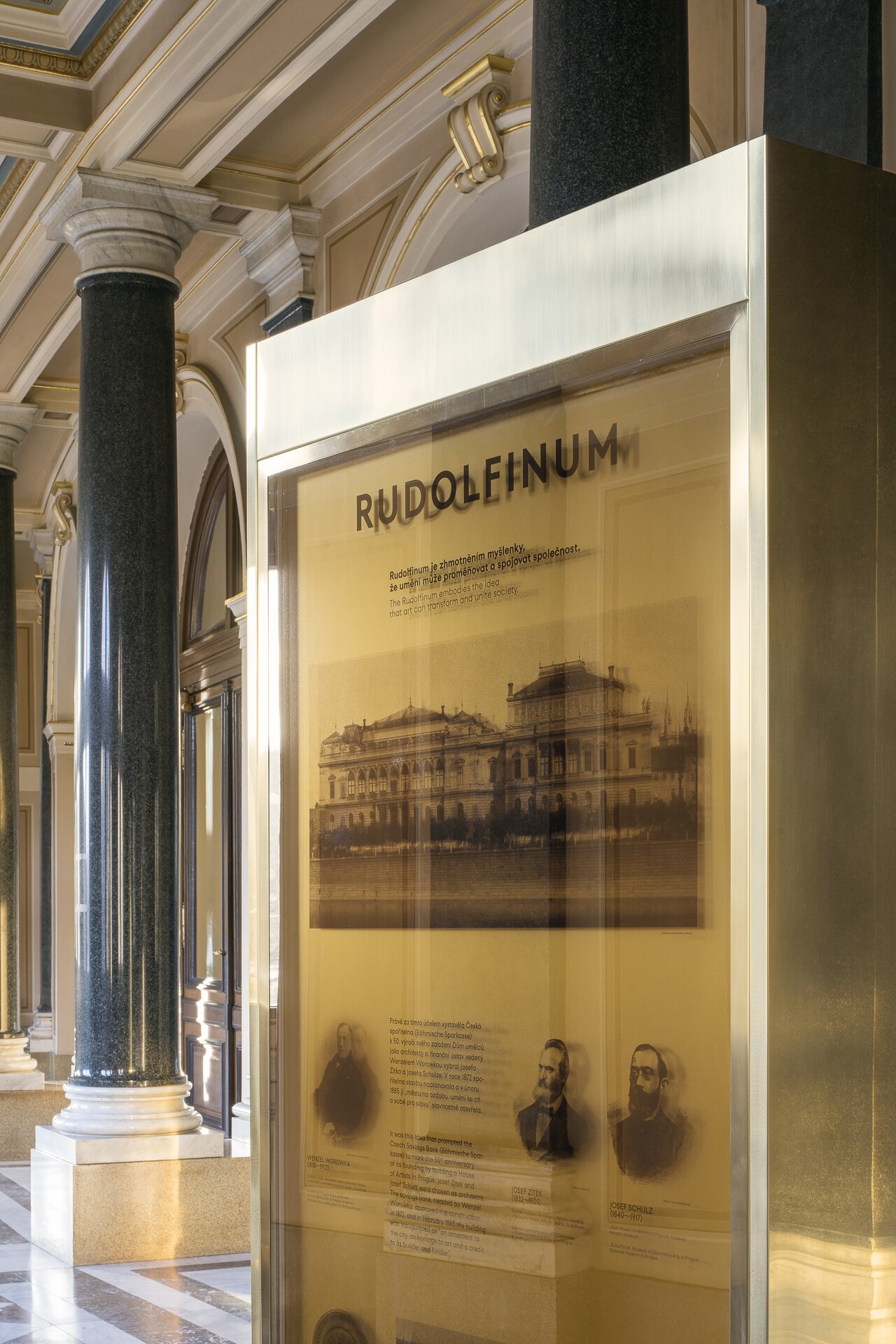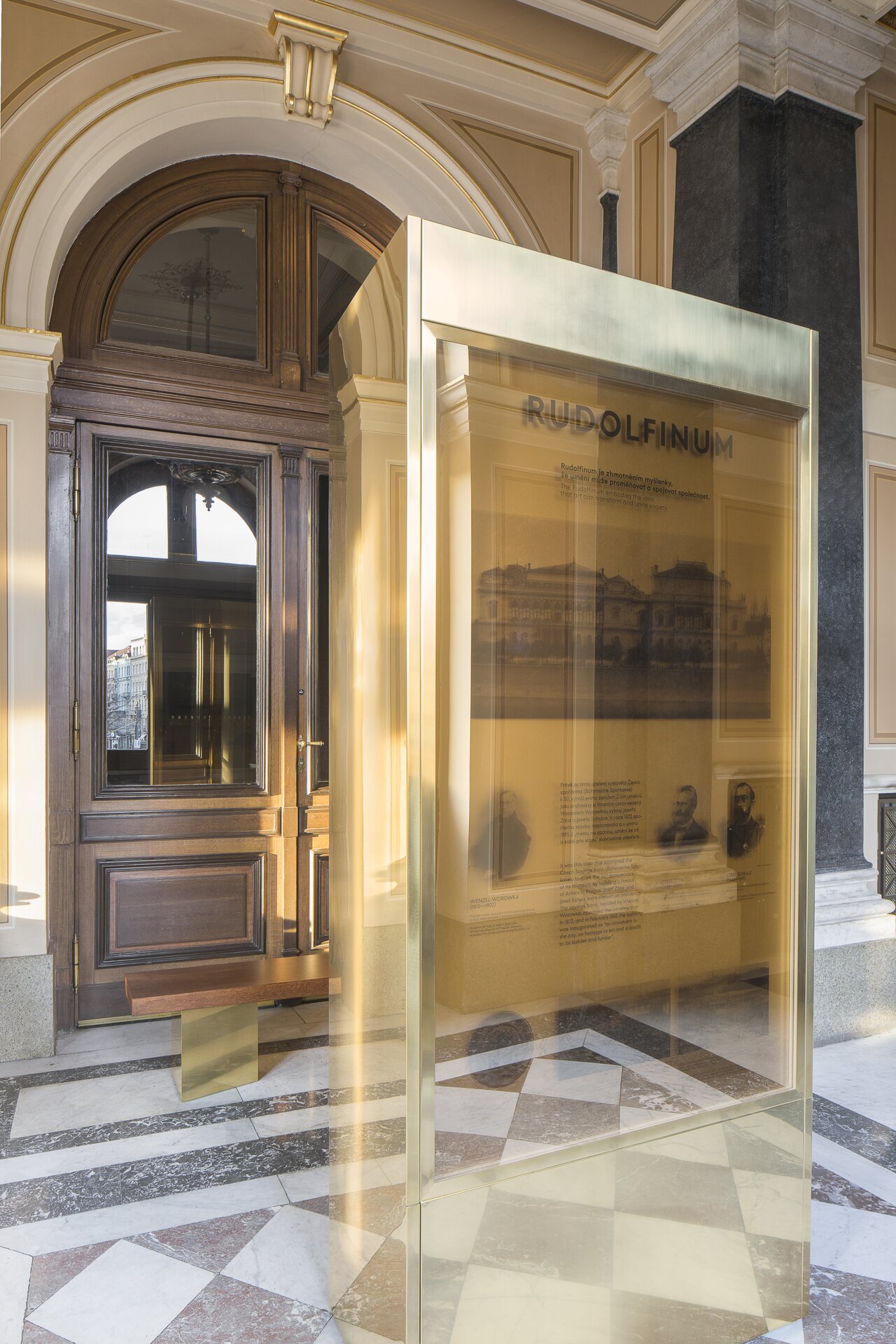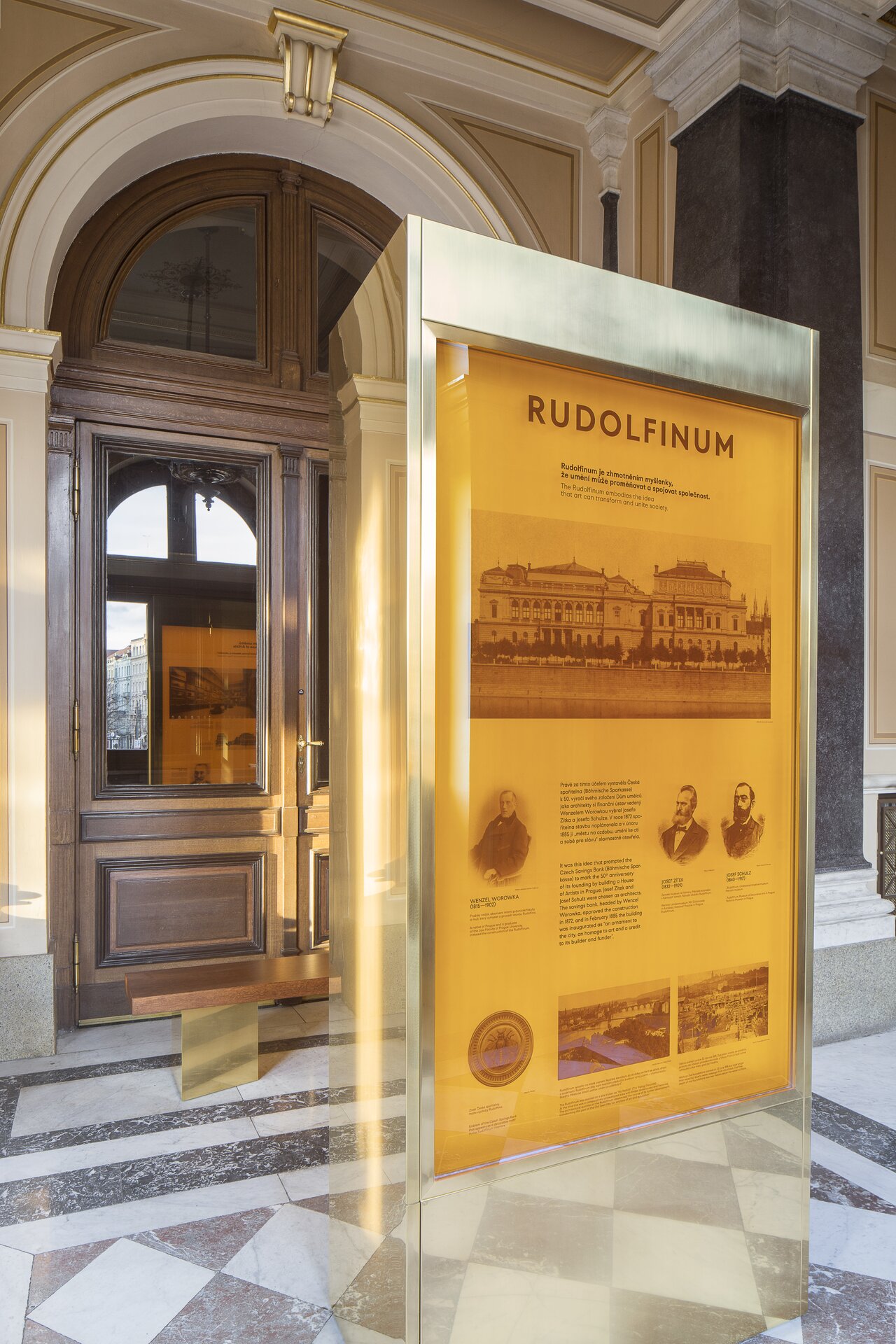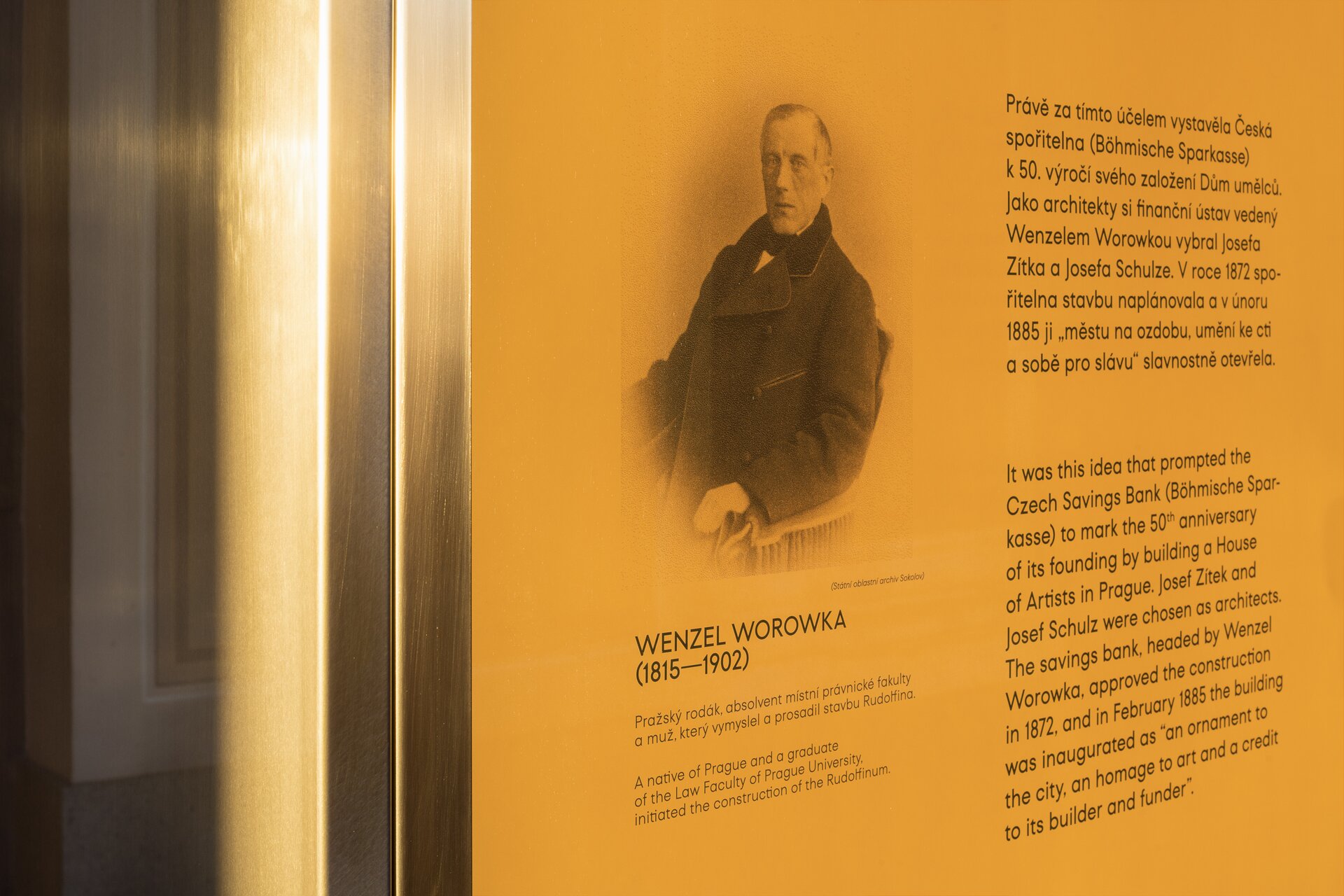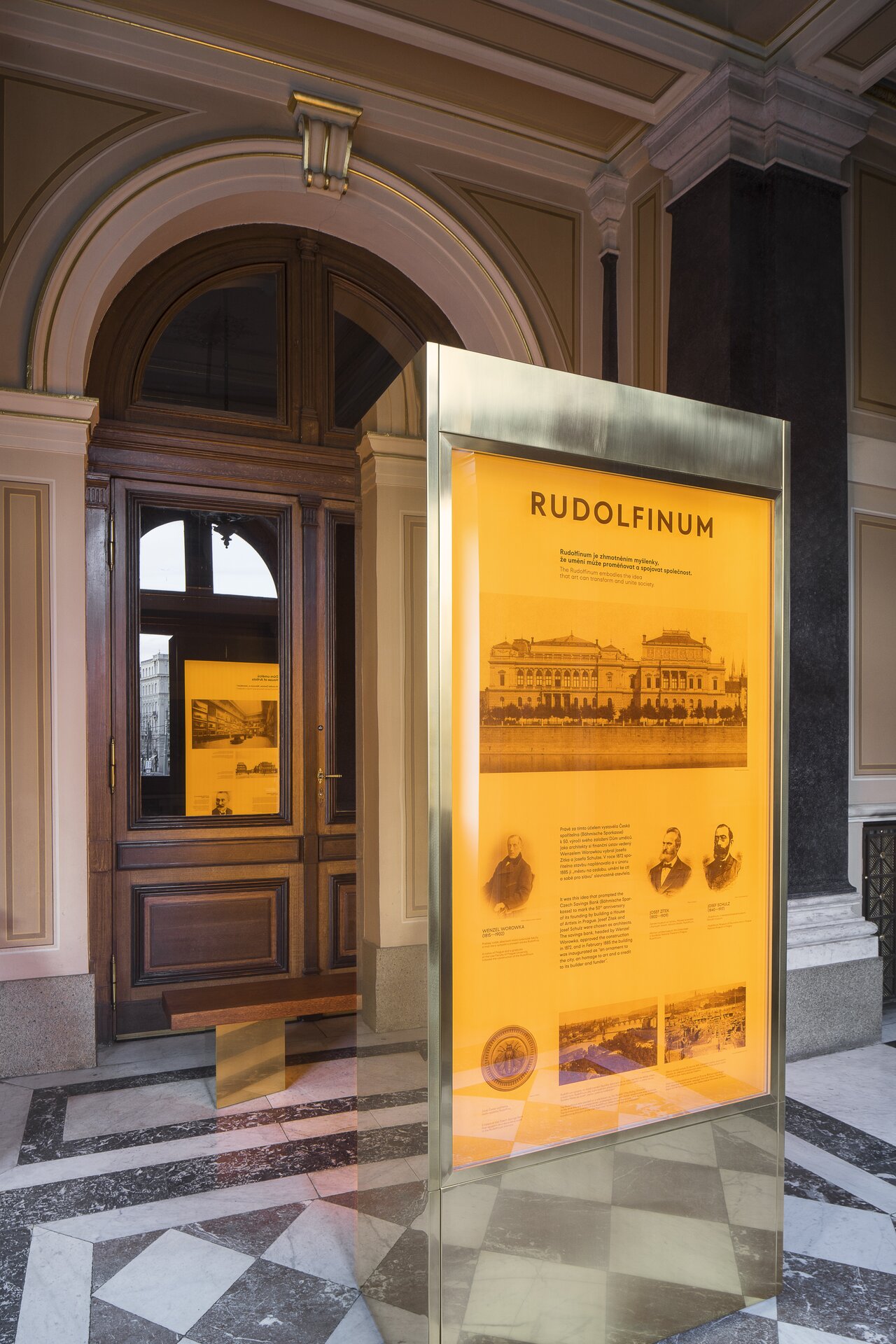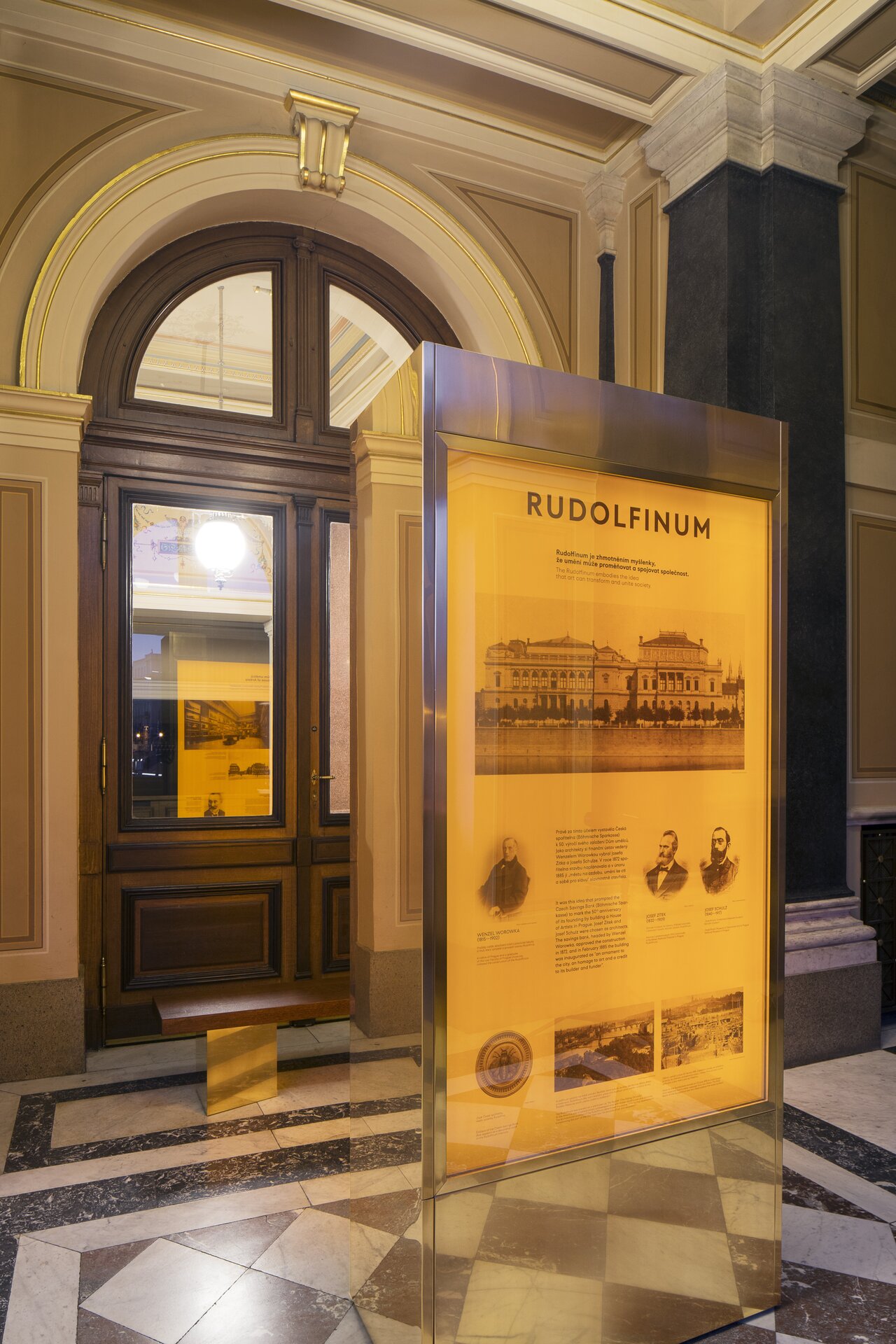 | | |
| --- | --- |
| Author | Lenka Míková architekti |
| Studio | |
| Location | Rudolfinum |
| Investor | Česká filharmonie |
| Supplier | Teak Polná s.r.o. |
| Date of project approval | June 2020 |
| Fotograf | |
The project of new interiors for entrance areas of the Czech philharmonic in the great Rudolfinum building consists of three parts – two side lounges with a designshop and a listening lounge and an exhibition installation in the main foyer. We approached the task with respect to the original historical architecture and aimed to design the new use in a compact and contemporary way, but unintrusive and in relation to the existing space. For this we chose to use materials already present – partly polished brass with a mirroring effect and dark wooden veneer - and simple shaping derived from the spaces. The exhibition about the history of the building is conceived as two free-standing vertical objects that reflect their surroundings and creat a new spacial experience. Only at closer look the content appears on the two longer sides as if coming from the inside, supported by dimmable back lighting.
Exhibition – panels with brass surface and hidden wooden structure, display of layered reflective glass and plexi, dimmable LED lighting with hidden battery + complementing wooden benches
Designshop – central octogonal table in brass surface nad wooden inside, variable upper cover + variable wooden display walls in niches
Listening lounge – velvet seats with an integrated audio system for individual listenning + wooden seat with a book shelf and lamps for individual reading
Collaboration on exhibition concept and graphic solution: Miroko Maroko
Collaboration on LED lighting and audio-system: Michal Pustějovský
Photos: Tomáš Souček
The project followed after we won an invited exhibition in 2019 organized by Czechdesign.
Green building
Environmental certification
| | |
| --- | --- |
| Type and level of certificate | - |
Water management
| | |
| --- | --- |
| Is rainwater used for irrigation? | |
| Is rainwater used for other purposes, e.g. toilet flushing ? | |
| Does the building have a green roof / facade ? | |
| Is reclaimed waste water used, e.g. from showers and sinks ? | |
The quality of the indoor environment
| | |
| --- | --- |
| Is clean air supply automated ? | |
| Is comfortable temperature during summer and winter automated? | |
| Is natural lighting guaranteed in all living areas? | |
| Is artificial lighting automated? | |
| Is acoustic comfort, specifically reverberation time, guaranteed? | |
| Does the layout solution include zoning and ergonomics elements? | |
Principles of circular economics
| | |
| --- | --- |
| Does the project use recycled materials? | |
| Does the project use recyclable materials? | |
| Are materials with a documented Environmental Product Declaration (EPD) promoted in the project? | |
| Are other sustainability certifications used for materials and elements? | |
Energy efficiency
| | |
| --- | --- |
| Energy performance class of the building according to the Energy Performance Certificate of the building | |
| Is efficient energy management (measurement and regular analysis of consumption data) considered? | |
| Are renewable sources of energy used, e.g. solar system, photovoltaics? | |
Interconnection with surroundings
| | |
| --- | --- |
| Does the project enable the easy use of public transport? | |
| Does the project support the use of alternative modes of transport, e.g cycling, walking etc. ? | |
| Is there access to recreational natural areas, e.g. parks, in the immediate vicinity of the building? | |