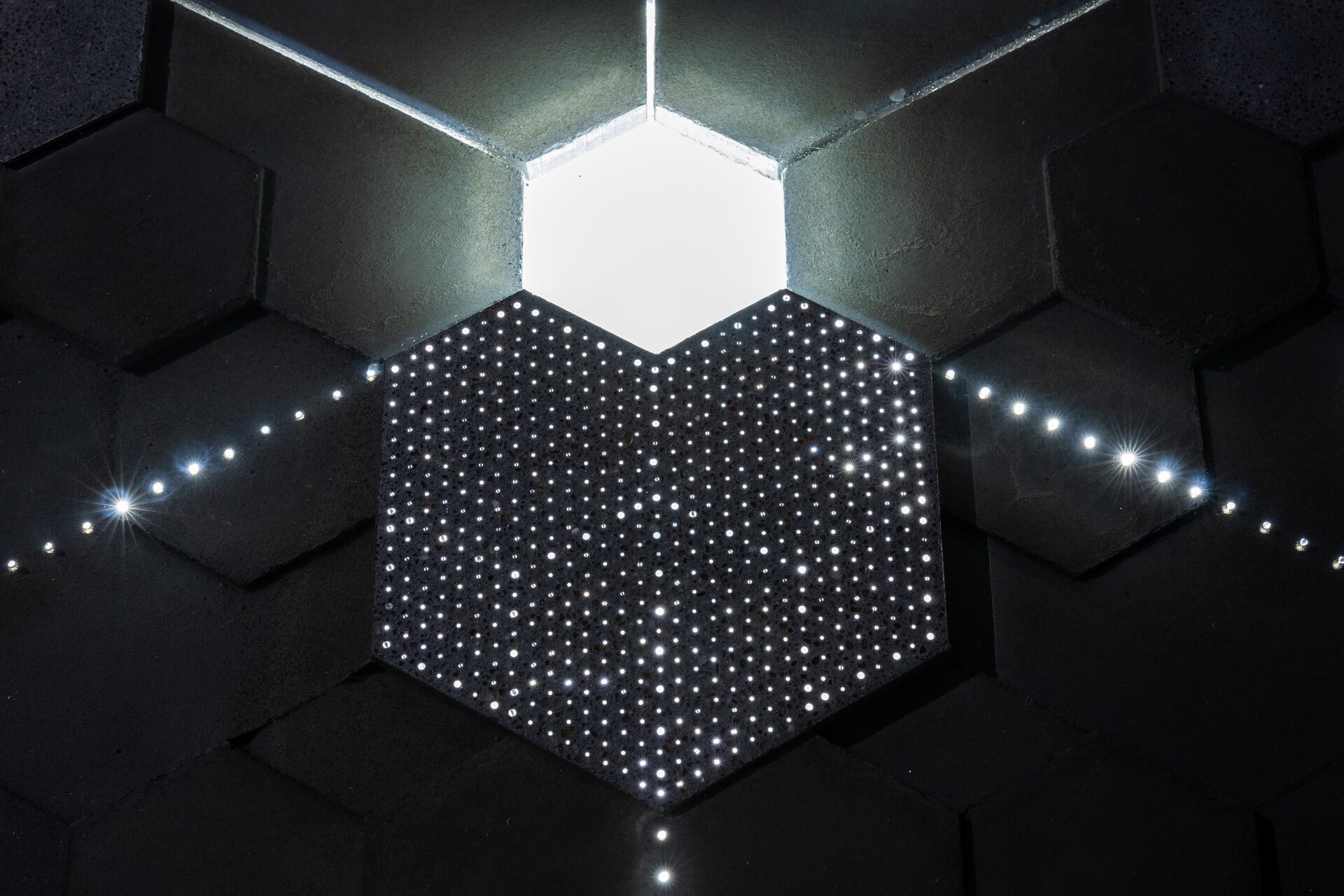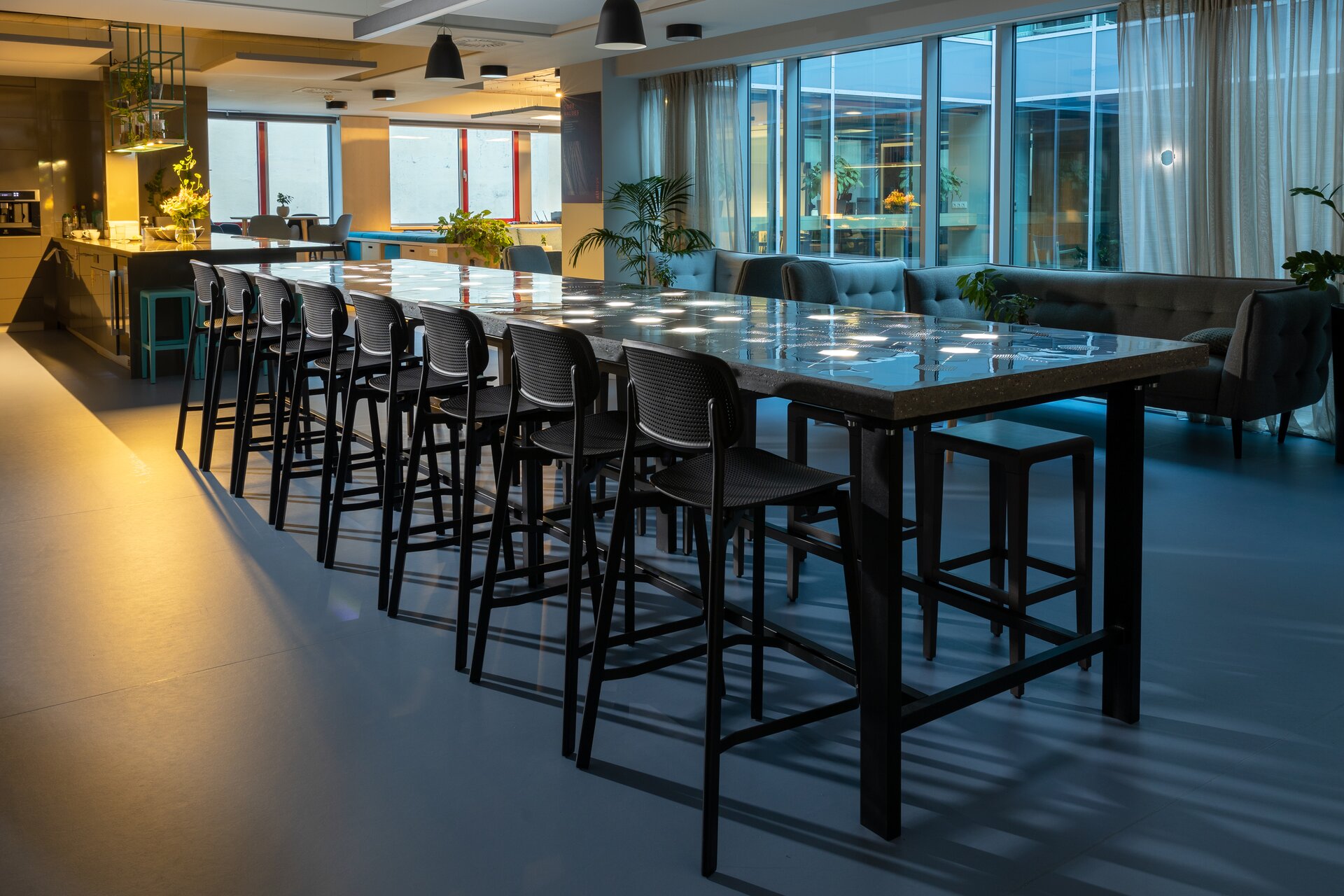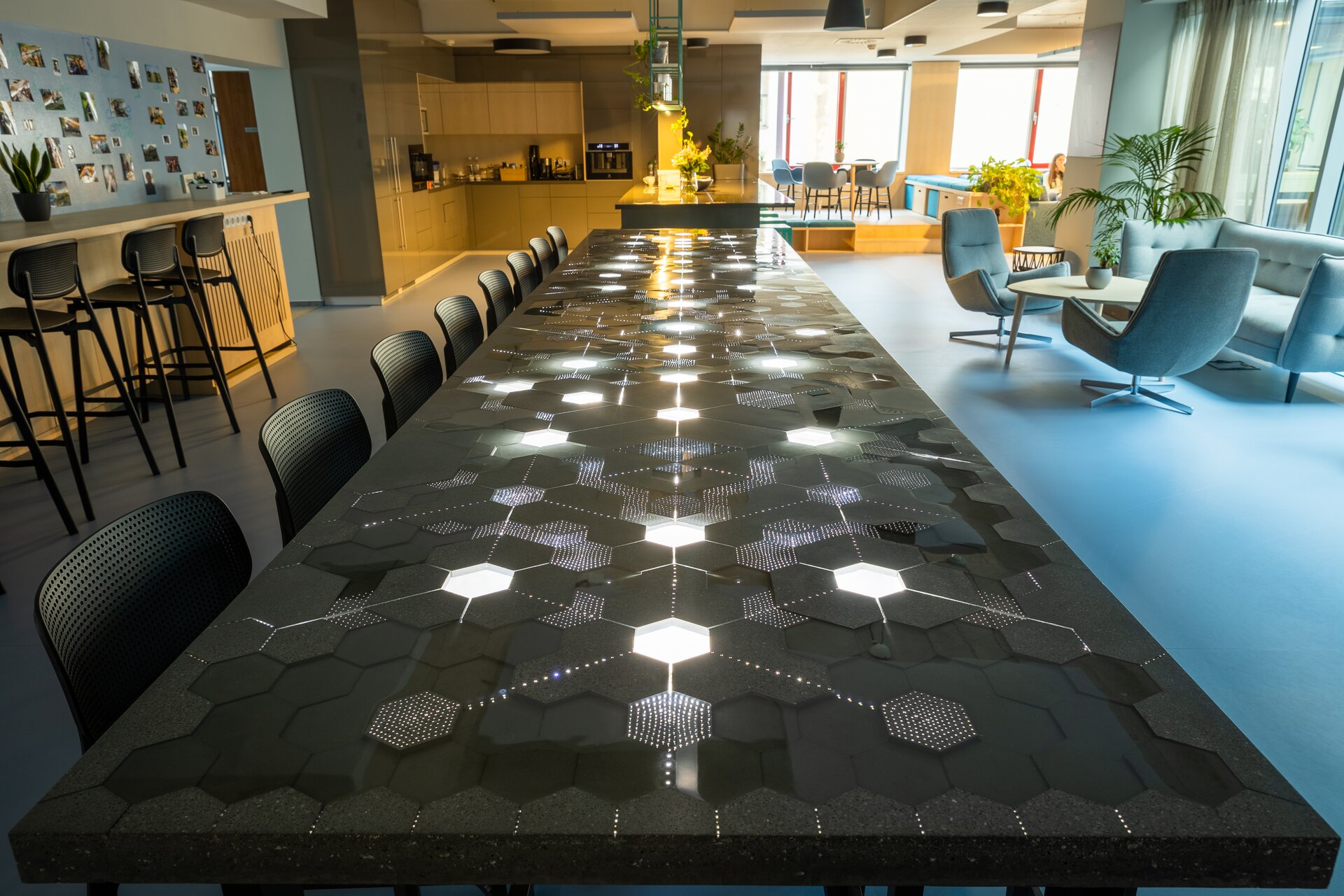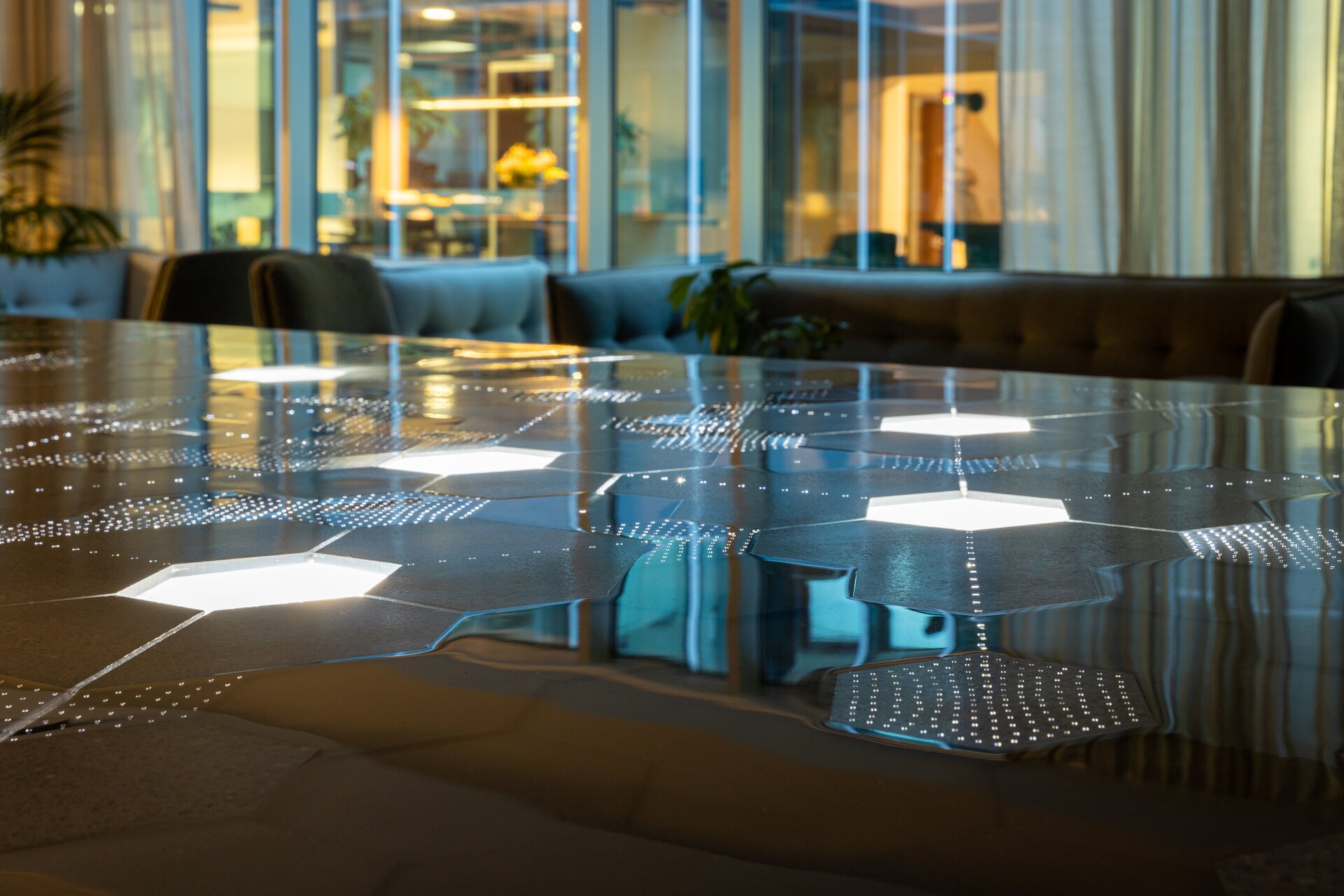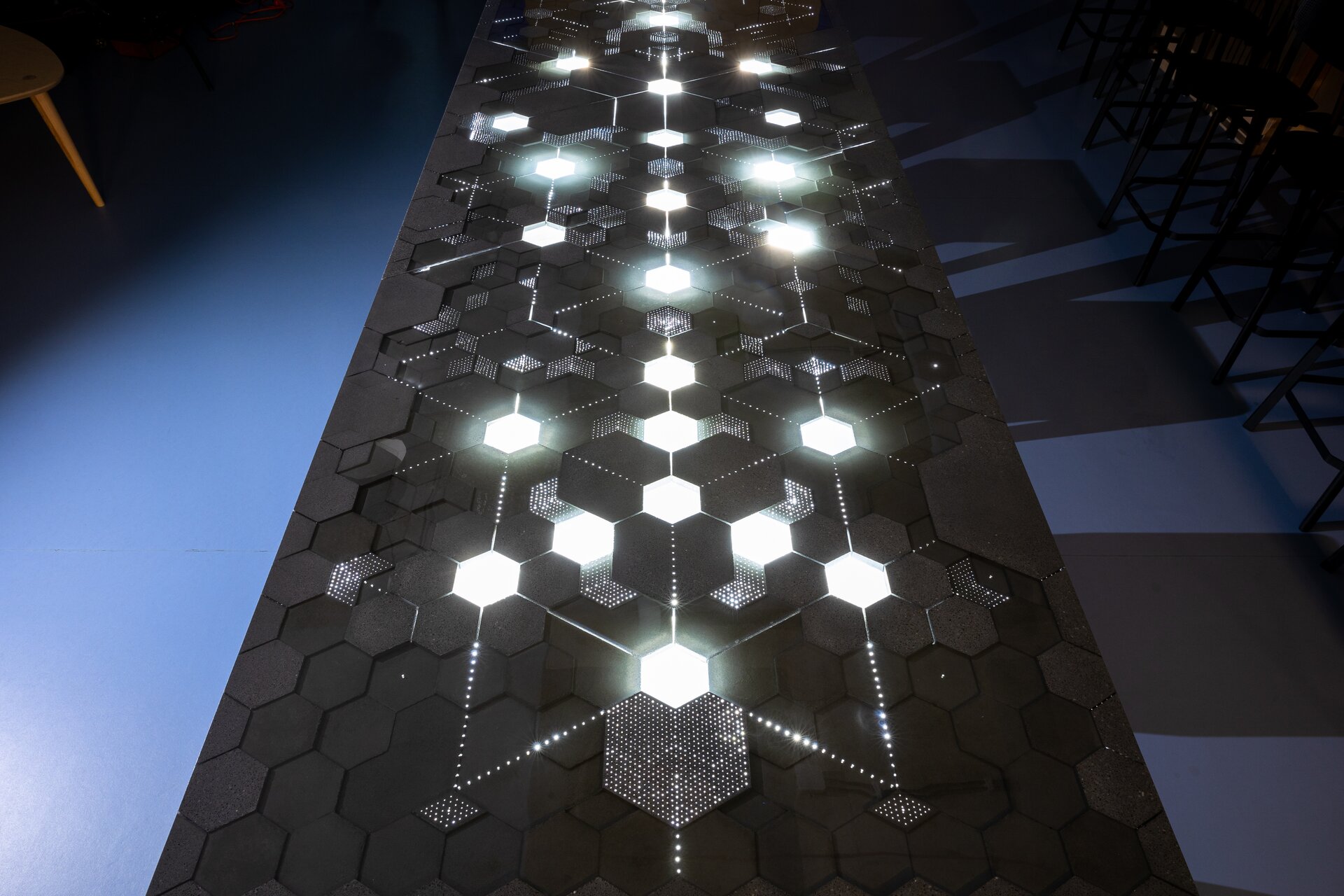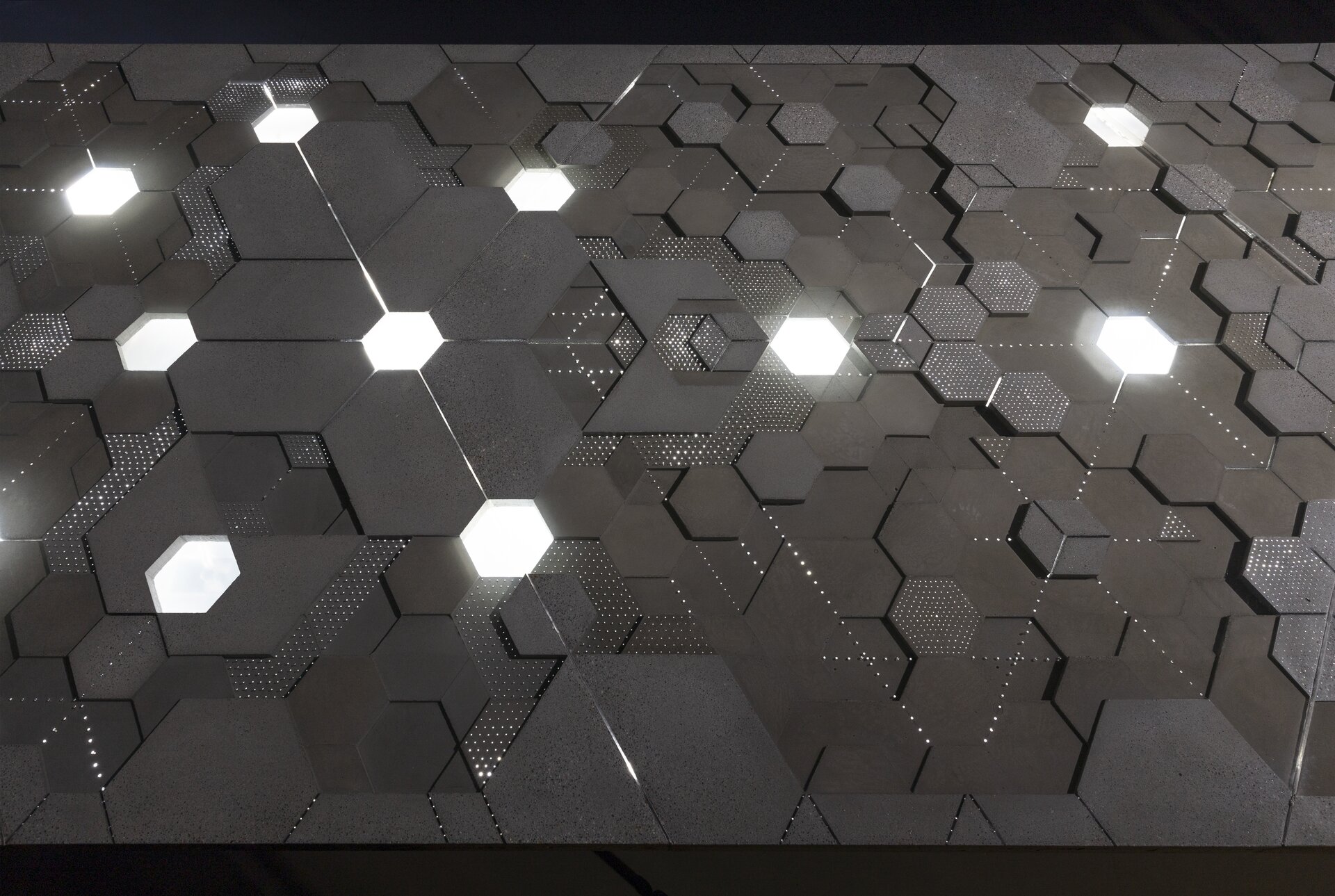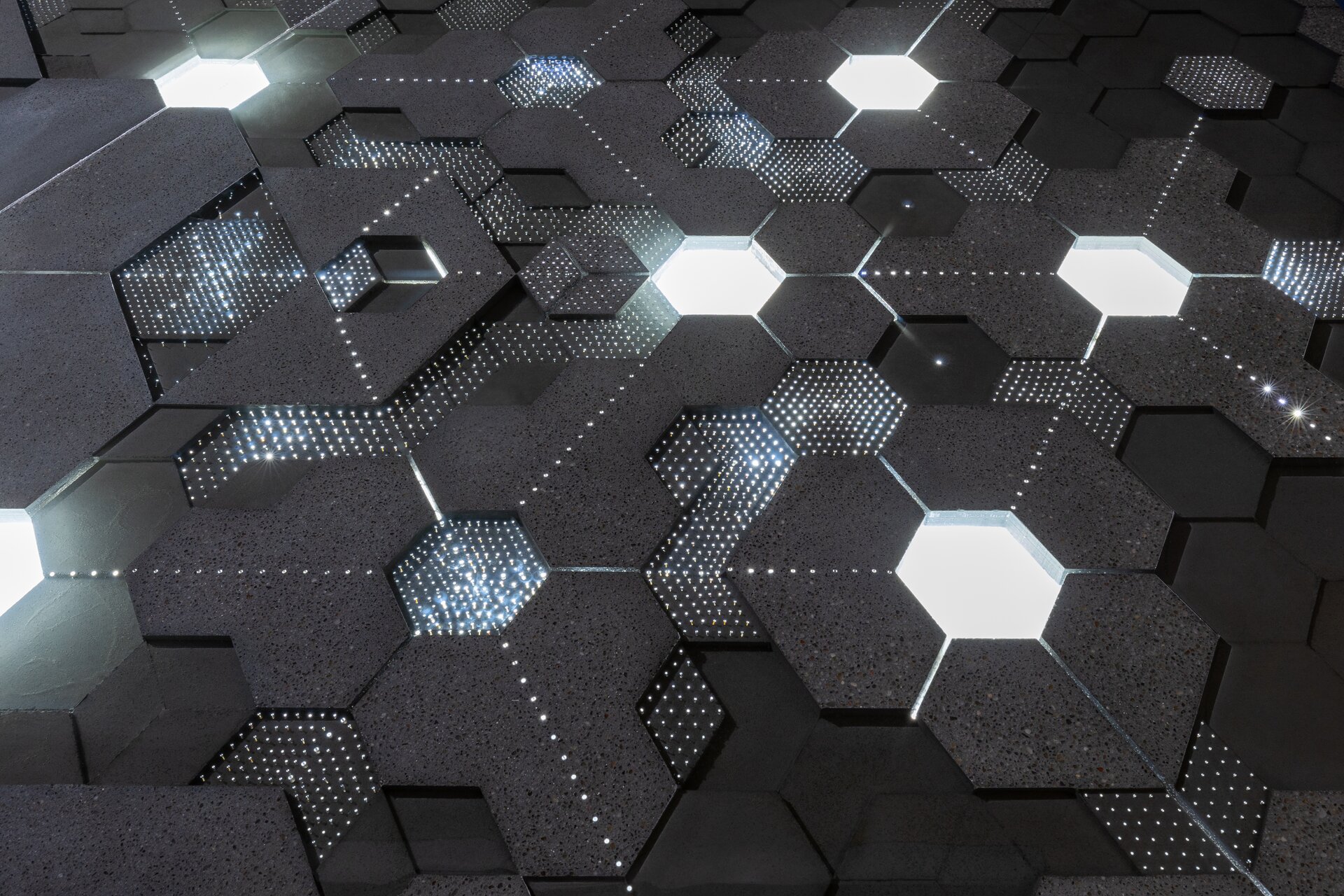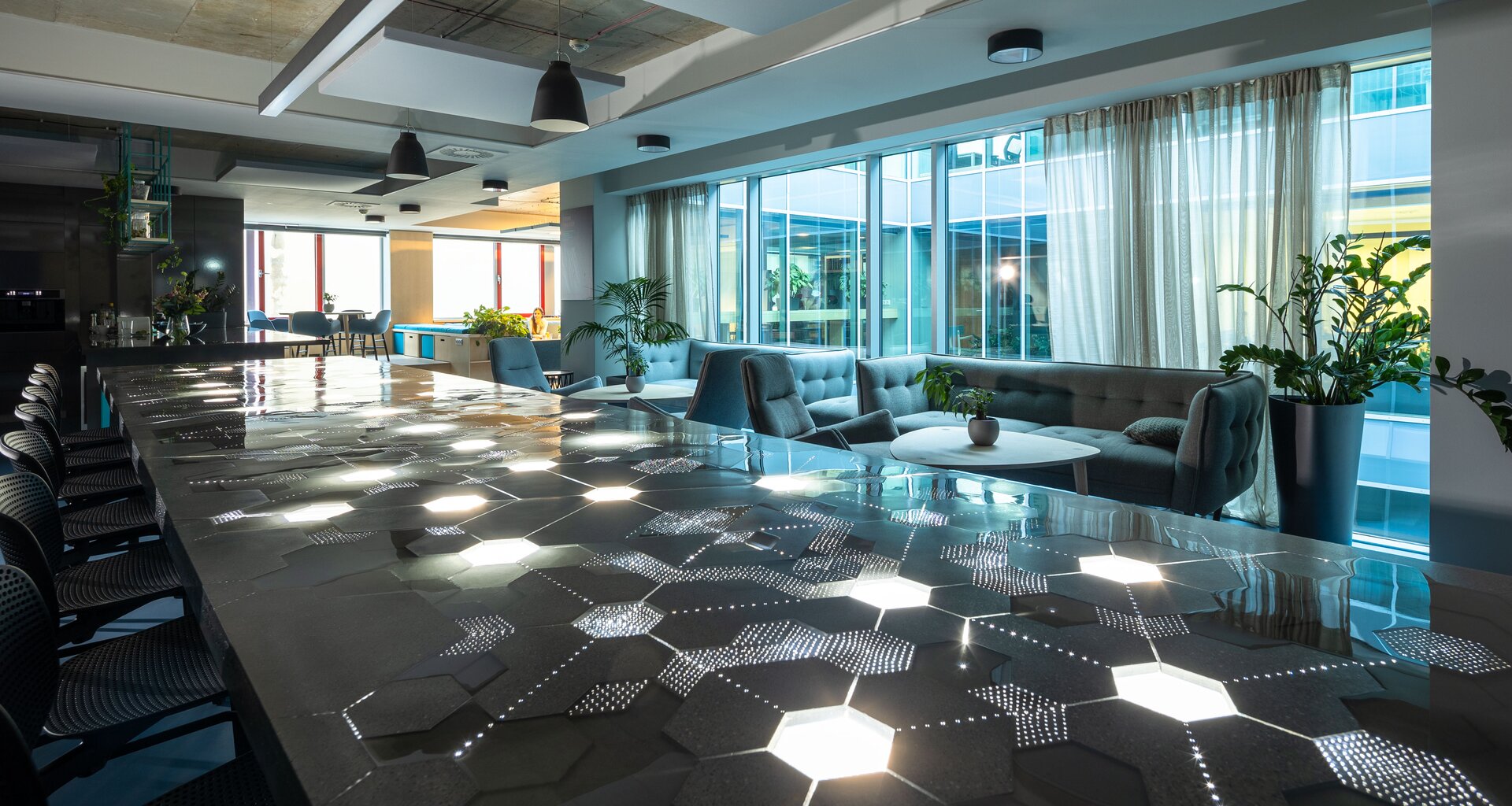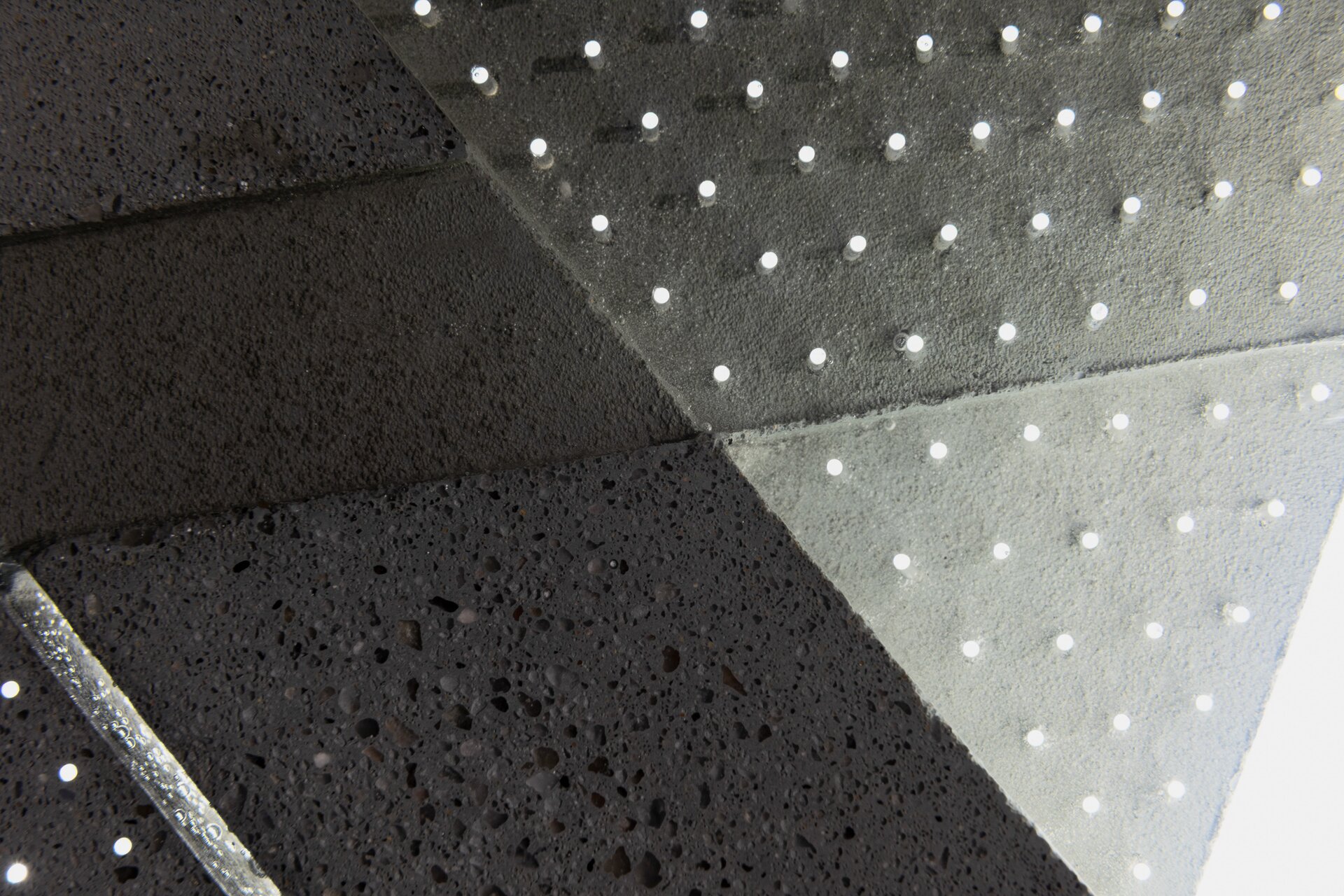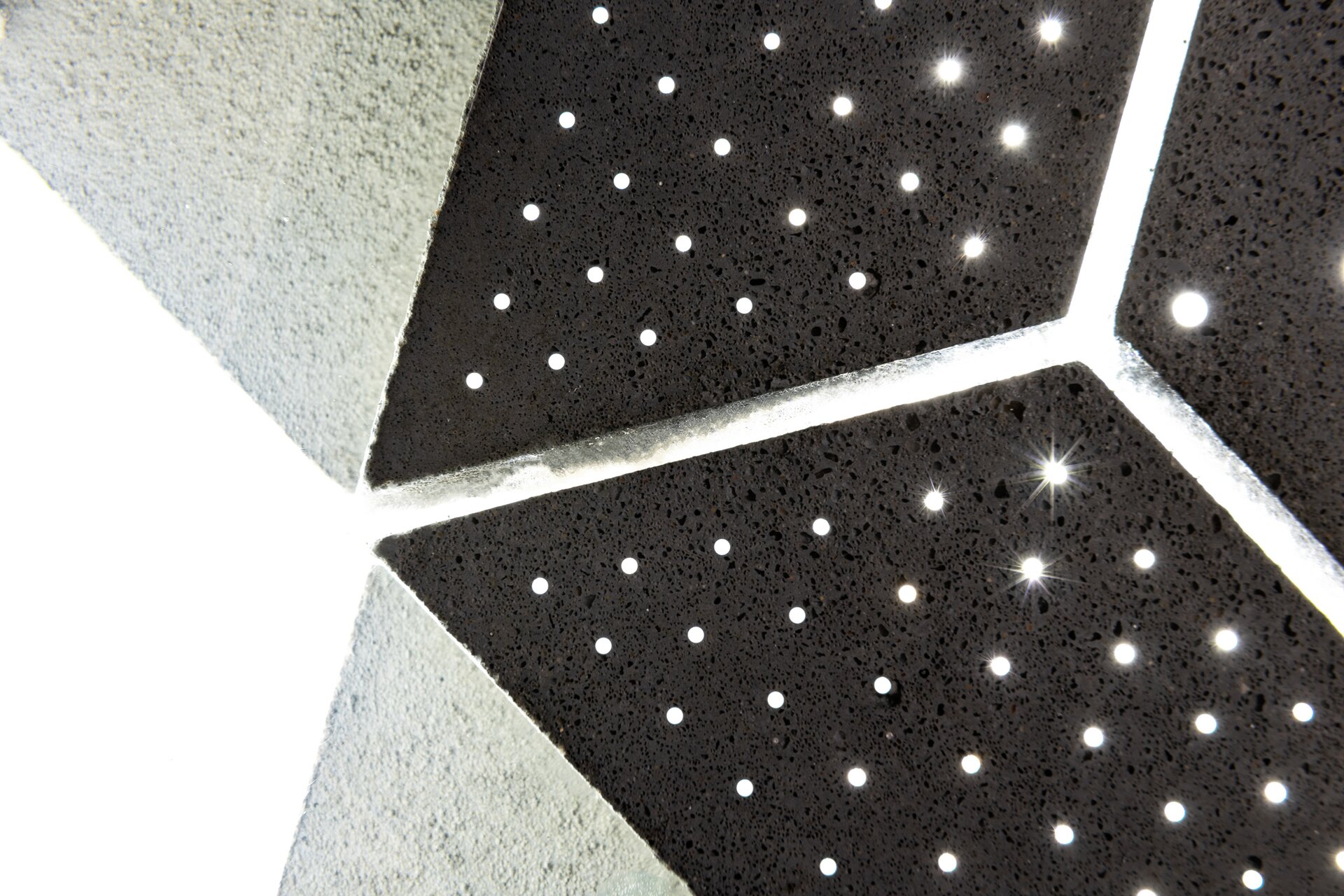 | | |
| --- | --- |
| Author | Jaroslav Chramosta |
| Studio | |
| Location | Alteryx Czech Republic s.r.o. , Havlíčkova 1029/3, Nové Město (Praha 1), 110 00 Praha |
| Investor | Alteryx Czech Republic s.r.o. , Havlíčkova 1029/3, Nové Město (Praha 1), 110 00 Praha |
| Supplier | MgA. Jaroslav Chramosta |
| Date of project approval | March 2021 |
| Fotograf | |
The idea is based on inspiration from natural and artificial clusters. The primary component of the object is tabletop and it´s designed as an Artwork. Contents are a metaphysical structure, which abstracts the principles of growing bionic and inorganic architecture in several levels. The whole object is a symbiosis of light, solid and transparent matter. The overall composition freely expresses possible forms of microscopic hardware architectures or stylization of utopian urbanism, as well as a neural network. The noble surface of the grinded concrete is complemented by lighting parts that express the principle of communication, movement and a life and like the relief parts consists of an art figures and contents that can be freely interpreted without being conditioned by the author's motivational story. The aim was to inspire users to uncover possible visual and content context during their working, consuming and relaxing. It is an art piece that is served for further discovery.
Dimensions: 5000x1100x950
Weight: 470 kg
Materials: UHPC, transparent resin, NANOsiO, optical fibers, structural steel, powder coating, stainless steel sheets
Light Technology: 24V Custom Led Light system, controlled by remote control or by WINDOWS, OSX, ANDROID, 220V power supply
All legs have a hidden custom rectification system.
The overall conception of design emphasizes the impression of a compact monolith.
The construction is assembled from several dozen parts, and it is possible to reinstall it in another place without destructive interventions.
The concrete section is composed of five parts, and it is also possible to dismantle.
The author of the interior design and the location of the table and other equipment is Tereza Kucerova from studio Molo architects.
Green building
Environmental certification
| | |
| --- | --- |
| Type and level of certificate | ne |
Water management
| | |
| --- | --- |
| Is rainwater used for irrigation? | |
| Is rainwater used for other purposes, e.g. toilet flushing ? | |
| Does the building have a green roof / facade ? | |
| Is reclaimed waste water used, e.g. from showers and sinks ? | |
The quality of the indoor environment
| | |
| --- | --- |
| Is clean air supply automated ? | |
| Is comfortable temperature during summer and winter automated? | |
| Is natural lighting guaranteed in all living areas? | |
| Is artificial lighting automated? | |
| Is acoustic comfort, specifically reverberation time, guaranteed? | |
| Does the layout solution include zoning and ergonomics elements? | |
Principles of circular economics
| | |
| --- | --- |
| Does the project use recycled materials? | |
| Does the project use recyclable materials? | |
| Are materials with a documented Environmental Product Declaration (EPD) promoted in the project? | |
| Are other sustainability certifications used for materials and elements? | |
Energy efficiency
| | |
| --- | --- |
| Energy performance class of the building according to the Energy Performance Certificate of the building | |
| Is efficient energy management (measurement and regular analysis of consumption data) considered? | |
| Are renewable sources of energy used, e.g. solar system, photovoltaics? | |
Interconnection with surroundings
| | |
| --- | --- |
| Does the project enable the easy use of public transport? | |
| Does the project support the use of alternative modes of transport, e.g cycling, walking etc. ? | |
| Is there access to recreational natural areas, e.g. parks, in the immediate vicinity of the building? | |