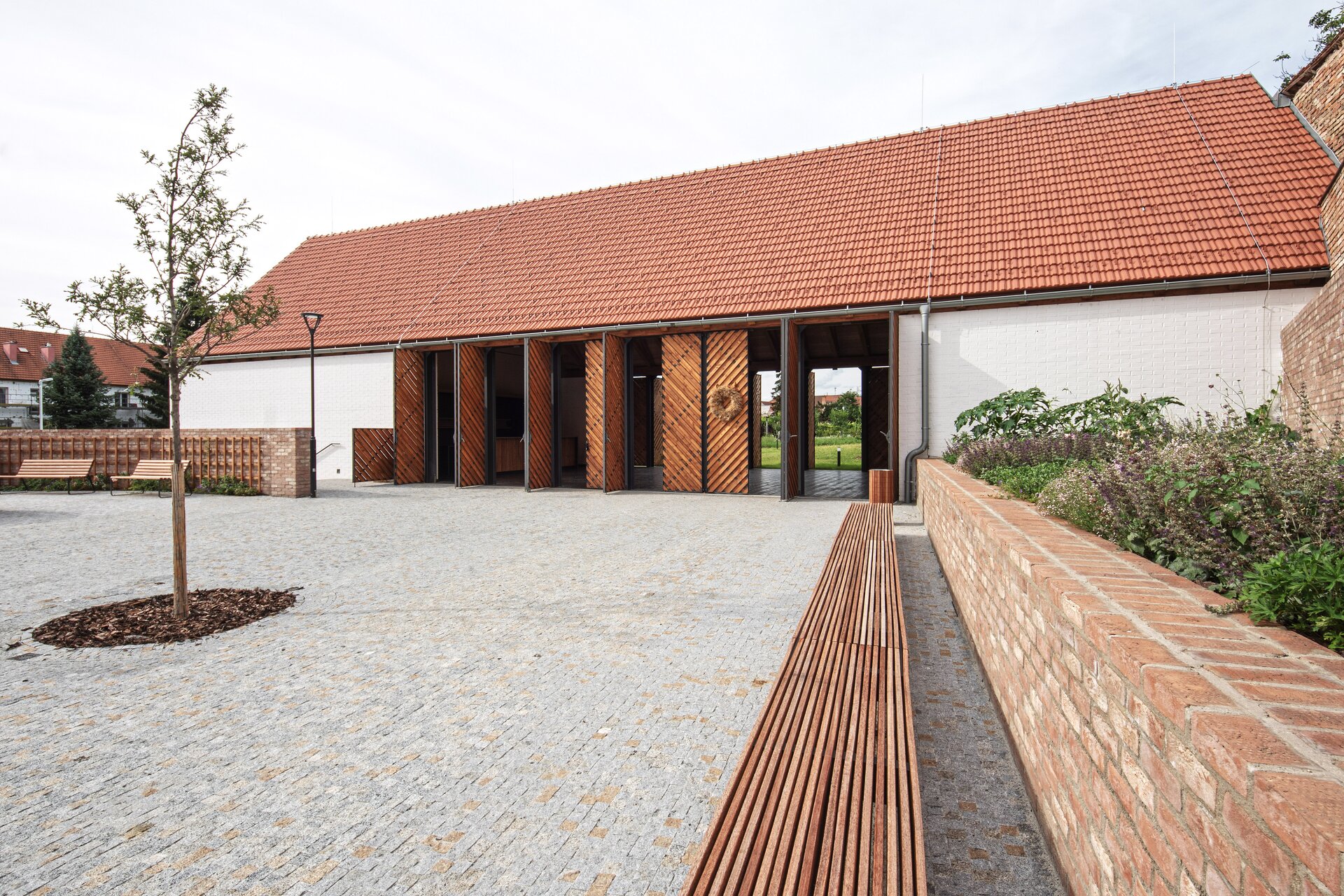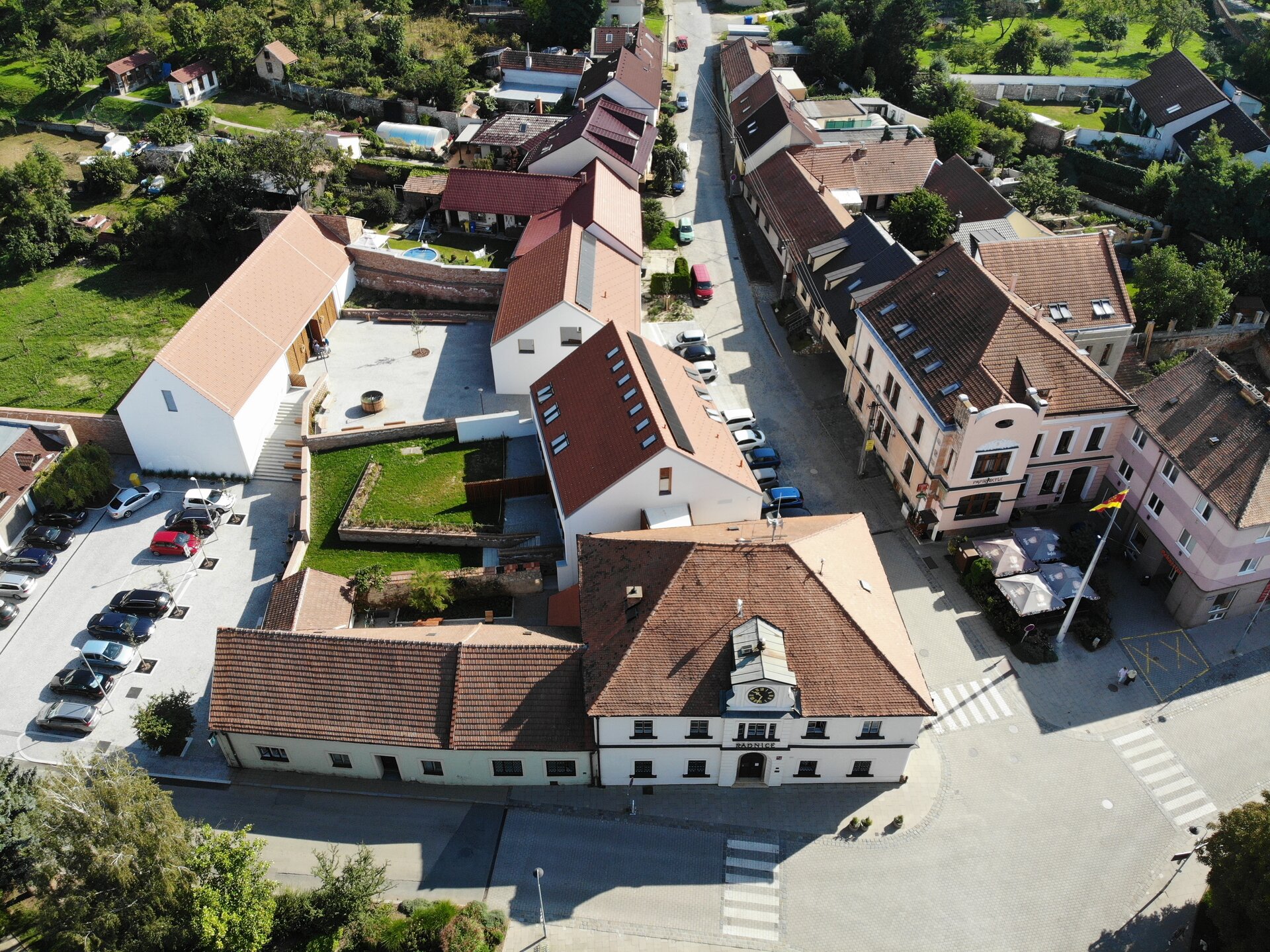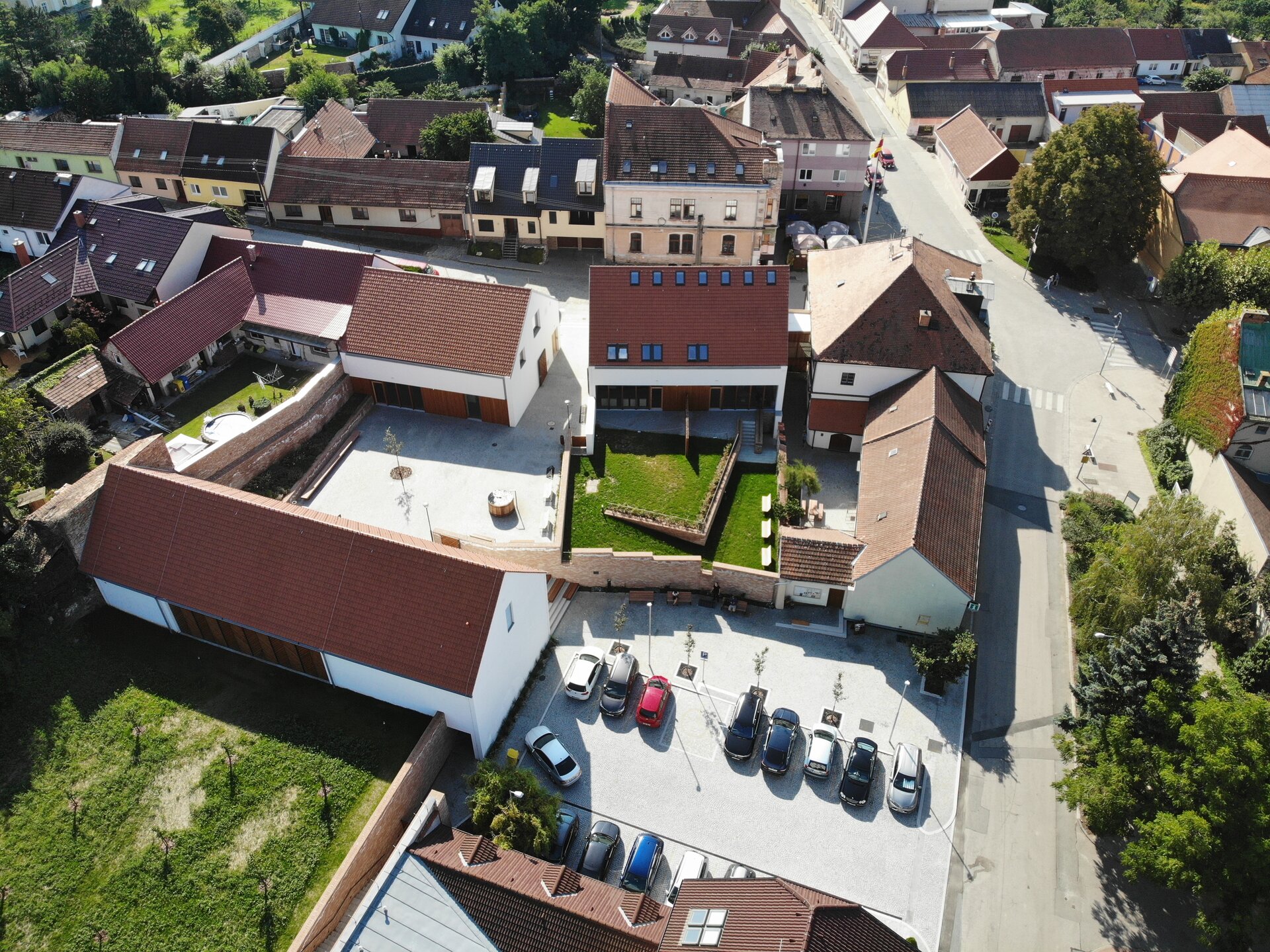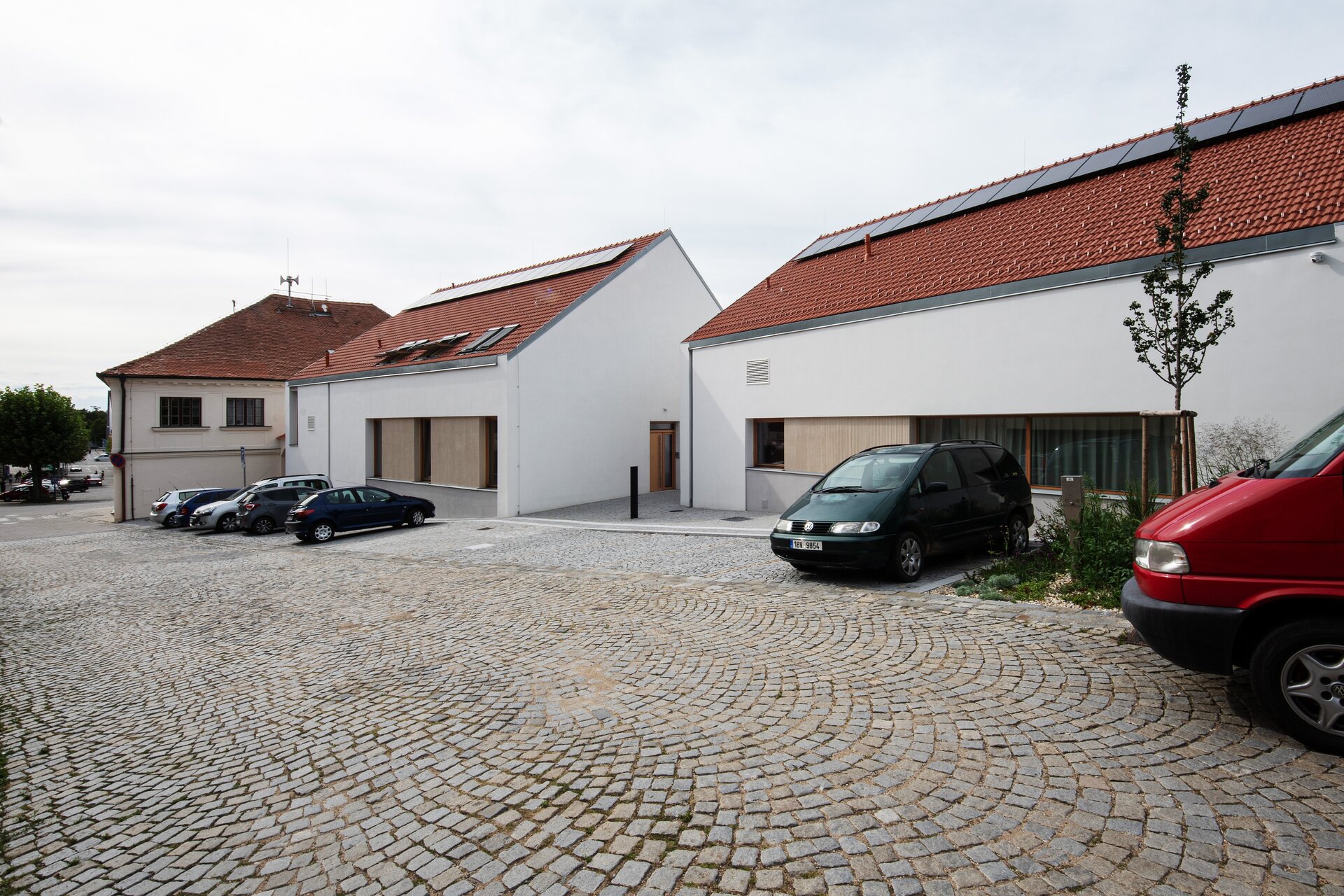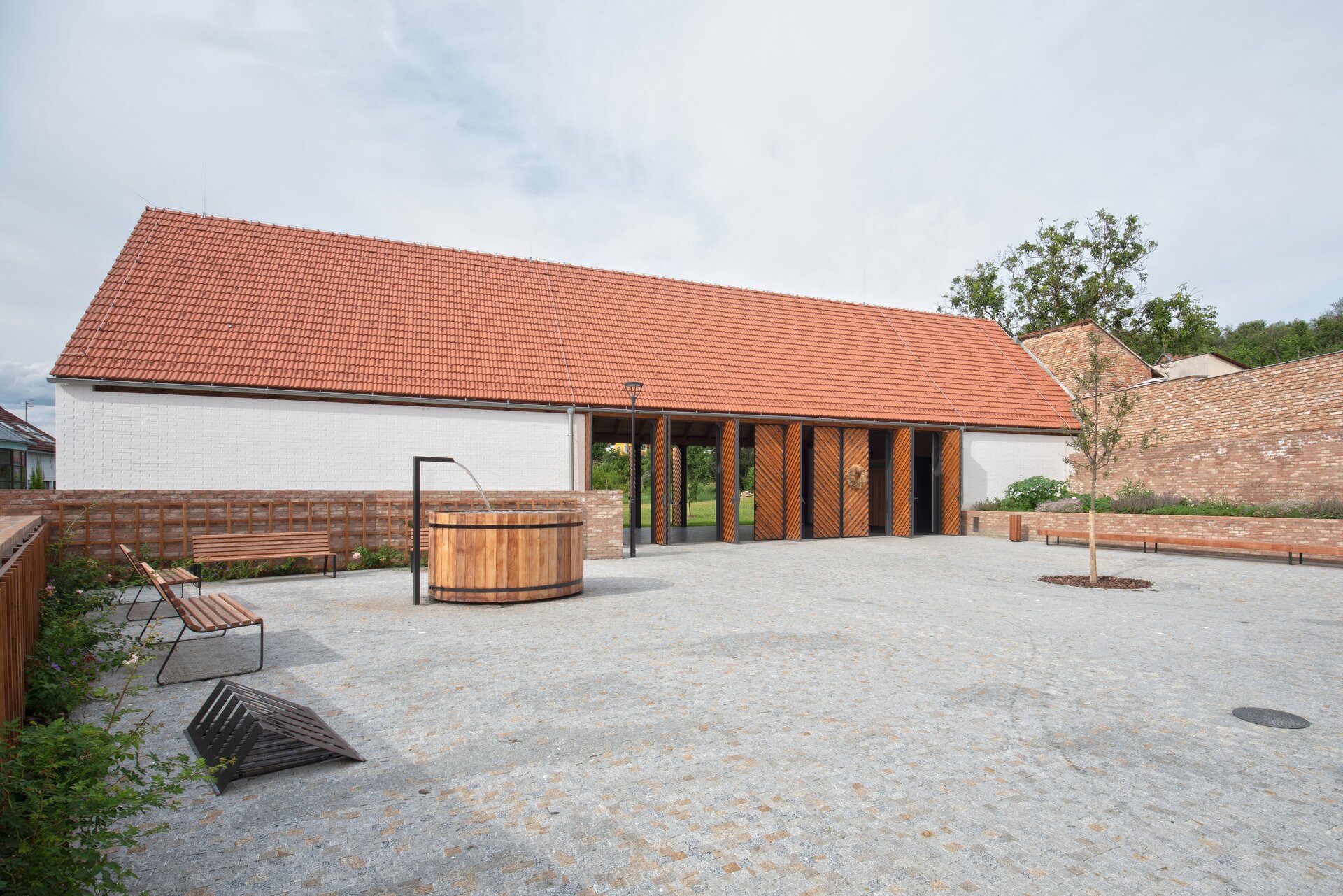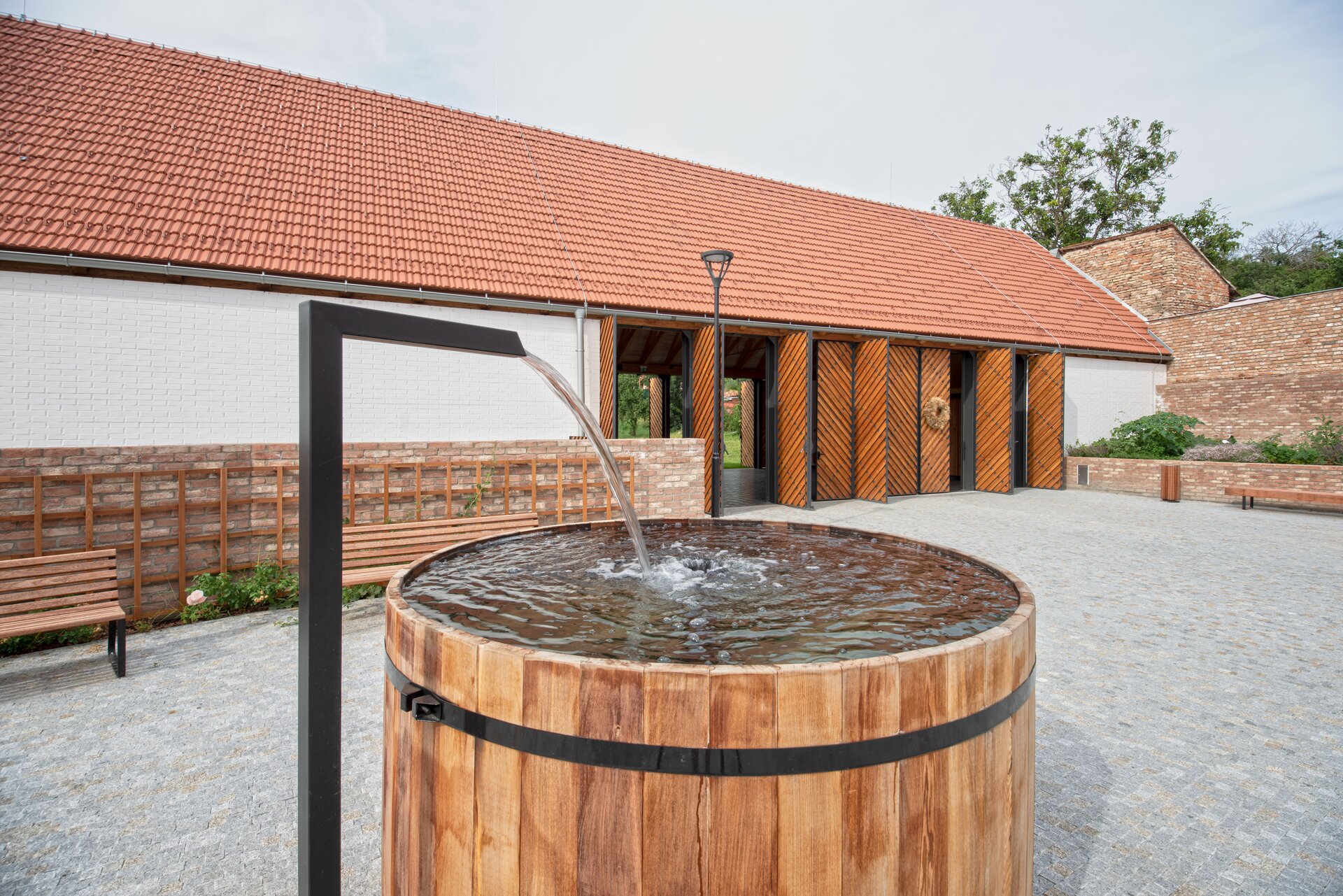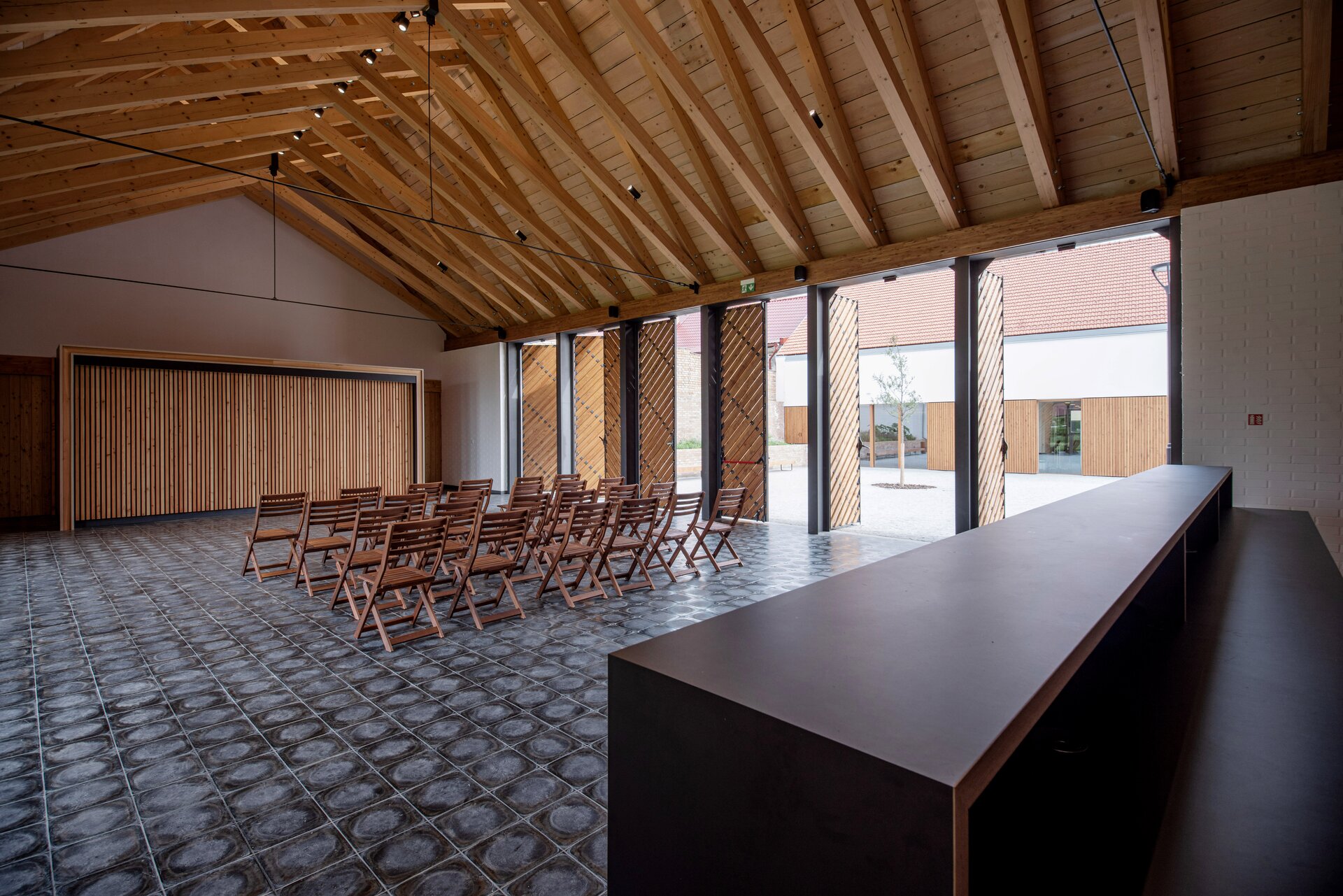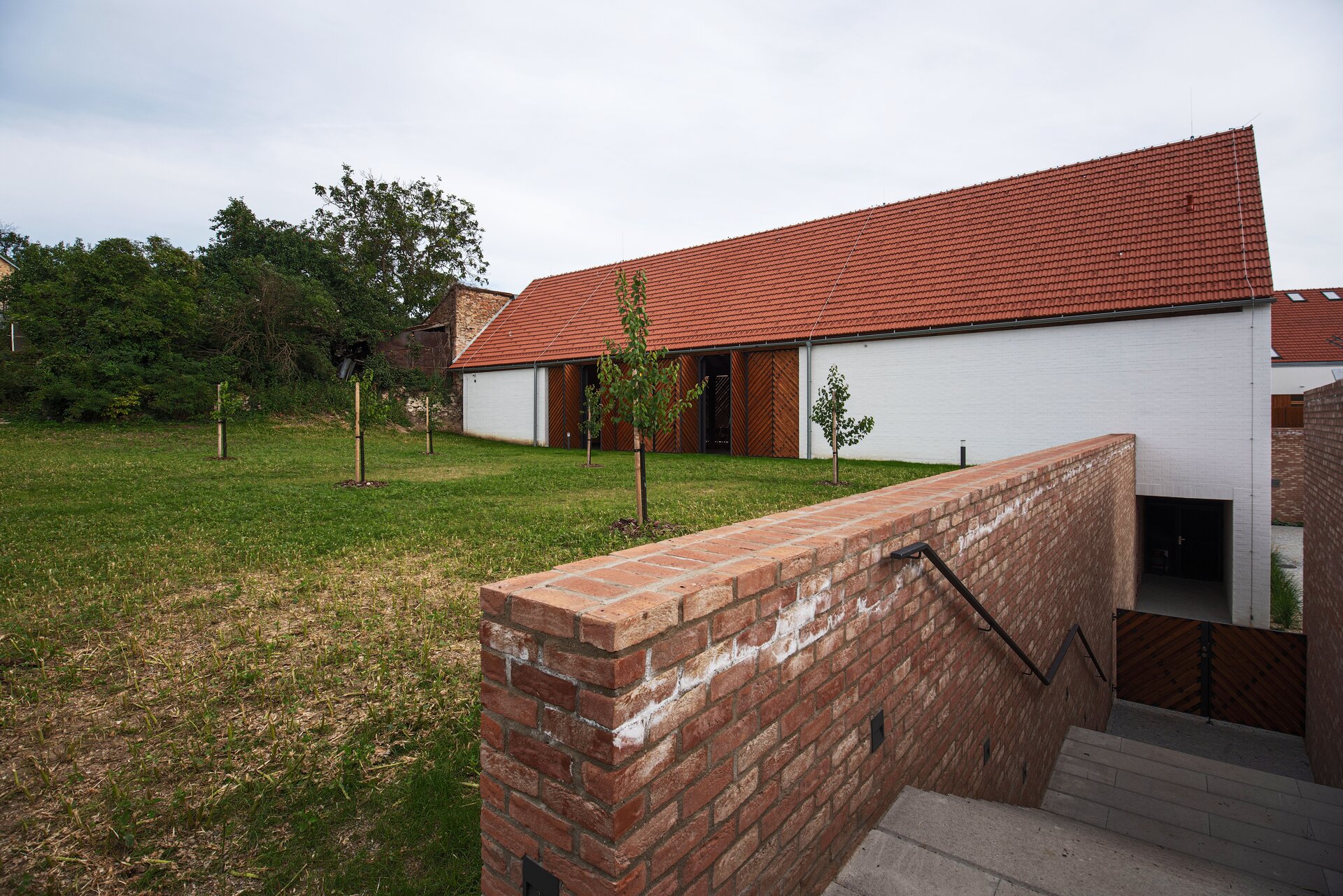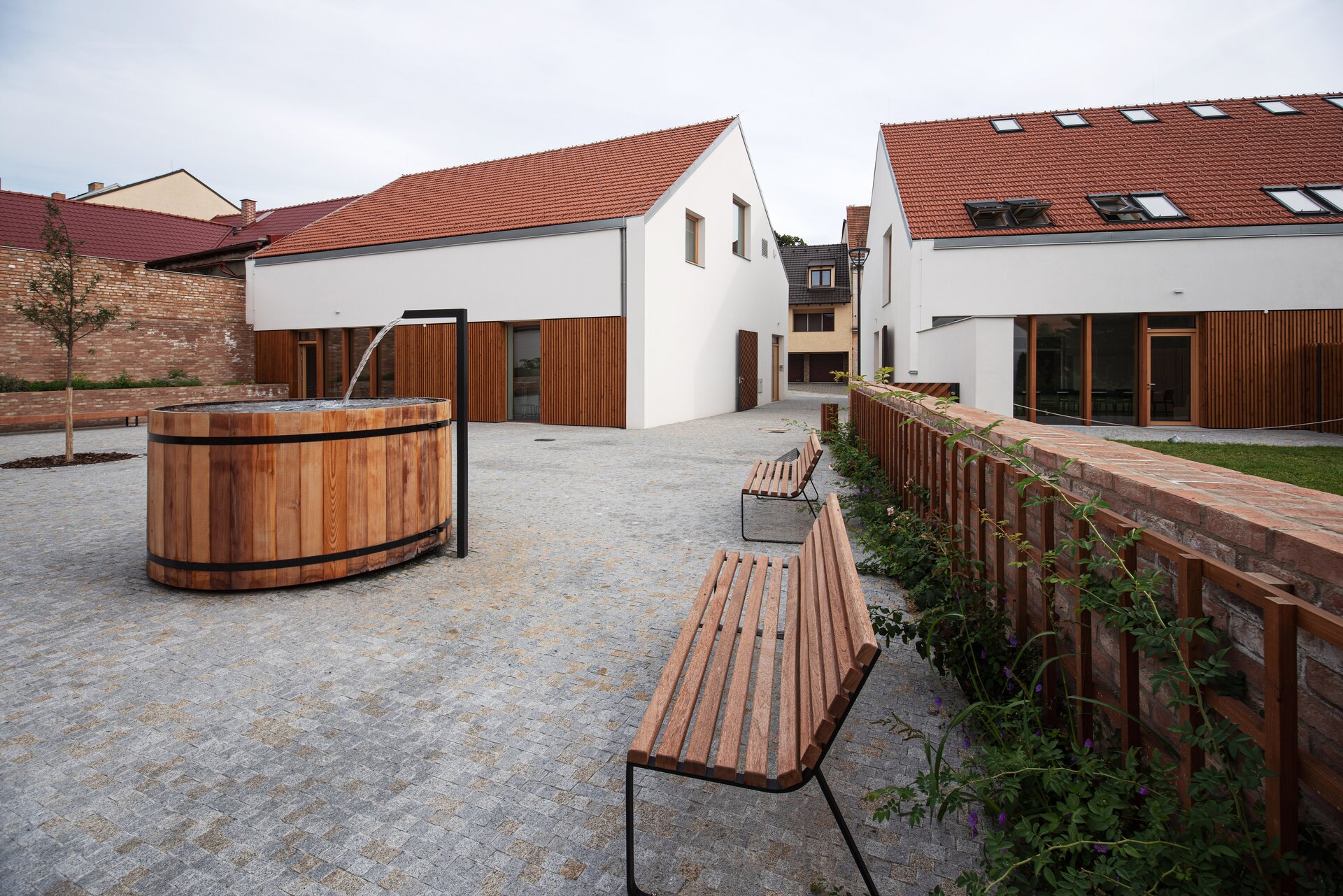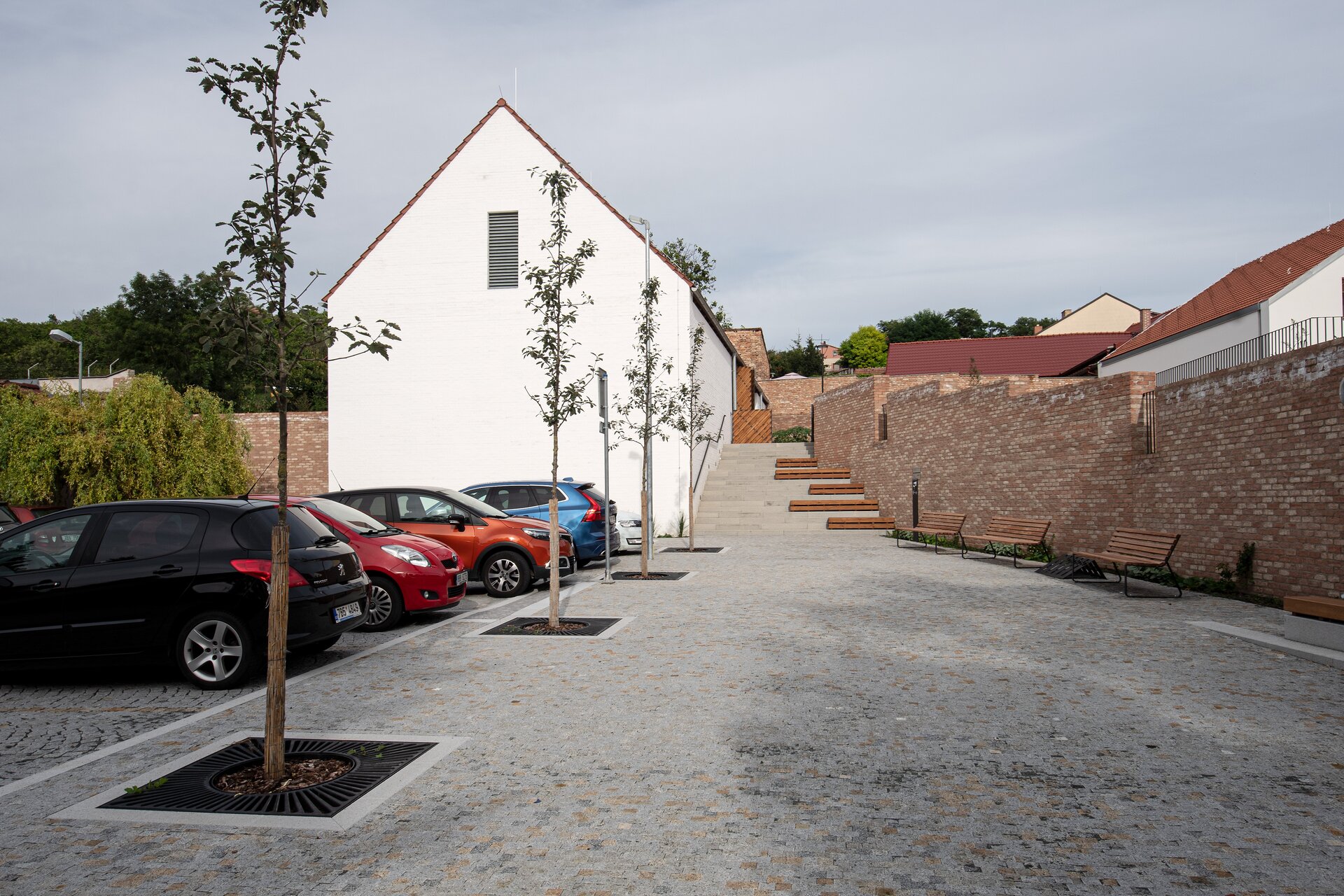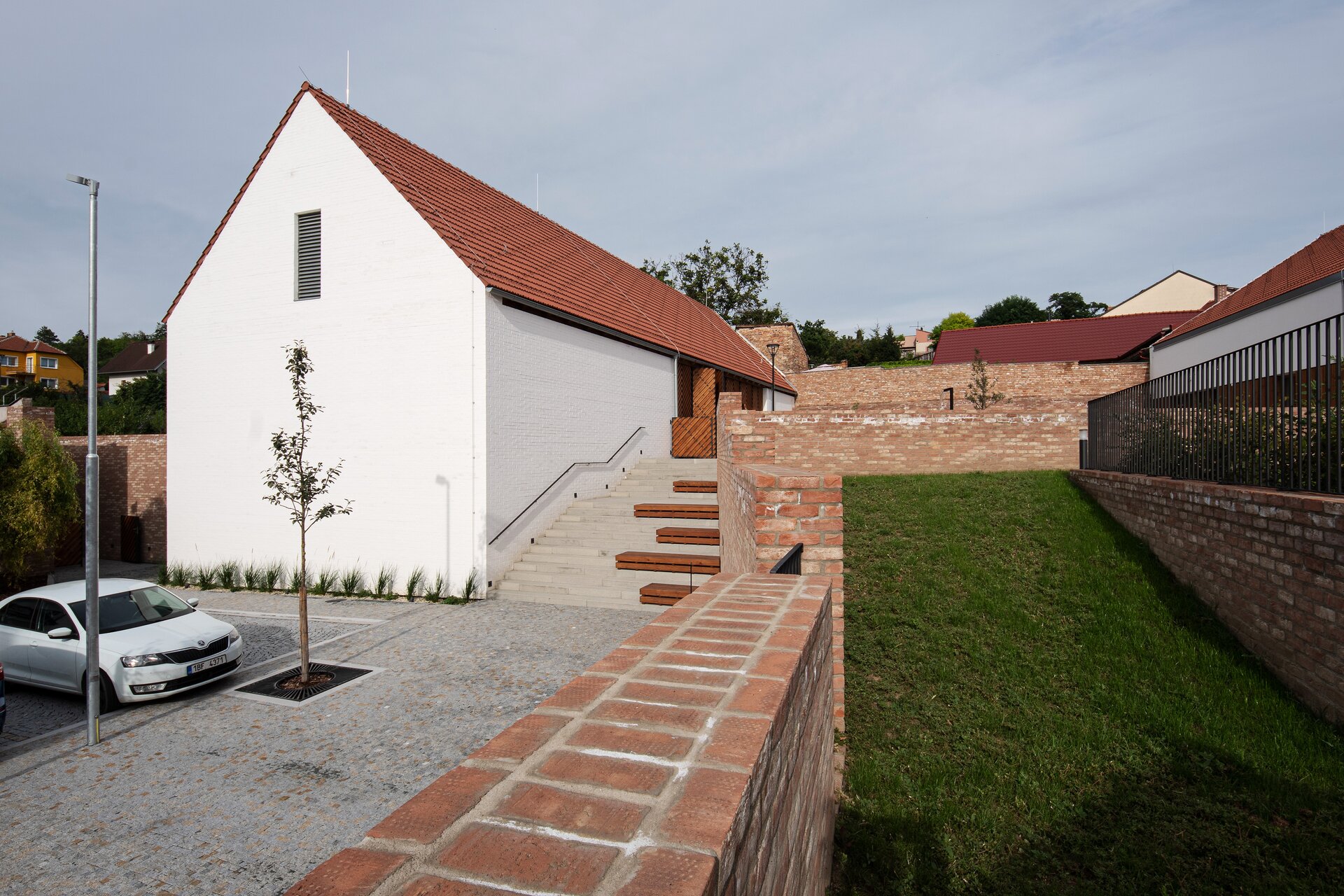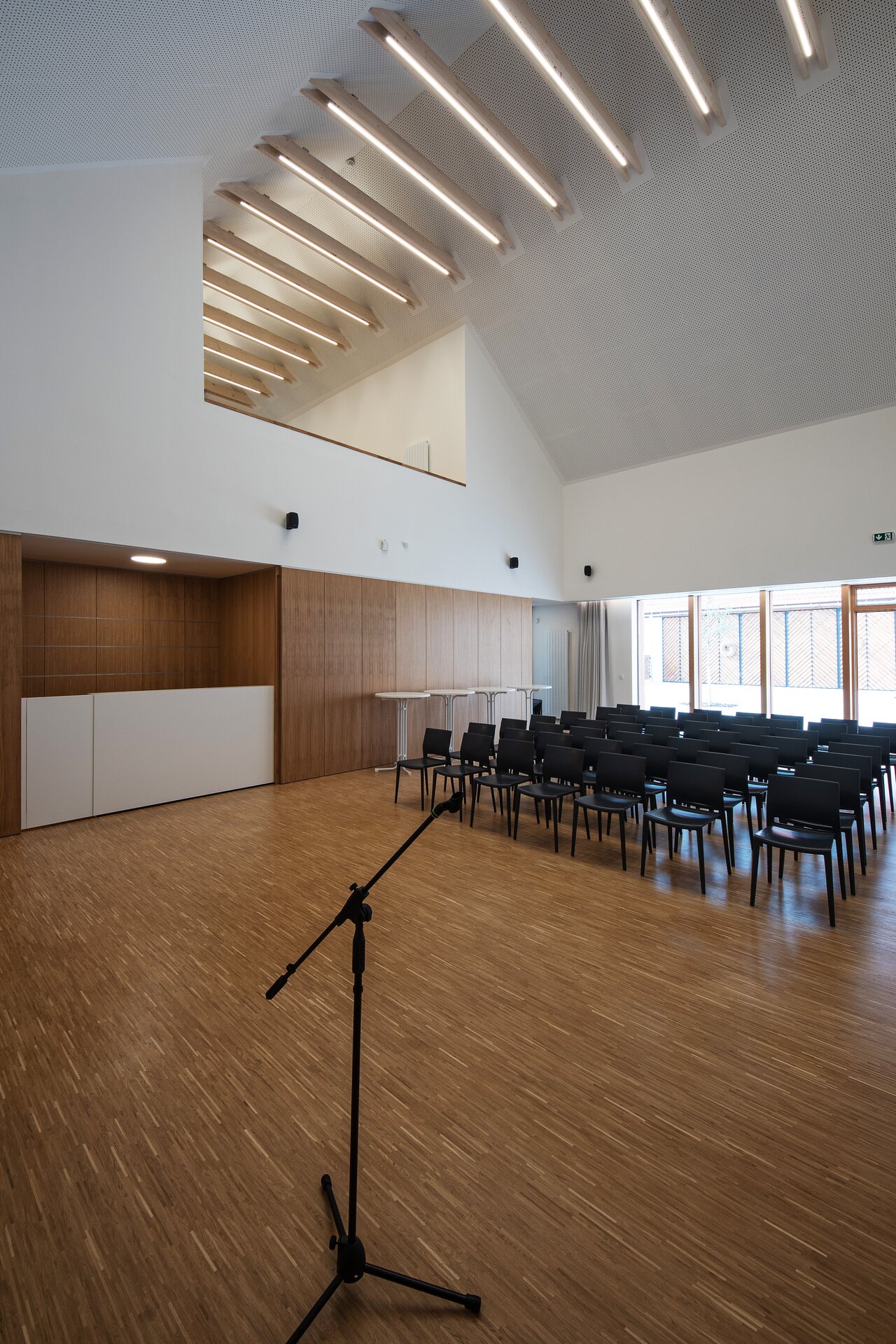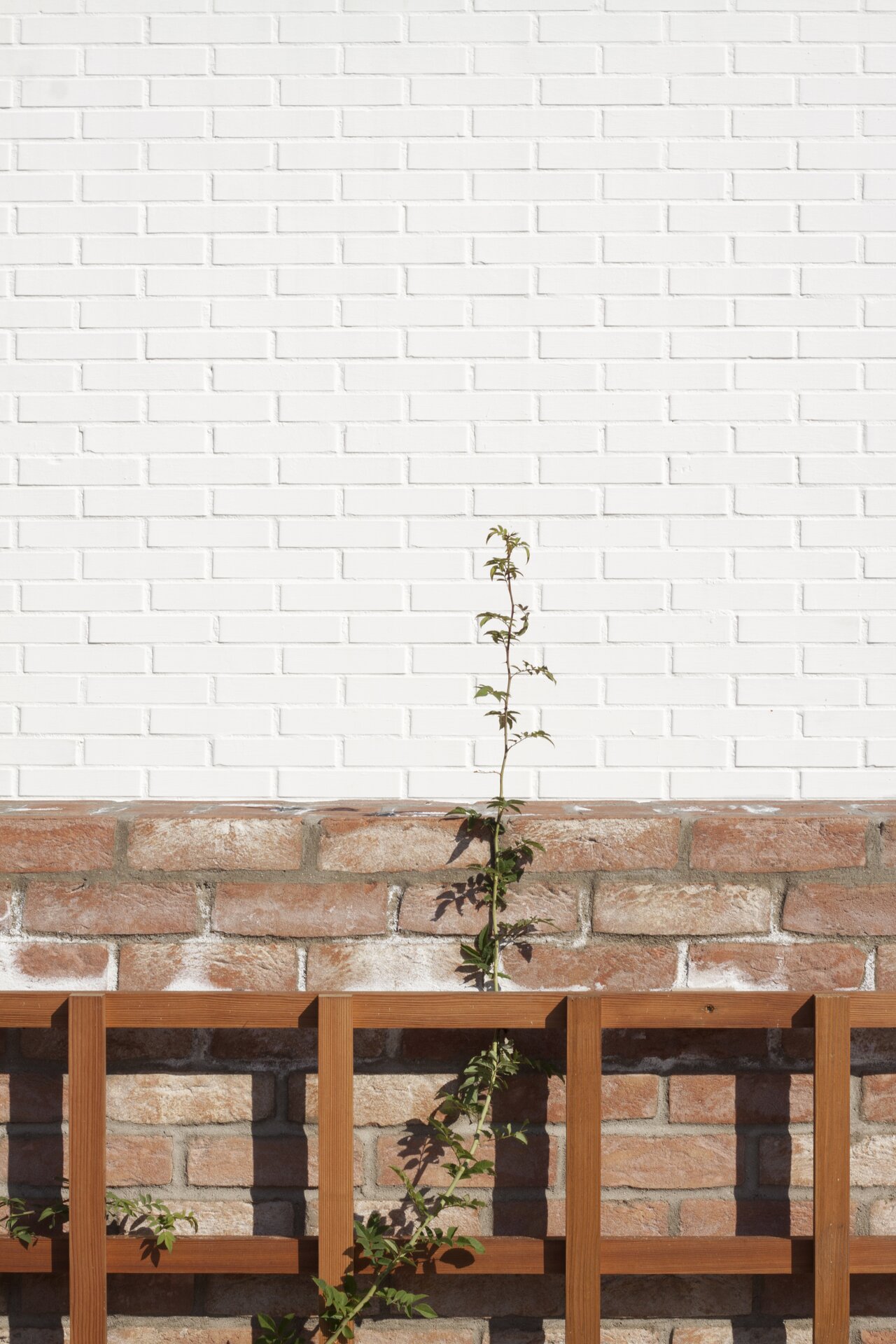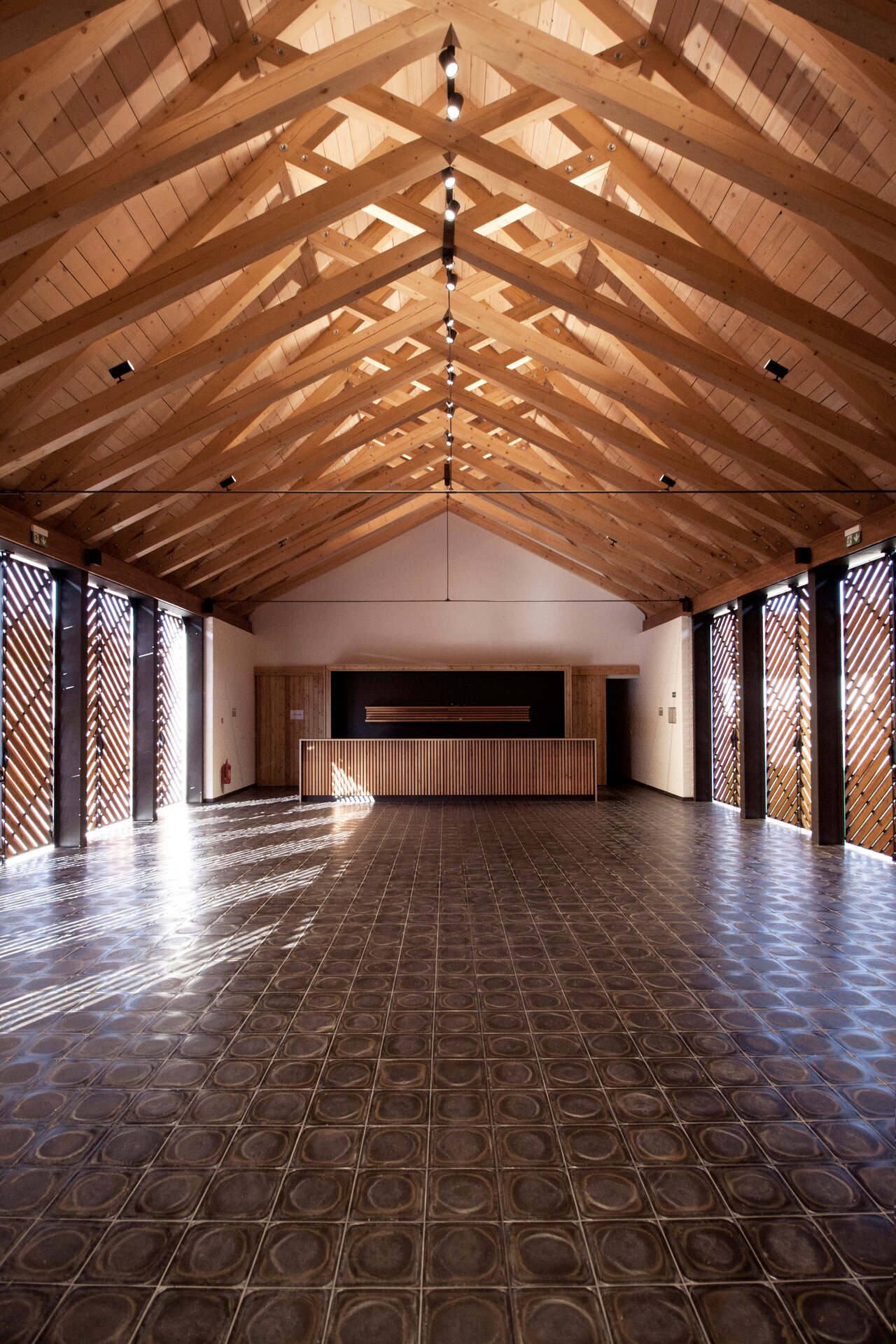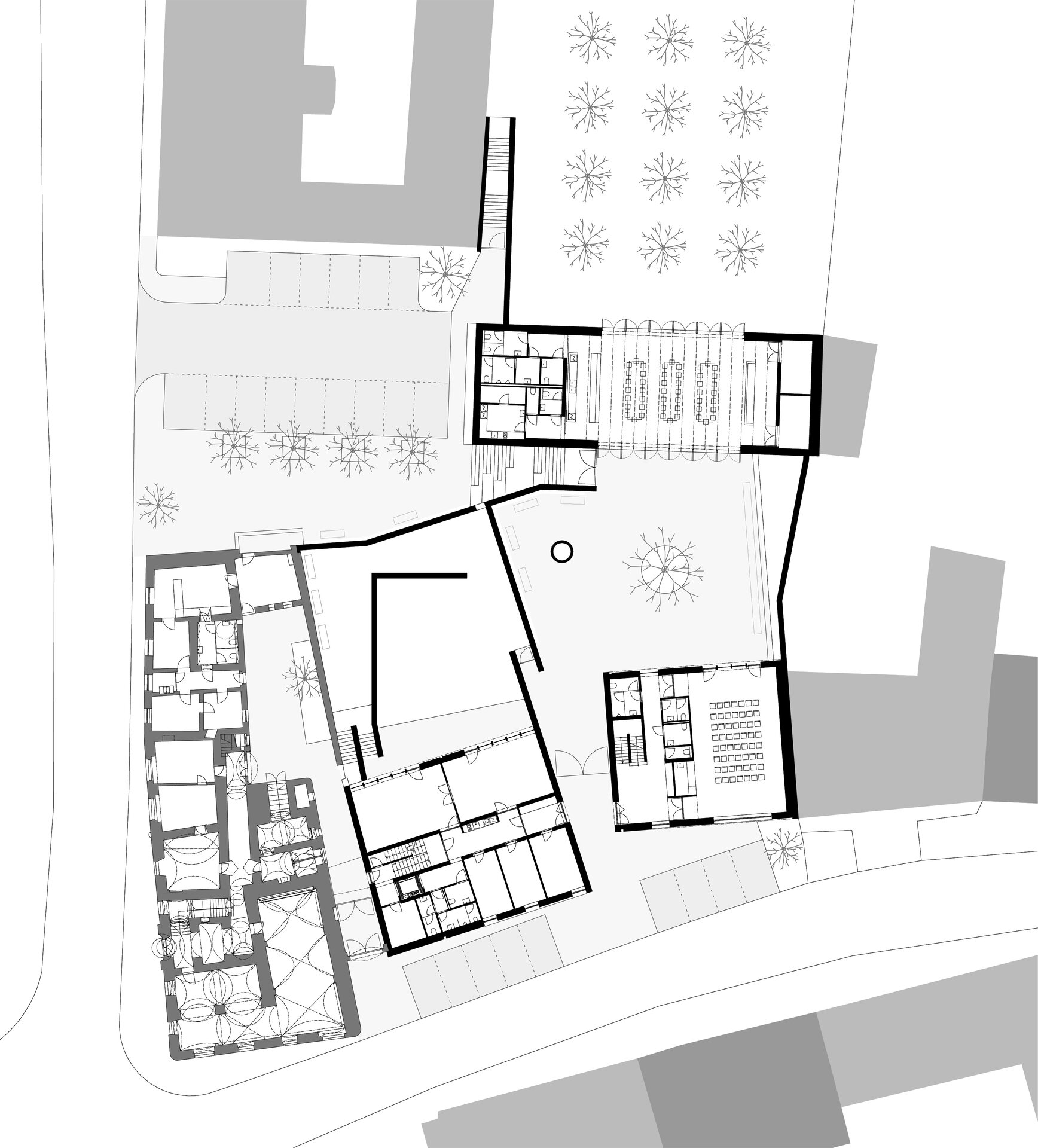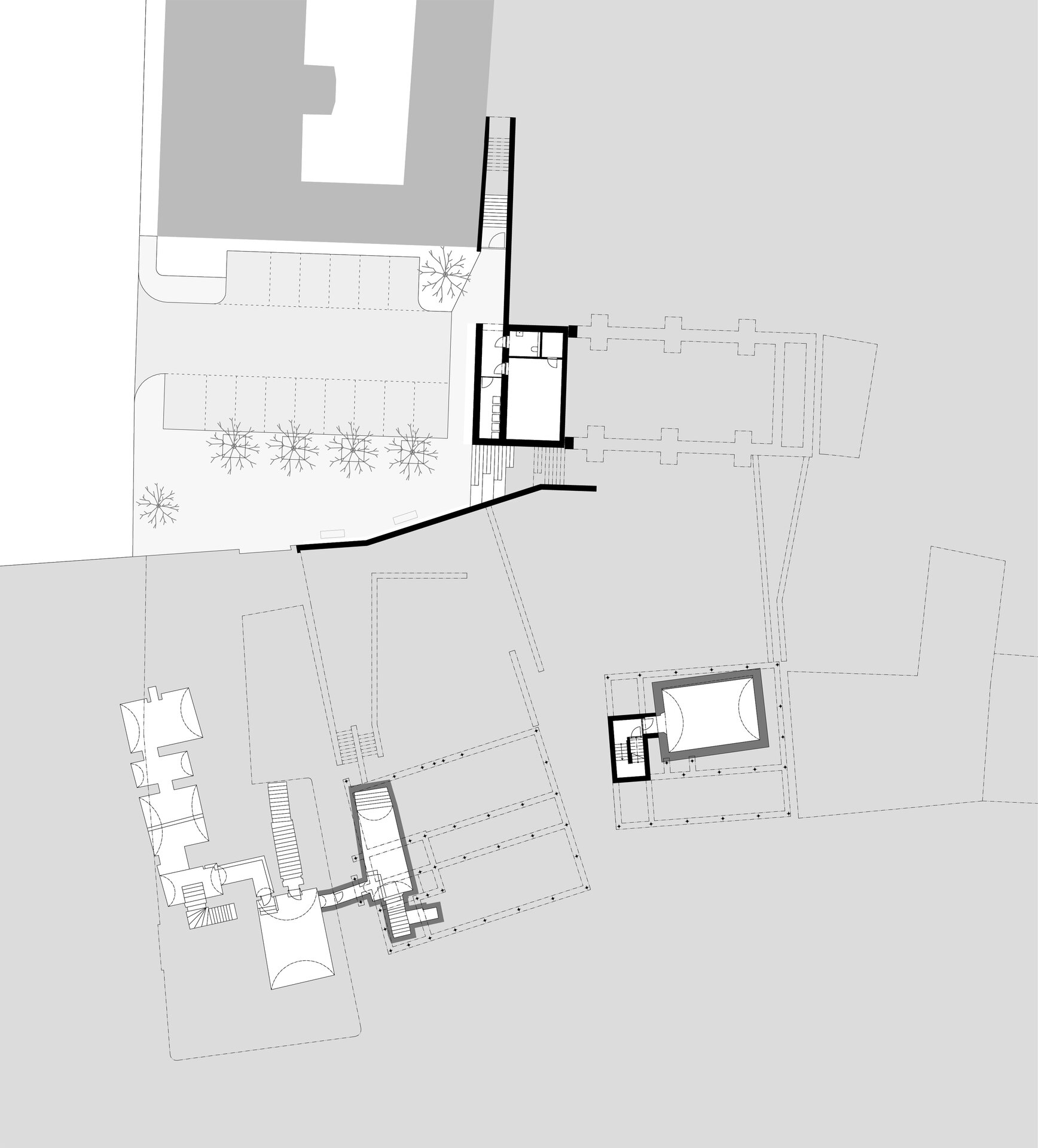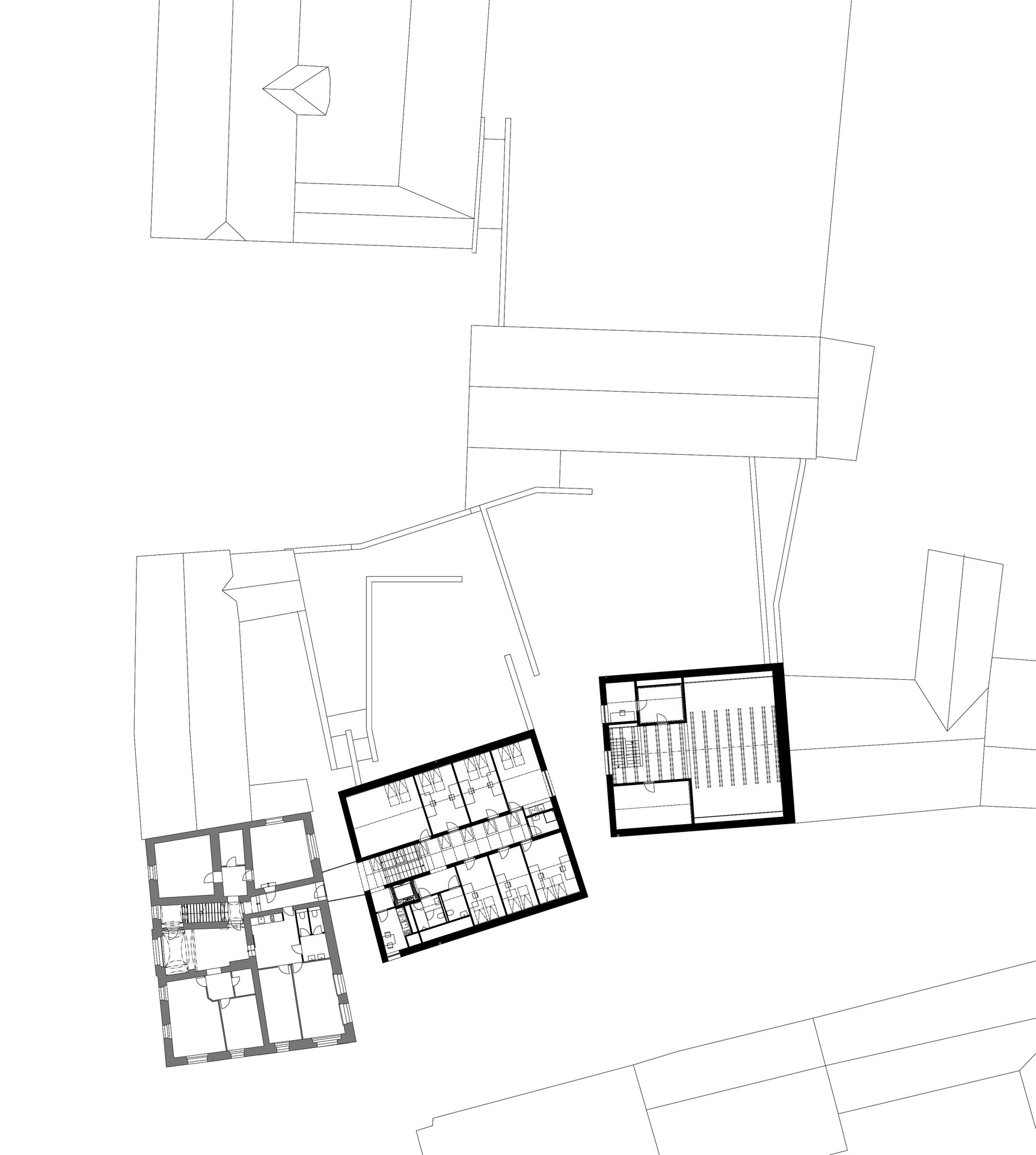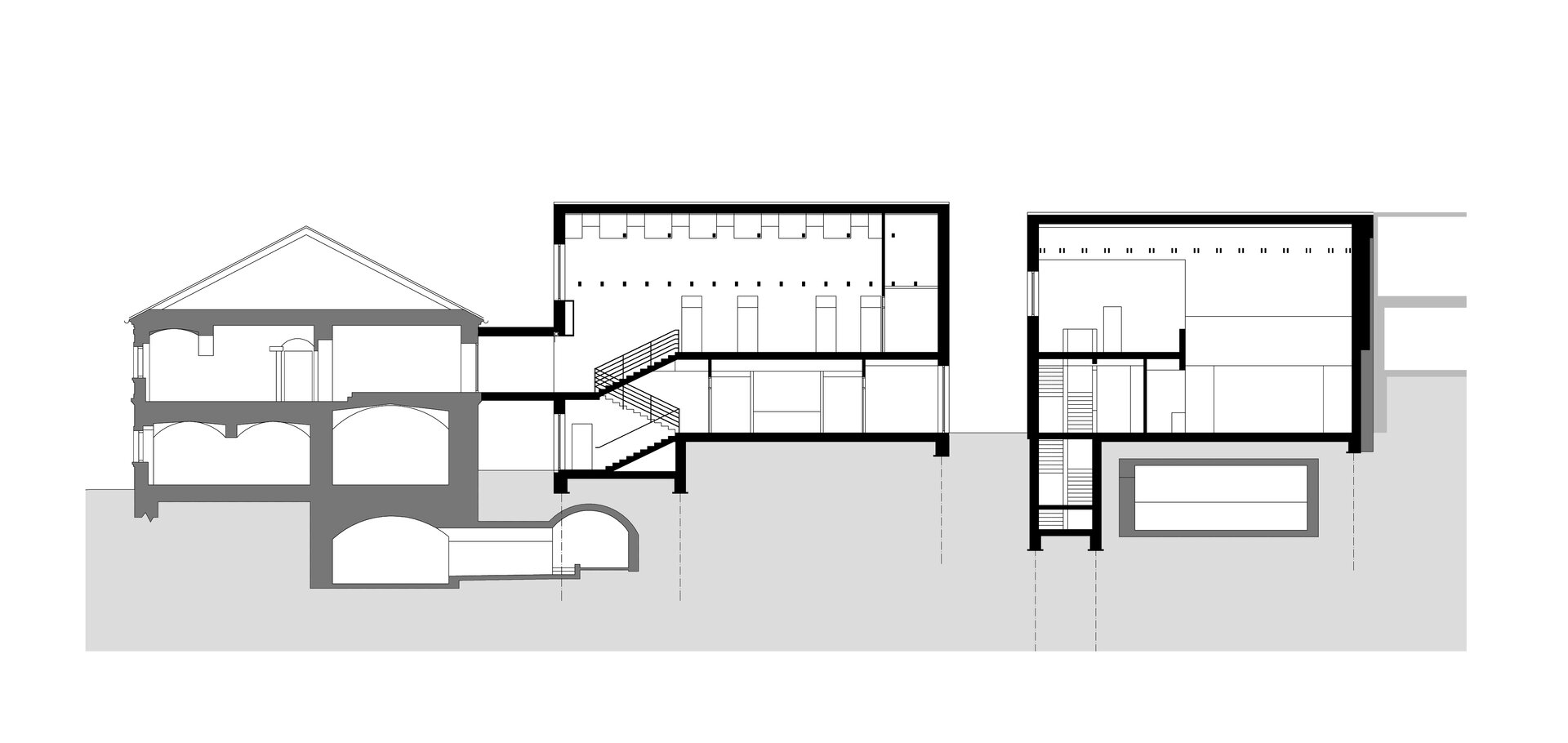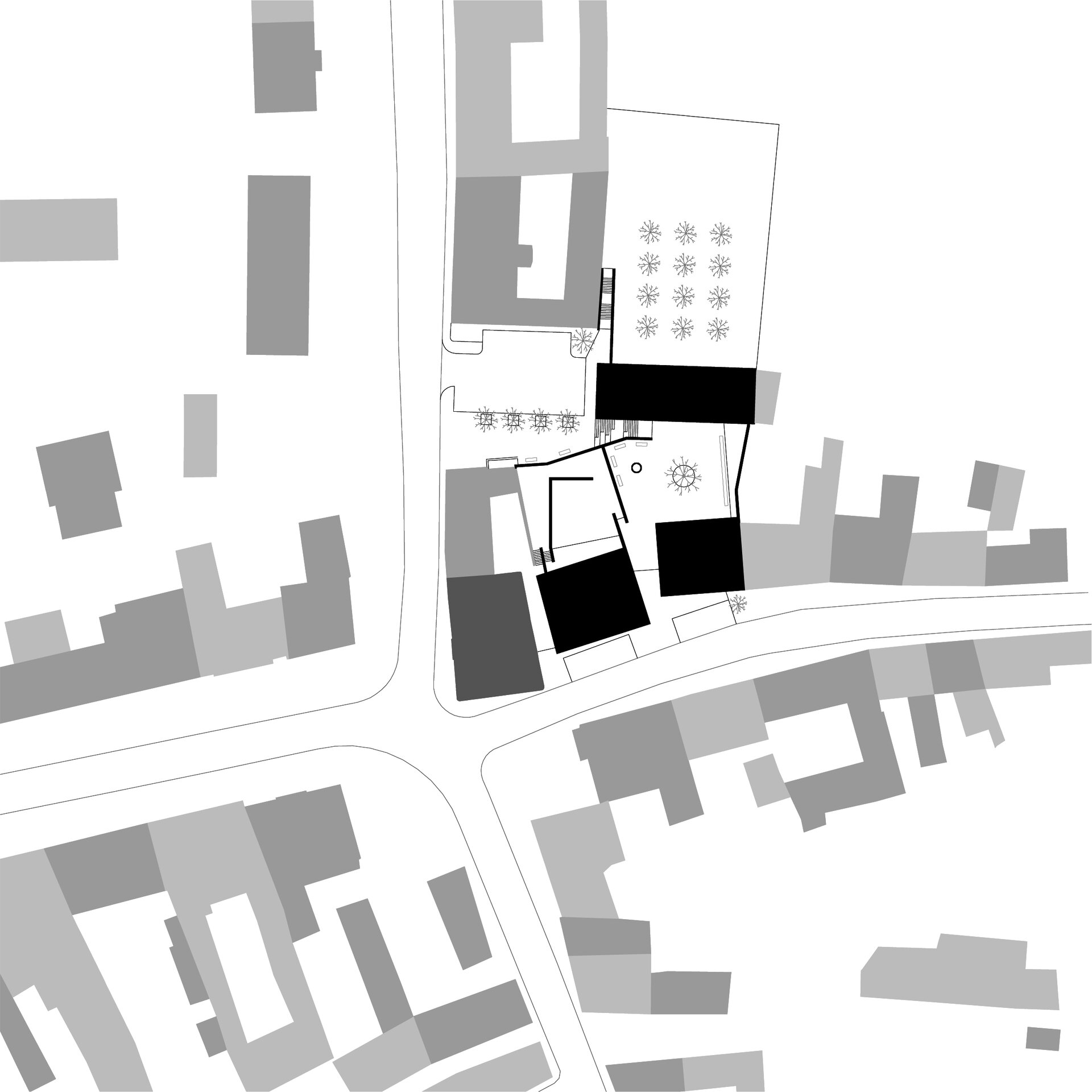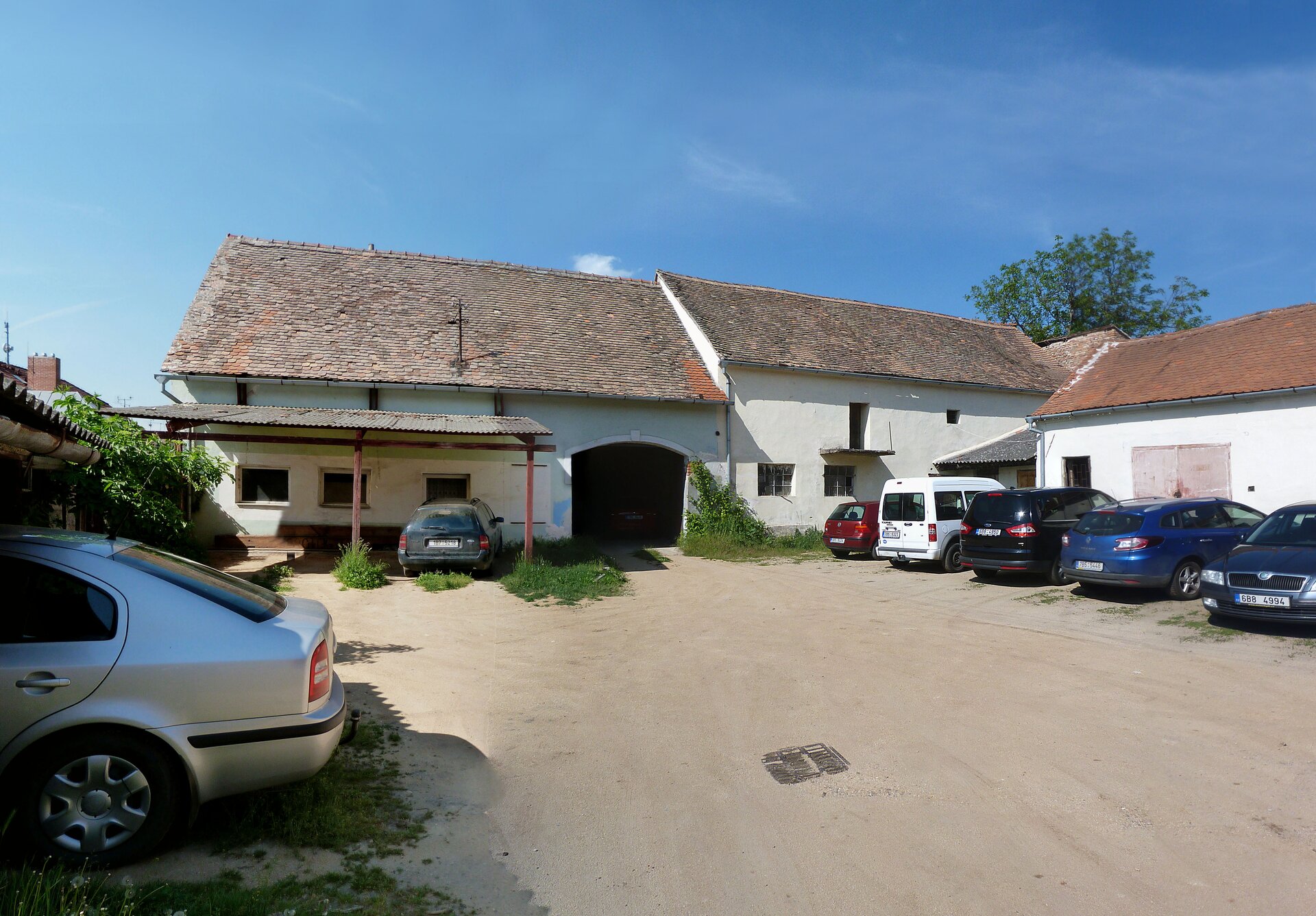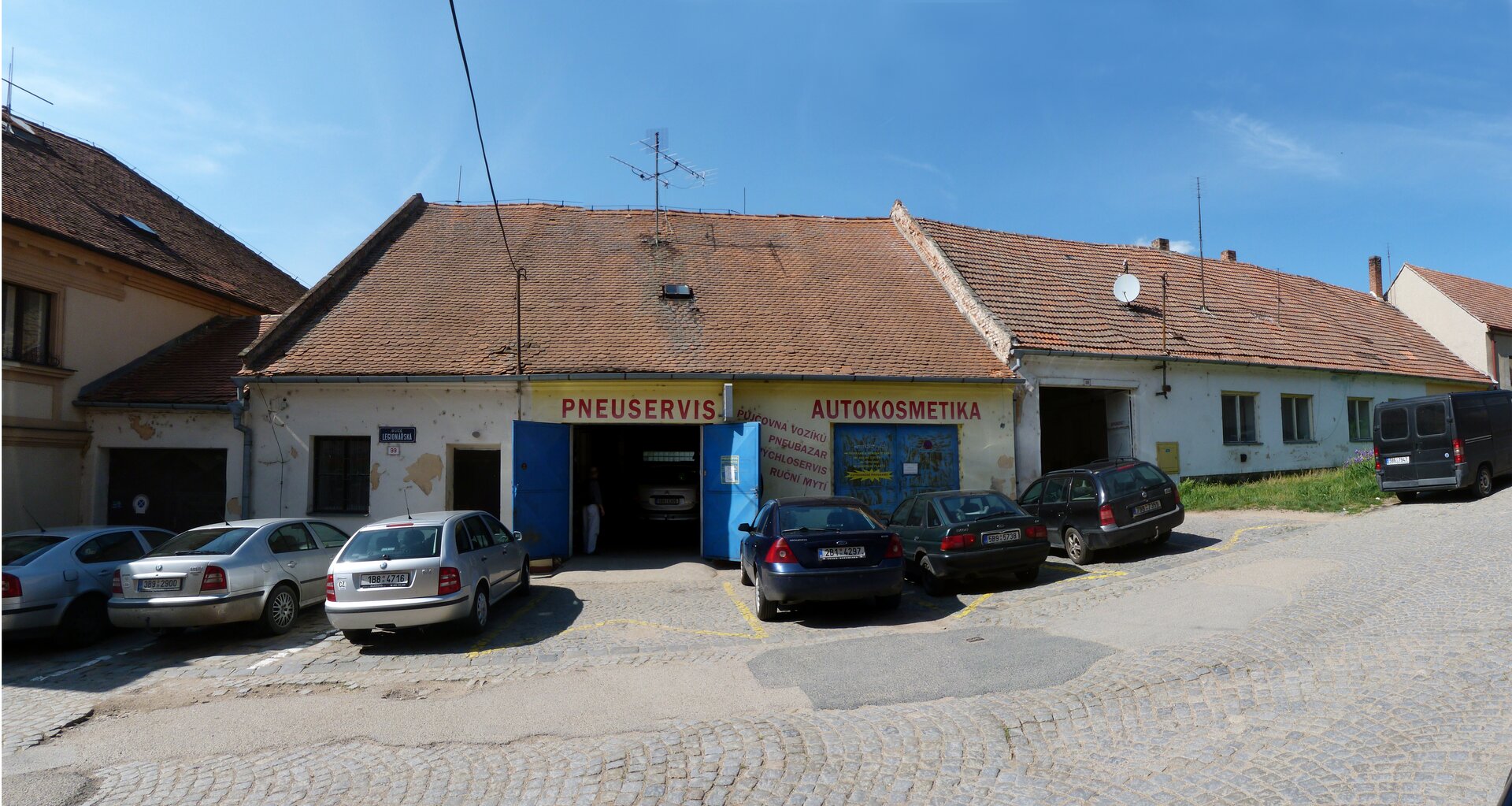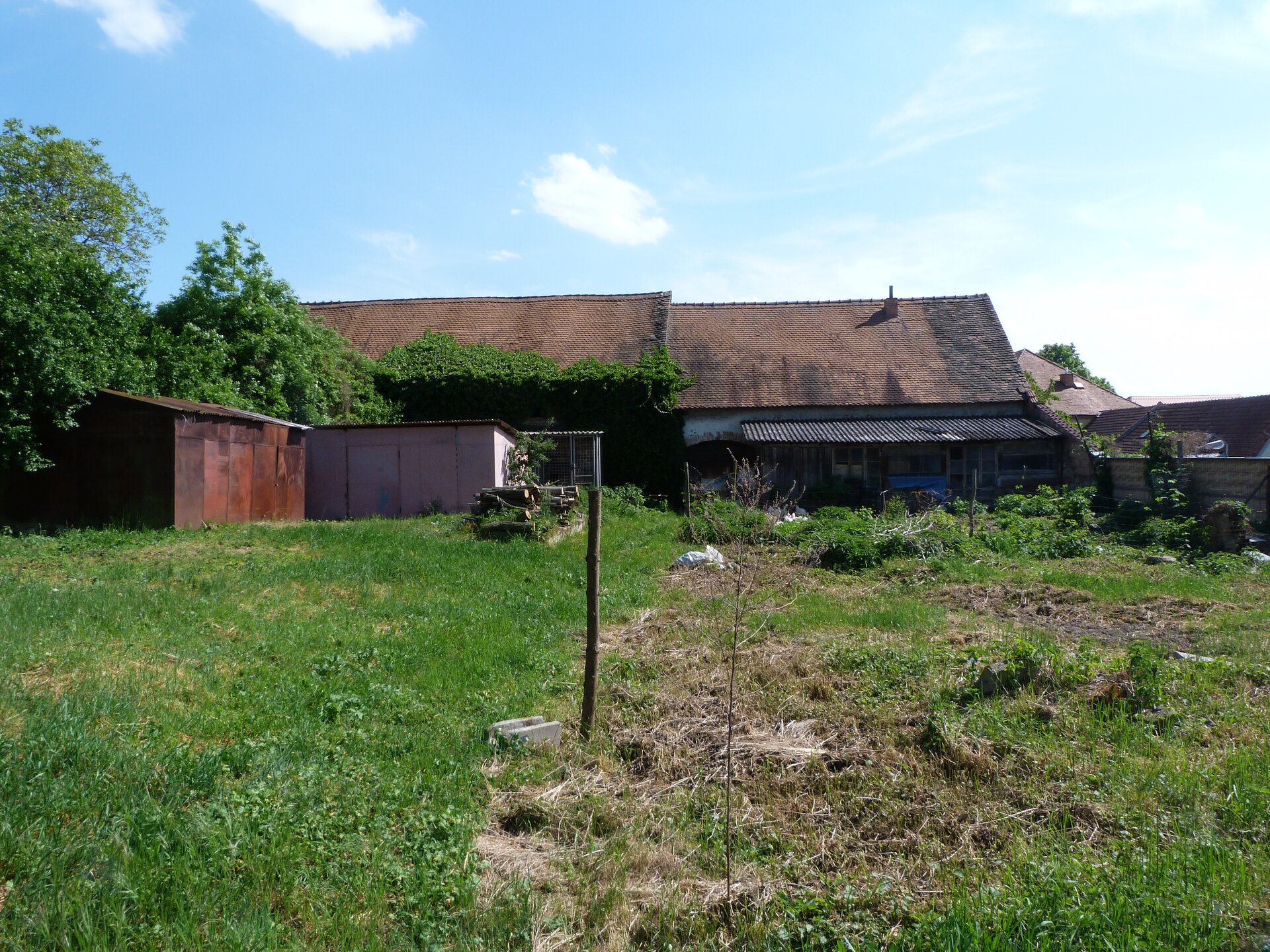 | | |
| --- | --- |
| Author | JURA ET CONSORTES, Pavel Jura, Pavel Steuer |
| Studio | |
| Location | Židlochovice |
| Investor | Město Židlochovice |
| Supplier | ESOX spol. s r.o. |
| Date of project approval | June 2020 |
| Fotograf | |
The administrative centre for Židlochovice has historically been located within the vicinity of the old town hall. This stems from the urban planning of the original structure – a distinct building placed in the corner of the square, elevated above the town neighborhoods which gently descend towards the river Svratka. The town's development led to a specific composition of buildings and open spaces which had had rather different significance and roles within the original structure. Within the town context, however, this was a logical composition of spaces and buildings with a critical hidden potential. The new urban design defines a "balanced status" between the unique role of the buildings and the conventional structure of the street buildings. The complex of volumes and spaces forms a passable, open town design that flexibly uses both time and space. Individual elements of the structure can be operated separately or as a whole.
The centre's layout is defined by the joining of the old town hall to the new building by a connecting raised corridor. This building expands the administrative premises of the town hall and houses the clubrooms and offices of the community center. Together with the multipurpose hall, they form a pair of buildings defining one of the entrances to the complex. The barn structure is located in a strategic position within the complex and is designed as a sala terrena connecting the courtyard to the orchard. The layout is defined by a traditional cluster of buildings that form a public space, though it is not greatly influenced by modern design. The main idea behind integrating the new construction into the original structure was to minimize the boarders between the two as well as using an architectural style not affiliated with any particular time.
Green building
Environmental certification
| | |
| --- | --- |
| Type and level of certificate | - |
Water management
| | |
| --- | --- |
| Is rainwater used for irrigation? | |
| Is rainwater used for other purposes, e.g. toilet flushing ? | |
| Does the building have a green roof / facade ? | |
| Is reclaimed waste water used, e.g. from showers and sinks ? | |
The quality of the indoor environment
| | |
| --- | --- |
| Is clean air supply automated ? | |
| Is comfortable temperature during summer and winter automated? | |
| Is natural lighting guaranteed in all living areas? | |
| Is artificial lighting automated? | |
| Is acoustic comfort, specifically reverberation time, guaranteed? | |
| Does the layout solution include zoning and ergonomics elements? | |
Principles of circular economics
| | |
| --- | --- |
| Does the project use recycled materials? | |
| Does the project use recyclable materials? | |
| Are materials with a documented Environmental Product Declaration (EPD) promoted in the project? | |
| Are other sustainability certifications used for materials and elements? | |
Energy efficiency
| | |
| --- | --- |
| Energy performance class of the building according to the Energy Performance Certificate of the building | B |
| Is efficient energy management (measurement and regular analysis of consumption data) considered? | |
| Are renewable sources of energy used, e.g. solar system, photovoltaics? | |
Interconnection with surroundings
| | |
| --- | --- |
| Does the project enable the easy use of public transport? | |
| Does the project support the use of alternative modes of transport, e.g cycling, walking etc. ? | |
| Is there access to recreational natural areas, e.g. parks, in the immediate vicinity of the building? | |